A2 Hosting Vs Cloudways – Introduction
A2 Hosting started its journey back in 2001, and over the years, A2 has emerged as one of the most reliable hosting services with the best speed and security features. Besides, the service is easy to use and comes with various other important features for an excellent hosting experience.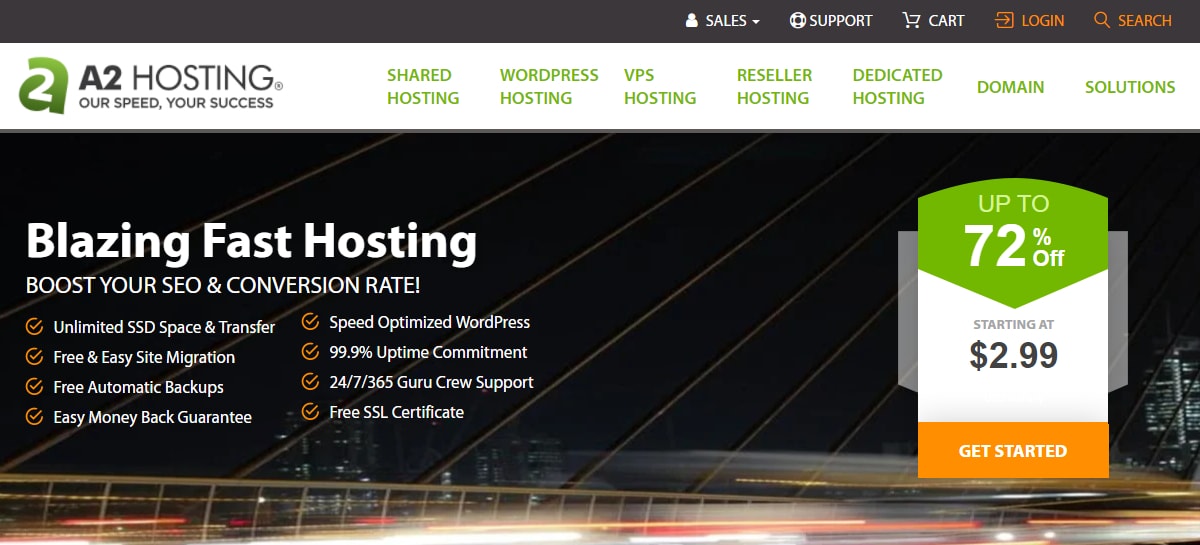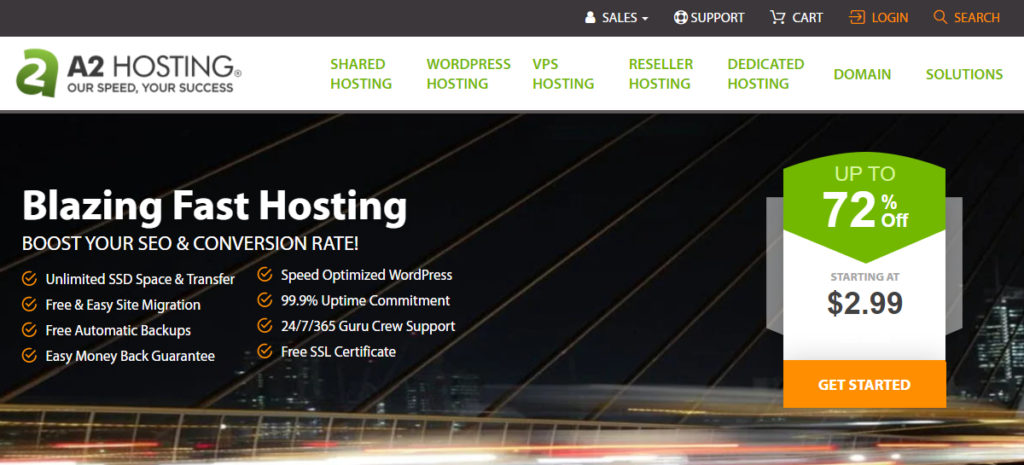 Cloudways is a managed cloud hosting platform that started in 2016, and the platform was created to provide all types of users with exceptional Experiences. Most importantly, the platform offers excellent simplicity and choice.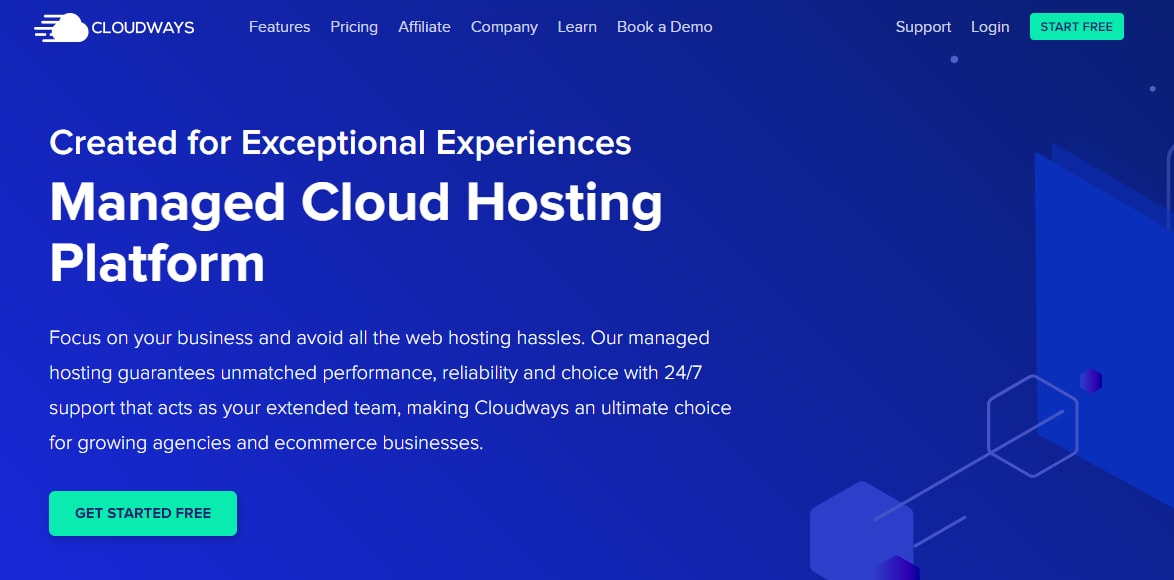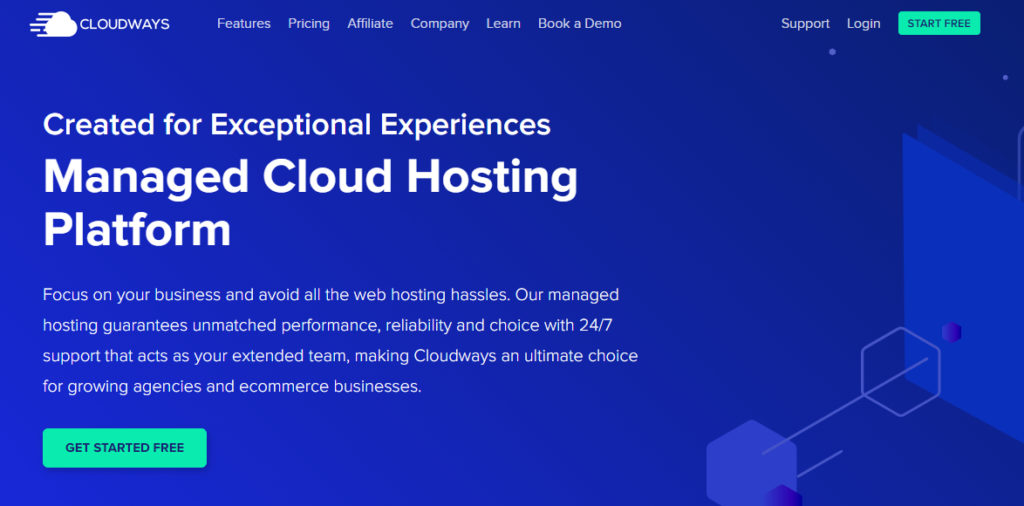 A2 Hosting Vs Cloudways – Pricing
A2 provides customers with 4 shared hosting plans to choose from. The plans are classified mainly based on the number of Websites and Storage. Here are A2 plans details:
StartUp: $1.99 per month, 1 Website, 100 GB SSD Storage
Drive: $3.99 per month, Unlimited Websites, Unlimited SSD Storage
Turbo Boost: $4.99 per month, Unlimited Websites, Unlimited NVMe Storage
Turbo Max: $9.99 per month, Unlimited Websites, Unlimited NVMe Storage
The Drive plan comes with various Growth features, while the Turbo Boost and Turbo Max come with Turbo features alongside Growth features.
All the plans have some features in common:
Free & Easy Site Migration
Money-Back Guarantee
Unlimited Email Accounts
Unlimited Transfers
Free Website Builder
24/7/365 Phone, Live Chat, and Email Support
Easy cPanel Control Panel
99.9% Uptime Commitment
Free SSL Certificate
Cloudways comes with as many as 11 plans, classified based on RAM, Core, Storage, and Bandwidth. Customers can start for as low as $10 per month. However, this Promo Code on Cloudways gives you $25 free credits to get started. Here are the plan details for the first 6 plans:
DO1GB: $11 per month, 1GB RAM, 1Core, 25GB Storage, 1TB Bandwidth
DO2GB: $24 per month, 2GB RAM, 1Core, 50GB Storage, 2TB Bandwidth
DO4GB: $46 per month, 4GB RAM, 2Core, 80GB Storage, 4TB Bandwidth
DO8GB: $88 per month, 8GB RAM, 4Core, 160GB Storage, 5TB Bandwidth
The Cloudways plans have the following features in common:
24/7/365 Support
Free SSL
CDN Add-on
Free Migration
Unlimited Application Installation
Dedicated Firewalls
24/7 Real-time Monitoring
Automated Backups
Staging Environment
Optimized With Advanced Caches
Auto Healing
Regular Security Patching
HTTP/2 Enabled Servers
SSH and SFTP Access
Team Management
A2 Hosting Vs Cloudways – Performance
Server Response Time
The performance of a hosting service is a crucial factor that you must consider and check well in advance before choosing a hosting service. Further, a site's performance depends on various aspects, and we have to ensure that the service is doing well in all of these aspects.
Server Response Time is one of these important aspects, and I started my performance check by testing the server response time of the service. I hosted a site on both platforms and have been consistently monitoring their performance.
As per the last test results, my A2 site recorded an average server response time of 323ms, while my Cloudways site recorded an average server response time of 303ms.
Hence, Cloudways had a comparatively better server response time than A2.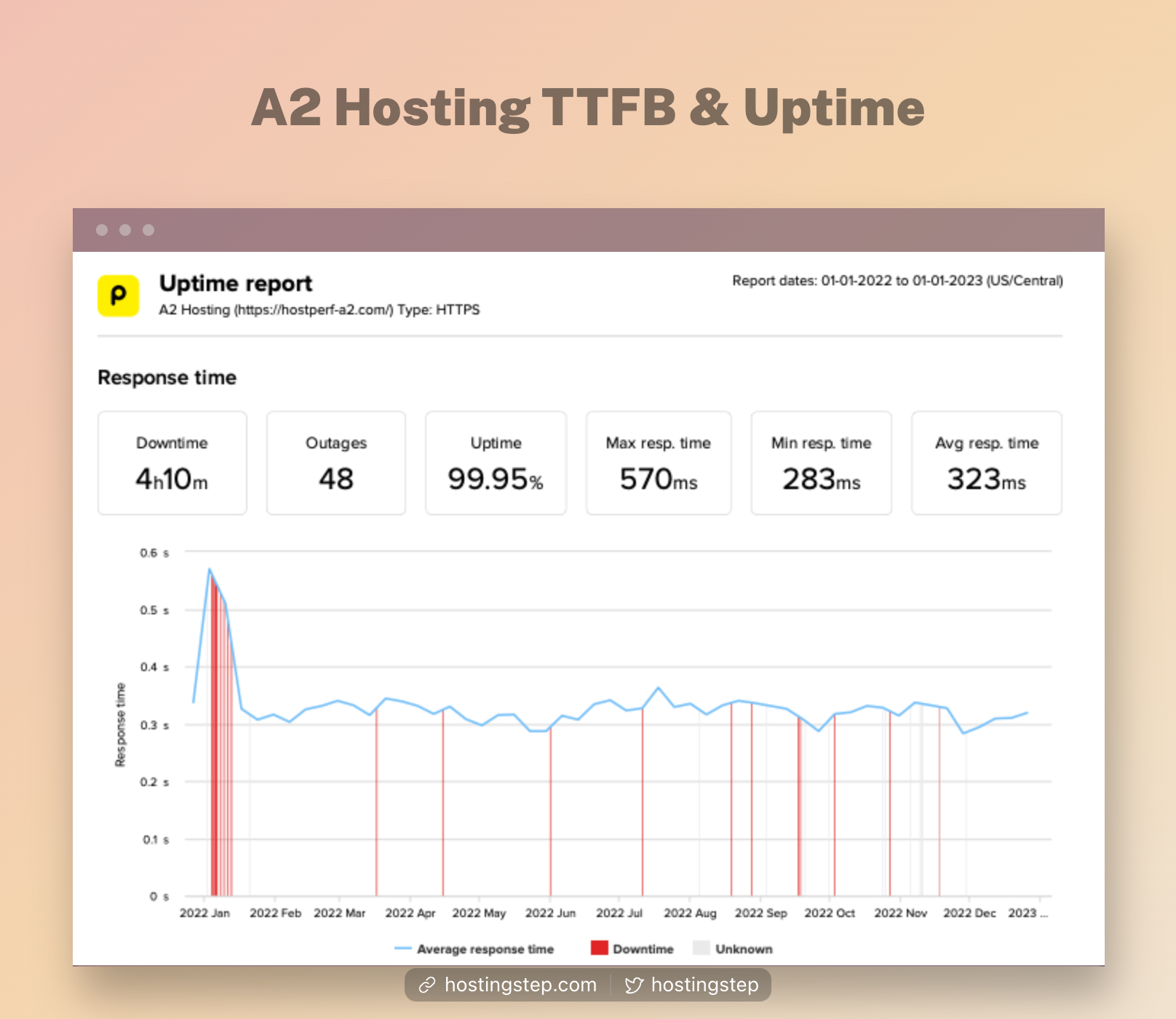 Modified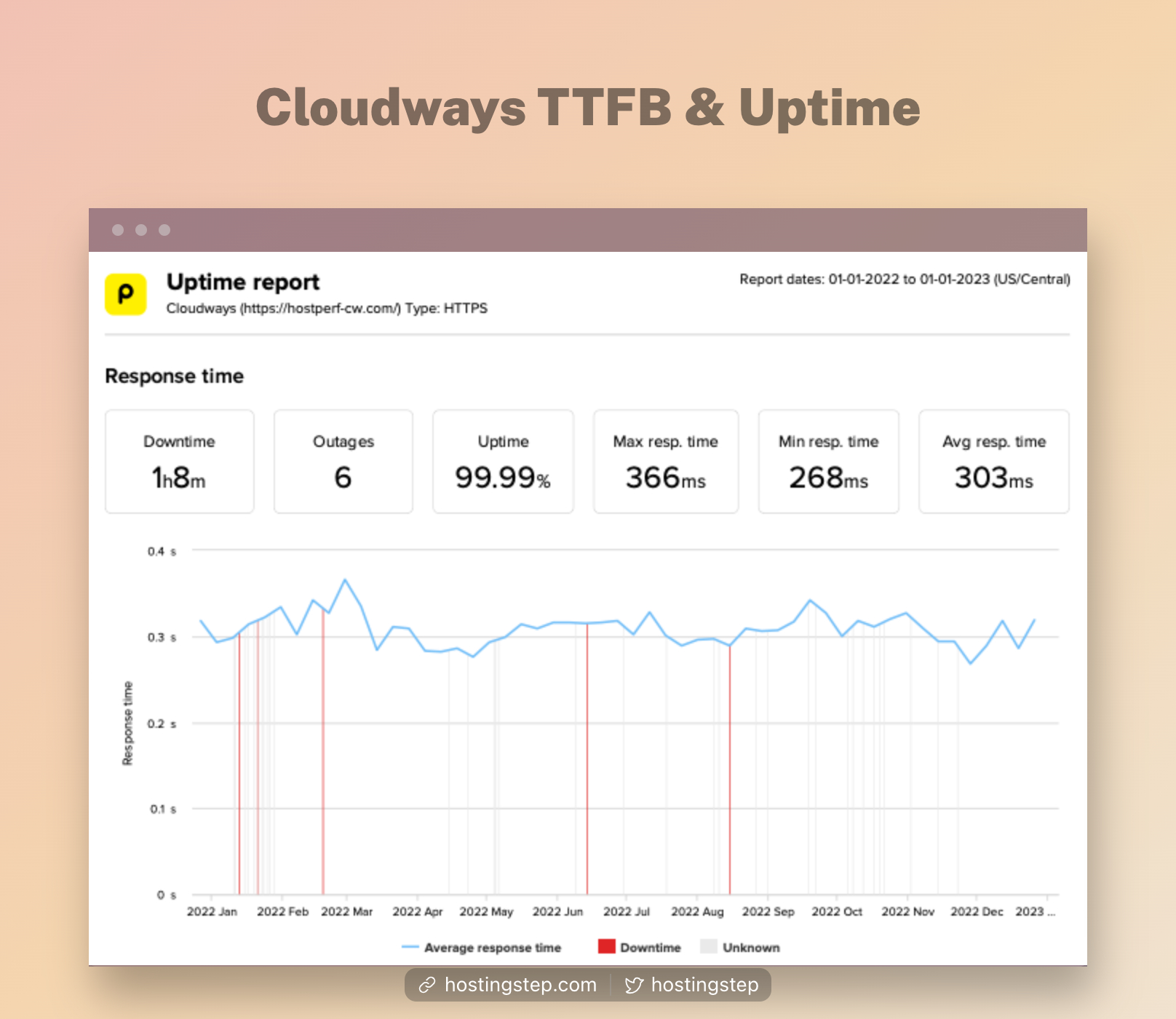 Original
Uptime
Uptime has huge importance in hosting, and any site looking forward to achieving success can only achieve it if one has the best uptime. I have constantly been checking the uptime of my sites hosted on A2 and Cloudways.
While Cloudways recorded 99.99% average uptime A2 Hosting had an uptime of 99.95%. A2 recorded an good uptime in 2021 but the company faced a big outage in January 2022 which resulted in the low uptime.
Load Testing
For sites expecting high traffic or that may have unexpected traffic surges, it is important to ensure that they are hosted on a hosting platform that can effectively handle high traffic. This is where the load testing comes into play. I performed load testing on my sites hosted with the two services by sending 500 concurrent traffic sites.
While my A2 site recorded 102ms, my Cloudways site recorded 180ms to handle the same traffic.
Going by the results, both A2 and Cloudways are capable of handling high traffic.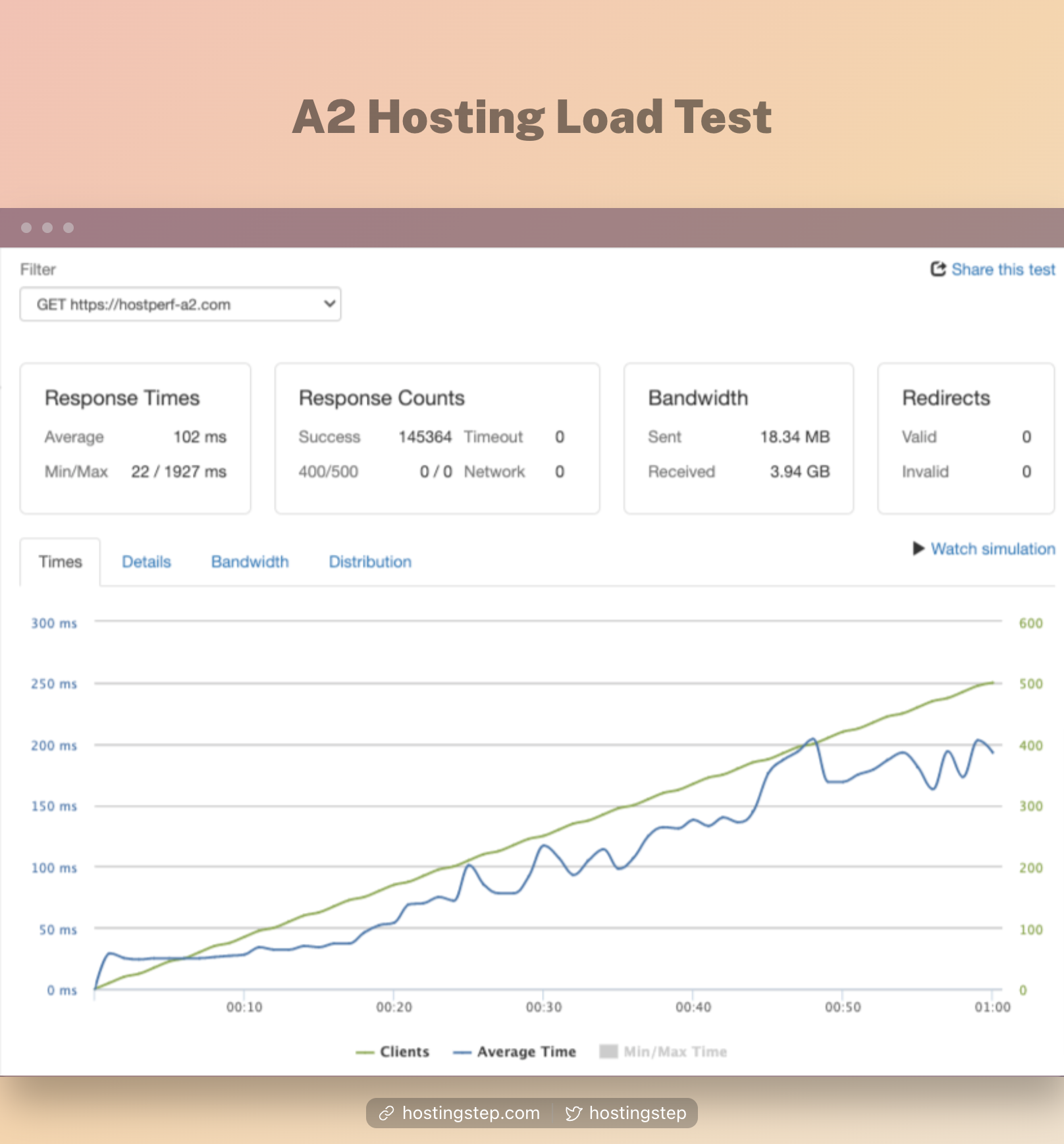 Modified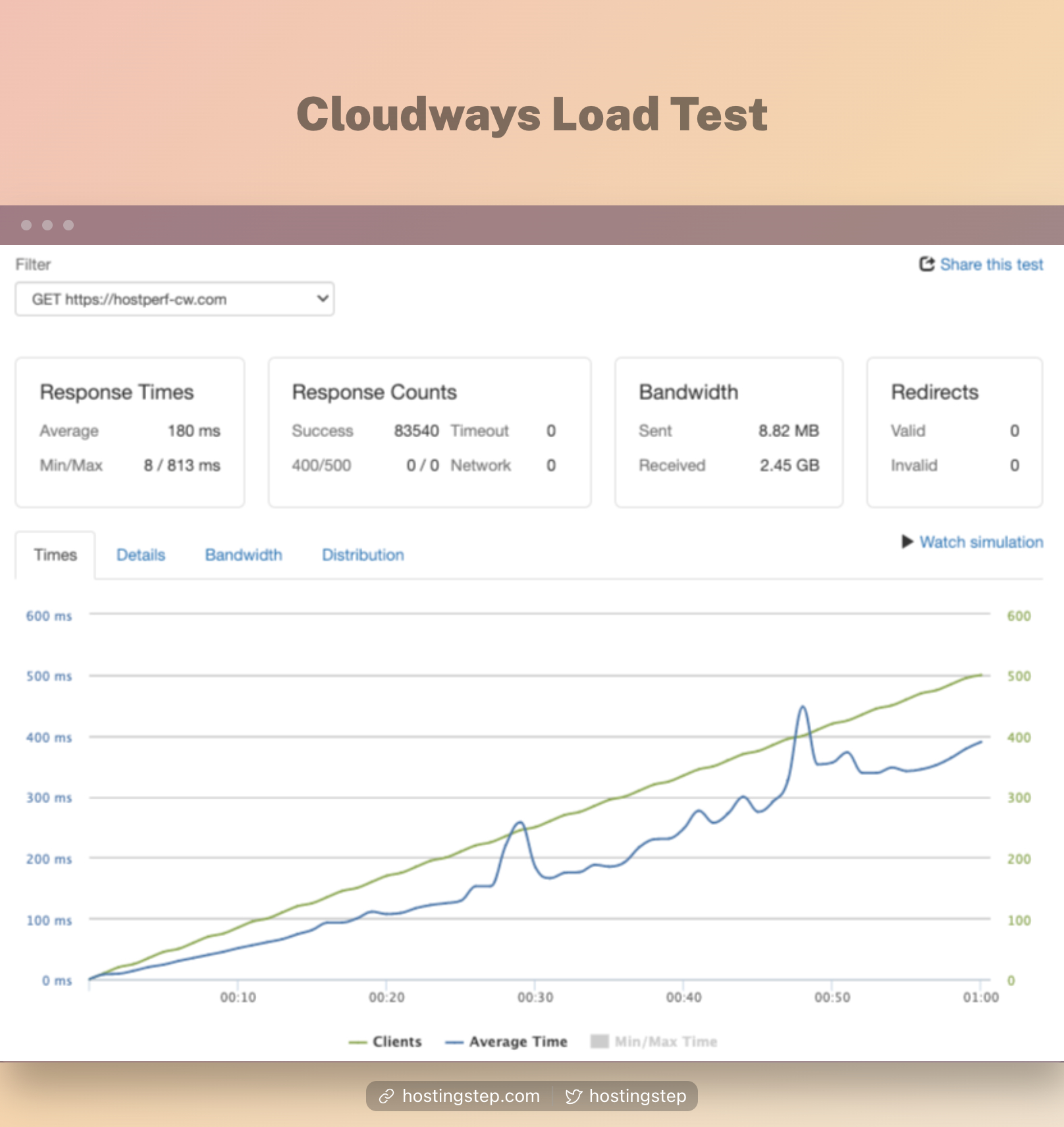 Original
Global TTFB
A good global TTFB is extremely important for sites that depend on multiple global locations for traffic. I tested the global TTFB of the two services by pinging my sites hosted on them from as many as 35 global locations across the USA, Europe, and Asia.
My A2 site had an average TTFB of 639ms. My Cloudways site recorded an average TTFB of 437ms with good TTFB in all most locations.
Cloudways has a comparatively better Global TTFB than A2.

Modified

Original
Core Web Vitals
For sites looking to rank higher on search engines, it has become necessary to deliver an excellent user experience. However, this also has to do a lot with the Core Web Vitals of the hosting service, and that's why I performed the Core Web Vitals test on the two sites.

Modified

Original
While my A2 site recorded a 'Largest Contentful Paint' of 495ms, a 'Total Blocking Time' of 0.012s, and a 'Cumulative Layout Shift' of 0, my Cloudways site recorded a 'Largest Contentful Paint' of 468ms, a 'Total Blocking Time' of 0.000 s, a 'Cumulative Layout Shift' of 0.
Both A2 and Cloudways have good Core Web Vitals scores.
A2 Hosting Vs Cloudways – Features
Control Panel
The control panel has huge importance in hosting since you will need it every time you need to make some crucial changes in your hosting account or sites, such as changing the PHP versions, uploading files, managing databases, selecting CMS applications, and staging. It is always wise to look for a hosting service with a user-friendly control panel.
A2 provides users with cPanel to manage the different hosting activities, and cPanel is a very popular control panel for sure. Most of you must have already used the cPanel, and for those who are completely new to hosting, it shouldn't take longer than 15 minutes to get the hang of it. Most importantly, it is ridiculously easy to use.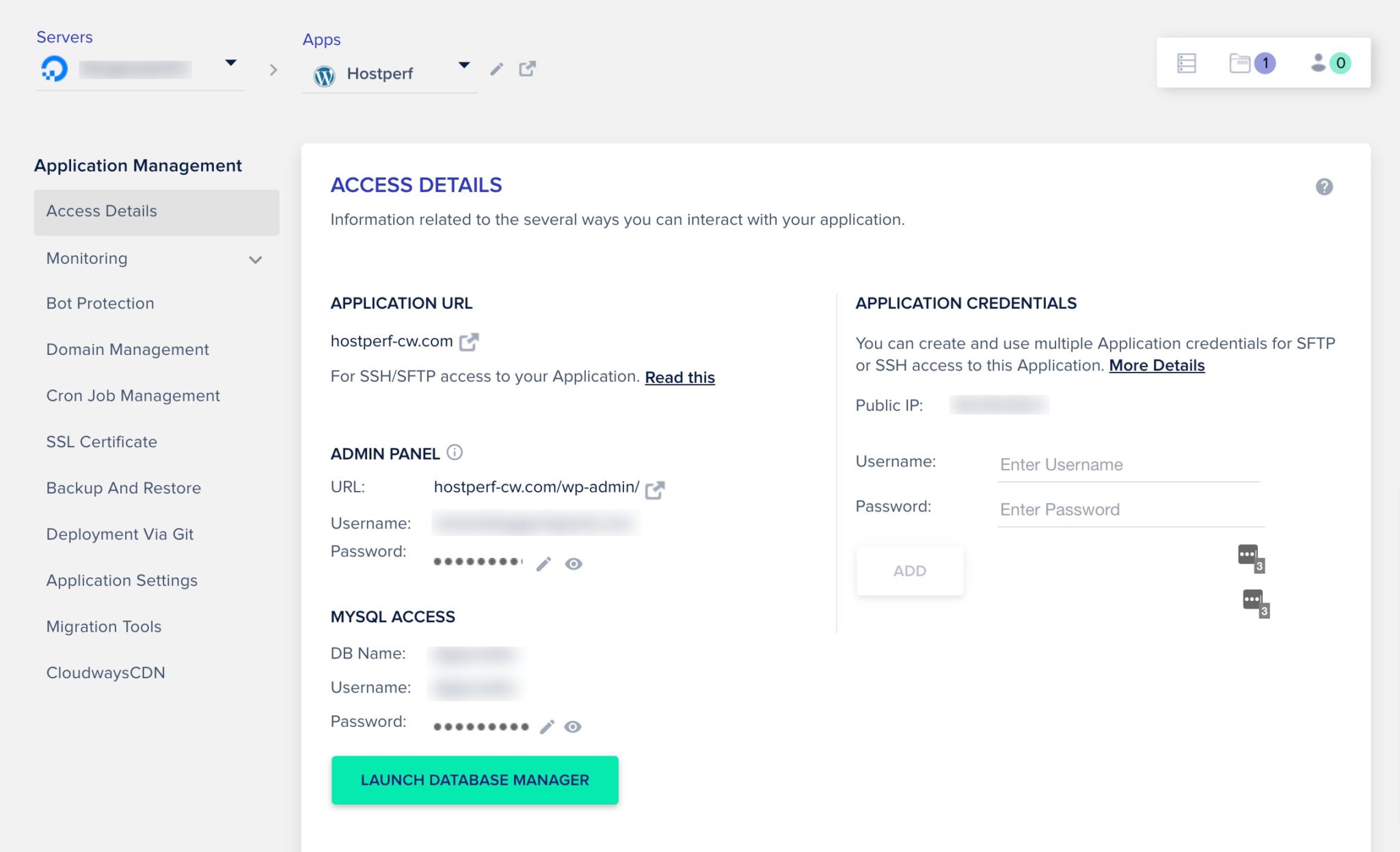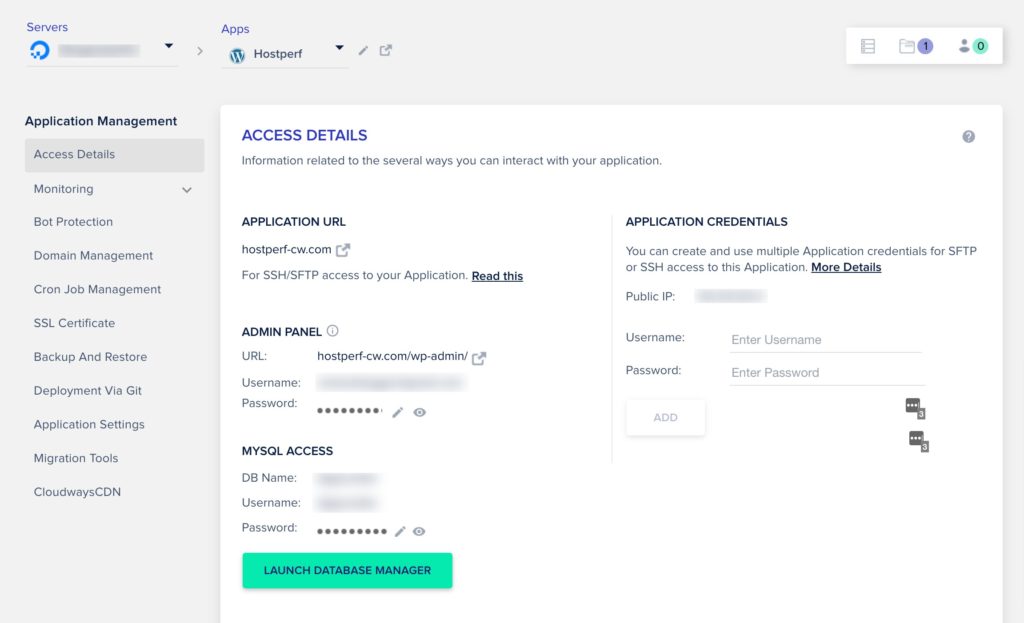 Cloudways has a different approach to the control panel, and the service has a custom control panel in place. The control panel comes with a clean interface with all the options neatly arranged. The control panel has important features such as server monitoring, a Free built-in cache plugin, 1-Click CDN, server cloning, staging URL, and team collaboration.
Data Center Locations
Hosting a site from the closest server location to your audience is a good rule of thumb, and it will help the site deliver the content faster to the audience. That's why customers have to ensure that the hosting service they choose has their desired data center location.
A2 has only 4 data center locations for the customers to choose from. However, the A2 data centers are spread across the USA, Europe, and Asia. If you plan to choose A2 as your hosting provider, you can check in advance if your desired server location is listed among the available ones.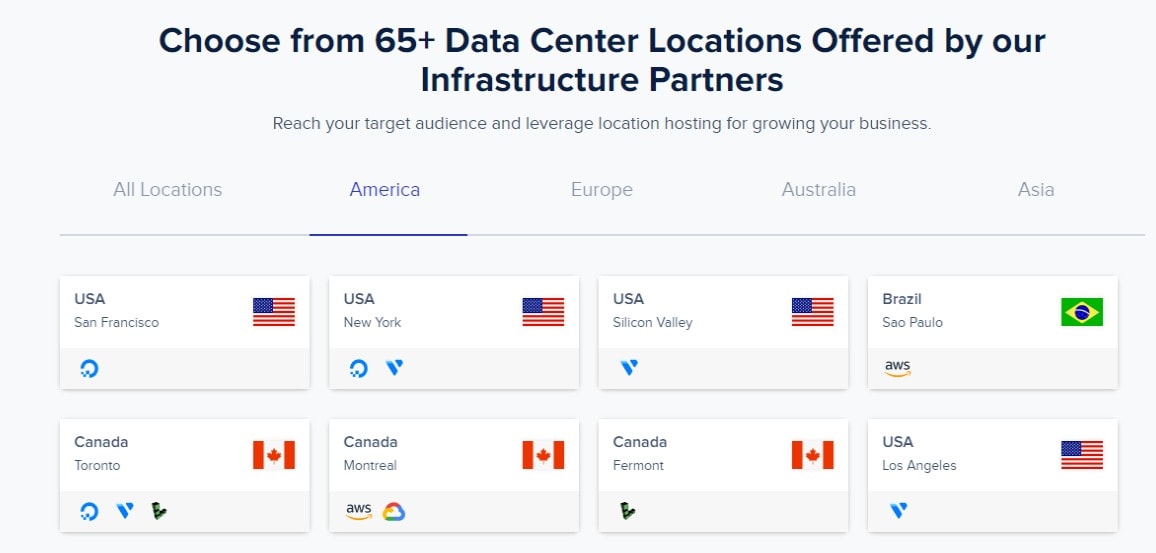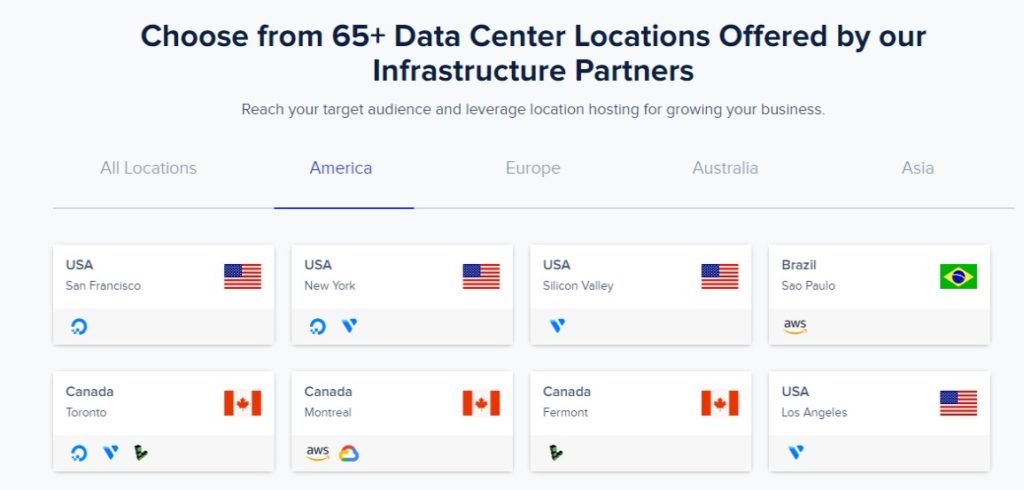 Cloudways comes with as many as over 65 data center locations, which offers customers a wide range of data center locations. Most importantly, customers can easily find their desired data center with Cloudways, and over the years, this has been advantageous for both customers and the provider itself.
CDN
CDNs or Content Delivery Networks are very effective in improving site speed, and that's why CDNs are extensively used these days. A2 uses Cloudflare and offers it for free on all plans. Cloudflare improves the speed of sites to a large extent using techniques like reverse proxy caching, auto minification, image optimization, and content delivery over 275+ global locations.
Cloudways, on the other hand, has an in-built CDN in place, which Cloudflare Enterprise powers. As far as the installation goes, it is pretty simple, and besides, the CDN is extremely effective in enhancing performance and global reach. However, the CDN is not offered for free, and Cloudways charges $4.99 for every domain.
Staging
Staging is a useful feature for those who want to test changes before applying them to the live site. A2 offers this feature on all plans, and users can create a staging site through the Softaculous Apps Installer in the control panel. The installer allows you to create staging sites and easily push the changes to the live site.
Staging in Cloudways is even simpler, and the host has a very straightforward approach to staging. Every new site comes with a staging environment, and it takes just about a few clicks to create a staging site, test the changes and deploy the final changes to the production site. Most importantly, the feature is free on all plans, and you can launch even more than one WordPress staging site on a single server.
Backup
Backup is an extremely important feature in hosting that needs adequate attention. Without a proper backup, you have the constant risk of losing your website files and hard work. You must ensure that you have a reliable backup system in place. A2 has free automated daily backups on its plans. However, it is not available in the StartUp plan.
The backup system in Cloudways is extremely reliable, with automated daily backups stored in an external storage network. However, backups are not free in Cloudways, and the host charges an additional price for this feature. The host charges 0.33 per GB of backups.
Security
It's time to look at the security aspect of the two services. A2 has done a great job in security so far and is known for its perpetual security. A2's security comprises KernelCare rebootless kernel updates, brute force defense, a dual firewall, and (DDoS) Protection.
As far as the security system in Cloudways goes, it is extremely reliable with dedicated firewalls, Let's EncryptSSL, IP Whitelisting, Regular Security Patching, Two-Factor Authentication, Bot Protection against DoS, and brute force. Hence, both A2 and Cloudways are very reliable when it comes to security.
Support
Hosting a site is surrounded by many complexities, and while you are trying to manage your site, you may come across many technicalities. Sometimes, you can also run into some technicalities which might be a little too tricky for you to resolve on your own, and that's when you need a good support service to assist you.
A2 Guru Crew Support team is pretty popular and has done a commendable job so far. The A2 support team assists the customers 24/7 with their technical issues and queries through live chat, phone, and tickets.
Cloudways also has an extremely reliable support service with the most knowledgeable executives to assist the customers through 24/7 live chat and tickets. The host also has advanced and premium support add-ons for those customers that need even faster assistance.
A2 Hosting Vs Cloudways – Conclusion
A2 and Cloudways are certainly two leading hosting services, and comparing the two isn't easy for sure unless you do an in-depth analysis of every important aspect of the two services. I have tested the performance of the two services and found them equally reliable. Although Cloudways had a leading edge over A2 in some places, there wasn't a big difference. However, pricing-wise, A2 Hosting is surely much more affordable than Cloudways.
If we compare, A2 plans are comparatively cheaper than those of Cloudways, and even the highest tier A2 plan costs almost the same as Cloudways lowest-tier plan. Further, while the Cloudways plan offers limited storage, the A2 Turbo Max plan comes with unlimited NVMe Storage. Cloudways plans can be a good choice for fast-growing and dedicated businesses.