BlueHost Alternatives With Cheap Pricing & Better Speed
While many people are looking for an alternative to Bluehost either due to increased renewal charges or a lot of upsells for backups, security or not an easy task to cancel the account.
Whatever may be, with the years of data we have at Hostingstep and if you're searching for Bluehost Alternatives, look no further and
Here are the list Best BlueHost Alternatives worth considering in 2019.
1.FastComet – Best Bluehost Alternative
FastComet is certainly one of the best alternatives to BlueHost. Ever since this company started, it has been offering brilliant features without any upsells.
I have checked the uptime at various points for my WordPress site hosted on FastComet. Interestingly, it is never below 99.9%. Over the years, I found this company to be highly reliable when it comes to uptime.
Most often the FastComet Response time is between the range 400-500 ms. However, when we checked it recently, we found it to be getting even lower which means sites, now will load faster than before with FastComet.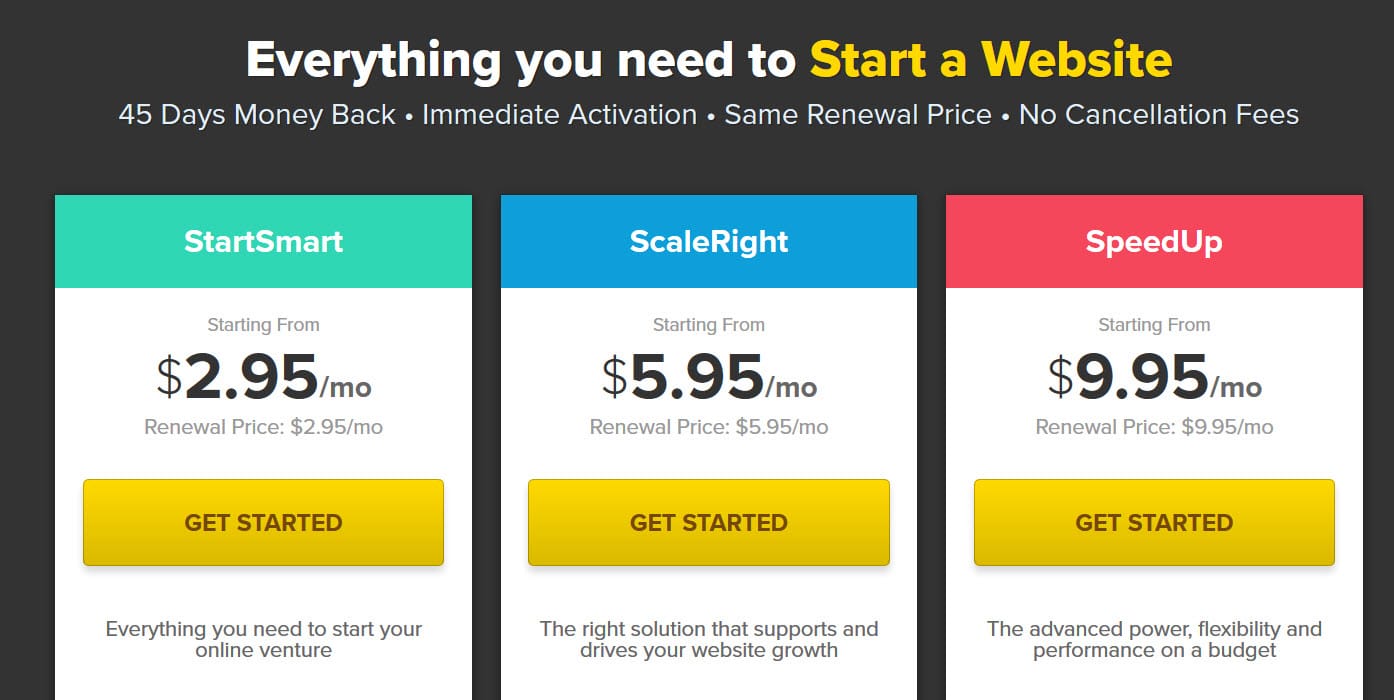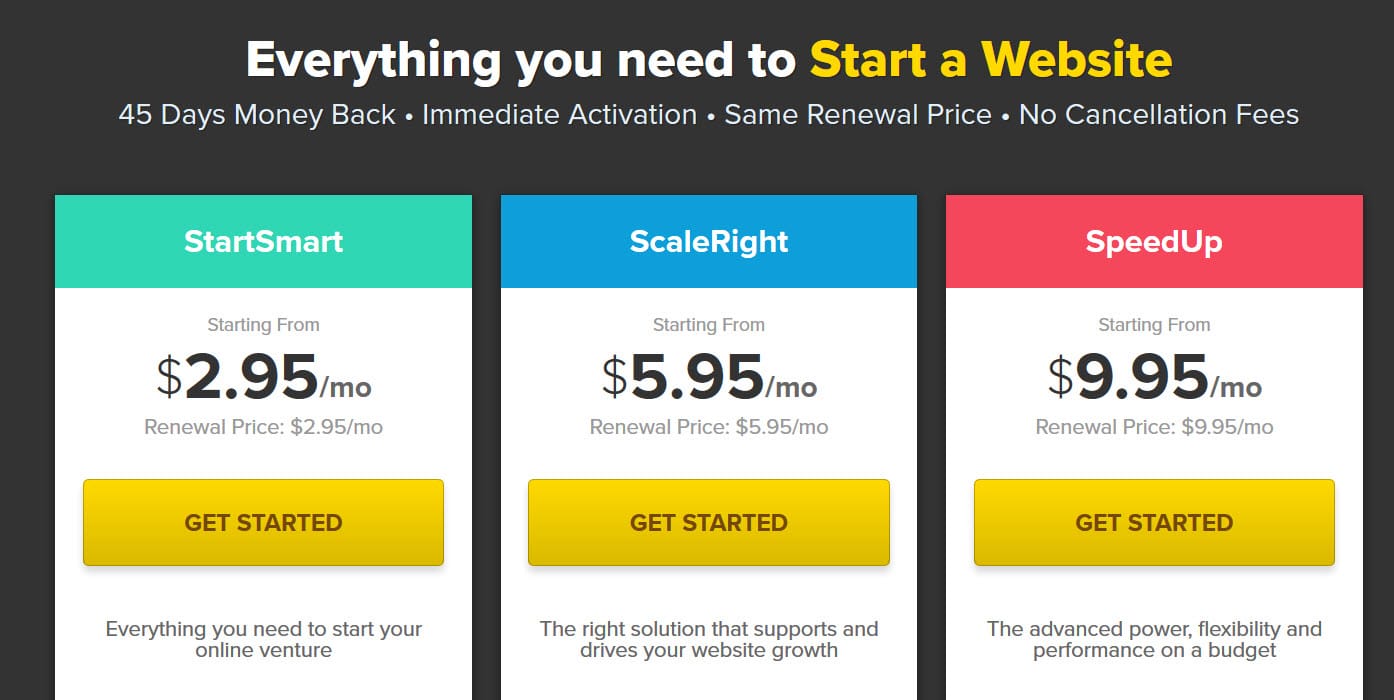 The FastComet customer Support is unbelievably fast with their round the clock assistance. Whenever I contacted this Customer Support, I have always found it to be pretty friendly and fast with their support.
FastComet offers a free Domain forever with its every plan with over 10 domain extensions to choose from including .COM, .ORG and .NET. Also, the free domain will be renewed for free every year as long as you want to use it.
While many of the companies actually have higher renewal price for their products including Bluehost, FastComet has the same renewal price throughout. This certainly makes it one of the best BlueHost Alternatives.
Just as in any other company, FastComet provides limited resources on Starter plans but you can always upgrade your current plan as per your requirement. If you opt for monthly billing, you will need to pay a one-time setup fee of $19.95 during the first billing.
Check Reviews and also an comparison with this hosting here.
2.SiteGround – Best Uptime Bluehost Alternative
SiteGround is one of the best BlueHost Alternatives and there are many reasons for it. SiteGround is not only an old hosting company but also, it is a Company that is well known for its reliable and powerful features.
However, I thought of testing it in the most appropriate way and this is what I found.
I monitored our demo sites on SiteGround every 60 seconds for downtime and we are simply awestruck by the results. Interestingly, I found the sites running at a consistent uptime of 99.99%.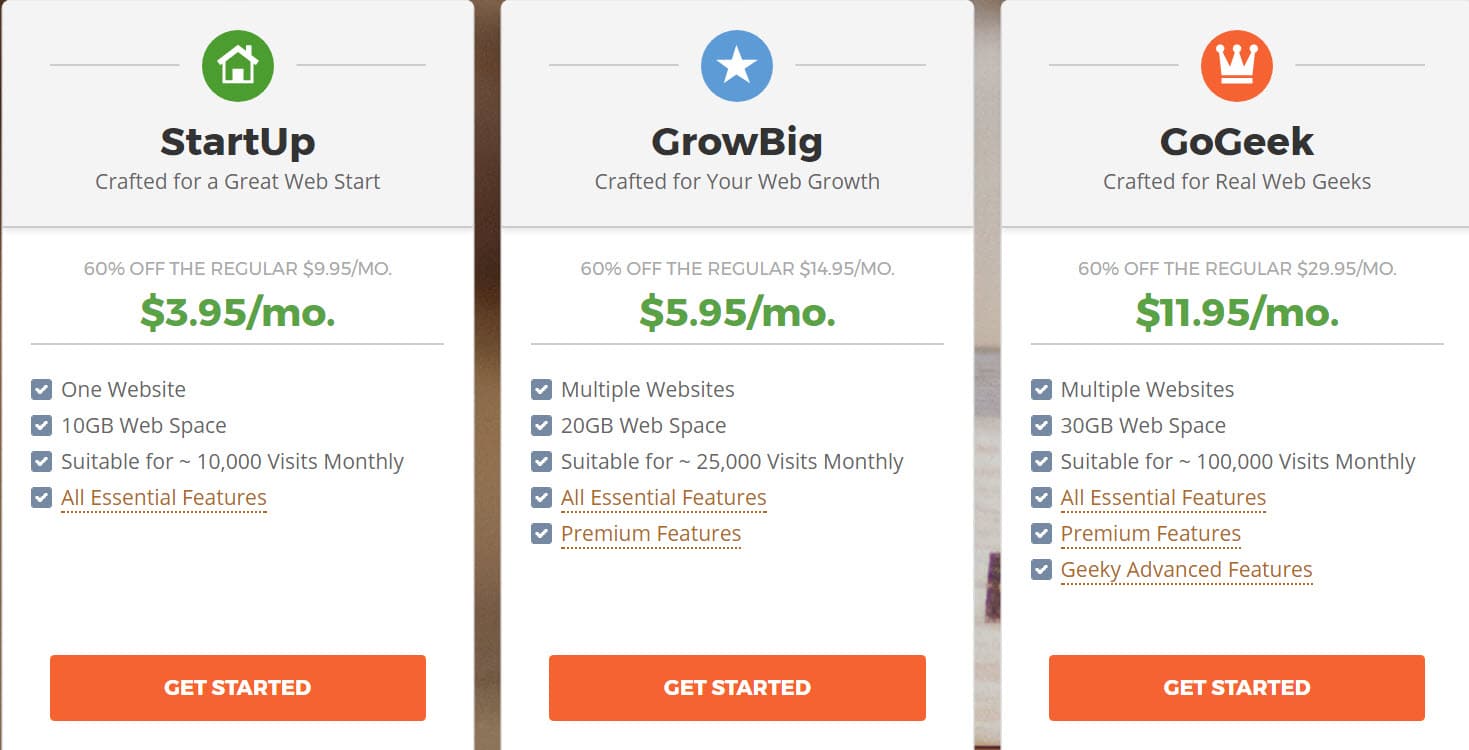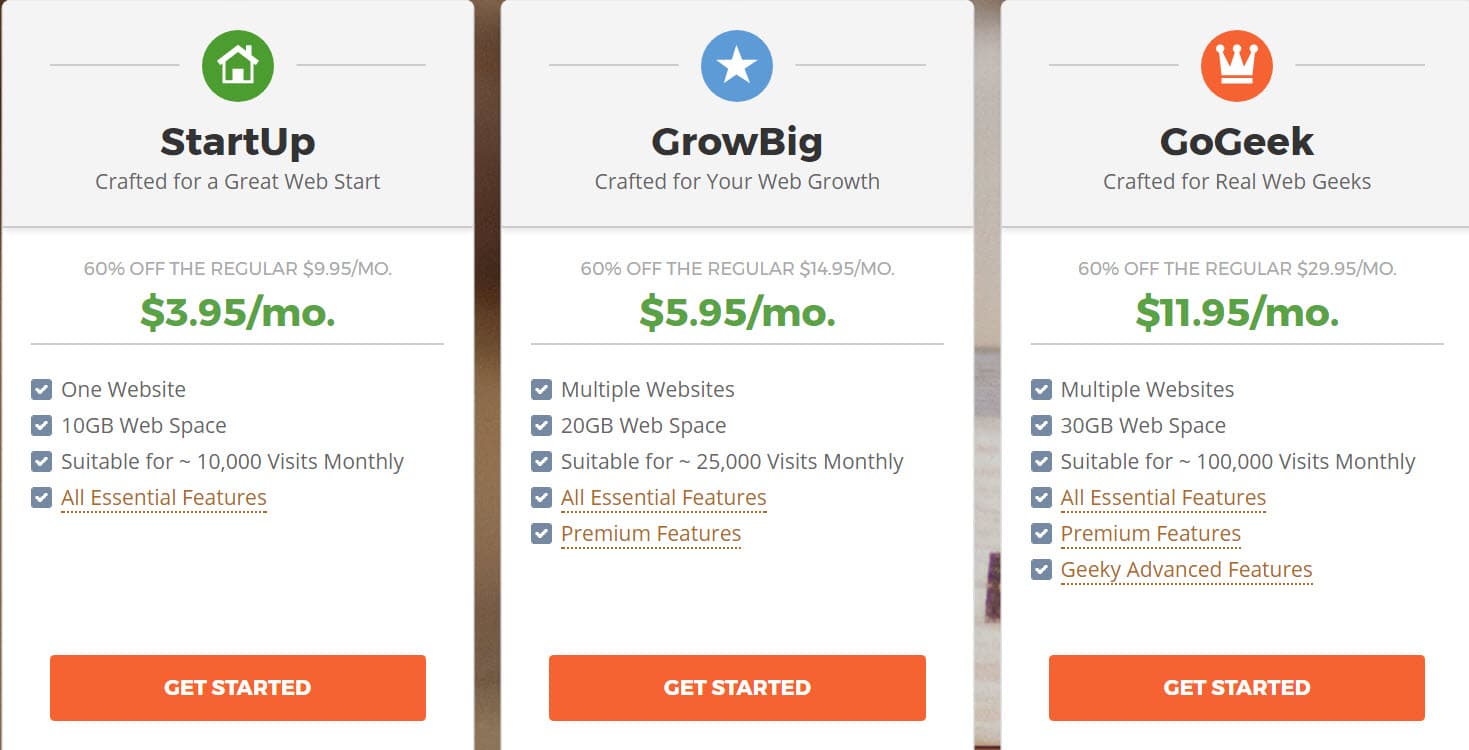 This is probably one of the reasons that make it one of the best alternatives to BlueHost.
As I tested our demo sites, we found the response time constantly between 300-400 ms which is certainly great for any websites to have a brilliant performance.
There's hardly any other hosting company that offers such a brilliant page loading speed.
I tried contacting the SiteGround Customer Support a couple of times and interestingly, I was taken aback by their brilliant professionalism as well as expertise.
It didn't take long to reach the support. Also, I found them to be pretty friendly and helpful.
SiteGround contains 5 Datacenter Locations to choose from and the 5 locations include Chicago, London, Amsterdam, Milan, and Singapore.
Hence, one can easily choose the best Datacenter that is most suitable to reach out to one's target audience.
While both SiteGround and Bluehost are officially recommended from WordPress.org, its easy to consider SiteGround as an alternative.
SiteGround has the perfect mix of the best technologies that comprise Linux containers, SSD, Nginx, SuperCacher, HTTP/2 and PHP 7 to ensure the best security and performance for the websites.
The only downside that I noticed in SiteGround is the high renewal price for the plans.
3. A2 Hosting – Fastest Bluehost Alternative
If you are looking for some great BlueHost Alternatives, you ought to try A2 Hosting as it offers a perfect blend of affordable pricing and powerful features. Despite the fact that it is quite a new name, the Company has performed brilliantly over the past few years.
We did our testing with A2 Hosting and reached some amazing conclusions.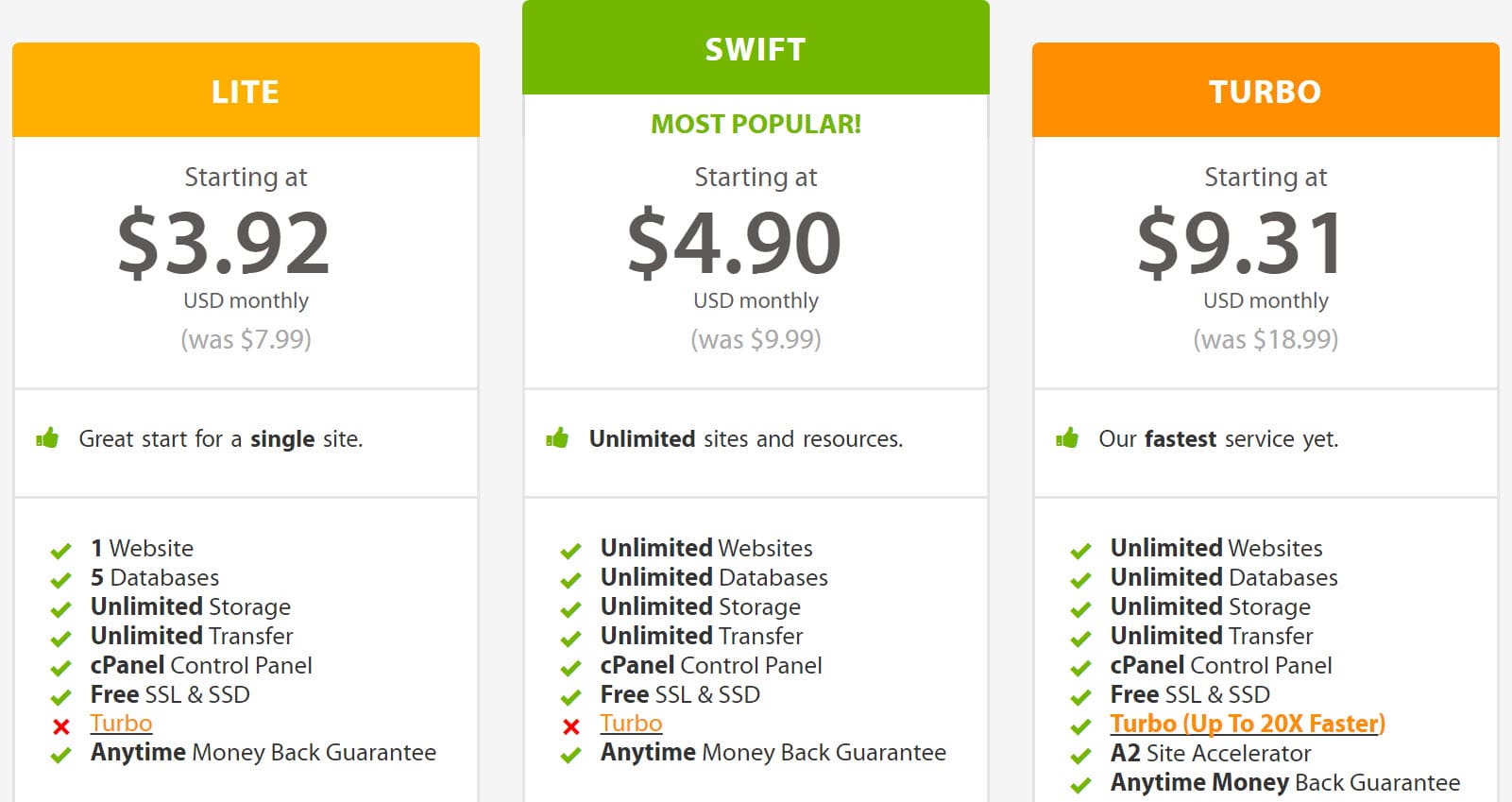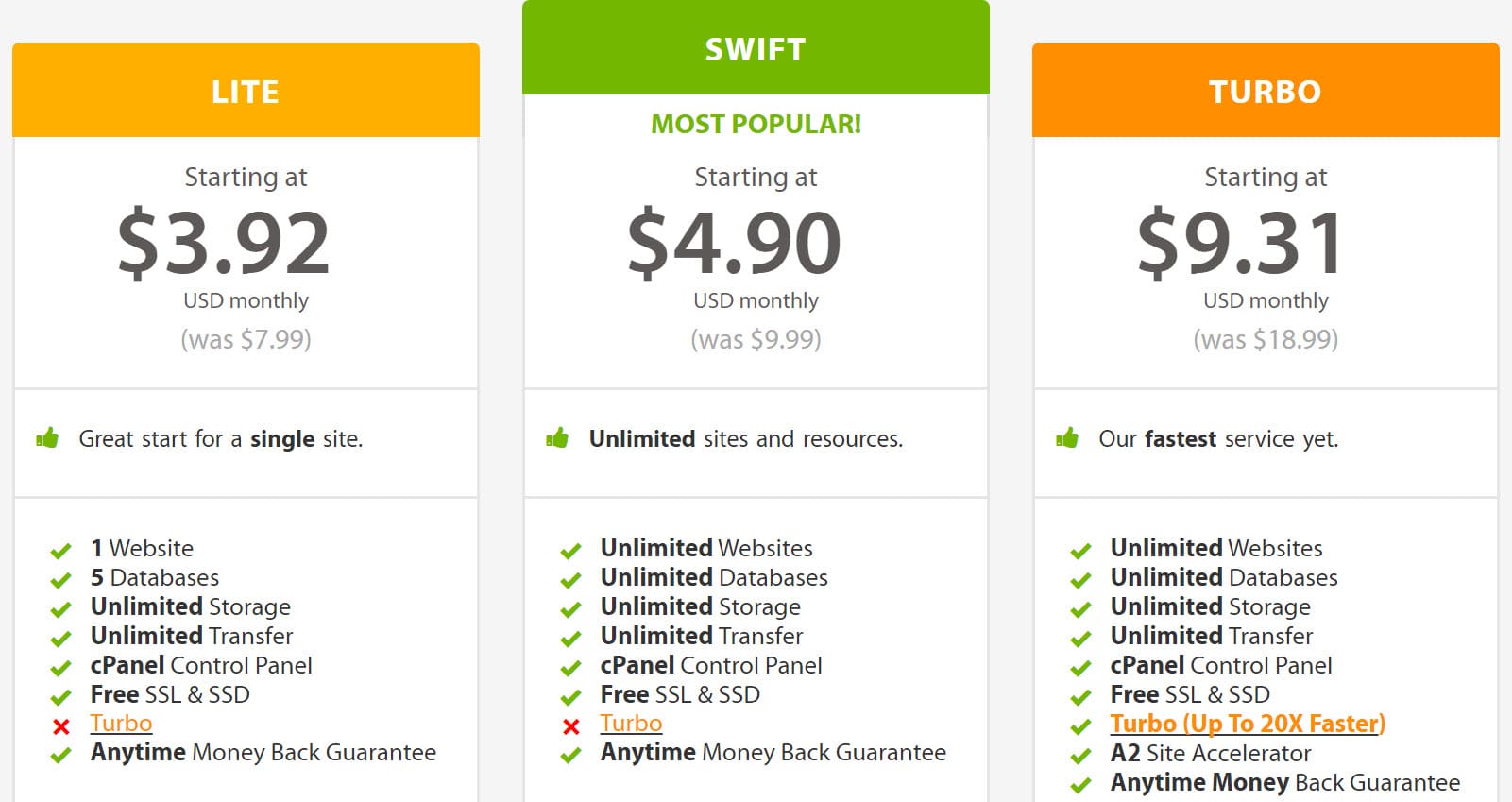 As we tested the response time of A2 Hosting, I was actually stunned as the results were simply unbelievable and it was much ahead of its competitors in terms of the response time. I found the response time to be around 172 ms even without Turbo servers. This makes it one of the amazing BlueHost Alternatives.
Although a lot of companies claim to have an uptime of 100%, it's not worth believing without a proper testing. However, as we tested the uptime of our demo sites for every 60 seconds, we found it almost close to 99.99%.
A2 Hosting undoubtedly has a very dedicated Customer Support and every time I contacted them, I have always found them to pretty helpful and friendly. Also, even at times when there are too many queries in the queue, they would politely ask the customers to wait.
A2 Hosting offers users three different Datacenter locations to choose from; USA – Michigan, Europe – Amsterdam and Asia – Singapore.
In case of Bluehost, you will be getting access only to US datacenters thus making an greater alternatives when choosing A2 ahead.
A2 Hosting's commitment towards its customers as well as its confidence certainly knows no limit and it is clearly indicated by its policy of Anytime Money Back Guarantee. It is obviously one of the best BlueHost Alternatives. .
When it comes to renewal, the renewal price is a bit high. However, if we consider the features every penny you spend on it surely worth it.
Are you looking for BlueHost Alternatives? Well, then TMDHosting is certainly great option to try out. There are many reasons for it as well.
Considering the increasing popularity, I thought of testing if it really is that good and I reached to some stunning conclusions.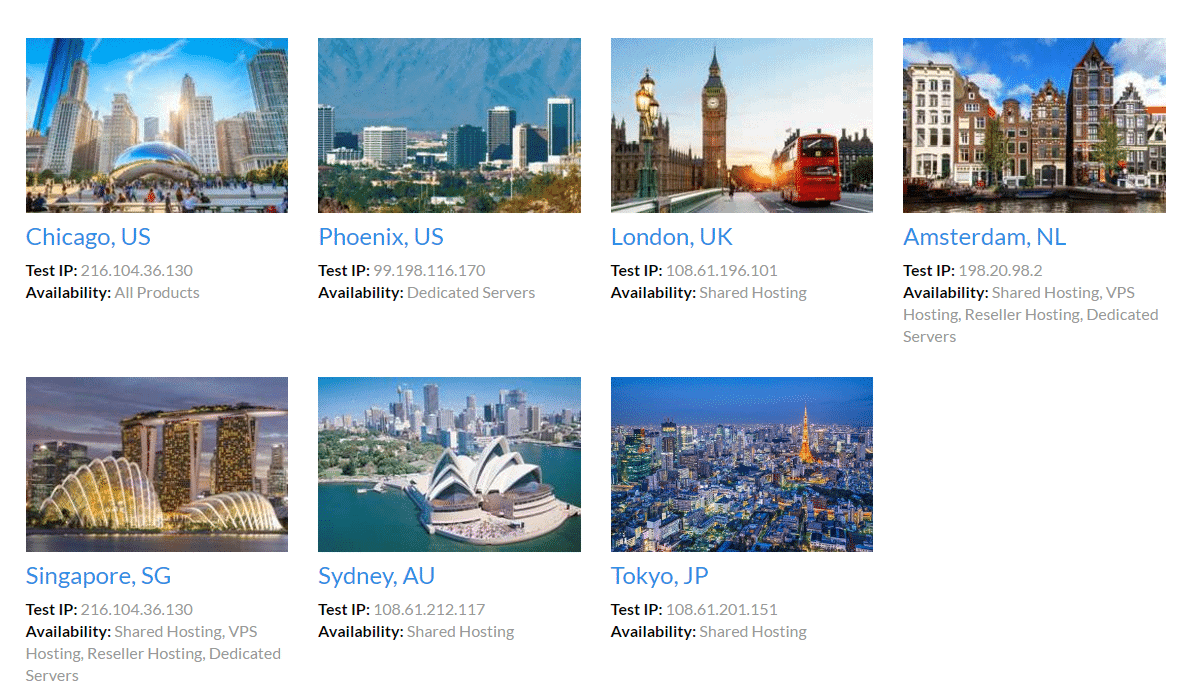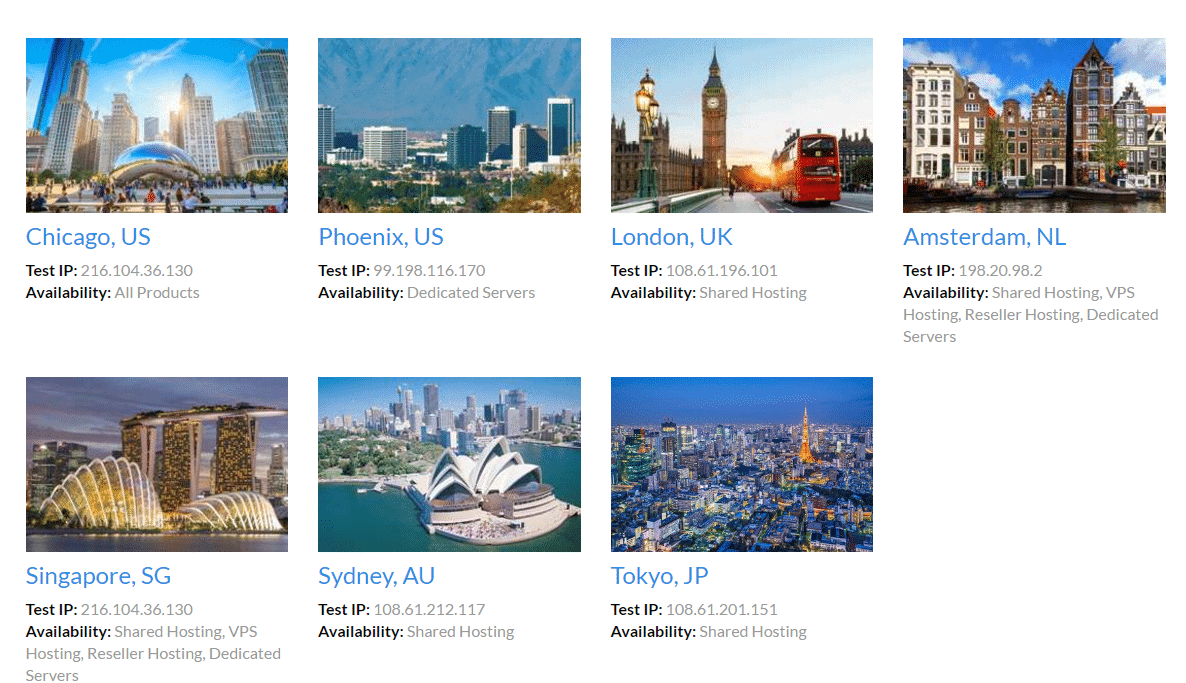 The company certainly offers a brilliant pricing and the plans are pretty affordable. Also, if we see it from the point of view of the kind of features, the pricing seems to be pretty justified.
On top of that, you'll get a 60 days money back guarantee offer while most of the other companies actually offer a 30 days money back guarantee only.
TMDHosting offers an amazing round the clock assistance via chat, email, phone, and ticketing. As a matter of fact, it is commendable about the way it resolves the various technical difficulties in merely a few minutes.
I had to contact the customer care a couple of times and the experience has been simply awesome.
The server is maintained by the leading SLA, Inap (Singlehop) and that's the reason why probably, there's no downtime. However, I have had my testing on my demo sites hosted on TMDHosting and the results were just outstanding.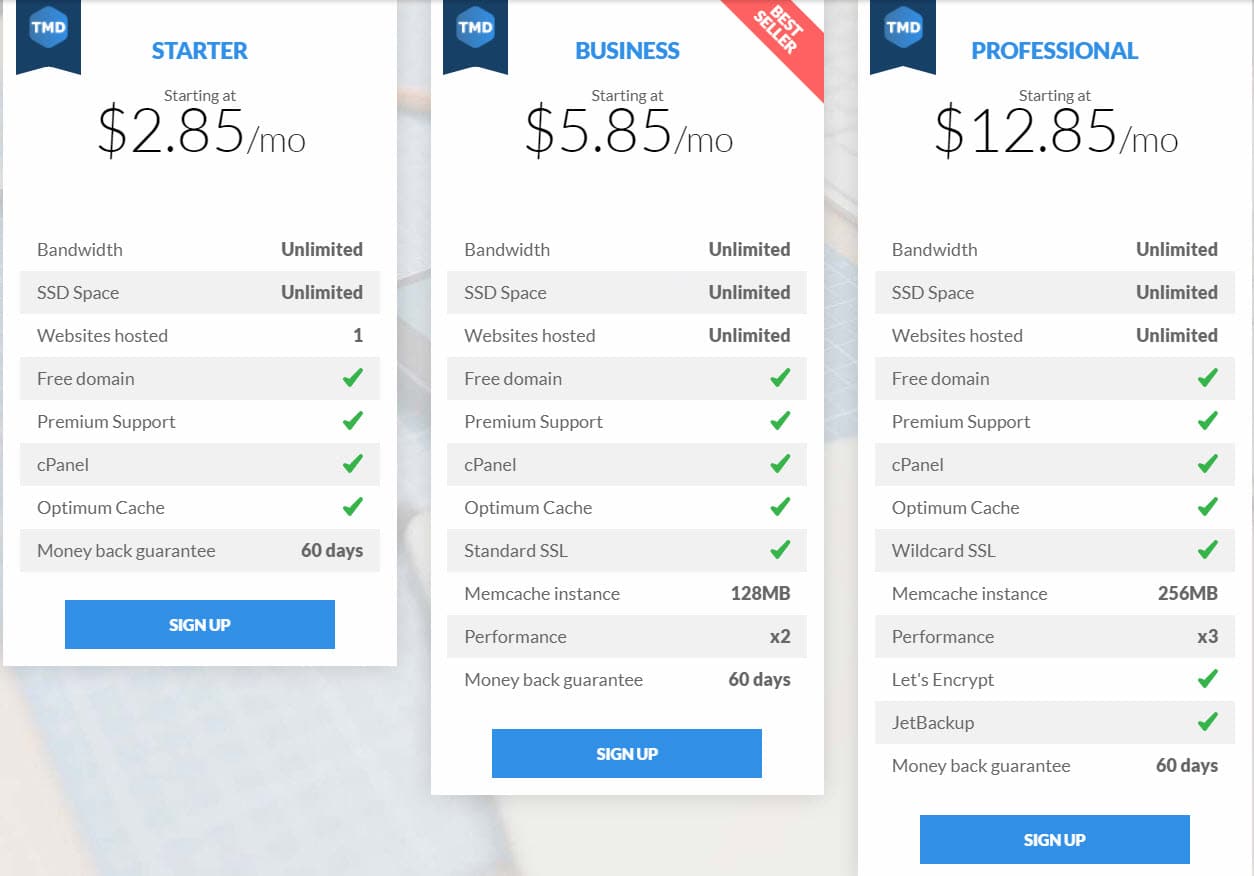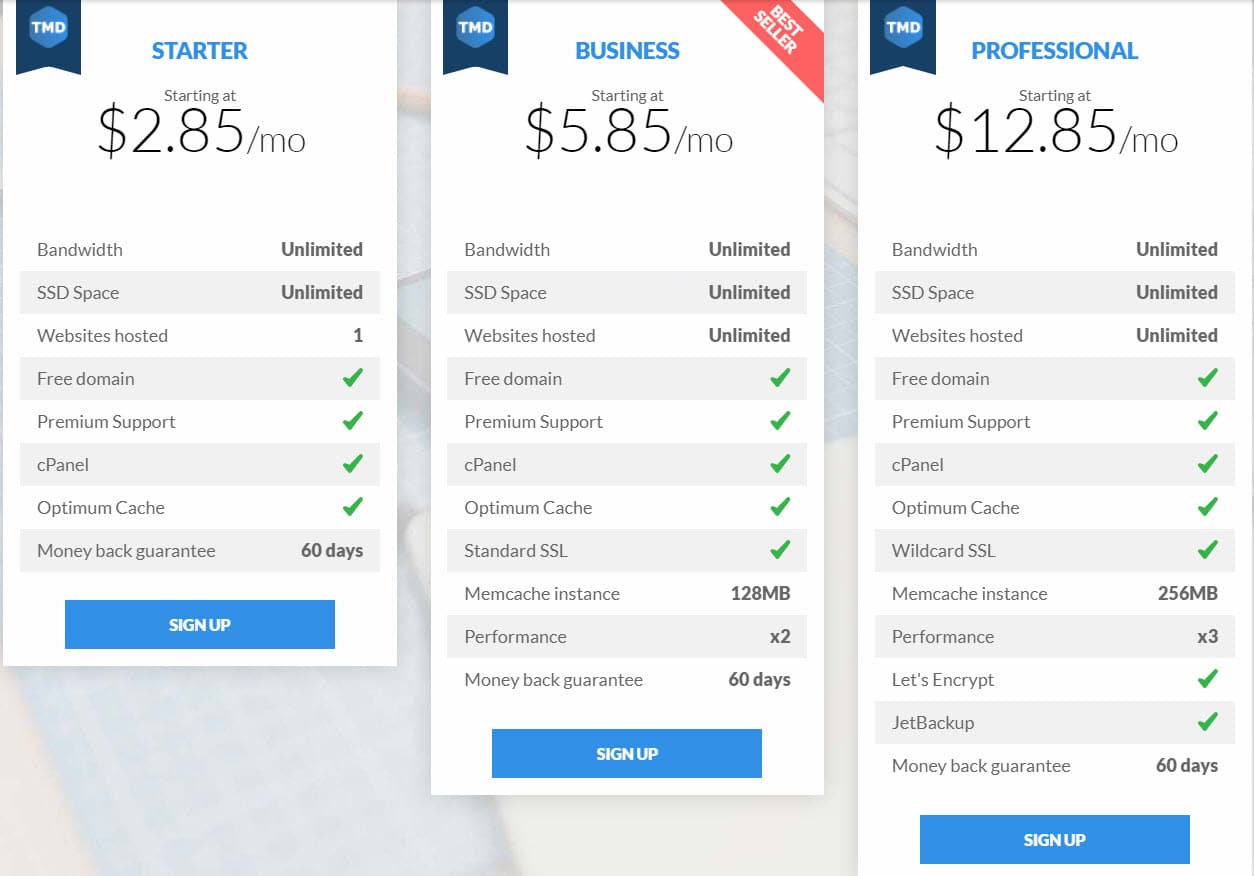 It offers a pretty favorable environment which is lightweight and has enhanced security to keep you out of every possible worry pertaining to your site security.
The cPanel helps users manage their accounts with having to face the slightest difficulty. It merely takes a couple of minutes to get used to and using the cPanel, users can have an excellent control over their accounts.
As I tested my demo sites, I was a bit disappointed to find that the load time is lower than many popular companies and this is certainly an aspect that this company should work on.
GreenGeeks is certainly one of the best BlueHost Alternatives to look for as it brilliant features for every website category. I bought GreenGeeks in the recent past for the purpose of demo sites.
As I tested my demo sites on GreenGeeks, here is the conclusion that I reached to:
Load time is quite a crucial factor for the success of any website. A website should not take more than 2 seconds to load else chances are that the visitors will abandon the website. GreenGeeks has a perfect blend of all the excellent Speed Technologies SSD Hard Drives, Fast Servers, Built-in Caching, CDN Services, HTTP/2, and PHP 7.
GreenGeeks provides an reliable and secure environment with 24X7 constant monitoring with Hardware & Power Redundancy, Container-based Technology, Account Isolation, Proactive Server Monitoring, Real-time Security Scanning, Automatic App Updates, Enhanced SPAM Protection, and Nightly Data Backup
As I tested my demo sites hosted on GreenGeeks, I found the uptime to be consistently good and one of the important reasons for it is certainly the proactive server monitoring by the GreenGeeks experts.
GreenGeeks certainly has one of the best Customer Support with the 24X7 phone, email and chat assistance. Also, it is quite easy to reach them out and the Customer Support team is competent enough to resolve the issues of the customers in no time.
Almost all the plans of GreenGeek have a variety of excellent eCommerce features and one of such features is obviously the free Let's Encrypt Wildcard SSL certificate. The only downside that GreenGeek has is the high renewal price.
The Deciding Factor
As it looks like there are a lot of companies can be claimed as the Bluehost Alternatives, but only a few companies can attain the Best Bluehost Alternatives you need to get started.
If you want to lower the prices, choose FastComet and for better speed, choose A2 Hosting ahead of Bluehost and for an overall best hosting go with SiteGround.