AWS Managed WordPress Hosting is a new service from hosting companies that utilize Amazon Web Services. The AWS WordPress hosting makes it easier for businesses to set up and manage their WordPress websites. The service includes everything you need to start, including a pre-configured WordPress installation, a managed database, and automatic backups.
AWS Managed WordPress Hosting has many advantages in terms of performance and security. This post will cover the benefits, features, and pricing of AWS Managed WordPress Hosting. Further, I will explain how non-techies can go about launching a WordPress website with AWS Managed WordPress Hosting.
5 Best AWS Managed WordPress Hosting
WP Engine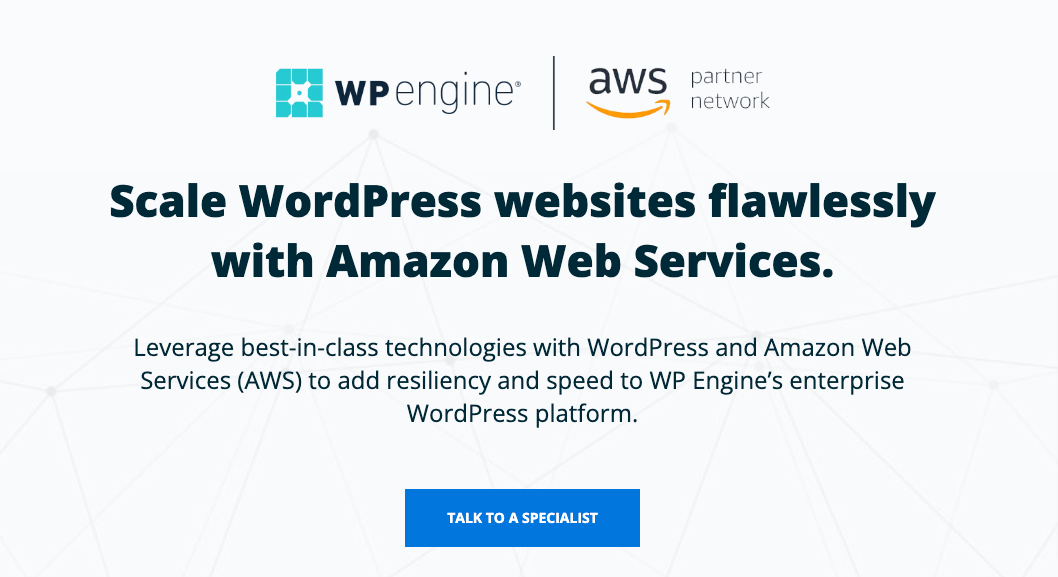 WP Engine AWS Managed WordPress Hosting allows you to launch and scale WordPress websites flawlessly with Amazon Web Services. The service uses best-in-class technologies to offer excellent performance.
With WP Engine AWS Managed WordPress Hosting, you have the advantage of highly reliable and scalable cloud computing and top-tier performance, irrespective of website traffic.
WP Engine AWS Managed WordPress Hosting comes with Enterprise-grade solutions on WordPress-optimized AWS architecture. The service uses AWS global data centers and multi-zone redundancy across all traffic serving layers, ensuring better uptime protection and risk mitigation by eliminating single points of failure. Most importantly, the service offers maximum speed and scalability.
WP Engine AWS Managed WordPress Hosting offers a robust security system. The service has the WP Engine enterprise-grade security system in the first place, which comprises Cloudflare's managed web application firewall (WAF), advanced distributed denial of service (DDoS) mitigation, SSL/TLS encryption, and CDN. On top of that, websites have the advantage of AWS cloud infrastructure security.
Next, it's essential to look at the WP Engine Support. WP Engine has a 24/7 support team with world-class WordPress expertise. The support team does a great job of helping the clients. You can find the support team working at its best at every step, comprising onboarding, core updates, and proactive patching of the entire stack. You can contact the support team through live chat, phone, and email.
Check our WP Engine Review 2023
Cloudways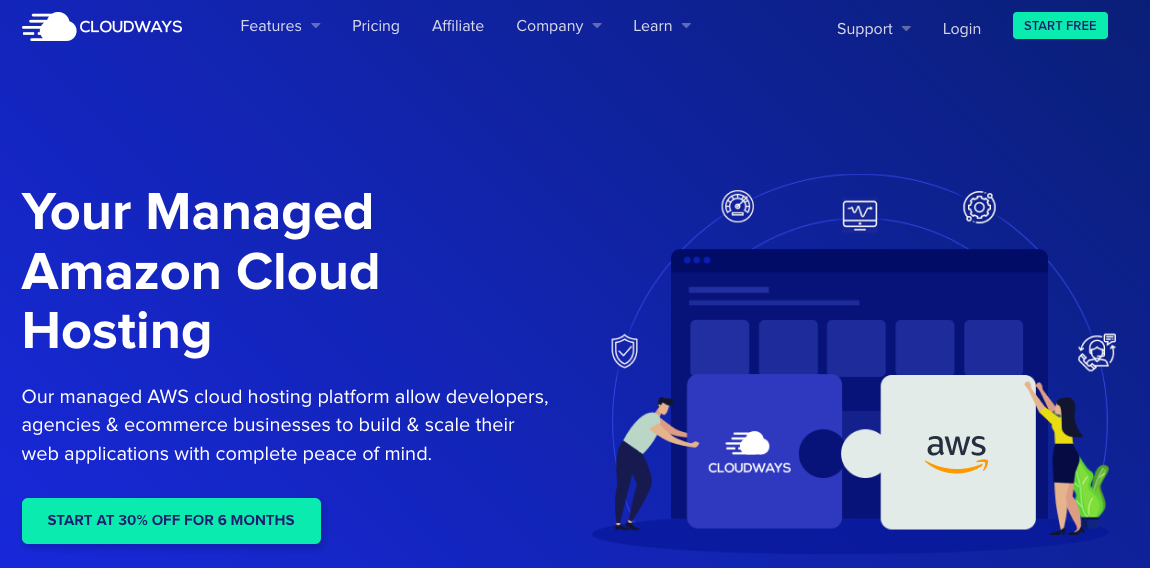 Cloudways AWS Managed WordPress Hosting is an innovative platform for developers, agencies, and eCommerce businesses to build & scale their web applications. Cloudways helps you effortlessly choose the AWS server. The service has addressed many essential features primarily missing in AWS to make it more user-friendly.
Cloudways AWS Managed WordPress Hosting is available at eight different pricing. The lowest tier plan is priced at $36.51 per month for 1.75GB RAM, 1 vCPU, 20GB Storage, and 2GB Bandwidth.
As the new month approaches, so do the new Cloudways coupon codes. Check out some of the best Cloudways coupon codes for 2023 below. With Cloudways, you can get up to $25 free credits on your first invoice. This is an amazing deal that you won't want to miss!
Some features that are common in all plans are:
24/7/365 support
Free SSL Certificates
Free Migration
Team Management
Dedicated Firewalls
24/7 Real-time Monitoring
Automated Backups
Staging Environment
Auto Healing
Regular Security Patching
Cloudways AWS Managed WordPress Hosting offers excellent performance and reliability backed by an Optimized Stack, Built-in Advanced Cache, Built-in CDN, and SSD-Based Servers. Besides, the service allows you to choose from all the AWS global data center locations to host your site at the closest server to your target audience. If you're not aware, the company also offers Managed Google Cloud WordPress hosting.
As far as security goes, Cloudways has an excellent security system characterized by Managed Security, Dedicated Firewalls, Free SSL Certificates, and Managed Backups.
Cloudways AWS Managed WordPress Hosting offers reliable support backed by a dedicated team of experts to help customers through 24/7 chat and ticket.
Pagely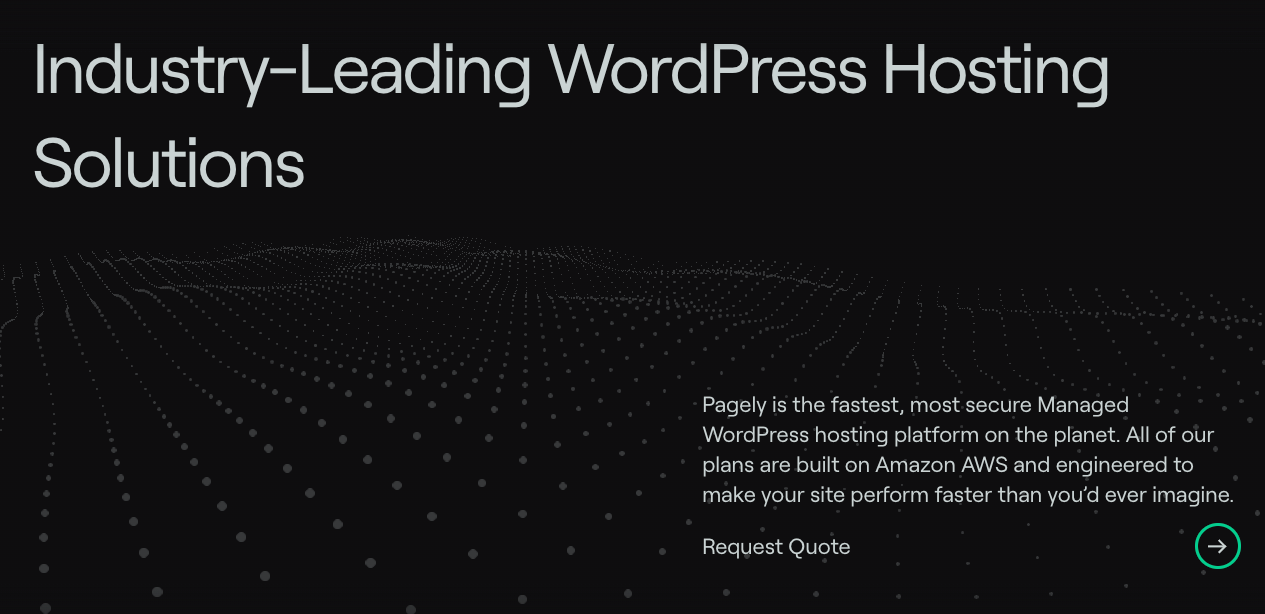 Pagely is another excellent AWS Managed WordPress Hosting platform that has been around since 2006. Pagley AWS Managed WordPress Hosting comes with multi-region redundancy, an enhanced SLA, and personalized technical account management. The service is ideal for Enterprises, Public Sector, and Media companies.
Pagely AWS Managed WordPress Hosting is available at three different pricing. Customers can start for as low as $499 per month for two vCPU, 4 GB RAM, and 50 GB SSD Storage.
Pagely AWS Managed WordPress Hosting comes with high performance with unparalleled reliability and speed backed by Load Balanced Clusters, Redis Custom Cache Engine, PressTHUMB Dynamic Image Optimization, PressTSSD Disk, PressCDN, and PressDNS. Besides, Pagely offers customers 13 Amazon global data centers to host their sites from the closest location to their target audience.
The service also has a decent security system backed by PressARMOR, advanced platform security. Besides, it has automated backups to S3 with 14-day retention, HTTP/2, Let's Encrypt SSL, Automatic WordPress Managed Core and Plugin updates, and Dedicated IPs.
Pagely AWS Managed WordPress Hosting comes with various developer-friendly features comprising Git/SVN, WP-CLI, SSH Access, and DB Access.
Pagely has 24/7 skilled and caring support to assist customers through 24/7 live chat, tickets, and Slack channels. Besides, Pagely has good support documentation and a pre-sales FAQ.
Scala Hosting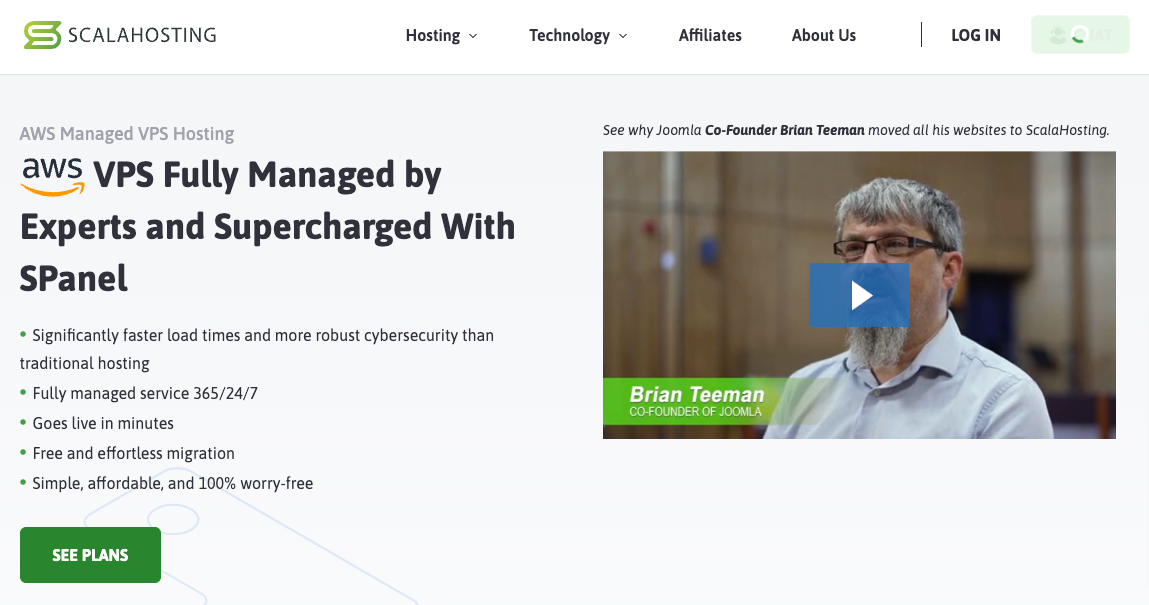 Scala Hosting is a simple and affordable AWS Managed VPS Hosting, fully managed by experts and supercharged with SPanel for an excellent single point of control. The service comes with exceptionally faster load times and robust cybersecurity. Most importantly, it's pretty easy to use, and you can launch a WordPress website in minutes.
Scala Hosting AWS Managed VPS is available at four different pricing. You can start for as low as $61.95 per month for 2 CPU Core, 4GB RAM, 80GB SSD, and 4TB Bandwidth. The company is known for its cheapest VPS hosting options. All plans come with the following features in common:
7-day money-back guarantee
Dedicated IP address
Softaculous one-click installer
Free Domain
Free SSL certificates
HTTP/3 support
SShield and SPanel
Daily disaster recovery backups
Scala offers industry-leading performance backed by a fully managed environment, 100% SSD storage, premium networking, and over 35 enterprise-grade global data centers. The service comes with a robust control panel called the SPanel, which is 100% compatible with cPanel. You can have excellent control by using the SPanel.
The service comes with advanced security backed by SShield, blocking 99.98% of web attacks, and besides, it comes with an isolated and dedicated cloud environment to protect sites in real-time. Further, the service comes with Free SSL certificates.
The service also offers free daily disaster recovery backups and free website migration.
Scala has a brilliant support team that works 24/7 to assist customers through live chat and tickets. You can connect to the live chat in just 30-seconds and expect a ticket response in 15 minutes. Hence, it wouldn't be wrong to say that the Scala support service quickly responds to customers' queries and issues.
Nestify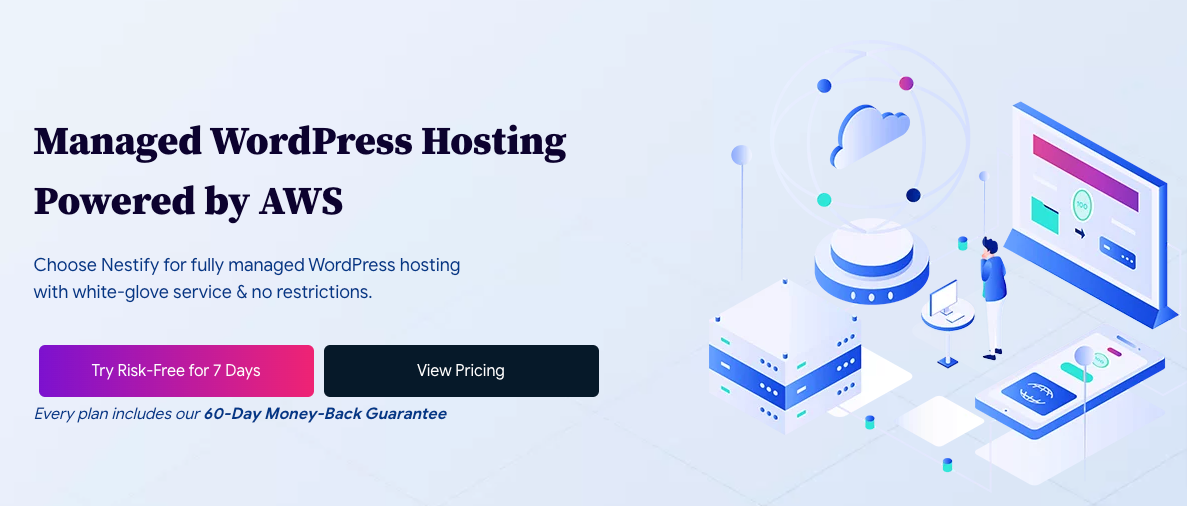 Nestify AWS Managed WordPress Hosting is a fully managed WordPress Hosting with no restrictions. The service comes with free migration, CDN, and staging sites.
Nestify has four different pricing, and the lowest tier plan costs $12 per month for 10 GB SSD Storage, 1 Dedicated CPU, and 2 GB RAM. All plans come with a 60-day money-back guarantee. All plans come with the following:
Free Migrations
Free Daily Backups
24×7 Responsive Support
Page Speed Optimization
Free Staging Environments
The service comes with 1-click page speed optimization, and core web vitals issues are automatically resolved. Notify also offers a tight security system. Security issues are identified and fixed in no time, even during migration. Besides, if any site is hacked, the host will clean it up for the users.
Another impressive thing about Nestify is that the host offers Unlimited Site Migrations. It's time to look at Nestify Support, and the host has 24×7 expert support for questions and issues relating to WordPress core, plugins, and PHP.
What is AWS Managed WordPress Hosting?
Before we get to AWS Managed WordPress Hosting, let me quickly walk you through some essential stats about AWS. AWS, or Amazon Web Services, had its start back in 2006 with its headquarters in Seattle. AWS currently has a market share of 5.8% in web hosting, with over nine million live websites using AWS (source: https://kinsta.com/aws-market-share/).
AWS Managed WordPress Hosting is a platform that helps you launch your WordPress website on the AWS Cloud server simply and intuitively. Such platforms help you leverage the AWS on-demand cloud computing platform for lightning-fast website loading backed by state-of-the-art Amazon Cloud servers. With AWS Managed WordPress Hosting, your WordPress will always run on the latest version and have the latest security patches.
How to launch a WordPress instance on AWS?
The Standard Way
Amazon Lightsail comes with virtual servers, databases, and networking. You can launch a WordPress instance on AWS through Amazon Lightsail. You can do it by connecting to your instance through SSH and signing in to your WordPress website. After that, you can create a static IP to attach to your instance. Besides, you will have to make a DNS zone and map it to your instance.
I know it can be a little intimidating for the first time, but let me simplify it by breaking it down into steps for a better understanding. Here are the steps:
Create an Amazon Lightsail Account
Create a WordPress instance by clicking on the Create instance button
Select the AWS Region for the instance
Select the instance image as WordPress
Select the instance plan
Enter a name for the instance and click Create instance
Next, connect to your WordPress instance through SSH and get the password for your website
After that, you can sign in to your WordPress administration dashboard
by getting to http://PublicIpAddress/wp-login.php
Then, log into your instance by entering your username and password
Next up, you will need to create a Lightsail static IP address and attach it to your WordPress instance
Lastly, you must create a Lightsail DNS zone and map a domain to your WordPress instance.
The Easy way: For Non-Techies
If you think the previous method of launching a WordPress website on AWS is way too complicated for you, you don't have to worry since there is an easy way to do it. This is where AWS Managed WordPress Hosting platforms come into play. There are many great AWS Managed WordPress Hosting, and you can get started with one such platform and efficiently launch your WordPress on AWS. Most importantly, these services are fully managed, so you won't have to deal with technicalities.
FAQs
How do I host a WordPress site on AWS?
You can host a WordPress site on AWS using the standard method through Amazon Lightsail, which needs decent technical expertise. However, if you don't want to handle too much technicality, you can opt for the easy way: choosing an AWS Managed WordPress Hosting and quickly launching a WordPress site. Furthermore, almost all AWS Managed WordPress Hosting services provide excellent support to help you at every step.
Is AWS suitable for WordPress hosting?
AWS is undoubtedly suitable for WordPress hosting. Launching a WordPress website on AWS ensures better speed and security.
What are some of the best AWS Managed WordPress Hosting services?
There are many AWS Managed WordPress Hosting services around, and here are the best 5 AWS Managed WordPress Hosting services in terms of pricing, performance, security, and support:
WP Engine
Cloudways
Pagely
Scala Hosting
Notify
Conclusion
So, these were my five top picks for AWS Managed WordPress Hosting. I have explained the Standard method of launching a WordPress website on AWS, and I am sure you realize how technical the process can be. On the contrary, using AWS Managed WordPress Hosting makes the operation exceptionally simple and gives you the advantage of better performance and security. I am sure you can now choose the ideal AWS Managed WordPress Hosting service for yourself.