5 Best Dedicated Server Hosting UK in 2020 Reviews
If you have an UK business, growing at a steady pace, there is nothing like a Dedicated Server.
The Best Dedicated Server Hosting UK makes a lot of room for your growing business requirements and at the same time, offers you exceptionally high performance and secure Environment.
However, the choice of a Dedicated Server may not be that easy anymore now that there are so many providers offering Dedicated Server Hosting in UK . However, at the same time, it has also provided users with a lot to choose from.
We totally understand the effort it may take in making a good choice. Hence, we decided to do all the research and bring to you some of the Best Dedicated Server Hosting UK options so that you do not have to spend much time and effort on it.
| | | |
| --- | --- | --- |
| | Starts from €139/month, London & Frankfurt DC | |
| | Starts from €224/month, Amsterdam DC | |
| | Starts from €242/month, Amsterdam DC | |
| | Cheapest Starts from €127/month, Amsterdam DC | |
List of Best Dedicated Server Hosting in UK For 2020
1. Liquid Web - Best Dedicated Server Hosting UK 2020
Started in 1997, Liquid Web had an amazing journey so far and in fact, it is one of the most reliable companies with a wide variety of web services.
When it comes to Liquid Web Dedicated Server Hosting, it offers a brilliant balance of the right features that you will possibly need to help your business grow and, of course, it offers lots of resources. This is the reason that it has been extensively used by users over the years.
Our site hosted on LiquidWeb for the last three years and here is our dashboard.
Features
Standard DDoS Protection keeps your site safe from attackers
Cloudflare CDN helps your site load faster for a global audience
The dedicated IP address helps your site to stand out amongst the others with better results
The Root Access allows you to configure the various settings as per your requirement
It has its data center location at Amsterdam, NL in Europe alongside Lansing, MI and Phoenix, AZ.
Pricing
Liquid Web offers as many as 6 different Dedicated Server plans to choose from and the lowest price to get started with Liquid Web Dedicated is $199/mo.
Support
A good Customer Support is always the greatest strength of a Company and this holds perfectly true for Liquid Web. Over the years, the Liquid Web support team has largely exceeded the expectations of its customers with its fast and friendly.
Most importantly, each one of the team members has a perfect knowledge of the various technicalities and this helps the team resolve the issues of the users in no time.
2. FastComet - Best Dedicated Server Hosting UK 2020
Established in 2013, FastComet has come a long way since it started. One of the reasons behind its stunning success is the fact that it strives to keep things exceptionally simple, and affordable alongside advanced features.
As we tested its features, we found it to be pretty much advanced. This is for the same reason that FastComet Dedicated Server has been preferred by many users from all over the world.
With two data centers in UK, FastComet makes itself as the Best Dedicated Server Hosting UK For 2020.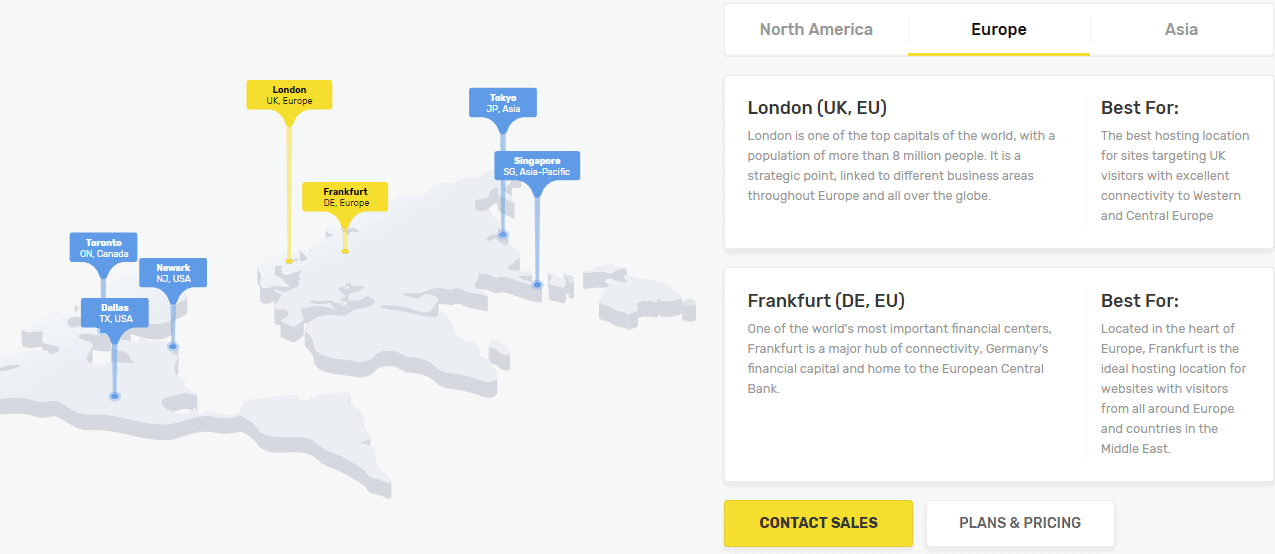 Features
With FastComet Rapid Provisioning, you to deploy your server in just a few minutes
Advanced Security comprising Account Isolation, Bruteforce protection, Malware Detection and Removal, DDoS detection and more to keep way all attackers
HTTP/2 and free Cloudflare CDN in conjunction with LiteSpeed LSPHP Technology helps site load at a lightning speed when hosted on Dedicated CPU cores.
Scale up your server resources anytime with the growing need of your business
It has a data center location at London (UK, EU) apart from Frankfurt (DE, EU), Dallas (TX, USA), Newark (NJ, USA), Toronto (ON, Canada), Singapore (SG, Asia-Pacific), and Tokyo (JP)
Pricing
There are 4 different Liquid Web Dedicated Server Hosting plans you can choose from and you can start for as low as $139/mo.
Support
Recently, we asked a few FastComet users of what they like the most about it and surprisingly, 8/10 replied saying "the Support" This pretty much reflects how well the FastComet is doing.
As a matter of fact, the FastComet can be contacted very easily and also, the response is pretty quick and accurate. Even tickets are answered in 10 to 15 minutes.
You certainly have no reason to worry about any Hosting technicalities as long as you have such a brilliant support team 24x7 by your side.
3. SiteGround - UK Best Dedicated Server Hosting 2020
SiteGround started back in 2004. SiteGround is certainly a very reliable Company with over 14 years of brilliant service. The Company had a huge contribution to the industry so far by its constant initiative to make hosting a lot simple for the users apart from offering then the most advanced features.
SiteGround Dedicated Hosting certainly has the most secure and high-performance environment. On top of that, the server is constantly monitored by the experts to ensure that there is not even the slightest glitch in the service.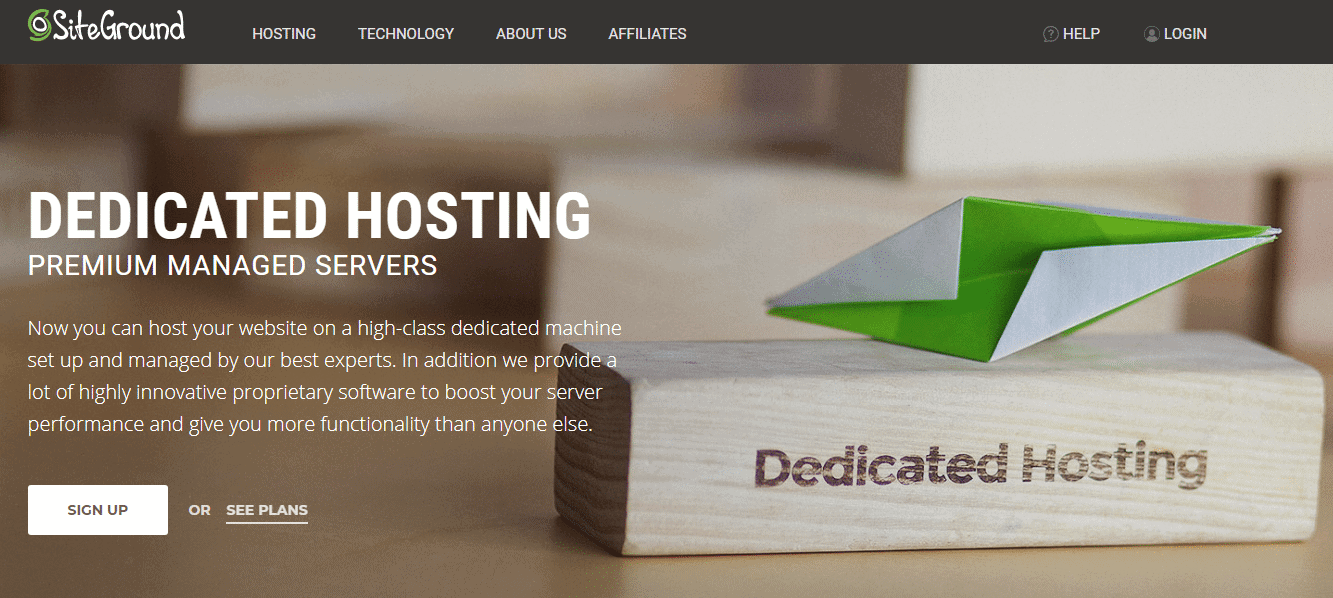 Features
High-Performance Hardware in conjunction with Private DNS offers an ultra-fast speed
Fully Managed; from server deployment to monitoring
5 Free Dedicated IPs to have a unique online presence with excellent benefits
Powerful Firewall to eliminate every possibility of any intrusion or attack
It offers two data center locations in the UK; London (UK), Amsterdam (NL) apart from Singapore (SG), Iowa (US), and Chicago (US)
Pricing
SiteGround offers users 3 different dedicated plans to select from; the Entry, the Power , and the Super Power .The minimum price you can possibly get started with is $269/mo.
Support
Over the years, the SiteGround has done a remarkable job in resolving the issues of users in no time. The Support team is not only exceptionally knowledgeable but also, pretty much friendly in dealing with the customers.
As a matter of fact, it is one of that Customer which is pretty proactive. Also, you would often see the team put some extra effort to educate the users on various technicalities in advance.
4. A2 Hosting Best Dedicated Server Hosting UK 2020
Founded in the year 2001, A2 has a leading edge over the others in terms of Speed. The Turbo option has helped users have up to 20X faster speed for their websites.
Besides, it provides users with an extremely stable and secure hosting environment with 24x7 and network monitoring by the experts.
Server deployment is only a matter of minutes. Also, it is ridiculously easy and quick to scale up your resources with A2 for the growing needs of your business.
Features
The Turbo Server allows your website to have a speed up to 20x faster
It takes a max of 30 minutes to deploy a server and get it fully ready to use
Completely Isolated Environment helps have dedicated resources
Upgrading server resources with the growing needs of your business is a pretty straight, simple and quick process
A2 has its data center located in Amsterdam (Europe) besides Michigan (USA), Arizona (USA) and Singapore (Asia)
Pricing
With A2, you have 3 Dedicated Hosting plans to select from; the Sprint, the Exceed, and the Mach. As far as the pricing is concerned, you can start for as low as $141.09.
Support
A2 Customer Support or the Guru Crew is certainly a very reliable Support team. All the members of the team are experts in technicalities. Also, it has maintained an outstanding track record over the years.
As a matter of fact, it is not very difficult to contact the A2 and you can always rest assured of a very fast and effective response every time you come across any technical difficulty.
5. Bluehost Dedicated Server Hosting
Bluehost was established in the year 2003 and is one of those names that do not need much introduction since it has been around for quite a long time now with very dependable service.
Since its inception, it has done a remarkable job of addressing the requirements of various users in a very meaningful way.
This holds pretty much true for its Dedicated Server Hosting too and as a matter of fact, the Bluehost Dedicated happens to be one of the most extensively used services.
This clearly reflects the kind of fascination users have for Bluehost. Feature-wise, you can rest assured of the perfect blend of the most powerful services with Bluehost Dedicated Hosting service.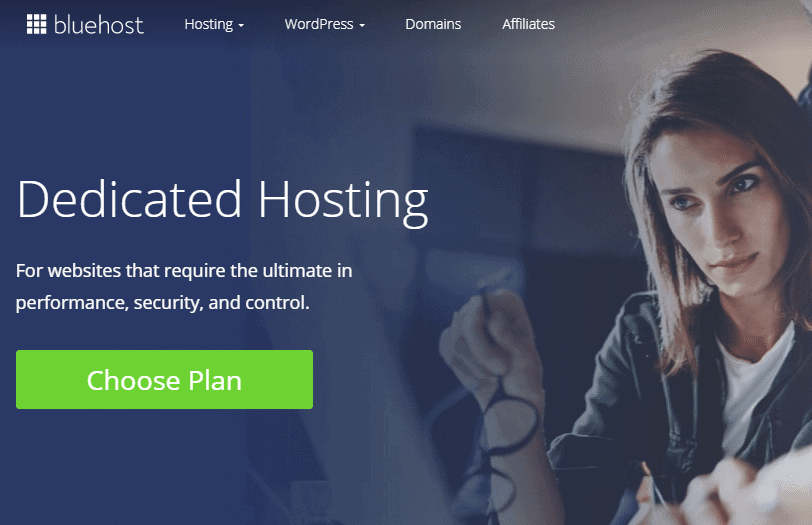 Features
With 100% Dedicated Isolated Environment, you can have better resources and security
It is ridiculously easy to deploy a server with quick Provisioning
You can always scale up your resources with the growing requirement of your business with fast and easy upgrades
SiteLock protects your site against malware and other vulnerabilities by detecting every single weakest spot in and fixing it in no time
Bluehost has its data center located at Provo, Utah in the USA
Pricing
With Bluehost, you have 3 Dedicated Server options to choose from; the Standard, the Enhanced and Premium. The lowest price you can start for is $79.99/mo
Support
Bluehost is among those companies that have the most knowledgeable Support teams.
It has pretty much established this point over the past many years now by its dedicated service to help its users break out of their technical difficulties. You can contact the Bluehost Support via phone, email, and live chat.
6. Hostwinds Dedicated Server Hosting
Hostwinds started in 2010. Although it is not a hugely popular company, it has maintained a brilliant track record so far.
The Hostwinds Dedicated Server Hosting has a couple of features that you cannot afford to find with any other companies. As far as the management is concerned, it is fully managed and the Hostwinds experts constantly monitor the network to detect every single glitch and fix them in no time.

Features
With Nightly Backups, you have your data secure without having to lose your valuable time during working hours
The completely isolated environment helps you have the advantages of dedicated resources and 1 Gbps network link
Server Security Audit and Enterprise DDoS Protection prevent your website against all online threats and minimize vulnerabilities
With Fully Managed Hosting, everything from Network Related Issues, Hardware Failures, to Firewall Setup and DNS Configuration is done by the experts
The Hostwinds data centers are located in Seattle (WA), Dallas (TX) and in Amsterdam (NL)
Pricing
Hostwinds offers 4 different plans to select from with $90 being the lowest price to start with and one of the cheapest dedicated plans in our list. Also, most of its plans can be largely customized as per your requirement.
Support
As far as the Hostwinds, it is pretty friendly and knowledgeable. With Hostwinds, you can rest assured of 24x7 technical assistance.
Also, the Hostwinds has done a brilliant job in educating the customers about the various technical aspects proactively over the years. If we have to define the role it played so far in one word, it is "reliable."
Conclusion
A Dedicated Server Hosting can undoubtedly be one of the most powerful platforms to run your online business as it offers dedicated resources for your business alongside an isolated and secure hosting environment.
We had many hours of testing to bring to you this list of 6 Best Dedicated Server options. Although all of them are pretty reliable and extensively used, a lot actually matters on your actual requirement.
However, we found the Liquid Web Dedicated Server to be comparatively better than the rest as it offers more resources. However, we would still suggest you go through the features of the Best Dedicated Server Hosting UK 2020 of all the companies carefully first and only take a decision after you fully comprehend the features.