Best Enterprise WordPress Hosting
If you have a business that is in the process of constant growth and if it earns most of its sales from its website, it is important to get the most dedicated hosting environment for your website in all aspects.
This is when one would actually need the Best Enterprise WordPress Hosting.
Now, we are all pretty much familiar with WordPress Hosting and also, most of us are pretty much aware of the various limitations that one may have to face sometimes especially during the traffic spikes.
An Enterprise with a constant growth means a larger volume of traffic and this call for an increase in cloud resources. This can be addressed by simply switching over to a higher plan but is it still a meaningful way to address it and is that all you could do?
After all, business will continue to grow and it is not really a wise thing to switch to higher plans every 5-6 months when you are already quite sure that it is going to grow further.
How about having a highly scalable with the right mix of the things that you want for your business?
This is when you can actually choose an Enterprise WordPress Hosting.
Here are the list of Best Enterprise WordPress Hosting in 2019
Kinsta – Best Enterprise WordPress Hosting
Kinsta Enterprise WordPress Hosting has the right mix of all the essential features that one would need for having the most dedicated environment for one's business. It comprises automatic scalability, industry's best security, and the most reliable support and got some impressive speed and uptime results.Also, it offers 18 data center locations to choose from.
Most importantly, Kinsta has the advantage of being powered by the Google Cloud Platform's premium tier network. On top of that, it allows you to host your website with PHP versions up to 7.3 which will certainly help your website load extremely fast. Also, it uses HTTP/2 CDN to ensure lightning fast loading time. It can handle any kind of traffic surges or peak times.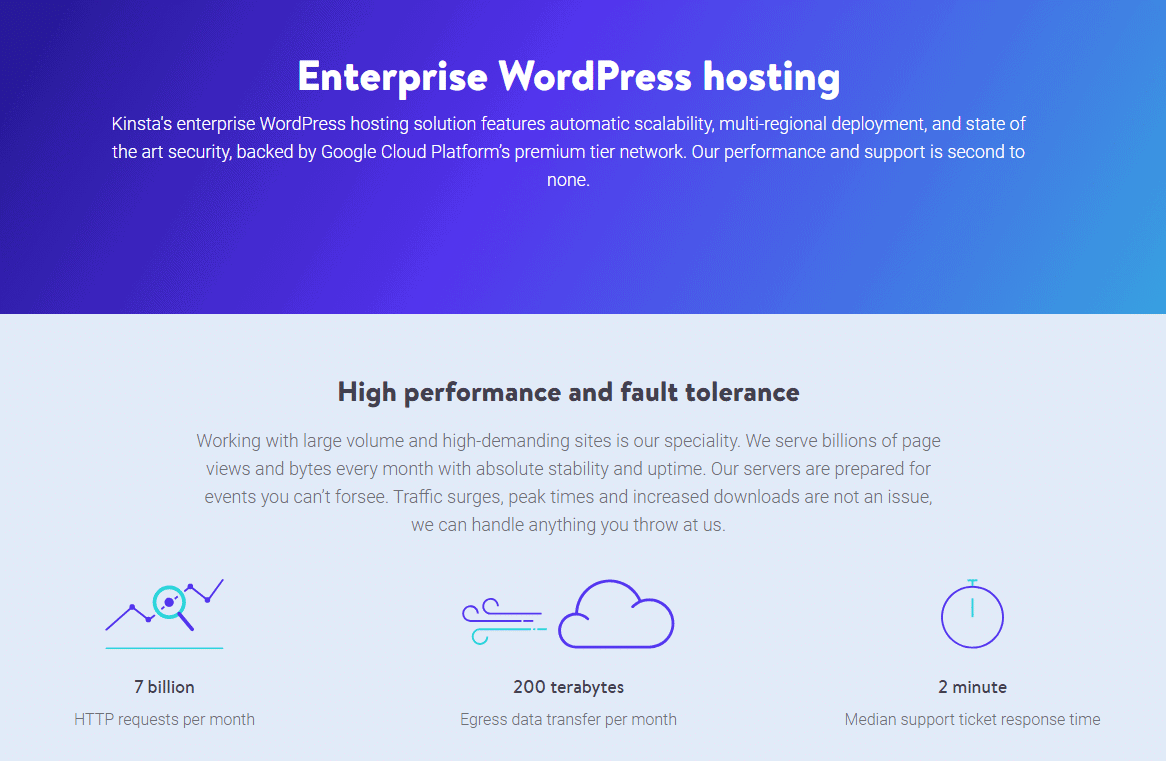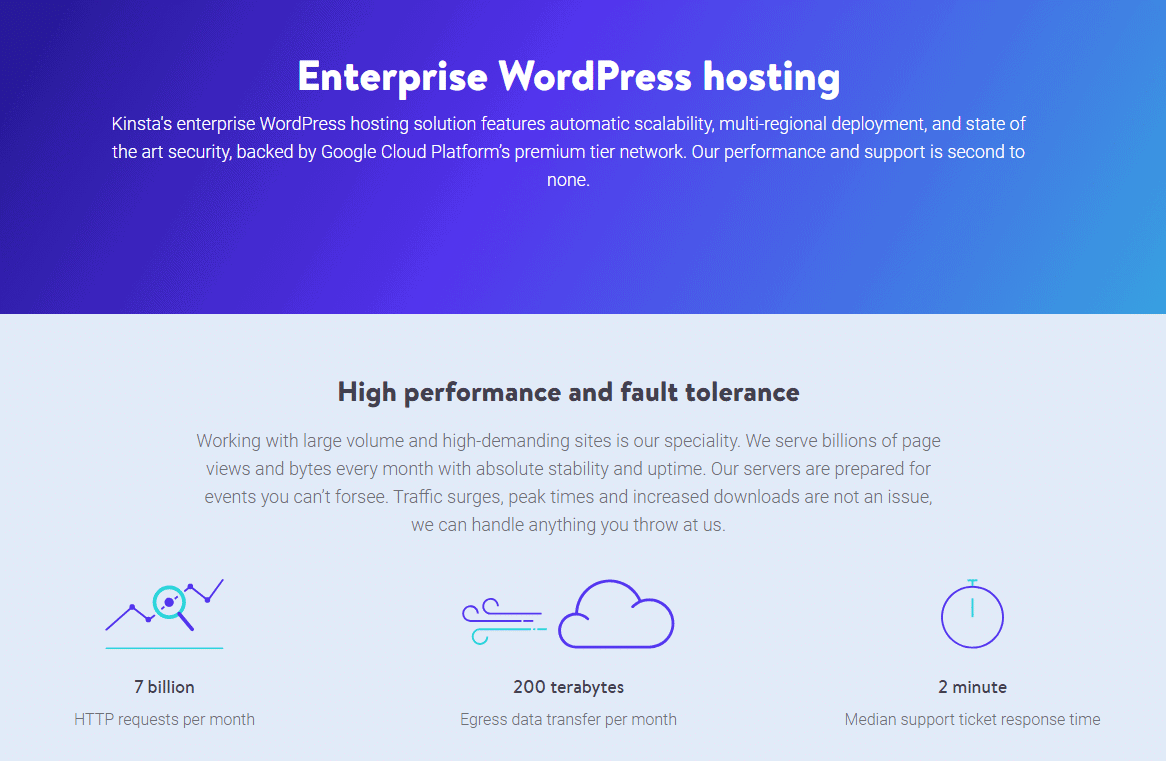 Kinsta pricing starts from $600/mo (Enterprise 1) with a disk space of 80 GB and is ideal for visits up to 1,000,000. For a traffic-volume beyond 1,000,000, it is recommended to go with the Enterprise 2 plan for $900 that comes with a disk space of 20 GB and is ideal for visits up to 1,500,000.
In case, you need more resources, you can have a customized plan for your business by contacting the Kinsta sales team. All the plans come with Automatic Data Backup and 30 days Backup Retention.
WPEngine Another Best Enterprise WordPress Hosting
WPEngine is partnered with Amazon Web Services and Google Cloud Platform. This helps it offer an extremely high-performance infrastructure in terms of loading time, scalability, security, and uptime. On top of that, WPEngine optimizes both the platforms on a constant basis. Most importantly, WPEngine offers the right mix of important tools that can largely elevate the productivity of your organization.
Some of the tools and features are like Dev, Stage, and Prod Environments, SSH Gateway, and Git integrati on. WPEngine Enterprise WordPress Hosting is focused at making things highly engaging, secure and flawless for the organizations. Also, the WPEngine uses a caching mechanism called "Evercache" in conjunction with global a CDN.
Most importantly, all the WordPress patches and updates are managed by the WPEngine team itself. Apart from this users can rest assured of very reliable support in all aspects. With WPEngine, it is exceptionally simple to develop and manage contents without having to worry about any technical difficulties as it offers a lot of important marketing tools for better insights.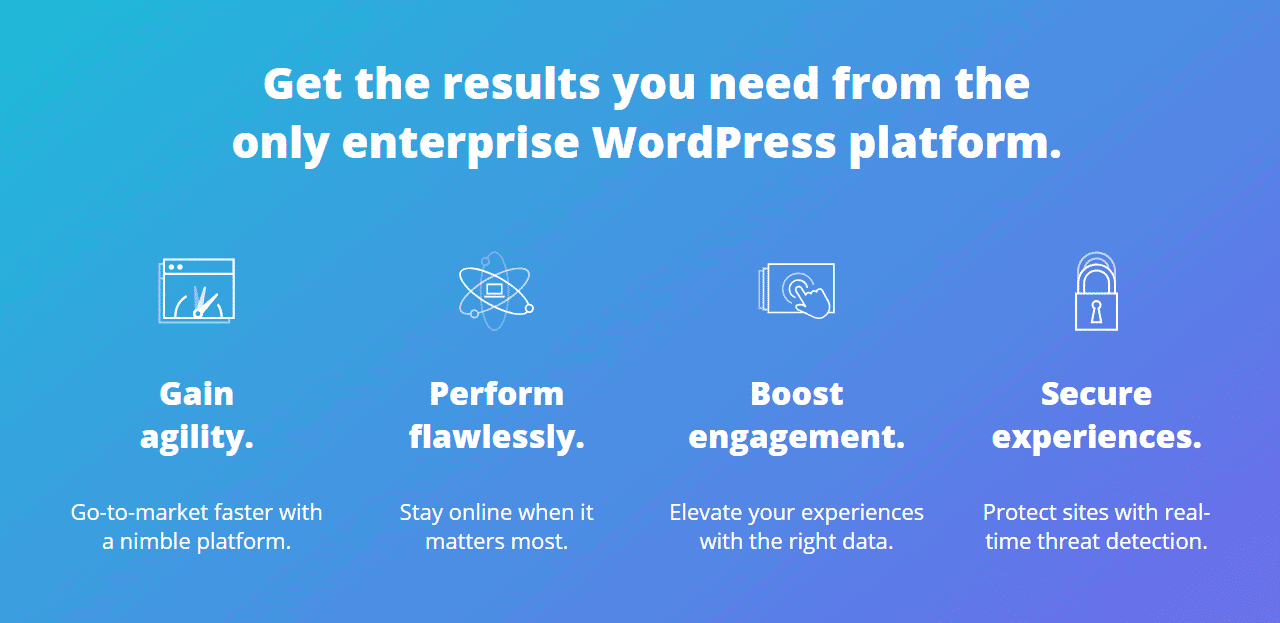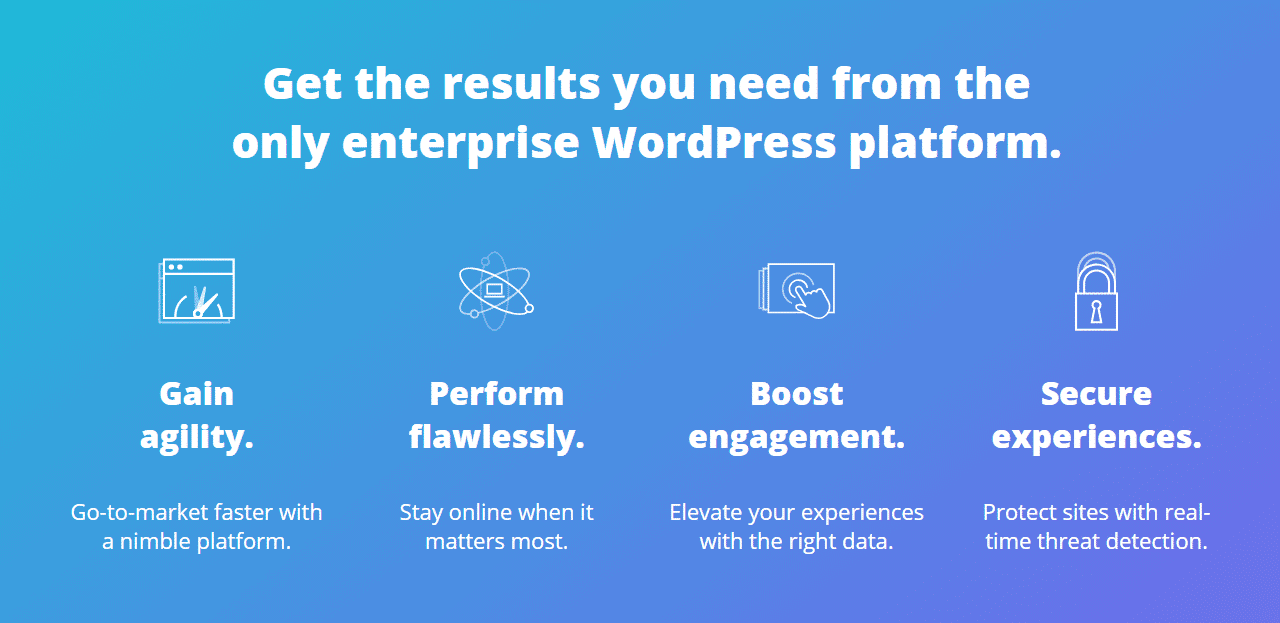 Also, over the years, WPEngine has maintained a brilliant track record in terms of its cloud capabilities. You can start with WPEngine for as low as $35/mo (Startup). The Growth plan is suitable for any growing business and is available for $150/mo.
For those who are looking for higher capacity and site limits, the Scale plan is the most suitable one to go with. However, if you need local storage up to 1TB, bandwidth over 400 GB and visits up to millions, you can get a custom Enterprise WordPress plan by contacting the sales team.
SiteGround Cheap Enterprise WordPress Hosting
Needless to say, SiteGround is a very popular name and it has been around for a very long time now. Over the years, SiteGround has largely proved its expertise in the Enterprise WordPress too.
It works in a little different way than most of the companies when it comes to Enterprise WordPress Hosting. The SiteGround team will first try to comprehend the actual needs of the clients and then build the most suitable infrastructure to launch one's project.
Most importantly, with SiteGround, you can rest assured of a reliable infrastructure based on Linux containers. This eventually ensures a brilliant uptime and scalability. Also, this helps in efficiently handling the traffic spikes.
Also, it hosts a website from two datacenter locations (Chicago and Amsterdam) simultaneously. Also, SiteGround provides you with the right personal account manager for your project right from the onboarding to assist you with every technical hurdle that may come in the way of your project.
A client can keep in touch with the account manager through phone, email, slack or Skype. This largely helps you break out of the waiting time that one may have to otherwise face in trying to contact the customer support.
Pressable Enterprise WordPress Hosting
Pressable maintains a very good track record in Managed WordPress Hosting so far and the reason that it has been able to satisfy its customers to such an extent actually has to do a lot with the fact that Managed WordPress Hosting in Pressable comes with Enterprise architecture which means high scalability, brilliant speed, and high capabilities of handling with traffic spikes.
Also, it offers elevated levels of security and most importantly, it will be taken well care of by the Pressable system administrator. Also, it offers a multi-server environment to ensure that your website is always up and running. In addition to that, the Pressable experts constantly monitor the server and network.
Server and network related issues are resolved in no time by the experts so that users can focus only on the core business without having to worry about anything else. On top of that, it uses a content delivery network to help you deliver to your customers in the most meaningful way.
As far as data security is concerned, it offers a very reliable and timely backup system with absolutely no need of any bulky backup plugins. As a matter of fact, it has very knowledgeable and friendly support which is accessible through live chat, phone, and email. One can start with Pressable for as low as $45/mo (Starter).
For page views more than 200,000, it is wise to go with the Pro plan for $90/mo. Last but not least, the Agency plan for $225 allows you to host 50 websites and is ideal for websites that have up to 1,000,000 page views.
VIP Managed Enterprise WordPress Hosting
VIP has done an exceptional job in Managed WordPress Hosting. The company offers a solid infrastructure built especially for Enterprise WordPress requirement. It has its own delivery network across over 20 data centers worldwide.
This eventually helps in an unbelievably fast page loading. In addition to that, it uses the industry's best security and most importantly, solid defense against DDoS attack, Brute force and other forms of attacks. Furthermore, it encrypts the traffic.
Apart from this, the experts keep close monitoring of the server to prevent even the slightest possibility of any glitch. Most importantly, the platform is well known for its excellent expertise in handling high traffic websites with the best mission-critical approach.
As far as the Support team is concerned, it comprises WordPress experts to guide you at every stage of your project. Besides, with VIP, users can also rest assured of high scalability, hourly backup, auto updates, vulnerability scans, uptime, and performance monitoring.
Cloudways Enterprise WordPress Hosting
Cloudways is not a new name and in fact, there is a huge reliability factor associated with this name. It has equally provider its expertise in Enterprise WordPress Hosting over the years. Cloudways Enterprise Hosting is ideal for businesses that are growing at a fast pace. It ensures complete redundancy and high scalability.
On top of that, it offers you the right mix for your project and of course, the mix varies from project to project. This is the reason that it is well known for its mission-critical solution. It ensures a very reliable uptime and high performance.
Cloudways uses a perfect blend of its WordPress expertise and cutting edge technologies to fight off unexpected traffic spikes or peak times with the greatest ease to ensure your website never experiences any downtime.
It uses a cluster of nodes with Google-powered Kubernetes to ensure a stable uptime. Another feature that it offers to beat traffic spikes is auto-scaling. Also, it uses light-weight containers in conjunction with enterprise-ready Cloud Load Balancing and scalable Cloud SQL (MySQL).
Above all, you have a very dedicated Support to address your queries and difficulties in no time.
Flywheel Enterprise WordPress Hosting
Flywheel started its Enterprise  mainly to assist the in house marketers to make the most out of the WordPress Platform for their clients. It is powered by Google Cloud and offers an unimaginably secure environment with a 99.95% uptime guarantee.
Besides, it offers a seamless workflow for easy collaboration among the team members on building and launching WordPress projects. Most importantly, you will have an in house account manager to walk you through every stage as well as guide you whenever you are in need of any technical assistance.
In addition to that, you will also have access to the entire team of WordPress experts for making your project successful. For enterprise sites, you can choose the professional plan for $69/mo. The plan comes with 20GB disk space, 1TB bandwidth and is ideal for 100,000 monthly visits.
Pagely Enterprise WordPress Hosting
Pagely is one of the best Enterprise WordPress Hosting providers for the reason that it offers the right blend of high scalability, high performance, and mission-critical security. The fact that it is partnered with the AWS platform makes it pretty reliable in terms of uptime and security.
This actually helps it to geo-replicate across the Amazon's 11 data centers for maximum redundancy. On top of that, the PressCACHETM and PressCDN in conjunction with the HTTP/2 SSL acceleration make the page loading unimaginably fast.
Other speed technologies it uses are PHP7, NGINX/OpenResty HyperProxies, and Redis. Also, there is absolutely no need to worry about the data security as it automatically stores your entire website on Amazon S3 at a regular interval.
Apart from this, the Pagely experts are constantly monitoring the server and network to eliminate every small and big issue in no time that may otherwise come in the way of your website's performance.
Besides, it automatically updates your plugins. As far as the support is concerned, it has maintained an outstanding track record so far and it is certainly very reliable. You can either start with a preconfigured plan for as low as $2500 or start with Custom Clusters for $5000/mo.
Pressidium offers Enterprise Architecture based Managed WordPress Hosting which is highly reliable, scalable and secure. Pressidium Managed WordPress Hosting is extremely easy to use. This is the reason that the company has got extremely popular over the years.
It uses advanced server-side caching for a highly accelerated page loading. In addition to that, it uses Dynamic Load Balancing, CDN powered by HTTP/2, HA SSD Storage, SSL Acceleration and PHP 7 Support.
It has 4 data centers across the USA, Europe, and Asia. Further, it offers a very reliable uptime and is highly scalable. Even during traffic spikes, resources will be automatically increased. As far as the security is concerned, there is no need to even install any security plugins as everything is fully managed by the host itself to offer you a very hassle-free business.
Also, there is no headache relating to data security as everything is automatically backed up. Security is extremely tight. It includes proactive malware and vulnerability scan in addition to managed web application firewall.
Also, it filters all the botnets to prevent a DDoS attack. You can start with an Enterprise WordPress Hosting in Pressidium for $790/mo. It comes up with Millions of monthly visits, Unlimited WordPress installs, and dedicated server cluster.
InMotion Enterprise WordPress Hosting
InMotion has years of good track record and this holds true for its Enterprise WordPress Hosting too. It is ranked among those companies that use industry's leading technologies. With InMotion Enterprise WordPress solutions, you can add storage, RAM and more resources in no time.
As far as security is concerned, it is highly reliable and unbreachable. It comprises DDoS protection, Web Application Firewall, OS updates & HIDS Security (Host Intrusion Detection) – OSSEC, CSF with LFD. As far as the performance is concerned, it offers pretty stable performance in terms of uptime and speed.
On top of that, it is ridiculously simple to use. Also, it has scalable dedicated hardware and this is the reason that you don't have to ever panic about traffic spikes or peak times. The SSD storage along with large RAM helps it load your website at a lightning fast speed.
Also, migration is less tedious and you can easily transfer your website to InMotion without having to face any downtime. On top of that, you can expect the InMotion team to guide you at every stage. This is the reason that a lot of people prefer InMotion Enterprise.
Furthermore, it has a brilliant support team to help you with your queries and issues 24X7. You can get started with InMotion Enterprise for as low as $105.69/mo (Essential). Also, there are many higher plans to choose from.
Advantages of Enterprise WordPress 
Auto Scalability

Mission-critical Security

Reliable and customized Backup and Recovery

Lighting Fast Loading Times

Extremely Swift and Knowledgeable Support

Highly Customized Environment
Conclusion
An Enterprise WordPress Hosting can largely eliminate the obstacles that are usually faced in regular services. For businesses that have to deliver to a massive volume of traffic, it is absolutely important to have constant online availability and extremely fast delivery.
With Enterprise WordPress Solution, there is hardly any reason to ever feel worried. Also, you can rest assured of elevated levels of security and the industry's best technologies with Enterprise WordPress Solution.
However, a lot actually depends on your requirement and we suggest you choose the provider that you think has the right features to fulfill your requirement. Before you actually reach a decision, it is important to go through every aspect of all the Best Enterprise WordPress Hosting providers carefully.