Best Managed WooCommerce Hosting 2020 Reviews
The growth of WooCommerce is unstoppable in recent times where it powers nearly 7% of total Ecommerce sites only next to Shopify's 11% market share. Gone are the days hosting your sites on shared platform and now you need the world's best managed Woocommerce hosting solutions because a second delay on your shopping cart makes you great loss and people run out to your competitors.
This Best Managed WooCommerce Hosting review is my honest attempt to analyze and find the best hosting solutions for your websites. Honestly, I was satisfied with my analysis and after reading the content, do let me know what you think of it.
Before letting go, these are the factors I considered to find the Best Managed WooCommerce hosting. I googled "managed Woocommerce hosting" and prepared a list of companies which promotes/ranks for the keyword.
I removed companies which simply advertises as WooCommerce Hosting with no additional features focused towards WooCommerce. The below list of companies are the Best WooCommerce Hosting companies you should host with.
These are best Managed WooCommerce Hosting providers in 2020.
1. Liquid Web (www.liquidweb.com)
Liquid Web is the truly best manged WooCommerce hosting in 2020. Liquid Web launched its latest WooCommerce hosting with impressive price of $19/month (monthly billing). Right now, Liquid Web is the only company to offer managed WooCommerce hosting in the industry.
New Plan Highlights
Lower Starting Price – only $19/month
Multi-store Options
10 PHP Workers Per site
Unlimited Email
Automatic Plugin Updates
No Overage Fees
Free Staging Environment
Free SSL
Liquid Web was founded in the year 1997 and over the years, it has contributed brilliantly to web hosting by constantly fulfilling the requirements of the users to the fullest. However, Liquid Web introduced its Managed WooCommerce Hosting recently. 
It is undoubtedly one of the best Managed WooCommerce Hosting solutions available in the market these days for the reason that it offers a perfect mix of all the important features that you may need to run an eCommerce store smoothly. On top of that, it has plans for different types of eCommerce businesses.
Being the most recommended VPS and Dedicated server company at Hostingstep, it's no difference Liquid Web was my most recommended Managed WooCommerce provider.
Liquid Web has brought some really cool features for its managed WooCommerce platform and let me discuss it.
Liquid Web has real Managed WooCommerce Hosting Product features and they are
Automatic Image Compression 

Image CDN 

Free and automatic SSL certificates 

Specialized caching including NGINX, Redis and Varnish 

Daily and on demand Backups 

Jetpack Pro including ElasticSearch 

Premium Themes 

Premium Plugins – BeaverBuilder, IconicWP, AffiliateWP and more 

Performance Plugins – Autoptimize, Async JS 

Payment Integrations – PayPal & Stripe 

Saas features for cart abandonment and advanced analytics 

On demand performance and load impact testing.
Performance tests
Liquid Web team created 20+ performance tests especially for WooCommerce sites, so you can run them at any time while adding a lot of products or even before your first sales. Liquid Web's container-based architecture helps you to duplicate your site in few steps and you can start doing your performance at any time.
Suppose you're targeting to make 20X sales during black Friday and expecting a sure traffic spike, you can duplicate your sites and do performance tests. Right at the moment of writing this Best Managed WooCommerce Hosting post, no other company offers such features.
While most managed companies put huge limits on traffic and won't allow such tests, Liquid Web is absolutely customer focused.
Glew Integrations
Another exclusive with Liquid Web is Glew integration, an ecommerce analytics software. The product normally costs $199/month but comes included with Liquid Web for free of cost.
If you're new to Glew, it's a kind of Google Analytics for ecommerce companies or even more than that. While Google Analytics shows you the data, you can't really convert those data into money but Glew does it.
Glew provides you Ecommerce reporting with actionable insight data through which you can turn your unprofitable merchandise into profitable, increases average order value etc. It also helps you with customer analytics and segmentation.
Once your site has grown, you definitely need this Glew but it will cost you $199/month apart from regular expenses and when you're with Liquid Web you can get access to Glew with no additional charges apart from Liquid Web charges and is there any better thing you need to know to get started with Liquid Web?
Recover Abandoned Carts
Jilt, another integration with Liquid Web's Managed WooCommerce Hosting. The product Jilt usually costs free till 0-25 Monthly customers engaged and then costs for every number.
Jilt, the leader in recovering abandoned carts helps you to increase the sales from such carts. Jilt sends personalized responsive emails to users who abandoned the carts at midway. The company follows industry best practices to keep the customer engaged through series of emails.

Another important thing about Jilt, it stores the data of abandoned carts on its own and never extra loads your space.
High performance under load
Ever since business has gone online, it has been experiencing an excellent acceleration in growth. There are businesses that are doing unimaginably well with the help of just eCommerce online portal. For those who want to start an eCommerce business, a managed WooCommerce hosting is all that you need.
However, it is not that easy to choose the right one especially if you are a newbie. A fully managed WooCommerce hosting offers a whole lot of freedom to run a successful eCommerce business in all aspects. In this post, we will share two of the most powerful and reliable companies in managed hosting for WooCommerce.
Liquid Web offers a wide range of WooCommerce Solutions for varying users. The plans are Beginner, Basic, Dropshipping, Marketplace, Standard, Plus, Pro, and Enterprise. As far as the pricing is concerned, you could start for as low as $39/mo.
2. WP Engine (www.wpengine.com)
WP Engine is the industry leader in managed WooCommerce hosting since its launch in 2010. Over the years, many eCommerce websites have been hosted on the WP Engine platform.
One of the main reasons for its increasing popularity is certainly the fact that it offers a perfect environment to host an eCommerce website with not much complexity.
The WP Engine E-commerce toolkit for WooCommerce is a pretty powerful WordPress Plugin that can just put everything in its right place to give your eCommerce business the right boost. Now, let's take a quick look at some of its features.

Easy Setup
The WP Engine E-commerce toolkit plugin is not publicly available and in order to install it, one would need to contact the Support team. However, it is always wise to test it in your staging environment first and then take a decision.
The Support team will first check if the plugin is compatible with the website. Once they are sure that it is suitable for your website, they will assist you in installing it which is, of course, a pretty simple process.
Auto Logout
The Auto Log out feature of WP Engine is a technique to eliminate personalization on dynamic pages to improve cacheability. Over the years, this technique has proved to be pretty effective for many eCommerce websites.
Using the Auto Logout feature, you can automatically log out visitors as they visit the various pages on your website and you may do it in order to reduce the server loads. However, this will not log out your customers from the cart pages, check out pages or account pages.
Guest Attribution
This feature ensures that even if a user checks out as a guest and has placed an order, the order is assigned to an appropriate customer account. The order is assigned to a customer account based on the email address provided by the customer during the checkout and checking if the user already exists for that email address.
Also, this feature gets along pretty well with the Auto Logout optimization for the simple reason that customers with known email addresses are preserved even when the Auto Logout feature runs.
One Tap Payments
This is certainly one of those few features that have proved to be highly effective for many eCommerce websites increasing conversions over the years. The One Tap Payment feature can make purchasing exceptionally easy and smooth for the buyers. As the One Tap Payment feature is enabled, the buyer's browser can prefill shipping and payment details during checkout and this eventually increases the conversion rate.
However, the feature uses the Payment Request API and in case, a buyer's browser doesn't support the Payment Request API, the buyer will have to continue with the default checkout process.
Brilliant Support Team
The WP Support as always is incredibly amazing and whenever a user of this plugin needs any sort of help, one simply needs to login to one's account and then contact the support. This will help the support team to quickly identify one's account and eventually, provide one with the required assistance.
Most importantly, with WP Engine, the users can rest assured of the most knowledgeable and friendly support team.
3. Kinsta (www.kinsta.com)
Kinsta is managed WooCommerce hosting powered by Google cloud servers.
Established in 2013, Kinsta is ranked among the companies that offer high performance and most reliable environment. It always had the advantage of being powered by the Google Cloud Platform. 
Needless to say, Kinsta comprises cutting edge technologies in all aspects. Kinsta Managed WooCommerce Hosting has proven to be pretty effective for many users as it helped them boost their sales and ROI making the most out of its robust cloud architecture.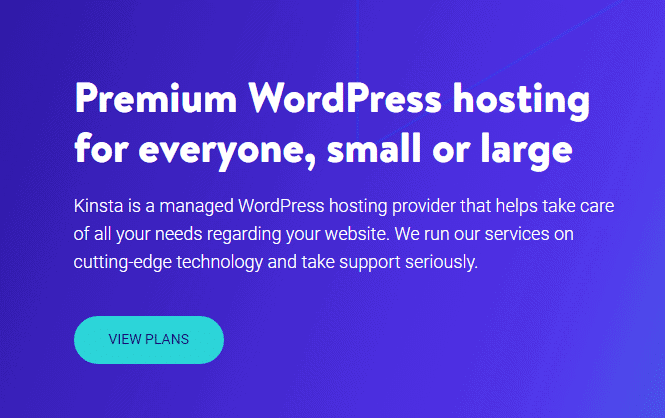 Some of the best features are
Automatic Scaling to handle a traffic spike

Server Level caching makes it extremely fast

Extremely Secure Environment

Secure your data with Auto Backups

Free WooCommerce Site Migrations
The WooCommerce Google managed company; Kinsta has the perfect mix of all the powerful features to offer the most brilliant eCommerce experience to the users in terms of revenue, SEO, ROI and user experience and more. Over the years, many eCommerce businesses have largely benefited from this platform.
The company undoubtedly has the right mix of features for every eCommerce websites and it certainly has to do a lot with its deep understanding of the requirement of eCommerce business. Let's us analyze the features that make Kinsta the best-managed WooCommerce hosting Company.
Auto-scaling
With the Kinsta's isolated software container technology, it can largely handle the sudden increase in traffic and server load by allocating resources automatically to each site container as per the requirement.
This helps websites to continue to perform despite an increase in traffic or increase in server loads. This has proved to be a very powerful feature and also, many companies have been largely benefitted by it over the years.
Automatic Backups
There is obviously a great amount of hard work involved in running an eCommerce website. There's nothing as disappointing and frustrating as a sudden data loss. Kinsta offers automatic daily backups to keep your website data absolutely secure and safe.
It creates backup points that can be used by a user at any point to instantly roll back your site just in case one's website ever experience any data loss due to an issue.
High levels of Security
Web hosting is never complete without proper security. This is such an aspect that can never be overlooked. On Kinsta, every website is constantly monitored by the experts and every single server or hardware related issue is fixed in no time. This helps the users focus on their core business without having to worry about anything else.
Kinsta offers an unbeatable web security that comprises malware scans, GeoIP blocking, automatic bans on abusive IPs, Free SSL, SFTP, SSH, HTTP/2 and more. This is one of the chief reasons for the growing popularity of Kinsta all over the world.
Server Level Caching
Kinsta helps its users' websites to have elevated levels of performance in terms of loading time and uptime. It is done by the fast server-level caching along with additional WooCommerce rules. Also, it has proved to be pretty effective from the SEO point of view.
This helps Kinsta in offering a brilliant mix of performance and functionalities for the customers. This eventually allows the websites to produce the best user experience for their customers. Over the years, uses from all over the world have found Kinsta to be one of the most reliable platforms in terms of performance.
Friendly Support
No matter how well a hosting company is doing, it is still not complete without a brilliant customer support. Kinsta is one of those few companies of the world that offer brilliant customer support.
With Kinsta, you can always rest assured of the most proactive assistance. The Support team does its best to keep you at a perfect peace of mind by constantly helping you break out of every small or big technical difficulty.
The Kinsta support is not only easy to reach but also pretty fast in responding to the users' queries and issues. Most importantly, it has the friendliest executives to assist the users.
KInsta offers 10 different plans to choose from and you can start for as low as $30/mo. Just in case you want more resources than what the available plans offer, you can have a customized plan created by contacting the sales team.
4. Cloudways (www.cloudways.com)
Cloudways is the cheapest cloud managed Woocommerce hosting where plans starts from $10/month.
Cloudways is one of those hosting companies that have put a lot of emphasis on making things unimaginably simple for the users and at the same time had the industry's best technologies incorporated perfectly in the service. 

Over the years, Cloudways have received a brilliant response from all parts of the world. The Hosting Company has largely proved its expertise in Managed WooCommerce as well and this makes it one of the most reliable Managed WooCommerce providers.
Cloudways offers a brilliant 24X7 support with friendly and quick response. Also, issues are resolved in no time. So far, it has been one of the greatest strengths of this Company.
 Features 
The Servers are Scalable 

Free SSL Certificates

Exceptionally Fast with Optimized Stack & Advanced Cache System

Global CDN

Unlimited Staging Sites 
'Cloudways' offers you over 10 great WooCommerce Managed Plans to choose from and you can actually start for as low as $10/mo. Features such as Unlimited App Installation, Free SSL, Free Migration and 24X7 Dedicated Support are included in all the plans.
5. FastComet (www.fastcomet.com)
FastComet is the shared WooCommerce hosting with managed support for 24/7/365 days.
FastComet started in 2013 and even since its inception, it has been performing brilliantly as a Web Company. The company actually emerged as one of the most promising web hosting companies within a short span of time. 
Also, if we consider the approach of FastComet towards serving its users, it is a lot different from that of the other web hosting companies. Easy to use in conjunction with many additional features and affordable pricing are the reasons that many users love this hosting company.
The FastComet WooCommerce Cloud Hosting has received an excellent response from the users for the kind of convenience it has brought about in running an online business for many people. It is easy, quick, cost-effective and highly scalable.
When it comes to the best Support teams in the industry, FastComet Support would possibly be the first to appear because of the fact that it has the best team with sound product knowledge and, of course, the friendliest nature.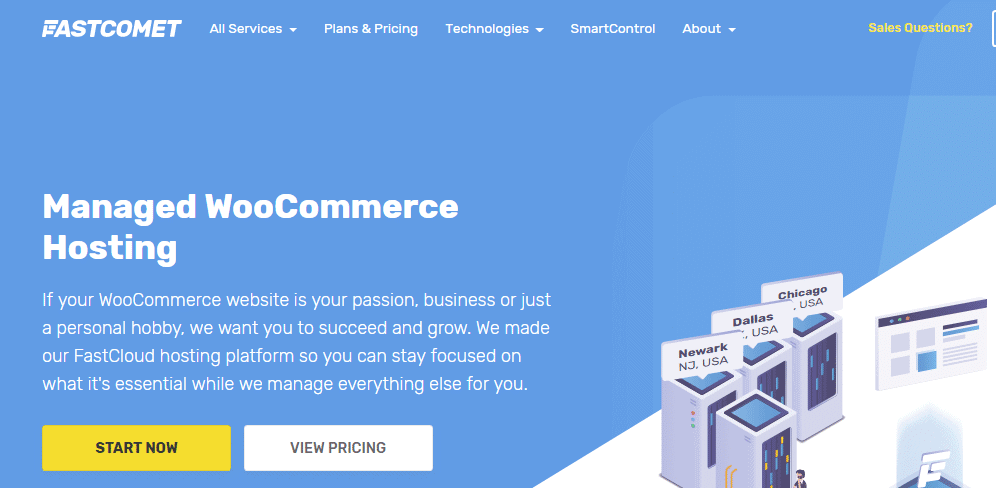 Contacting the support merely takes a minute and also, you can always expect to have a fast response. 
 Features 
It is fully Managed 

Deploy server in minutes

Excellent Speed

Entirely Scalable

Automatic Backup
FastComet offers 4 different WooCommerce Cloud Hosting plans to choose from with $59.95/mo being the minimum price to start with.
6. A2 Hosting (www.a2hosting.com)
A2 Hosting is the fastest shared host suitable for WooCommerce hosting.
A2 Hosting started in 2001 and has a huge impact on people by its amazing emphasis on speed. It was until A2 came into the scene that anyone could believe that websites to could that faster. With A2's Turbo Server option, you can get a speed up to 20X faster than the normal speed. 
Needless to say, A2 offers high performance and secure environment. A2 has also done an exceptionally good job when it comes to WooCommerce Hosting. 

A2's WooCommerce hosting is pretty advanced in all aspects yet pretty easy to manage. This is the reason that it has been pretty extensively used over the years.
Features
Blazing Fast Page Loading

Setup is ridiculously easy

Secure environment

Free SSL Certificate

Anytime Money Back Guarantee
A2 offers you 4 different WooCommerce plans to choose from; the Lite, the Swift, the Turbo, and the Managed. As far as pricing is concerned, it is pretty reasonable too and you actually can get started with an A2 WooCommerce Hosting plan for as low as $2.96/mo.
When it comes to Customer Support, A2 certainly has the most reliable team of experts. The Team is better known as Guru Crew and over the years, it has largely proven the fact that it really cares a lot about its users in all sense by having assisted them 24×7 to its best with all their queries and issues.
7. SiteGround (www.siteground.com)
SiteGround is the overall best managed WooCommerce shared hosting powered by Google serves.
SiteGround started in 2004 and had played a brilliant role in simplifying the web hosting for a lot of people since then. It actually helped a lot of people break out of the perception that one cannot host a website without having a decent knowledge of coding and it did it by largely having popularized the use of CMS over the years. 
SiteGround Managed WooCommerce Hosting is pretty popular too and has been extensively used over the years. As a matter of fact, a lot of users found it to be unimaginably effective in improving their sales and ROI.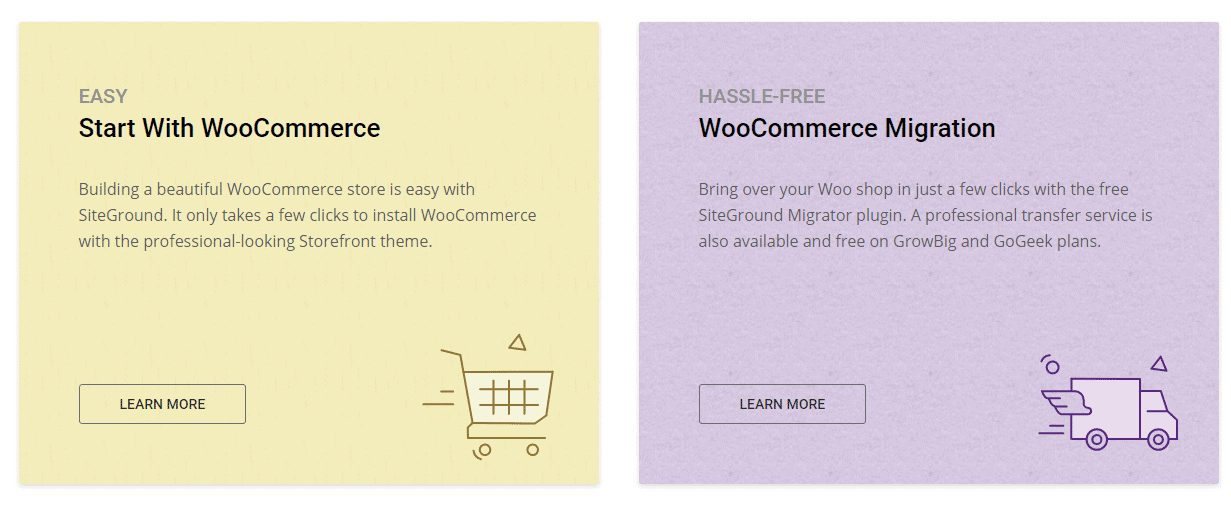 Features
Ultra Fast Speed

Unimaginably Easy to start

Easy WooCommerce Migration

Daily Backups

Free SSL by Let's Encrypt
SiteGround offers 3 amazing plans to choose from; the StartUp, the GrowBig, and the GoGeek. You can start Managed WooCommerce hosting with SiteGround for as low as $3.95/mo.
SiteGround Support is yet another extremely reliable and knowledgeable Support in the industry with years of good reputation. With such brilliant Support always by your side, you hardly have anything to worry.
8. Bluehost (www.bluehost.com)
Founded in the year 2003, Bluehost had a brilliant journey so far which is characterized by a very reliable hosting service for every category of users. 
Bluehost WooCommerce Hosting has also helped many in running successful online stores in all sense with the right mix of useful features.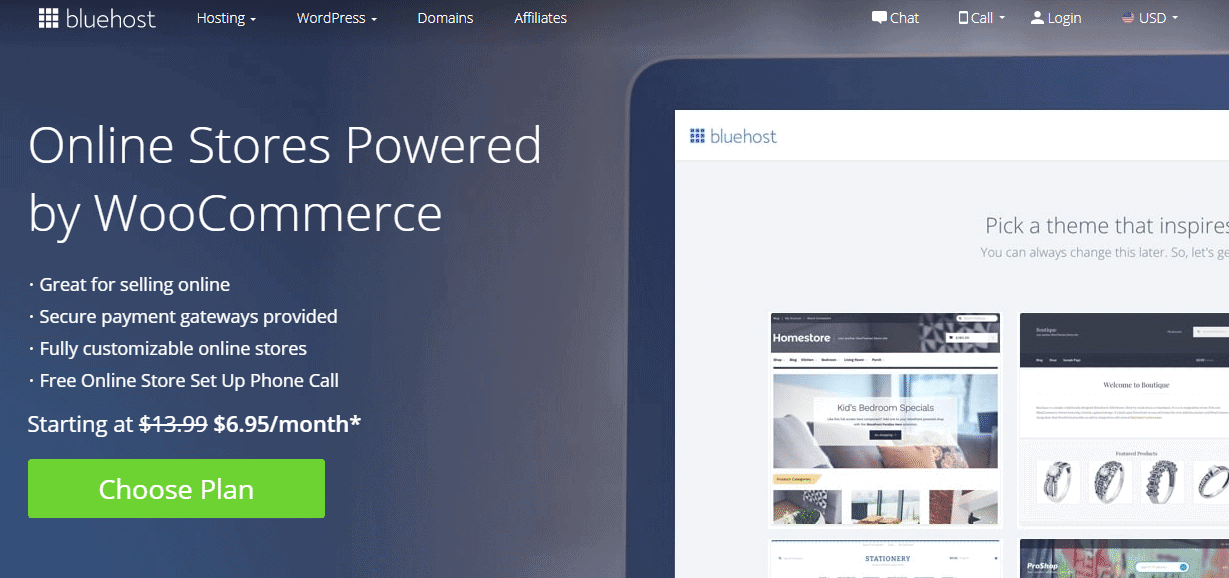 Features
Free Domain forever

WooCommerce Auto-Install

Free SSL Certificates

Dedicated IP 

Unlimited Bandwidth
Bluehost allows you to choose from 3 different plans; the Starter, the Plus, and the Pro. You can start for as low as $6.95/mo.
With Bluehost Support, you can always rest assured of quick and friendly assistance every time you encounter any technical difficulty. The Support team is exceptionally skillful and can resolve issues in no time.
Conclusion
Needless to say, WooCommerce is the first name to cross one's mind when one thinks of an online store and this pretty much reflects the outstanding role it has played so far in eCommerce over the past many years now.
However, it is equally important to find a reliable managed WooCommerce hosting and as a matter of fact, there are several managed WooCommerce Hosting offered by many top web hosting companies. 
No business is complete nowadays without establishing its online presence nowadays. eCommerce certainly offers a bag full of possibilities to capitalize upon and in order to make the most of it, what one needs is a reliably good for WooCommerce.
In this post, we have shared great choices for the best managed for WooCommerce and we have reached to this conclusion after a proper testing.
Also, we suggest you try both the platforms with a demo site first to comprehend the differences between the features and this will eventually help you choose the suitable managed WooCommerce hosting for your purpose and of course, your eCommerce website.