BionicWP Promo Code 2022 – Get $50 Credits
Using the BionicWP Promo code, you can have BionicWP plans at a pretty affordable price. Our BionicWP Coupon will help you get $50 FREE credits.
BionicWP Coupon Code
Get $50 FREE credits using our BionicWP Coupon code HOSTINGSTEP50 to experience a truly managed WordPress platform. Enjoy the best security, support, and speed optimization. You can start for as low as $27.5 per month using our coupon code.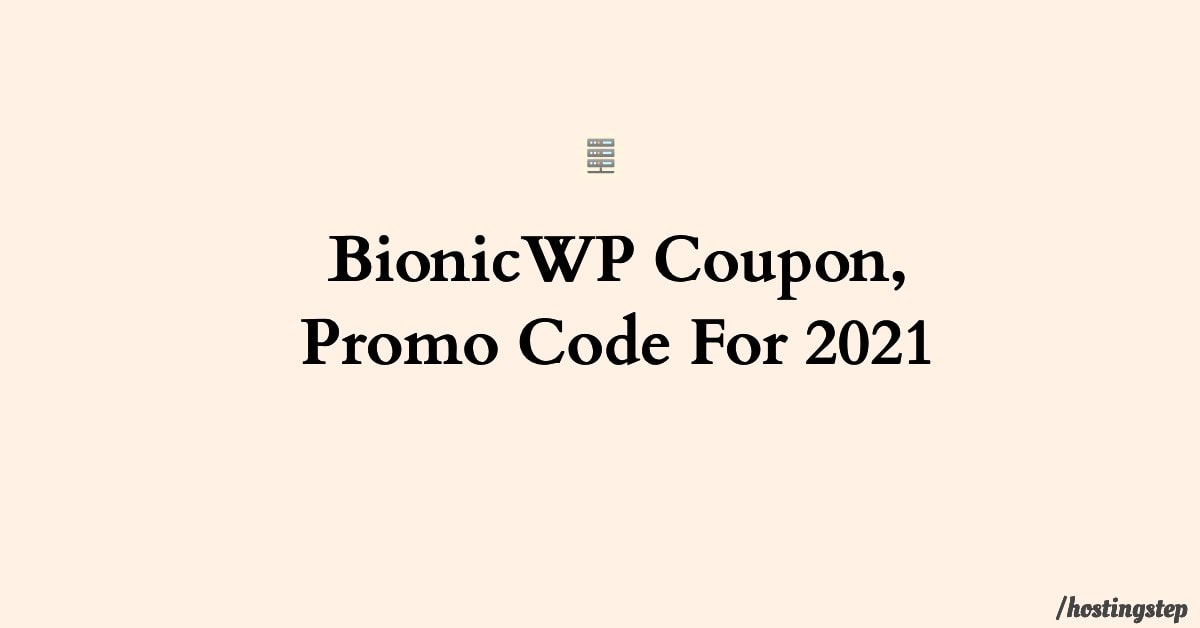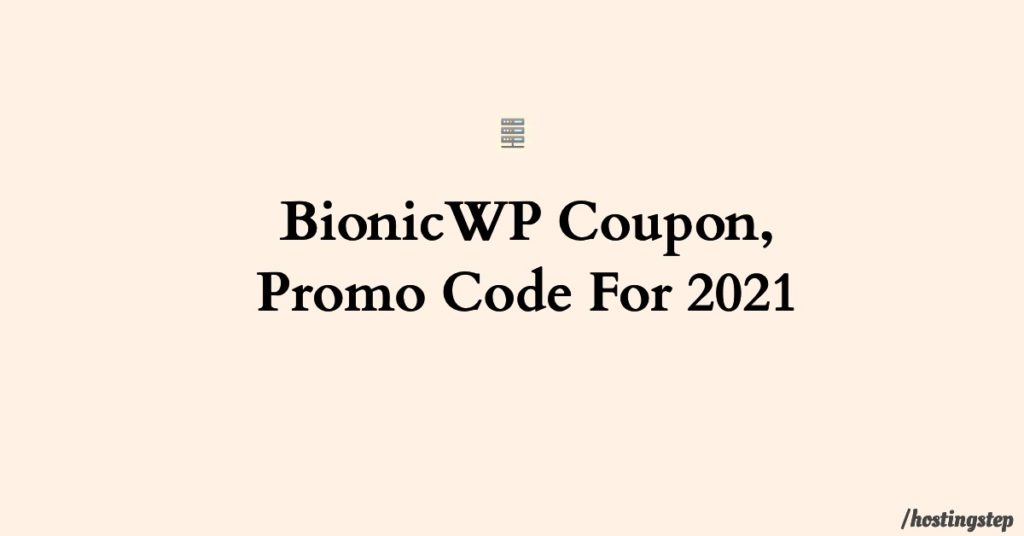 How to claim the BionicWP Coupon Code
Claiming the BionicWP Coupon Code is pretty simple. You can click on the offer link, which will get you to the BionicWP pricing page. After you get there, you can select a plan based on your requirements and proceed to the payment page. However, don't forget to enter our promo code on the payment page before completing the payment process.
Step 1
To begin with, you have to click on the offer link, which should get you to the pricing page. Next, you can select a plan based on your project requirement. After that, you can click on the Start Free Trial.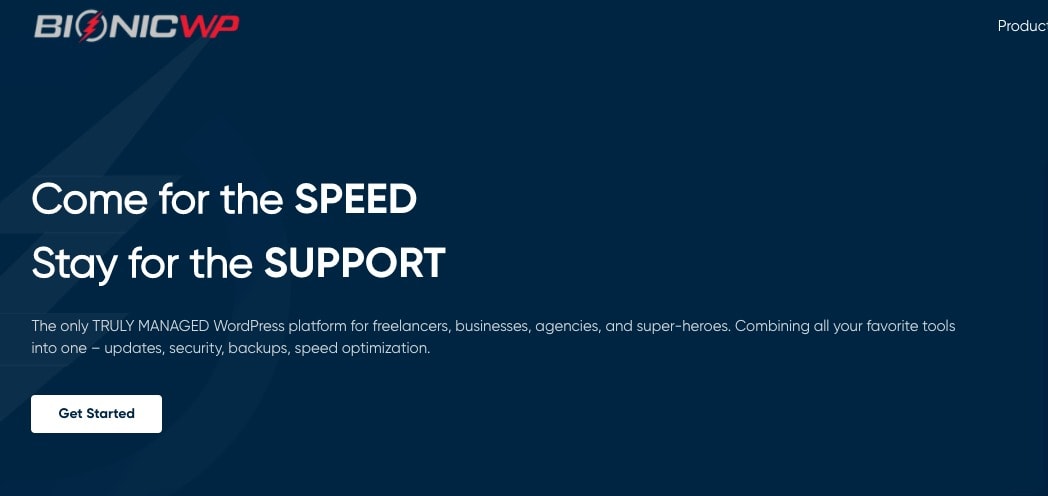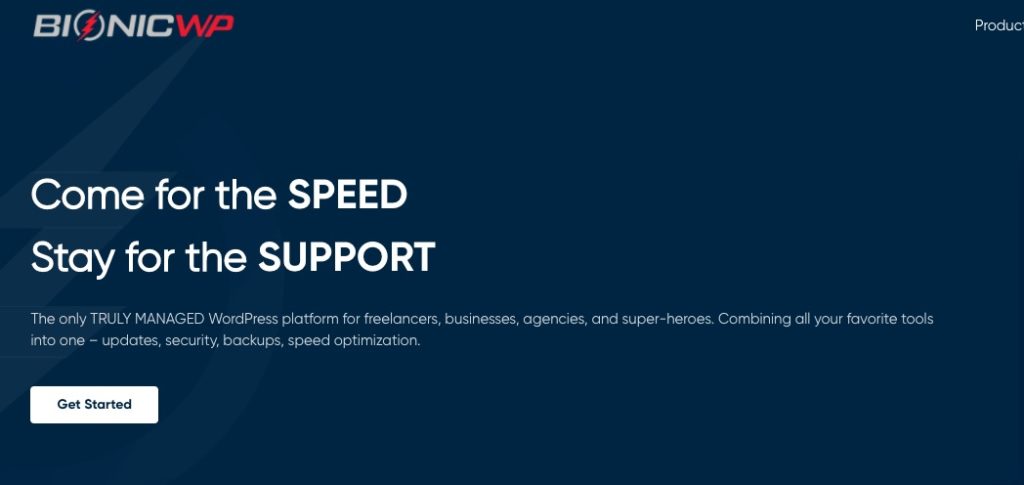 Step 2
Once you click on the Get Started button, the host will present you with the Sign Up page to create a Bionic Account. You can sign up using your email account. You can enter our BionicWP Coupon code during the signup itself.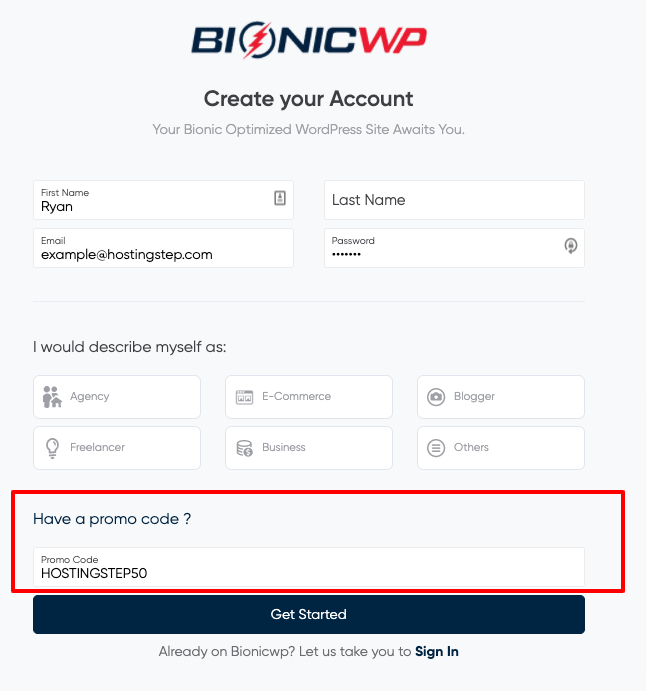 Step 3
After you complete the Sign-Up process and get to the dashboard, you can click on Visit Your Account Page. Next, you could get to the billing tab and add your payment method. After that, payment will be automatically charged from your account after the expiry of the trial period.
Reasons to choose BionicWP.
When it comes to choosing BionicWP, there are plenty of good reasons, including performance, security, support, and more. I have closely studied the different aspects of the service and found them to be pretty good. Let me put them one by one to give you good clarity.
1. BionicWP comes with a brilliant performance.
I tested the performance of BionicWP and found it very reliable. The service has a brilliantly fast server response time with an average server response time of 339 ms. When it comes to uptime, BionicWP has an uptime of 100%, according to my last uptime test on my BionicWP site, and most importantly, all through the testing period, the service had no downtime or outage. This makes it very reliable for sure.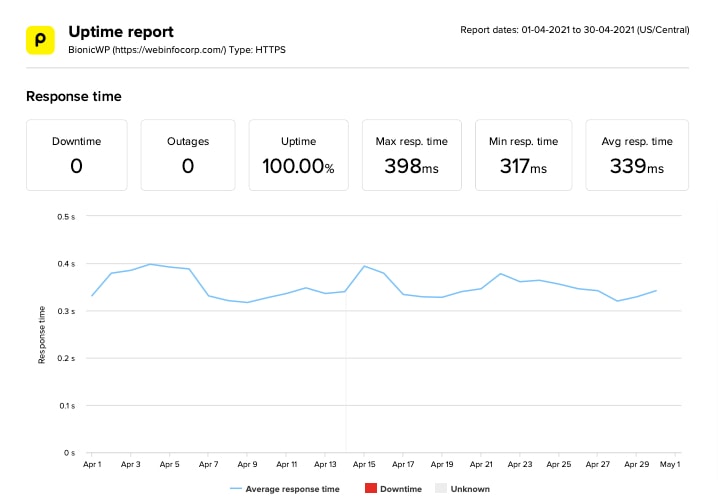 Let me share a few more crucial performance insights about this service. BionicWP also has a very good load handling capacity. When I sent concurrent traffic of 1000 clients in 1 minute to my BionicWP, it responded in 40 ms, which makes it pretty dependable when it comes to load-handling.
The service is also pretty conducive for sites that largely depend on multiple global locations for traffic. I tested the global TTFB of the service across ten global locations and found it pretty good in almost all the places. However, the TTFB was more than 1 second in Bangalore. My BionicWP site recorded the lowest TTFB in New York with 83.87 ms.
The performance test is never complete without testing the Core Web Vitals of the hosting service. As I tested the Core Web Vitals of my BionicWP site, the site recorded a 'Largest Contentful Paint' of 0.453s, a 'Total Blocking Time' of 0.000s, and a 'Cumulative Layout Shift' of 0. That's a good score for sure, and it means sites hosted on this platform can deliver an exceptionally good user experience.
2. BionicWP comes with 26 GCP data center locations.
Hosting a site from the closest server to your audience is extremely important and is considered one of the best practices in hosting. However, finding your desired location is not always possible, especially if the host you choose comes with very limited data center locations.
This doesn't hold for BionicWP. The host provides customers with as many as 26 Google Cloud Platform data center locations to choose from, and with that, you can easily find the desired data center locations to host your site on.
3. BionicWP comes with rock-solid security.
When hosting a site, it is extremely important to pay adequate attention to website security. As a matter of fact, without a proper web security system in place, a site can be a victim of different online attacks anytime.
BionicWP has a very robust security system in place, characterized by Daily Malware Scanning, WordPress Hardening with automatic updates, and WAF Firewall. Further, the host also offers customers a Hack promise wherein it will fix any site hosted on it for free if one ever gets hacked, and that's certainly a great relief for the customers.
4. BionicWP offers 100% FREE Migrations.
If you have a site or sites to transfer and have chosen BionicWP, you are certainly very lucky since BionicWP offers 100% FREE professional site transfers for any number of sites.
In the process, every single task would be carried out by the Bionic experts themselves, and you can focus on your core business. Transferring a site can't be any easier and better than this.
5. BionicWP has one of the best Support teams.
BionicWP has one of the finest Support services. Even though the BionicWP support works slightly differently, it has had a good track record so far. To help you understand the way BionicWP support works, customers have to schedule a meeting with its executive on the front app calendar every time they have some technical issue.
The best part is after you schedule a meeting with an executive, you will not have to keep waiting and will be attended right at the scheduled time. That would certainly save customers a lot of time. Besides, customers could also browse through the various blog posts and video tutorials anytime for a quick reference.
BionicWP is one of those managed WordPress hosting companies that come with exceptionally reliable performance and security. You can also read our BionicWP Review to know about the company. This is your time to have one of the BionicWP plans for a much affordable price using our Bionic Coupon Code and getting a credit of $50. I have clearly explained how you can claim this deal, and it isn't really difficult for sure.