Web Hosting Companies That Accept Bitcoin Payments (2018)
Bitcoin Web Hosting:
The Bitcoin has been growing in popularity as a prominent online currency. The bitcoin was originally introduced as a currency that supports a public and transparent approach to handling payments around the world. It also improves upon how payments can be sent out between people. It is a viable and unique digital currency that has become very popular over the years. It is also fully transparent and is not regulated by any outside entity, thus ensuring the cost to use the bitcoin is minimal.
Bitcoin Web Hosting
Today you will find numerous web hosting companies that accept the bitcoin when making payments. These companies will take in the bitcoin as a means of getting transactions covered immediately while working beyond country borders. But as you look at these web hosts, you will have to analyze the many options that are available for your use. Each option is different and has its own terms for how you can use it.
1. NameCheap ~ Best BitCoin Web Hosting & Domains
Namecheap was introduced as a site focusing on domain name registration. Today Namecheap offers managed WordPress hosting services and helpful apps for producing quality websites. The company first offered its services in 2000 and has evolved to include many services and even an extensive video-based live help center. Namecheap positions itself as a value-oriented option for hosting and makes for a worthwhile option for people trying to get their domains prepared and secured right.
Read NameCheap Hosting Reviews – https://hostingstep.com/namecheap-hosting-reviews/

Supports data centers in the United States and the United Kingdom

Offers VPS, shared, Reseller and Dedicated hosting solutions.

WhoisGuard feature offers full data privacy protection support for users by stopping spam and unauthorized users

PremiumDNS works for added website layering

Separate private email hosting is available with support for handling emails with a unique domain name at the end
2. Hostinger ~ Cheapest BitCoin Web Hosting
Hostinger prides itself on offering some of the fastest servers around. The company offers many cheap hosting plans although the most valuable plans offer added security features and control points. The service also comes with its own special hosting platform. The layout that Hostinger uses is also simple and easy to use without any complicated terms all around. People can get Hostinger to work without having to hold any knowledge of complicated technical or coding data.
Offers unlimited disk and bandwidth support on most accounts

WordPress servers are optimized for faster use and loading features

Instant support available 24 hours a day

30-day risk-free guarantee available to new users

Daily backups available on most accounts with cloud data support available.
3. HostWinds ~ Cheapest VPS & Dedicated BitCoin Web Hosting
HostWinds focuses on the customers above all else when it comes to producing a great website. With HostWinds, people can use cloud servers or dedicated options for their use. Each hosting system offers a simple design that is convenient and helpful for many needs. HostWinds focuses on offering faster speeds and even uses the cloud system to link people up to the fastest servers at a given time, thus ensuring a consistently fast speed for all users to handle.

Works with a full uptime guarantee.

Simplified software program included for monitoring site performance

WordPress hosting available

Enterprise email support features available for advanced email demands

Shoutcast support offered for producing online streaming media stations.
4. Host1Plus ~ Best Cloud Hosting Servers BitCoin Web Hosting
The dynamic layout of what Host1Plus has to offer makes this one of the best choices to find for a bitcoin server. This uses servers from all around the world with each server arranged with a carefully built layout with each one checking out how well these may be laid out and used right. VPS and cloud servers are available for use.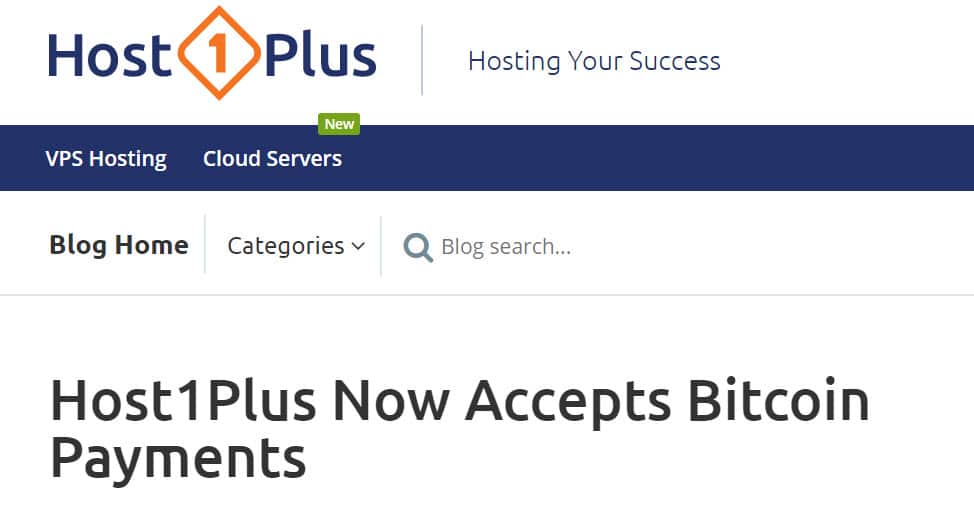 Works with many CPUs depending on the setup being required

Backups available through cloud servers

Linux operating system support provides people with added control for many hosting programs

SSD caching used

Additional IP addresses can be ordered including many VPS addresses for international access
5. Hawk Host ~ Cheap VPS BitCoin Web Hosting
The next option is Hawk Host, a group that offers VPS, semi-dedicated and reseller hosting services. The group has been providing hosting services since 2004 and focuses extensively on ensuring site data is protected. Much of this comes from the work handled with quality secured servers that keep data from being easily used.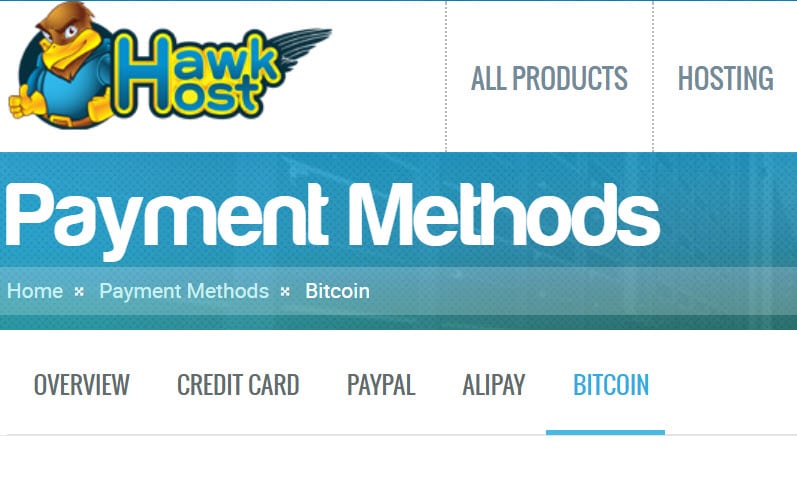 Full migration support available for people who need to move from their old hosts to new ones

CloudFlare optimized data centers to support cloud backup solutions

Unlimited bandwidth, domain and database support

SSL certificates easy to produce and make available for protection needed.
The above hosting companies offer reliable web hosting and you can choose one from the above. However, if you're still looking for more BitCoin Web Hosting companies continue browsing for various options. However, I haven't tested the performance of below companies.
6. THCServers ~ Cheap BitCoin Web Hosting?
THCServers offers a bitcoin hosting option that entails support for Windows and Linux users alike with separate programming systems available for each of these operating systems. Dedicated and reseller hosting solutions are available with live support and unmetered bandwidth available for one's use. The support THCServers offers gives people added help for getting any problems on their servers fixed as soon as possible. The service offers a simple one-click interface for most setups although people have the option to use other setups if they prefer to make them work out.
No shared resources required for server support

Dedicated IP support available

Unlimited disk space for most accounts

Bandwidth support is strong without slowing the user down after a period of time

No setup fees required for use.
7. Bitcoin Web Hosting
Bitcoin Web Hosting promotes itself heavily as a place that offers support for web hosting plans with the bitcoin as a payment option. It does talk about how people can buy the host's support for getting many bitcoin mining operations hosted. But the service does well for various other needs too. It offers VPS and WordPress hosting and offers free domains and SSL certificates with certain programs.
cPanel support available with instant access provided

Support for most blog processing programs and functions

Instant activation upon ordering a service

One-click installs included for getting any platform ready on a hosted site

Fast responses from the technical support team
8.Awardspace
The most noteworthy part of Awardspace is that it offers a free shared hosting option. But the free choice works with minimal features and slow speeds. People are better off using bitcoin payments to get access to a WordPress hosting account or even a VPS cloud hosting system.
These options are still affordable and provide people with conveniently scalable layouts that help people to produce websites with many apps in mind. Still, most of the features offered are good only for the accounts that people actually pay money for. Also, this does better with Windows users.
Offers free domains for life depending on the plan being used

Unlimited disk space available on all accounts

People can order multiple websites for their control on a single account depending on the program being used

Support for multiple databases; some plans offer unlimited databases

Full backup support available.
9.JavaPipe
The cloud hosting services from this bitcoin host focus on Java and PHP in mind. A MySQL database can also be supported as required. Domain registration services and SSL certificates are also available to give people extra support for getting their sites ready.
The DDoS protection features available also provide users with convenient access to anti-virus and anti-spam programs for keeping a page protected.
Apache Tomcat installation offers support for convenient and easy to use Java deployment

SiteWorx control panel offers simple setup for handling email accounts, databases and other bits of data at a time

Domain registration is free for most users

Virus and spam protection programs are easy to use and work quickly or on demand

WordPress blog support available
10.VodaHost
Another good option to see for hosting demands, VodaHost helps people to keep their sites active while using one-click install options for getting a site ready. VodaHost can handle Joomla, WordPress, phpBB and Soholaunch programs alike and can optimize their site building programs for your convenience. This works with most operating systems in mind although it works best with Windows.
Unlimited email accounts available

Domain name hosting available with regular renewals included

Unlimited database support

Multiple merchant accounts can be included with several shopping carts available for users

Additional search engine optimization and marketing services available for businesses
11.Shinjiru
The last of the web hosts to find that accept the bitcoin is Shinjiru. This is a place that offers a good design for Linux hosting needs. The service offers unlimited bandwidth and disk space for most users. It also focuses on extensive security features that keep a page protected.
Control panel supports WordPress

Anti-spam controls included

Support for multiple languages

Faster servers available for most users
Concluding
Check out any of these BitCoin Web Hosting companies when you are looking for companies that offer great web hosting services. All of these service providers work with bitcoin payments in mind, thus giving you a special and convenient way to pay for your services.
These choices are all different from one another so make sure you compare each one to see which is right for the needs you might have. Review how well they are laid out and if they have the technical features that you demand out of a host.