This post of Bluehost Vs WP Engine compares both Bluehost and WP Engine in terms of performance, features, pricing and support.
Bluehost Vs WP Engine – Introduction
Bluehost entered the industry in 2003 and is one of the most reliable hosting services. The service is pretty easy to use and comes with affordable pricing.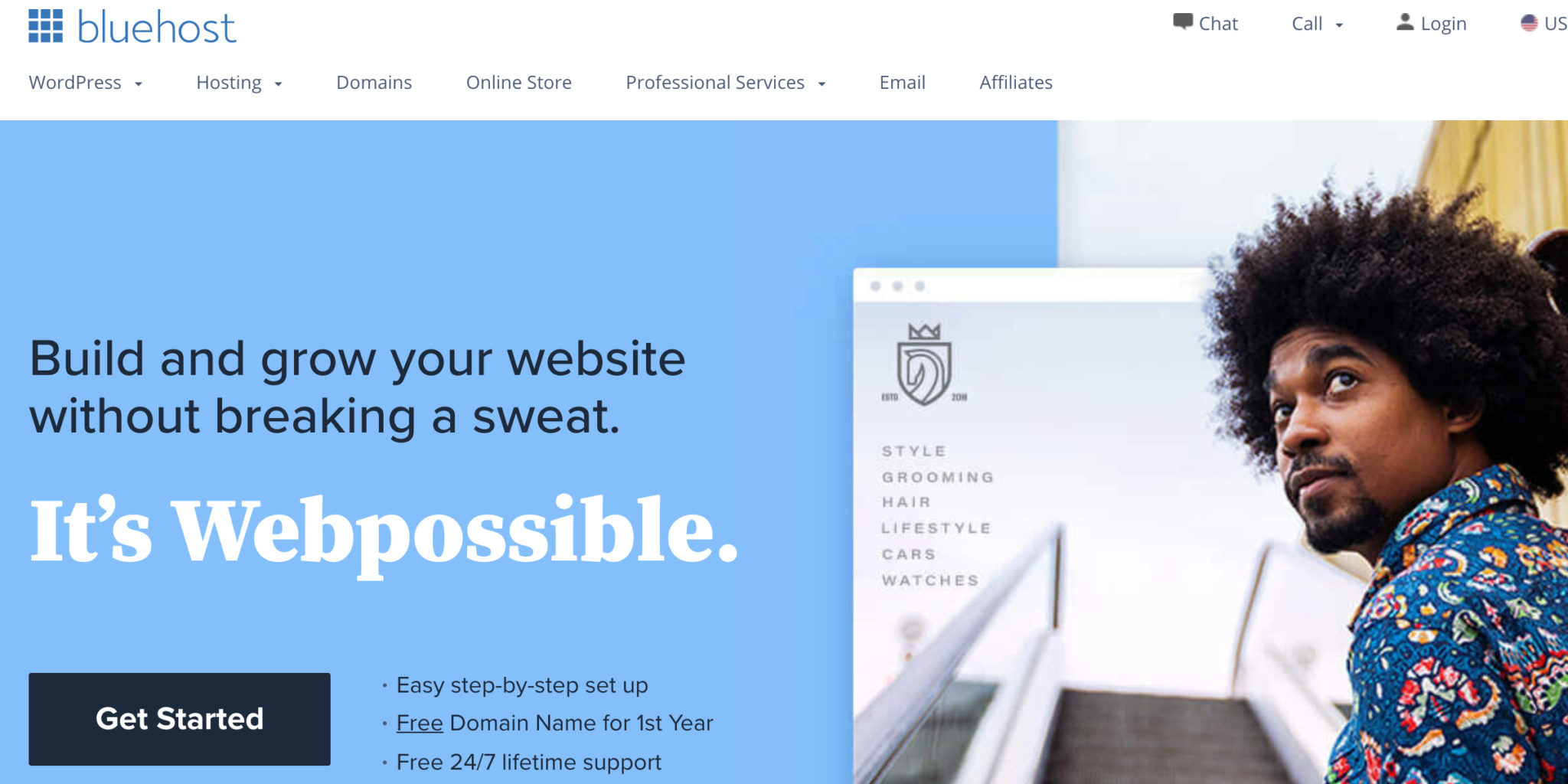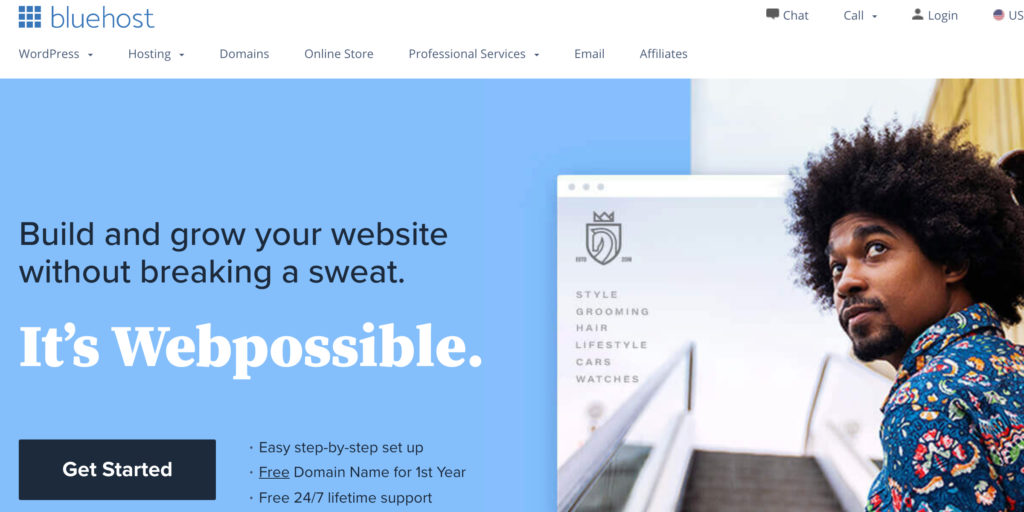 WP Engine is an excellent managed WordPress hosting platform that offers a full spectrum of digital experiences on WordPress for all types of businesses comprising small businesses, creative agencies, and enterprises.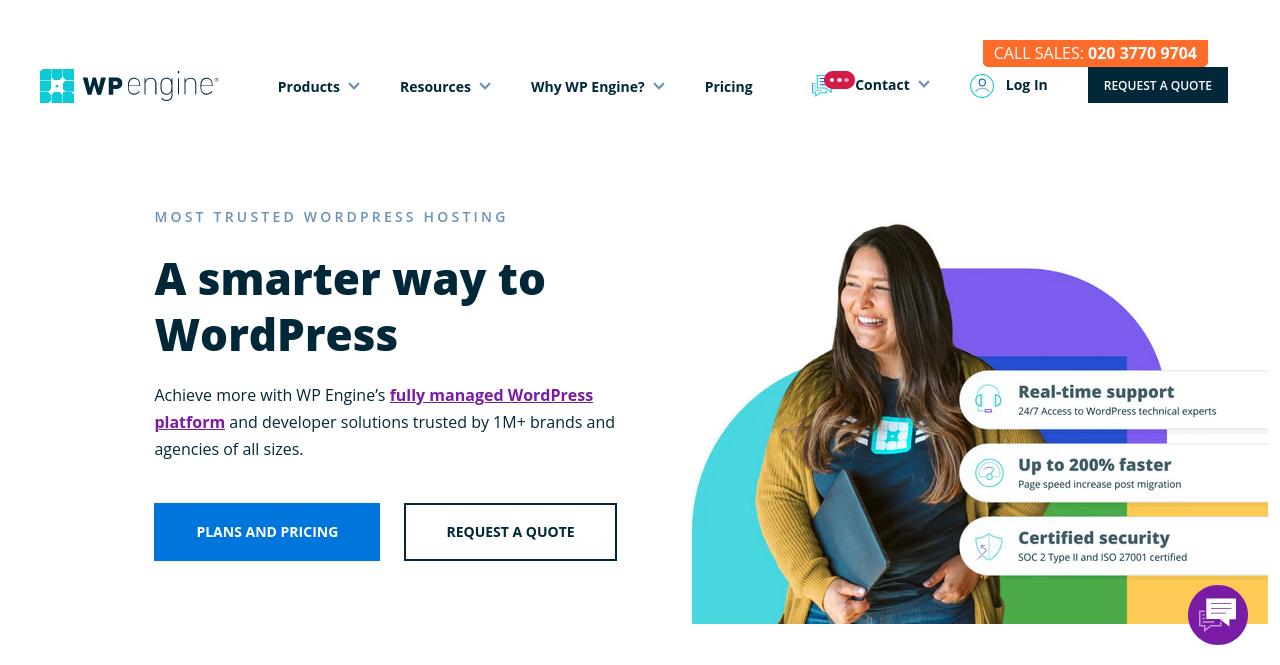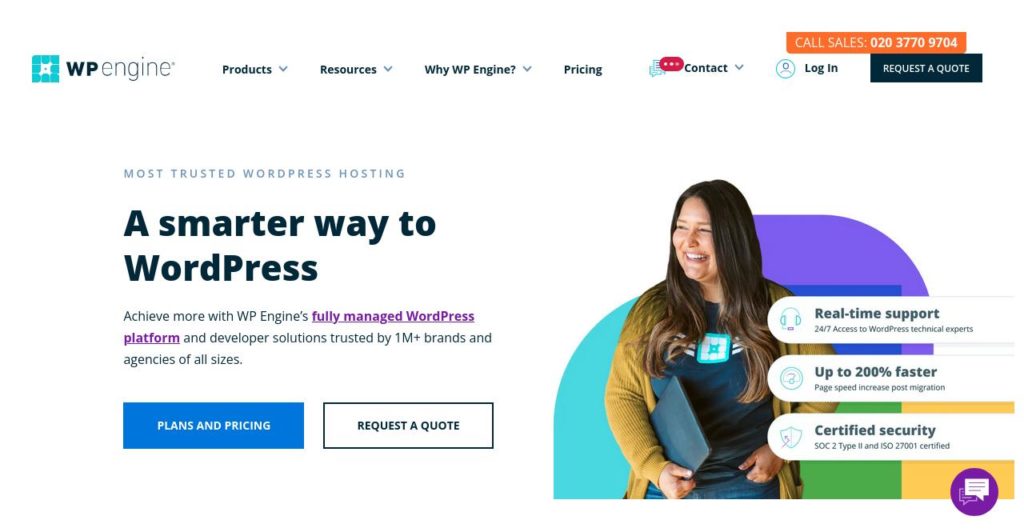 Bluehost vs WP Engine: Performance
Server Response Time
I monitored the server response time of the two services for more than 24 months.
Based on the latest last 12 months data, Bluehost site had an average server response time of 455ms, my WP Engine site recorded an average server response time of 380ms.
We can see there is a wide difference, and WP Engine has a better server response time.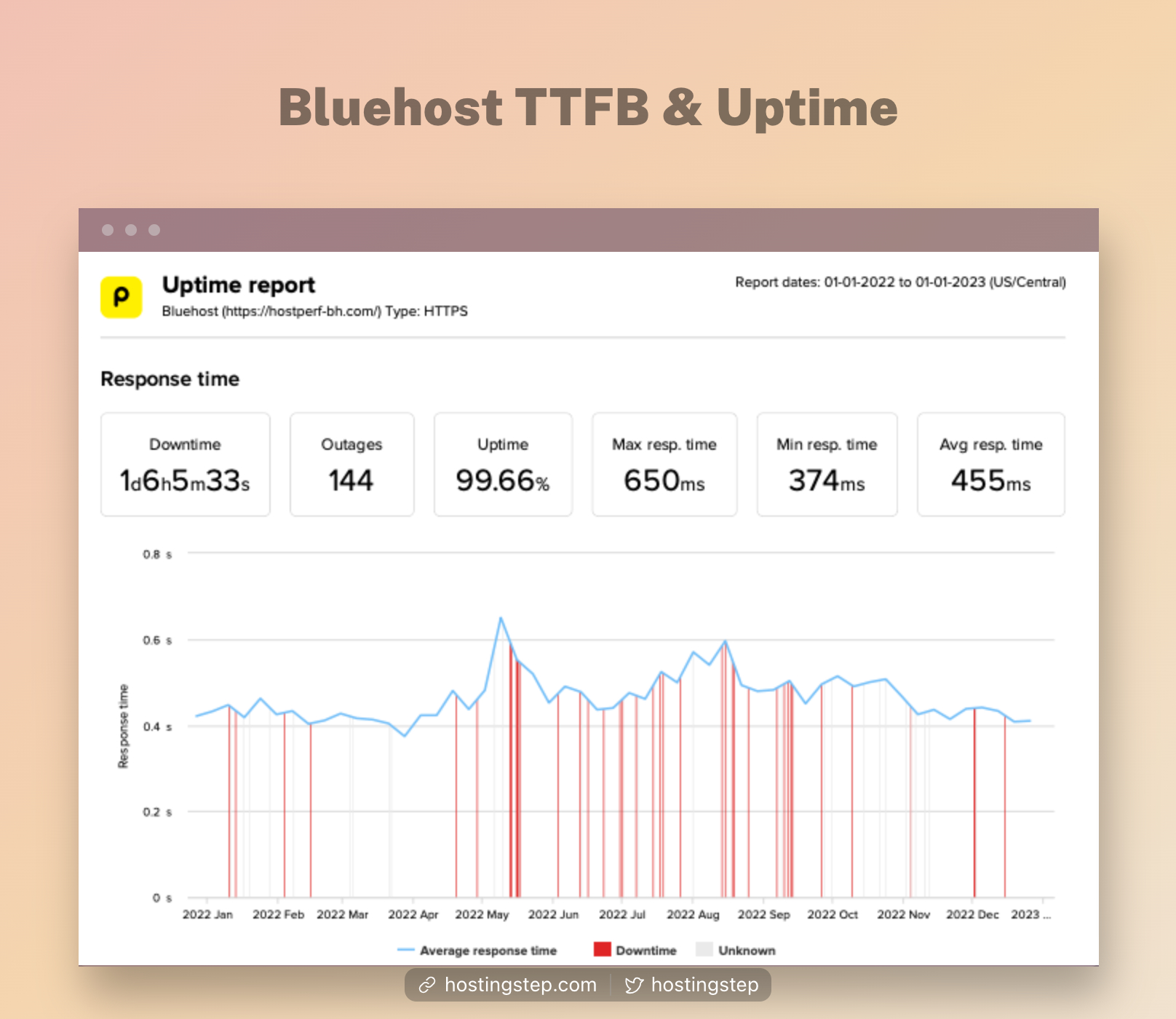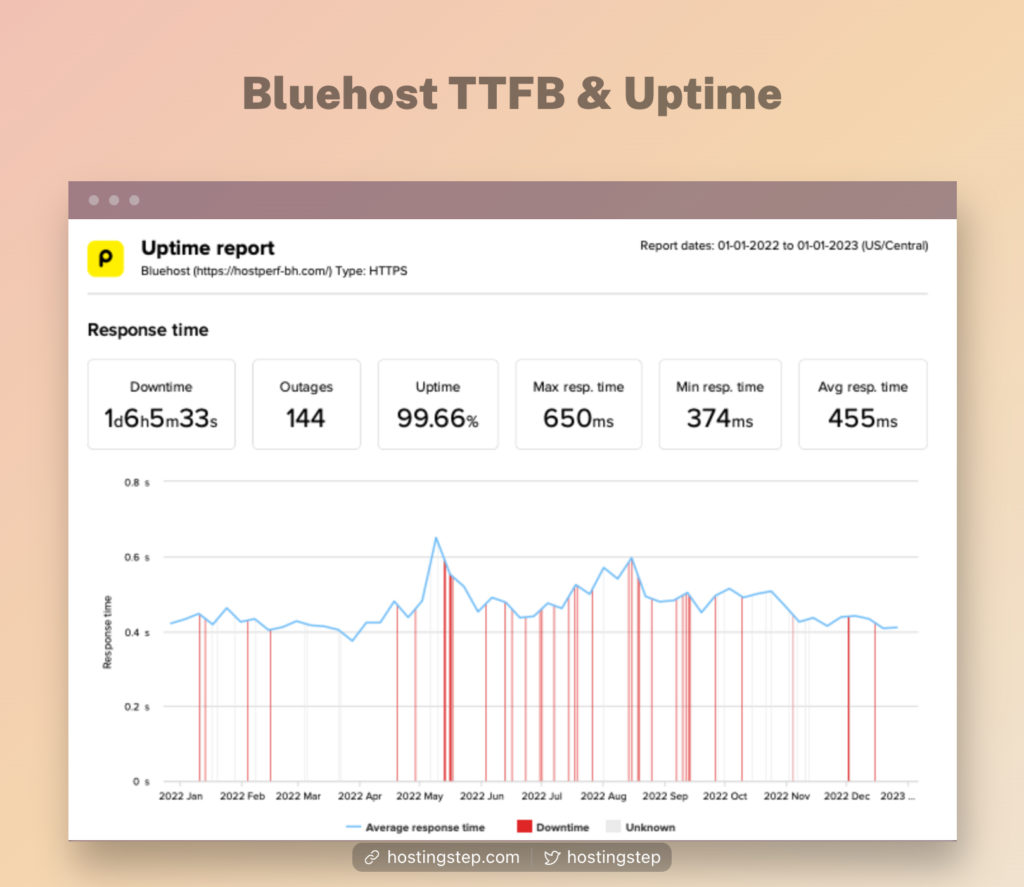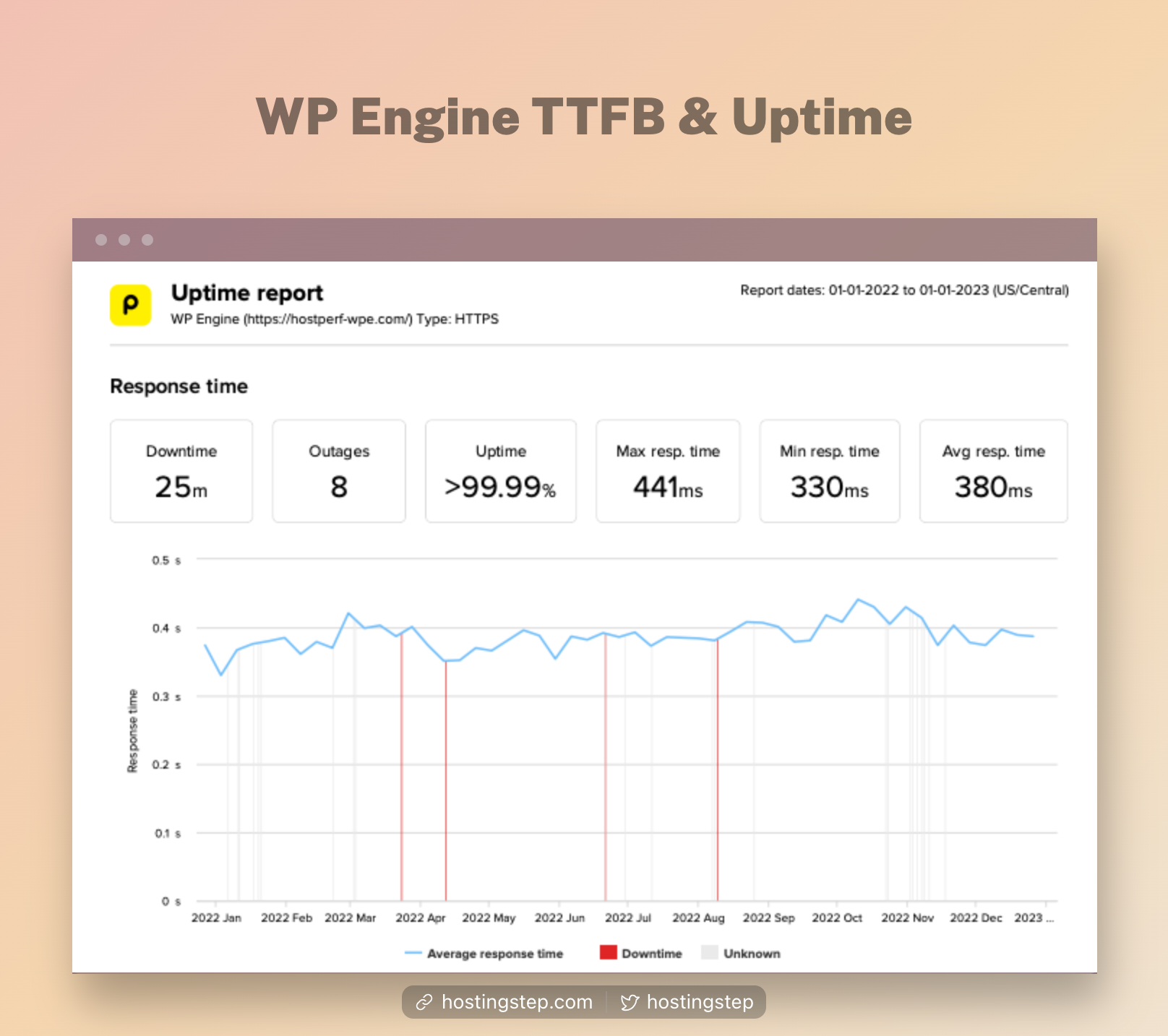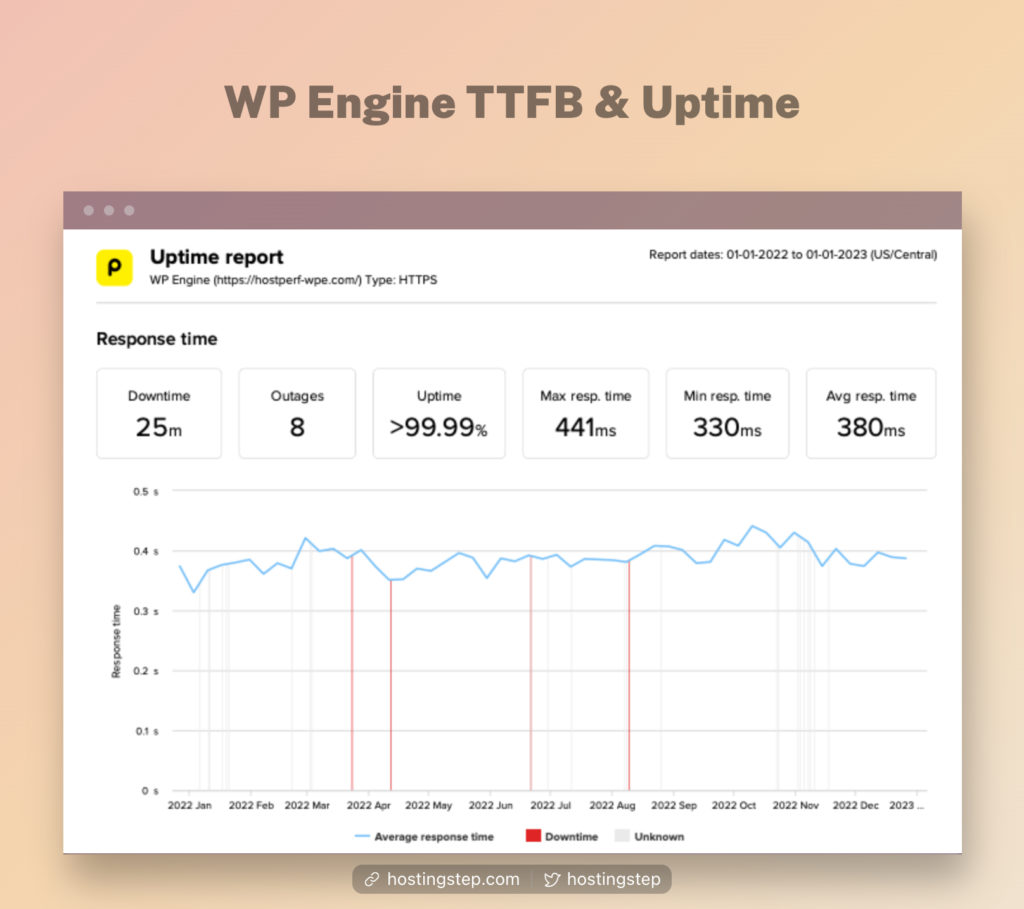 Uptime
The Bluehost uptime in the last 12 months is 99.66% which is way lower than their most other shared hosting companies we've benchmarked so far.
On the other hand, WP Engine recorded 99.99% uptime and there is nothing to complain.
Load Testing
Load Testing is another effective way of testing performance and it gives us a pretty clear picture of the performance.
I sent 1000 visitors to the site and measured the performance.
Bluehost recorded a response time of 53ms while WP Engine recorded a response time of 40ms. (Lower the response time, faster is your server).
Thus WP Engine handled the load test in a better way than Bluehost.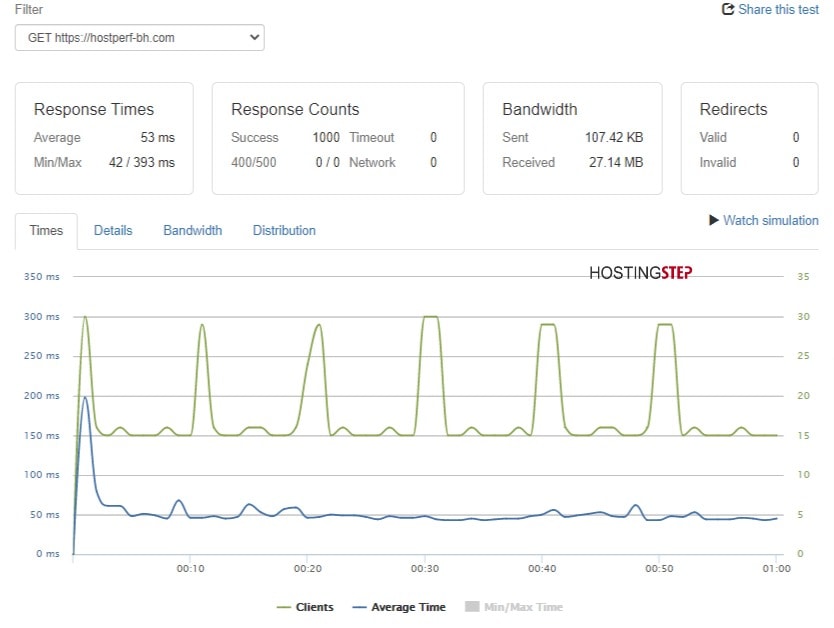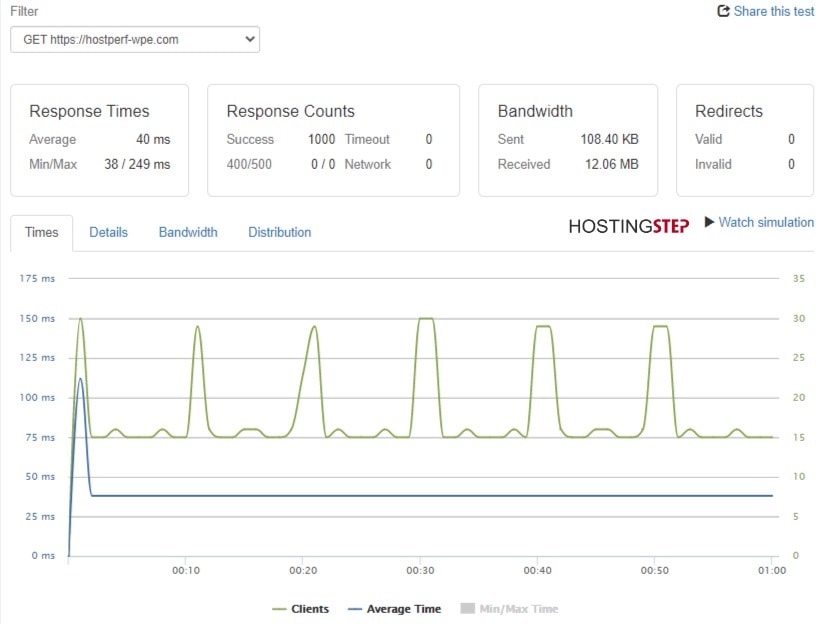 Global TTFB
The Global TTFB (Time To First Byte) test evaluates the response time of a website from various geographic locations.
This test is particularly useful if your website receives traffic from multiple regions worldwide. To conduct the test, I pinged my sites from 35 different global locations.


Summary:
When it comes to performance, WP Engine outclasses Bluehost in most tests.
The power of Google Cloud, WP Engine provided consistent results in TTFB, Uptime and load testing than Bluehost which are the vital characteristics of good web hosting.
Overall, WP Engine is the winner over Bluehost.
Bluehost vs WP Engine: Features
Control Panel
Bluehost has a customized cPanel with a better theme and has all the cPanel features presented in a much more organized way. The interface is pretty clean and easy-to-use. Even if you are a cPanel user, you will find the Bluehost cPanel more user-friendly since things are uncluttered and it is easy to navigate through the features. 
To use the Bluehost cPanel, you need to login to your Bluehost account. Besides, you can easily access the databases, domains, files, logs, and emails right from the control panel.
WP Engine also has a custom control panel called the User Portal, accessible from the URL, https://my.wpengine.com/. The User Portal allows you to manage your websites, access SFTP login details, database, create sites and environments and view billing details. 
Besides, it comes with collapsible navigation and provides you with many more important tools such as CDN, Git push, Site Migration, and various environment stats. To me, the WP Engine has more options and tools than cPanel or Plesk has.
If we compare the two services' control panels, both are good, but the control panel of WP Engine is comparatively better with more tools.
Data Center Locations
Bluehost has just one data center located in Utah in the USA when it comes to data center locations. If your audience is USA-based, you shouldn't really have any problem.
On the other hand, WP Engine is partnered with Google Cloud Platform and AWS, which gives you the advantage of choosing from a vast number of data center locations across the globe. Hence, WP Engine has got a leading edge over Bluehost in terms of data center locations.
CDN
Bluehost offers free Cloudflare CDN on all plans, which helps you deliver your content faster to your audience, making the most out of Cloudflare's reverse-proxy network, auto minification, and over 152 global locations.
WP Engine also offers Advanced Network based Cloudflare CDN for free on all plans. This CDN is better than Cloudflare Free CDN that is included with Bluehost.
Backups
Automated daily backup plays a vital role in web hosting, and these days, you can't afford to miss out on this feature at any cost.
Bluehost offers automated daily backup only on Choice Plus and Pro plans. However, you can get the Bluehost backup add-on, CodeGuard, for an extra price for automated backup if you are on a low-tier plan. 
WP Engine offers automated daily backups on all plans, and besides, the provider has a perfect backup system for all environments comprising production, staging, and development.
All the backups are stored offsite on Amazon S3 and encrypted in transit. Restoring a backup is also pretty easy in WP Engine. 
Security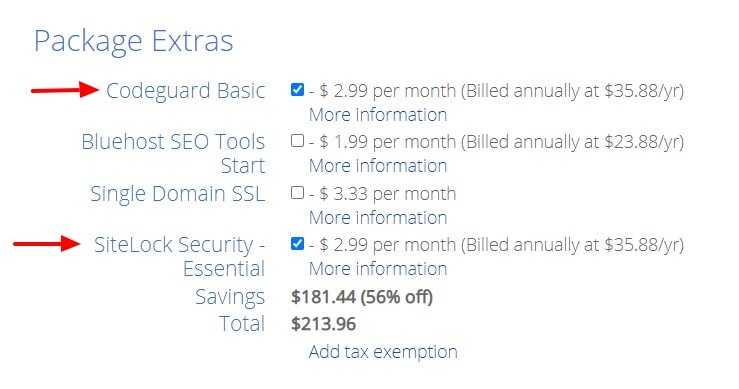 Bluehost security is characterized by resource protection, traffic encryption, automated malware scanning, and expert monitoring.
The provider has add-ons such as SiteLock and Domain Privacy for better security, but they are only available at an additional price.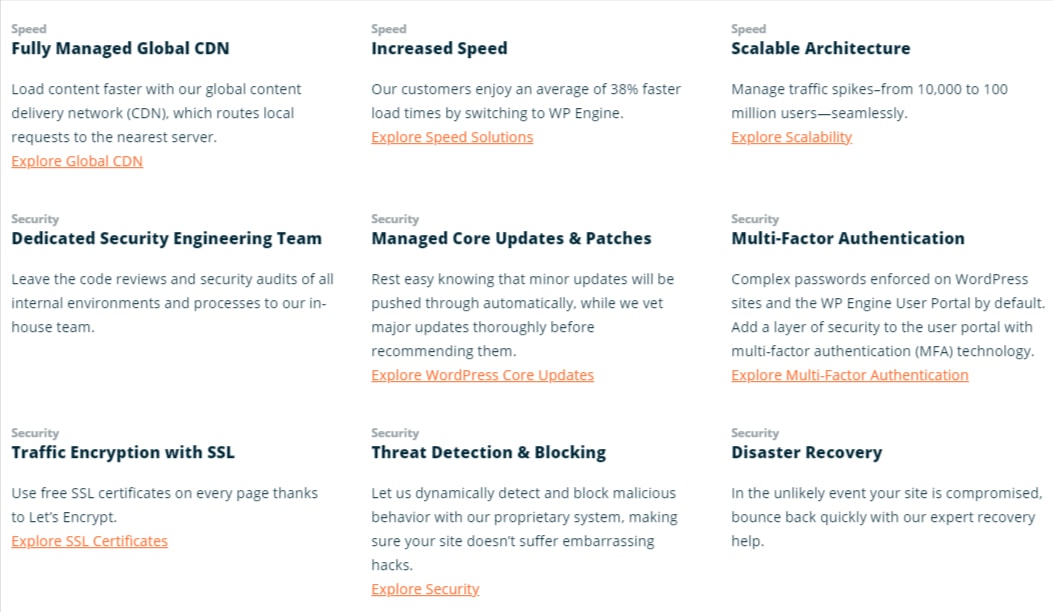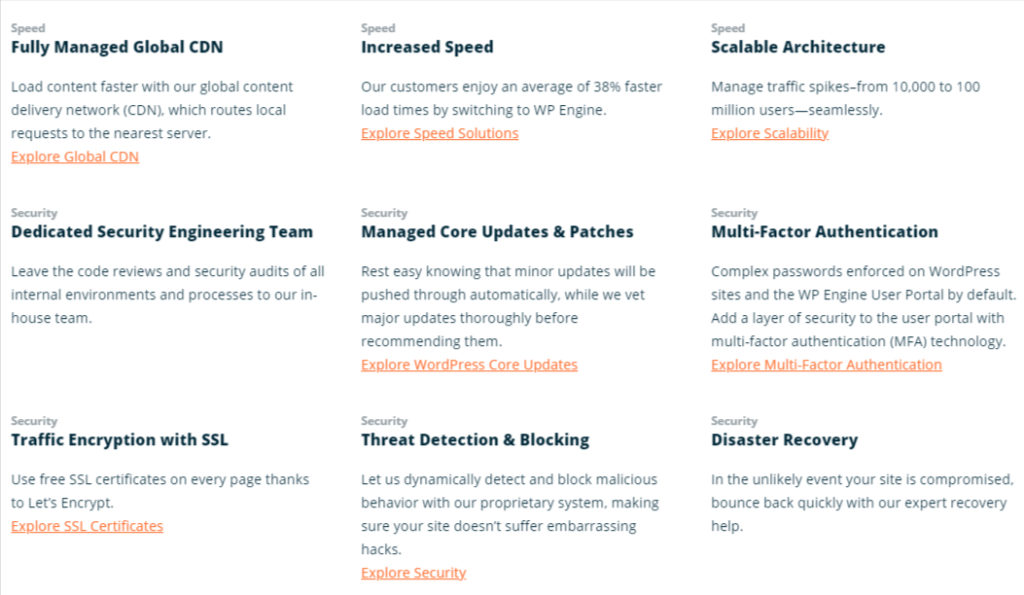 On the other hand, WP Engine has a rock-solid security system with managed core updates and patches, Multi-Factor Authentication, Traffic Encryption with SSL, Threat Detection & Blocking, and Disaster Recovery.
Unlike Bluehost, WP Engine doesn't upsell basic security features and its good.
Support
Bluehost has a decent support service in place with the most competent executives. The company provides excellent support through 24×7 chat, phone, and ticketing alongside having a comprehensive knowledge base for a quick reference.
WP Engine support teams are one of the best support teams in the industry. The team has WordPress experts from Ireland and the U.S to assist the customers through 24×7 live chat and phone.
Conclusion
In this post, I have provided a detailed overview of Bluehost and WP Engine, highlighting critical aspects of both web hosts.
Apart from affordable pricing, Bluehost is not good for anything. Their performance is poor compard to WP Engine especially the slow loading pages and poor uptime. They also upsell security features. For a hobby like sites, Bluehost can be a good fit.
However, for any kind of business websites, WP Engine should be your only choice.