5 Cheapest Managed WordPress Hosting 2020 (Reviews)
Are you looking for the cheapest Managed WordPress Hosting? If you are, you have landed on the right page at the moment.
WordPress is certainly a very powerful CMS platform as it offers users a large number of resources, mainly in the form of plugins. This is the reason that WordPress sites tend to get slow if not properly optimized. This can be largely achieved in a Managed 
WordPress Hosting as all technical aspects of your WordPress site's optimization will be taken well care of by the hosting service itself. This eventually would help you focus better on the core business.
With so many different Managed WordPress Hosting services in the market these days, it is certainly not an easy job to find the most suitable service for your purpose. This is the reason that I thought of coming up with this post to help you find the best yet cheapest Managed Hosting WordPress. 
Note: To put a list of real Cheap Managed WordPress Hosting companies, I considered companies with custom panel in the list. I omitted services using cPanel and branding it as Managed hosting since its very similar to shared cPanel hosting service.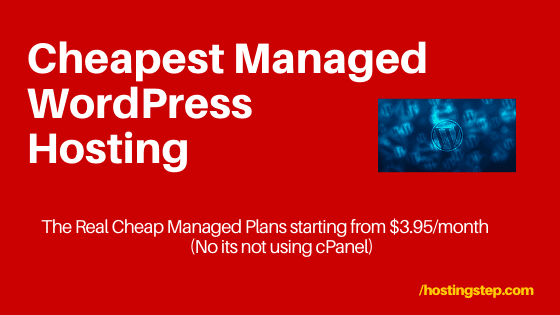 I have spent some hours analyzing around 15 Managed WordPress Hosting services. Here are the list of 5 Cheapest Managed WordPress Hosting services in 2020. 
Speed: 344 ms
Uptime: 99.98%
Support: 9/10
SiteGround is the cheapest Managed WordPress hosting with email hosting option. With the launch of new control panel ditching cPanel, SiteGround really grown into an real Managed WordPress hosting company.
SiteGround has the advantage of being one of those hosting companies that are recommended by WordPress.org. SiteGround Managed WordPress Hosting helps quickly set up your WordPress site by offering automated WordPress installation.
Moving your previous site to this platform is unimaginably simple with the SiteGround Migrator plugin and all it takes is just a few clicks. In addition to this, you can also have a FREE professional transfer service. However, for that, you would need to choose either GrowBig or GoGeek plan.
SiteGround is a good Managed WordPress Hosting platform and on top of that, it allows you to start for as low as $3.95 per month (Usually $11.95 / mo.)
The provider offers dependable and friendly customer support through Tickets, Chat, and Phone.
Check SiteGround Pros and Cons Here or Visit SiteGround.com
Speed: 420 ms
Uptime: 99.98%
Support: 9/10
A2 Hosting is the fastest & cheapest Managed WordPress hosting based on Plesk control panel.
A2 Hosting is yet another reliable Managed WordPress Hosting provider with exceptionally good speed and uptime. A2 offers an option called Turbo Booster using which users can have up to 20X faster page loading for their sites.
Apart from this, the service is characterized by easy staging, Auto WordPress installation, Easy WordPress Backups, Perpetual security, Automatic WordPress core updates & patches, Developer friendly features, Free SSL, Free Account Migration, and Anytime Money Back Guarantee.
Speed is one of the pros of A2 Hosting which is comparable to $30/month plan of WP Engine.
A2 24X7 Guru Crew is one of the finest and most reliable customer support teams in the entire industry and customers can always expect a round the clock quality assistance through phone, email and live chat. A2 Managed WordPress Hosting starts at $11.99 per month with one site support and 10 GB Storage.
Speed: 400 ms
Uptime: 99.99%
Support: 8/10
Flywheel is a Managed WordPress Hosting provider that has been around for some years now. The service puts a lot of emphasis on security. Flywheel sites are blazing fast backed by server-side caching.
Apart from that, the service is characterized by Free SSL, Free Migration, One-Click Staging, Auto-healing technology, Nightly Backups, valuable performance and security related insights, Easy CDN integrations and reliable support through 24×7 phone,  chat, and tickets.
Flywheel allows you to start for as low as $13/mo with 5000 monthly visits, 5GB Disk, and 20GB Bandwidth. Flywheel provides users with reliable support through Live Chat and Tickets.
Speed: 199 ms
Uptime: 99.99%
Support: 10/10
Nexcess is truly the #1 Cheapest Managed WordPress hosting for monthly billing services. While the above three companies offers the cheap price only when you sign up for 12 months or more while Liquid Web Nexcess offer lowest pricing for monthly.
Nexcess is a PCI compliant hosting company that is one of the finest hosting providers in the industry in Managed WordPress Hosting. The company has also tied up with iThemes to ensure robust security in addition to constant server and network monitoring.
I got hands on with new Nexcess Managed dashboard here and topped my expectation with some exclusive set of features I didn't found on other managed solutions.
Nexcess sites are pretty fast backed by Nginx, PHP 7, image compression, and specific configurations. Plugins are automatically updated. The company offers Free Site migrations. 
The managed application cloud, Nexcess helps you easily manage everything from a single point of control such as Auto Daily Backups, Staging site, Auto SSL, Full Server Access and more.
You can start with Liquid Web Nexcess Managed WordPress Hosting for as low as $19/mo or even lower with available working coupon codes.
The company also has a very dedicated team of experts to constantly help the users at any phase and users can expect always expect fast assistance through tickets, phone, and live chat.
Speed: 140 ms
Uptime: 100%
Support: 9/10
WP Engine comes with cheapest price tag when paid annually.
WP Engine is one of those hosting companies that were the first excellent WordPress based solutions. On top of that, the hosting provider is seen as a company that uses the most advanced technology. The company has an impressive customer profile which includes many popular companies like Asana, National Geography, Yelp, etc.
The company offers customers two great Cloud Platforms to choose from for running their web applications; Google Cloud Platform and Amazon Web Services. This gives customers the advantage of a large number of global locations. Customers can also feel the amazing difference in terms of uptime, speed, and security.
If you want to start with WP Engine Managed WordPress Hosting, you can start for as low as $22/mo. WP Engine customer support has the most knowledgeable staff to assist you 24×7 through tickets and live chat.
Conclusion
With Managed WordPress Hosting, you certainly can expect a very dedicated hosting environment which comprises easy of management, enhanced security, enhanced speed, expert support, auto backups, auto-updates, and Auto WordPress core updates. 
If you were to do them all manually, it would require a lot of time and technical expertise but with Managed WordPress Hosting, you are left with nothing to worry as all these will be handled skillfully by your host itself. 
I am sure you have read this post carefully this far which is why I presume you should have no difficulty in finding the best managed WordPress Hosting for your purpose. Although all the Managed WordPress Hosting services are equally reliable and have the best customer support too, SiteGround happens to be the best cheapest Managed WordPress Hosting service.
However, a lot depends on your exact requirement and this is the reason that I suggest you go through all the features of all the 5 Managed WordPress Hosting services carefully and try to comprehend them well before you can buy one.