Cloudways has done an excellent job providing customers with a highly reliable hosting service and the perfect choice. At Hostingstep.com, we are the first platform to compare and review the different Cloudways providers like Digital Ocean, Linode, and Vultr. With Cloudways recent tie-up with Cloudflare, customers can enjoy even faster and more secure hosting.
What is Cloudflare Enterprise?
Cloudflare is a popular and extensively used CDN service, and it uses many advanced speed optimization techniques to enhance the content delivery of sites. These techniques include reverse-proxy caching, Brotli Compression, Rocket Loader, and Script modification.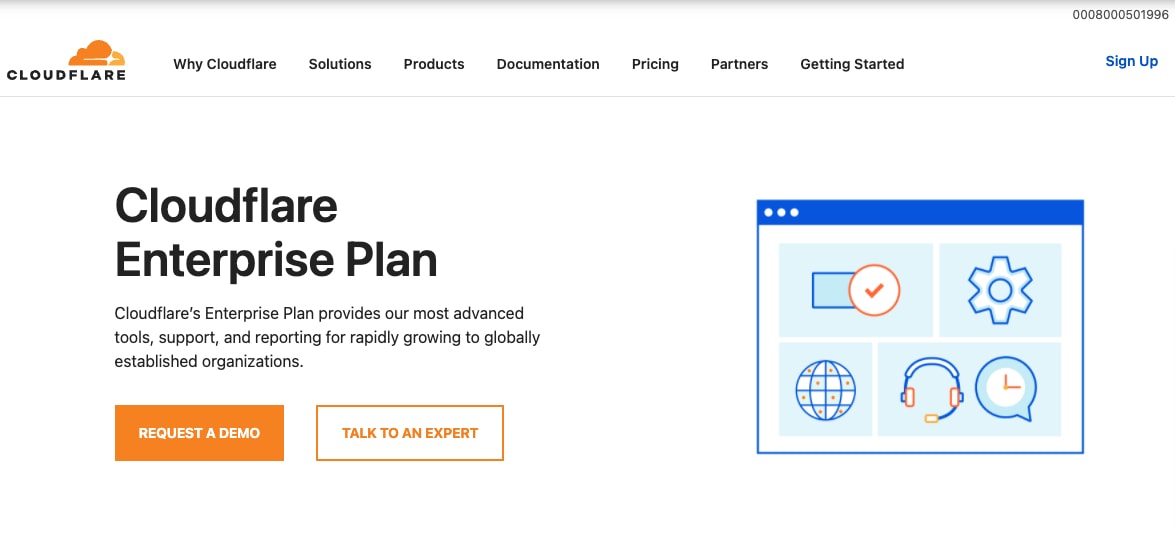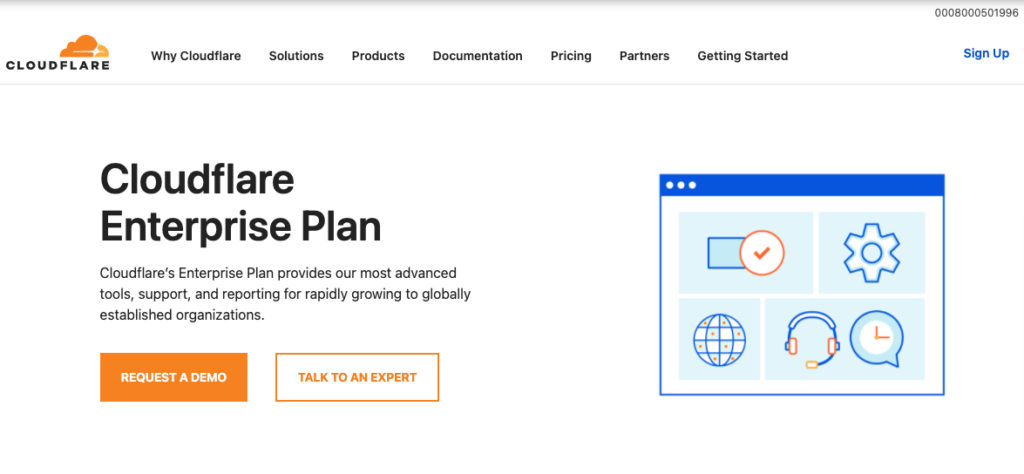 Cloudways Cloudflare Enterprise CDN is the most powerful of all the other Cloudflare plans and comes with advanced features for dedicated businesses of all sizes. Cloudflare Enterprise emphasizes both performance and security. Cloudflare Enterprise CDN is ideal for mission-critical applications. Some salient features of Cloudflare Enterprise are:
Enterprise DDoS Protection
Enterprise Global Content Delivery Network
Managed Web Application Firewall (WAF)
Image Optimization
Argo Tiered Caching
Reserved IPs for Cloudways Customers
Brotli Compression
Cloudflare Free Vs. Cloudflare Enterprise
Before we jump into the integration part, it's essential to get the basics right and understand the differences between Cloudflare Free Vs. Cloudflare Enterprise. While Cloudflare Free is a great place to try out Cloudflare CDN to get an idea of how the CDN works, Cloudflare Enterprise is for mission-critical websites and applications and addresses their requirements well through its advanced features.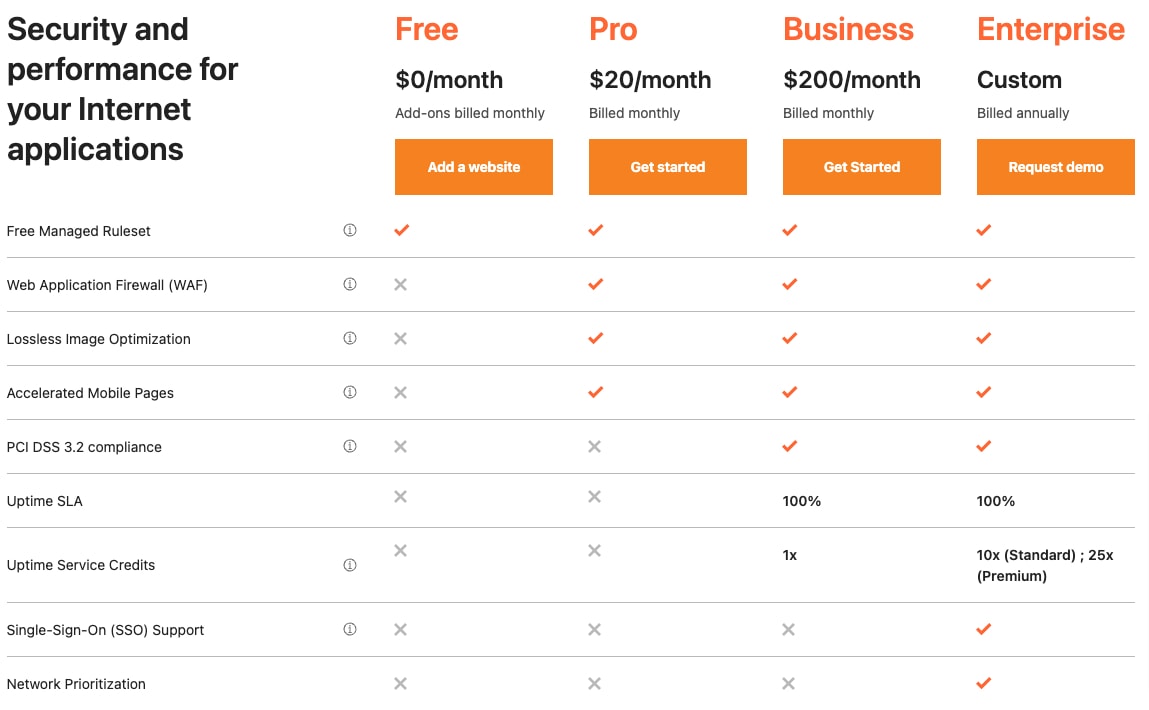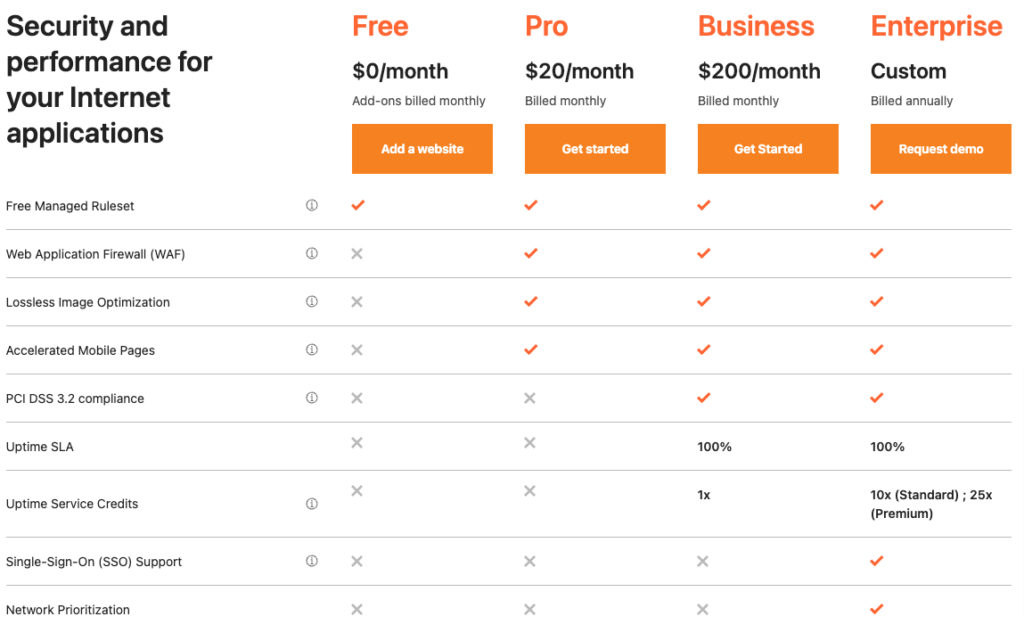 Cloudflare Free comes with Standard DDoS Protection and WAF (Firewall). Cloudflare Enterprise on Cloudways, on the other hand, comes with DDoS Protection with Reserved IPs and routing prioritization. Besides, Cloudflare Enterprise comes with several advanced features missing from Cloudflare Enterprise. These features are Tired Cache, Lossless Image Optimization with Polish, and Accelerated Mobile Pages with Mirage.
Cloudways Cloudflare Enterprise Pricing
Cloudways Cloudflare Enterprise pricing comes with volume discounts. The pricing is especially good for agencies and developers that need Cloudflare Enterprise for multiple domains. Here are the details:
Single Domain: $4.99 per month
5 to 10 Domains: $3.99 per month
10 to 25 Domains: $2.99 per month
25+ Domains: $1.99 per month
Cloudways Cloudflare Enterprise pricing dramatically drops to 2.99 per application per month with volume discounts. If you're a new customer, check out Cloudways Promo Code 2023. With our code, you can get $25 free credits to your account, and thus you can enjoy Cloudflare Enterprise for the first few months.
Main Benefits of Cloudflare Enterprise
Now that you know the difference between Cloudflare Free and Cloudflare Enterprise plus the Cloudflare Enterprise pricing, it's time to go through the main benefits of Cloudflare Enterprise for Cloudways users.
Enterprise comes with powerful DDoS and firewall protection.
We all know the importance of security and uptime in web hosting. Cloudflare's enterprise-grade mitigation of DDoS attacks can ensure your website and applications are constantly prevented from DDoS. Cloudflare routing and prioritizing the traffic of the reserved IPs over all other traffic on the Cloudflare network.
Another powerful security feature is the WAF, an intelligent web application firewall. WAF detects attackers and stops them at the edge before reaching the server. The firewall updates itself with the most recently discovered
threats by analyzing millions of websites and requests per second. Further, Cloudflare Enterprise comes with OWASP ModSecurity Core Rule Set for extended protection of your WordPress sites and Magento stores.
Enterprise comes with Enterprise-grade CDN and high performance.
Cloudflare Enterprise also ensures exceptionally reliable performance, and it does it by prioritizing routing through dedicated IPs. Besides, Cloudflare uses Agro-tiered caching, which uses Tier 1 Cloudflare data centers to propagate content. This feature minimizes server static content requests, dramatically reducing costs.
The Polish and Mirage feature is also worth mentioning, which is an additional feature for enhancing performance. While Polish applies "lossless" image optimization on the fly, Mirage optimizes image loading automatically through virtualized and lazy-loaded images. Further, it optimizes image performance based on the browser type of visitors.
How to integrate Cloudflare Enterprise CDN with Cloudways sites?
I am pretty sure you have gained decent clarity on the way the Cloudflare Enterprise works and, of course, its benefits. Now, we are left with just one more thing, how to integrate Cloudflare Enterprise with your Cloudways website.
There are two scenarios when it comes to integrating Cloudflare Enterprise with Cloudways. One is existing websites on Cloudways, and another is new websites hosted on Cloudways. I will explain the procedure of integrating Cloudflare CDN for both scenarios.
Cloudflare Enterprise Integration: Existing Websites
Cloudflare integration involves copying the DNS Records from the Cloudways platform and adding them to the DNS Registrar panel.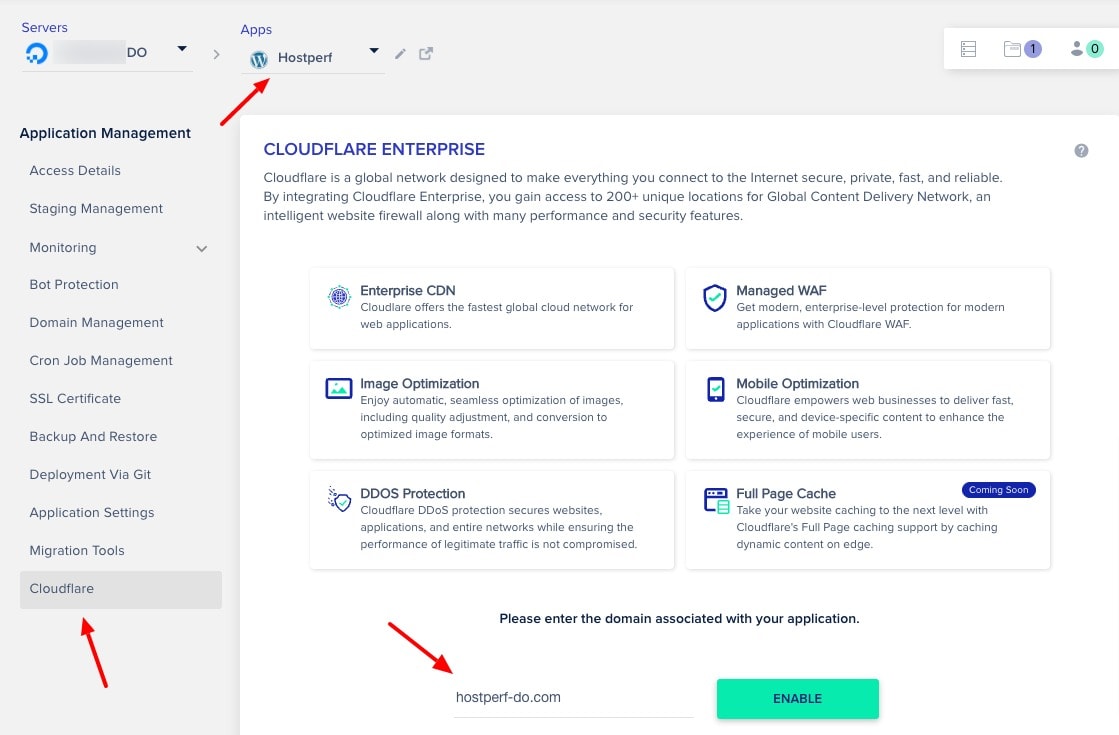 If you have an existing website, here are the steps you need to follow:
Login to your Cloudways account, open Servers from the top menu, and select the server for your desired application
Next, click on www and choose your application name and choose Cloudflare from under Application Management
After that, enter your Domain and click on the Enable button
Then, it would be time to verify the Domain's ownership, and for that, you will have to use the Cloudways TXT records in your DNS registrar panel.
After adding the DNS records, you may have to wait for 24 hours for DNS propagation to complete. However, it won't take this long and may take about 15 to 30 minutes in most cases.
Next up, you can get back to your Cloudways account and click Next and Finish.
After the domain ownership verifies, you must point your Domain to a new IP address using two A records. You will need to click on the "View A Records" button.
Next, you have to copy the A Records with Name/Host and Value
After that, get back to your DNS registrar panel once again and add the two A records
When adding an A Record, the Name/Host will have the symbol @, and under Value, you will add the IP address
As far as the TTL goes, you can set it to Automatic/Default
After adding the A Records, you will need to point the www version of your site to Cloudflare Enterprise as well, and you can do it by adding a CNAME record
When you add the CNAME, you will have CNAME under Type, www under Name/Host, your domain name under Hostname/Value/Target, and Automatic/Default under TTL.
DNS propagation may take up to 24 hours, and meanwhile, you can head off to your Cloudways account and click Done
Once Cloudflare is integrated with your Domain, you should see the status change to 'Active.'
Cloudflare Enterprise Integration: New Websites
If you are looking forward to integrating Cloudflare Enterprise for a new website that you are about to host on Cloudways, you will need a domain and launch an application and server. Besides, you will need to add the Domain to your application and have the Domain's DNS propagated to the Cloudways server.
After you do this, and the Domain is successfully pointing to your server, you are good to go with the Cloudways integration, and this would be pretty much the same as in existing Cloudways sites.
Wrapping Up
If you have read this post carefully this far, you should now know how to integrate Cloudflare Enterprise with Cloudways sites. I have explained the process elaborately for both existing and new sites. Besides, you should see how the Cloudflare Enterprise works and its advantages.