Cloudways Free Trial 2022 – Get 3-days Trial + $25 free credits.
Cloudways is excited to offer a free trial in 2022! This is a great opportunity to try out the platform and see if it's the right fit for your needs.
The Cloudways trial will last for 3 days, and you'll have access to all of the features that Cloudways has to offer. You'll be able to create an account, select a plan, and add your first website. So what are you waiting for? Sign up today and take advantage of this great offer!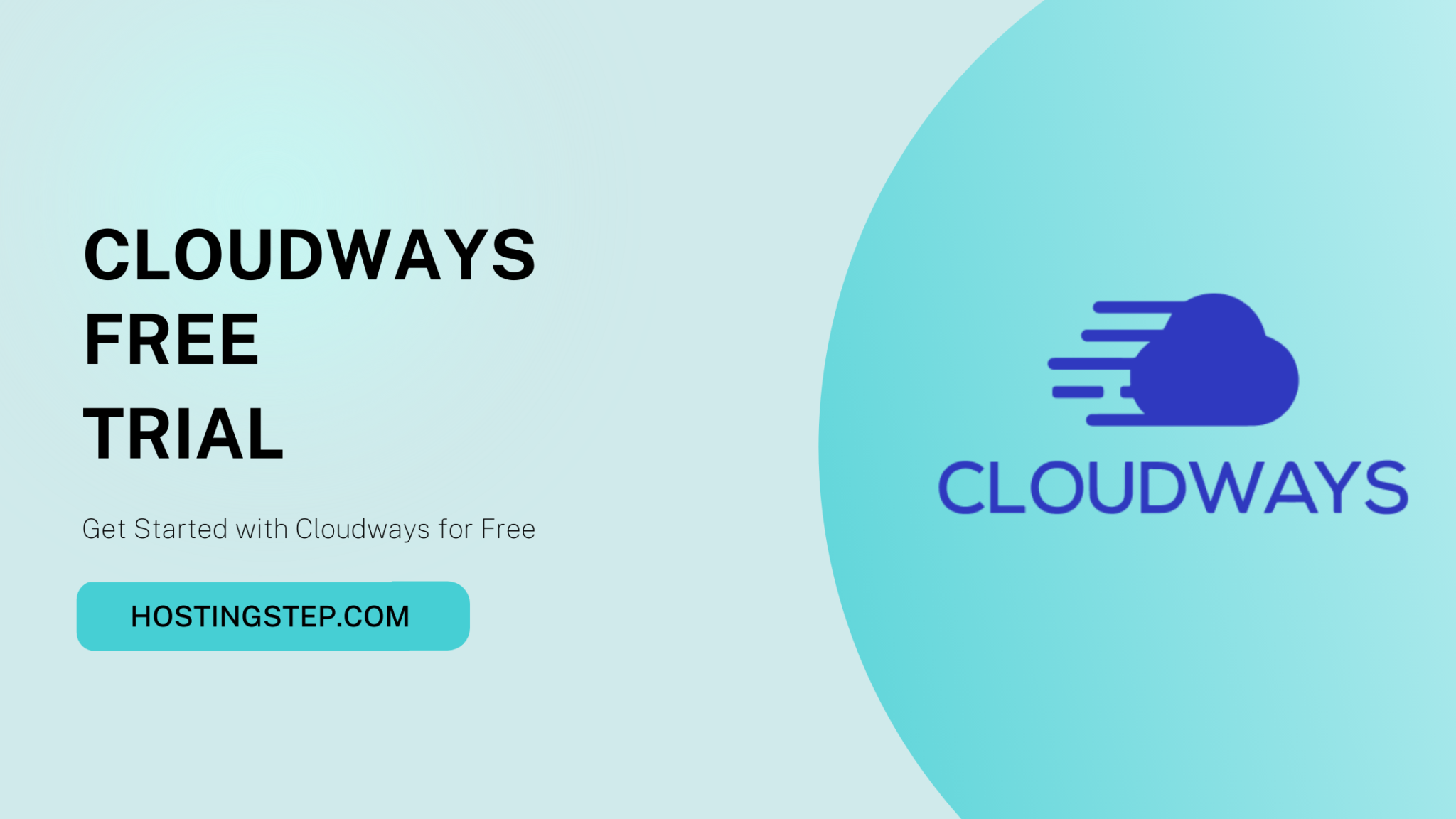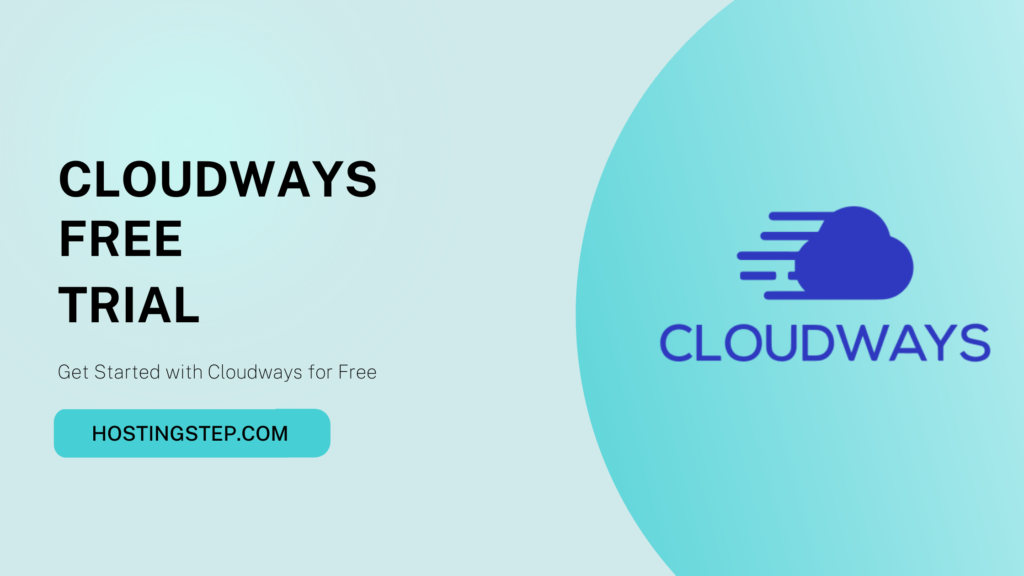 Cloudways Free Trial 2022
The Cloudways Free Trial is a great way to start with the company. If you are trying to sign up with Cloudways for Free Trial and finding the process a bit difficult, the service does it to keep the spammers away. The process involves a 2-step verification through email and phone.
How to Signup with Cloudways free trial?
Here are the steps you need to follow:
First, you must get to the Cloudways official website and be taken directly to the signup page.
Next, you will need to complete their Sign up form and click START FREE.
You will be asked to verify your account through phone and email during the signup.
Once you complete this, you are good to go with choosing and configuring your server.
Finally, you can launch a website and see if the service meets your expectations.
Coming up next is the detailed step-by-step guide on how to sign up with Cloudways.
To get started, you can head over to the Cloudways official website, and after you get there, the page is ready to get filled up with your data.
Fill in the Free Trial Sign-Up Form
After you get to the Sign Up page, you must carefully fill in the form with details like name, email, and monthly hosting spending. Over there, you will find an option to enter a Promo Code, where you can enter my Promo Code BIO25 and get $25 credits on any Cloudways plan.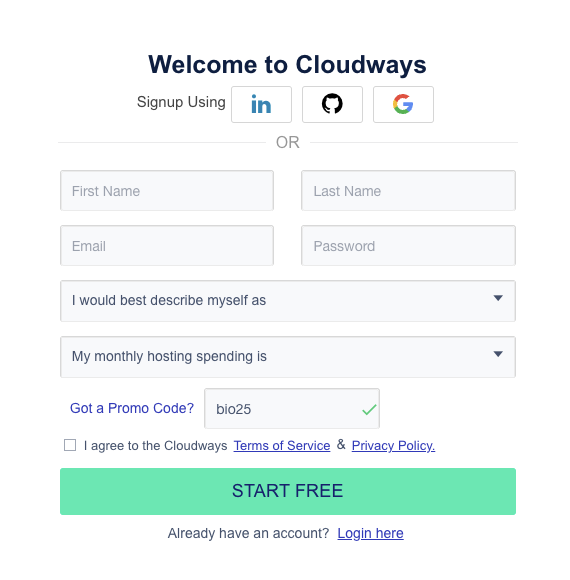 Complete Account Verification
As you get to the next screen, it will ask you to verify your account. It isn't that complex, and you must click the Verify Your Account button at the top. After that, you will be asked to enter your phone number for verification. Next, you will receive a 6-digit SMS code to your phone, which you can enter on the next screen to complete the phone verification.
Next up, you will need to verify your email address. After you specify your email address, Cloudways will send you an email to your email address. You can check your email inbox, and you should see an email from Cloudways. After you find the email, open the email and click on the Activate Account button. You can check your spam folder if you don't see it in your inbox.
After you click on the Activate Account, your Cloudways FREE Trial will activate.
Select Server & Launch
DigitalOcean has the lowest-tier plan, and selecting the DigitalOcean lowest-tier plan is an excellent place to start for any small website. The plan costs $10 per month and comes with 1 CPU core, 25GB storage, and 1TB monthly data transfer.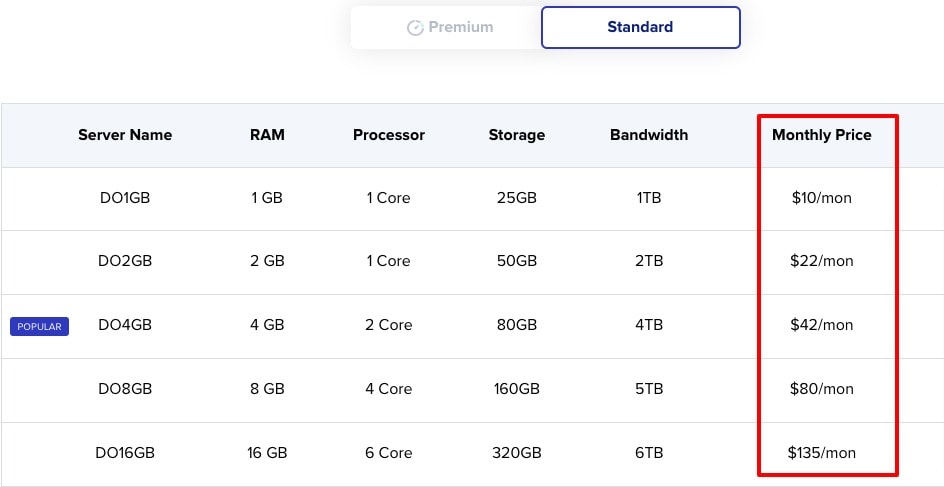 That said, you can always scale up your resources based on your website's growing needs, making Cloudways a cost-effective service. If you want to try out other cloud providers, you may feel free to do that. Besides DigitalOcean, you can choose from Google Cloud Platform, AWS, Linode, and Vultr and get started with their lowest-tier Priced plan. Here is my guide on selecting the best Cloudways cloud providers.
One important thing you must ensure is choosing a location close to your target audience. After that, you can click on Launch Now to deploy your selected server. It will take a few minutes for it to launch and the next best thing you can do is install WordPress. If you don't already know how to do that, you can refer to the Cloudways knowledgebase to learn how to install a WordPress website. Besides, you can migrate your existing website from another web host using the Migration plugin.
Why makes Cloudways a reliable & robust service?
Cloudways has many advanced features with an excellent focus on performance and security. Here are some of the salient features are:
Cloudways come with the fastest high performance and reliability with more server resources.
The service has over 65 data center locations and allows you to host your website from the closest location to your target audience.
The service offers excellent flexibility in pricing with a wide range of plans to choose from. Besides, it follows a pay-as-you-go pricing model, making things pretty affordable for the customers.
You can choose from five leading Cloud providers: Google Cloud Platform, DigitalOcean, Vultr, Linode, and AWS.
The service comes with a built-in backup and restores and a Cloudflare Enterprise add-on.
It provide customers with free SSL Certificates and free staging.
Comes with rock-solid security features comprising Firewalls, Login Security, Bot Protection, Database Security, Application Isolation, End-to-End Encryption, Suspicious Device Login Control, and Two-Factor Authentication.
The service offers customers excellent 24/7 support through live chat, tickets, and phone.
How long is Cloudways trial?
Cloudways offers a free trial with a three-day (72 hours) trial period. The free trial time starts right from the time you launch a server. The Free Trial is an excellent place, to begin with the company, and it explores its features.
How to activate a Cloudways Free Trial Account?
To activate a Cloudways Free Trial, you must sign up with the service by clicking on the Start Free button, filling in the Signup form, and completing the phone and email verification. Once you complete the verification, you can launch your server.
Conclusion
I have explained how you can go about getting the Cloudways FREE Trial and launch a server for free.
As already pointed out, one good place to start would be to select the lowest-tier plan under any of the five cloud providers. This would be good for a start, and as your website grows, you can scale up your resources accordingly.