Cloudways is a leading managed cloud hosting platform that offers its users a unique and intuitive way to manage their WordPress sites.
The company's latest innovation, SafeUpdates, is a game-changer for website owners who want to keep their websites up-to-date with the latest WordPress themes and plugins without putting their sites at risk.
Cloudways SafeUpdates automatically applies WordPress updates to your website, keeping your site safe and sound.
In this post, let us learn how to automate your WordPress sites using the SafeUpdates tool.
What is Cloudways SafeUpdates?
With Cloudways SafeUpdates, users can rest assured that their WordPress sites are always up-to-date with the latest security and bug fixes.
There is no need to update your WordPress site manually anymore. Enable the Cloudways SafeUpdates feature, and your site will automatically update with the latest security patches and bug fixes.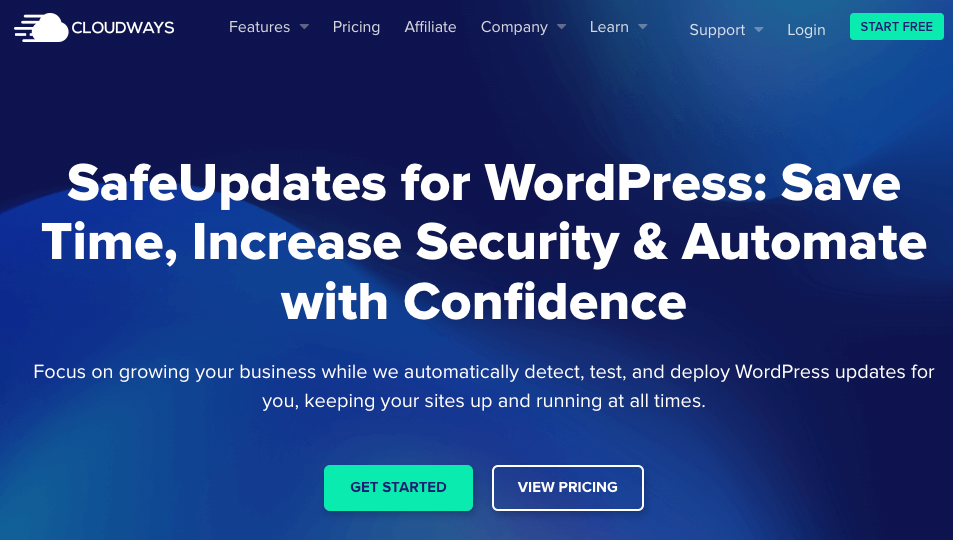 The Cloudways SafeUpdates feature is available to all Cloudways customers. So what are you waiting for? Enable the Cloudways SafeUpdates feature on your WordPress site today and keep your site safe and secure from all the latest threats.
How Does Cloudways SafeUpdates work
Consider having a production site in your Cloudways server and SafeUpdates enabled for the site.
Here's how it works: first, the system takes a detailed backup of your WordPress website files and database. The innovative SafeUpdates system takes a screenshot of your site pages.
Next, the SafeUpdates push the production site to a staging site where the site gets live, and the SafeUpdates takes a screenshot of the site. Now, the system compares the before and after screenshots and checks for errors.
If the site is the same in both screenshots, then the SafeUpdates automatically proceeds with the updates. If the site gets broken, then the system automatically cancels the update.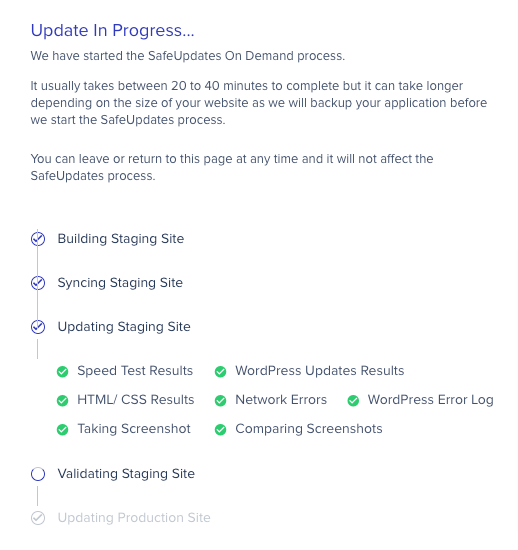 At the staging site, Cloudways SafeUpdates does a lot of jobs like
Speed test results
WordPress updates results
HTML/CSS results
Network errors
WordPress Error log
Taking screenshots and
Comparing screenshots.
This way, if anything goes wrong during the update process, like the site getting broken, the SafeUpdates easily roll back to the previous backup to avoid downtime.
In case of issues, you can log into the control panel and get complete details about which WordPress plugin, theme, or core update caused the error.
How to activate SafeUpdates for your site
Step 1 – Activate SafeUpdates
Login to your Cloudways platform and open your application settings. In the end, click the SafeUpdates menu option.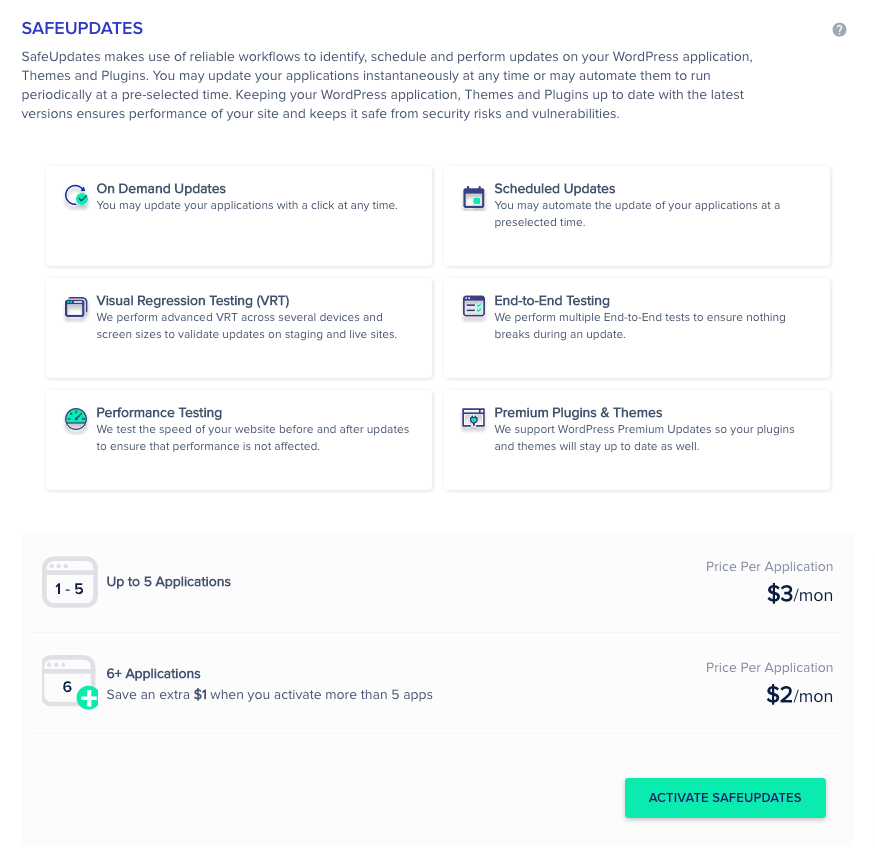 You'll get basic details about the SafeUpdates features. Read and Click the button ACTIVATE SAFEUPDATES.
Step 2- Configure Safeupdaes
There are three menus under the SafeUpdates menu. They are
ON-DEMAND: The ON-DEMAND is the manual way of performing the SafeUpdates to your site. You'll get the WordPress core, theme, and plugin details with its current and available new versions. You can select whatever files should get updated and click on the UPDATE button. The SafeUpdates will start working per the procedure mentioned under the heading "How Does Cloudways SafeUpdates work."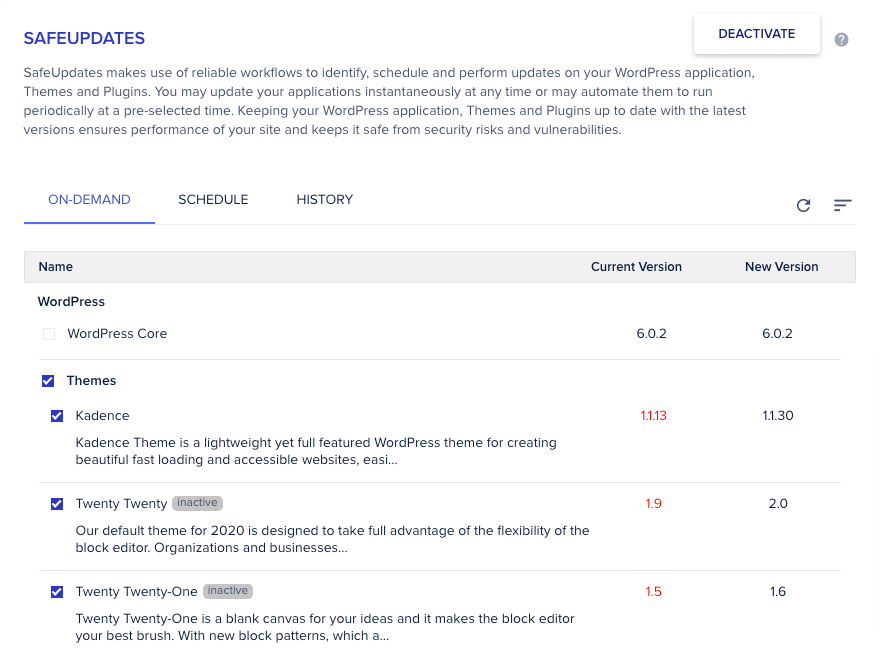 SCHEDULE: Here, all the settings are present. You can enable automatic update settings and include a date and time when the SafeUpdates automatically does this job. Then, there is an option to enter your email address and get notifications like the Pre-notification before SafeUpdates start. You can also get alerts like whether the update is successful or aborted.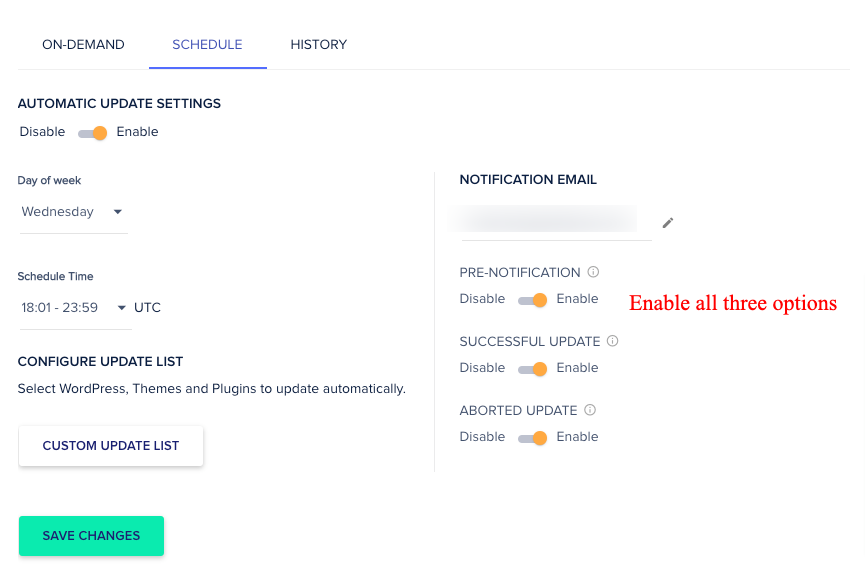 HISTORY: Find the list of updates done here. Click View Details and know the list of updates carried out during the particular update.
Cloudways SafeUpdates Pricing
The Cloudways SafeUpdates comes with two levels of pricing. The plans are differentiated based on the number of applications.
For 1-5 applications -> $3/month/application
For 6+ applications -> $2/month/application.
Sign up with my Cloudways Promo Code and get $25 hosting credits. The cost incurred during the activation of SafeUpdates can be deducted from the $25 credits.
How good are Cloudways SafeUpdates?
If you're a digital agency or managing many sites, then SafeUpdates is a game changer. It can convert hours of human work into minute work. You don't need to worry if a plugin pushes a bad update; the SafeUpdates will take care of your site. 
About Cloudways
Cloudways is a managed cloud hosting platform that provides users with a simple yet powerful way to deploy and manage their applications in the cloud. With Cloudways, users can launch their applications in minutes without needing prior knowledge of cloud computing.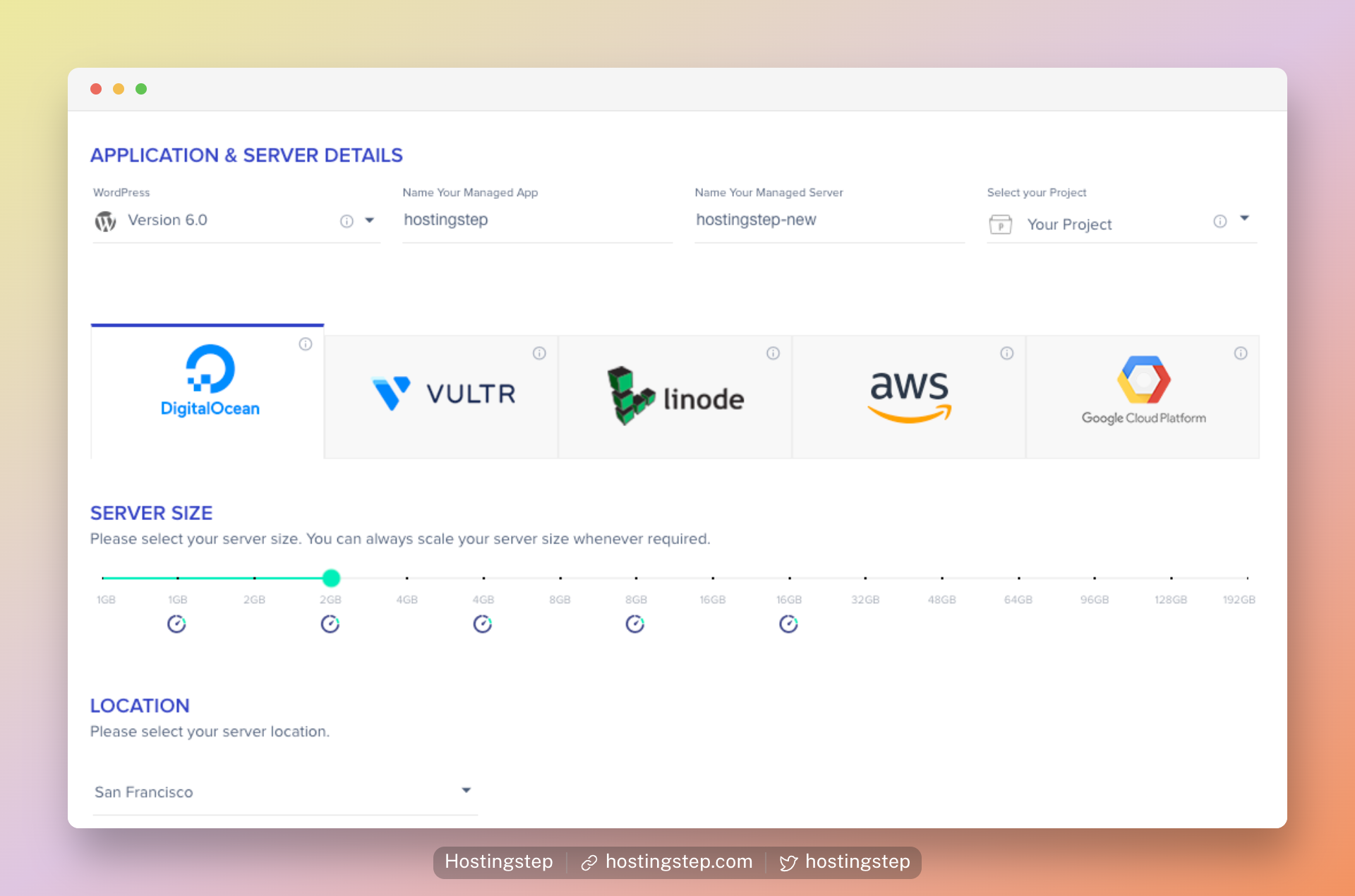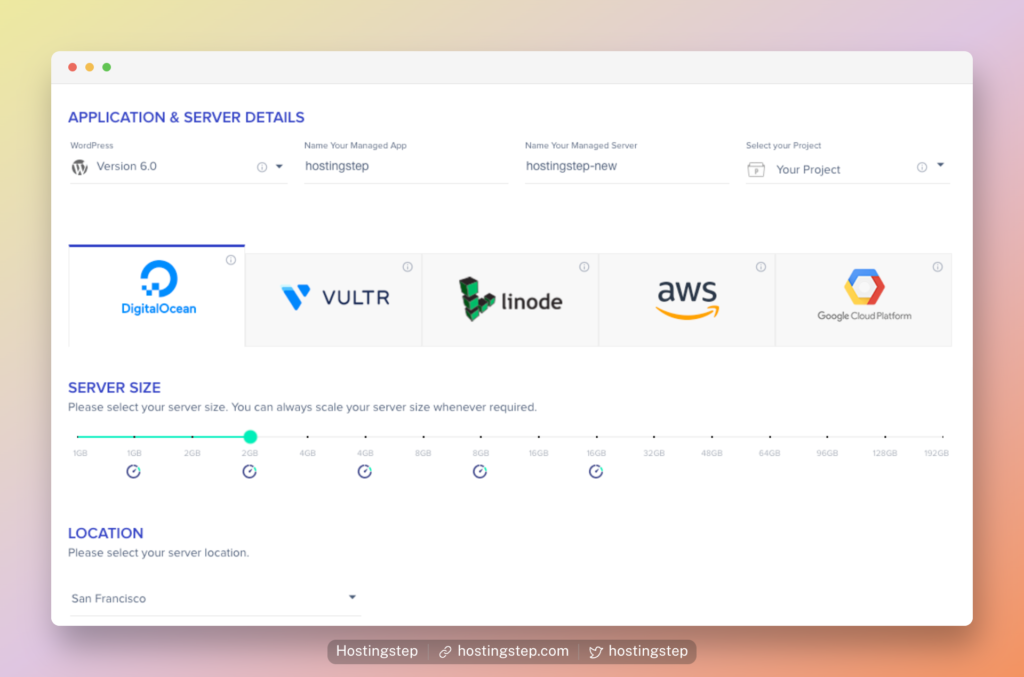 Cloudways is an excellent choice for those looking for an easy way to start with cloud computing. The platform provides a user-friendly interface that simplifies deploying and managing your applications. Additionally, Cloudways offers a variety of features that make it an excellent choice for those looking for a powerful yet easy-to-use platform.
About Hostingstep
Hostingstep.com is a performance-focused WordPress hosting review site. We buy hosting and test them to find the Fastest WordPress hosting services. Starting in 2015, we've been paying customers to 22+ hosting companies.
We're proud to say we're the only site to perform a 24/7/365 performance monitoring of hosting companies.