FastComet Vs SiteGround (Mar. 2020) Compared
Both FastComet and SiteGround are pretty popular names in Web Hosting and in fact, a lot of people especially those who are new to web hosting actually find it a little difficult when it comes to making a choice between these two.
The reason behind such a dilemma is the fact that both the hosting companies offer pretty reliable service in almost every aspect of hosting.
However, if you ask me if these two Hosting companies really have any difference, I would say that there are certainly many and in this post, I will try to help you visualize the exact differences between FastComet Vs SiteGround. Note: The comparison between SiteGround Vs FastComet is the outcome of testing both the companies for the last 40 months.
FastComet Vs SiteGround: Overview
FastComet has been in the Web Hosting industry for the past six years and it deals with shared, Cloud VPS and dedicated Hosting while SiteGround is even older with a good track record for the past 15 years. It deals with shared, cloud, dedicated, and enterprise Hosting. As far as their current popularity is concerned, both the hosting companies are equally popular and extensively used.
Which hosting is best of two?
SiteGround is the best hosting when compared with FastComet. In our testing, SiteGround scored well in terms of speed, uptime and support. While FastComet too delivered same, SiteGround gets an edge due to its widest popularity. FastComet offers much more than SiteGround in terms of more resources, ten data center locations and free domain transfer.
FastComet Vs SiteGround: Uptime Speed
FastComet and SiteGround charts top in our hosting uptime and speed test. The differences are from uptime and speed where FastComet comes with 99.97% uptime and 286ms response time speed. On the other hand, SiteGround got 99.99% uptime and 344ms response loading time.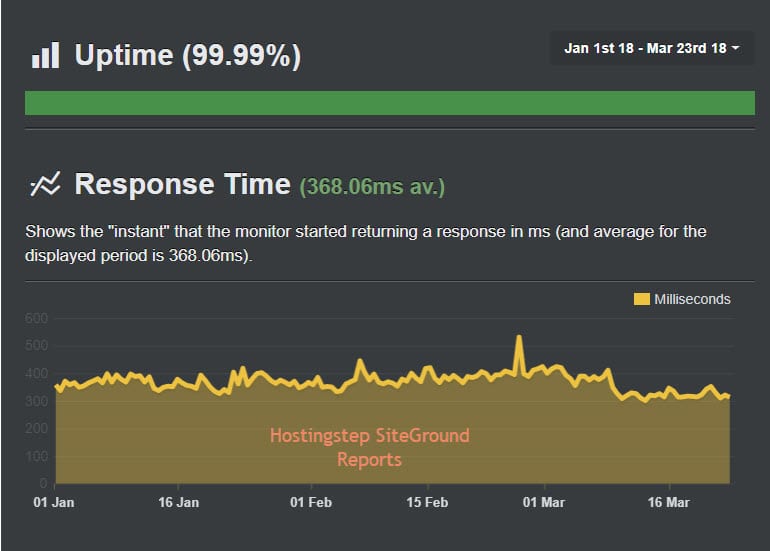 Speed and uptime are always the most important factors to consider before choosing a Hosting plan from a Hosting company. This is the reason that I spent many hours in actually testing the uptime and speed of the two Hosting companies.
As a part of the test, I bought a hosting account from both the companies and hosted a demo site on each one of them. I, then closely monitored the speed and uptime using some of the best-paid tools.
While I found SiteGround Hosting to have a speed of 344ms and an uptime of 99.99%, I found FastComet to have a speed of 286ms and 99.98% uptime.
As far as the uptime is concerned, the difference has been pretty close. However, FastComet certainly has a leading edge over SiteGround as far as the speed is concerned.
FastComet Vs SiteGround: Support
If we consider Support, both SiteGround and FastComet offer support via Tickets, Live Chat, and Phone. Also, I found the customer executives of both the Hosting companies to be equally knowledgeable and helpful.
However, FastComet support is comparatively a little faster in responding to the users