FastComet Vs WPEngine Compared (2019)
Needless to say, there are many good Web Hosting companies around these days and it actually is pretty hard to figure out the exact differences. Apparently, they all look pretty promising.
However, you cannot choose the right web hosting for your purpose until and unless you are totally aware of the differences among the various web hosting services. One of such dilemmas is the FastComet vs WP Engine.
Prior to writing this post, I actually have elaborately tested the important aspects of both the hosting companies. This post will certainly help you determine as to which the most suitable hosting company is for your purpose.
Review of FastComet: https://hostingstep.com/hosting-reviews/fastcomet/
FastComet Vs WPEngine: Overview
WP Engine has been delivering since 2010 with a deep emphasis on advanced web hosting technologies for all types of hosting. It is considered as one of the most reliable Web Hosting companies in today's world.
FastComet started 2 years later and emerged at a very rapid pace by bringing about an excellent mix of various hosting features.
Most importantly, it has largely been able to win the confidence of web hosting users from all over the world with its brilliant transparency and stability.
FastComet Vs WPEngine: Speed & Uptime
In order to have the most accurate testing, I actually bought a hosting account from both the companies. I, then, hosted a demo site with each of these two companies and closely monitor the uptime and loading time for several hours using the best-paid testing tools.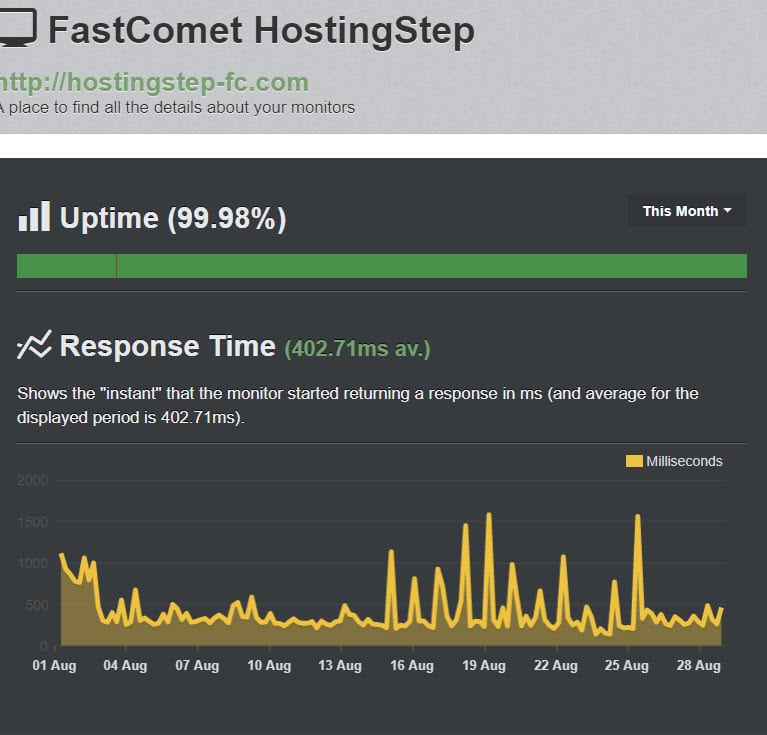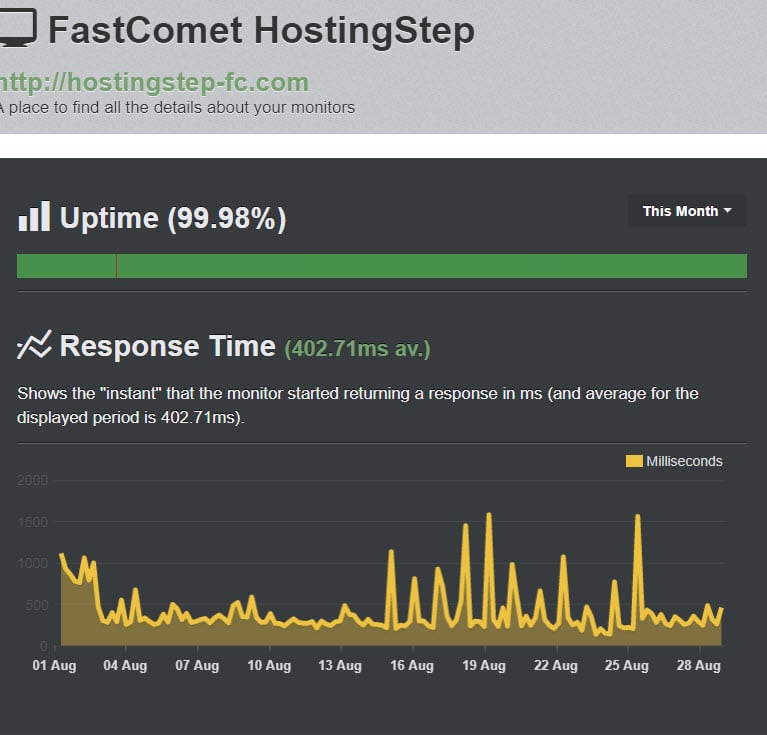 Ultimately, I had a very clear picture right in front of me. While FastComet showed up an uptime of 99.97% and a speed of 286ms, WP Engine had a speed of 140ms with 100% uptime.
FastComet Vs WPEngine: Support
Both the Hosting Companies offer support via phone, tickets and live chat. Also, both the hosting companies have exceptionally knowledgeable support executives. However, the actual difference is in terms of the waiting time, response time and, of course, the simplicity of the support.
I actually found the FastComet comparatively a lot simpler and fast. As far as waiting time is concerned, it is merely a few seconds. On top of that, tickets are resolved in merely 15 to 20 minutes time. Now, this may not hold entirely true for the WP Engine Support.
FastComet Vs WPEngine: Data center locations
FastComet offers you with 8 center locations comprising Chicago, Dallas, and Newark in the USA, Frankfurt, London, and Amsterdam in the Europe and Singapore and Tokyo in Asia. However, WP Engine has just 4 Data center locations to offer. This gives FastComet a leading edge over WP Engine.
FastComet Vs WPEngine: Pricing
When it comes to pricing, FastComet hosting is a lot cheaper than WP Engine. While the lowest plan to start with WP Engine is $35/mo, you can start for as low as $2.95/mo with FastComet with the same renewal.
However, the StartSmart plan of $2.95/mo has limited resources and this is why I suggest you either pick ScaleRight for $5.95/mo or SpeedUp for $9.95/mo for a decent amount of resources.
Conclusion
If you are one of those people who are a little confused about the differences between FastComet and WP Engine, this post should have made the picture pretty clear to you by now.
Although there is no denying the fact that WP Engine is undoubtedly one of the most reliable Web Hosting companies around, it certainly is not the cheapest option available.
FastComet, on the other hand, is both pretty reliable and cheap. Hence, if you have a tight budget, you can certainly choose FastComet over WP Engine without a second thought.