Is DreamHost Down Today – DreamHost Not Working
If you're trying to access your DreamHost account and are having trouble, you're not alone. Many users report that they cannot log in or are experiencing slow loading times. While it's unclear what is causing the issue, DreamHost has acknowledged it and is working on a fix. In the meantime, here are some steps you can take if you're having trouble accessing your account.
Check the DreamHost status from our demo sites hosted on DreamHost servers.
How is DreamHost Downtime tracked?
At Hostingstep.com, we deployed a demo site on DreamHost USA data centers and monitored the uptime from multiple locations.
Share your thoughts in reviews on DreamHost Services. Alternatively, if you're facing slowness in your servers, check DreamHost Slow guide to speed up your WordPress site.
DreamHost Uptime History 2022
DreamHost Month-wise Uptime:
January 2022: 100%
February 2022: 100%
March 2022: 99.96%
April 2022: 99.98%
May 2022: 99.99%
June 2022: 99.99%
July 2022: 100%
August 2022: 100%
September 2022: 100%
October 2022: 99.99%
DreamHost Total Outages 2022
January 2022: No downtime
February 2022: No downtime
March 2022: 16 minutes (11 outages)
April 2022: 9 minutes (8 outages)
May 2022: 3 minutes (3 outages)
June 2022: 1 minute (1 outage)
July 2022: No downtime
August 2022: No downtime
September 2022: No downtime
October 2022: 5 minutes (1 outage)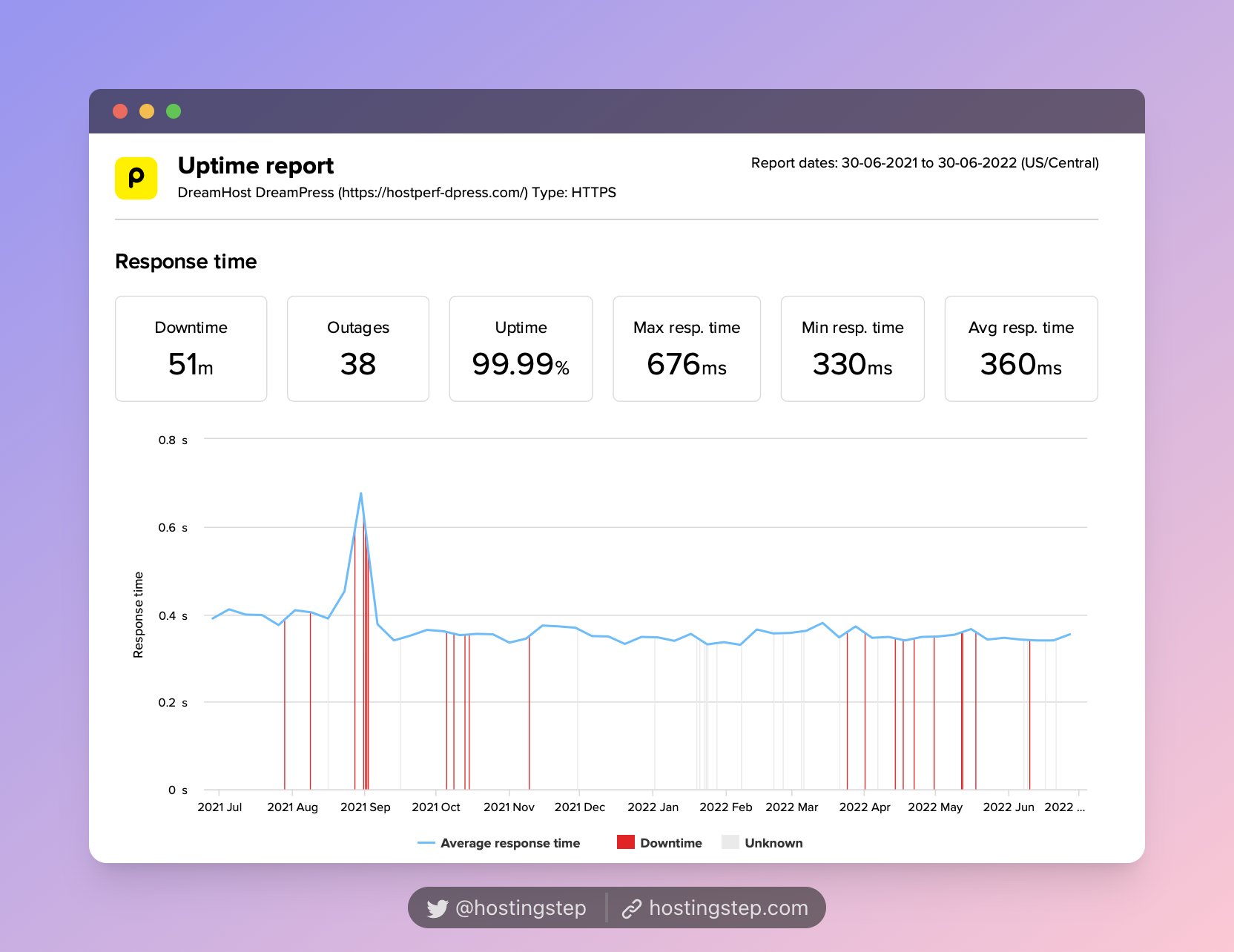 In conclusion, if you are having trouble with your website hosted by DreamHost, check the DreamHost Status page to see if there are any current problems. If the status page shows that everything is up and running, the problem may be on your end. Try restarting your computer or your router. If that doesn't work, contact DreamHost customer support for help.
Share your DreamHost reviews with the world