EasyWP is a Managed WordPress Hosting solution for everyone. The solution comes with simple pricing and flexible plans.
This post will dive deeper into EasyWP pricing and break it down into several sections to help you understand every aspect of EasyWP pricing.
EasyWP Managed WordPress Hosting Plans
EasyWP Managed WordPress Hosting is available in three different plans. By choosing annual billing, customers can start for as low as $24.44 per year. After the first year, it will cost you $48.88 per year. Here are the details of all the plans:
Starter: $24.44 first year, renews at $48.88 per year, 10 GB SSD storage,
Turbo: $46.98 first year, renews at $94.88 per year, 50 GB SSD storage
Supersonic: $68.88.88 first year, renews at $114.88 per year, 100 GB SSD storage.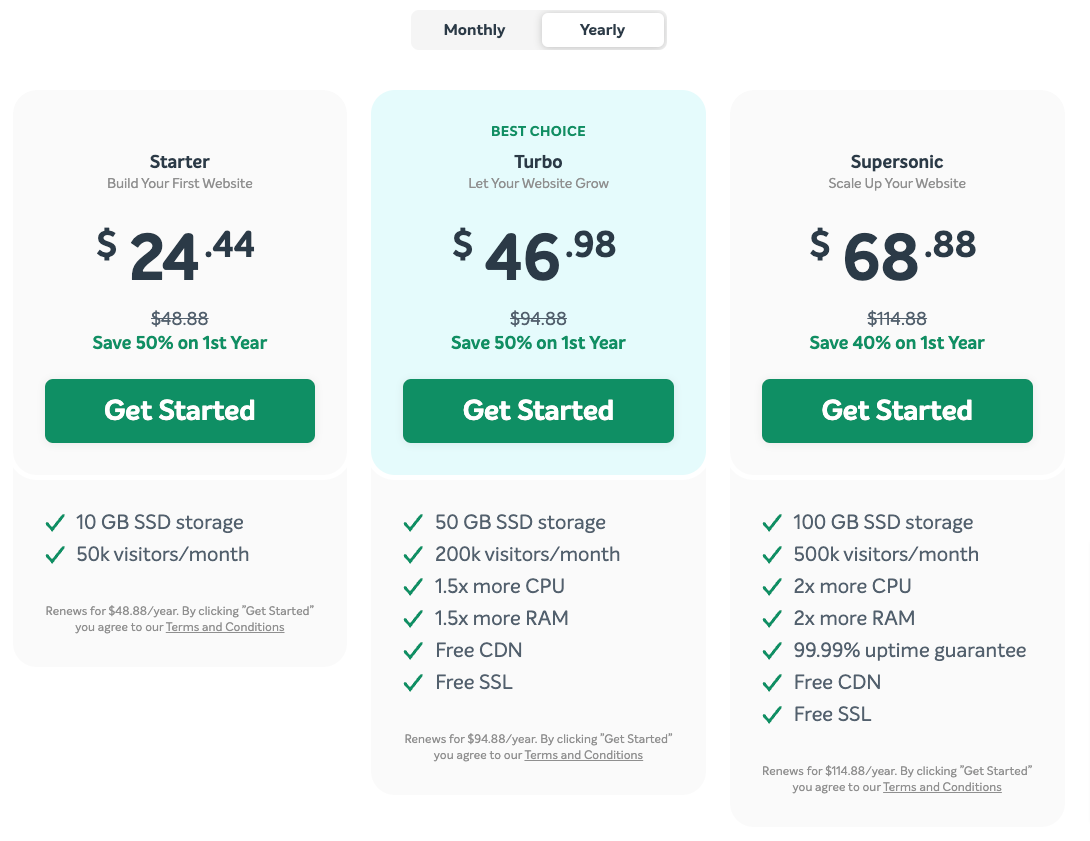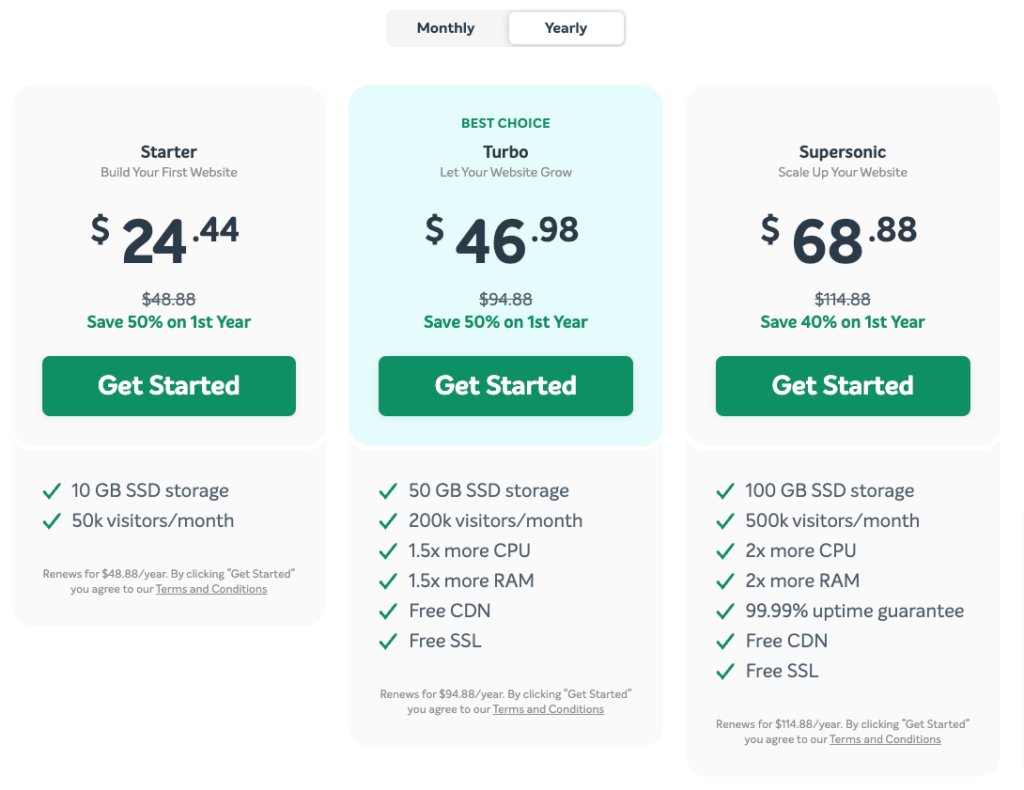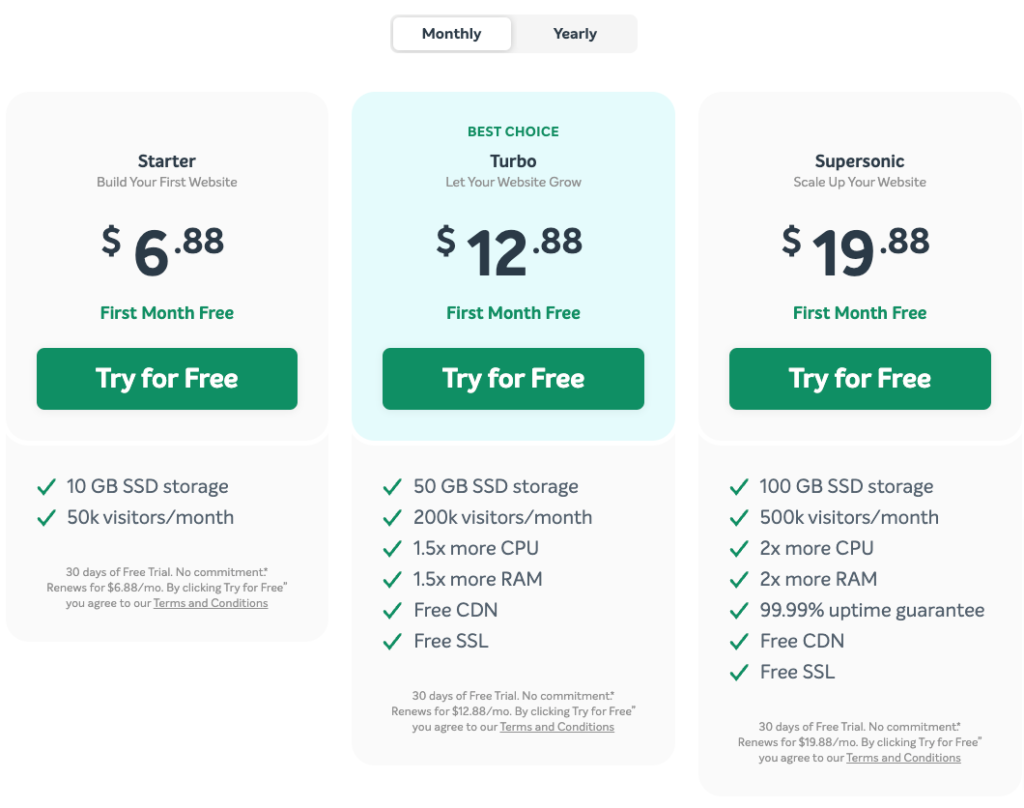 EasyWP Managed Hosting Features
EasyWP comes with many great features. Here are the salient features of EasyWP Managed Hosting:
SSD Storage
Unlimited Bandwidth
Easy Backups
High performance and 99.9% Uptime
EasyWP Cache Plugin for advanced caching
Automatic Updates for WordPress Core, Themes, and Plugins
Free CDN
Free PositiveSSL
Unrivaled 24/7 Support
Check out EasyWP Review here.
What is the ideal EasyWP plan for you?
If you have made it this far, you must have already gained some decent understanding of EasyWP pricing. The next best thing you can think about is how to find the ideal EasyWP plan for your project among the three available pricing.
The lowest tier EasyWP plan, Starter, should be fine for anyone looking forward to starting a new website or a blog and doesn't require more than 10 GB SSD storage. For any website with constant growth, it's wise to choose the mid-tier plan, Turbo, with 50 GB SSD storage. Besides, the plan comes with several other additional features not available in Starter. These features are 1.5x more CPU and RAM, Free CDN, and Free SSL. This is why most people choose Turbo.
For sites that are too big and receive high traffic, you can choose the highest tier plan, Supersonic, to scale up the resources to 100 GB SSD storage and 2x more CPU and RAM.
Hence, you can select the right plan based on your SSD storage requirements. However, for that, you need to know your project requirements well.
Check out the list of Fastest Wordpress Hosting here.
What is Managed WordPress Hosting?
A Managed WordPress Hosting is a hosting that emphasizes providing users with a simple and effective WordPress Hosting environment. The hosting offers optimized WordPress features, and all hosting technicalities, from performance to security, are handled by the hosting provider itself. This makes a lot of room for users to focus on their core business.
This is an excellent option for those customers who want to host a WordPress website without dealing with hosting complexities. Some people may not like to handle technicalities themselves out of time, patience, or technical knowledge.
Check out the Best Managed WordPress Hosting here.
EasyWP Pricing: Overview
First, we will have to see if EasyWP plans offer good value for money. If you get to the EasyWP site, you will see that the provider claims to provide an affordable Managed WordPress Hosting with straightforward pricing. However, we are not going to fall for any promising words. Instead, I will find out if EasyWP plans are affordable by comparing them with those of the other popular managed WordPress services.
We can start our analysis by looking at the lowest tier EasyWP plan. EasyWP is available in three different plans, and the lowest tier plan starts at $4.88 per month on monthly billing plus the first month free. Considering the annual billing, the same plan is available for $17.44 for the first year, which means a 50% discount. On the next renewal, the plan will cost $34.88 per year. All EasyWP plans come with a 30 Days of Free Trial with No Commitment.
Starter Monthly Pricing
$4.88 per month
First Month Free
Starter Annual Pricing
$17.44 for the first year
Renewal price at $34.88 per year
The Introductory price makes the EasyWP plan pretty affordable. However, if we consider the EasyWP pricing with that of WP Engine and Kisnta, it's by far more affordable than WP Engine or Kinsta. For example, the lowest tier Kinsta plan costs $30 per month, and that of WP Engine costs $25 per month, while the lowest tier plan of EasyWP costs only $1.45 per month ($17.44/12).
However, an important thing to notice is that while Kinsta and WP Engine come with different numbers of WordPress installs for their different plans, EasyWP offers only one WordPress install on all three plans. However, this shouldn't bother you much if you need only one website to host.
Are the EasyWP plans worth buying?
Honestly, I couldn't find any important hosting feature missing in this service except that all the three EasyWP plans support only one WordPress website. Most importantly, I was very impressed by its performance. When I tested the service, my site loaded at lightning-fast speed. Besides, the service has a very reliable uptime.
As you have seen, EasyWP offers its plans at introductory prices, which can be helpful for anyone looking for a hosting plan for just a year. However, when we looked at the renewal prices, EasyWP is pretty affordable, and in fact, it's a lot cheaper than WP Engine and Kinsta.
Now, it's time to look at the price range. EasyWP Managed WordPress Hosting price ranges from $34.88 per year to $54.88 per year with three different pricing options. EasyWP comes with brilliant features alongside exceptionally affordable pricing.
FAQs
What is EasyWP?
EasyWP is a managed WordPress hosting service powered by Namecheap. The service is pretty fast and comes with excellent features. Most importantly, the service is exceptionally affordable.
What are the features of EasyWP?
EasyWP comes with many impressive features. Some of these features are:
SSD Storage for faster access to files
Easy Backups
Faster speed & 99.9% Uptime
EasyWP Cache Plugin for advanced caching
Automatic Updates for WordPress Core, Themes, and Plugins
Free CDN and Free SSL
24/7 Support
Where are the EasyWP data centers located?
EasyWP has one data center located in Phoenix, Arizona, USA.
What is the EasyWP Dashboard?
Just as other hosting services come with control panels like cPanel or Plesk, EasyWP has its custom control panel called EasyWP dashboard. The EasyWP dashboard gives you a convenient single point of managing all of your EasyWP websites. Besides, the dashboard has all the essential tools you may need to manage your WordPress sites, which comprises SSL, backup, and more.