GreenGeeks is one of the reliable hosting platforms and has been since 2008. The platform offers Shared Hosting, WordPress Hosting, VPS Hosting, and Dedicated Servers. GreenGeeks claims to be an eco-friendly hosting service.
In this post, I will familiarize you with some of the pros and cons of GreekGeeks. After reading this post till the end, you will understand how GreenGeeks works, and you should be able to understand if GreenGeeks is the right hosting service for you.
GreenGeeks Pros
GreenGeeks offers excellent performance for websites. I have tested the service recently, along with 22 other hosting services. My GreenGeeks website recorded a TTFB of 311 ms and ranked fourth among the seventeen hosting services in terms of TTFB.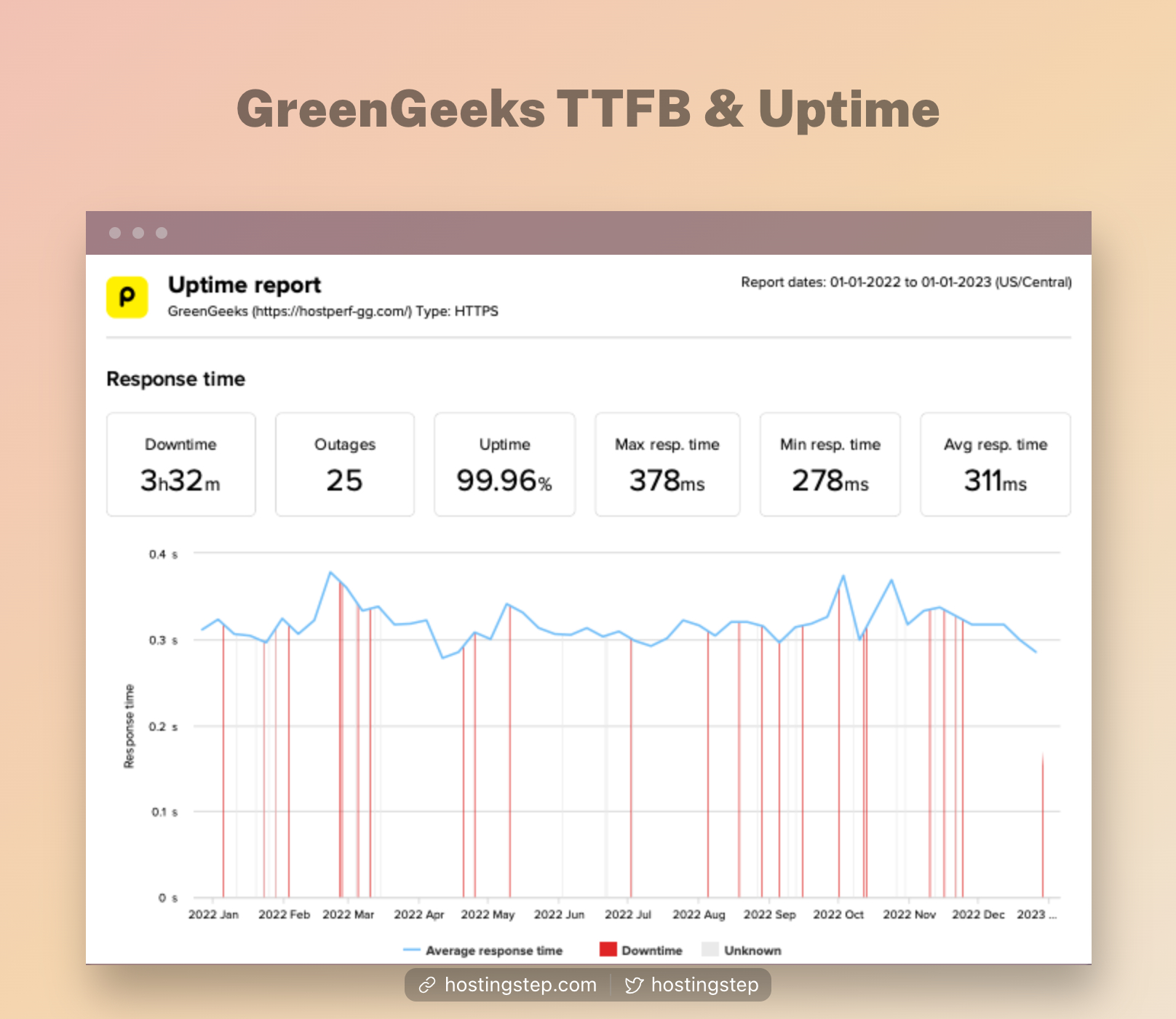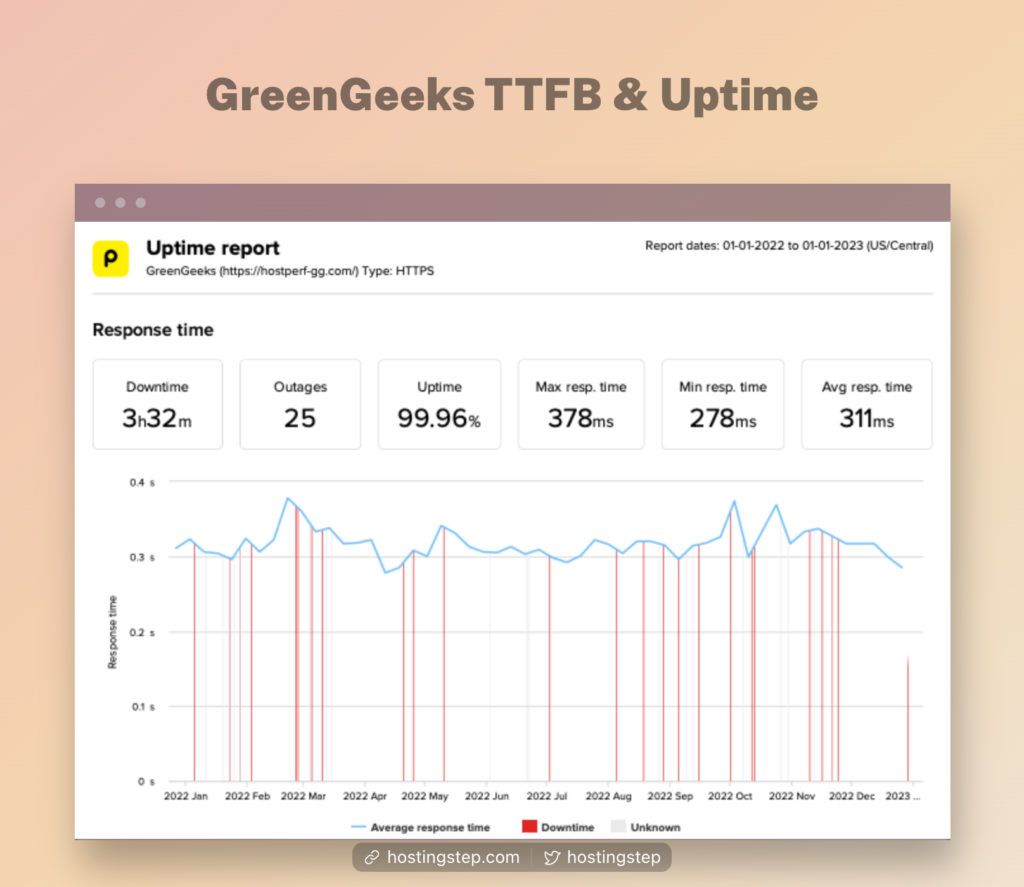 Thanks to Speed Optimized setup with LiteSpeed Web Server and Cache, GreenGeeks offers a fast load time, out of box.
Industry Best control panel
As far as the control panel goes, GreenGeeks comes with the latest version cPanel, making things exceptionally convenient for beginners since cPanel is easy to use.
But the highlighting thing is GreenGeeks made a custom control panel with easy site management. You can manage most of the options like Email, security, adding domains, WordPress setup at single click within the GreenGeeks dashboard.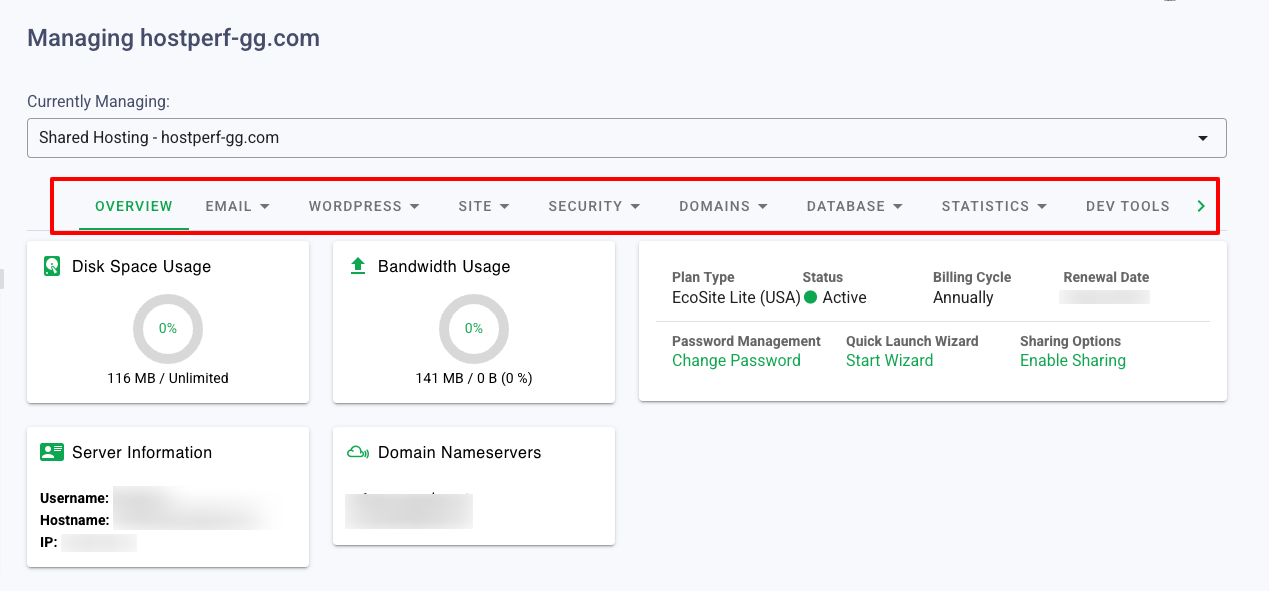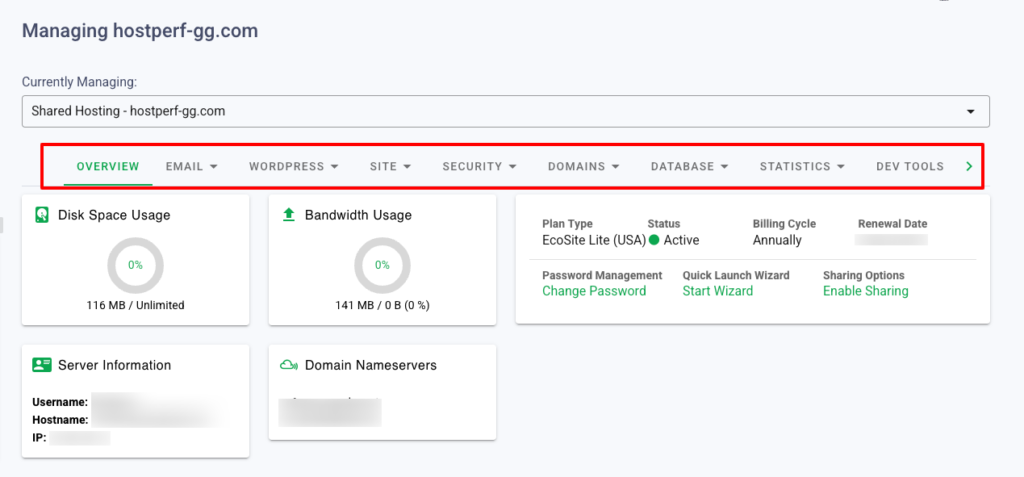 Free SSL, CDN, and Backups
GreenGeeks comes with many useful free features such as Free SSL, CDN, and Backups. It certainly lowers the cost of maintaining a website, especially for those who are just starting.
To be specific, the service offers Cloudflare CDN on all plans. Besides, GreenGeeks has a decent backup policy wherein it backs up websites every 24 hours and replaces the old backup points with the most recent backup point as a part of its disaster recovery.
Further, the platform offers one free backup restoration per month on request. GreenGeeks is certainly more generous than hosting companies, such as Bluehost and HostGator, that don't offer the feature for free and instead do a lot of upselling about the backup add-on, CodeGuard.
Free domain for 1st year
Another pro of GreenGeeks is that it offers a free domain for the 1st year.
If we see it from the perspective of someone who is looking forward to starting a website with a tight budget, it actually makes a lot of sense and can make things exceptionally affordable in terms of website cost. One year is enough time for any website to grow and generate income.
Awesome customer support
GreenGeeks has a dedicated customer support team backed by the most experienced executives.
The team does a brilliant job of assisting customers with their queries and issues 24/7 through live chat, tickets, and phone. Besides, GreenGeeks has good tutorials and a knowledge base.
Free email accounts
Another impressive thing about GreenGeeks is that it allows customers to create unlimited Email Accounts for free on all plans.
Most hosting companies don't offer email hosting for free anymore and instead offer the same feature for an additional cost. If you need email accounts, you don't have to get email hosting separately and get it for free with GreenGeeks hosting.
Unlimited websites, webspace, and bandwidth
The mid-tier and high-tier GreenGeeks plans come with unlimited websites, web space, and bandwidth.

It makes GreenGeeks pretty different from other hosting services since most hosting services offer limited resources. GreenGeeks' unlimited resources can help websites in performance to a large extent as well.
Global data centers
GreenGeeks has global data centers across Chicago, Phoenix, Toronto, Montreal, Amsterdam, and Singapore.
Hence, websites hosted on GreenGeeks can easily find their desired data center location and target their audience better, no matter which part of the world the targeted audience lies in.
GreenGeeks Cons
High renewal price
Even though GreenGeeks offers customers an exceptionally affordable entry price with its Lite plan for just $2.95 per month.
However, the renewal for the same plan is $10.95 per month. Hence, you can see the GreenGeeks renewal price for the same plan is high, and it holds true for all GreenGeeks plans.
But considering the fact, they are the fastest shared hosting company in the industry, the renewal prices are worth the services.
FAQs
What are the pros of GreenGeeks?
GreenGeeks is a reliable hosting service and has many pros. Some of the pros of GreenGeeks are:
GreenGeeks offer a fast performance
The service comes with cPanel, which is beginner-friendly
SSL, CDN, and backups are offered for free on all plans
Free domain for the 1st year makes website maintenance cost more affordable
GreenGeeks has a reliable and experienced support team
The service offers free email hosting on all plans
Global data centers help customers reach their target audience better
Mid-tier and High-tier GreenGeeks plans come with unlimited websites, and web space
What are the cons of GreenGeeks?
One big downside of GreenGeeks is that the renewals are very high. For example, the lowest-tier GreenGeeks plan is available at an introductory price of just $2.95 per month. However, renewing the same plan will cost you $10.95 per month.
How much does GreenGeeks cost?
GreenGeeks has three hosting plans, and the lowest tier plan costs $2.95 per month. The plan allows customers to host one website and 50GB of Web Space. The renewal price of the same plan is $10.95 per month.
Does GreenGeeks offer a free domain?
GreenGeeks offers a free domain on all plans. However, it's essential to bear in mind that the free domain shall remain free for the first year only, and after the first year, you will need to pay an additional cost for the domain to continue with it.
Does GreenGeeks offer free automated backups?
GreenGeeks takes a backup of websites every 24 hours as a part of its disaster recovery. Customers don't have direct access to the back points. However, GreenGeeks offers customers one free backup restoration per month. If ever you have to restore a recent backup point, you can contact the GreenGeeks support team and request free backup restoration.