WebHostFace Reviews 2019
When WebHostFace was lanuched back in August 15th 2013, its not a new comer to the hosting industry. The company CEO Valentin Sharlanov have been working at SiteGround from 2008 to till date before founding WebHostFace.
The years of experience and the motive to provide better services than others, WebHostFace has been favorite hosting for many people, as I can see them providing positive feedback, which leads to test their servers and yeah
The WebHostFace Reviews goes live at Hostingstep.​
Disclaimer: I need to tell you that I was affiliated with some products mentioned here and I will receive a commission whenever someone purchases a product and you won't be charged any extra amount.
WebHostFace Reviews 2019
#1 Historical Uptime
We keep monitoring demo sites for every 60 seconds to check for downtime. To build more trust to our reviews, you can check historical uptime data for upto two years using this link.
Check WebHostFace uptime for past 7 months ( Click to expand )
We talked to customer support regarding the downtime issues and noticed there are only few downtimes and uptime robot shows false reports and I double checked it.
Now, we are monitoring the server with another uptime monitoring tool and I will come up with more accurate​
#2 Historical First Time to Byte
Based on our testing methodology, I tested the WebHostFace demo site on byte check and the time to first byte is 355ms which is good at least average.
One should consider that the tests are conducted without any caching plugins (using so will reduce first byte time further)
#3 Historical Response time
Again, we checked the site for loading time across the globe and I'm impressed with the results considering the downtime of the servers.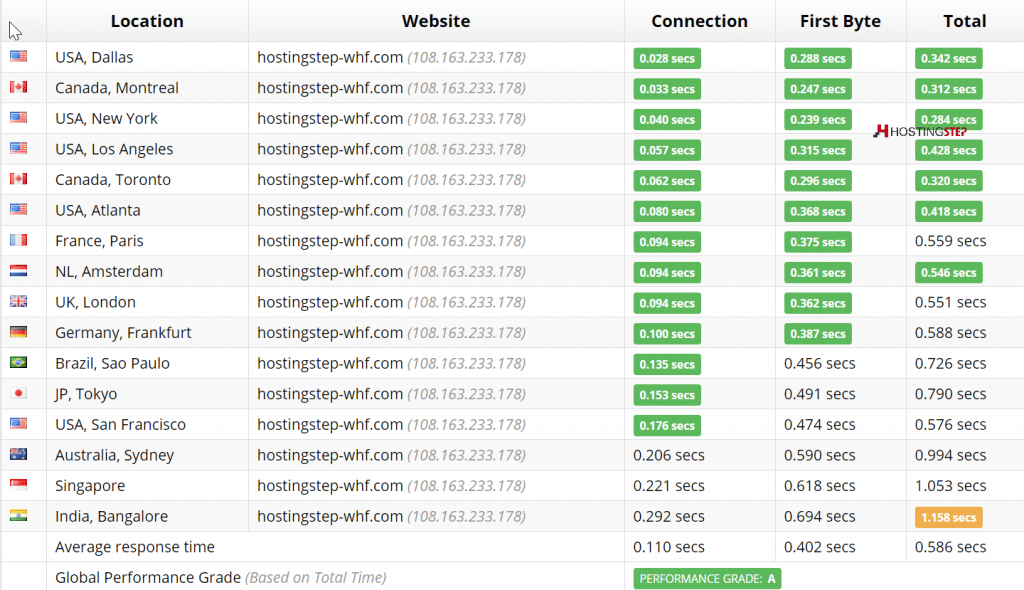 The response time is similar to one with SiteGround and its good considering the datacenter is located in USA. I hope WebHostFace will continue to improve the uptime to grab more customers.
Great insights of #WebHostFace hosting with historical uptime, response time and TTFB values.
| | | | | |
| --- | --- | --- | --- | --- |
| | R1Soft Daily Backup , Free SSL, McAfee security for websites, host one website | | | |
| | Host Unlimited websites and all above things | | | |
| | All above features + Free premium support | | | |
Features
General Features
SSD Web Space
1 Click installer
Free website transfer
30 days money back guarantee
24/7/365 Customer support
Technical Features
All files and MySQL files on SSD
Free CDN
McAfee security to ensure trust from visitors.
DDOS Mitigation
Freebies
Free Private SSL
Free daily backups
Free Website transfer
#6 Customer Support
WebHostFace has some really good support staff. Unlike some hosting companies, WebHostFace offers technical support both via chat and tickets.
However, ticket support are more accurate in solving the ticket though takes some time to solve.
#7 Cancellation & Refunds
30 DAYS MONEY BACK GUARANTEE
WebHostFace comes with 30 days money back guarantee
#8 Pros and Cons Explained
For those who hate reading reviews ( though we made it short & crisp ) , check out the stuffs which are good and bad with WebHostFace
---
Company History
As we discussed a lot in introduction regarding the birth of WebHostFace, 2017 been there fourth year in hosting industry and their greatest strength is the plans and pricing.
I had a formal chat with CEO Valentin Sharlanov and he actually replied to all my questions and I was really excited to test their servers.
WebHostFace office is located in Delaware, USA, and a few other offices in Europe.
As per my testing parameter, I bought a hosting package and installed a demo site on their servers and started monitoring their services.
Site URL – http://hostingstep-whf.com
WHF indicates WebHostFace
Domain and Hosting registered on Dec 2016
#9 Quick Facts
Package starts from $3.45/month

Free domain name :

for first year

Free backups :

The free backups upto 30 days( varies as per plan)
Free site transfer
WordPress and 150 open source installation with absolutely zero cost

Multiple payments mode:

Credit card, PayPal and nearly 20 other payment methods

Three data center locations :

US, UK and Asia pacific
HostingStep Verdict
Hostingstep will consistently monitor the uptime for the next 12 months and if they improve the service, I would recommend them for sure.
As an alternative you can check A2Hosting and SiteGround that offers great uptime with fast loading websites.
Please check this WebHostFace Reviews after few months to check for updated results.
WebHostFace Reviews 2019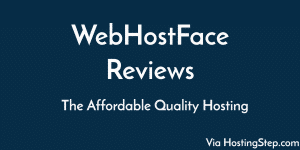 WebHostFace has some really good support staff. Unlike some hosting companies, WebHostFace offers technical support both via chat and tickets.