Developing and publishing a website is a long process. What if your site has some severe consequences associated with it and you forgot to notice? To avoid it, the Kinsta Staging option on the platform helps you create a staging site in just some clicks.
Read further to know more interesting facts about Kinsta staging.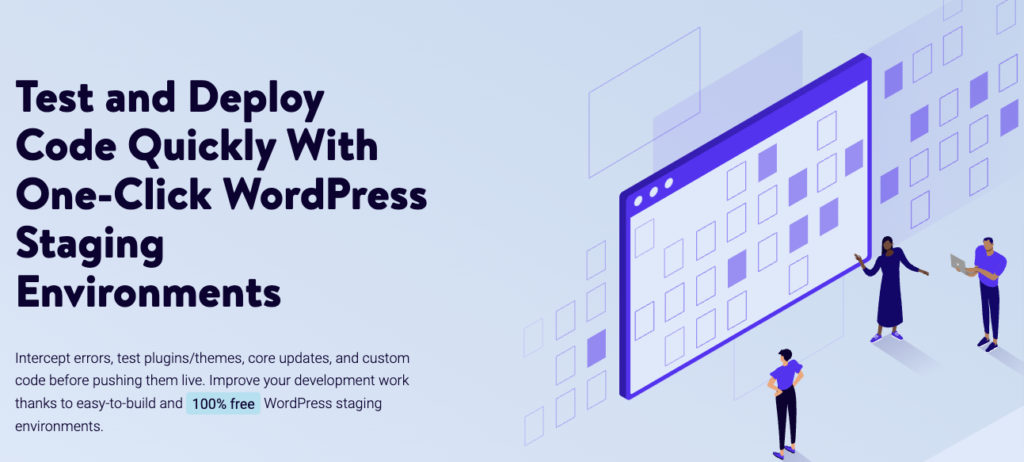 How to Create a Staging Site Using Kinsta Staging?
Kinsta has been a favorite of developers for its brilliant features and functionalities. One of them is Kinsta Staging. Whatever WordPress site you install over Kinsta, you get the option to create a staging environment for it. The only thing you need to know is how to do it. So, let's get acquainted with that.
It's only a matter of a few simple and easy-to-follow steps. Here's what you need to do.
Step 1: Open your list of sites on Kinsta by clicking on the "Sites" option from the menu.
Step 2: From the list, select the site for which you need to create a staging environment, and then in the top-right corner, click on "Change Environment."
Step 3: From the drop-down menu, click on "Staging Environment."
Step 4: You'll be redirected to a page explaining what you can do in a staging environment and asking for confirmation. Click the "Create a Staging Environment" button there.
Once that's done, you've built the dev site and can ensure that by looking at the changed URL. You don't need to worry about the security either. If the live site has an SSL certificate, it will also be applied to the staging site.
Also, don't be in an instant. The staging environment takes a few minutes to show all your options. Once everything is done, you can see all the things available on your live site on site and have entirely separate control of the same.
Check out Kinsta Hosting Alternative here.
Accessing Your Staging Site
Well, the staging site is just a copy of the live site. So, both of them have the same access. You can use the live site's credentials to access the staging site. Alternatively, you can change the credentials on the staging site or live site if you need to keep in view the security and privacy.
Delete/Refresh a Staging Environment
There can be instances when your work with a staging environment is done, and you no longer want it or want a more recent version of it. In these cases, you can delete and refresh the staging environment.
This is as simple as a click of a mouse. Just three simple steps and you're done deleting your staging environment.
Step 1: Hover to "Sites" then "Info," and from the options there, click on "Delete Staging Environment."
Step 2: In the confirmation window, type the site name and then type "-staging."
Step 3: Finally, click on the "Delete this Environment" button.
While you do this, you must know that this is irrecoverable. Once you've deleted a staging environment, all the data over it shall be gone. So, it would help if you were very sure that you don't need anything from the dev site before you finally delete it.
Now, if you need a newer version of the staging site, you can refresh it. This is going to follow only after you delete the staging site. You have to delete the existing staging site and then create a new one. You get the most updated version of the database and files on the live site when you do that. Additionally, you can restore a backup from the live site to the staging site.
In other words, there's no such thing as refreshing a staging site. All you do is get an entirely new staging environment after the deletion of the previous one.
Pushing Staging Site to Live Site
This is as easy as turning on a notification on your mobile phone. All you need to do is go to the "Push Staging to Live" feature for the particular staging site in question. You can find this in the list of sites available by clicking the "Sites" option in the menu bar.
As you select this feature, a pop-up occurs asking for confirmation. Click on the "Push to Live" button, and you're done.
Restore WordPress Backup to the Staging Site
Sometimes, you may want to see how an older version of your site worked. However, you don't want to affect your live site for this. A better option, in any case, is restoring a backup you want to check to a staging site.
Follow these steps to do the same.
Step 1: Go to the "Sites" option in the menu and click on the "Backups" tab.
Step 2: From the list of backups, select the backup you want to restore and click on "Restore to Staging."
The task will be done in a few minutes, and then you can look at everything you need.
Restart the Staging Environment
Sometimes, the staging environment gets shut down on its own due to some troubleshooting, and when you try to access the site, it shows a 501 redirect. In case that happens, you can restart the dev site by clicking on the "Start Staging Environment" button on the site info page on your MyKinsta account.
If this solution doesn't work for you, you can contact the support team for their help.
So, this was a tutorial about how you go about creating a staging environment on Kinsta and work along with different things over it. However, that's not it. When working on a Kinsta Staging Website, you need to know some additional items. So, let's get to that.
Features
There are several things about Kinsta Staging that you need to keep an eye for. Here's everything in detail.
Page Caching Settings
The default cache settings in the Kinsta Staging site are disabled. So, the caches are not served on the staging site unless you change the settings and enable the same. You can find the settings in the "Tools" option in your MyKinsta account. Once you enable these settings, you get the option to clear the cache.
This is important to maintain the speed on your staging website and keep page load time as low as possible. So, enabling these settings would be the first thing you'd want to do after creating a staging website.
SEO Settings
You don't want your staging site to get indexed, nor do you want to cause any discrepancy to the SEO settings on the live site. For the same reasons, the indexing option for the staging website is disabled by default, and all the URLs are set for restricted access. You should leave these settings as is.
Plugin Settings
By default, all the plugins on your life site remain activated on the staging site as well. So, unless you want duplicity in things like your content or social media posts, you would want to deactivate the plugins on the staging site.
Disk Space
When using Kinsta, you want to make wise use of your disk space since it's limited. Considering the same and your inevitable need for a staging website, Kinsta excludes the same from the disk space usage. So, if you're worried about using extra space, don't. The staging site doesn't count there.
Multisite
If you have a multisite, you need to check what kind it is to make sure it works with Kinsta. Only a subdirectory multisite works on Kinsta Staging without any issues. If you have a subdomain multisite, you'll need to make sure that there's no need for SSL certificates for the subdomains for the Kinsta Staging Site to work. Furthermore, if the multisite is domain-mapped, you'll have to go through some manual setup before the staging site can start functioning.
Do I Recommend Kinsta Staging For You?
Creating a staging site seems easier with Kinsta for me. You can carry out tests and experiments on your website without worrying about anything going wrong with this site. So, a staging site is an inevitable requirement for making your WordPress site better, and Kinsta is a great platform to help create one. I hope you find this article helpful and achieve the best for your business and website.