Kinsta Vs Bluehost 2022 – Which Host is Best For You?
In this Kinsta Vs Bluehost post, both the host Kinsta and Bluehost are compared in terms of features, pricing and support.
Kinsta Vs Bluehost – Introduction
Kinsta is a managed WordPress hosting service provider that provides individuals, small or large businesses with premium WordPress hosting. The service runs on the Google Cloud Platform and is known for its cutting-edge technology and excellent reliability.
Bluehost, on the other hand, has been around longer than Kinsta and offers affordable plans. Over the years, Bluehost has provided users with a reliable service.
Kinsta Vs Bluehost Pricing
Kinsta
Kinsta offers you many plans to choose from, and it has 11 different plans based on the number of WordPress, disk space, and traffic.
Starter: $30 per month, 1 WordPress install, 10GB disk space, 25,000 visits
Pro: $60 per month, 2 WordPress installs, 20GB disk space, 50,000 visits
Business 1: $100 per month, 5 WordPress installs, 30GB disk space, 100,000 visits
Business 2: $200 per month, 10 WordPress installs, 40GB disk space, 250,000 visits
Business 3: $300 per month, 20 WordPress installs, 50GB disk space, 400,000
All the Kinsta plans come with some important features in common, and they are:
Free unlimited basic migrations from other hosts
Google Cloud Platform
24 global locations
Self-healing technology
Automatic DB optimization
Automatic daily backups
24/7 support
Hack and malware removal
Multi-user environment
Staging area
PHP 8.0 support
Free SSL certificates
SSH access
Performance-monitoring tool
Bluehost
Bluehost has plans for all types of customers and allows you to choose from 4 different plans depending on the number of sites and SSD storage:
Basic: $3.95 per month, 1 Website, 50GB SSD Storage
Plus: $5.95 per month, Unlimited Websites, Unlimited SSD Storage
Choice Plus: $6.95 per month, Unlimited Websites, Unlimited SSD Storage
Pro: $13.95 per month, Unlimited Websites, Unlimited SSD Storage
All 4 plans have these features in common:
Free Domain – 1 year
Free CDN Included
Free SSL Certificate
Custom Themes
24/7 Customer Support
Kinsta Vs Bluehost Datacenters
Kinsta runs on the Google Cloud Platform and has the advantage of Google's 24 global server locations. Customers can select their desired global server location, right from MyKinsta.
Bluehost doesn't have a variety of global data centers and they've their datacenter in Utah, United States. So, If you need to host your site closer to your targeted audience, then Kinsta is the ultimate choice.
Kinsta Vs Bluehost Performance
It's time to look at the two hosting companies' performance and find out which one offers better performance. I have carefully tested the various aspects of performance, and the following are my findings:
Server Response Time
As I carefully tested the two hosting services over 6 months, Kinsta maintained an average server response time of 360 ms while Bluehost had an average server response time of 478 ms.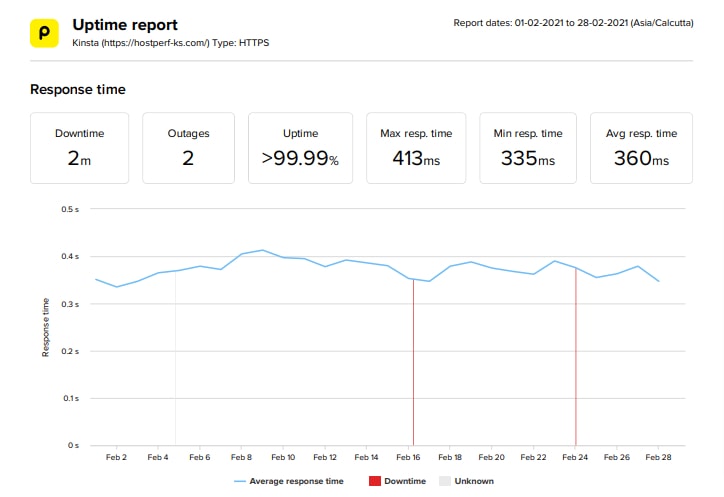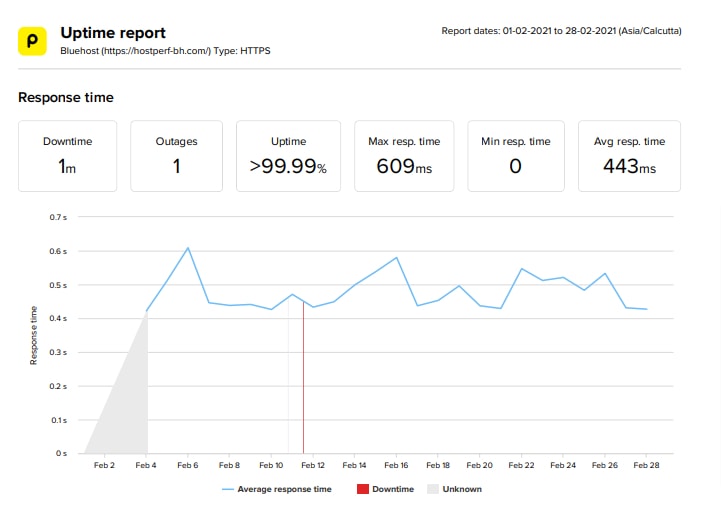 You can see that Kinsta has a better server response time than Bluehost, even though Bluehost has a pretty decent response time, either.
Uptime
Uptime is another extremely crucial factor for the success of any website. I have tested both the hosting companies' uptime and found them equally good with a 99.99% uptime.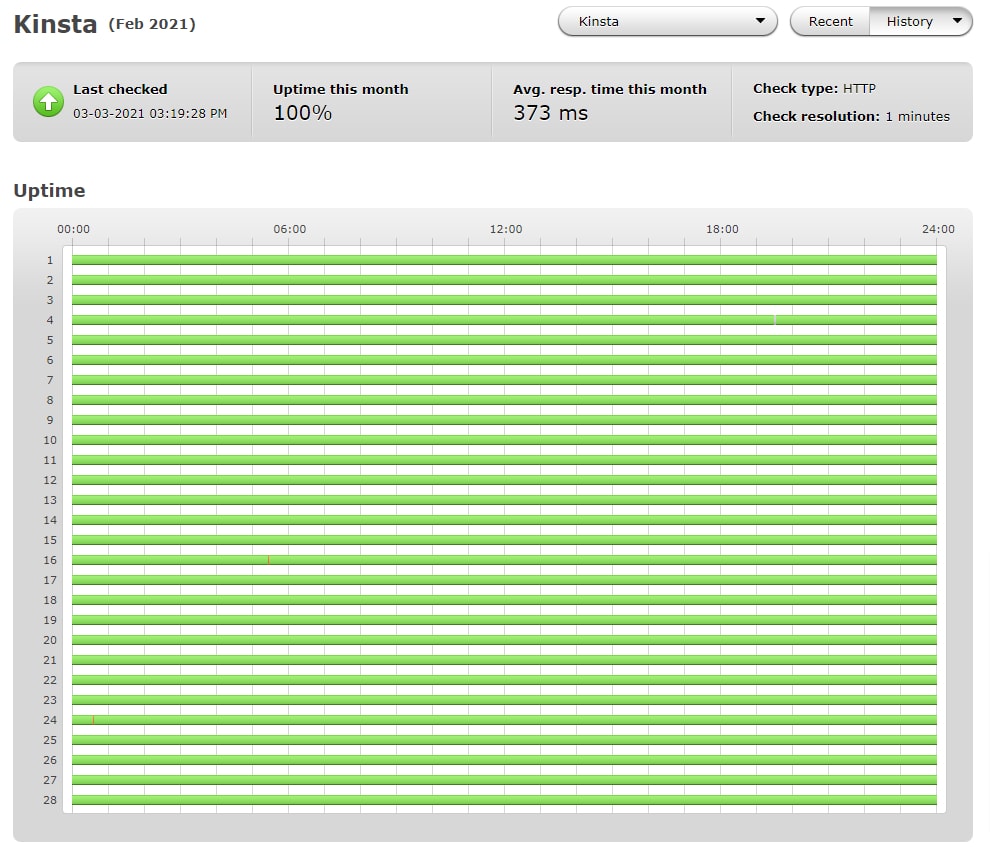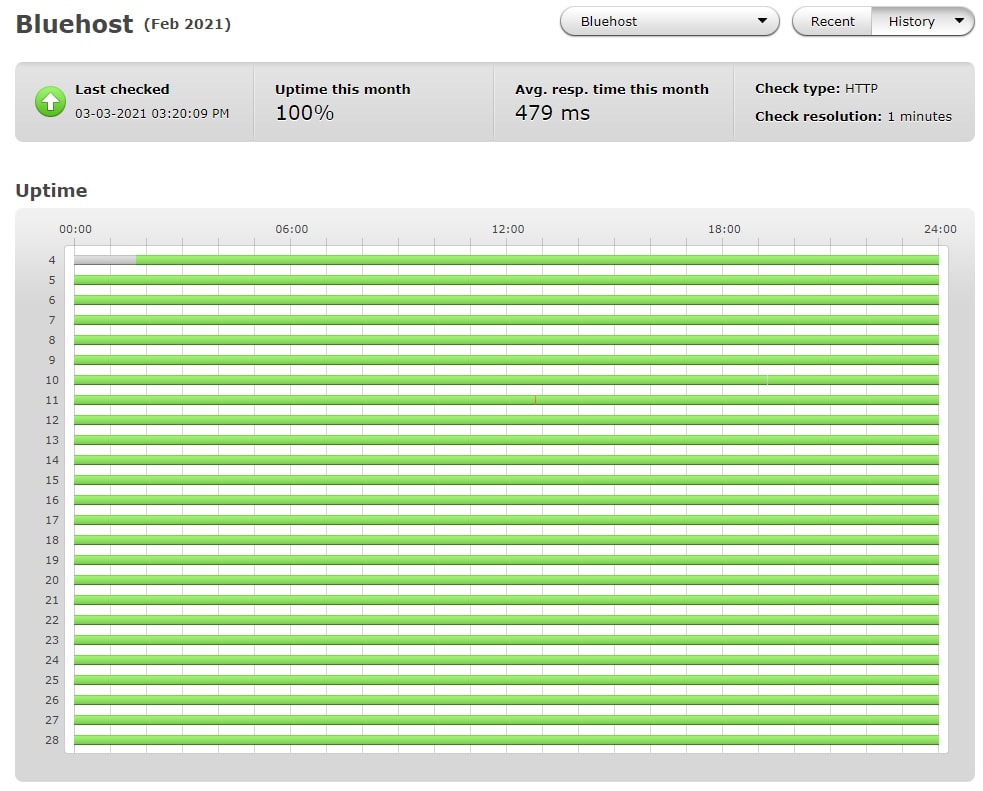 Load Testing
Through this test, the performance of both hosts is compared in terms of client load. I've sent 1000 visitors to the site for 1 minute. Kinsta handles the load better with a Fast server response time of 33 ms while Bluehost took 68 ms time. (lower the average response time, faster is your server)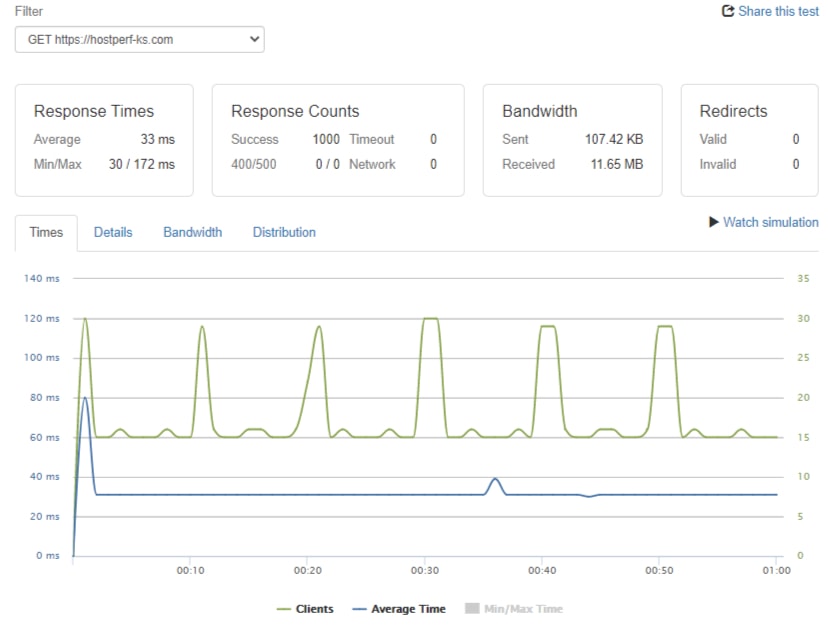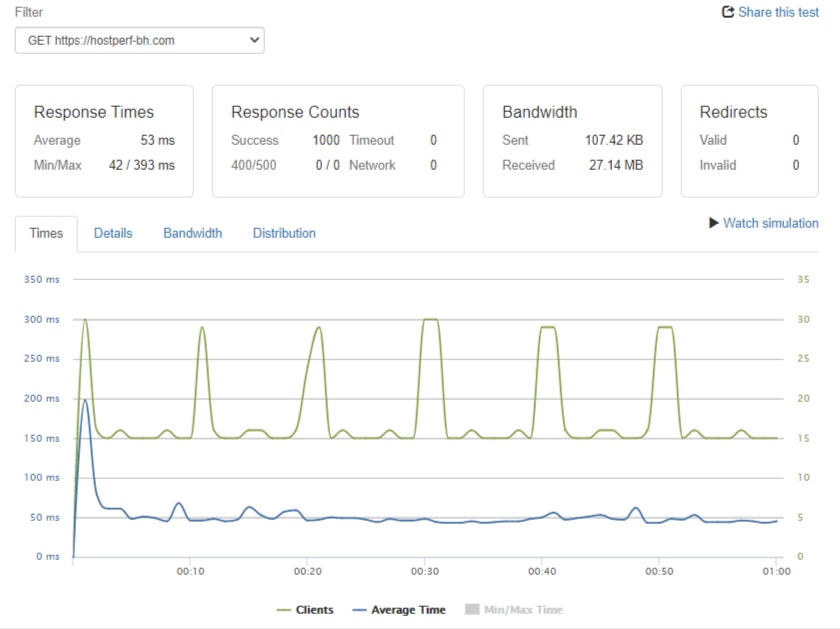 WordPress Benchmark Tool
I tested the loading time of various elements of my demo sites hosted on the two hosting platforms to see what is going on behind the performance clearly. I tested the load time of CPU & Memory, File System, Database, and Network for both the hosts and reached some interesting conclusions.
All the elements had a lightning-fast loading on my Kinsta demo site. However, the load times of the elements were not equally fascinating on the Bluehost site. Operations with large text data in Bluehost took 9.2 sec, while in Kinsta, it took 5.5 sec. Random binary data operations in Bluehost took 11.1 sec, while in Kinsta, it took just 4.4 sec.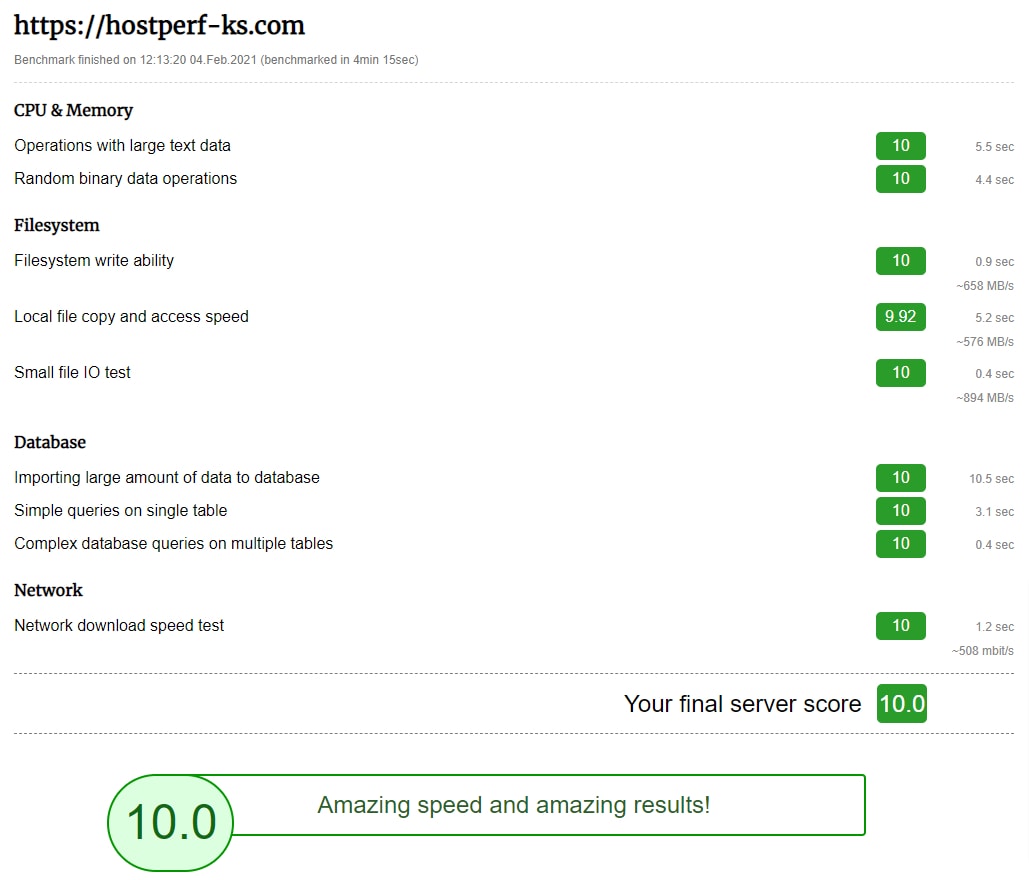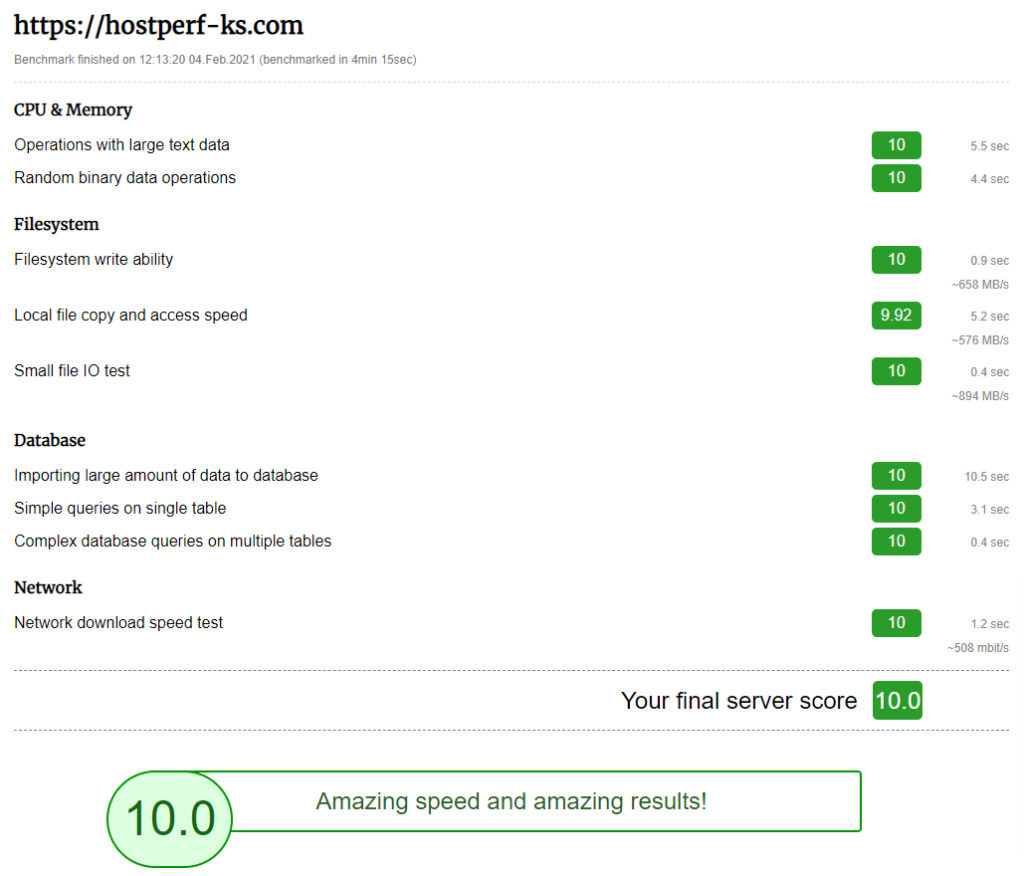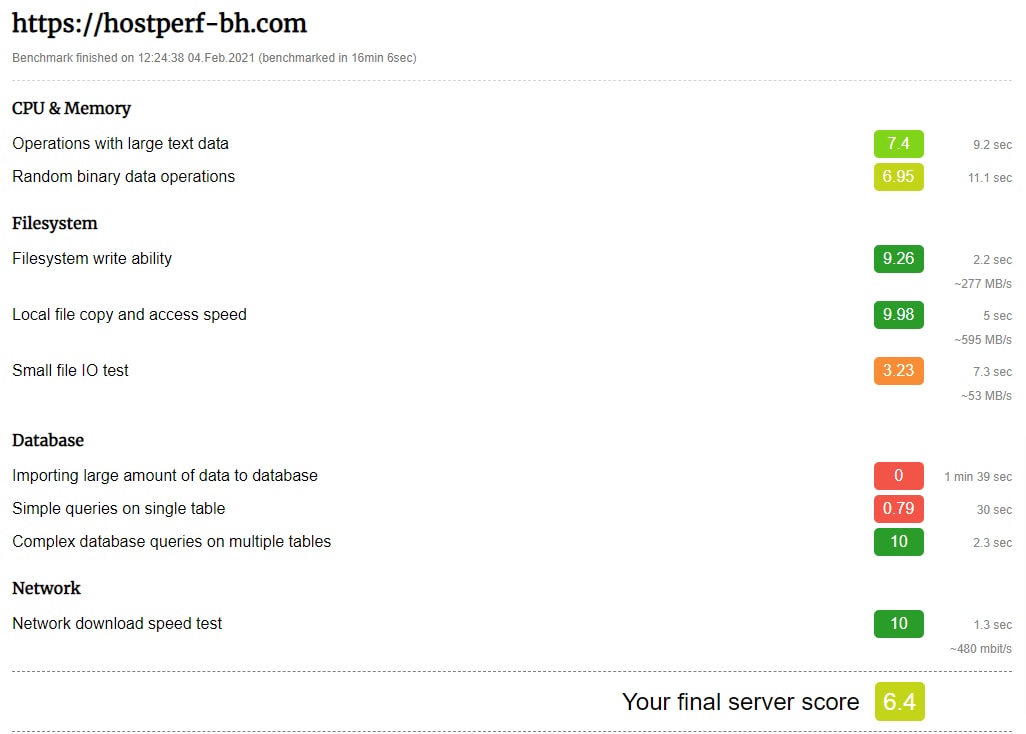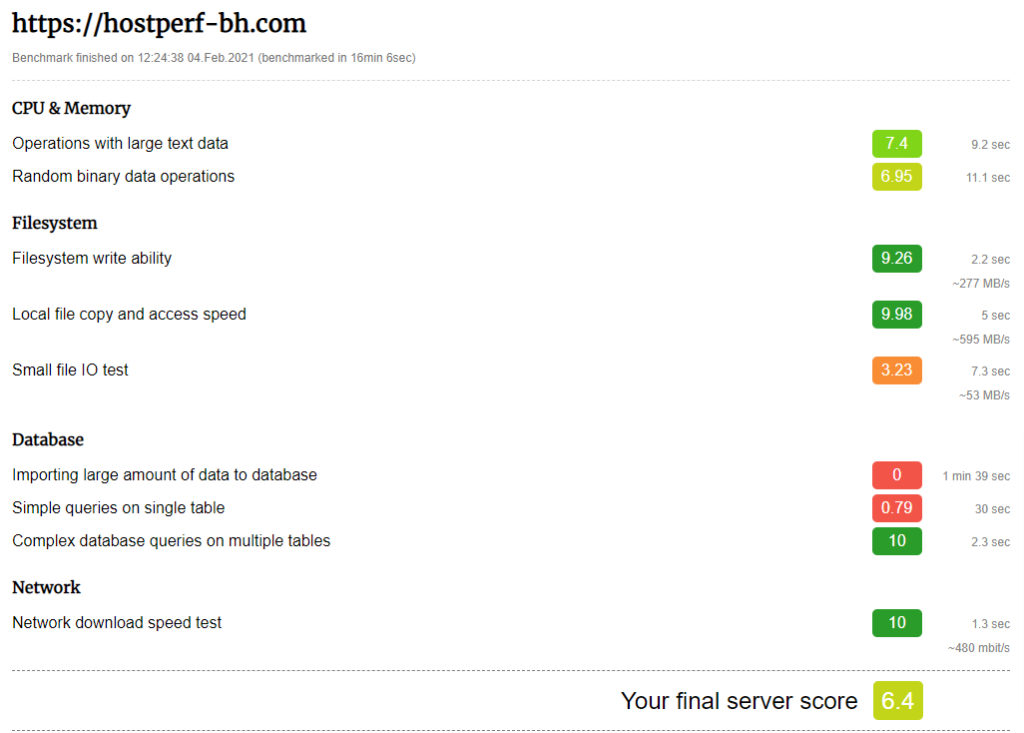 Some of the other places where Bluehost load times weren't convincing are in the Small file IO test, wherein it took 7.3 sec. Importing a large amount of data to the database took 1 minute while in Kinsta, it was just 10.5 sec and Simple queries on a single table took 30 sec while in Kinsta, it was only 3.1 sec.
Global TTFB
I tested the Time to First Byte to check the two services' responsiveness, and I reached some interesting conclusions. I checked the performance of the two services across ten global locations.
Kinsta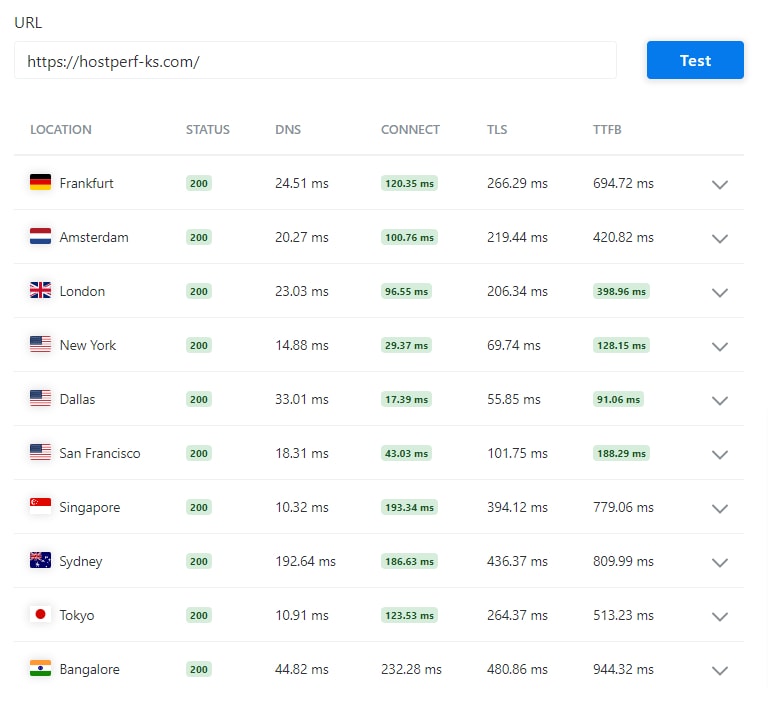 Bluehost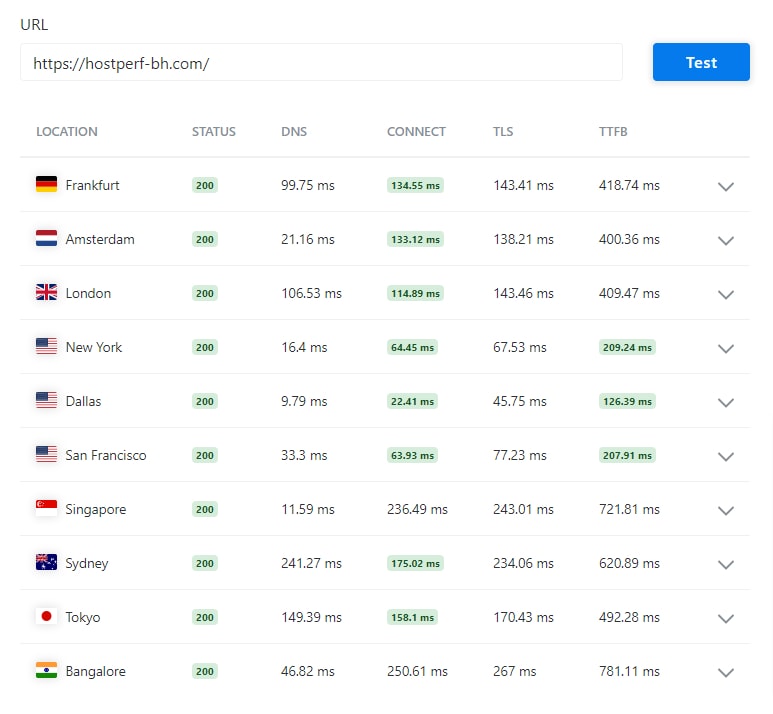 Going by the test results, I can say that Bluehost has a comparatively better TTFB than Kinsta in most locations. However, the difference is not very wide for sure.
Kinsta Vs Bluehost Features
Control Panel
Both Kinsta and Bluehost undoubtedly have a very user-friendly interface and control panel. Anyone can get the hang of it in just a few minutes. While Kinsta is a managed WP host, it comes with advanced features as discussed in my Kinsta review. On the other hand, the Bluehost panel is simple with basic options.
CDN
Kinsta CDN is powered by KeyCDN and has 35 global locations. Kinsta CDN features HTTP/2 and IPv6 enabled. Kinsta CDN works pretty much in the traditional way wherein it caches a copy of the content and media. Then, it servers the assets using a random URL or subdomain. To be precise, whenever a visitor gets on your site, the hosting provider receives the request first and then does the CDN to fetch and serve the assets. Selecting a CDN location in Kinsta is ridiculously easy, and you can do it right from the MyKinsta dashboard.
Bluehost comes with Cloudflare CDN which has over 200 global locations. However, it just a free version, one can easily get even without Bluehost.
Website Migration
Regarding website migration, Kinsta offers free unlimited basic site migrations on all plans and limited free premium site migrations up to 5, depending on the plan. However, Bluehost doesn't offer any premium site migration on its plans.
Instead, Bluehost provides users with the Bluehost FTP to transfer as many sites as they want. This can be a little technical for newbies, and in case you want professional assistance, you can opt for the professional site migration for $149.99.
Backups
Backing up your site is never a problem with Kinsta, and the provider offers free automatic daily backups on all plans; besides, it also offers optional hourly backups. Restoring a backup in Kinsta is also ridiculously simple.
Unlike Kinsta, the Bluehost backups policy is not that straightforward, and even though it offers free backups, you can't restore databases without the Pro tool. For a complete backup and restore solution, you will need to buy the CodeGuard add-on by paying an additional charge.
Staging sites
Kinsta offers staging areas and allows you to test different modifications on a staging site without affecting the production site. It is pretty easy to create a copy of your live site and experiment with it.
After you finish, and if you have any changes that you would like to have on your production site, you can push them seamlessly to the production site. Kinsta offers the Staging area feature on all its plans.
Just like Kinsta, Bluehost also provides staging sites on all its plans. The process of creating a staging site on Bluehost is more or less the same, and you will find the Staging option right on the Bluehost dashboard.
Security
Kinsta has robust security in place with resource isolation, DDoS protection, and Hardware Firewalls. Further, it has the advantage of Google's high-security network.
Bluehost has been a pretty secure service so far. If we look into the security features, it has its experts on constant monitoring of the server and network to resolve vulnerabilities in no time.
However, when it comes to dedicated security features, they are all paid add-ons. For example, SiteLock is a feature to protect your account against hackers, but the feature is not available for free.
Support
As far as the Customer Support service goes, both Kinsta and Bluehost have done an equally commendable job over the years. Most importantly, both the hosts have teams with the most experienced executives.
Kinsta offers brilliant support through 24×7 live chat and ticketing. Bluehost offers decent assistance through 24×7 live chat, phone, and email.
Conclusion
Kinsta and Bluehost are two top-rated web hosting services at the moment. You can choose any of them, but before you choose one, it is important to ensure that the service has everything that you need for your project.
Both the services have their strengths and weaknesses at different places. For example, Bluehost is cheaper than Kinsta, but again, Kinsta has better security and performance than Bluehost.
Another important aspect to consider is that Bluehost free backups are not up to the mark unless you choose the paid add-on, CodeGuard. Going by the test results, I would recommend Kinsta over Bluehost since I found it better than Bluehost in many places.