Kinsta Vs DreamHost
Kinsta is a popular managed WordPress hosting provider known for its Google Cloud powered hosting services.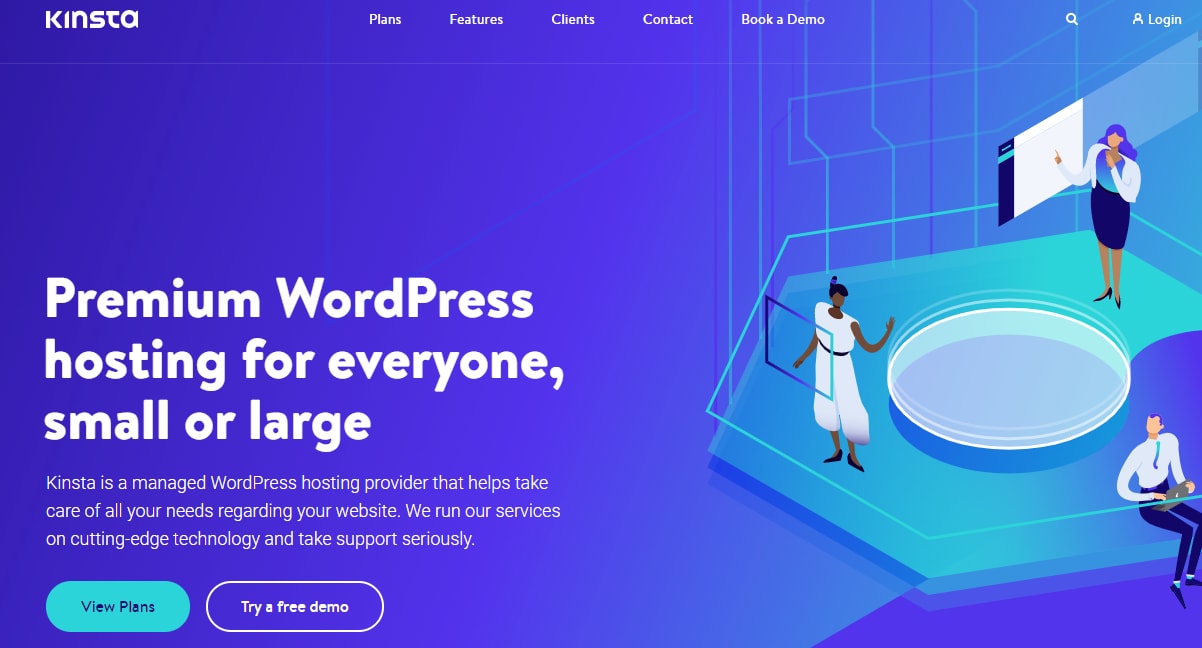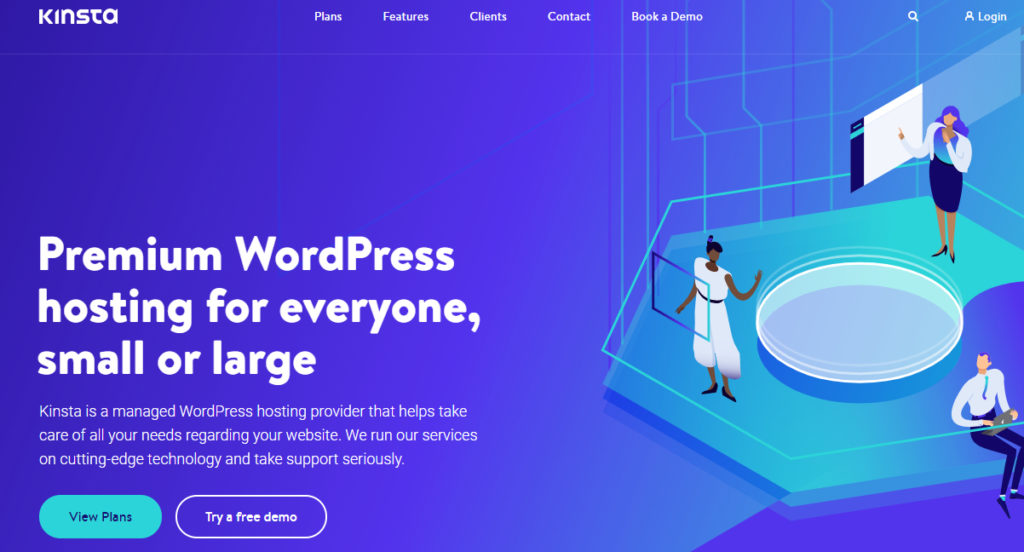 DreamHost is a decade-old Web hosting provider specializes in Shared Hosting services. The company launched it's new DreamPress, a managed WordPress hosting service competiting against WP Engine and Kinsta.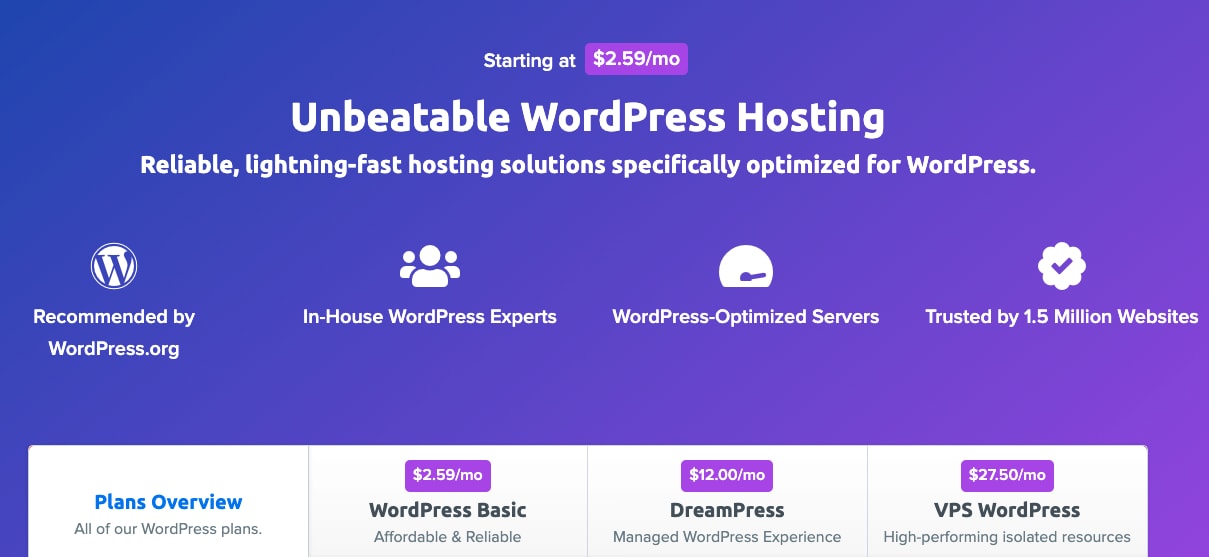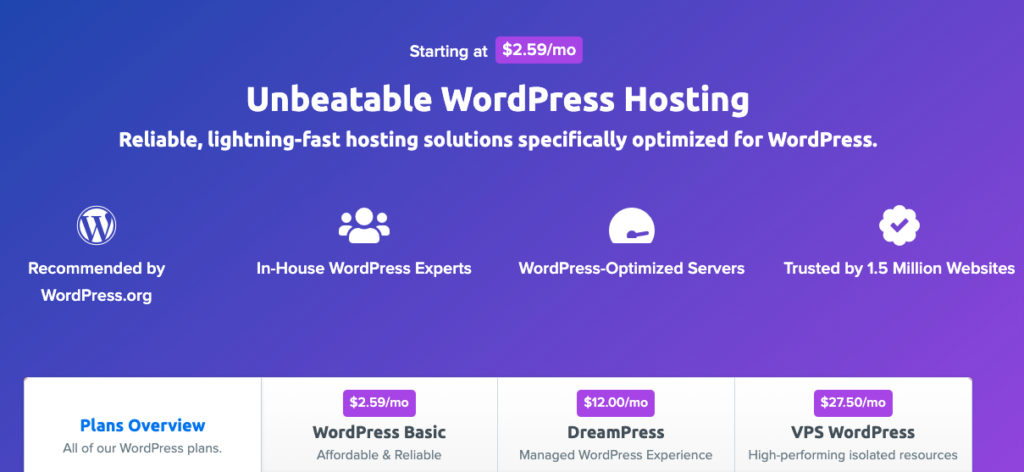 Kinsta Vs. DreamHost Pricing
Kinsta has many plans for the customers based on the number of WordPress sites, disk space, and monthly visits.
Customers have 11 plans to choose from, plus they may also get a customized plan for their project by contacting the sales team. The lowest tier starts at $30 per month, and now, let's look at some of the popular Kinsta plans:
Starter: $30 per month, 1 WordPress install, 10GB disk space, 25,000 visits
Pro: $60 per month, 2 WordPress installs, 20GB disk space, 50,000 visits
Business 1: $100 per month, 5 WordPress installs, 30GB disk space, 100,000 visits
Business 2: $200 per month, 10 WordPress installs, 40GB disk space, 250,000 visits
Business 3: $300 per month, 20 WordPress installs, 50GB disk space, 400,000
Kinsta has the following features common on all the plans:
Free unlimited basic migrations from other hosts
Google Cloud Platform
24 global locations
Self-healing technology
Automatic DB optimization
Automatic daily backups
24/7 support
Hack and malware removal
Multi-user environment
Staging area
PHP 8.0 support
Free SSL certificates
SSH access
Performance-monitoring tool
DreamHost offers customers 3 plans to select from. The lowest tier plan starts at $16.95 per month. Here are the plans:
DreamPress: $16.95 per month, 1 WordPress site, 100k visits, 30GB SSD Storage
DreamPress Plus: $24.95 per month, 1 WordPress site, 300k visits, 60GB SSD Storage
DreamPress Pro: $71.95 per 1 WordPress site, 1M visits, 120GB SSD Storage
Even though DreamHost allows you to start for a much affordable price than Kinsta, one big downside is that all the plans come with just 1 WordPress site.
As far as the common features go, they are:
Unmetered bandwidth
1-Click Staging
Built-on Caching
Free Automated WordPress Migrations
Automatic WordPress Core and Security Updates
Automated Daily Backups
Free Domain
Email Accounts
30-day money-back guarantee.
Kinsta Vs. DreamHost Performance
1. Server Response Time
When I tested the average server response time of Kinsta and DreamHost, I found my Kinsta site with an average server response time of 492ms, and my DreamHost site reflected an average server response time of 352ms.
Hence, DreamHost is the clear winner.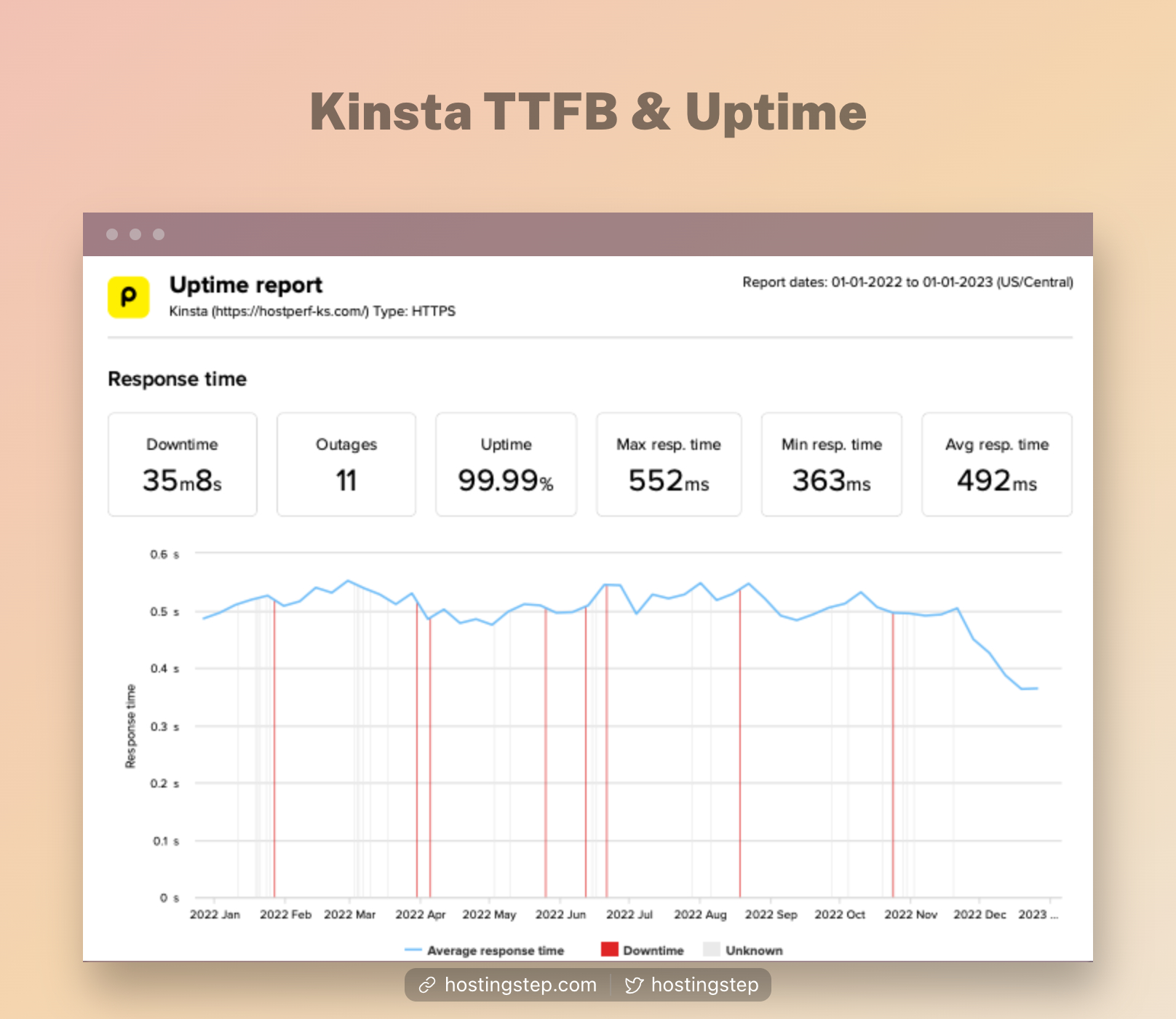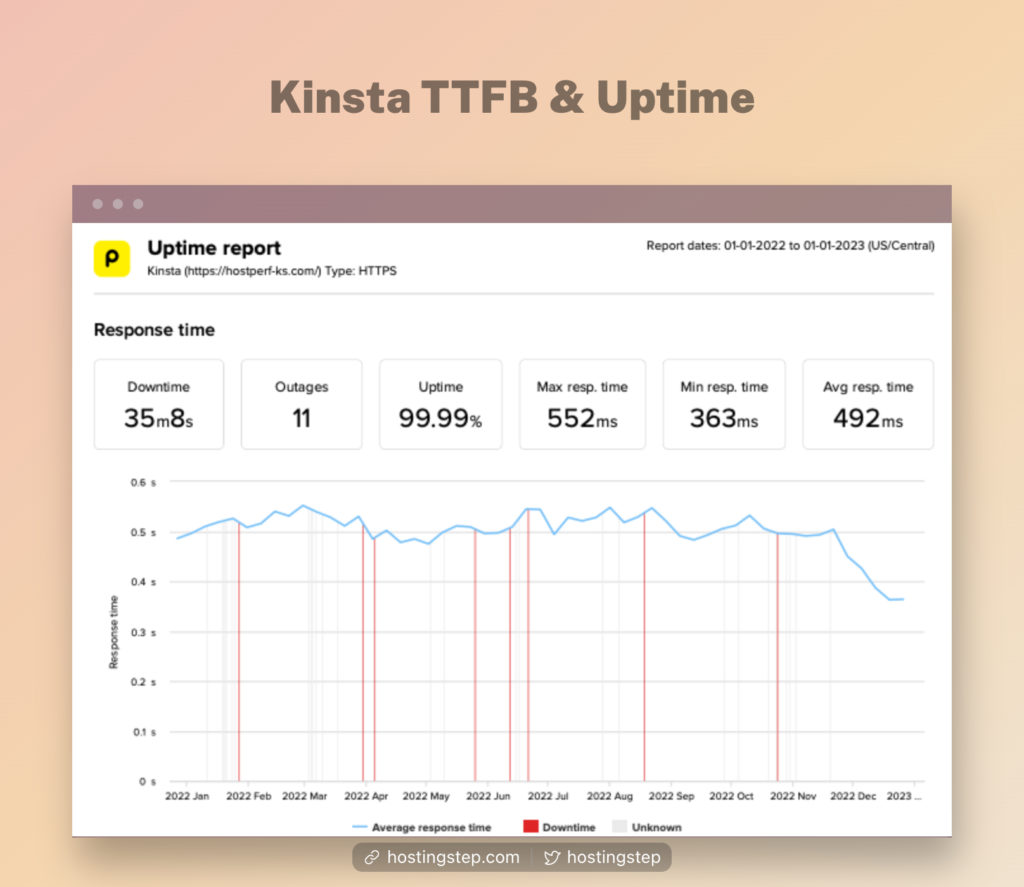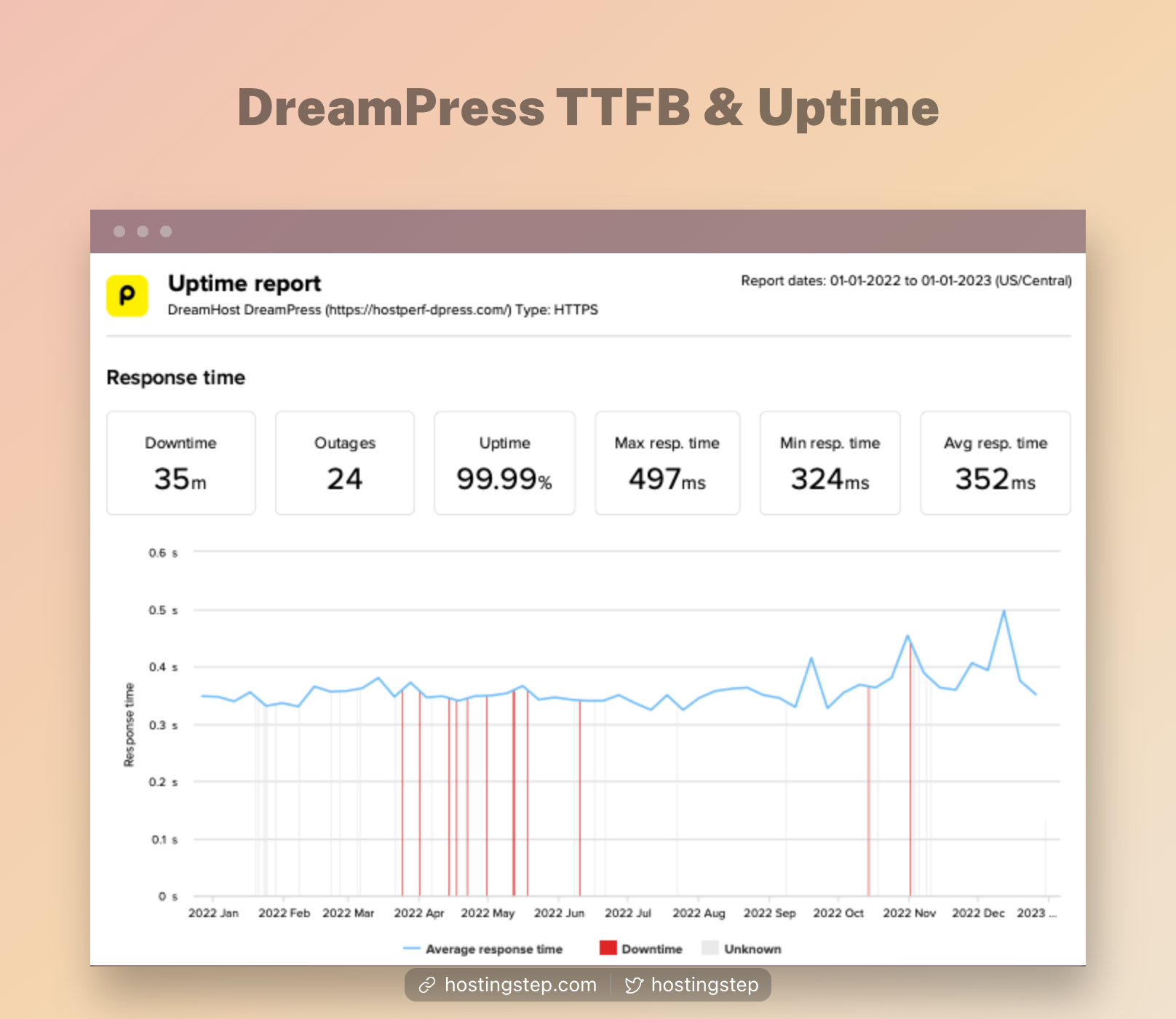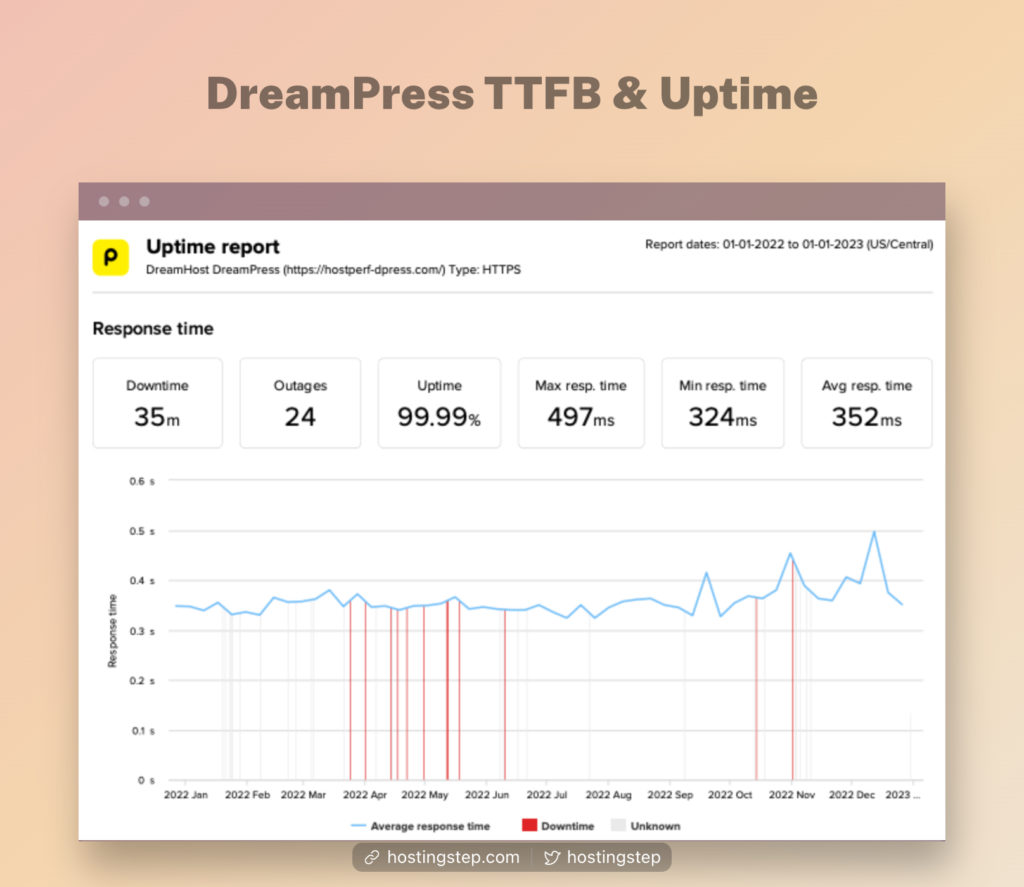 2. Uptime
When it comes to uptime, both Kinsta and DreamHost have done exceptionally well over the years.
I tested the uptime of the two hosts, Kinsta recorded 99.99% uptime while Dreamhost secured 99.99% uptime.
Kinsta Vs. DreamHost Features
Control Panel
Both Kinsta and DreamHost come with a custom control panel. Even though both the hosts have equally easy-to-use control panels, the Kinsta control panel is slightly better since it comes with many advanced tools. Further, it offers an excellent single point of control of managing the hosting account.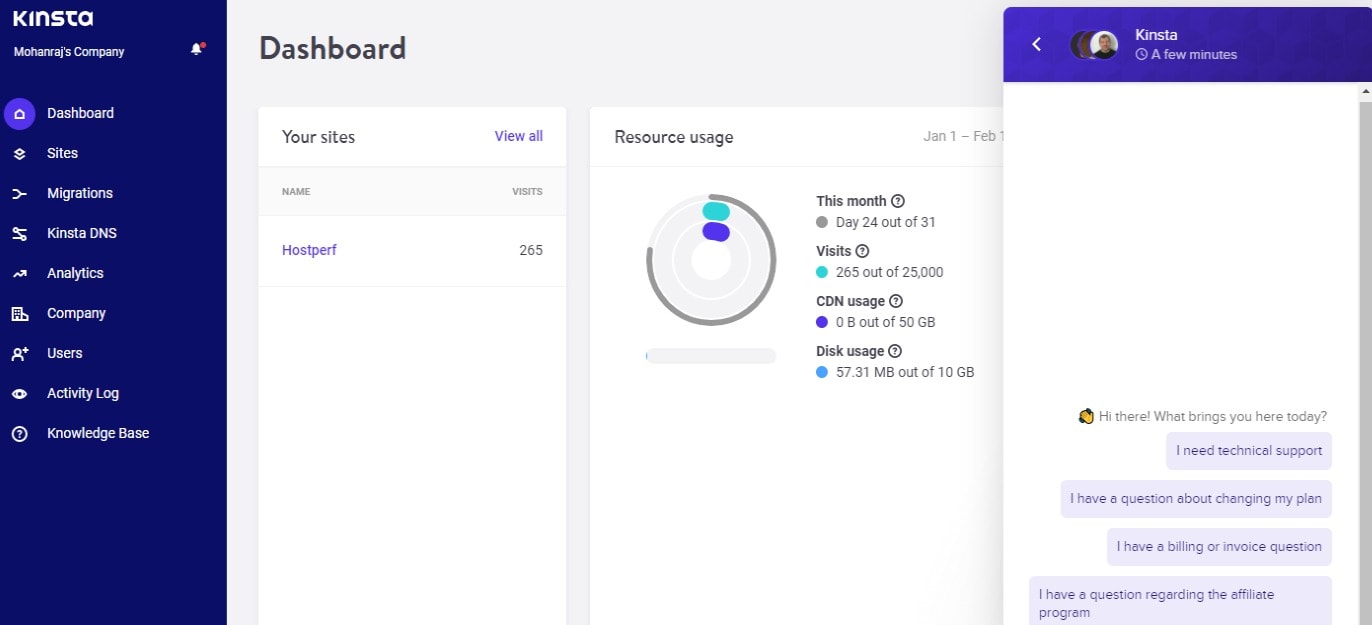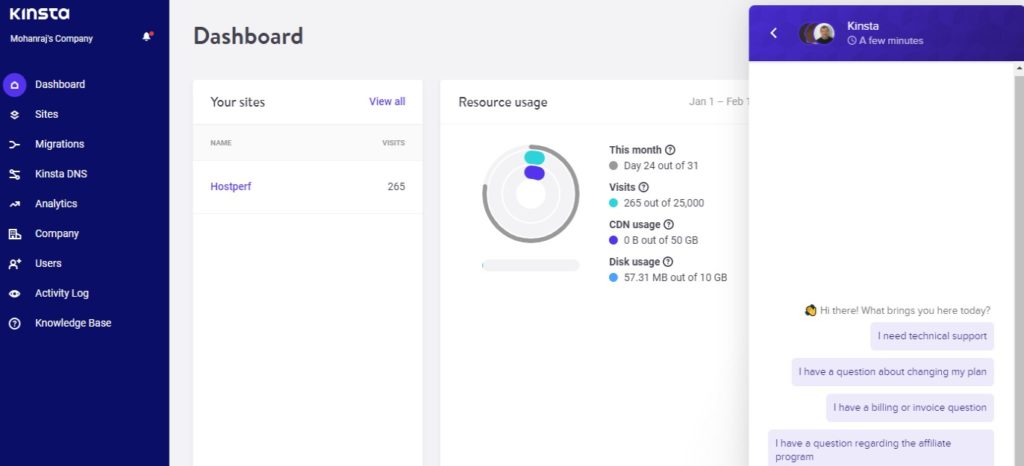 Data center locations
Kinsta offers the advantage of choosing between 35 Google server locations across the globe.
However, you don't have this advantage with DreamHost since it has its data center only in the USA. DreamHost has just one server location in Ashburn, in Virginia.
CDN
Kinsta has partnered with Cloudflare and has 275 global locations.
DreamHost uses free Cloudflare or JetPack CDN based on their plans. However, both are not so powerful when compared to Cloudflare CDN.
Backups
A good backup system is essential to ensure you never lose your site data, and with a good backup system in place, you can focus better on your core business.
Both Kinsta and DreamHost offer automatic daily backup on all plans to protect your site data, and restoring backups is a pretty easy job as well.
Staging sites
A staging environment is extremely crucial for testing different changes you can't afford to do on your production site.
Both Kinsta and DreamHost offer an effortless one-click staging on all plans. Using this feature, you can create a copy of your production site with just a single click, test the various changes, and easily push the desired changes to your live site.
Security
Kinsta has robust security with the most advanced security features such as resource isolation, DDoS protection, and Hardware Firewalls. and Google's high-security network.
DreamHost has maintained pretty reliable security so far as well. If we look into the various security features of DreamHost, they are perfect, and it comprises malware remover, traffic encryption, Free Domain Privacy, HTTP/2, mod_security, and web application firewall for Nginx.
Kinsta Vs. DreamHost Support
Kinsta has undoubtedly got one of the best support teams with the most proficient WordPress-trained executives, and the support team does a great job of assisting the customers through 24×7 live chat and email.
DreamHost has an equally talented support team that has done a commendable job of helping the customers with their technical difficulties through live chat and tickets over the years.
Conclusion
I have presented you with the best comparison of the two services I could, and I am sure you now have a clear picture of both the services. DreamHost offers you much affordable pricing to start with. However, all its plans come with just one site support, and if you are looking forward to hosting multiple sites, the available plans will certainly not suffice your requirements.
I found Kinsta performance better than that of DreamHost. Another big downside with DreamHost is that, unlike Kinsta, it has just one server location. To me, Kinsta is the clear winner.