This post Kinsta Vs Hostinger compares both Kinsta and Hostinger in terms of performance, features, and pricing. Let's see which host is good with real-life data.
Kinsta Vs Hostinger
Kinsta is a managed WordPress hosting company that started back in 2013. The company played a significant role in helping small and big businesses with their premium WordPress solutions.
Hostinger, on the other hand, has been around since 2004 and is one of the cheapest hosting providers. Hostinger specializes in shared hosting, cloud hosting, and WordPress hosting.
Over the years, the provider has done a great job fulfilling the requirements of the different types of users, from individuals to businesses of all sizes.
Kinsta Vs. Hostinger Pricing
Customers have the advantage of choosing between eleven plans with Kinsta, and if that's not enough, you can have a custom plan created by contacting the Kinsta sales team. All the available plans are different in terms of WordPress sites, disk space, and monthly visits.
Starter: $30 per month, 1 WordPress install, 10GB disk space, 25,000 visits
Pro: $60 per month, 2 WordPress installs, 20GB disk space, 50,000 visits
Business 1: $100 per month, 5 WordPress installs, 30GB disk space, 100,000 visits
Business 2: $200 per month, 10 WordPress installs, 40GB disk space, 250,000 visits
Business 3: $300 per month, 20 WordPress installs, 50GB disk space, 400,000
Some of the features are common in all the plans, and they are:
Free unlimited basic migrations from other hosts
Google Cloud Platform
24 global locations
Self-healing technology
Automatic DB optimization
Automatic daily backups
24/7 support
Hack and malware removal
Multi-user environment
Staging area
PHP 8.0 support
Free SSL certificates
SSH access
Performance-monitoring tool
Hostinger offers plans for all levels of customers, from individuals to businesses. The provider provides you with 3 hosting plans to choose from, based on the number of sites, SSD Storage, and monthly visits.
Single Shared Hosting: $0.99 per month, 1 Website, 10GB SSD Storage, 10,000 monthly visits
Premium Shared Hosting: $1.99 per month, 100 Website, 20GB SSD Storage, 25,000 monthly visits
Business Shared Hosting: $3.99 per month, 100 Website, 100GB SSD Storage, 100,000 monthly visits
There are a few features that are common in all the plans, and they are:
Managed WordPress with auto core and plugin updates
WordPress Acceleration with server-level caching
30 Days Money Back Guarantee
Git access
Free SSL
Kinsta Vs. Hostinger Data center locations
Kinsta offers you to select from as many as 24 Google server locations across the globe. Hostinger has seven different data center locations across the USA, Europe, and Asia.
Hence, you have more server locations with Kinsta than Hostinger. Of course, Hostinger isn't a bad choice either as long it has your desired server location.
Kinsta Vs. Hostinger Performance
1. Server Response Time
I tested the response time of the two services, and while Kinsta had an average server response time of 360 ms, Hostinger had an average response time of 659 ms. There is certainly a huge difference between the two services in terms of average response time.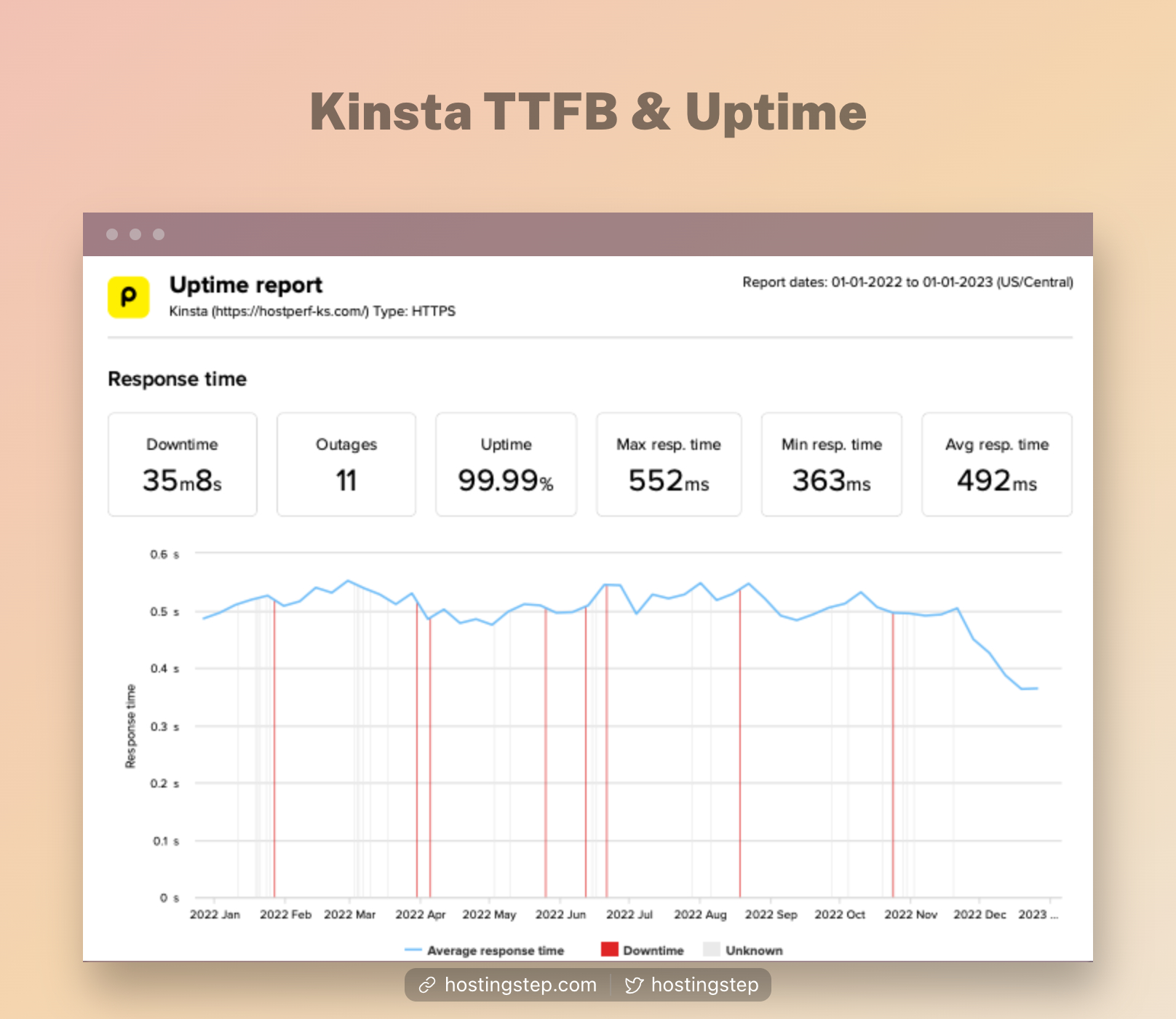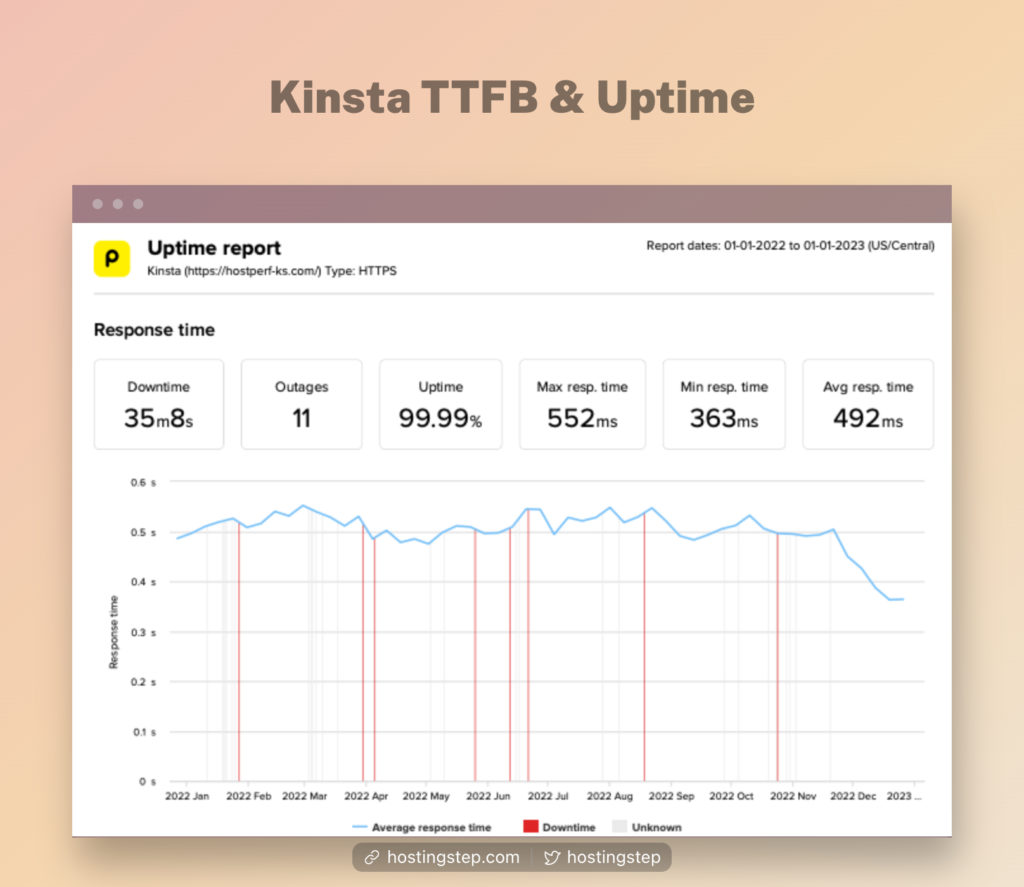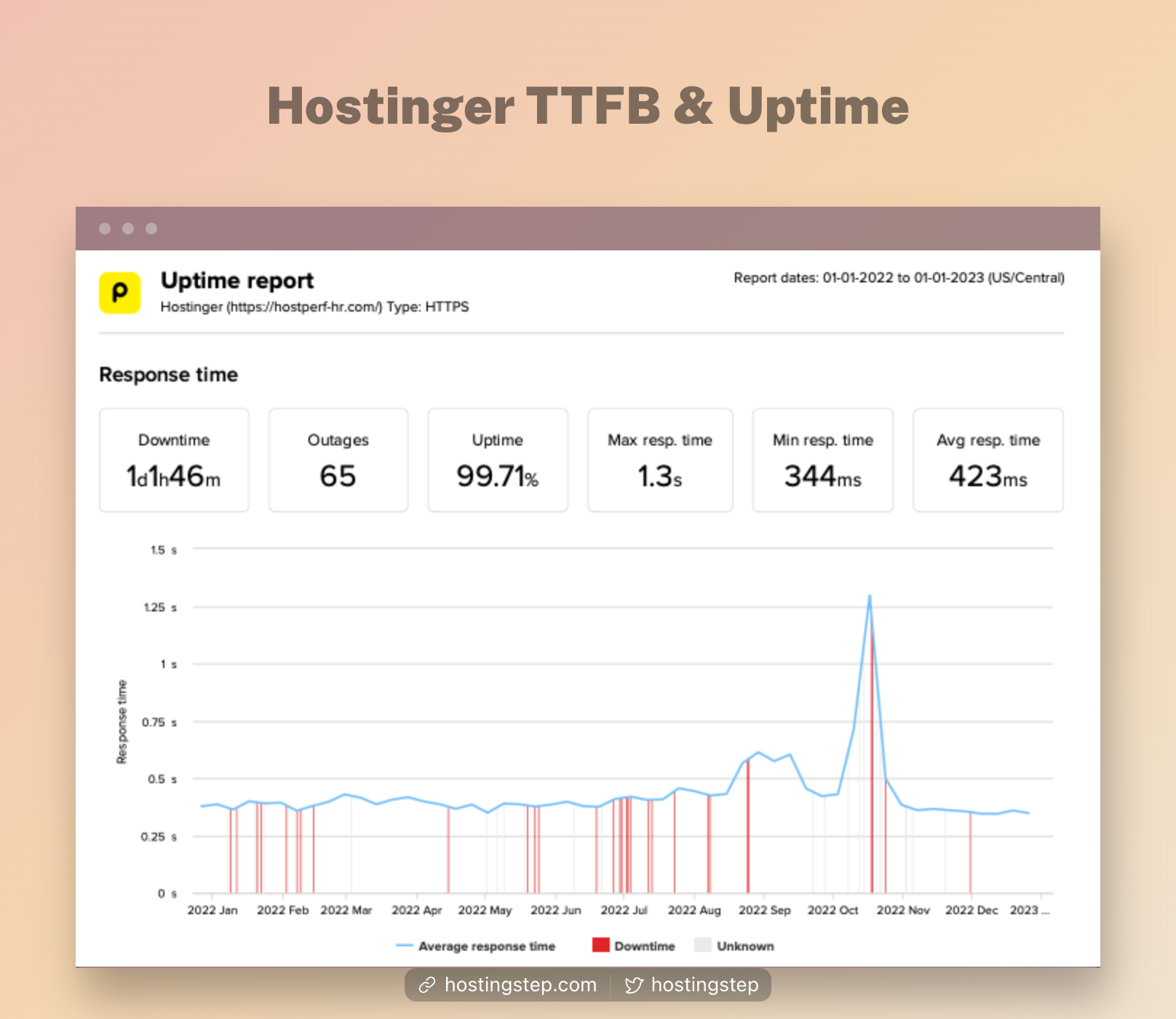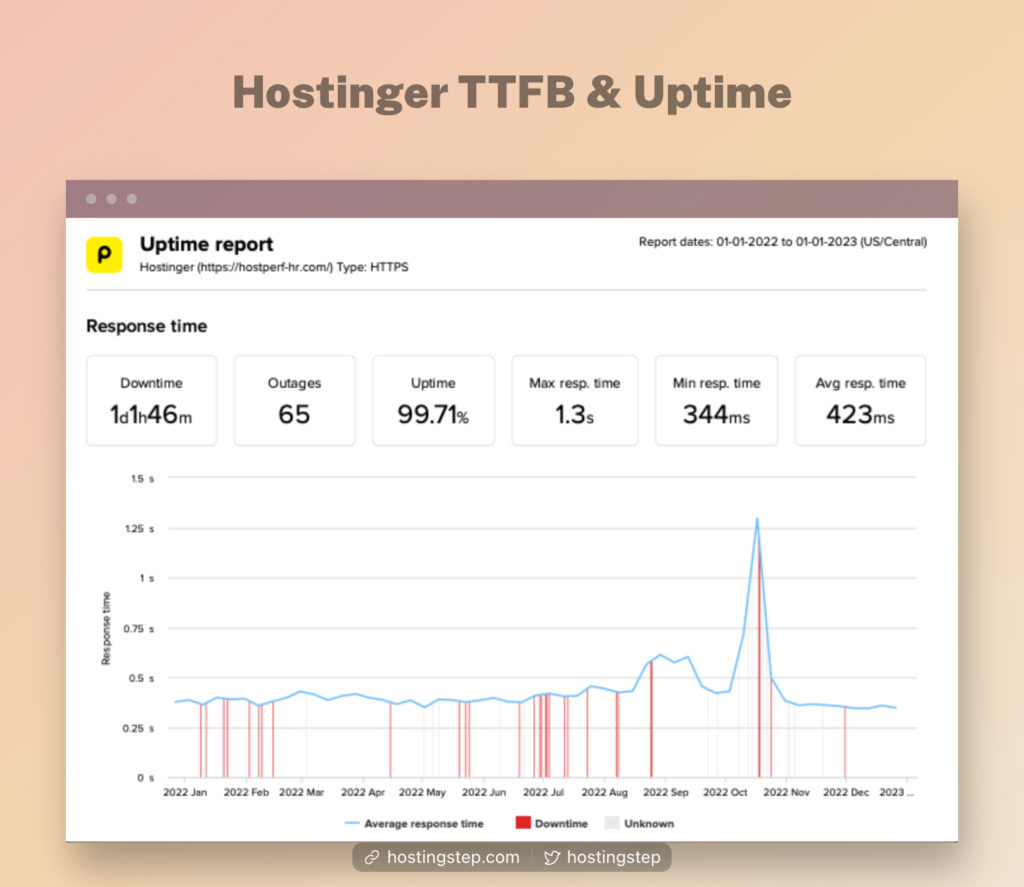 2. Uptime
The next important aspect to check was the uptime, and I tested the uptime for both the companies, and Hostinger has got a poor uptime record of 99.68% with downtime happening in regular intervals of time. However, Kinsta produced 99.99% throughout our testing time.
Kinsta Vs. Hostinger Features
1. Control Panel
Both Kinsta and Hostinger are pretty easy to use, and the services come with an interface that is not very difficult to use. However, Kinsta has its own control panel with a lot of advanced features in it.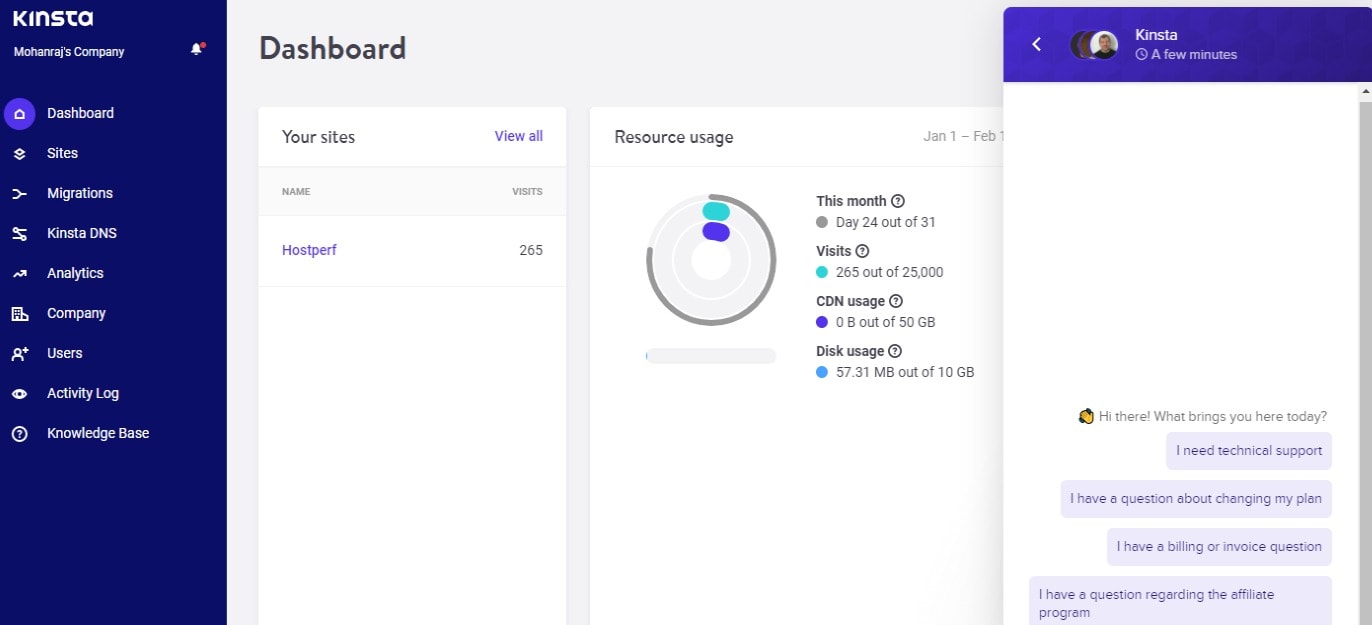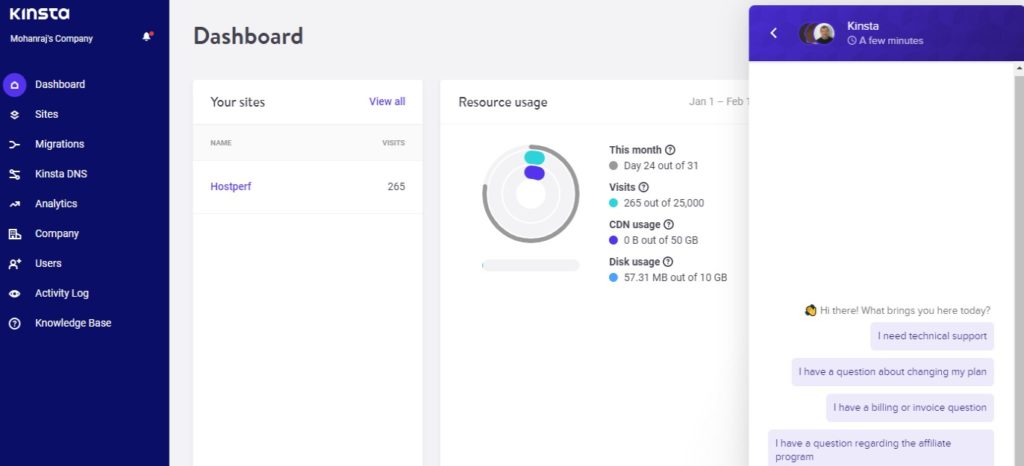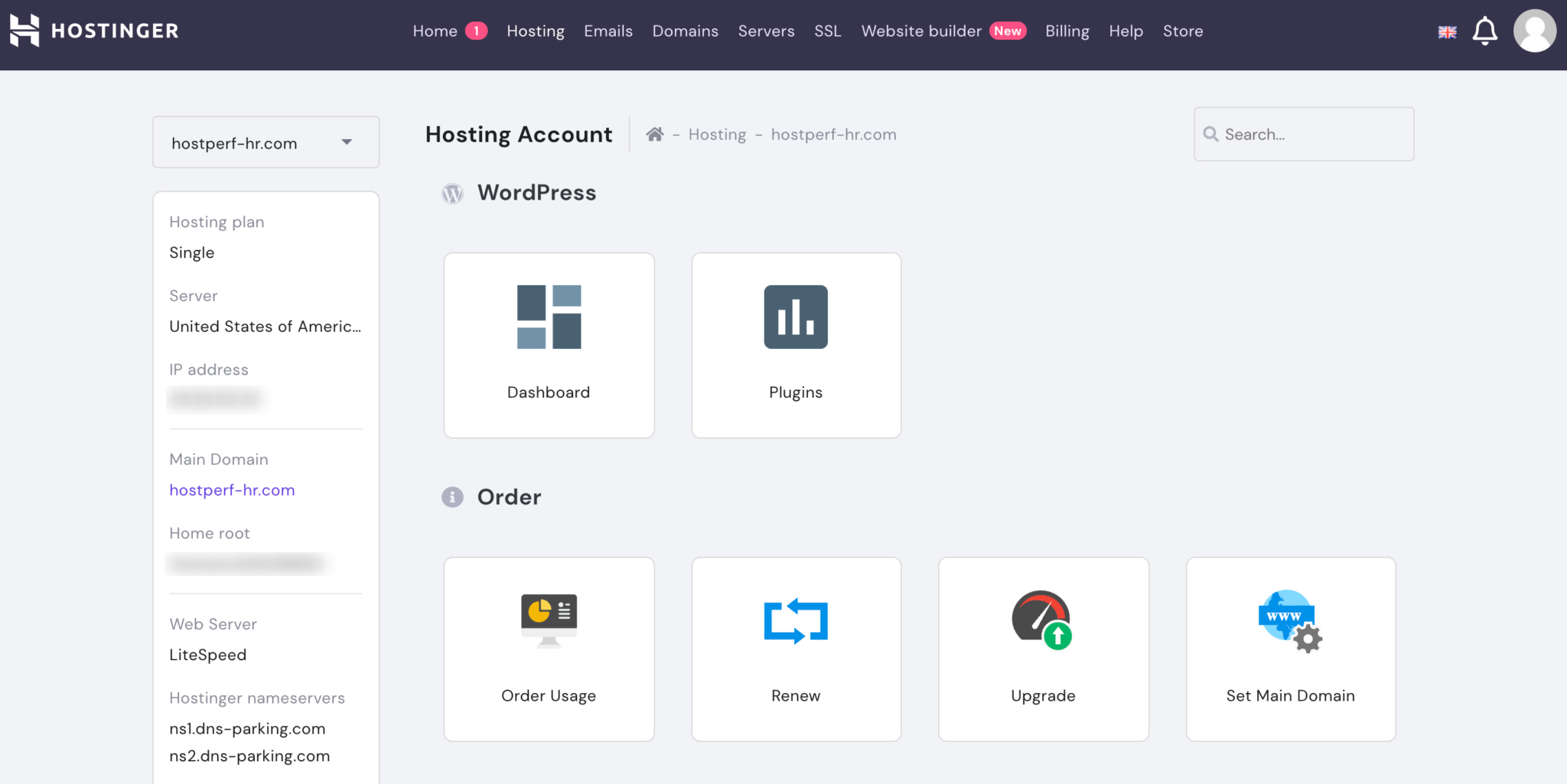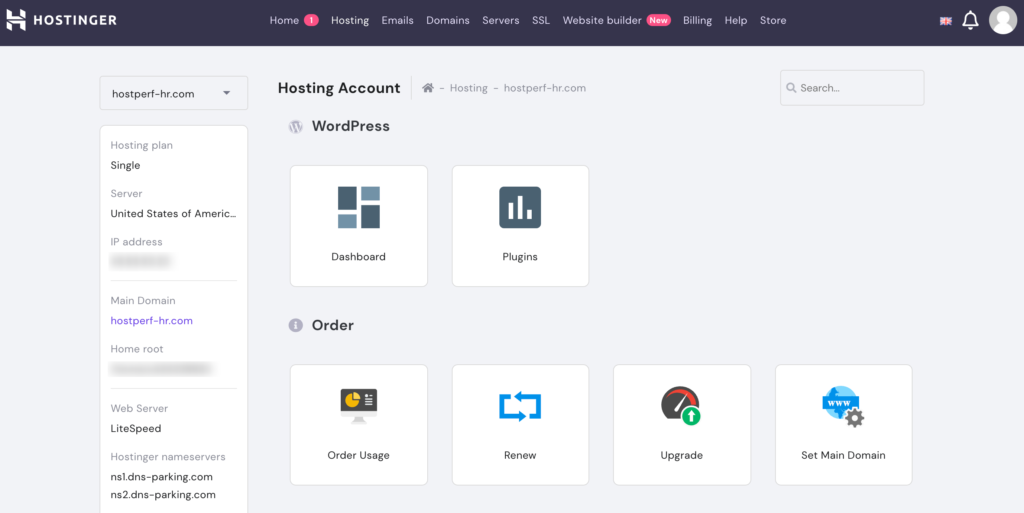 It would not be wrong to say that the Kinsta control panel offers an excellent single point of control. Even Hostinger uses a custom control panel, but it is pretty much like a Cpanel. If we compare, the Kinsta control panel is better.
2. CDN
Kinsta has tied up with KeyCDN which has got 35+ global locations. All CDN location comes with HTTP/2, and IPv6 enabled. The CDN uses a traditional way of caching using a random URL or subdomain.
On the contrary, Hostinger uses Cloudflare CDN and has the advantage of many global locations. Cloudflare comes with more than 200 global locations. The thing to note, Kinsta uses a premium CDN service that costs $10/month while Hostinger integrates the free Cloudflare CDN which is quite good compared to KeyCDN.
3. Backups
While Kinsta offers automatic daily backups on all plans, Hostinger only offers daily backups on the Business plan. For the lower tier plans, it only offers weekly backups.
4. Staging sites
Staging in Kinsta is a pretty effortless process, and it takes just a single click to create a copy of the production site and test changes on it. Deploying the changes from the staging site to the live site is equally simple and fast.
However, it doesn't hold true for Hostinger, and the staging process is not straightforward. You have to do it manually by copying the website files and database to a subdomain.
5. Security
Kinsta offers excellent site security and has the industry's advanced security features in place, which comprises resource isolation, DDoS protection, and Hardware Firewalls. Besides, Kinsta runs on the Google Cloud Platform and benefits from Google's high-security network.
As far as the Hostinger security features go, the provider has the best server-level security. All the servers are covered by advanced security modules comprising Apache mod_security, Suhosin PHP hardening, PHP open_basedir protection, etc.
Kinsta Vs. Hostinger Support
Kinsta support team comprises WordPress experts who are exceptionally friendly in assisting the customers through 24×7 live chat and email. You can connect to the Kinsta support right from your MyKinsta dashboard.
Hostinger mainly offers support through 24×7 live chat and email. However, it was knowledgeable and friendly executives. Besides, it doesn't take long to connect to the live chat.
Conclusion
I have closely examined the various factors of both the services and presented you with all the results that I had reached. Now, it should not be difficult for you to choose between the two services. A lot depends on your requirements.
However, before choosing any of the two services, you need to be sure of the features you are looking for in a hosting service. At the same time, you must also check if the service you are considering meets your requirements well.
If you are on a tight budget, Hostinger can be the ideal service to go with. However, we have seen that Hostinger has limitations in some places when compared with Kinsta. For example, Hostinger doesn't offer automatic daily backups on all the plans and comes with poor uptime.
If you are okay with these limitations, you can certainly go ahead with Hostinger, and if you want a service better than what Hostinger offers, you can consider choosing Kinsta.