Liquid Web Cloud Sites Reviews
Managing a website can be pretty complex and it certainly isn't everyone's cup of tea for not everyone is equally smart in handling the technical complexities of the various aspects of managing a website. However, the good news is that no matter you are a technical genius or not, you wouldn't need to handle technicalities on your own any longer and instead, you could opt for the cloud sites.
With Cloud Sites, you can experience an excellent freedom in terms of building, launching or even managing of websites even without having to learn server management. In this post, we shall enlighten you about the Liquid Web Cloud Sites.
Liquid Web Cloud Sites Reviews
Liquid Web Cloud Sites offer a whole lot of excellent features to help you take every single bit of worry about your websites off your shoulder. Over the years, a lot of users who opted for Liquid Web Cloud Sites experienced an amazing difference in their websites' performance.

With 24×7 constant monitoring by the technically advanced staffs, users can rest assured of a consistent uptime and an exceptionally fast page loading.
Here are some of the stunning features of Liquid Web Cloud Sites:
With Liquid Web Cloud Sites, it is absolutely convenient to install or launch a site no matter which CMS you are most comfortable with. You are just 2 clicks away from setting up and launching your website with Liquid Web Cloud Sites without having to deal with any server or bulky setup process.

Liquid Web Cloud Sites offer a consistent 100% uptime and an ultra-fast page loading and what makes it possible is the excellent 24X7 server management. Every site is actually live on a platform of servers or multiple computers. This eliminates a single point of failure and this makes it ultra reliable. Also, based on the industrial-strength infrastructure, it ensures that the user's site never slows down even with a massive increase in the traffic.

Another brilliant feature you can have with the Liquid Web Cloud Sites is the excellent site security which comprises Monitoring your servers, Operating Systems and Frameworks, Databases, Load Balancers, Network, Firewalls, Storage, DNS, and any updates or patches and of course, mitigating risk. With constant supervision by the exceptionally experienced technical staffs, you will hardly have anything to worry about your site's security.

Also, it offers an excellent convenience of managing contents by offering a wide range of CMS such as WordPress, Drupal, Joomla, phpBB, or any custom website built upon the .NET or PHP frameworks.

For developers, it is certainly an excellent platform to manage and organize their clients. The way they can do it is by creating accounts for each of their clients and provide them with a white-labelled dashboard wherein the clients can actually view their website stats. Also, developers can share the preview of their work in progress with their clients anytime by simply sharing a link.

Also, it offers automatic updates which mean a user would not have to take the pain of updating the important updates of CMS and other apps on their own. Instead, it will be done automatically by the Liquid Web team itself to ensure that your site runs at the latest version of CMS, be it WordPress, Joomla, Drupal, etc.
Most importantly, Liquid Web Cloud Sites allows you to host unlimited sites and apps using a single account without having to worry about the site speed or any other aspect that may affect the performance as it is fully monitored and managed by highly experienced technical staffs.
As to note there are many plans available including dedicated, private and VPS.
Support
Liquid Web offers a brilliant support to ensure that every website powered by it runs consistently smooth without ever slowing down.
At the same time, the Support team is thoroughly aware of the fact that the users don't really have time to maintain the servers and networks on their own and it constantly emphasizes on assisting the users to focus on their websites without having to ever worry about the back-end infrastructure.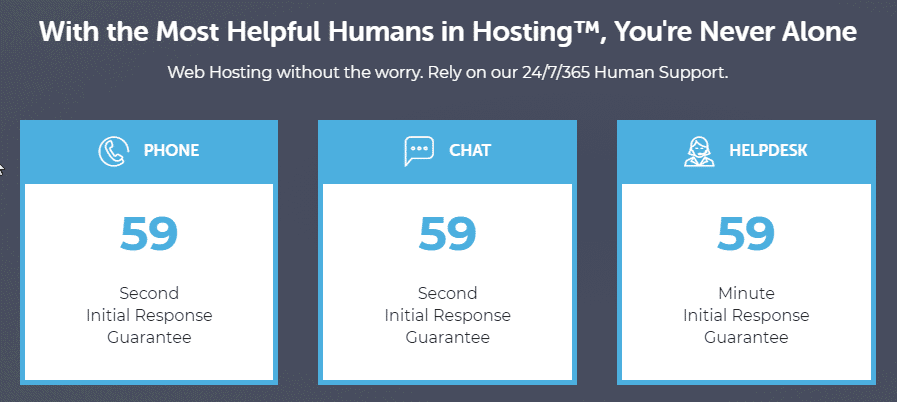 The Liquid web support technicians are available 24X7 to pinpoint and fix issues in the quickest possible time for its users. This has made Liquid Web pretty popular among the users over the years.
Liquid Web is believed to have the most proactive customer support with the most helpful support technicians. Most importantly, it is exceptionally easy to reach them out and literally, the customer support team is always next to you to help you with your every query or issue. Customers can reach the support via phone, chat, email or tickets.
Features
Users can expect any kind of assistance pertaining to their sites from the customer support. However, there are certain aspects in which the customer support can be largely helpful. Here are a few of them:
Technologies: With Cloud sites, users actually have diverse technologies for website development. It comprises both windows and PHP operating systems environment. With multiple technologies to use, users can actually take guidance from the Liquid Web technical staff for code or modules which can be modified per site.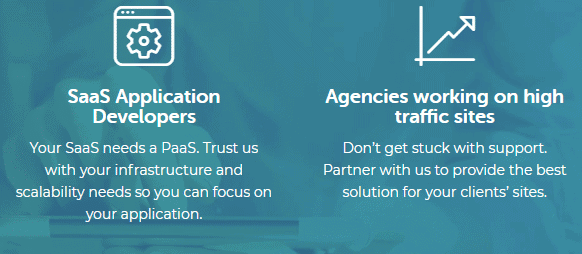 Content Management System: With Cloud Sites, you have an excellent freedom to use the most suitable CMS for your website, be it WordPress, Joomla, Drupal, etc. which is pretty easy to set up. Even then, if a user ever finds oneself locked away by any technical difficulties, one can always contact the customer support team and get the CMS installed accurately with the assistance of the experts.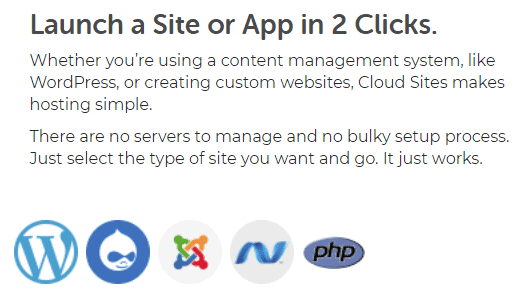 Migrations: Migrating your existing website to the cloud platform isn't that difficult and all one has to do is compile the website files in either 'zip' or 'tar' format, unpack them at the new location using FTP or an inbuilt file manager tool and point them to the appropriate database. However, in case one finds it difficult or it doesn't work as expected, one can always contact the technical support and the technical support will suggest the needful after evaluating the reason for the issue.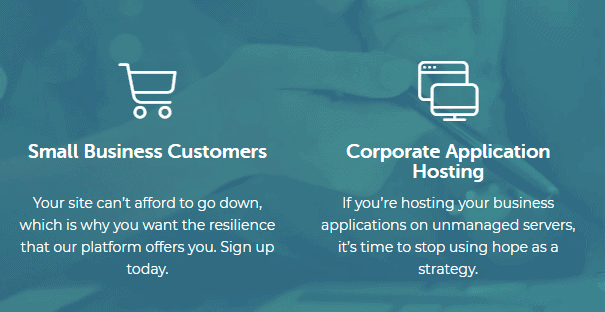 Security: In Cloud Sites, users have a wide space to keep their files secure. However, just in case a user is not much aware of the ways one can keep one's files secure, one can request for a consultation with the experts wherein they will guide the user on how one can secure individual sites as well as provide guidance for the other best security practices.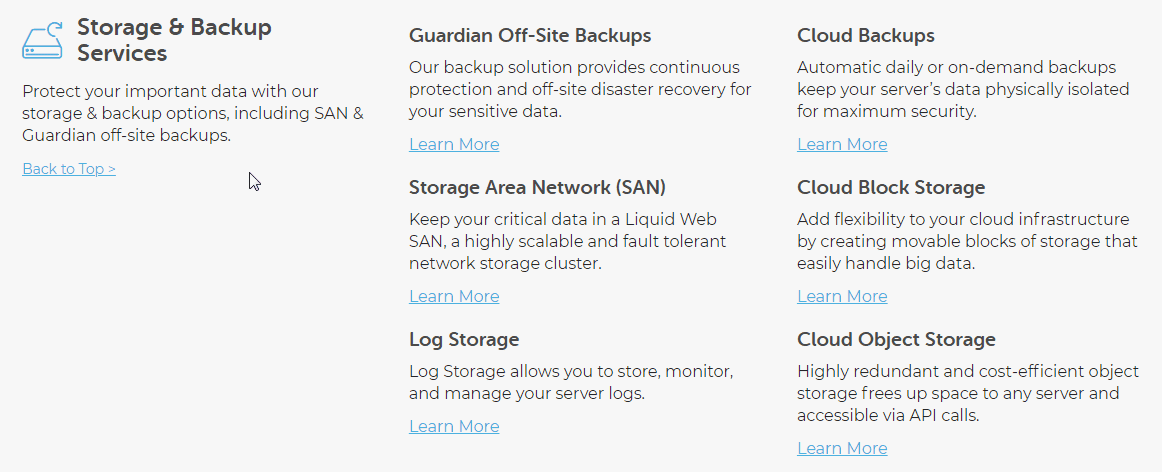 Backups: Even though Liquid Web recommends storing of the backups separately from the server on which the website resides, customers can request the technical support to check for the status of snapshots. Also, the users can request for a consultation with the technical support team in order to understand and learn the best practices to prevent unexpected data loss.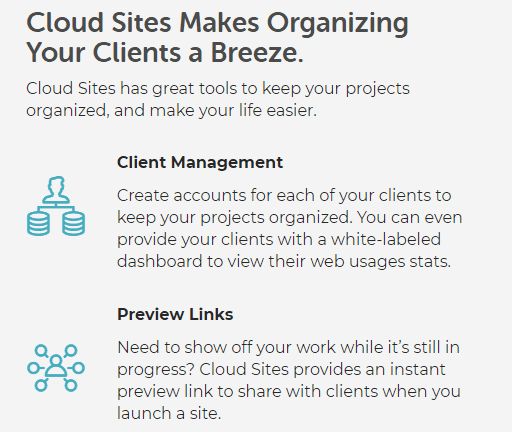 Client Management: This is certainly one of the most salient features that Liquid Web offers wherein it supports managing of clients' base and organizing the clients' accounts as well as their websites from a single point of control. However, in case of users who are totally new to this feature and want to get started with it can actually contact the customer support to understand how the feature exactly works.
Pricing
Normally, one can get started with Cloud Sites at a subscription of $150/mo.
However, there's a special ongoing deal wherein if you activate your plan now, you can get started at just $51/mo for 3 months by simply using the offer code: CLOUD51.
The plan comprises Unlimited Websites/Domains, Unlimited Site Visitors, 50 GB SSD Storage, 1TB Bandwidth, Built-in Autoscaling, and Free CloudFlare CDN.
Conclusion
For those who want to run a highly focused website with a view to earning massive sales from it but don't have the time to deal with the technicalities of server and networks on their own, opting for the Liquid Web Cloud Sites is certainly the next best thing to do.
With a bag full of powerful features and an exceptionally dedicated customer care, users can simply rest assured of consistently smooth experience and focus on the core business.
Most importantly, setting up your site with the Liquid Web Cloud Sites or migrating your current website to this platform is ridiculously easy and on top of that, users have the consistent support of the Liquid Web technical team 24X7 to offer an exceptionally powerful hosting experience.