Managed WordPress hosting with a free trial is an excellent way to start your own website. You can try out the Managed WordPress hosting for free and then decide if you want to continue with it. The managed WordPress hosting service will cover all the technical aspects of running your website, so you can focus on creating content and promoting your site.
Nexcess – 14 Days Free Trial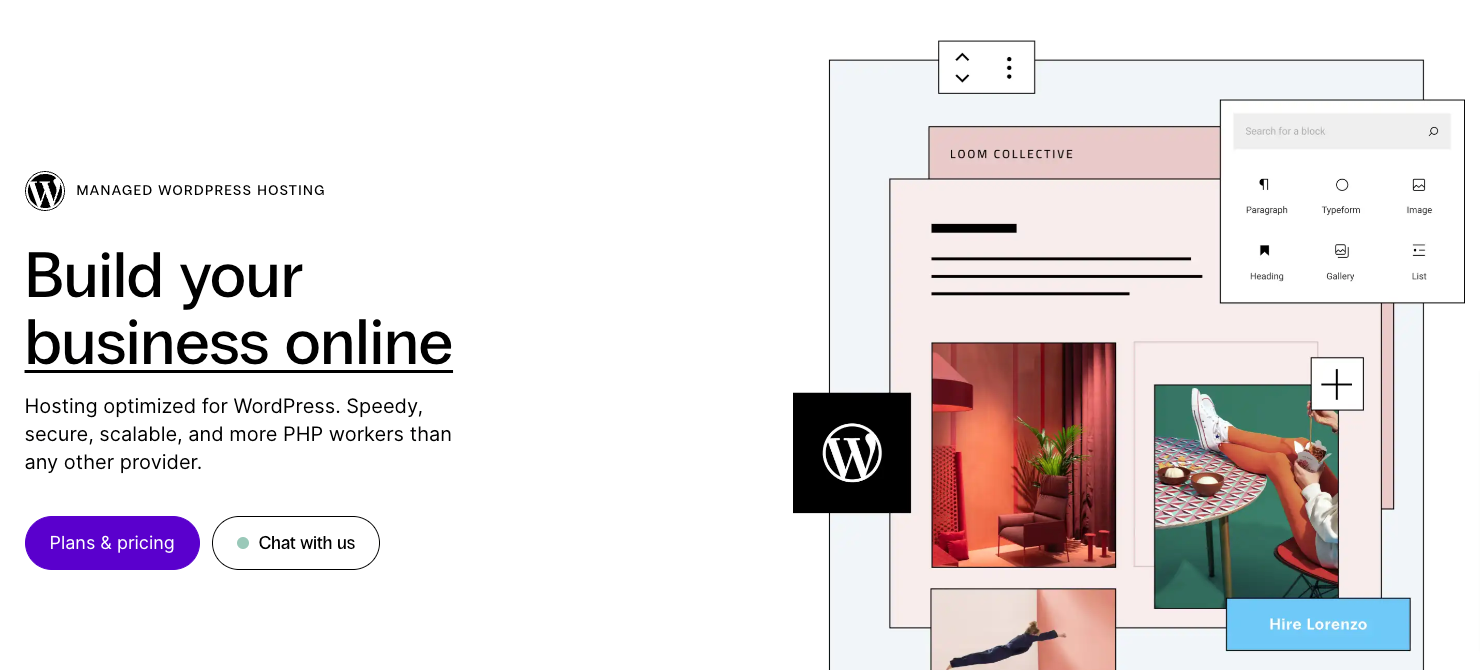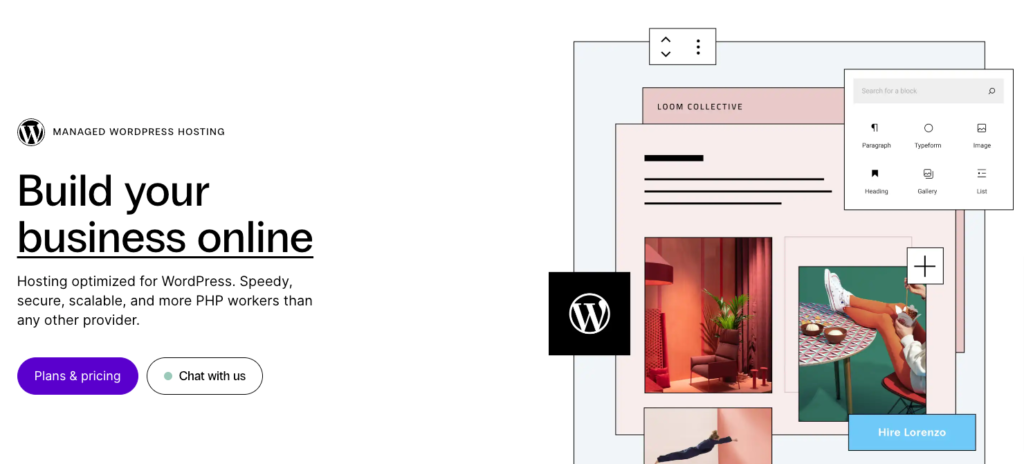 Nexcess Managed WordPress Hosting is fully managed and optimized for WordPress. The service helps you build better websites with excellent performance, security, and scalability. The service also has many built-in intelligent monitoring tools.
Nexcess comes with fourteen days of a free trial, which is just enough time for one to try the service and decide for oneself. Besides, all Nexcess plans come with a 30-Day Money-Back Guarantee.
Pricing
Nexcess Managed WordPress Hosting is available at seven different prices, and all plans are available for monthly and annual billing. Hostingstep is excited to offer a Nexcess coupon code for 50% off for the first six months on your first purchase! This code can be used on any of our products.
The lowest tier plan starts at $13.30 per month. Here are the details of the plans:
Spark: $13.30 per month, Up to 1 site, 15 GB Storage
Maker: $55.30 per month, Up to 5 sites, 40 GB Storage
Designer: $76.30 per month, Up to 10 sites
Builder: $104.30 per month, Up to 25 sites, 5 TB Bandwidth
Features
It's time to look at the Nexcess features. Nexcess comes with excellent features. The service has many great features to enhance performance: Multi-Layered Caching, PHP 7 & 8 compatibilities, Nexcess CDN, Image Compression, and Image Lazy Loading.
Another great feature is the auto-scaling feature. Autoscaling automatically scales up the server resources for sites during traffic spikes, preventing downtime.
Nexcess comes with many useful tools for site management, such as Visual Regression Testing and a One-Click Staging Site.
Nexcess has a robust security system characterized by Free SSL Certificates, Daily Backups, and iThemes Security Pro. Further, the host takes care of the WordPress Core Updates, and WordPress Plugin Updates to keep sites always running on the latest version.
Nexcess has one of the finest support services with the most experienced executives. The support team does an excellent job of assisting customers with their technical difficulties 24/7 through live chat and tickets.
Templ – 10 Days Free Trial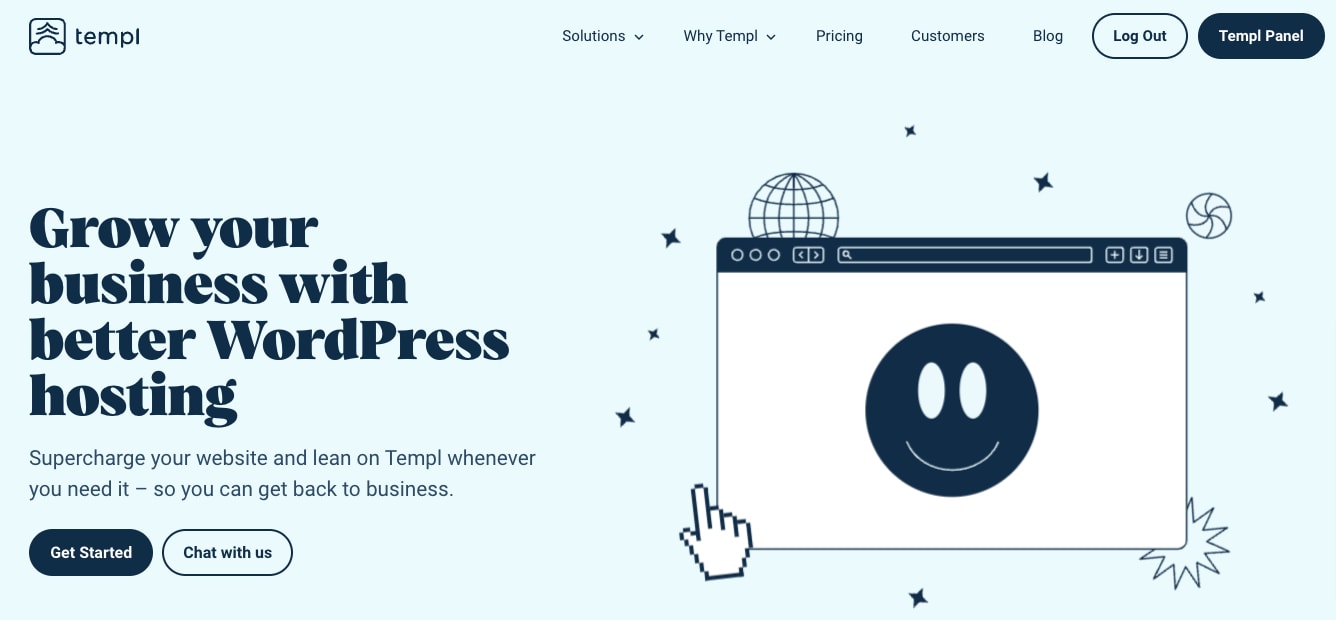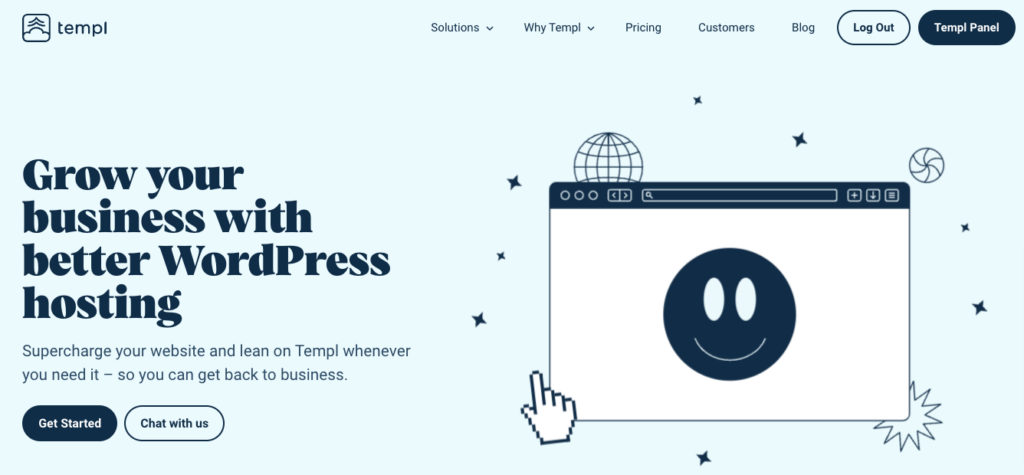 Templ is another excellent Managed WordPress Hosting service suitable for any growing business. The service runs on the Google Cloud Platform and is fully managed.
The service helps website owners manage their websites flawlessly without hiring external developers. Templ comes with ten days of a free trial.
Pricing
Templ offers customers five different plans to choose from. Customers can start for as low as $15 per month. The highest-tier plan, Large, comes with the maximum resources. Here are the details of the Templ plans:
Micro: $15 per month, 0.5 GB RAM, 5 GB SSD Storage
Small: $29 per month, 1 GB RAM, 10 GB SSD Storage
Small Plus: $54 per month, 2 GB RAM, 18 GB SSD Storage
Medium: $79 per month, 4 GB RAM, 25 GB SSD Storage
Large: $149 per month, 8 GB RAM, 50 GB SSD Storage
Features
Templ comes with many advanced features. The platform is built for speed, characterized by an isolated environment with scalable resources.
Further, the service runs on the Google Cloud Platform, which is the fastest cloud platform. The service also uses server-level cache, image optimization, Google Cloud CDN, and a tech stack optimized for WordPress.
Templ ensures enhanced security with configured and fine-tuned firewalls and servers. The service comes with a reliable security system. Besides, Templ runs on Google Cloud and uses an isolated environment, which makes it exceptionally secure.
The service has many great development features and tools that make the work easier for WordPress owners and developers. These tools include SSH, WP-CLI, Git, Staging, Debugging, and Development Sites.
Templ has a highly reliable support team with dedicated WordPress experts working round the clock to assist customers with their technical queries and issues through live chat and tickets. Besides, Templ has an excellent blog for quick reference.
Cloudways – 3 Days Free Trial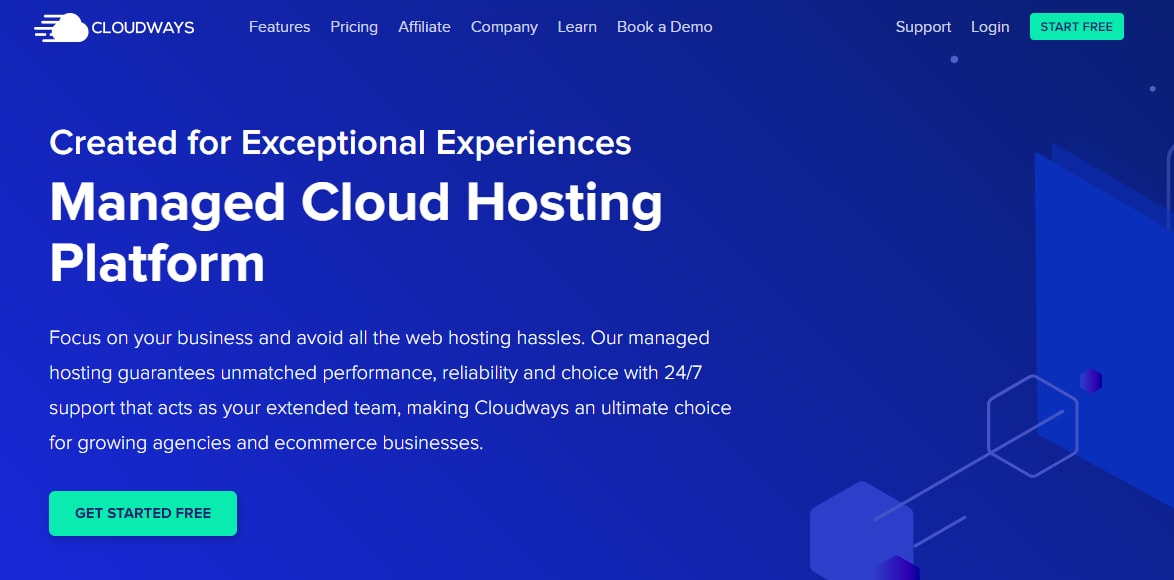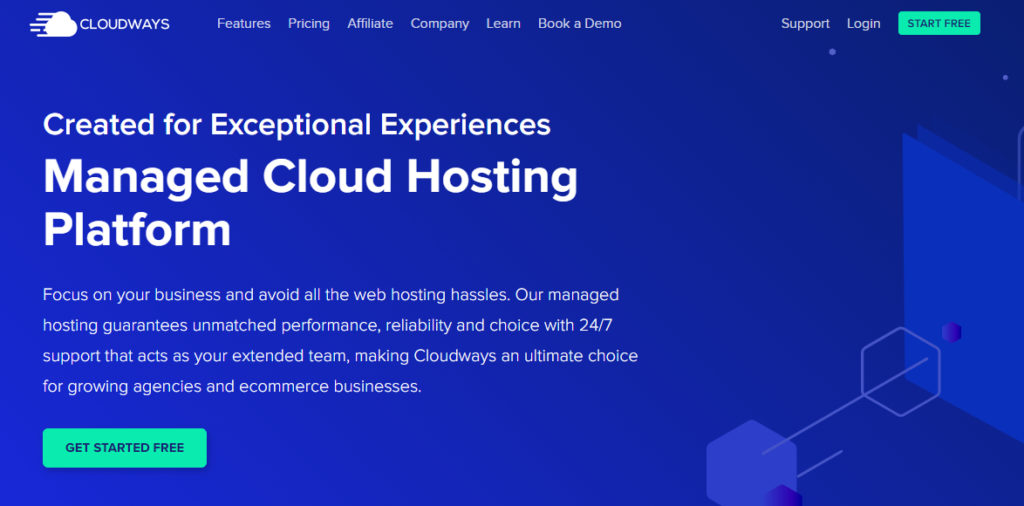 Cloudways is a unique Managed Cloud Hosting platform created to address the web hosting hassles of businesses and help businesses focus better. The service offers excellent performance, reliability, and choice. On top of that, Cloudways has great 24/7 support. Cloudways provides customers with a three days trial.
Pricing
Cloudways hosting is available in a wide range of pricing under five leading cloud providers: Linode, Vultr, Google Cloud Platform, DigitalOcean, and Amazon Web services. Cloudways plans are based on the Pay As You Go model. Cloudways is one of the leading cloud hosting providers, offering reliable and scalable solutions for businesses of all sizes. With our promo discount code, you can get a free trial on your first order to see how easy it is to use Cloudways.
DigitalOcean has the lowest tier plan; the provider has eleven Standard and five Premium plans. Here are more details on DigitalOcean plans:
DO1GB: $10 per month, 1 GB RAM, 1 Core Processor, 25 GB Storage
DO2GB: $22 per month, 2 GB RAM, 1 Core Processor, 50 GB Storage
DO4GB: $42 per month, 4 GB RAM, 2 Core Processor, 42 GB Storage
DO8GB: $8 per month, 8 GB RAM, 4 Core Processor, 80 GB Storage
Features
Cloudways comes with many impressive features, and it starts right with performance. Cloudways sites are blazing fast and have excellent uptime backed by Cloudways' uniquely optimized PHP stack.
Besides, the service has the best server software, running on the World's best cloud providers. Cloudways' optimized stack comprises NGINX, Apache, Memcached, MySQL/MariaDB, Varnish Cache, PHP-FPM, Redis, and PHP 8. The service also comes with a Cloudflare Enterprise add-on to enhance performance even further.
Cloudways provides customers with over 60 data center locations to select from. Customers will have no problem finding their desired data center location with Cloudways.
Regarding ease of usage, Cloudways comes with a straightforward and easy-to-use custom dashboard. The dashboard is intuitive and helps you manage every aspect of your site from a single point. This includes creating servers, staging, installing SSL, cloning a server, and backup & restore. The service allows customers to clone fully configured servers in just one click.
Cloudways helps users migrate WordPress sites to the platform flawlessly through the Cloudways' free migrator plugin. Staging is straightforward in Cloudways, and every instance comes with a built-in staging area. Users can test different modifications and push them to the live site.
Cloudways comes with Enterprise-grade security, and the service allows users to achieve it through its Cloudways Enterprise add-on. Apart from the add-on, the service comes with Firewalls, Login Security, Bot Protection, Database Security, Application Isolation, SSL Certificates, and End-to-End Encryption.
Cloudways has highly experienced and helpful support, and the team does a great job in assisting customers in breaking out of their technical difficulties through 24/7 live chat and tickets. Cloudways offers a Private Slack channel and phone support in its Premium Support add-on.
Signup with Cloudways free trial
10web – 7 Days Free Trial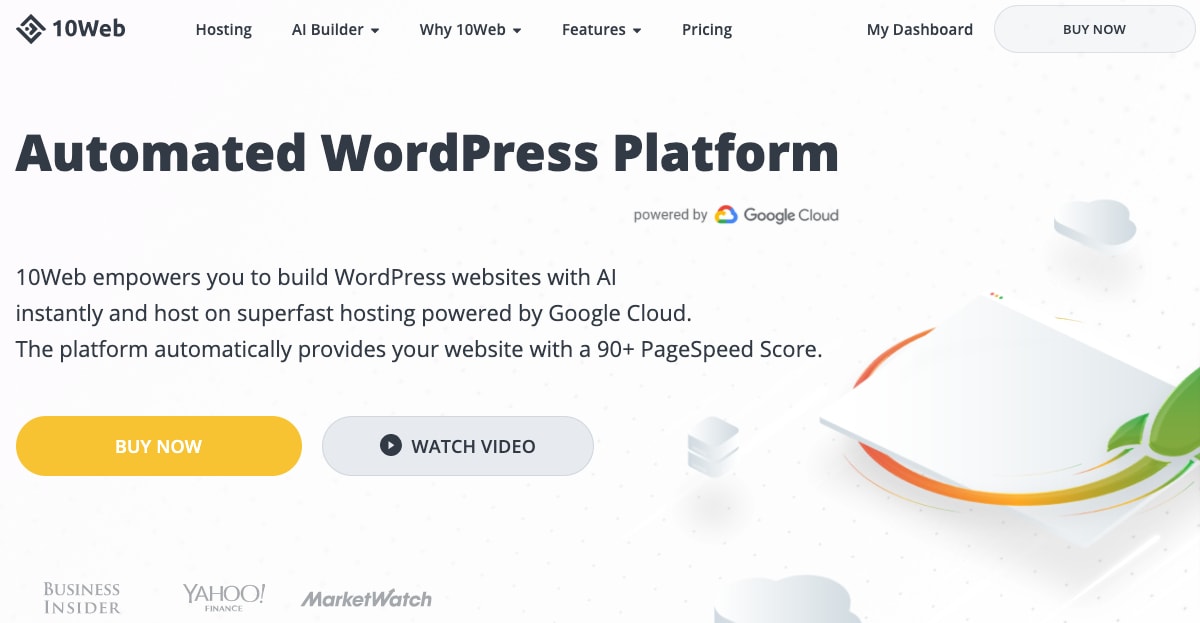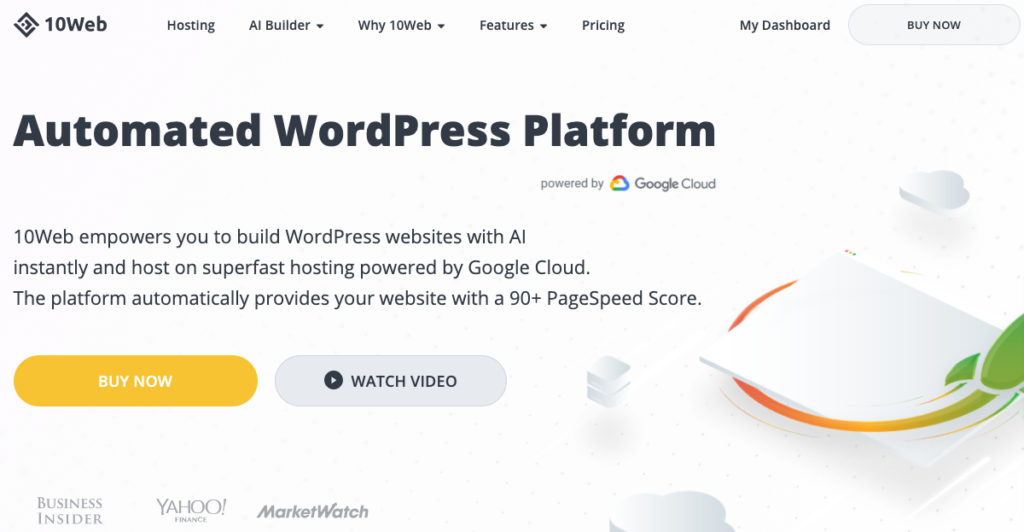 10Web is my fourth pick, a reliable AI-Powered WordPress Platform powered by Google Cloud. The service is a fully managed WordPress service and comes with a seven days trial period.
Pricing
10Web is available at three different pricing based on the number of sites, monthly visits, and storage. The lowest tier plan starts at $10 per month. The highest-tier plan, Agency, comes with the maximum resources. Here are the details of the 10Web plans:
Personal: $10 per month, 1 Hosted Site, 25K monthly visits, and 10 GB Storage
Premium: $24 per month, 3 Hosted Sites, 100K monthly visits, and 15 GB Storage
Agency: $60 per month, 10 Hosted Sites, 400K monthly visits, and 50 GB Storage
All three plans are available in monthly and annual billing. However, you can save 30% by choosing annual over monthly billing. Furthermore, the plans come with a 30-Day Money-Back Guarantee.
Features
10Web comes with great features. The service provides users with many advanced performance-related features, and one such feature is the Automated PageSpeed Booster. Besides, 10Web comes with an image optimization service combined with advanced Nginx FastCGI caching.
The service comes with twelve data center locations across the globe and a decent number of data center locations for one to host one's site at the closest server to one's target audience.
10Web also comes with many handy tools for development, including AI Recreation Assistant, Drag & Drop Live Editor Based on Elementor, Responsive Design, Over fifty Basic & Pro Widgets, and Theme Builder.
The hosting comes with a high tight security system comprising isolated environments, malware detection and removal, DDoS protection, and preventing brute force attacks. Further, the service comes with "Let's Encrypt" SSL certificates for full encryption. The service also comes with Real-Time Backups.
It's time to look at the 10Web support. 10Web has a dedicated support service backed by experienced executives to assist clients 24/7 through Email and Real-Time ChatBox.
Flywheel – 14 Days Free Trial

Flywheel is an all-in-one Managed WordPress hosting service that allows customers to manage one or more WordPress websites from a single point of control. The service is fast, secure, and comes with a 14-day trial.
Pricing
Flywheel has four different plans, and besides, it also allows customers to get custom plans for their mission-critical sites by contacting the sales team. The lowest tier plan starts at $13 per month. Here are the details of all four Flywheel plans:
Tiny: $13 per month, 1 Website, 5GB Storage, 5000 monthly visits
Starter: $25 per month, 1 Website, 10GB Storage, 25000 monthly visits
Freelancer: $96 per month, Up to 10 Websites, 20GB Storage, 100000 monthly visits
Agency: $242 per month, Up to 30 Websites, 50GB Storage, 400000 monthly visits
Features
Flywheel has the best features to address every aspect of site management. The service allows customers to build WordPress sites faster than ever through its features such as Blueprints, Staging, and Site Cloning.
Flywheel sites are blazing fast, and the host always ensures this smooth and speedy performance through its proprietary caching engine, FlyCache, and its Global CDN.
Interestingly, FlyCache hardly needs any configuration on the user's end, and it comes with intelligent exclusions for standard WordPress plugins. Besides, it comes with Smart Refresh to serve the latest WordPress post to visitors.
Flywheel's Global CDN is powered by Fastly, and the CDN comes with the advantages of Multiple POPs and Full-Page Caching. The CDN serves your site content from the closest server to your target audience.
As far as the security features go, Flywheel comes with excellent security features for rock-solid website security. The features include Free Malware Removal, Two Factor Authentication, Limited Login Attempts, Plugin Security Alerts, and Managed WordPress Updates.
Flywheel does a great job when it comes to backing up sites. The service offers Nightly Backups, which means all sites are backed up automatically every night. Besides, the service allows customers to restore a backup when needed for no additional charge.
Flywheel has a brilliant support service backed by proficient executives. Customers can contact the Flywheel support team 24/7 whenever they encounter technical issues through live chat and in-app tickets. Besides, Flywheel has good documentation; customers can refer to it and find answers to their queries anytime.
The Bottom Line
In conclusion,the managed WordPress hosting is an excellent option for anyone starting a WordPress website. It is fast, reliable, and secure. Plus, you can get started with a free trial. So why not give it a try? You may be surprised at how easy and enjoyable it is to use WordPress with a managed host.