WordPress CMS now powers 40% of the websites across the globe, and thus the need for WordPress hosting is multiplying in recent years.
In this post, I'm listing out the WordPress hosting trends of 2021 that users most demand. With Core Web Vitals getting into ranking factors, it's no wonder most of the WordPress hosting trend is ultimately focused on the Speed factor.
Coming up is an interesting take of my thoughts on what people look like from a hosting company in 2021 & further.
6 WordPress Hosting Trends of 2023
Trend 1: Automated WordPress Optimization
Most CMSes, like Shopify and Squarespace, comes pre-configured with speed. Since WordPress is a self-hosted platform, it requires a lot of manual work to speed up the site.
Years back, WordPress sites used PHP-based caching and now utilizes Server-side caching for better performance. The hard part is that site owners need to configure the caching properly; if not, it leads to severe issues, even getting de-indexed from Google.
In Q4 2020, Cloudflare launched its Automatic Platform Optimization (APO), and it's just the beginning of a new era in the WordPress hosting industry. It automatically configures your WordPress site for better performance. You just need to connect your site with Cloudflare services through their plugin.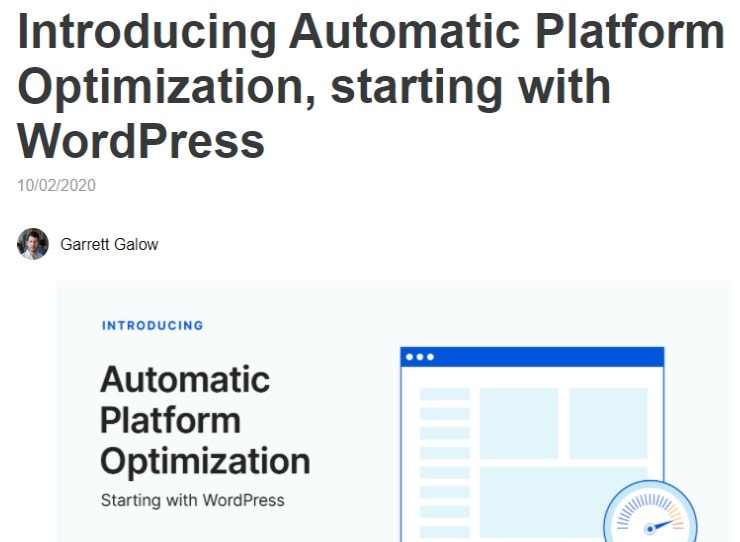 This feature gives site owners ultimate sophistication to focus on their work instead of fixing speed issues.
I understood many other service providers are working in such automated speed optimizations services, and we can see a lot in 2021. The performance of this APO is not great and I don't recommend it right now. Let's wait still they get stable.
Trend 2: Passing "Core Web Vitals"
You might know Core Web Vitals will be a ranking factor from 2021. Based on our data from Fastest Hosting for WordPress, if you're using shared hosting then it will be quite hard to improve the scores. You don't need the Best WordPress hosting; instead, you need to look for the Fastest WordPress hosting.
At Hostingstep, I've bought a hosting account from more than 15 companies and tested their speed. Our post on the Fastest WordPress hosting can help you pick the best & fastest hosting solutions.
The ideal thing you need to look at from FAST hosting services is that it uses
Nginx or LiteSpeed Web servers
Server-side caching enabled
Full Page CDN caching (more on that later)
Latest tech stacks like HTTP/3 QUIC etc
Trend 3: CDN Full Page Caching
Most of the speed-related issues can be solved by reducing the initial server response time. By lowering it, Largest Contentful Paint (LCP) scores can be easily reduced, leading to scoring "Good" in Core Web Vitals reports of the search console.

The CDN full page caching is the need of the hour to reduce the initial server response time. Typically a CDN caches the static content like CSS, JS, and images on their global POP locations while the HTML content will be delivered from the original server. This improves the server response time a little bit.
On the other hand, the CDN full page caching caches the entire page (HTML, CSS, JS, and Images) on their POP locations. Irrespective of server location, the site can load faster to users from any part of the world. You can use StackPath or Cloudflare CDN for full-page caching.
Now, many hosting services offer CDN full page caching by default to users. You don't need to buy a CDN separately. Rocket.net is an exciting solution that uses Cloudflare Enterprise network with full-page caching enabled. You can see the site response time is lower throughout the globe, while a standard CDN doesn't provide similar results.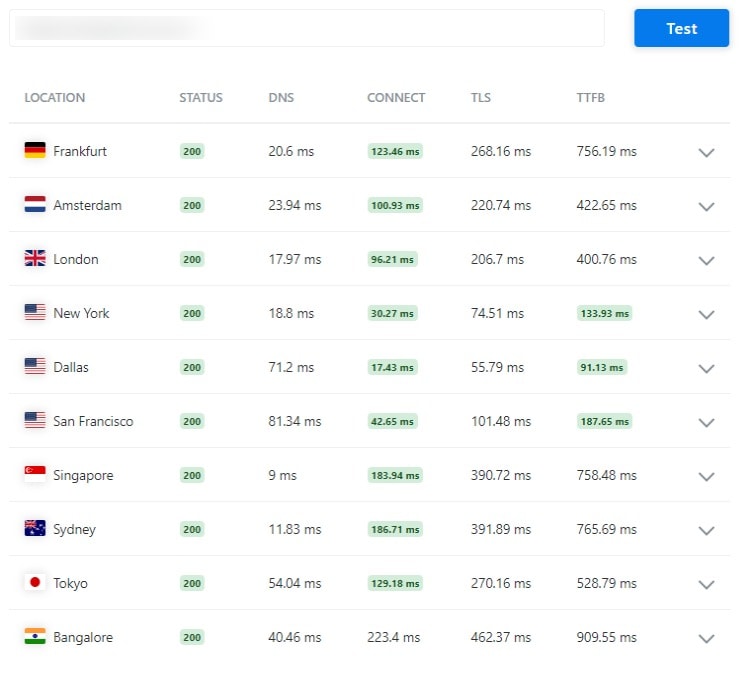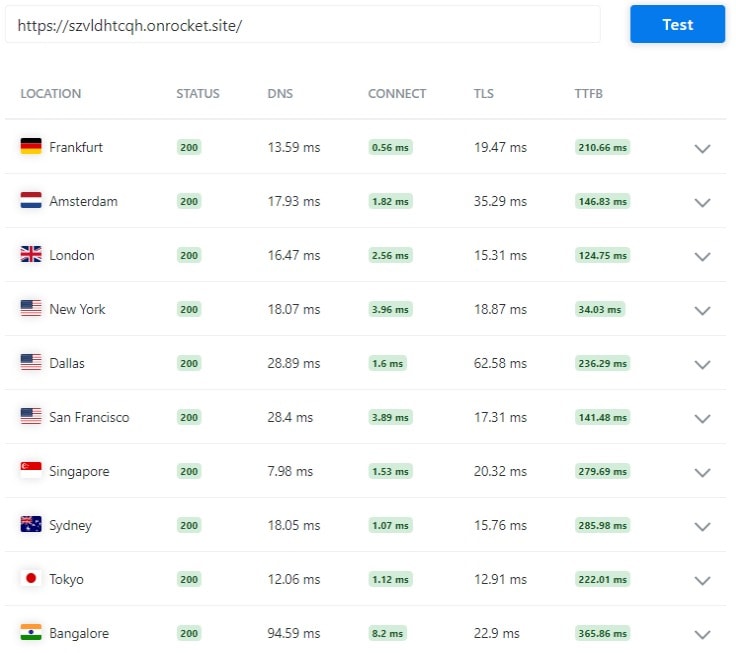 Kinsta also planned to provide full page caching by default through the Cloudflare network in 2021. I see this as a trend as many companies are working on such features, and I can't wait to review them here.
Trend 4: Global DataCenters
The Core Web Vitals score is based on real-user metrics; thus, you need to super-local in hosting your sites. If your site is focused on Australia or a European audience, you don't need to host your site in the USA, as hosts like Templ.io, Kinsta uses Google Cloud as its data center partner and thus provides services from 24 servers locations worldwide.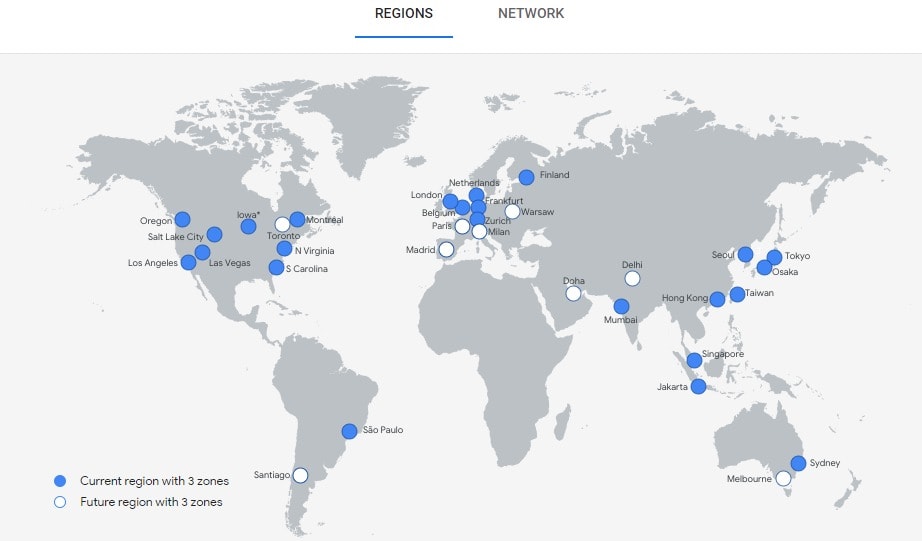 Using the closest data center, the webpages can be delivered fast without even needing automated optimization services like Cloudflare APO.
Trend 5: Growing demand for Managed WordPress Hosting
Shared hosting was introduced two decades back to offer a simple web hosting solution. It's great that they are still popular among users, but the demand for Managed WordPress Hosting is high in recent times, which is evident from Google trends.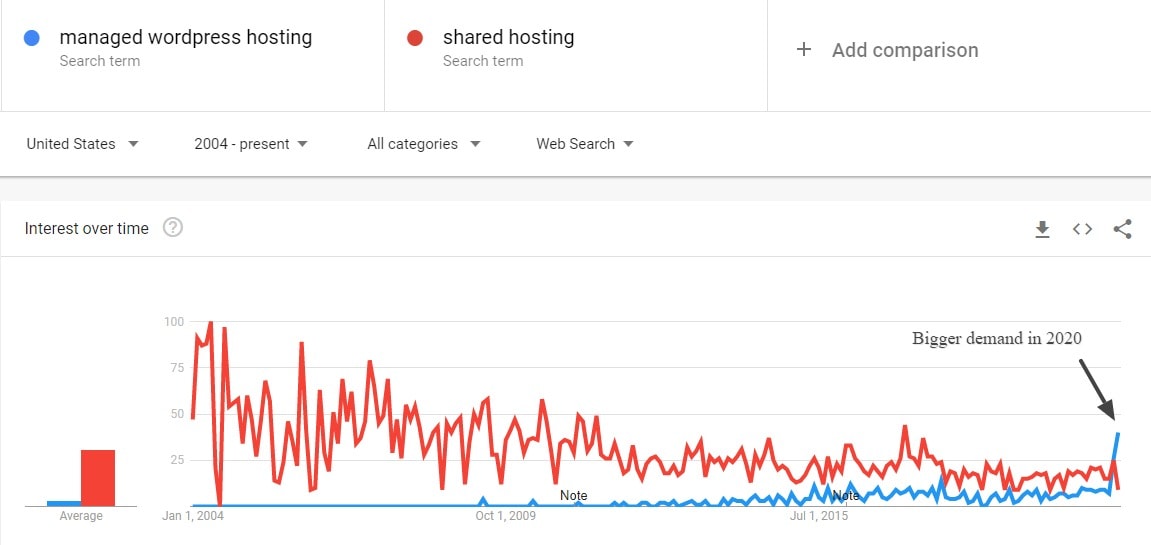 I've reviewed many managed WordPress hosting like Kinsta, WP Engine, Templ, Cloudways with real-time performance data, which shows their services are better than shared hosting.
What does this trend indicate? People are willing to spend money, and all they need is a managed WordPress host with a modern control panel, all features included with no upsells, and quality support to respond to issues.
Trend 6: cPanel Trend Declines and rise of Custom Control Panel
cPanel is the top control panel provider, and their usage dot declined in recent times. cPanel went for a price hike, which is not well received well in the industry, and their usage is greatly reduced (Source: BuiltWith)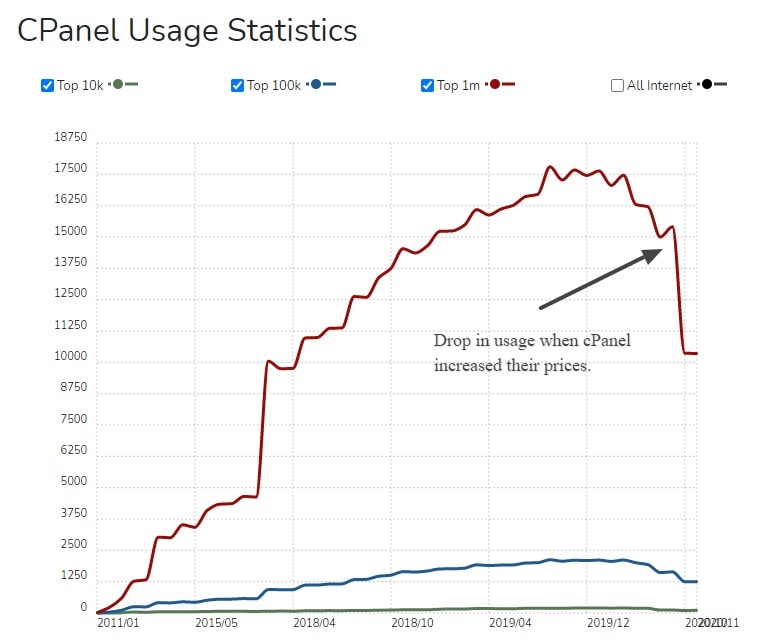 Although prices are up, the features are still the same, and it's not a smart control panel anymore to do things faster. It takes 1-2 clicks to perform a job in a modern control panel, while it can take 5-7 clicks to do the same on cPanel.
With price rise and the need for productive control panel, Site owners with technical skills choosing Unmanaged VPS servers + custom Control panel in recent times. RunCloud is such a control panel provider to host your VPS servers. The concept is, you need to buy VPS hosting from Linode, Vultr, DigitalOcean, etc., and connect with a control panel to manage your websites.
Unlike managed services, you need to configure your sites on your own by choosing any of the tech stacks available inside the portal. Apart from RunCloud, few prominent players in the industry such as ServerPilot, Gridpane, etc.
I've also seen many new control panels launched in 2020, and we need to wait to see how many people choose this setup in the coming years.
Choose a WordPress host based on the above trends.
While choosing your next WordPress hosting, make sure to check above the trends and see whether the host is future-focused using the latest tech stacks; speed optimization architecture includes a premium CDN, global data center, and reliable WordPress support.