WPX is a managed WordPress hosting platform that was established in 2013. The service claims to have excellent response time and support.
However, I will look into the various pros and cons of the service and familiarize you with my findings. By the time you reach the end of the post, you will gain good clarity about the service.
WPX Hosting Pros
Affordable pricing & same renewal price
WPX offers excellent transparency in terms of pricing. The service offers affordable pricing, which is much cheaper than many other managed hosting services.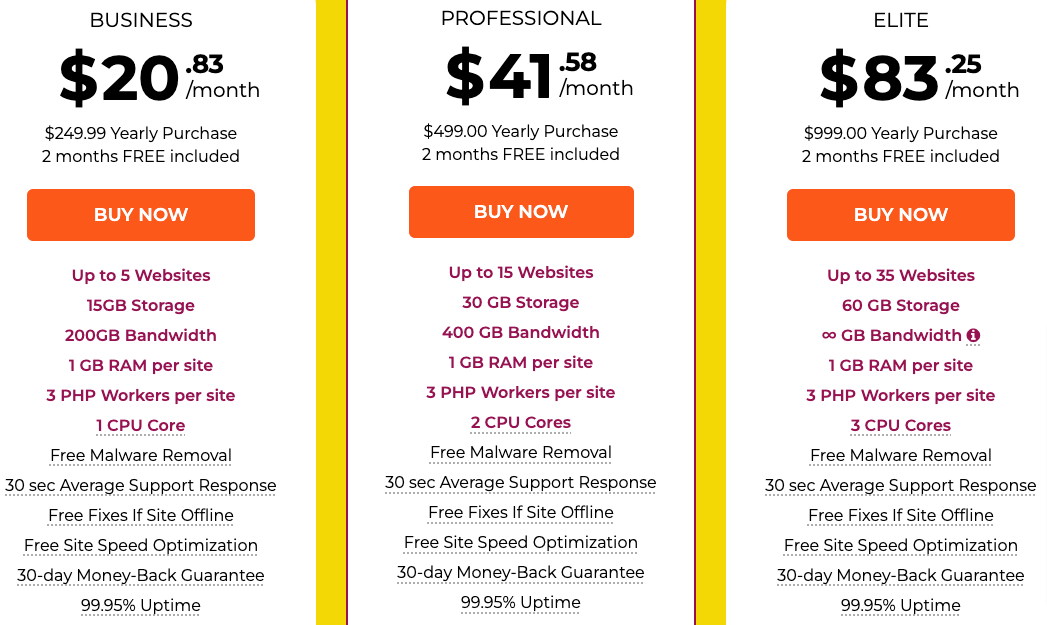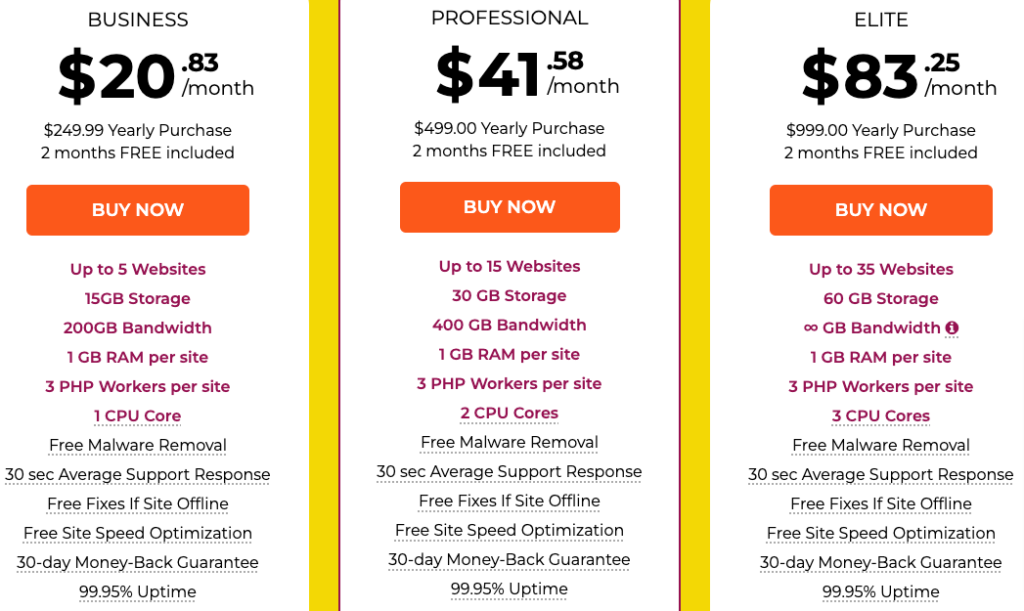 For example, if we consider the lowest tier plan of WPX, it's just $20.83 per month, while the lowest tier plan in Kinsta is $30 per month. Furthermore, every plan's buy price and renewal price are the same.
Fastest Hosting Experience
All hosting services claim to be the fastest, and you only know if it's true if you test the service.
According to our last 12 months test data, WPX is one among the fastest hosting services in the market. WPX recorded an average response time of 335 ms and 99.99% uptime.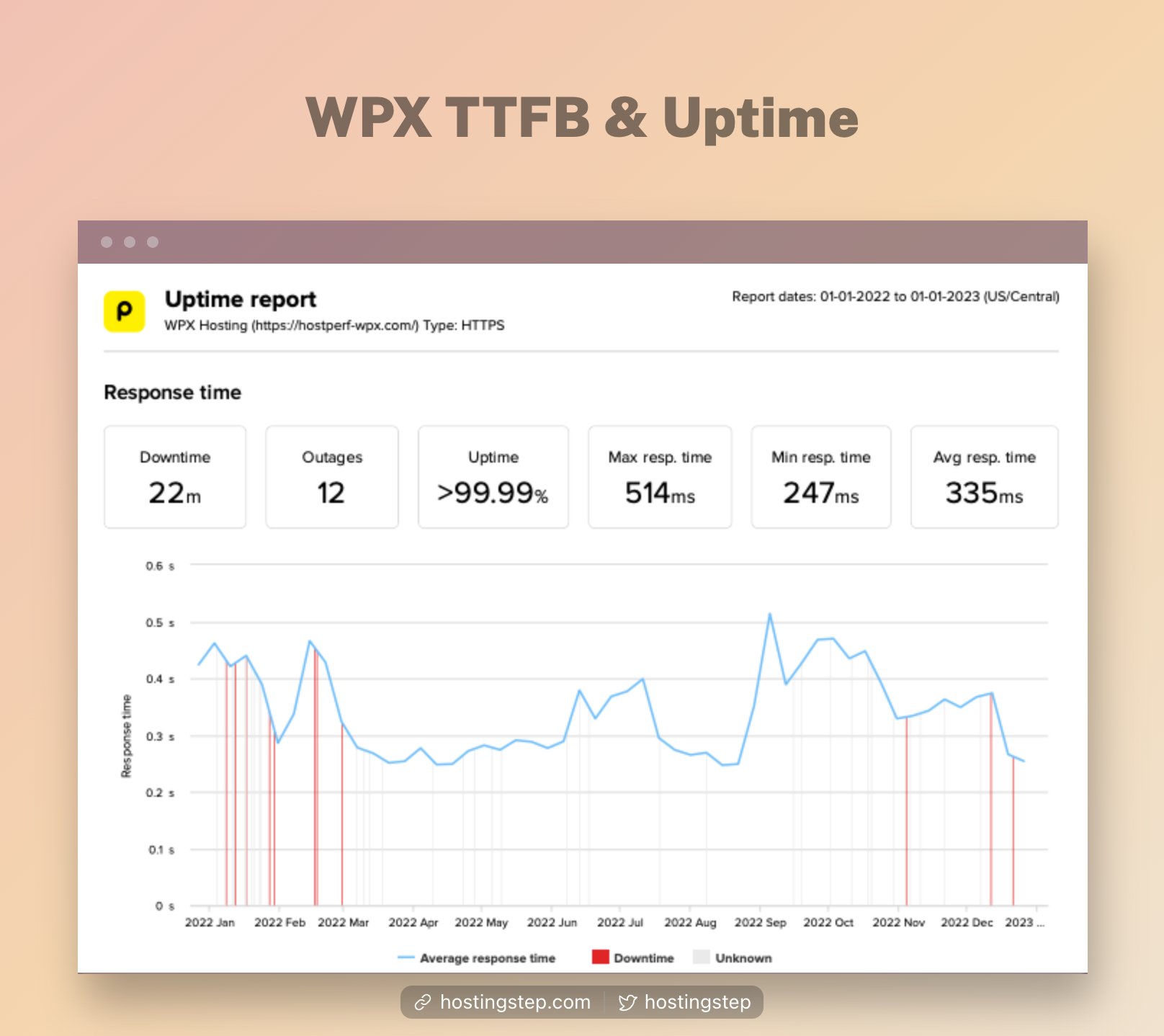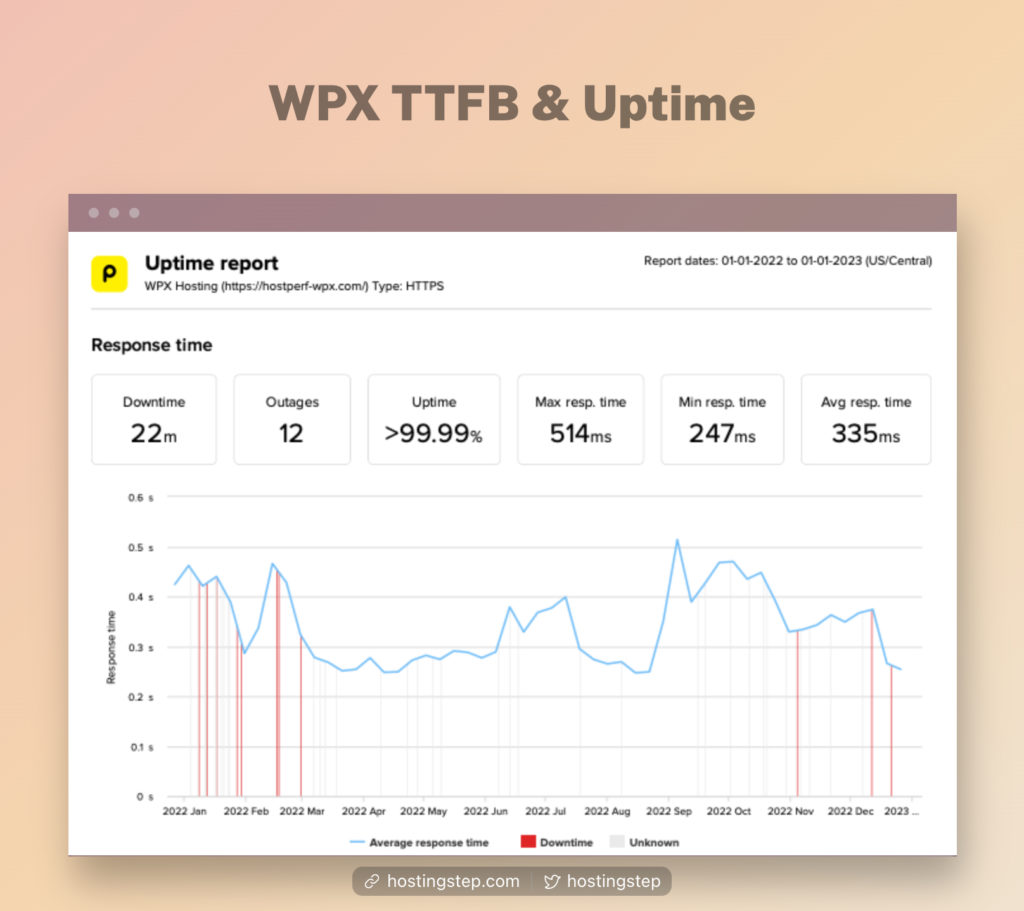 Free CDN
CDNs or Content Delivery Networks are used by all websites these days. CDNs can largely enhance the performance of websites and deliver website content faster to the global audience. WPX comes with its free CDN on plans. The CDN is a superfast, built-in CDN with over 30′ endpoints across the globe.

Most hosting providers offer only Cloudflare CDN basic versions, and only a few hosting services come with free premium CDN. Some of these services are Rocket.net, Kinsta, WP Engine, and of course, WPX.
Email Hosting
WPX offers free email hosting on all plans, while most of the hosting companies have stopped offering this feature for free.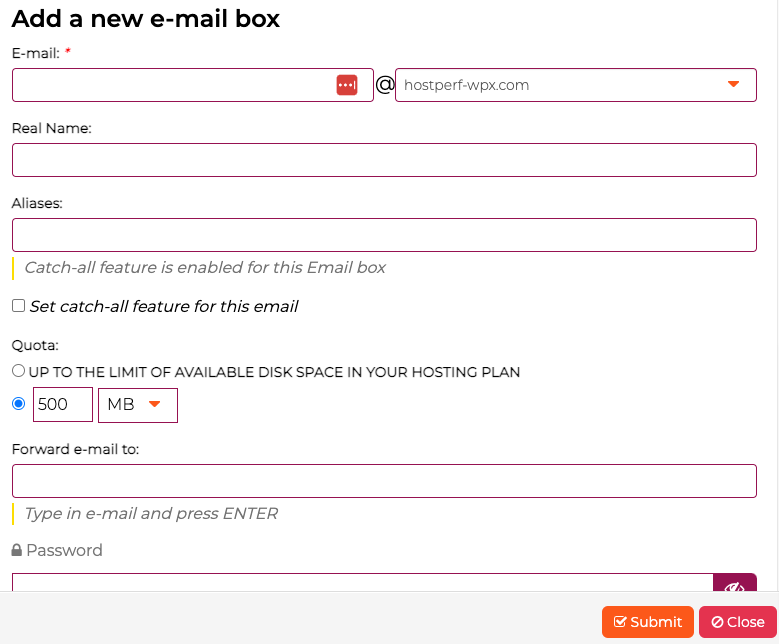 In case you choose any of those hosting companies, you will need to buy email hosting separately. However, you don't have to do this with WPX, and it makes the service cost-effective.
Free SSL
Enabling SSL Certificates on a Website is essential to encrypt traffic between a browser and the website. All WPX plans come with unlimited SSL Certificates for free.
For every new website you host, you can easily enable an SSL for free on WPX.
Malware removal and DDoS protection
WPX pays a lot of attention to website security, and the service comes with free Malware removal and Enterprise level DDoS protection.
In contrast, many hosting services like Bluehost and HostGator don't have essential security features. Furthermore, WPX offers Two-Factor Authentication and IP-based access control for better security.
Fastest customer support
WPX offers excellent support 24/7 through live chat and tickets backed by experienced and friendly executives.
I was impressed with the WPX live chat support because it's very responsive. Besides, the platform has its Blog and Knowledgebase for customers.
No upsells
One good thing about WPX is there are no upsells. Hosting providers like Bluehost and HostGator are known for heavy upsells.
These services don't provide customers with essential security and backup features to make room for upsells. WPX has a more generous approach and is much better than such hosting services.
WPX Hosting Cons
Outdated control panel
WPX offers you an okayish control panel, not so bad and not so great. It does the decent job in terms of usability, but I feel the cPanel that comes with shared hosting service itself offers a good visual experience.
If we compare the control panel with other leading hosting services like Kinsta, WP Engine or Cloudways, WPX control panel still needs to get a lot better.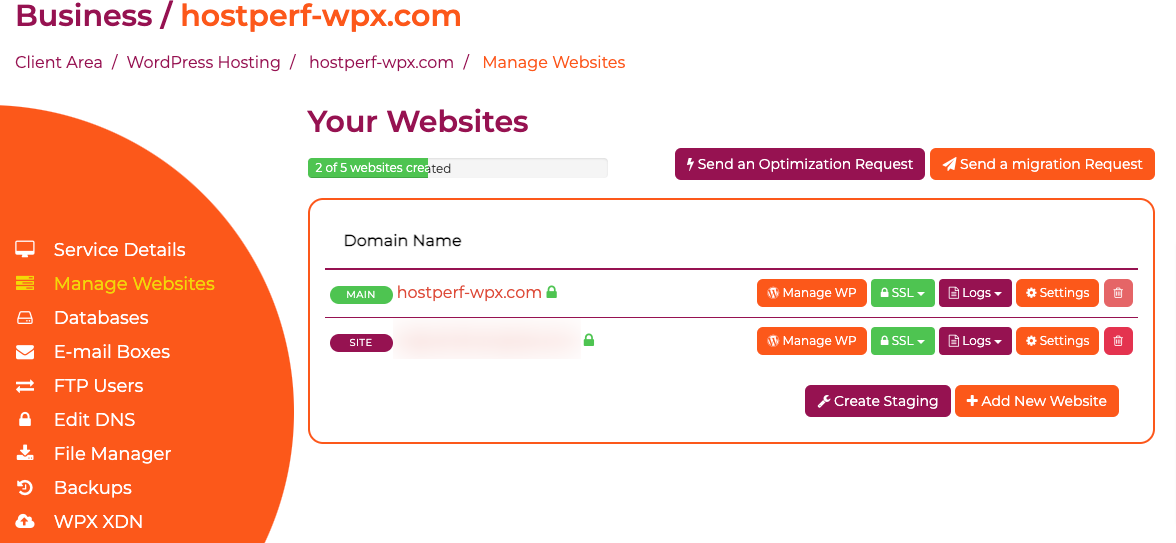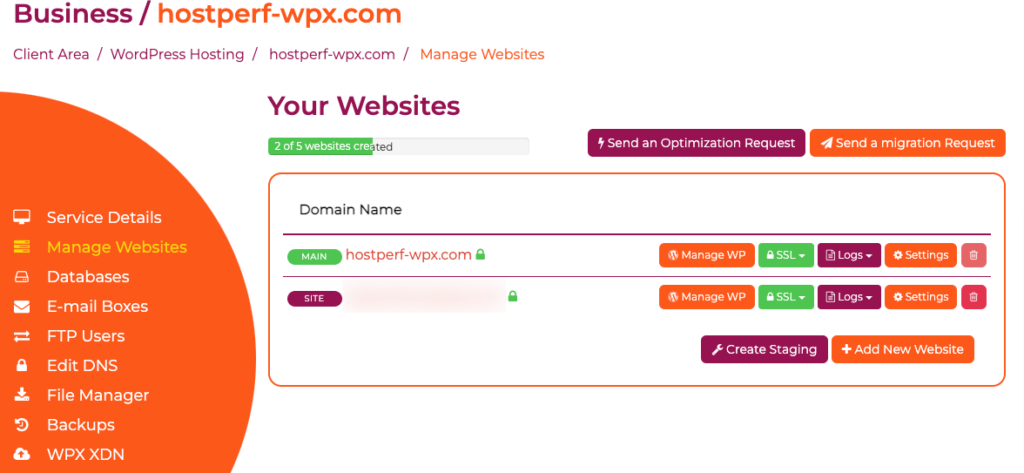 Not suitable for Woocommerce or resource-hungry sites
WPX is a decent service for business sites or blogs. However, it may not be equally suitable for WooCommerce or resource-hungry sites.
This is due to reason, WPX plans comes with highly limited server resources.
No free domain
A free domain can reduce the cost of managing a website to some extent. However, unlike Bluehost and ChemiCloud, WPX has no free domain on its plans. It can be a big downside for those who are looking forward to starting their website with a tight budget.
Premium features are limited
Even though WPX offers many premium features, many of these features are limited. For example, it limits users to send up to 50 emails per hour.
Even for Staging, there is a 5GB file size and a 1GB database limitation.
FAQs
What are the pros of WPX Hosting?
WPX comes with many pros, and here are the pros:
Affordable pricing with the same renewal
Free Email Hosting
Free Premium CDN
Malware Removal and DDoS Protection
Free SSL
Excellent Support
Zero Upsells
What are the cons of WPX Hosting?
Here are the cons of WPX Hosting that you need to be aware of:
Not the fastest hosting service and comes with an average speed
The Control panel is outdated
No free domain available on plans
Not ideal for resource-hungry websites like WooCommerce sites
Premium features come with limitations
How much does WPX Hosting cost?
WPX has three pricing for the customers to choose from and the lowest tier plan costs $20.83 per month. The plan comes with 15 GB storage and allows you to host up to 5 websites.
In a Nutshell
I have walked you through the essential pros and cons of WPX Hosting. Even though the service keeps everything pretty transparent, I expressed my honest opinion about the service. I am sure you have gained excellent clarity about WPX after reading this post. You should now decide whether or not you should choose WPX for your requirements.