WPX Hosting Vs Bluehost
WPX is a managed WordPress hosting platform that started back in 2013. Over the years, the service has been very reliable in performance, security, and support. Most importantly, the service is pretty affordable and has all the essential features you would need for a brilliant web hosting experience.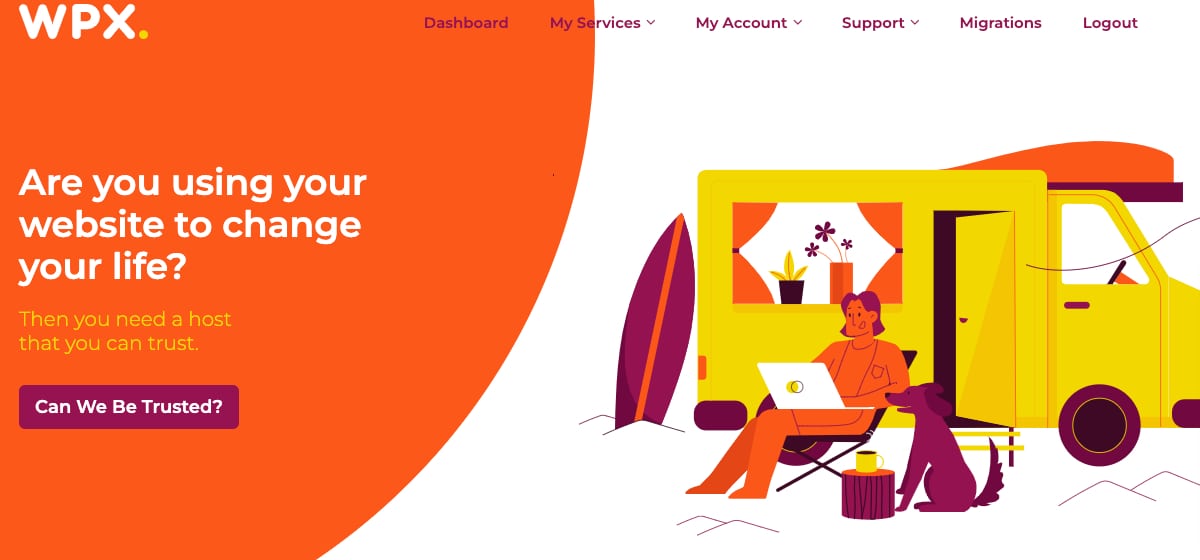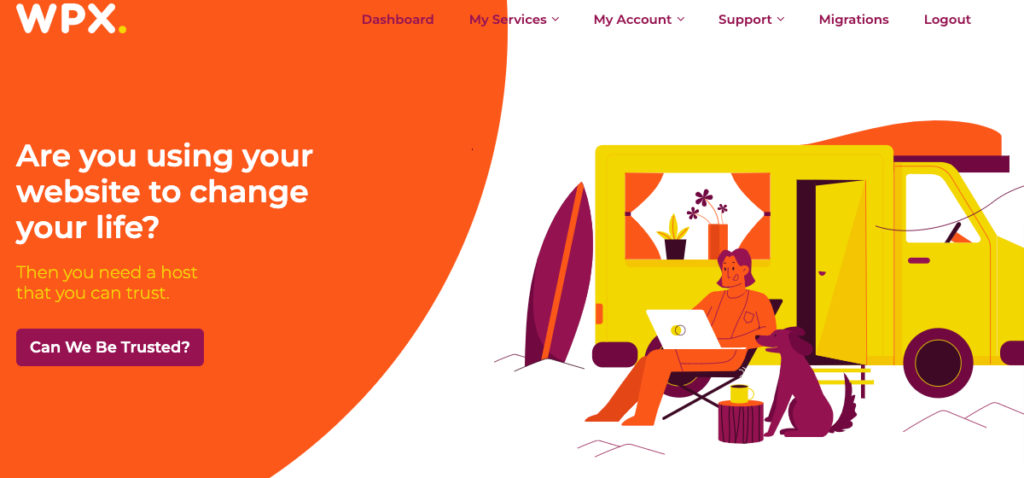 Bluehost is one of those few names bound to cross your mind when talking of web hosting, and the service helps you build and maintain your website with great ease. Bluehost has been around since 2003 and is recommended by WordPress. Bluehost comes with excellent plans for all types of customers and has a brilliant track record so far.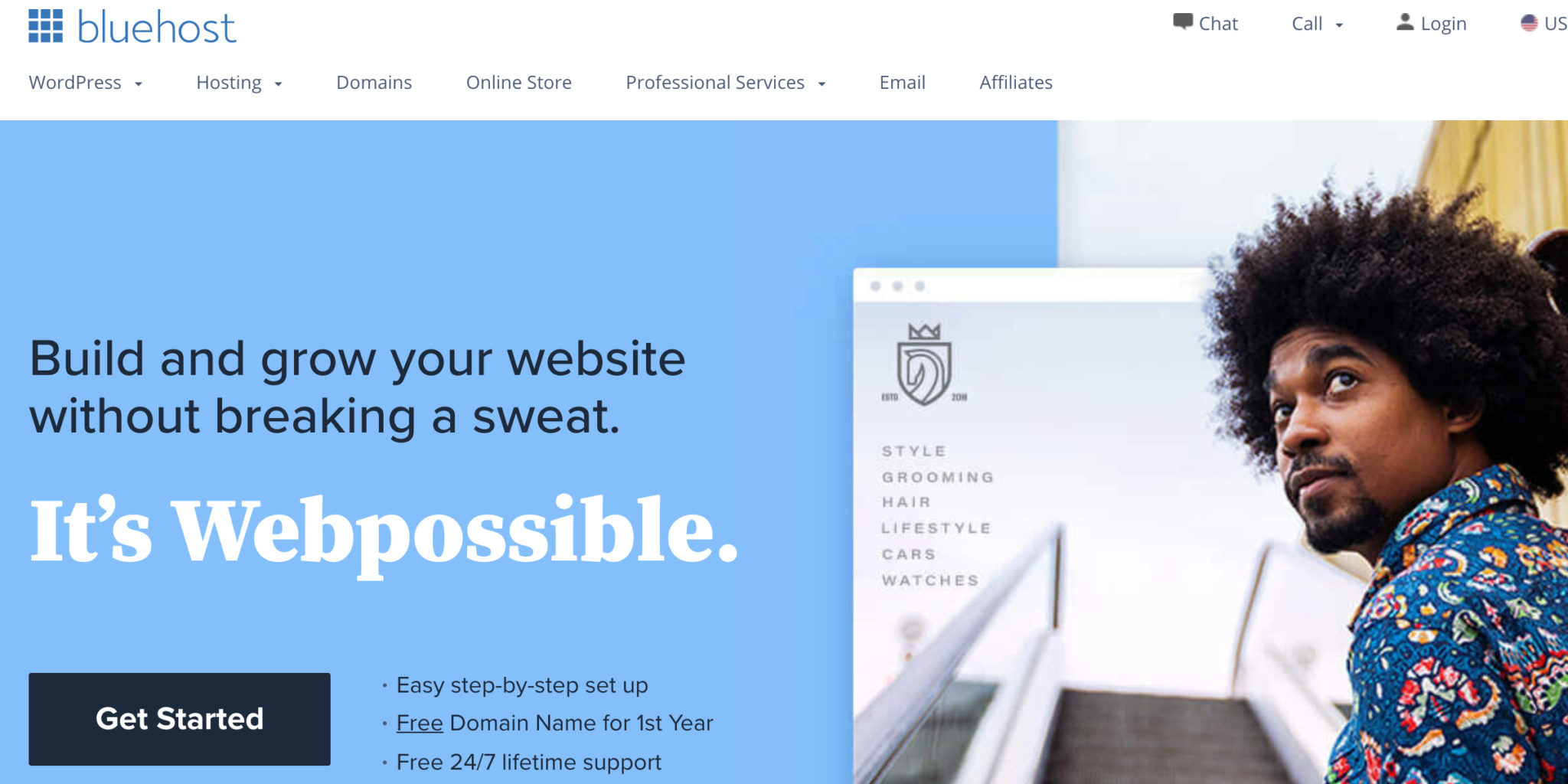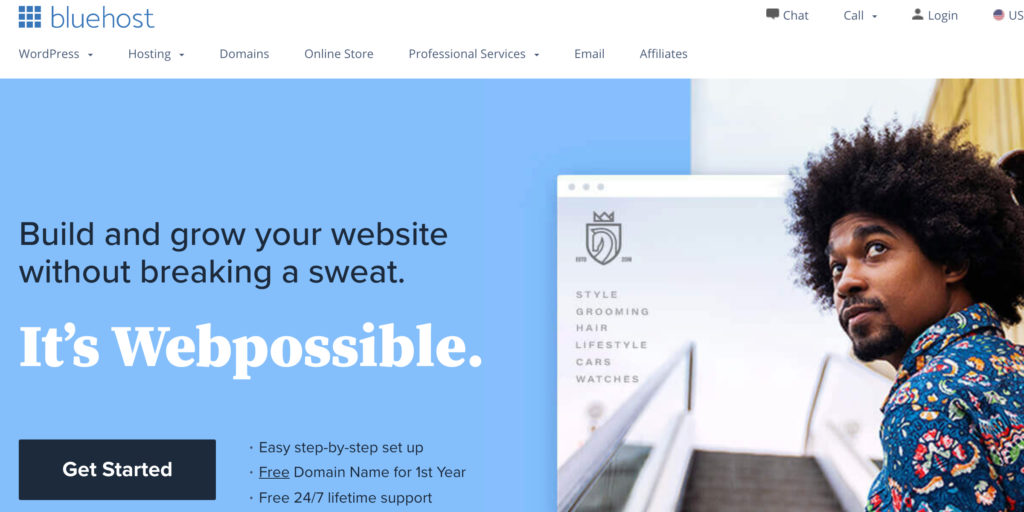 I have closely studied the different aspects of the two services, including pricing, performance, and features. I would love to share my things that I found out about these services with you all in this post to give you good clarity.
WPX Hosting Vs. Bluehost: Pricing
Customers have 3 plans to choose from in WPX hosting, and the plans are categorized based on the number of websites, storage, and bandwidth. The WPX plans are:
Business: $20.83 per month, 5 Websites, 10 GB Storage, and 100 GB Bandwidth.
Professional: $41.58 per month, 15 Websites, 20 GB Storage, and 200 GB Bandwidth.
Elite: $83.25 per month, 35 Websites, 40 GB Storage, and Unlimited Bandwidth.
All WPX plans have the following common features:
High-Speed Custom CDN With 26 Global Edge Locations
Unlimited Site Migrations To WPX Unlimited SSLs
Staging Areas
DDoS Protection
Free Malware Scanning & Removal
30-Day Money-Back
28 Day Automatic Backups
Bluehost has 4 plans for customers to choose from, and the plans are classified based on the number of websites and the size of the SSD Storage; the Bluehost plans are:
Basic: $3.95 per month, 1 Website, 50 GB SSD Storage
Plus: $5.95 per month, Unlimited Websites, Unlimited SSD Storage
Choice Plus; $6.95 per month, Unlimited Websites, Unlimited SSD Storage
Pro: $13.95 per month, Unlimited Websites, Unlimited SSD Storage, Optimized CPU Resources
The Choice Plus and the Pro plans come with Free Domain Privacy and Free Automated Backup. However, while Free Automated Backup is for 1 year on the Choice Plus, it is available without any limitation on the Pro plan. The Pro plan also comes with the Free Dedicated IP feature.
Certain features are common in all plans, and that includes;
Custom Themes
24/7 Customer Support
Free Domain for 1 year
Free CDN
Free SSL Certificate
If we compare, Bluehost plans are cheaper, and the promotional price makes them even affordable than the WPX plans. Another advantage that Bluehost has over the WPX plans is that while WPX plans support a limited number of websites only, Bluehost plans come with unlimited plans. However, unlike in WPX, automated daily backup is not available on all the plans in Bluehost.
WPX Hosting Vs. Bluehost: Performance
1. Server Response Time
Let's delve into performance, where I initiated my assessment by examining the server response time of WPX Hosting and Bluehost. I hosted a website on both platforms and monitored their server response time for over 12 months.
Upon evaluation, my WPX-hosted site recorded an average server response time of 335ms, while my Bluehost-hosted site had an average response time of 455ms.
It's undeniable that WPX Hosting has the fastest server response time.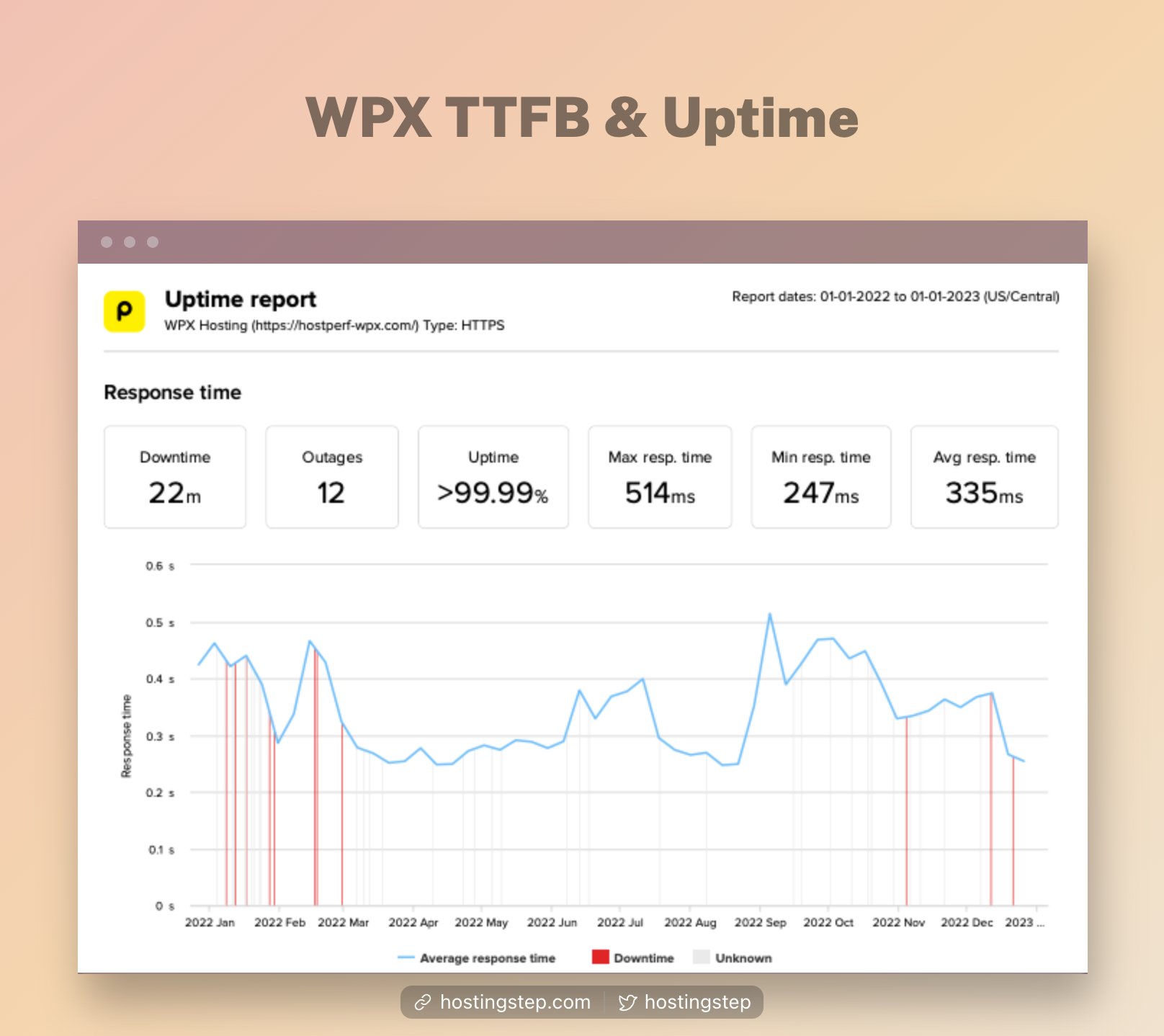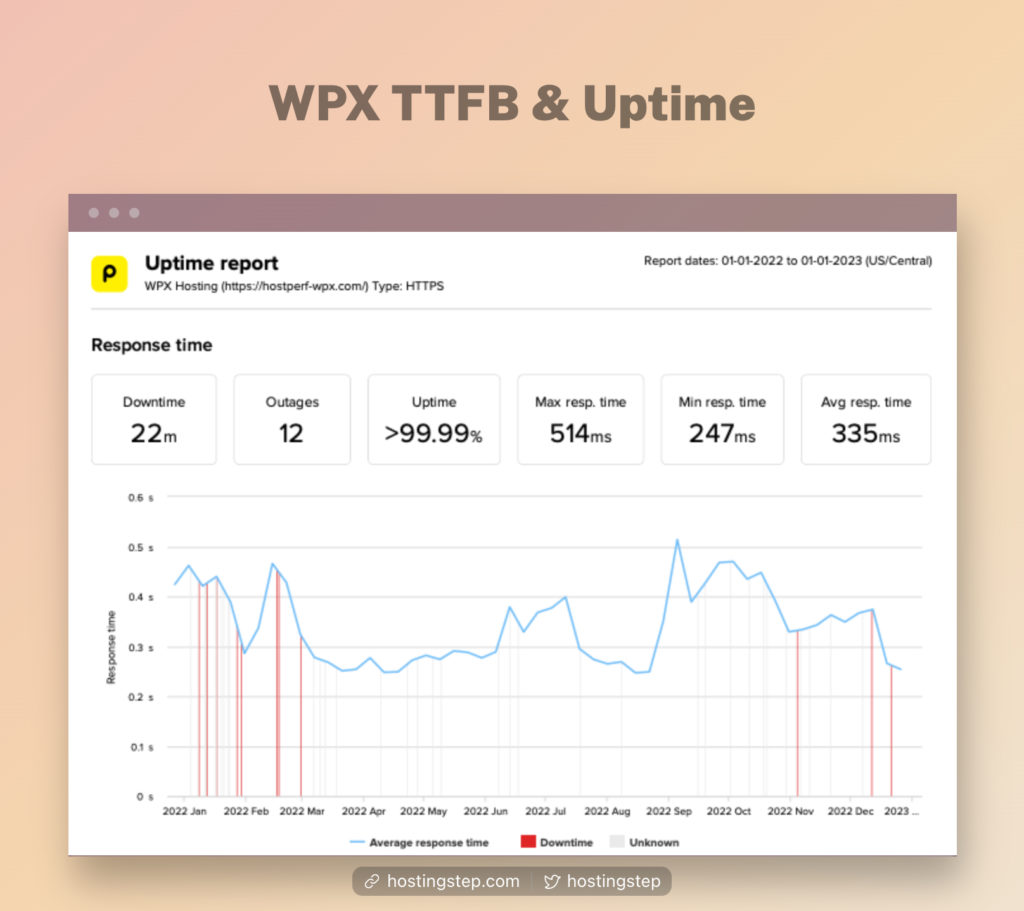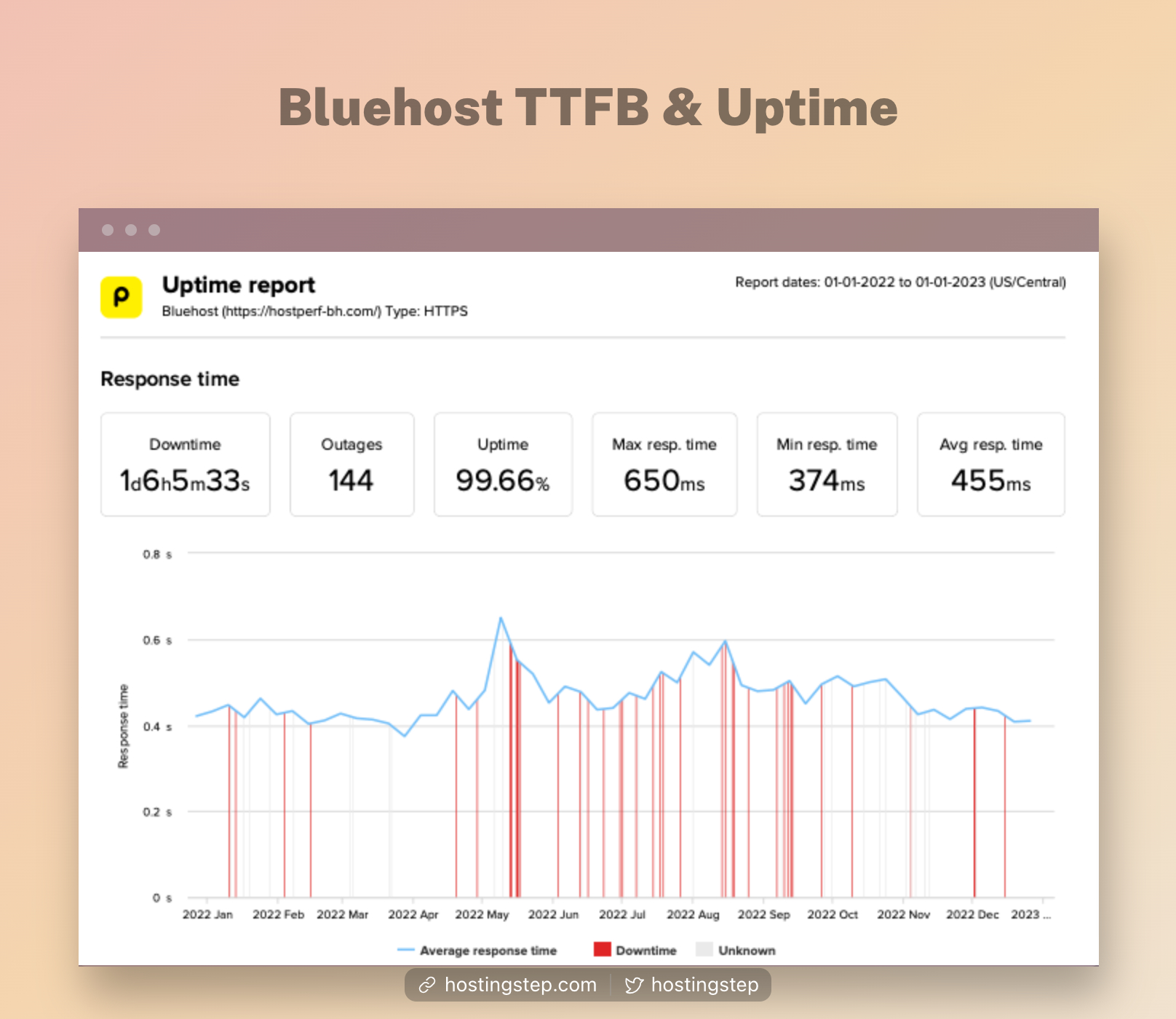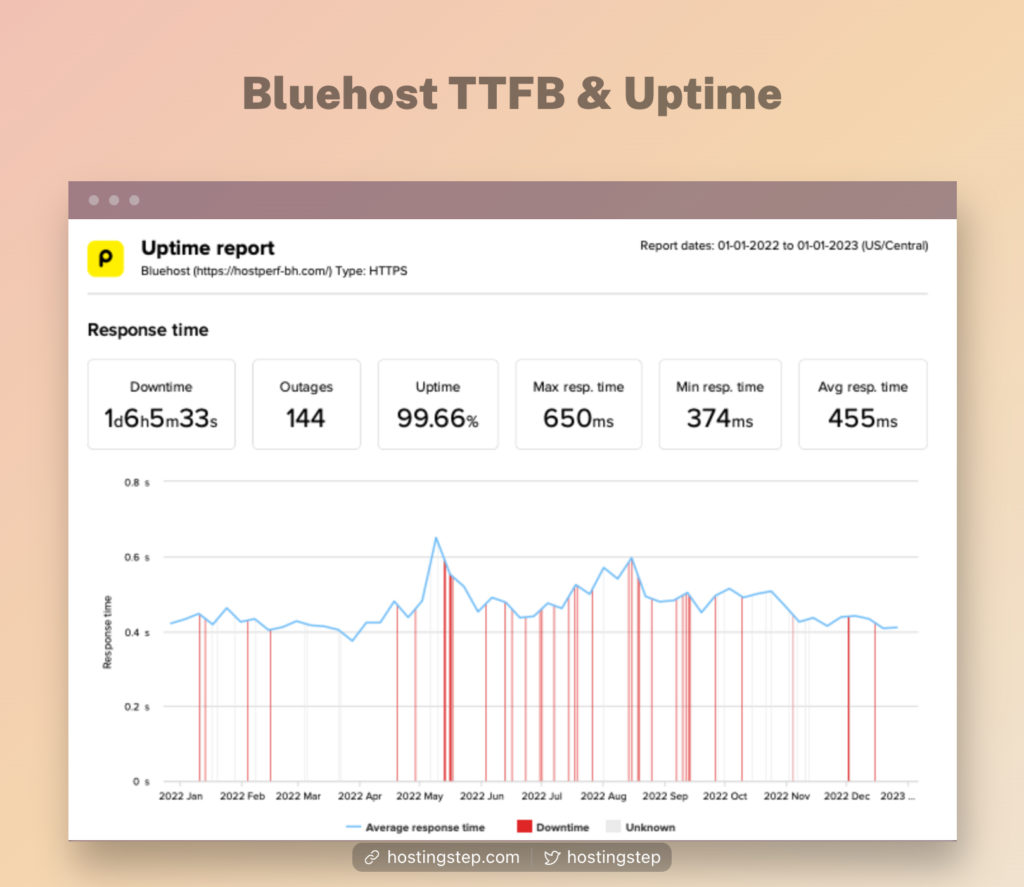 2. Uptime
Uptime plays a vital role in the success of a website. I tested the uptime of the two services, and I have been monitoring the uptime of some of the hosting services consistently.
As per our latest uptime check, my WPX-hosted site registered a flawless uptime of 99.99%, while my Bluehost-hosted site scored an uptime of 99.66%.
While WPX offers excellent Uptime, Bluehost starter plan had poor uptime and not suitable for any kind of production websites.
3. Load Testing
Besides uptime and server response time, a hosting service's ability to handle traffic surges is equally significant. Load testing is a reliable technique to test this aspect.
I conducted a Load test on my sites by sending 500 concurrent traffic and closely scrutinizing their performance.
In the same test, my WPX-hosted site boasted a remarkable 24ms response time, while my Bluehost-hosted site recorded 309ms.
Comparatively, WPX Hosting outshines Bluehost with better performance in the Load testing method.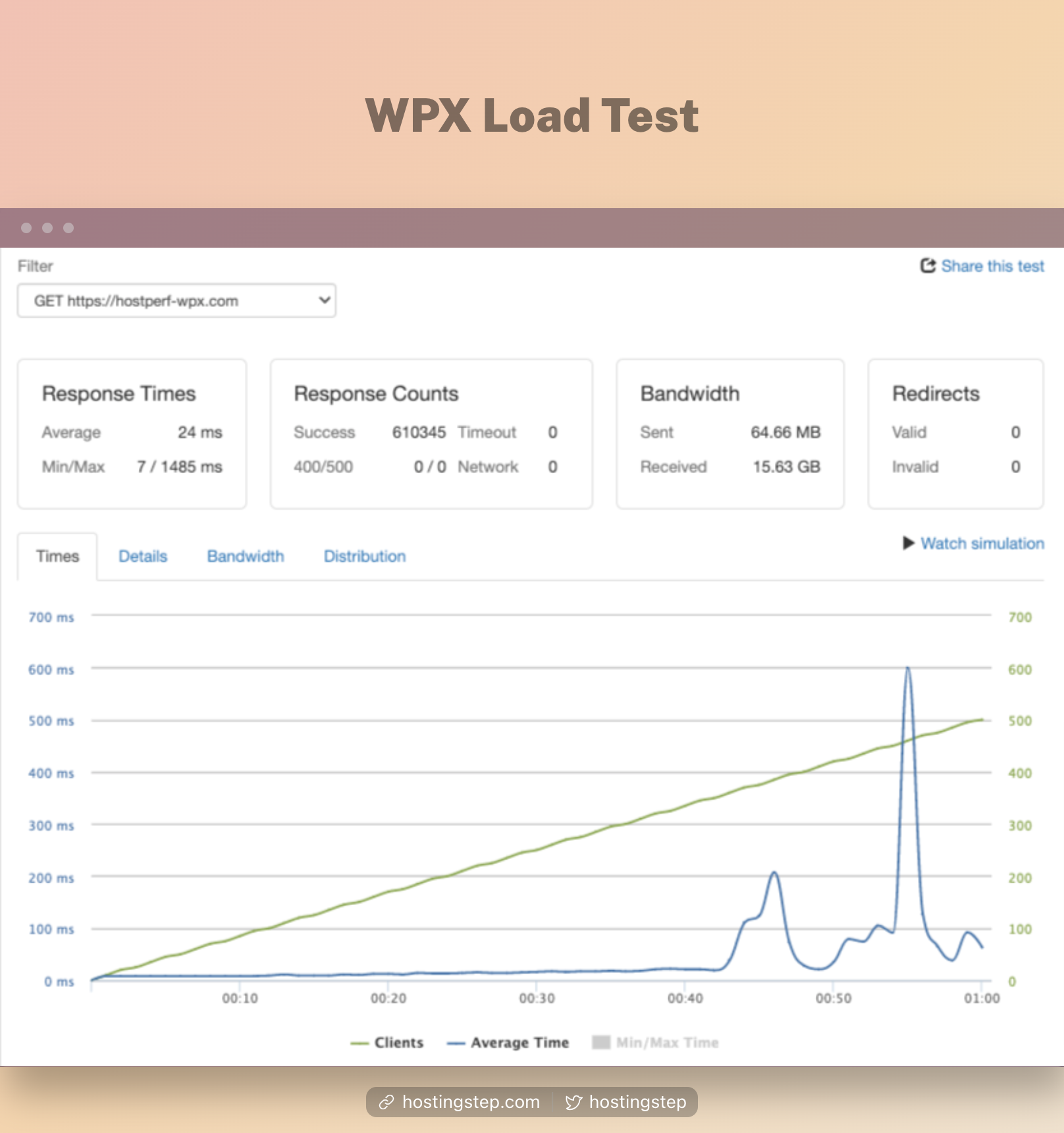 Modified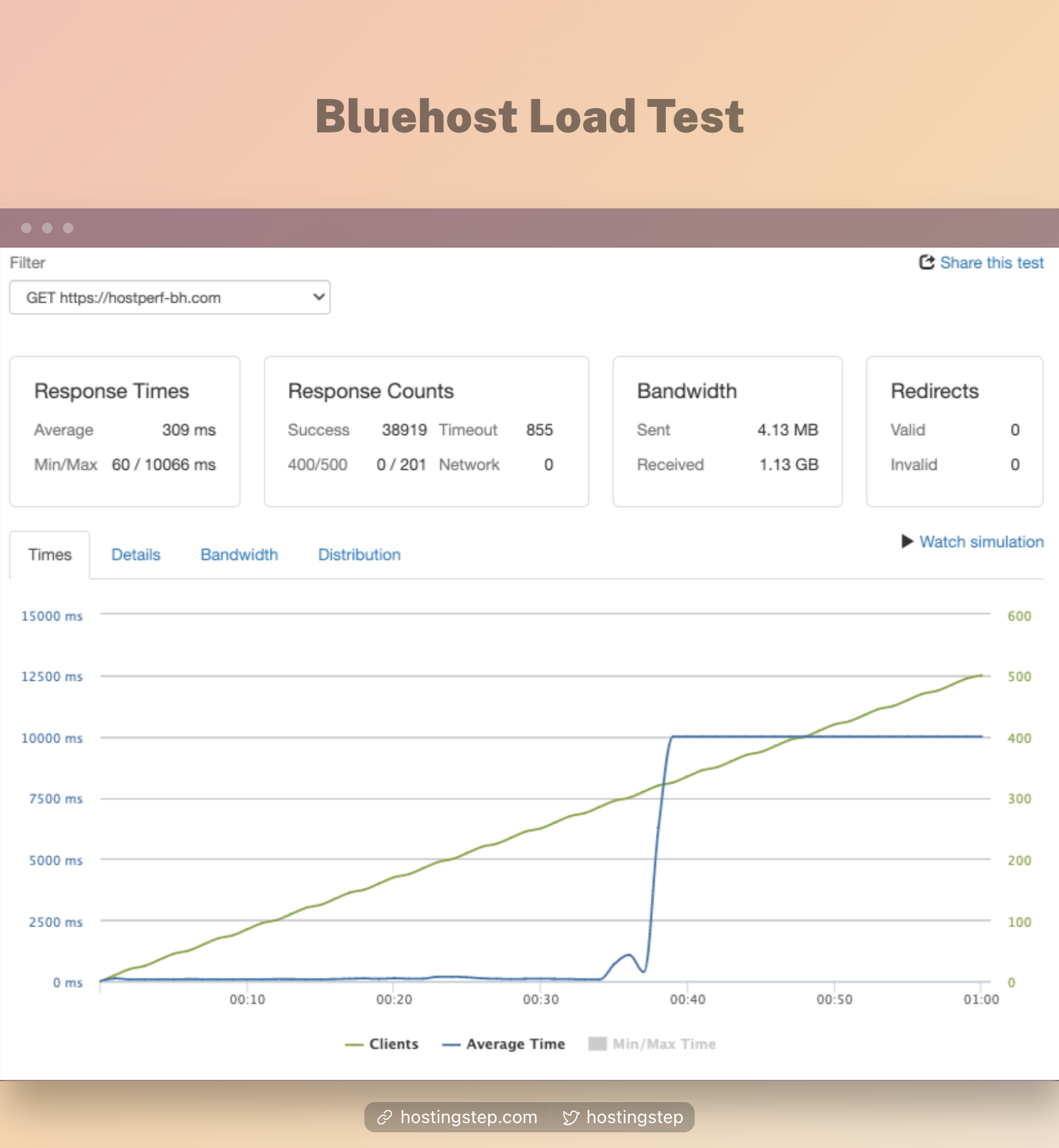 Original
4. Global TTFB
In order to optimize website performance, it's crucial to pay close attention to Global Time to First Byte (TTFB). With many sites relying on traffic from various global locations, assessing the TTFB from multiple geographic regions is necessary. To this end, I conducted tests on my sites from 35 different locations across Asia, Europe, and the USA to measure their TTFB.
The results showed that my WPX site had an average TTFB of 462ms. Meanwhile, my Bluehost site had an average TTFB of 586ms and demonstrated slower performance.
Overall, both sites have reliable global TTFB, but WPX outperformed Bluehost.

Modified

Original
5. Core Web Vitals
I conducted tests to evaluate the Core Web Vitals of the sites hosted on both WPX and Bluehost.
Results showed that my WPX site had a 'Largest Contentful Paint' of 657ms, 'Cumulative Layout Shift' of 0, and a 'Total Blocking Time' of 0s. Meanwhile, my Bluehost site had a 'Largest Contentful Paint' of 435ms, a 'Total Blocking Time' of 0ms, and a 'Cumulative Layout Shift' of 0.002.
Based on these metrics, WPX had better Core Web Vitals than Bluehost.

Modified

Original
WPX Hosting Vs. Bluehost: Features
Control Panel
Control Panel is an essential feature since all of the hosting management is done through the control panel. WPX uses a custom control panel with all the essential features of a cPanel but is much lighter on the server than a cPanel. Besides, the control panel also has a neat interface with good usability and navigation.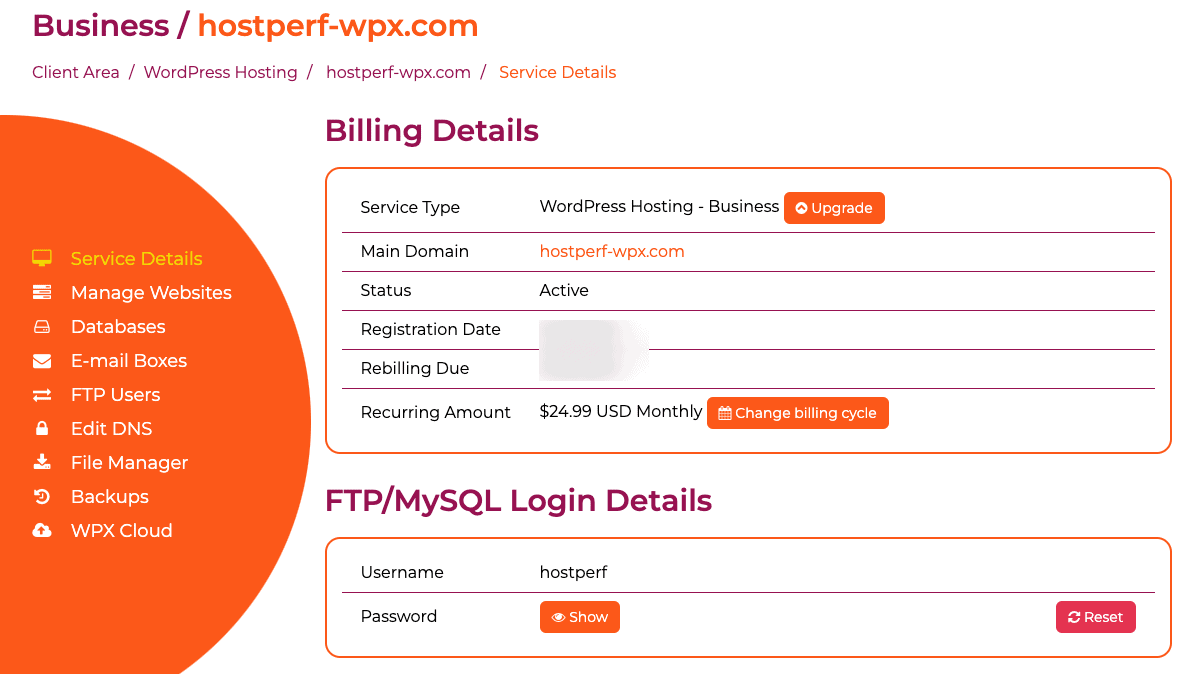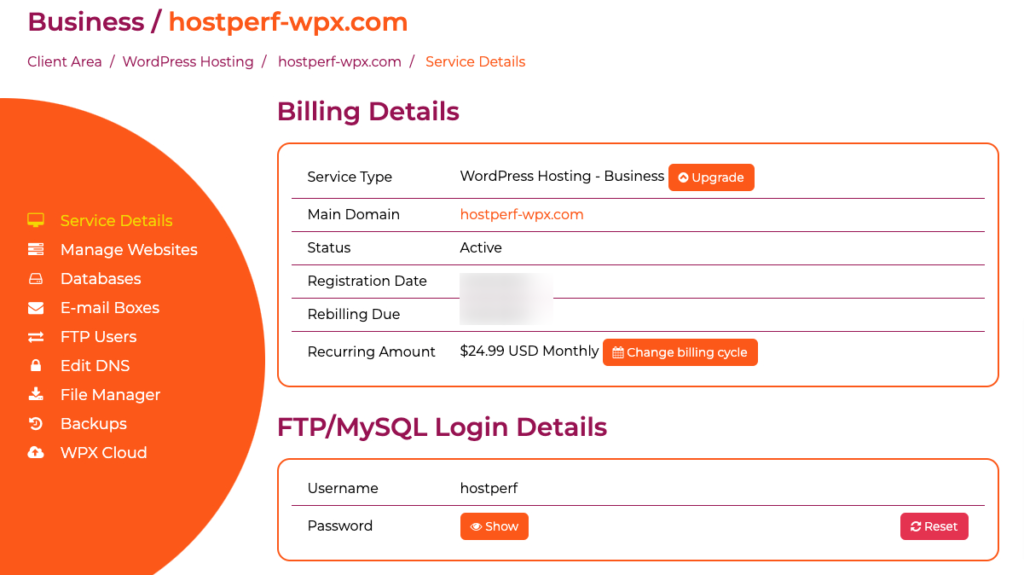 Bluehost uses a customized cPanel with all the cPanel features plus several additional features. Most importantly, it comes with a better template, and things are much organized and user-friendly.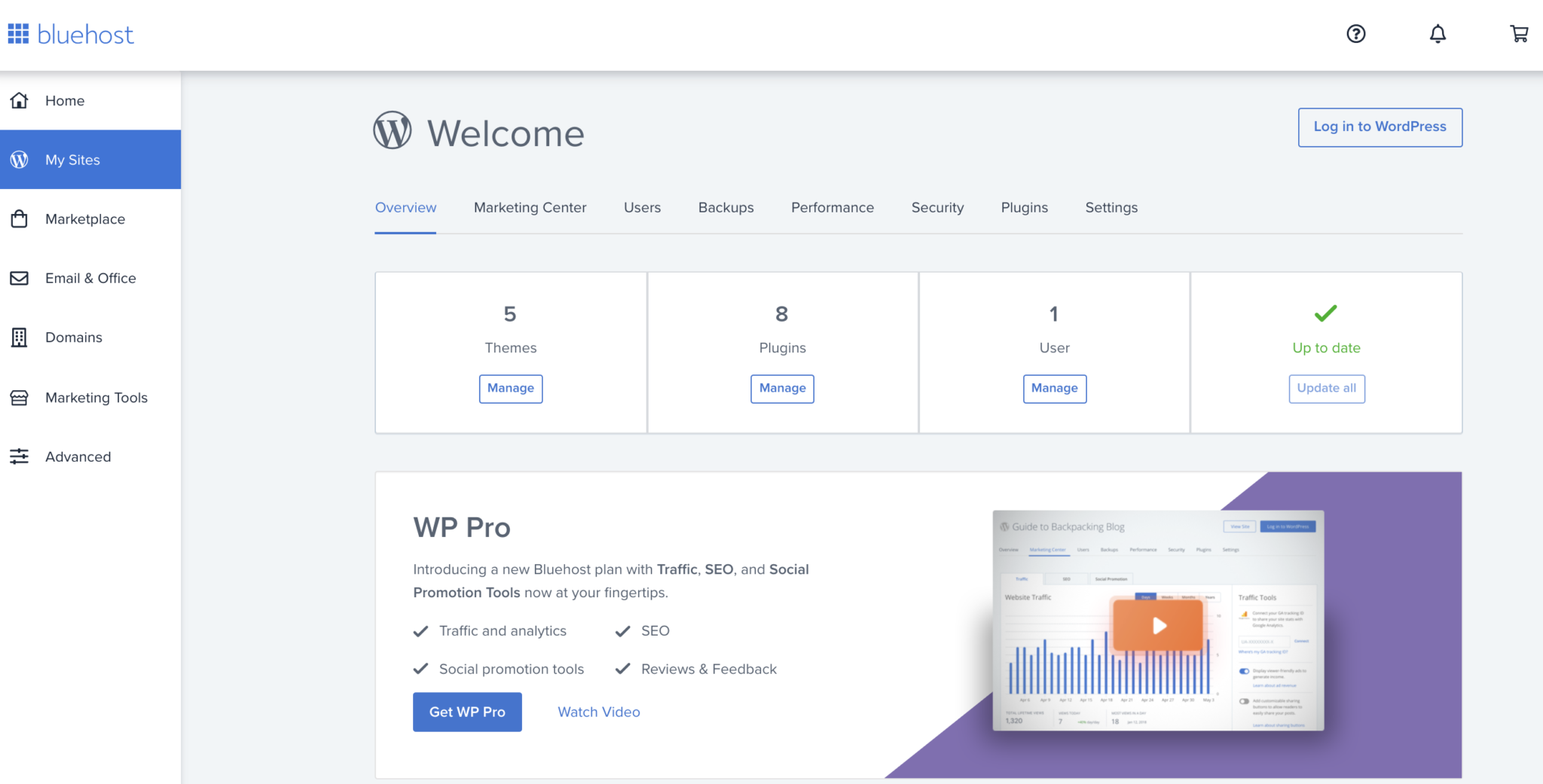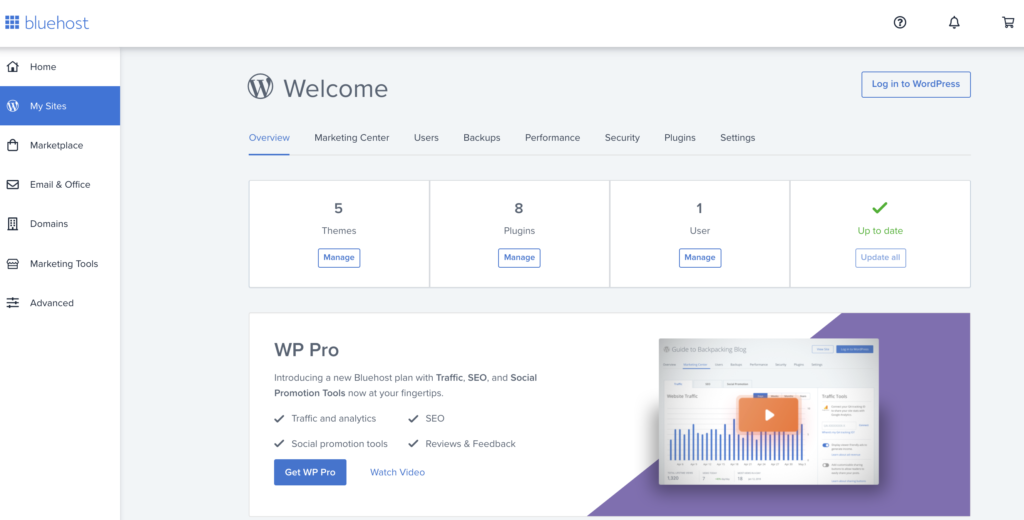 Data Center Locations
WPX offers three data center locations in Chicago, London, and Sydney, while Bluehost has only one data center located in Utah, USA.
While both WPX and Bluehost offer limited options for data center locations, as long as your desired location is among the available options, there should be no issue. However, if your desired location is not available, using a Content Delivery Network (CDN) can significantly help in improving load times.
CDN
Content Delivery Networks (CDNs) have become increasingly popular for improving site load times. WPX offers a reliable built-in CDN in all plans, although the free bandwidth available varies across plans. The CDN functions like a traditional CDN and has 26 endpoints for delivering content. However, there have been reported issues with downtime, which I have discussed in my WPX review.
Bluehost, on the other hand, uses Cloudflare CDN, which is offered for free on all plans. Cloudflare has over 155 global locations for delivering content from the closest server to the target audience. Additionally, Cloudflare provides features such as auto minification, image optimization, gzip compression, and reverse-proxy caching, which significantly improves load speeds, reduces bandwidth usage, and lowers CPU usage.
Backup
WPX offers free automated daily backups on all plans, and each backup copy is stored for 28 days.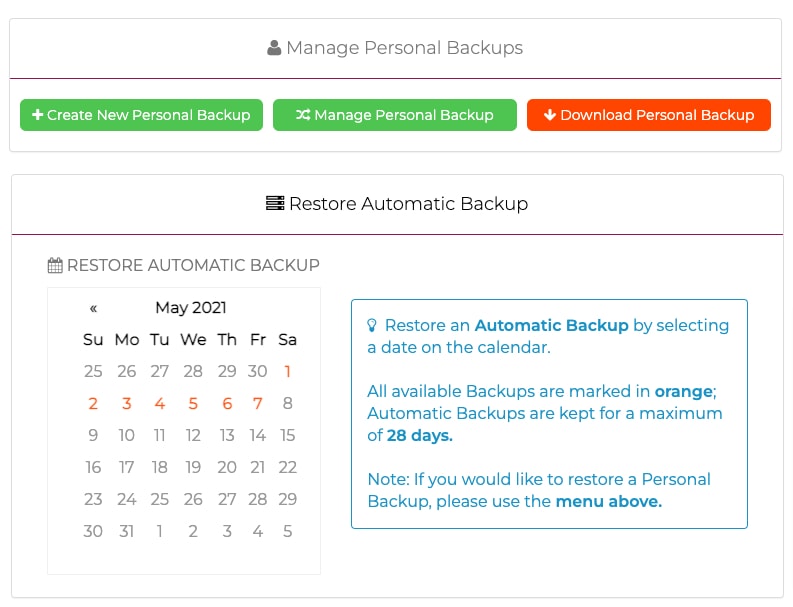 Similarly, Bluehost also provides free automated daily backups; however, this feature is not available in the lowest tier plan. It is highly recommended to choose a hosting plan that includes automated daily backups to ensure data protection and quick restoration in case of any unforeseen events.
Security
Website Security needs to be taken very seriously with dreadful online threats such as Bruteforce and DDoS around. WPX comes with reliable security that comprises Malware Scanning and Removal, DDoS Protection, email spam filtering, and free SSL Certificates.
Bluehost comes with security features such as resource protection, traffic encryption, automated malware scanning, and expert monitoring. Apart from that, Bluehost has a paid security add-on called SiteLock for even tighter security. Read our Bluehost Review for more details on security features.
Support
It's always a good idea to choose a hosting service with a reliable support service since you may run into technical difficulties anytime. WPX has a dedicated support team with the most competent executives to assist the customers 24×7 through live chat and tickets.
Bluehost has maintained a good track record in its support service backed by its experienced support team. The team has done a commendable job helping the customers with their technical issues through 24×7 live chat, tickets, and phone.
Conclusion
In this post, I provided an overview of the critical aspects of WPX and Bluehost, including pricing, features, and performance, using advanced testing methods for better clarity. While Bluehost plans are relatively cheaper than WPX, WPX outperformed Bluehost in all tests conducted.
Both WPX and Bluehost offer essential features required for hosting a website.
In summary, WPX is the best overall choice when compared to Bluehost. Though, Bluehost prices are affordable to get started, their renewal charges are higher or similar to WPX.