HostGator is one of the oldest hosting services and has been around since 2002. HostGator's hosting solutions include Shared Hosting, Cloud Hosting, WordPress Hosting, VPS Hosting, and Dedicated Hosting.
In this post, I will walk you through the pros and Cons of HostGator. As you read this post till the end, you should gain good clarity about the service.
HostGator Pros
Affordable 1st year pricing
HostGator offers an affordable introductory price. Customers can start for as low as $2.75 per month, which is at a discount of 65%. However, to make the most out of the introductory price, you must buy a plan for 36 months.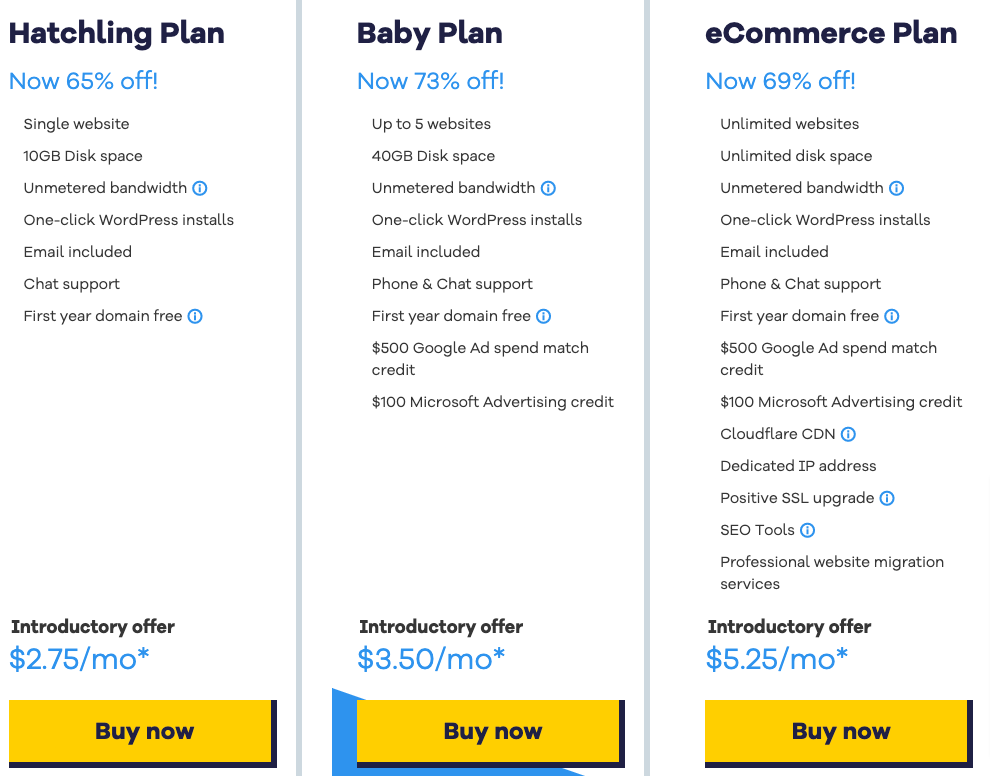 Also, that way, you can enjoy the discount for 36 months. It is undoubtedly an excellent option for anyone who is within a tight budget to start a website.
Free domain for 1st year
You will get a free domain for the first year when you buy a HostGator plan. It definitely makes things exceptionally affordable and convenient for anyone who is looking forward to starting one's first website.
One year is a sufficient time to work on your website and generate some income. After your website begins to generate some decent income, you can start paying for your domain.
Email Hosting
Free Email Hosting is another pro HostGator comes with. Many hosting services have stopped this feature and instead sell it as a separate product. Every HostGator plan allows you to create unlimited email accounts. Hence if you need Email Hosting alongside Web Hosting, you don't have to buy it separately as long as you choose HostGator.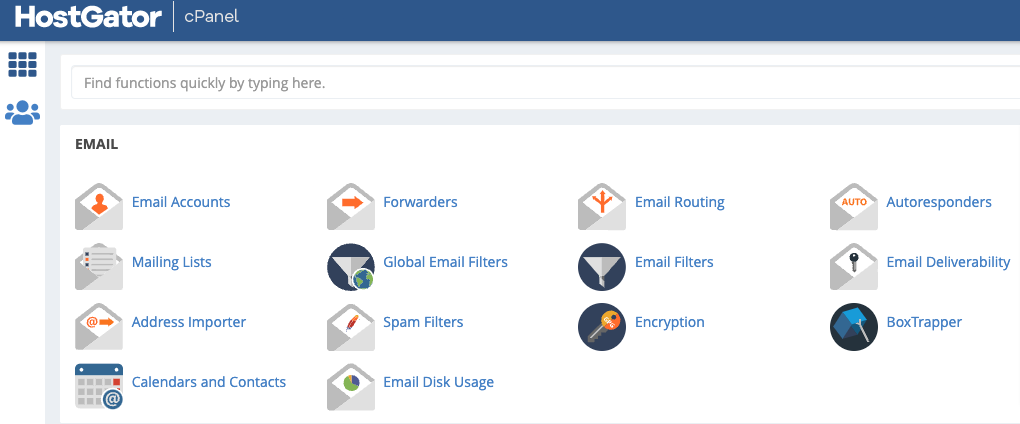 User-friendly control panel
HostGator comes with cPanel for decent navigation and usability. Even though there are other control panels like Plesk or WHM, cPanel is by far the most straightforward control panel to use.
Even if you are a complete beginner, it shouldn't take you more than 5 minutes to learn to use cPanel. Further, cPanel allows you to use all the hosting tools, such as backups, billing, servers, emails, and more, from one place.
HostGator Cons
Slowest hosting service (Based on our test data)
When it comes to performance, HostGator is the worst-performing web hosting service, according to our test data. We tested seventeen web hosting services, and HostGator ranks last in line with an average response time of 723 ms.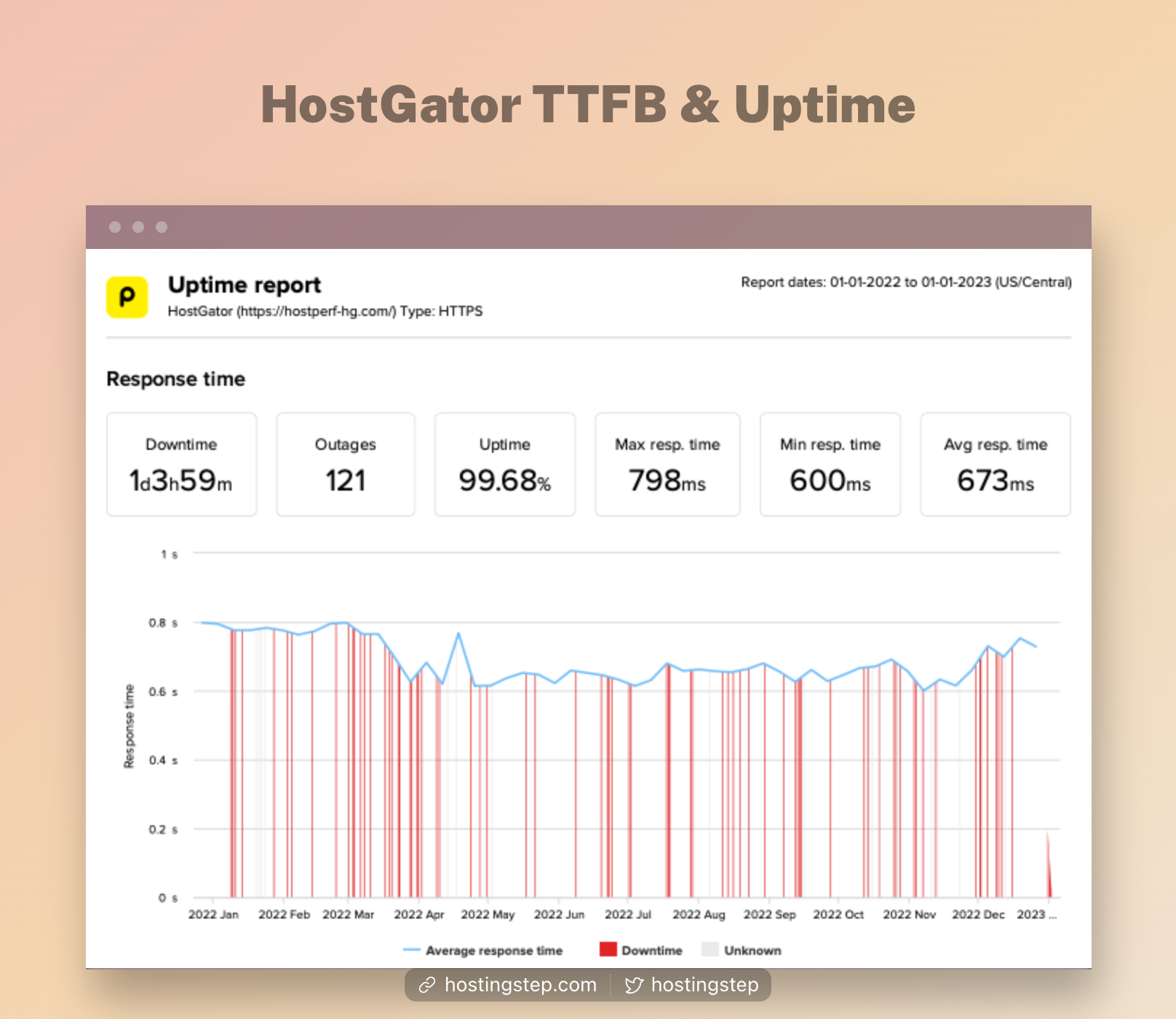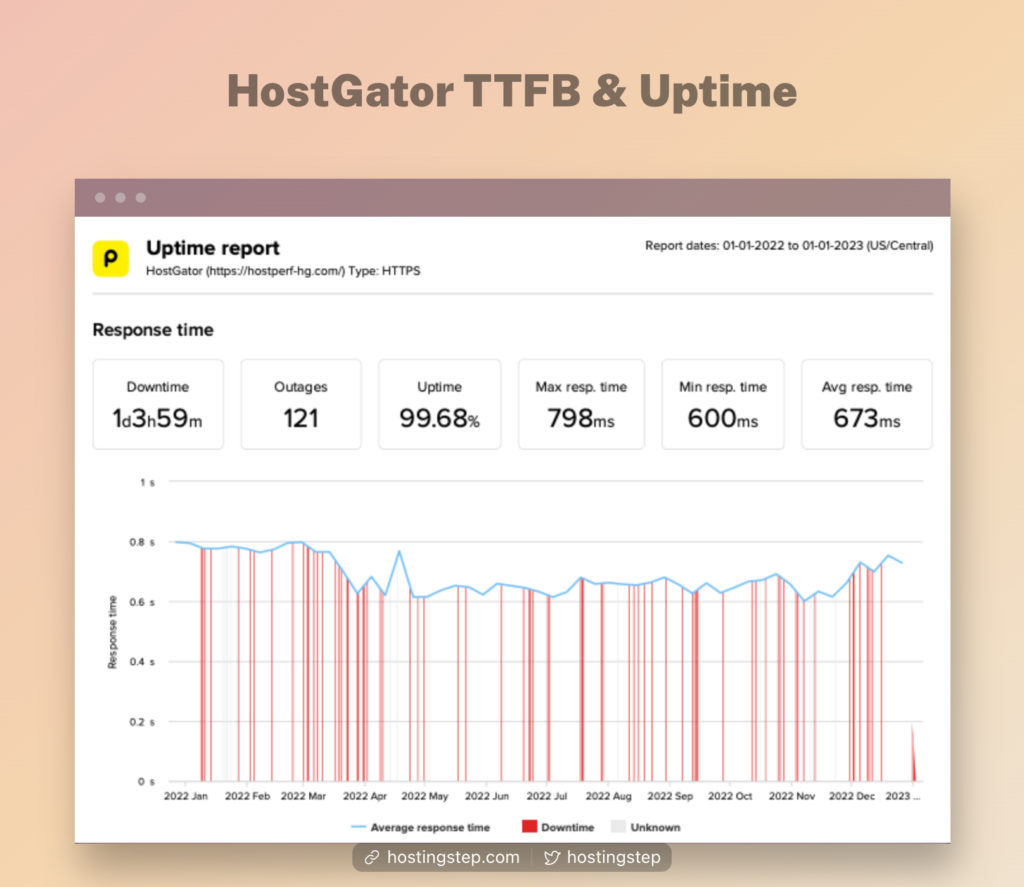 As far as the uptime goes, it's 99.97%. Hence, HostGator is never an ideal option for anyone looking for a fast-loading website. In fact, if you care for site ranking, I would never recommend choosing HostGator.
Outdated server specs (no SSD, old processors, limited CPU)
If we consider the HostGator server specifications, the web host doesn't use SSD storage yet. Besides, it uses old processors, and there is a limit on CPU usage.
Hence, you can't expect a decent performance even if you choose the highest-tier HostGator plan.
CDN only available on the Business plan
CDNs play a vital role in hosting these days. CDN can largely improve your site performance. While most hosting services offer CDN on all plans, HostGator offers Cloudflare CDN only on its highest-tier plan (Business). It's undoubtedly a big downside for anyone who is looking for a hosting service with a free CDN.
Many Upsells (like backups/security)
HostGator backs up sites once every week and doesn't offer automated daily backup on any plan. Instead, the service recommends choosing the CodeGuard add-on for an additional cost for a better backup. The service comes with very limited security features, limited to custom firewalls and mod security rule sets protecting its servers.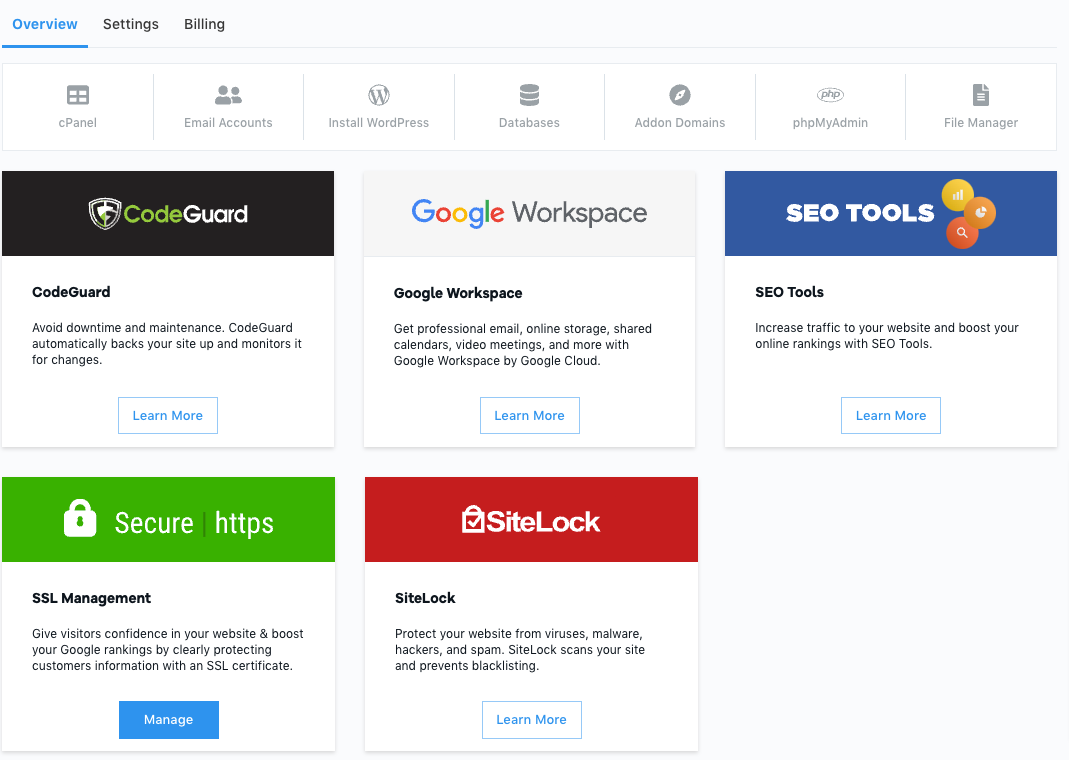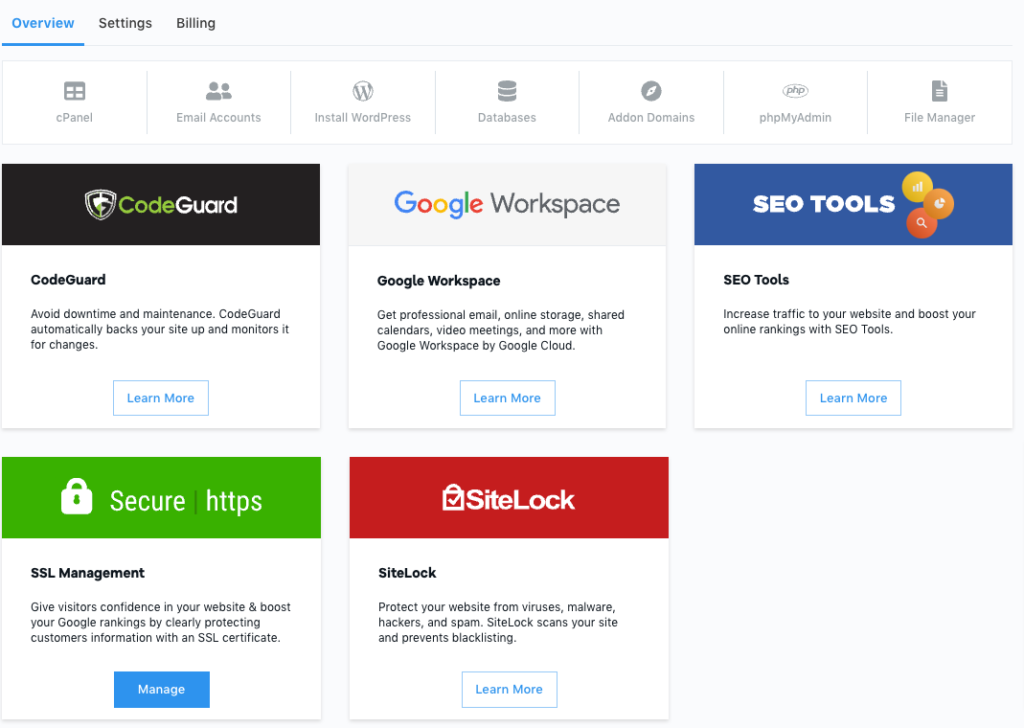 The service recommends using the SiteLock add-on for an additional cost for better security. Once you subscribe to these add-ons, the cost of maintaining your site will go higher to a large extent.
No free website migrations High renewal fees
HostGator's domain transfers feature is a bit deceiving since it only applies to inter-server transfers, which means the feature allows you to transfer websites for free between HostGator servers. However, if you plan to transfer a website from any server other than HostGator, you are out of luck. In that case, you will have to do the entire transfer carefully through the cPanel, which is certainly not a simple thing to do if you aren't already tech-savvy.
You will make a big mistake if you simply decide based on HostGator's introductory price. Even though HostGator has attractive introductory pricing, the renewals are very high. For example, the lowest tier plan renews at $7.99 per month, while Hostinger's lowest tier plan renews at $3.99 per month. The HostGator mid-tier plan renews at $12.99 per month, and the highest-tier plan renews at $16.99 per month.
FAQs
Is HostGator a reliable service?
Back in 2002, when hosting services were few, HostGator used to be a great option to choose from. However, these days there are just so many great options available. Besides, HostGator isn't keeping up well with the trend. For example, the service misses out on important features such as daily automated backups and website security.
Besides, it doesn't use SSD storage yet. Hence, HostGator is no longer a reliable service to choose from, and you have better options now to choose from, like Hostinger, Bluehost, A2 Hosting, or GreenGeeks.
What are the pros of HostGator?
Here are some of the pros of HostGator:
Affordable introductory price
Free Email Hosting
User-friendly control panel with cPanel
Free domain for the first year
What are the cons of HostGator?
Here are some of the cons of HostGator you need to be aware of:
Worst average response time and uptime
Non-SSD storage and old processors
CDN is available only on the highest-tier plan
No automated daily backups
Many upsells
No website migrations
High renewal fees
Poor customer support
The Bottom Line
I have walked you through the various pros and cons of HostGator. I have shared my honest opinions regarding the service, and as you have seen, HostGator isn't a reliable hosting service to choose. A lot of what is mentioned on the HostGator website is deceiving. For example, Free Domain transfers are only applicable to website transfers between HostGator servers alone. However, HostGator doesn't mention it anywhere on its sales page.
Further, the service lacks a daily automated backup and lacks decent website security features. It does it deliberately to promote its add-ons like CodeGuard, and SiteLock. The renewal fees are also quite high. Anyone looking forward to starting a website at an affordable cost should consider hosting services other than HostGator.