A2 Hosting and Bluehost are two popular hosts. However, based on our tests, A2 Hosting has a certain edge over Bluehost in terms of performance.
A2 Hosting Vs. Bluehost
A2 Hosting has been around since 2001 and has been a very reliable hosting service, characterized by excellent speed, security, and support. A2 is one of those services that are looked up to for their excellent speed, and this company has laid utmost emphasis on speed right from its inception.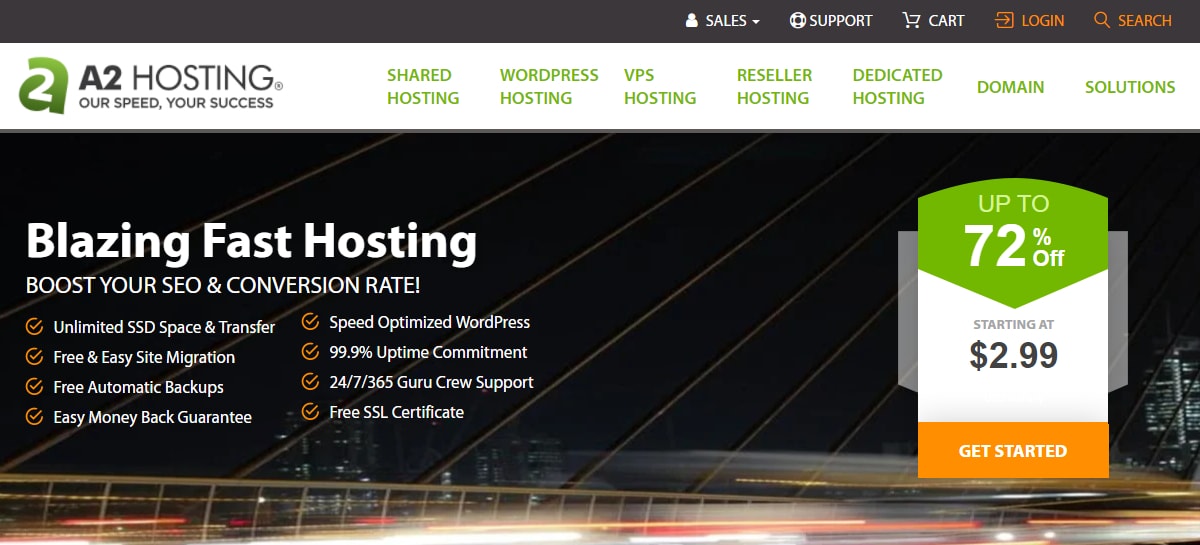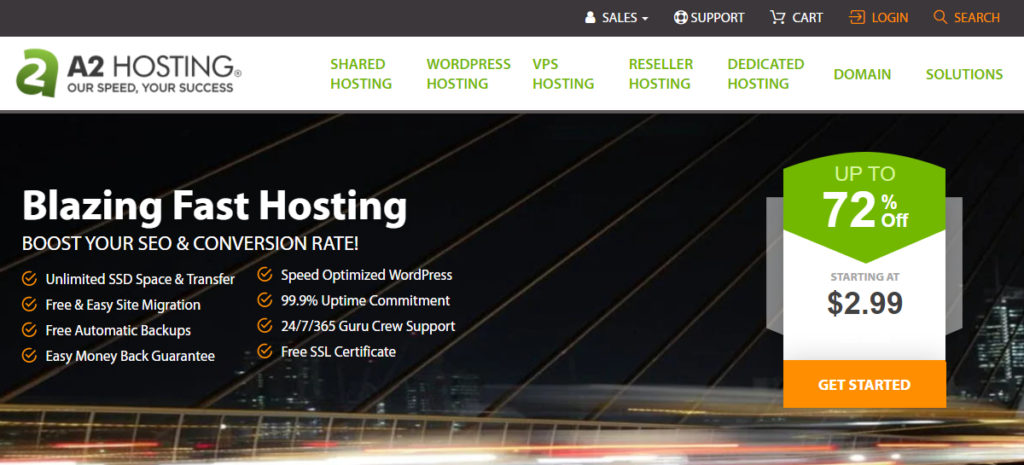 Started in 2003, Bluehost is one of the oldest hosting services and is also recommended by WordPress.org. The service allows you to build and grow WordPress sites with great ease. Bluehost has tailored plans for websites, blogs, and online stores.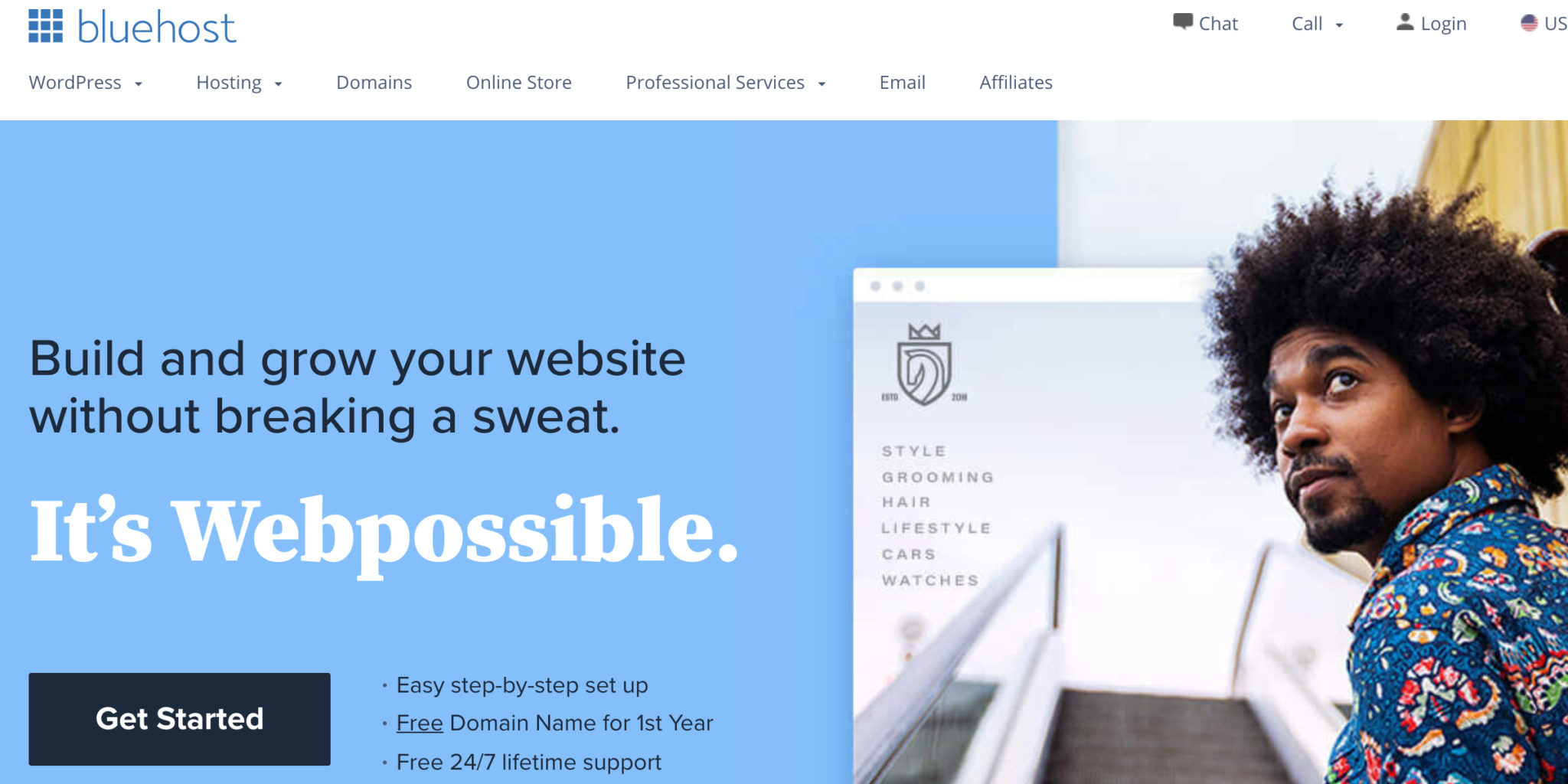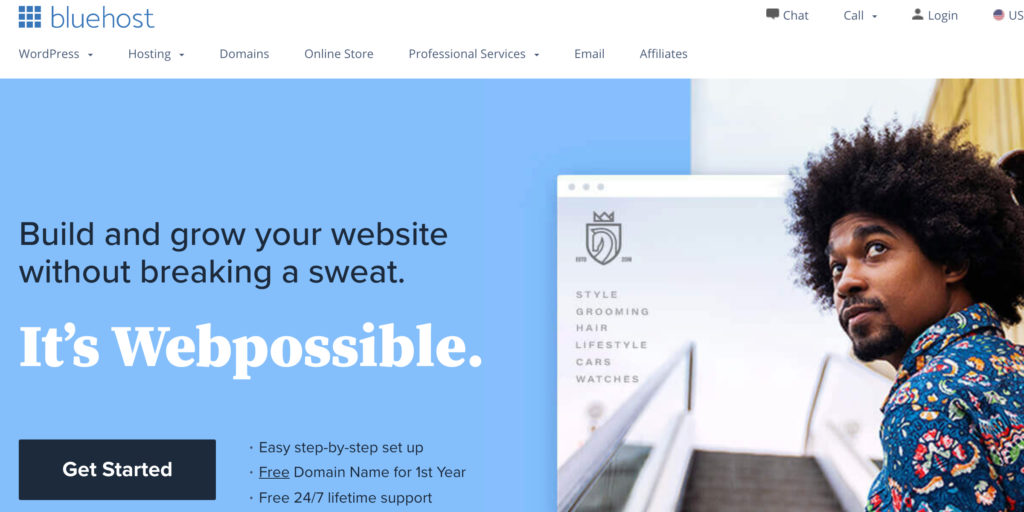 Many find it difficult to choose between these two services since they aren't sure of these two services' aspects. In this post, I will get you familiar with every aspect of A2, as well as Bluehost. Once you read this post till the end, you should conveniently choose between the two.
A2 Hosting Vs. Bluehost: Performance
Server Response Time
Performance is a crucial factor and needs in-depth analysis. My first performance test is the server response time test. What I tried to find out is which of these two services loads faster or, in other words, has a faster response to the server. As a part of the performance test, I had demo sites hosted with both the services.
As I tested the server response time for my demo sites, my A2 site recorded an average server response time of 323ms. My Bluehost site had an average server response time of 455ms.
Hence, you can see that my A2 site had a comparatively better server response time than my Bluehost site.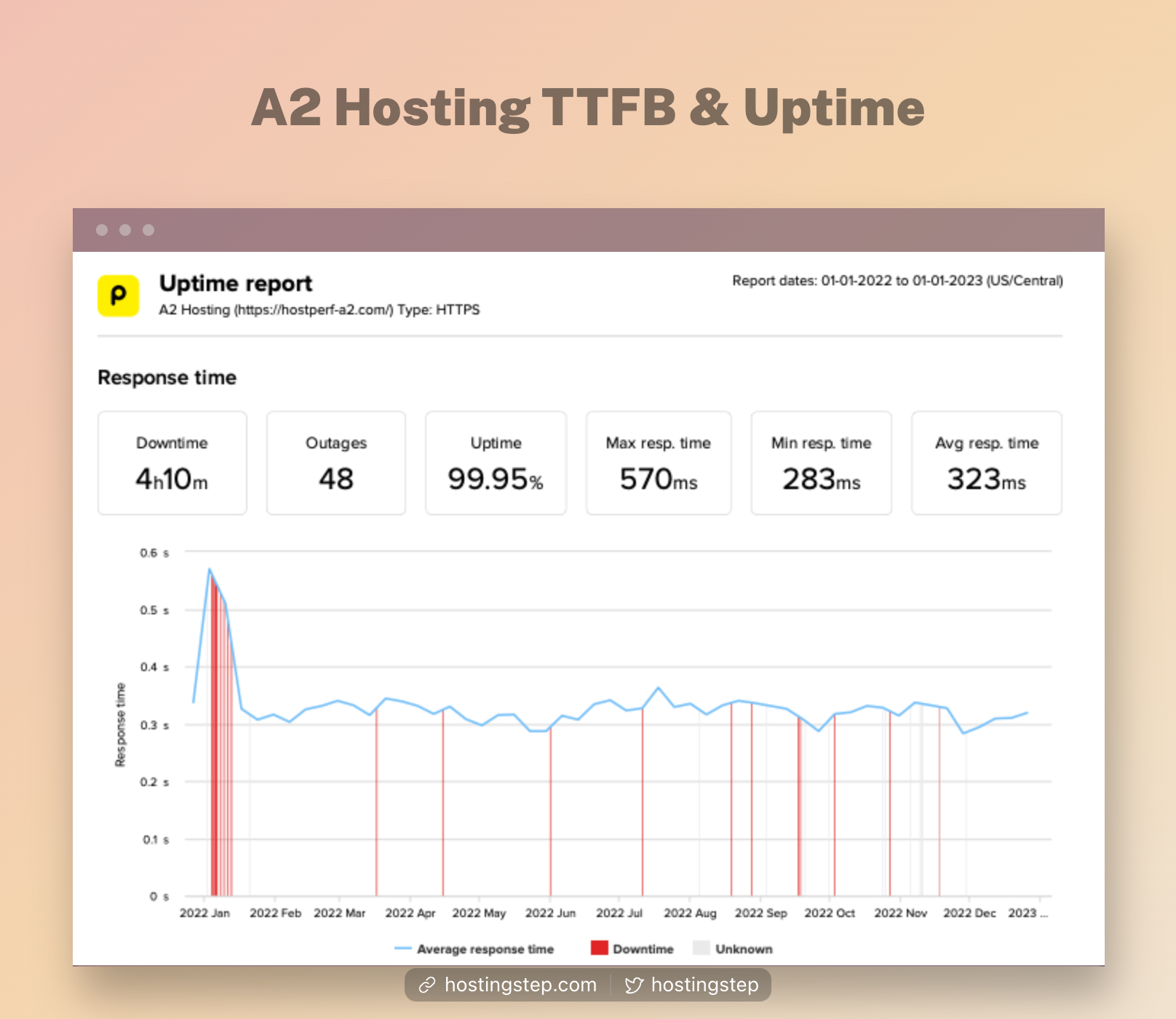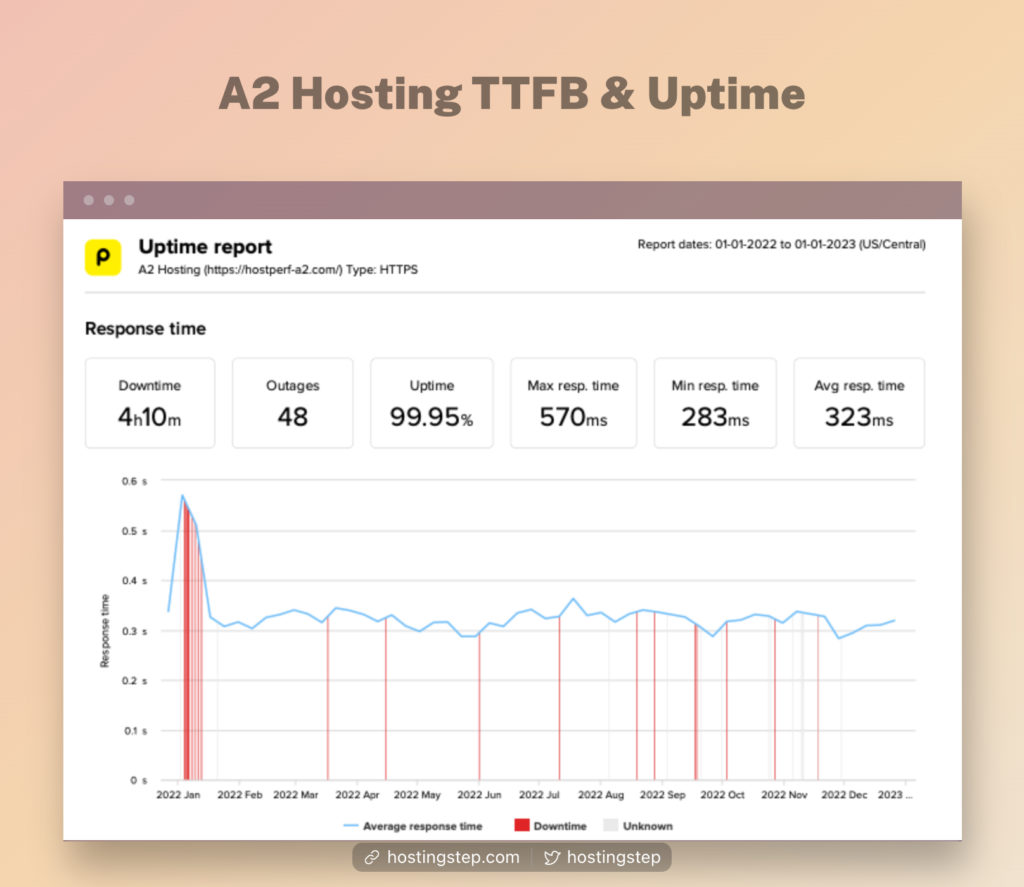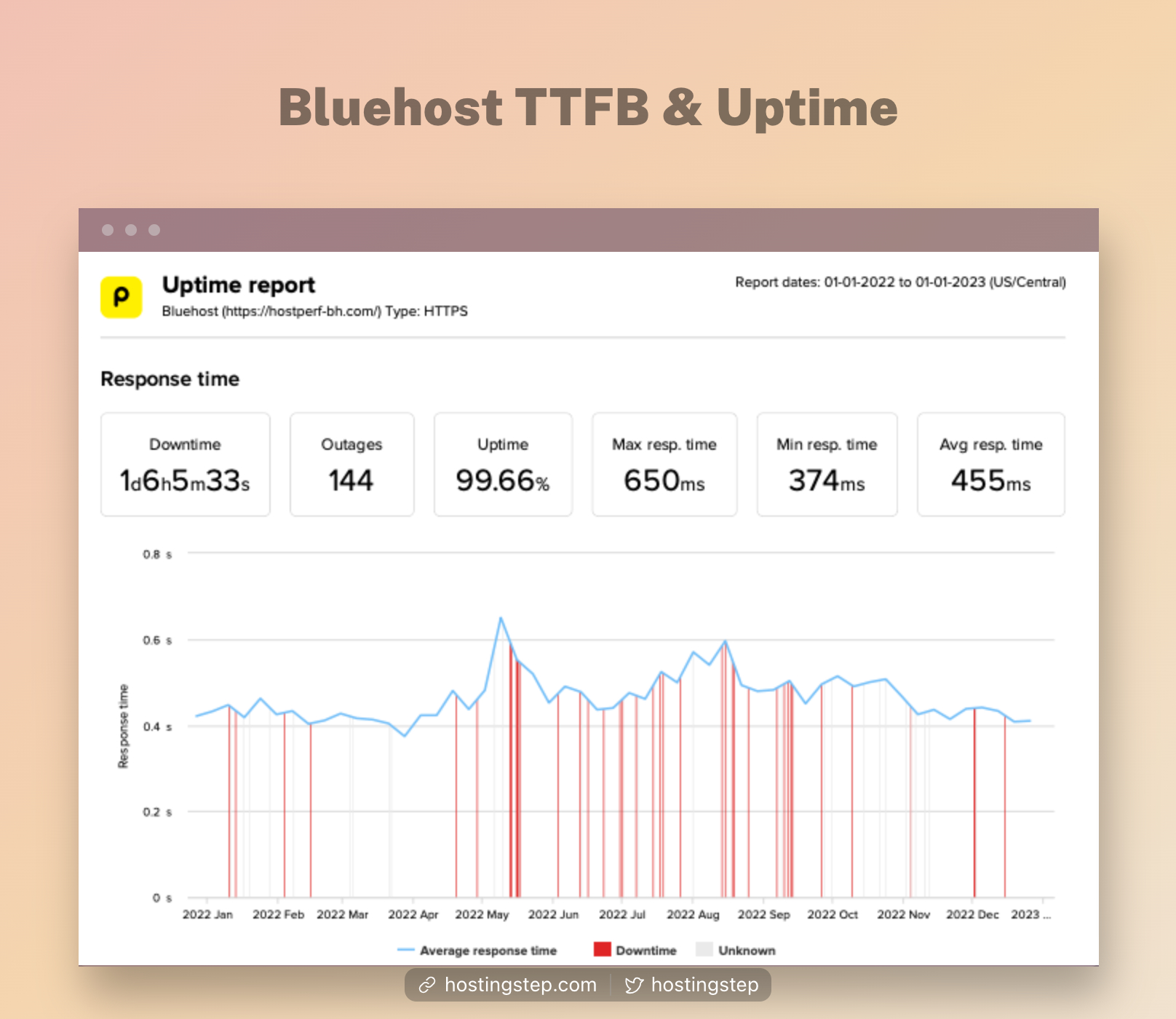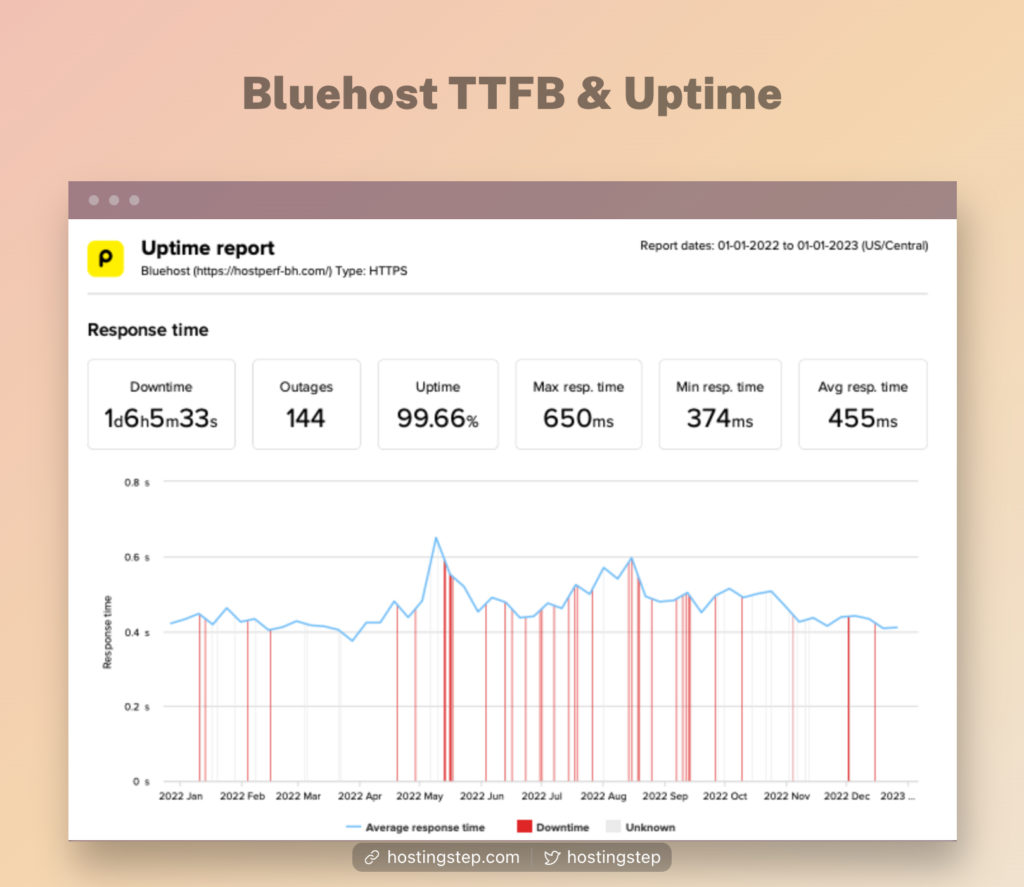 Uptime
Online stores and blogs need constant availability to make the most out of their potential traffic.
I tested the uptime of my sites hosted with these two services for 12 months to understand their availability. While A2 Hosting recorded 99.95% uptime, Bluehost has lowest uptime of 99.66%.
Load Testing
Load Testing is another critical performance test, and I test the services by sending 1000 visitors to the site.
My A2 site recorded 102ms and my Bluehost site recorded 309ms in the same test. Going by the results, you can see that the response time of my Bluehost site is more than double of my A2 site.
Hence, A2 gets a leading edge over Bluehost.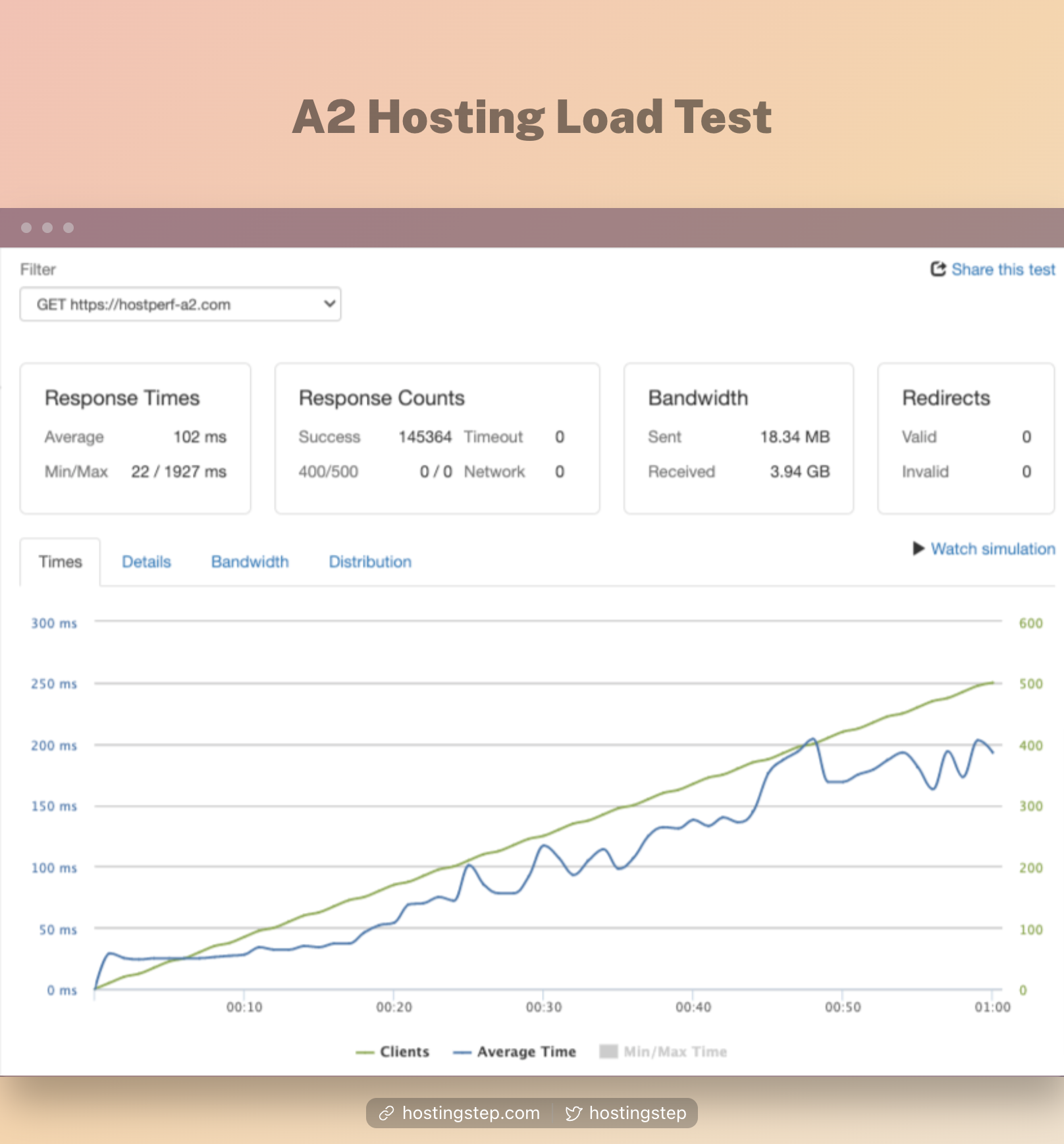 Modified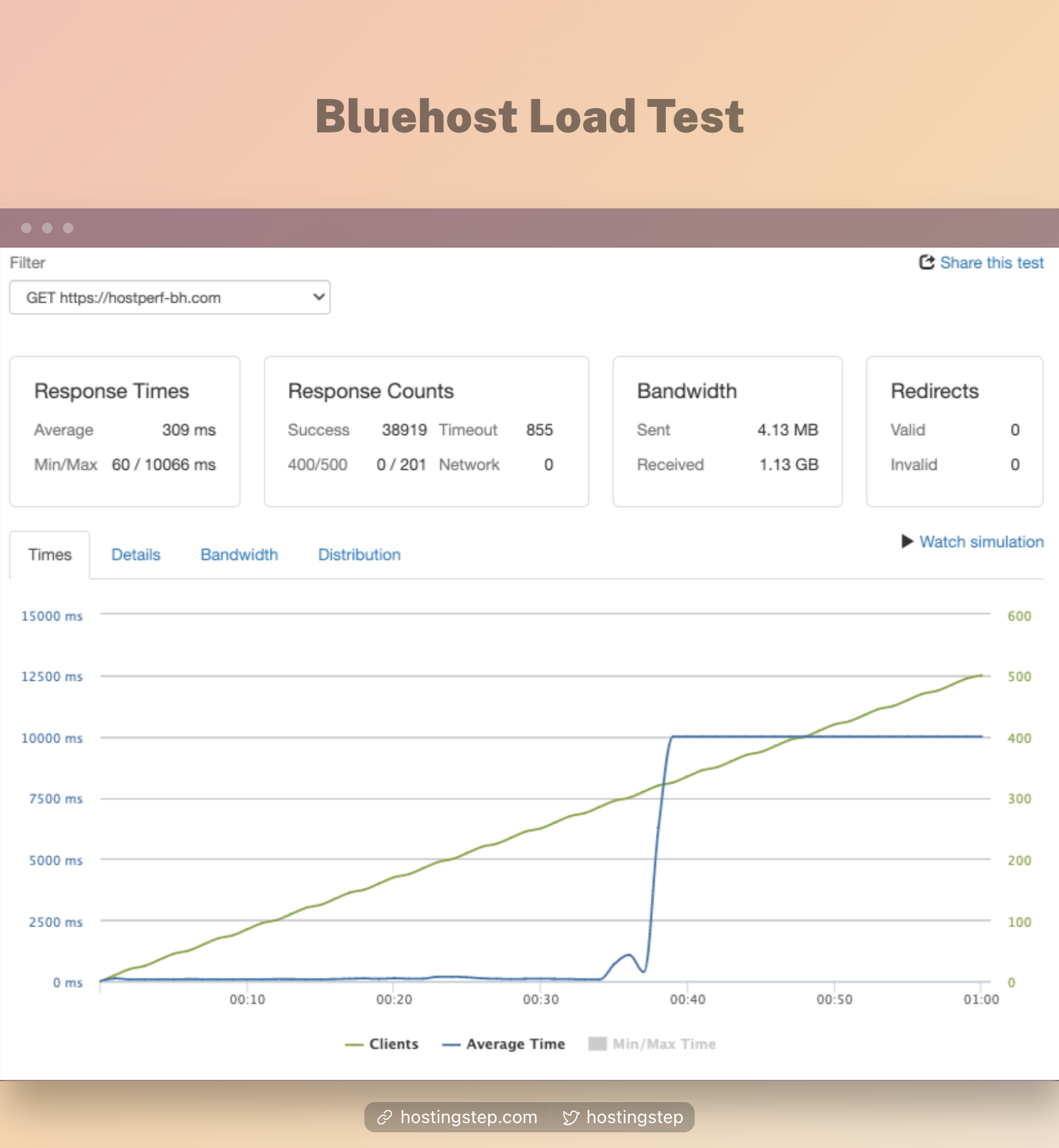 Original
Global TTFB
The Global TTFB test involves testing the TTFB of sites across multiple global locations and is exceptionally effective for sites that rely on multiple global locations for traffic. I pinged the sites from 35 global locations.
The TTFB of my A2 site had been exceptionally good with an average of 639ms.
My Bluehost site's TTFB had also been pretty impressive, with an average TTFB of 586ms.

Modified

Original
Core Web Vitals
Performance check would be incomplete without testing the Core Web Vitals, which is an important way of checking the user experience of sites and hosting services. Most importantly, Core Web Vitals is expected to impact the rankings from now on largest.
My A2 site had a 'Largest Contentful Paint' of 495ms, a 'Total Blocking Time' of 0 s, and a 'Cumulative Layout Shift' of 0, while my Bluehost site recorded a 'Largest Contentful Paint' of 435ms, a 'Total Blocking Time' of 0.002 s, and a 'Cumulative Layout Shift' of 0.021 s.




A2 Hosting Vs. Bluehost: Features
Data Center Locations
Hosting a site from the closest server location to your targeted traffic is a huge advantage for sure. A2 has 4 data centers located across the USA, Europe, and Asia, while Bluehost has just one data center in Utah in the USA.
Both seem to have limited data center locations. However, this shouldn't be a problem as long as you find your desired data center among the available options. Just in case you don't find your desired data center location among the available options, you can overcome this issue by using CDN.
Staging
Staging or creating copies of live sites for testing is a pretty useful feature. Both A2 and Bluehost have this feature for free on all plans. A2 allows you to create staging sites by using the Softaculous app installer from the cPanel. Deploying the final changes takes just about a single click, and you can do it by clicking on the 'Push to Live' button.
Bluehost allows you to create staging sites from your WordPress dashboard itself, and you can do it by going to the Bluehost tab and then to the Staging tab. Once you finish testing, you can push your final changes to the live site by choosing between the three deploy options.
Backups
It's time to check the backup systems of the two services, and A2 has an extremely reliable backup system in place for sure with free automated daily backups. Users can restore a copy of the backup anytime, and the process is straightforward. However, free automated daily backup isn't available in the StartUp plan.
Bluehost has a good backup system in place as well, with free automated daily backups. However, the feature is not available in the lowest tier plan and only available in the higher plans.
Security
Constant online security threats surround sites, and it is important to pay close attention to the site's security before it's too late. A2 is well-known for its perpetual security that comprises KernelCare rebootless kernel updates, brute force defense, a dual firewall, and (DDoS) Protection.
As far as the Bluehost security system goes, it isn't as advanced as the A2 security system, and it comprises resource protection, traffic encryption, automated malware scanning, and expert monitoring. For better protection, users can get paid security add-ons such as SiteLock and Domain Privacy.
Support
A reliable support team can be the greatest relief at times when you run into some technical difficulties. The A2 support team has been very reliable over the years in helping their customers. A2's Guru Crew has experienced executives to help the customers 24×7 through live chat, phone, and tickets.
Bluehost also has a dedicated support team with competent executives to assist the customers with their technical difficulties 24 x7 through live chat, tickets, and phone.
Conclusion
I am sure you now have good clarity on the two services. I have shared with you the important performance details of the services alongside their features. Performance-wise, both A2 and Bluehost are pretty reliable.
The only limitation that may come your way is the limited data center locations. However, it shouldn't be a huge problem as long as you use CDN, and as already mentioned, both offer Cloudflare CDN for free on all plans.
A2 has a better security system than Bluehost, for sure. However, none of the services had any major security issues in the recent past. Further, you can also opt for the security add-ons in Bluehost for better security. When choosing a plan, it's wise to avoid the lowest tier plan in both the services and choose a mid-tier plan if not the highest-tier plan since the lowest-tier plan has many limitations.
In the end, there is no much difference between A2 Hosting and Bluehost. However, A2 Hosting offers better performance and holds good in handling high traffic better than Bluehost. Also, their pricing is affordable with global data center options. Hence, I recommend A2 Hosting over Bluehost for all users.