In this article, we will evaluate A2 Hosting and Hostinger, two popular web hosting services, and analyze their performance, pricing, features, and customer support to determine which is the best choice for 2023.
A2 Hosting has been a prominent player in the web hosting industry since its inception in 2001, providing top-notch speed and cutting-edge features.
On the other hand, Hostinger, established in 2004, stands out for its budget-friendly rates, user-friendly setup process, robust tools, customized WP optimization stack, and LiteSpeed cache. Throughout the years, Hostinger has shown exceptional support for websites ranging from small-scale to enterprise-level.
A2 Hosting Vs. Hostinger: Performance
Server Response Time
To evaluate the performance of A2 Hosting and Hostinger, I conducted a TTFB test by hosting a test site with each service. I monitored its server response time using Pingdom for over 12 months.
The results showed that A2 Hosting outperformed Hostinger, with an average server response time of 323ms for the A2 site and 423ms for the Hostinger site.
This significant difference in performance makes A2 Hosting the clear winner in this category.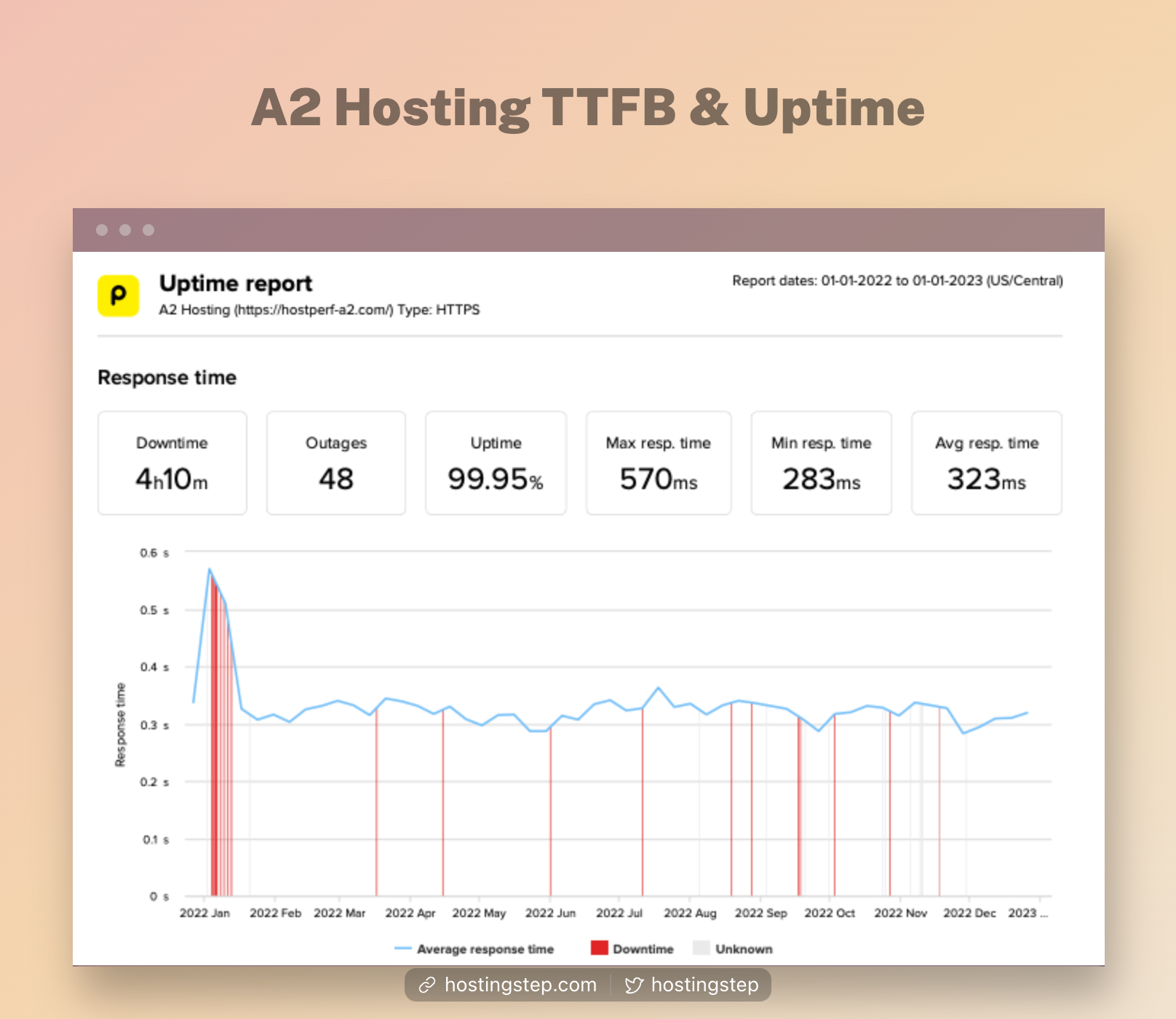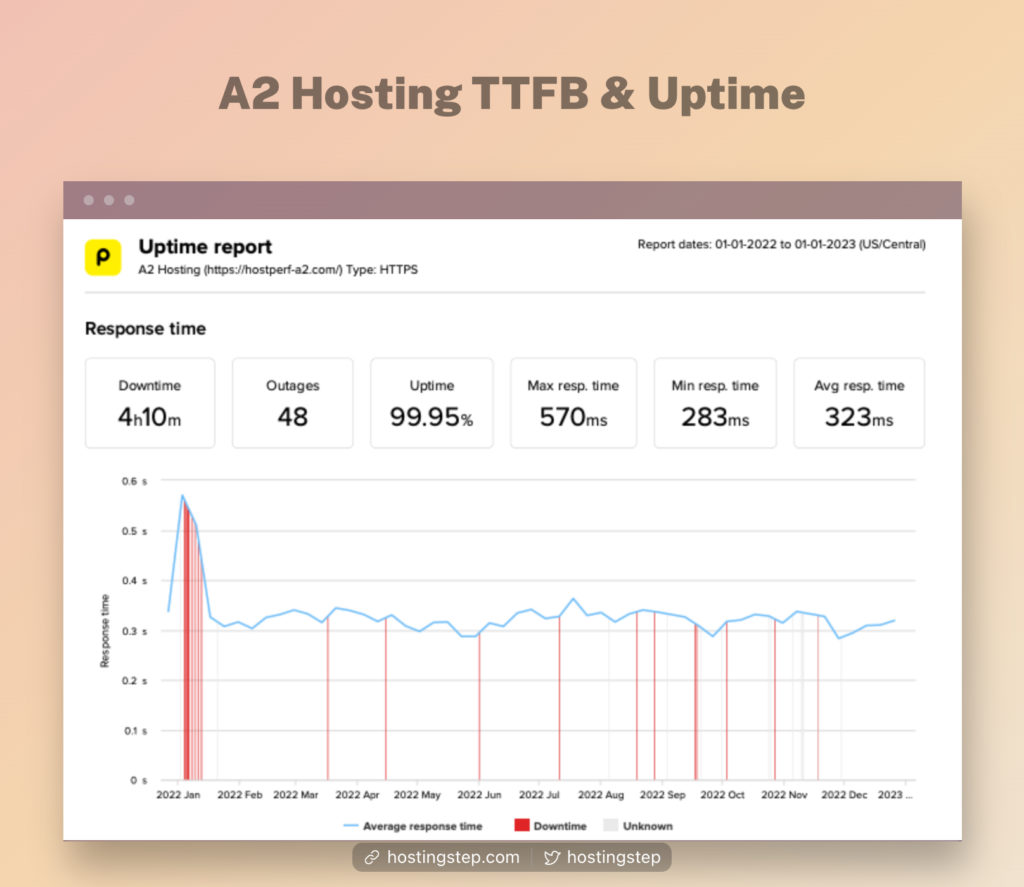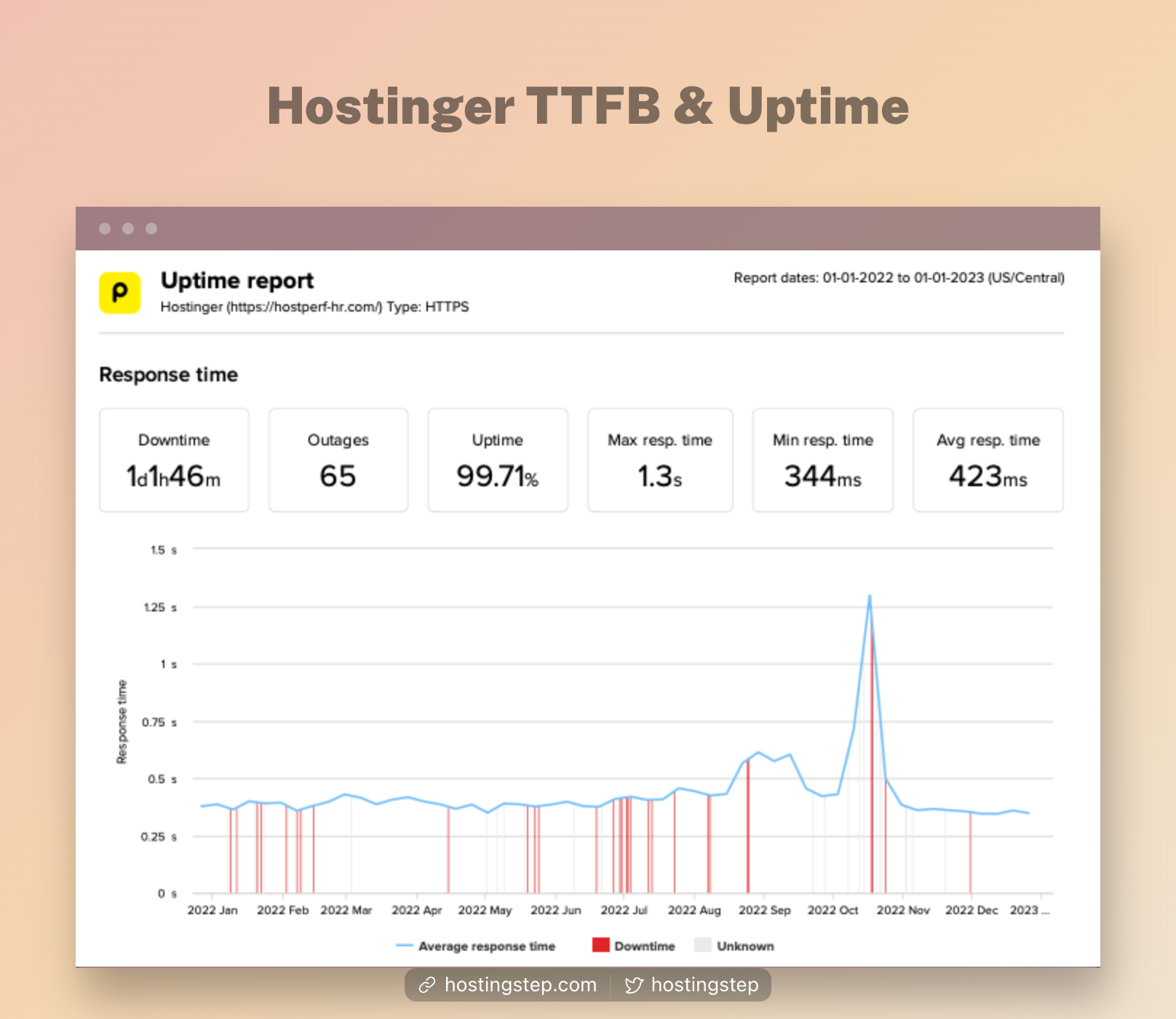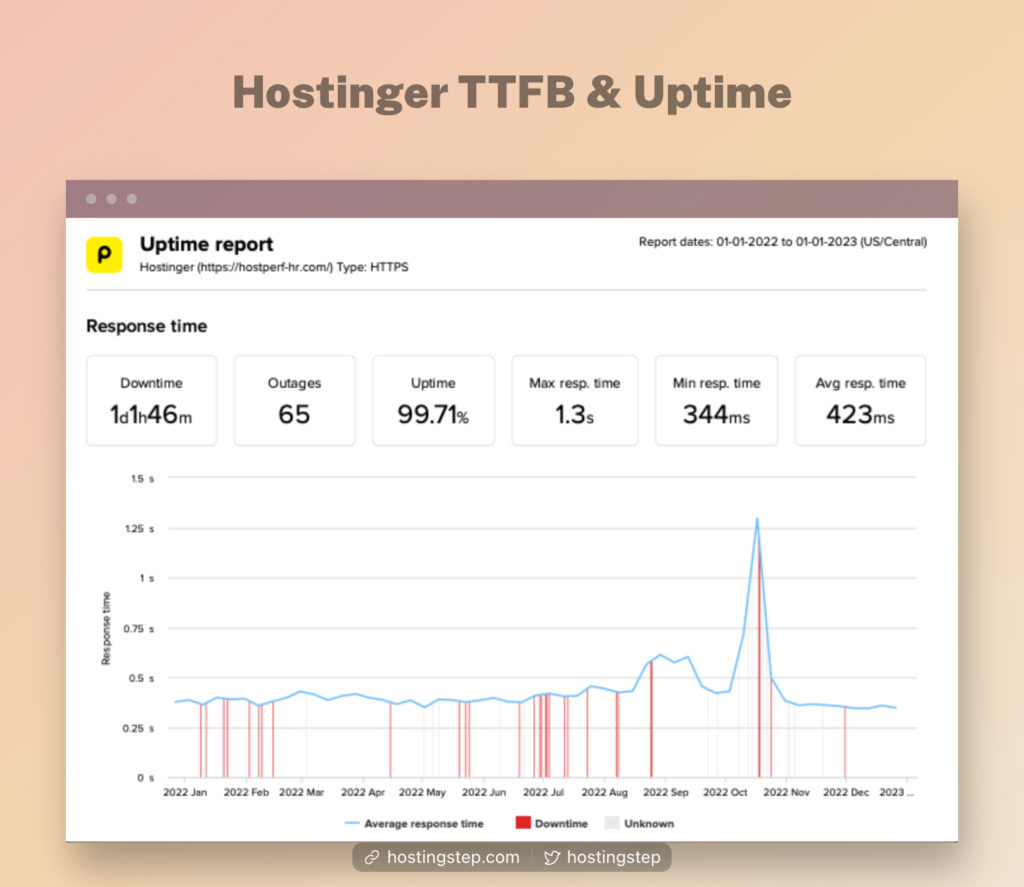 Uptime
To evaluate the uptime of A2 Hosting and Hostinger, I closely monitored the uptime of my sites continuously for 12 months.
During this period, my A2 site demonstrated remarkable consistency, recording an impressive uptime of 99.95%. However, I noticed some glitches in the uptime of my Hostinger site, which recorded an average uptime of 99.71%.
A2 Hosting is evidently more reliable than Hostinger in terms of uptime.
Load Testing
In addition to server response time and uptime, it's essential to evaluate how A2 Hosting and Hostinger can handle high-traffic sites and traffic spikes.
To accomplish this, I conducted load testing by sending 500 concurrent visitors to the sites hosted with the two services and recording their performance.
My A2 site demonstrated impressive performance, recording 102ms. However, Hostinger took a long time and recorded 6210ms as its load time.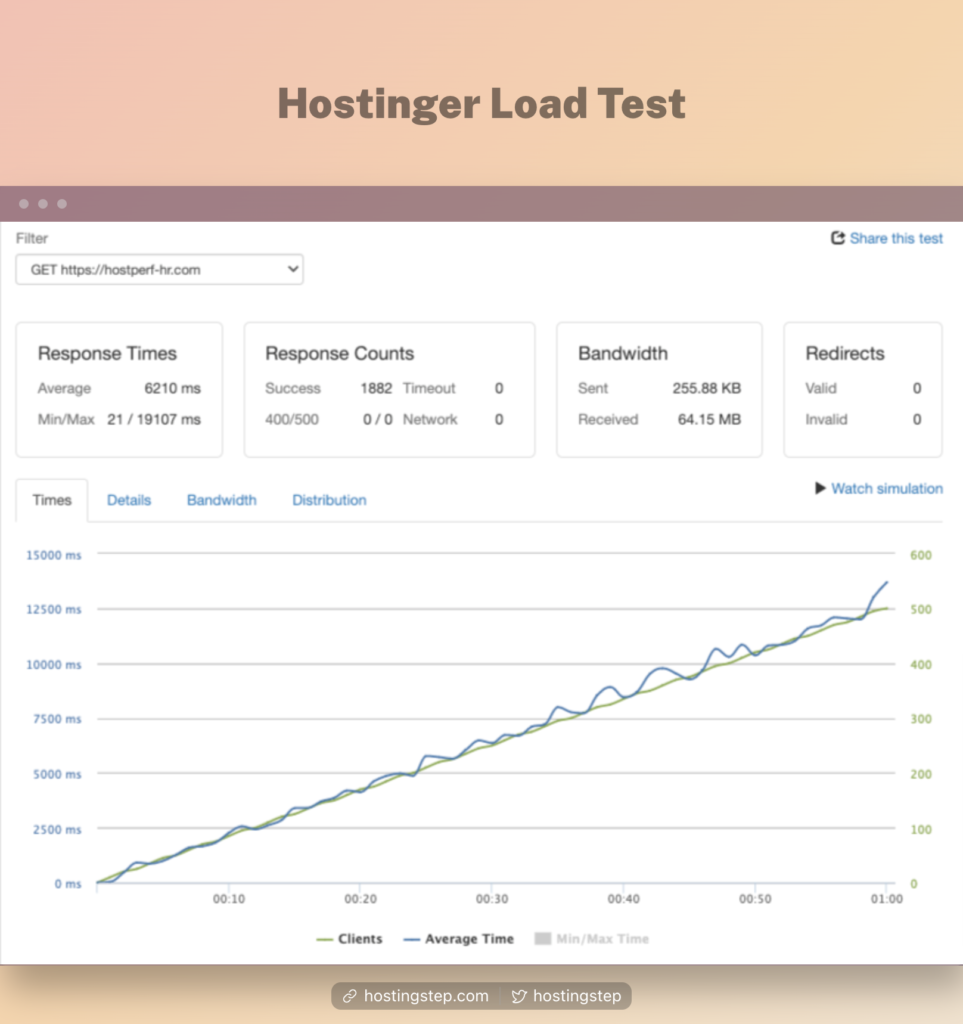 Global TTFB
For websites that attract traffic from various global locations, it's essential to evaluate how well A2 Hosting and Hostinger respond across multiple global locations. This is where the Global TTFB (Time to First Byte) test becomes relevant.
To perform this test, I used 35 global locations to ping my two sites.
The results showed that my A2 site had decent TTFB in all the global locations, with an average of 639ms. Similarly, my Hostinger site had good TTFB in all locations, with an average of 541ms. Hostinger performed slightly better than A2 Hosting in this Global TTFB test.


Core Web Vitals
My A2 site recorded a 'Largest Contentful Paint' of 495ms, a 'Total Blocking Time' of 0ms, and a 'Cumulative Layout Shift' of 0. In comparison, my Hostinger site recorded a 'Largest Contentful Paint' of 731s, a 'Total Blocking Time' of 0 s, and a 'Cumulative Layout Shift' of 0.
Hence, A2 Hosting has better Core Web Vitals score than Hostinger. 




A2 Hosting Vs. Hostinger: Features
Control Panel
The control panel plays a crucial role in hosting since you will manage most of it through the control panel.
A2 Hosting comes with cPanel. cPanel has been around for a long time and shouldn't be difficult to use.
Hostinger comes with a customized cPanel, and they call it hPanel, which is even easier to use. Most importantly, the hPanel addresses some of the issues people had with cPanel, and the hPanel has a cleaner interface.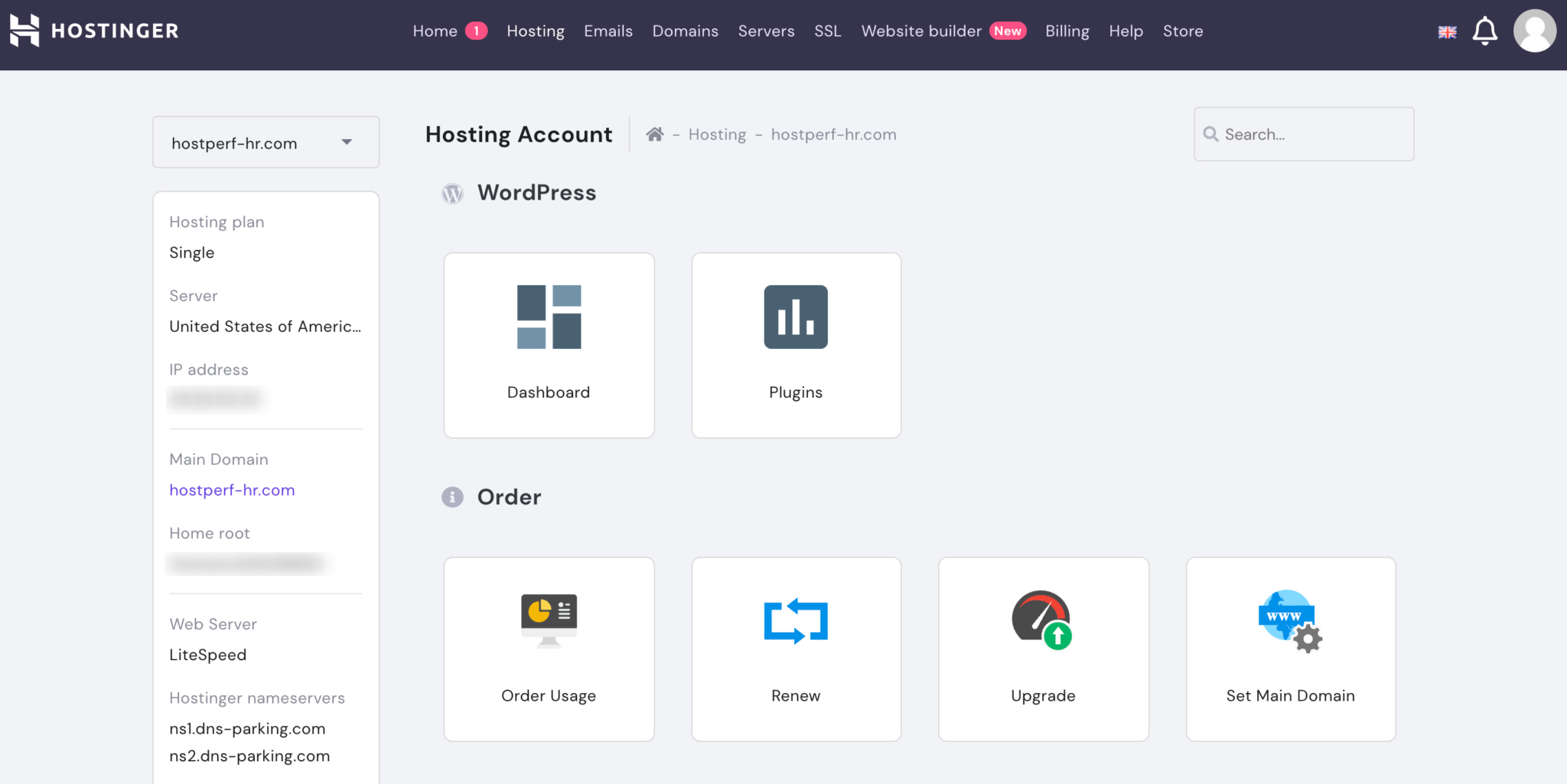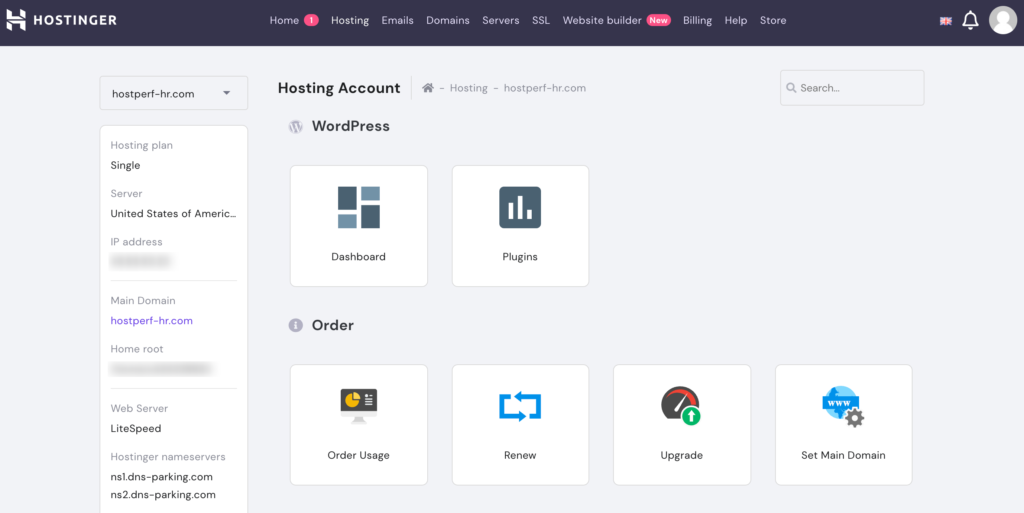 Data Center Locations
Checking the data center locations of a hosting service well in advance is essential to understand if the service has the data center location that you need for your target audience.
A2 has 4 data center locations across the USA, Europe, and Asia, while Hostinger has 7 data center locations worldwide.
You are even good to go with a hosting service with limited data center locations as long as it has your desired location. 
CDN
CDNs are very useful in improving the site speed, and a CDN essentially delivers your site content to your target audience from the closest server alongside other speed optimization technologies.
Both A2 and Hostinger use Cloudflare CDN and have it for free on all plans. However, A2 Hosting has some discounted pricing on Cloudflare Pro and Enterprise plan for its customers.
Backups
A reliable backup system is crucial for any website. Here's a comparison of the backup systems offered by A2 Hosting and Hostinger:
A2 Hosting provides a reliable backup system with free automated daily backups and easy restore. However, this feature is not available on the StartUp plan and is only free on the next higher plans.
Hostinger offers an automated daily backup system, but it's only free on the Business Web Hosting plan. For lower plans, weekly backups are available. In this case, you could use WordPress plugins like UpdraftPlus or All in One Migration to set up automated backups.
Security
For hosting a site, you have to also emphasize security considering the increasing instances of brute force and DDoS attacks. A2 comes with a rock-solid security system known as the A2's Perpetual Security, comprising KernelCare rebootless kernel updates, brute force defense, a dual firewall, and (DDoS) Protection.
Hostinger's security is server-based and comprises Apache mod_security, Suhosin PHP hardening, PHP open_basedir protection, etc. Most importantly, none of the services had any major security issues in the recent past. Hence, you can count on both for their security.
Support
A2 has a dedicated support team for sure, and the A2 support team, the Guru Crew, has done a commendable job over the years in helping its customers and continues to do exceptionally well in addressing the various technical issues of the customers 24×7 through live chat, phone, and tickets.
Hostinger also has a reliable support team with knowledge and helpful executives to assist the customers with their technical queries and issues through 247 live chat and email. Hostinger has maintained a good track record so far in terms of support.
Conclusion
After evaluating A2 Hosting and Hostinger's performance, uptime, load testing, global TTFB, Core Web Vitals, and backup systems, it's clear that A2 Hosting has a leading edge over Hostinger.
While Hostinger does offer affordable pricing, and easy setup, it demonstrated some performance glitches, including server response time and uptime. Additionally, Hostinger lacks staging, and backups aren't available on all plans. However, these drawbacks can be overcome by using WordPress plugins like WP Staging and Updraft Plus.
Therefore, if you prioritize performance, reliability, and advanced features, A2 Hosting is the superior choice. However, if you're on a budget, Hostinger can still be a viable option.