SiteGround Performance: Still a Reliable Hosting (Reviews 2022)?
Our expert review on SiteGround focuses on performance, uptime, pricing, features, and support.
SiteGround is one of the most innovative brands in the hosting industry, known for its consistent performance and knowledgeable customer support.
Founded in 2004, SiteGround went through a significant upgrade in 2019 and launched its control panel by ditching old cPanel. They moved to Google Cloud servers, introduced new features like SGOptimizer, Automatic site transfer plugins, etc.
Do all these changes have any impact on people? Whether the performance improved? There might be a lot of questions in your mind. Continue reading our interesting reviews on SiteGround to get a clear picture in the end.
SiteGround Review: Summary
SiteGround has got a feature-rich control panel, Google cloud infrastructure, and knowledgeable support. However, the performance is awful, with no room for improvement. Their uptime is excellent, but performance and renewal pricing puts them down as they even reduced support for open source CMS like WordPress. Overall, we don't recommend SiteGround if you are looking for a performance-based host.
What is SiteGround used for?
SiteGround web hosting services are crafted for top speed, unmatched security, 24/7 fast customer support. Currently, they host over 2,000,000 domains through their global data centers.
SiteGround Performance Review
Server Response Time
Testing the performance of a hosting service is a meticulous job, and it comprises various aspects that need to be tested well for good clarity. Some of these aspects are server response time, uptime, load handling capacity, global TTFB, and core web vitals. All these aspects are extremely important, and as I explain further, you will gradually understand the importance of testing these aspects.
I want to begin with the server response time first, and I hosted a site on the SiteGround platform to test the server response time of the service. I have constantly been keeping up with the site's server response time, and according to the last test, my SiteGround site recorded an average server response time of 660 ms, which is a decent speed for sure.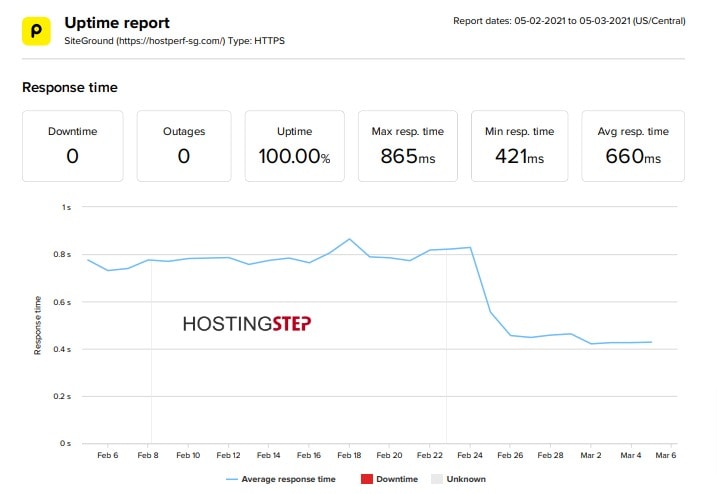 Uptime
Uptime is an extremely crucial factor for any website, and a website struggling with poor uptime can never make the most out of the various sales opportunities. Without a stable uptime, nothing is going to work. I test the uptime of various hosting services frequently.
As per my last uptime test, my SiteGround site recorded an uptime of 100%, and most importantly, there wasn't even a single downtime experienced during the testing period. Hence, SiteGround can be largely relied on for its uptime.
Load Testing
When you are choosing a hosting service, you have to consider the traffic load handling capacity of the hosting service. If you host your site on a hosting platform that cannot handle high traffic, the chances are that unexpected traffic spikes will cripple your site anytime.
Many hosting services have the right architecture and mechanism to deal with it. However, you can't take things for granted without proper testing, and that's where the load testing comes into play.
I have constantly been performing load testing on many hosting services. In Load testing, I send 500 and 1000 concurrent traffic to sites in 1 minute and carefully monitor how they respond to it.
According to the last test, my SiteGround site recorded 45 ms in the Clients Per Test (1000 Clients in 1 Minute), 201 ms in the Maintain Client Load (500 Clients in 1 Minute),. and 2929 ms in the Maintain Client Load (1000 Clients in 1 Minute). Going by the results, SiteGround can undoubtedly handle high traffic.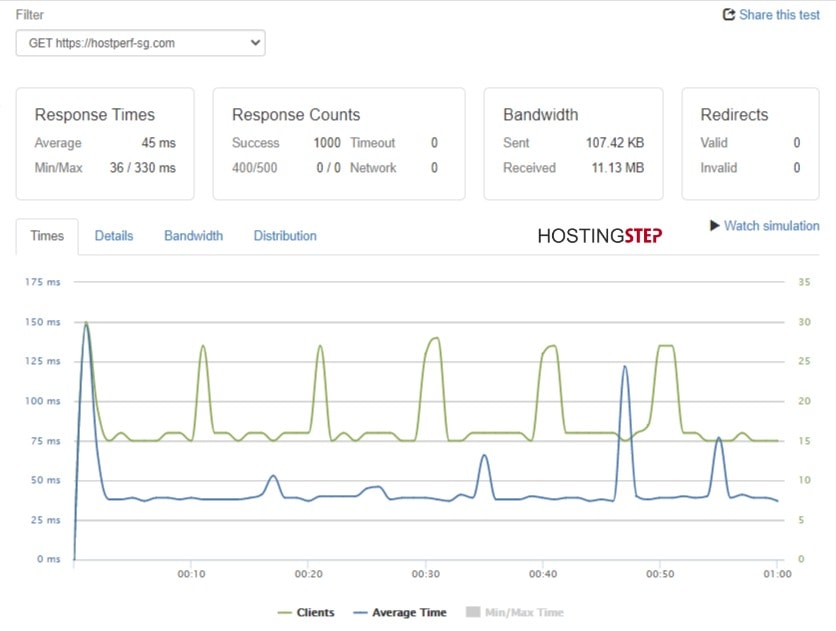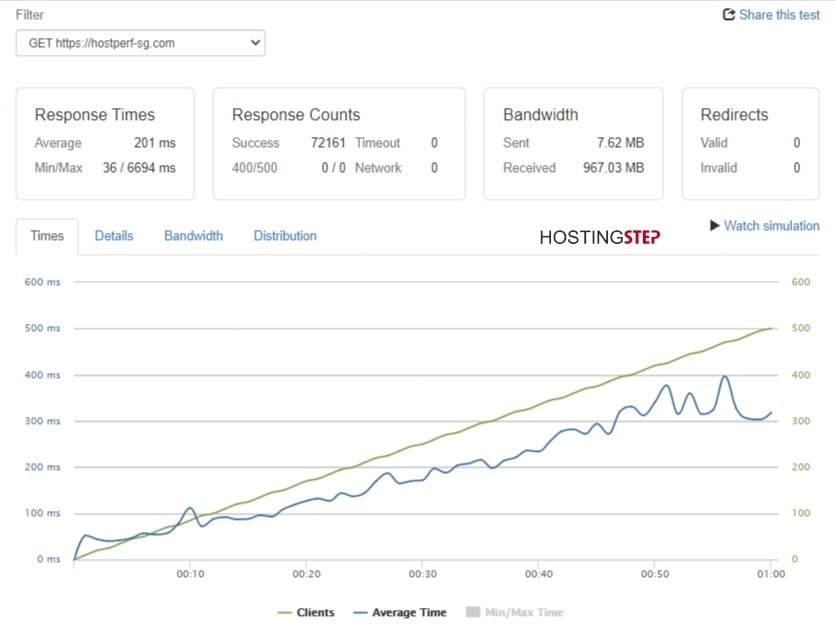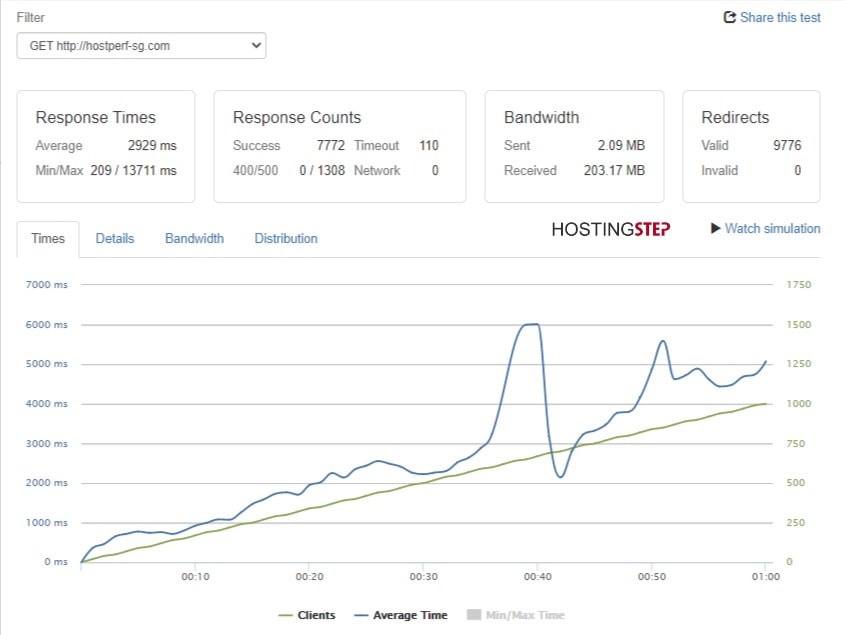 Global TTFB
Another important aspect of performance that needs to be well tested is the Global TTFB. It is the TTFB of a hosting service across different locations across the world. This test is especially important for those sites that largely rely on multiple global locations for traffic. However, even if you plan to host a site with a single target location, a good Global TTFB would mean a good signal.
I constantly check the global TTFB of many hosting services I keep track of. I check the global TTFB by pinging my sites hosted with the hosting services from ten global locations across the USA, Europe, and Asia and monitoring the TTFB across these locations.
According to the last Global TTFB test, my SiteGround site recorded an average TTFB of 861.03 ms. Honestly, I was not very impressed by the performance. Even though the site had a decent TTFB in 6 places, it had TTFBs over 1 second in 4 places. Hence, I would not recommend SiteGround for sites that largely rely on multiple global locations.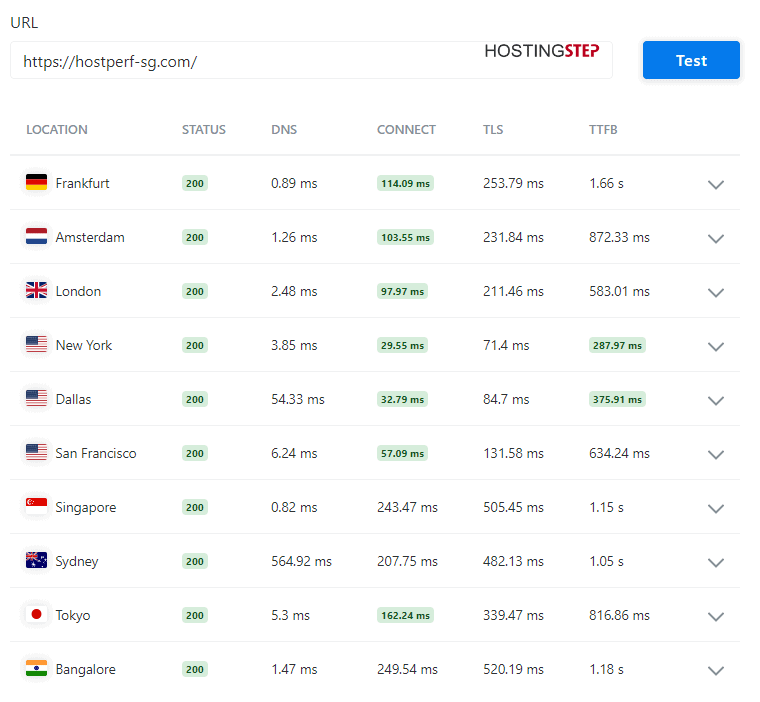 Core Web Vitals
User experience has become an important ranking factor these days. If you are looking forward to hosting a site, you must consider ways to deliver the best user experience to the visitors. It starts right from selecting the right hosting service, and for that, you have to choose a hosting service with brilliant Core Web Vitals.
As per my last Core Web Vitals test, my SiteGround site recorded a 'Largest Contentful Paint' of 0.876s, a 'Total Blocking Time' of 0.006s, and a 'Cumulative Layout Shift' of 0. Hence, you can certainly expect a lot of support from the platform regarding user experience.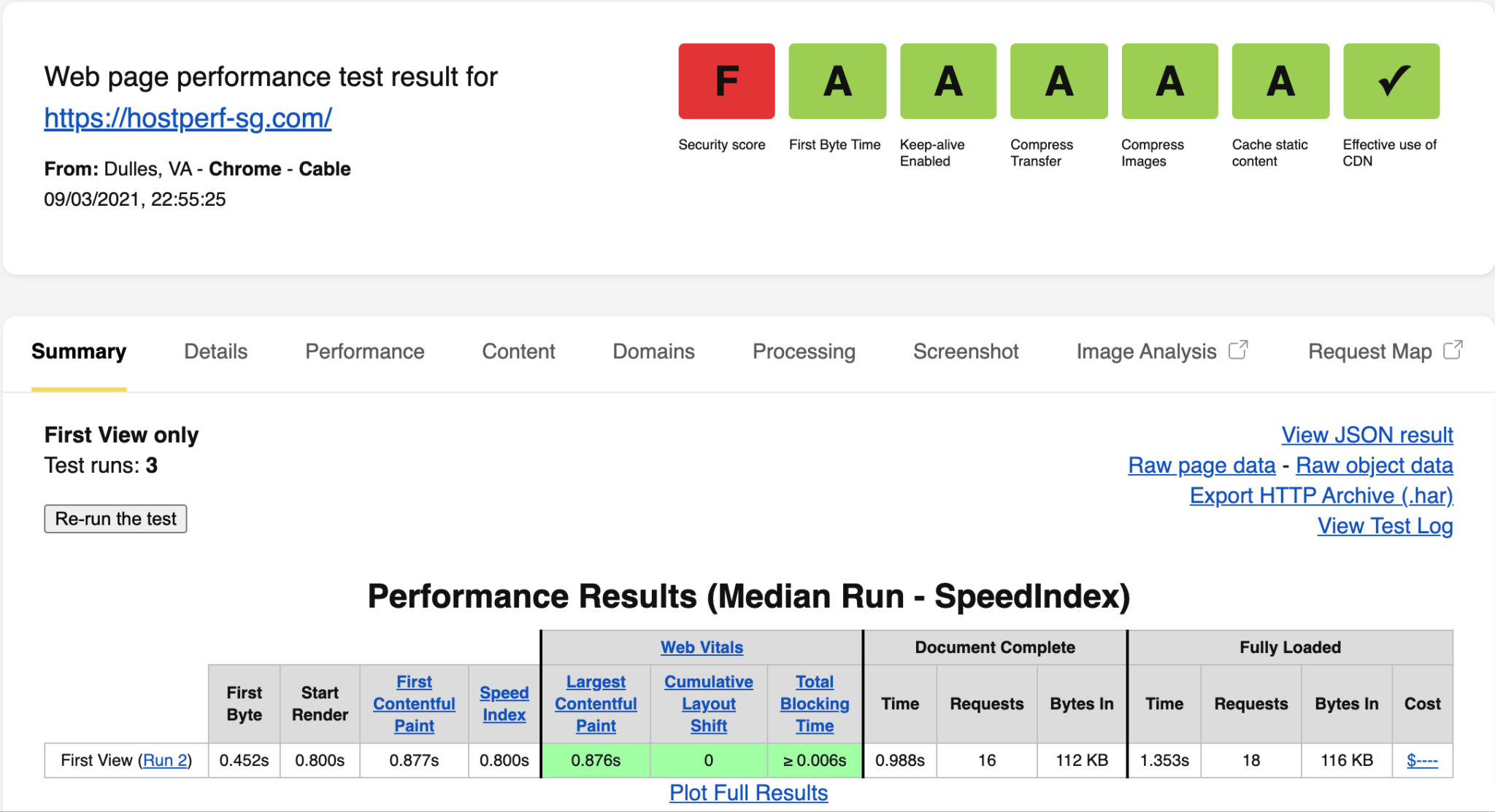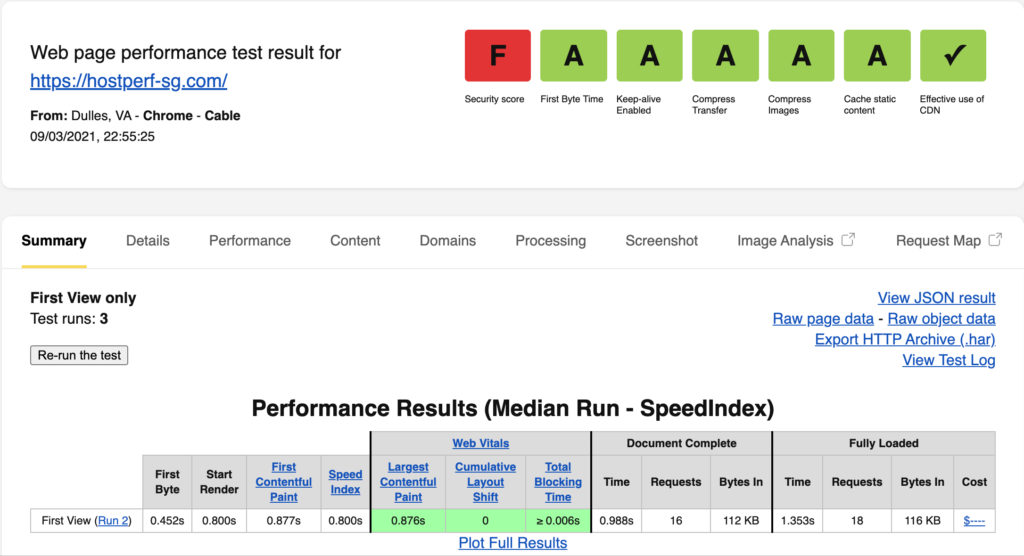 SiteGround Pros
1. SiteGround control panel is impressive.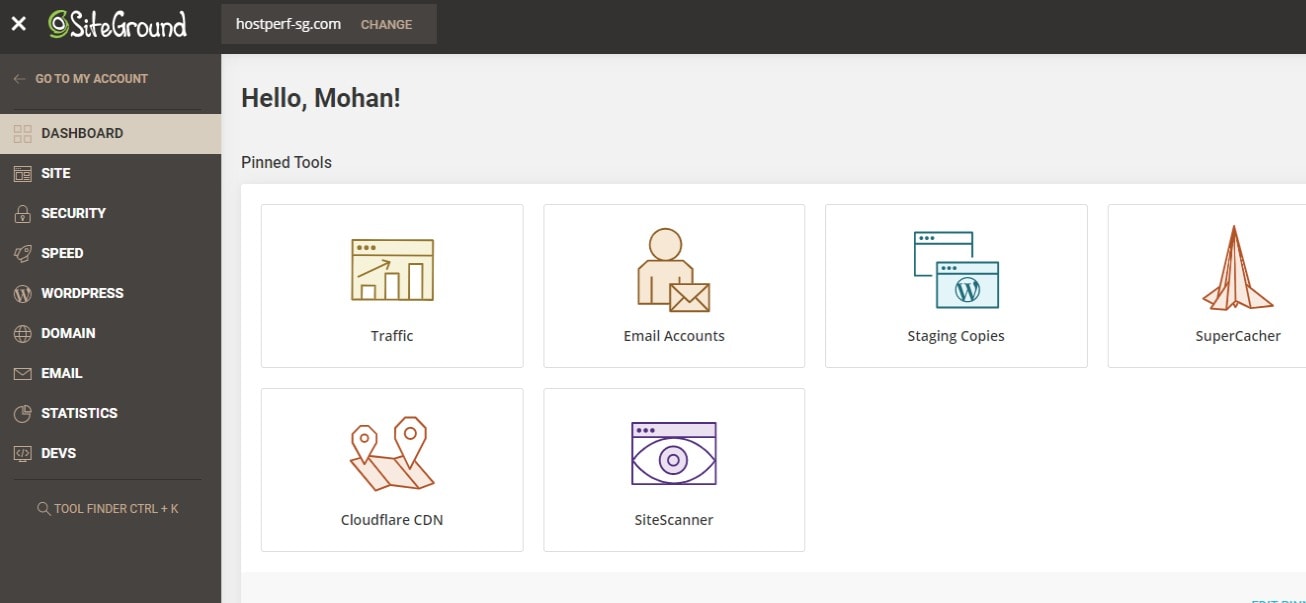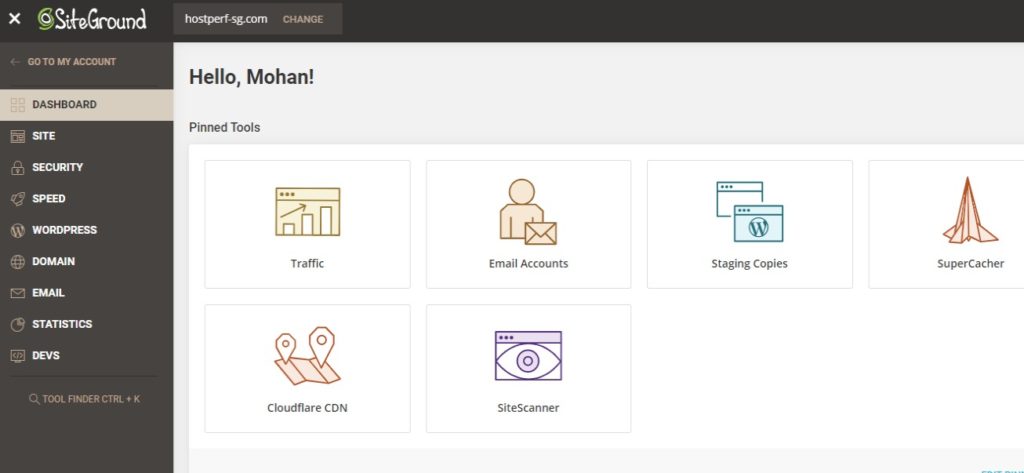 SiteGround ditched cPanel and launched its control panel. Though cPanel heavily inspired it, they made the panel load faster while navigating between options. The control panel is neat and easy to use, even for beginners. All the options are easily accessible and can be done in a few clicks.
2. Good Uptime
SiteGround always excelled when it comes to uptime. Even before the Google cloud launch, their uptime was outstanding, hitting 100% most of the time.
To test their uptime, I bought an account as a regular user, installed a WordPress site. I put the site to test from multiple tools, and the site will be monitored every 60 seconds once to record downtime.
Though SiteGround uptime is not poor, there are atleast downtime every month which is concerning.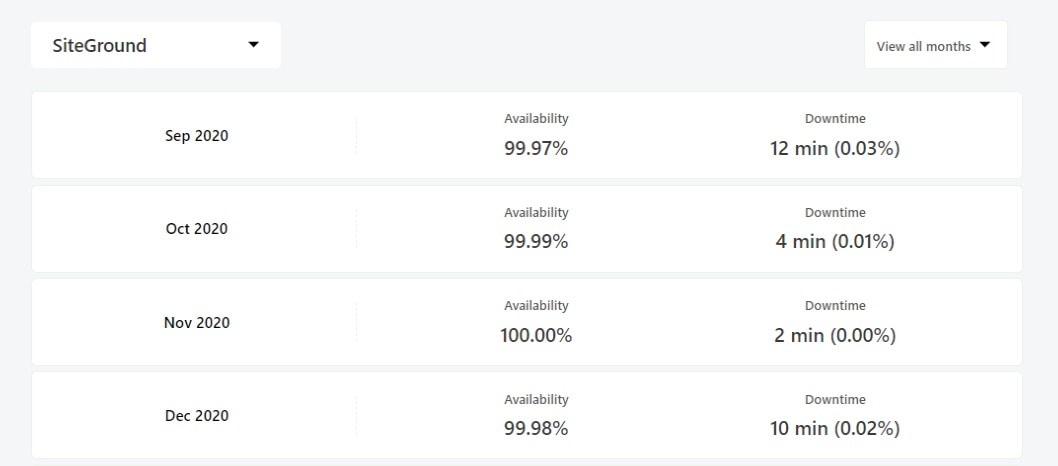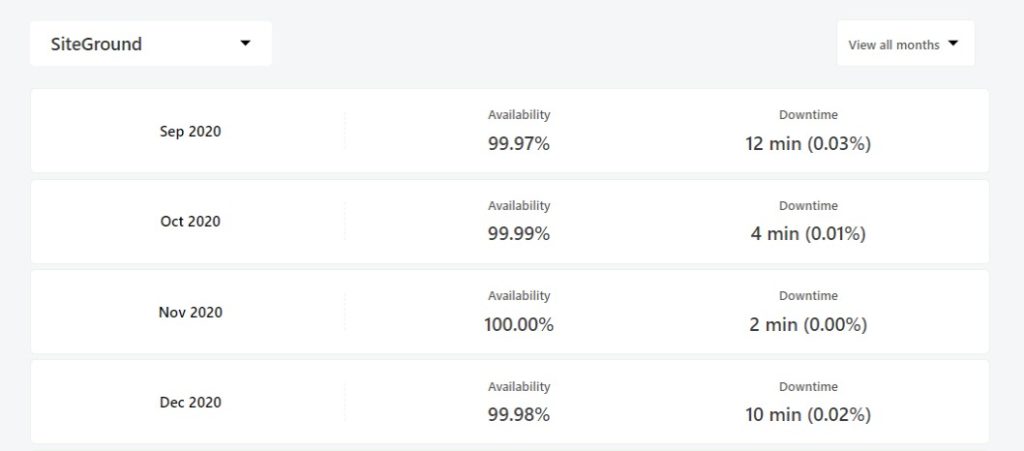 3. Knowledgeable customer support
SiteGround has got one of the best support teams in the industry. I've heard most of the employees are still with them since the company founded in 2004. The auto channel recommendation recommends the fast and most relevant channel (Chat, ticket, or phone) based on your support request.


Overall, I had a pleasant experience with them. The agents are well trained and straight to the point.
4. Great Security Features
SiteGround is known best for its security features. While most companies partner with 3rd party security providers, they developed its proprietary security solutions.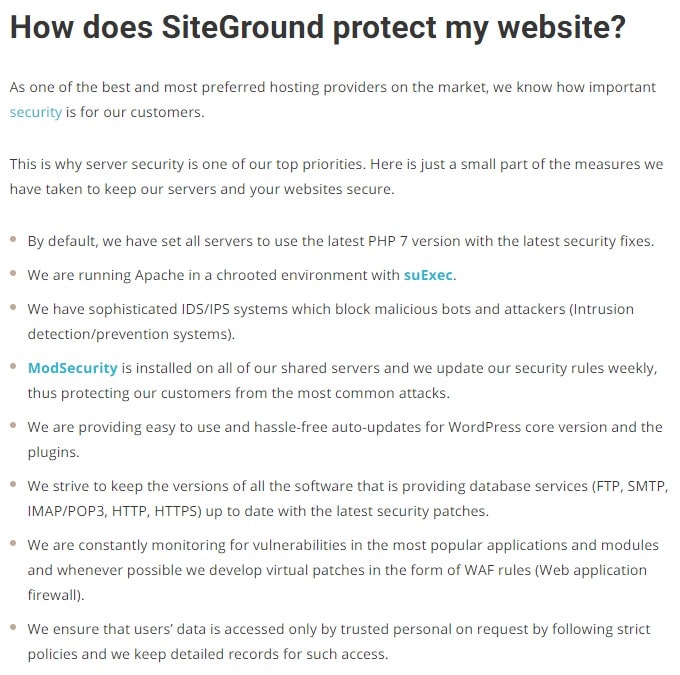 The Real-time server health checks do the server check every 0.5 seconds and automatically fix common issues to prevent potential problems.
The Smart Web Application Firewall (WAP) comes in handy to protect your sites from exploits. Their AI anti-bot automatically blocks malicious traffic from visiting your sites.
SiteGround Cons
1. Average performance
SiteGround used to be great, but with their recent developments, the performance was declining. Our test site recorded an average response time of 700ms, which is not great.
The score is only better than HostGator and Bluehost, while the rest of the similar hosts like GreenGeeks, A2 Hosting recorded better response time.
Since the initial response time is high, the Core Web Vitals are highly affected as there is no room for improvements.
2. More than 2x Renewal Price
SiteGround increased its price twice in the last few years. They sent an email stating that the price is increased to match their latest tech stacks. However, it wasn't received well from existing as well as new users.
In 2016, I bought Growbig account for $83.40 and the renewal in 2020 is $299.88 per year.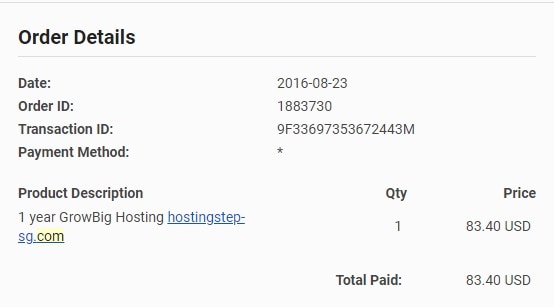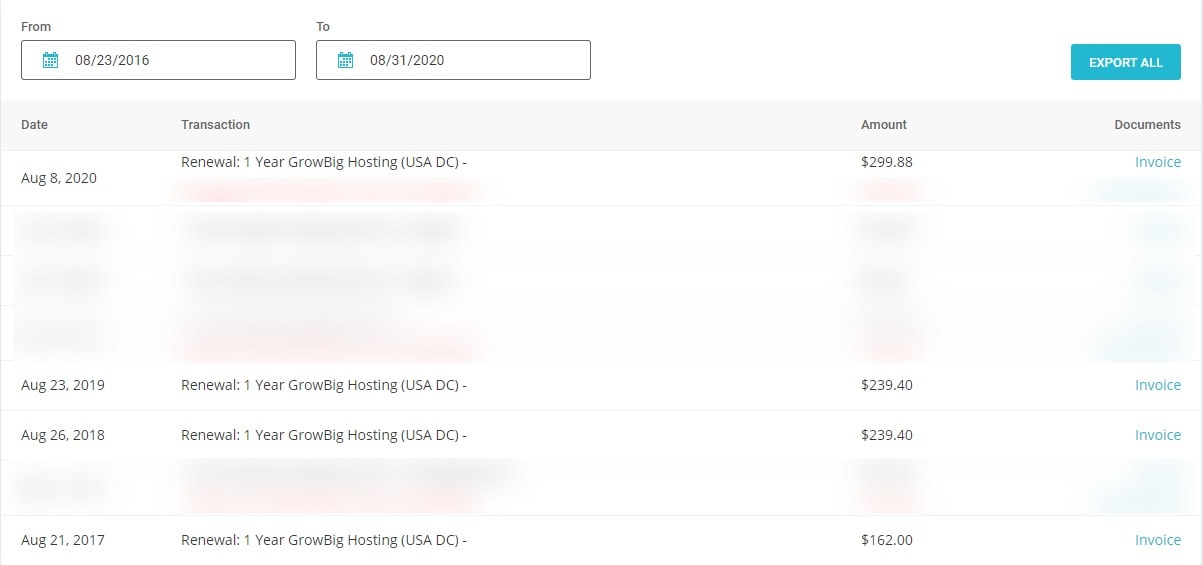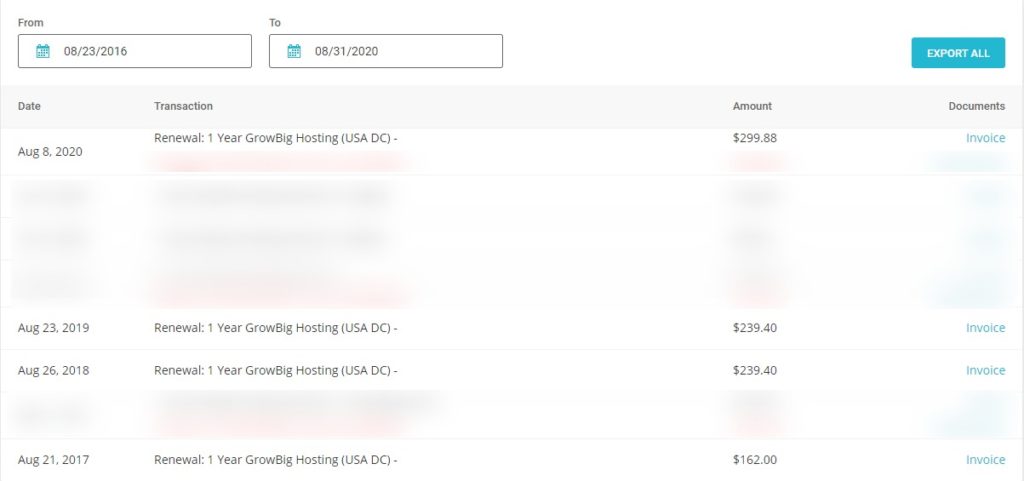 While most companies go for 1.5x more pricing during renewals, SiteGround goes for 2.5x more pricing. Their GoGeek package priced at $14.99 per month gets renewed at $39.99 per month, which is more than 2.5x of the initial price. That's the reason why the search for SiteGround alternatives is increasing forever.
Though the prices have increased, SiteGround is not shy away from hiding the renewal prices. They put it very clear on the pricing page to avoid confusion of users while renewing.
Overall, SiteGround justifies the price point, but it's up to you to confirm the same.
3. Resource Limits
While SiteGround has increased the prices, the resources offered are not improved except for a few minor improvements to resources.
Even though their Growbig and GoGeek packages allow unlimited websites, SiteGround puts a considerable CPU and inode limit, making your site go down during the month-end. You can either upgrade to their $110 per month cloud hosting or keep your site down till then.
Apart from resource limits, SiteGround also puts package based limits, which you never find on Cloudways or WP Engine. The Startup plan is highly limited with no super cacher features, making the sites hosted with them look awful.
SiteGround Features
1. Backups
SiteGround provides daily automatic backups and the ability to create manual backups (limited based on plan) when needed. The portal keeps backups of the last 30 days, and at one click, you can restore the site.
2. Staging Sites
The staging sites were introduced with their new control panel. You can create a staging copy of your production site and test new features or plugin updates. Once done, you can push the staging site files to the production site. You can password protect your staging sites to avoid public visits.
3. Free CDN
They have partnered with Cloudflare and provides deep integration with Cloudflare features. You can perform all the settings right inside the portal. Cloudflare is one of the popular free CDN providers with 200+ global POP locations.
4. SG Optimizer
SiteGround launched its caching plugin name SG Optimizer which is heavily inspired by WP Rocket. For every WordPress install, the plugin gets installed by default.
Their support also claims their servers work best with SG Optimizer over other third party plugins like WP Rocket. The only issue here is, if you move out of them in the future, then SG Optimizer doesn't work on your new host, and you need to reconfigure your site for speed.
5. Automatic Transfer
Their Migrator is another new feature in their arsenal. Almost 90% of the companies launched similar plugins for site transfer, and no wonder SiteGround too introduced one such plugin. You need to install the plugin on an existing site and enter the required details; the site transfer will be done.
When to Choose SiteGround?
Their GoGeek and Grow Big packages allow unlimited website hosting, which is quite useful for agencies who need to host many clients sites that receive less traffic. In that condition, SiteGround still holds good.
SiteGround Plans and Pricing
SiteGround has three different plans to get started. They are
Startup: Starts at $6.99 per month and renews at $14.99 per month
Growbig: Starts at $9.99 per month and renews at $24.99 per month
GoGeek: Starts at $14.00 per month and renews at $39.99 per month
The company claims the initial discounted pricing for 12 months of billing and renews the pricing mentioned above.
SiteGround Web Hosting
SiteGround Web Hosting is very affordable, especially its StartUp plan, which only costs $6.99 a month. The bestseller GrowBig plans for only $9.99 a month. Also, a much more extensive tool and features with the GoGeek plan for only $14.99 a month.
Ultra-Fast Sites – The hosting platform is based on Google Cloud and uses an ultra-fast network and permanent SSD storage.
Top-notch Security – manages the security of your websites at the server and application level.
Managed Wordpress – Supports WordPress installation, easy and fast WP Starter site-building wizard, managed software and plug-in auto-updates, expert WordPress support, and more.
Easy Site Management – Easily manage your site built on the most popular Content Management Systems such as Joomla, Magento, WordPress, and more.
Domain Management – SiteGround makes it more convenient to manage both your domain and your site at the same location. They also offer affordable domain registration and transfer services, a friendly domain management board, DNS services, and more.
SiteGround Wordpress Hosting
There is no exclusive WordPress hosting plan. It is the same plan as like the web hosting. Below are the WordPress specific features:
Staging Tool – Making changes to your site has never been easier. Create a copy of your site with a button, work on it, and then move the changes live with our staging method.
Dev Toolkit – Advanced users will benefit from SiteGround tools like WP-CLI, SSH access, PHP version control, Git integration, and more that make workflows easy and fast.
Collaboration Tools – You can easily add collaborators, ship sites to clients, and give your clients Whitelabel access to their site's Site Tools.
Email Service – Create unlimited email accounts with the webmail interface included. Stop spam with the free SpamExperts service.
Wordpress Transfer – Bring your WordPress site to a free Migrator plugin in just a few clicks or get a professional website switch from experts.
SiteGround Managed WooCommerce Hosting
AI anti-bot system – SiteGround has a unique anti-bot AI system, effectively preventing millions of security threats every day.
Custom WAF – Their security team constantly updates its Web Application Firewall with custom in-house written regulations that keep your store safe from various site attacks.
Unique Caching Options – By default, the company enables NGINX Direct Delivery for all sites on its servers, which means that certain items, like your images, will load faster and will be directly served by NGINX.
Powerful Speed Technology – SiteGround servers are located in some of the best data centers in the world and run on the latest SSD disks.
CDN Service – The CDN tremendously speeds up your load time for visitors from different geographical locations.
SiteGround Cloud Hosting
SiteGround Cloud Hosting has managed to provide you a great quality hosting provider at very affordable prices. You can start on the cloud with its Entry plan for only $100 a month. You may also want an optimal cloud experience with a Business plan for only $200 a month, an advanced performance of Business Plus for only $300 a month, and a premium server power of Super Power plan for just $400 a month.
Staging, Git & WP-CLI – SiteGround makes WordPress and WooCommerce easier with a simple staging platform and integration of Git and WP-CLI.
Dynamic Caching & More – Speed up your WordPress and Woo pages with the SG Optimizer plugin, using smart dynamic caching and several other efficiency optimizations.
Easy Start & Managed Updates – SiteGround cloud services include quick on-boarding of new and existing sites and managed WordPress and WooCommerce auto-updates.
SSH & SFTP – You have direct SSH access to your cloud account, and you can also use SFTP for secure file transfer and management.
Dedicated IP – The cloud account gives you the individuality and satisfaction of having your own Dedicated IP.
SiteGround Reseller Hosting
The Reseller Hosting comes with extensive features and reliable tools, which clients would definitely adore with the very affordable pricing. The Hosting costs $14.99 a month, with its GoGeek plan surely provides you with the best possible hosting services.
Manage multiple sites in your hosting package – This allows you to create multiple sites and manage them easily from a single dashboard. Each site has its own Site Tools for easy management of web files, databases, emails, and more.
Give your clients white-label access to their sites – You can easily give your clients white-label access to their own website's Site Tools. You will also log in to a special version of our site management tools that do not have branding.
Collaboration Option – You can create a separate collaborator account for each person completely free of charge.
Site Transfer to Clients – You can transfer the Site Ownership with just a few clicks upon your clients' requests.
Client Interfaces – Offers easy and intuitive ways of creating sites and manage them with the wide range of tools that the company offers.
SiteGround Enterprise Hosting
The customers can design their own Enterprise Hosting Service on what server resources you need for your website. Due to custom requirements, there is no fixed price tag for Enterprise plans as it varies depending on the number of resources your site will use.
Reliable Architecture – Customized solutions that are based on Linux containers and provide a world-class level of availability and scalability.
Fully Managed – The customers can completely focus on their core business while SiteGround takes care of the maintenance of their hosting infrastructure.
Development Workflow – They will help you create one or integrate your custom development workflow in their own hosting solution.
Personal Account Managers – You can depend on a dedicated account manager to take care of your project every step of the way. This person helps you get on board and knows your project from the start.
Common Features for All Plans
SiteGround hosting plans, including their packages, are similar to each other and have common features and tools you can maximize with SiteGround hosting services.
This plan includes StartUp, GrowBig, and GoGeek packages.
Unmetered Traffic
Free SSL
Daily Backup
Free CDN
Free Email
Managed WordPress
Unlimited Databases
100% renewable energy match
30-Days Money-Back
However, extensive plans such as GrowBig and GoGeek have additional features in common.
On-demand Backup Copies
Speed-boosting Caching
Staging
Add Collaborators
When not to choose SiteGround?
As you can see from our test, SiteGround has many cons, including average performance, 2x renewal prices, and limited resources. If you're a blogger or agency running websites that make passive money, SiteGround is not for you.
Conclusion
SiteGround, on the whole, used to be great, but with their price increase, average performance, I feel it doesn't offer the best value for money. Although under certain conditions, one can still choose SiteGround.
Frequently Asked Questions
How much does SiteGround cost?
SiteGround shared hosting Startup plan starts at $6.99 per month, Growbig costs $9.99 per month, and GoGeek at $14.99 per month. All the above plans renew at $14.99, $24.99, and $39.99 per month, respectively.
Is SiteGround good for WordPress?
SiteGround is one of the popular WordPress hosting companies. Based on our tests, SiteGround provides average performance for WordPress sites. While the uptime is excellent, the WordPress performance is below average and doesn't offer better money value.
Why is SiteGround so expensive?
SiteGround hosting was made expensive in the last few years. After the launch of their new control panel, they have increased prices, Google cloud, for their servers. Although the pricing was raised, there are no significant improvements in performance.
How do I contact SiteGround?
SiteGround provides 24/7 support via chat, phone, and tickets. You can access the support through your portal. Based on the issue type, several support requests are raised per month, you will be provided with either chat or ticket support.