SiteGround Reviews 2021: Still a Reliable Hosting?
Our expert review on SiteGround focuses on performance, uptime, pricing, features, and support.
SiteGround is one of the most innovative brands in the hosting industry, known for its consistent performance and knowledgeable customer support.
Founded in 2004, SiteGround went through a significant upgrade in 2019 and launched its control panel by ditching old cPanel. They moved to Google Cloud servers, introduced new features like SGOptimizer, Automatic site transfer plugins, etc.
Do all these changes have any impact on people? Whether the performance improved? There might be a lot of questions in your mind. Continue reading our interesting reviews on SiteGround to get a clear picture in the end.
SiteGround Review: Summary
SiteGround has got a feature-rich control panel, Google cloud infrastructure, and knowledgeable support. However, the performance is awful, with no room for improvement. Their uptime is excellent, but performance and renewal pricing puts them down as they even reduced support for open source CMS like WordPress. Overall, we don't recommend SiteGround if you are looking for a performance-based host.
What is SiteGround used for?
According to SiteGround.com
SiteGround web hosting services are crafted for top speed, unmatched security, 24/7 fast customer support. Currently, they host over 2,000,000 domains through their global data centers.
SiteGround Plans and Pricing
SiteGround has three different plans to get started. They are
Startup: Starts at $6.99 per month and renews at $14.99 per month
Growbig: Starts at $9.99 per month and renews at $24.99 per month
GoGeek: Starts at $14.00 per month and renews at $39.99 per month
The company claims the initial discounted pricing for 12 months of billing and renews the pricing mentioned above.
SiteGround Pros
1. SiteGround control panel is impressive.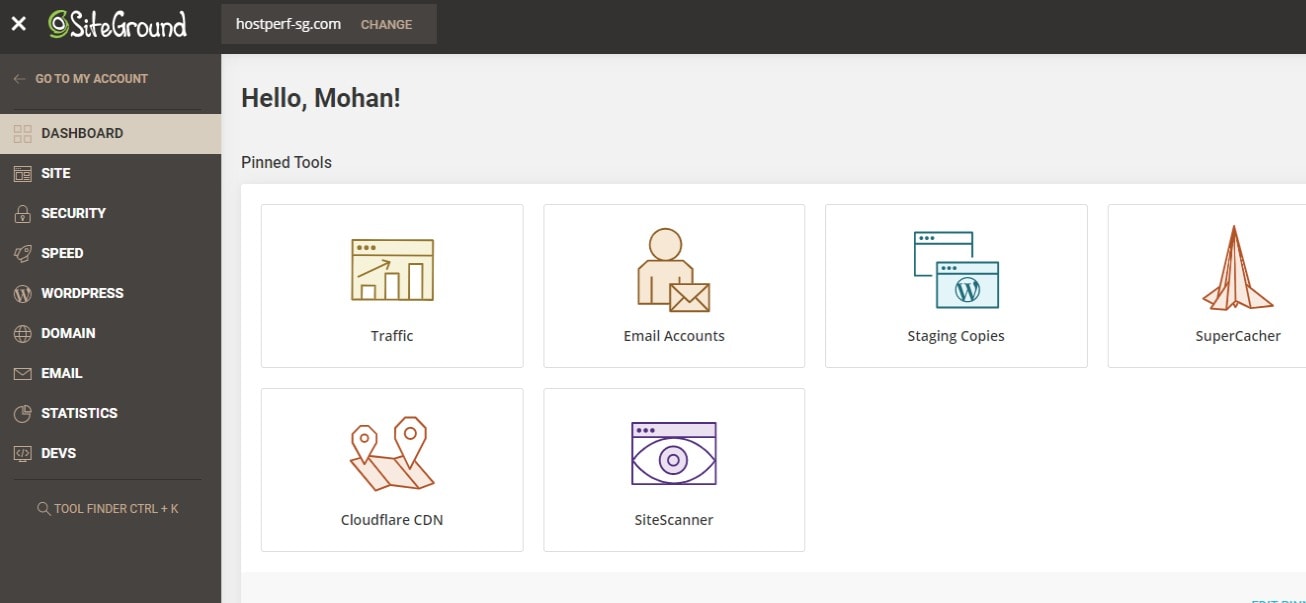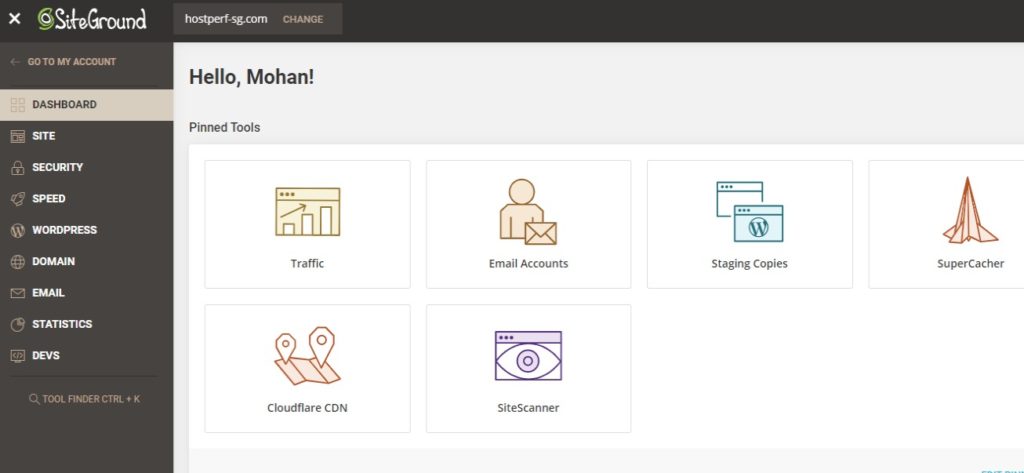 SiteGround ditched cPanel and launched its control panel. Though cPanel heavily inspired it, SiteGround made the panel load faster while navigating between options. The control panel is neat and easy to use, even for beginners. All the options are easily accessible and can be done in a few clicks.
2. Good Uptime
SiteGround always excelled when it comes to uptime. Even before the Google cloud launch, their uptime was outstanding, hitting 100% most of the time.
To test their uptime, I bought an account as a regular user, installed a WordPress site. I put the site to test from multiple tools, and the site will be monitored every 60 seconds once to record downtime.
Though SiteGround uptime is not poor, there are atleast downtime every month which is concerning.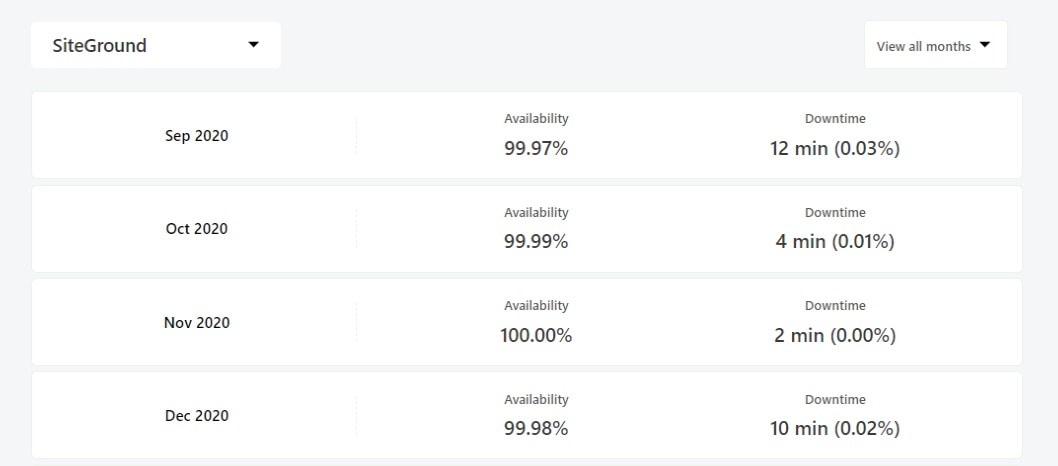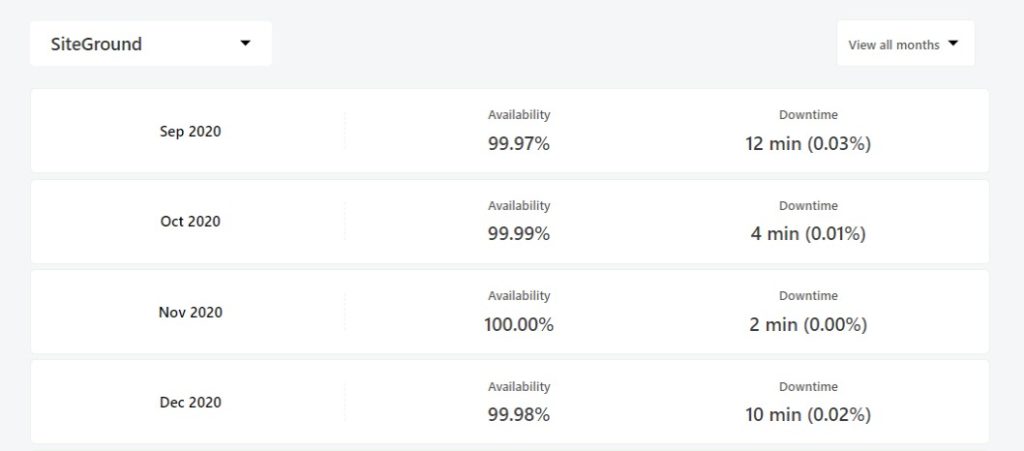 3. Knowledgeable customer support
SiteGround has got one of the best support teams in the industry. I've heard most of the employees are still with them since the company founded in 2004. The auto channel recommendation recommends the fast and most relevant channel (Chat, ticket, or phone) based on your support request.


Overall, I had a pleasant experience with them. The agents are well trained and straight to the point.
4. Great Security Features
SiteGround is known best for its security features. While most companies partner with 3rd party security providers, SiteGround developed its proprietary security solutions.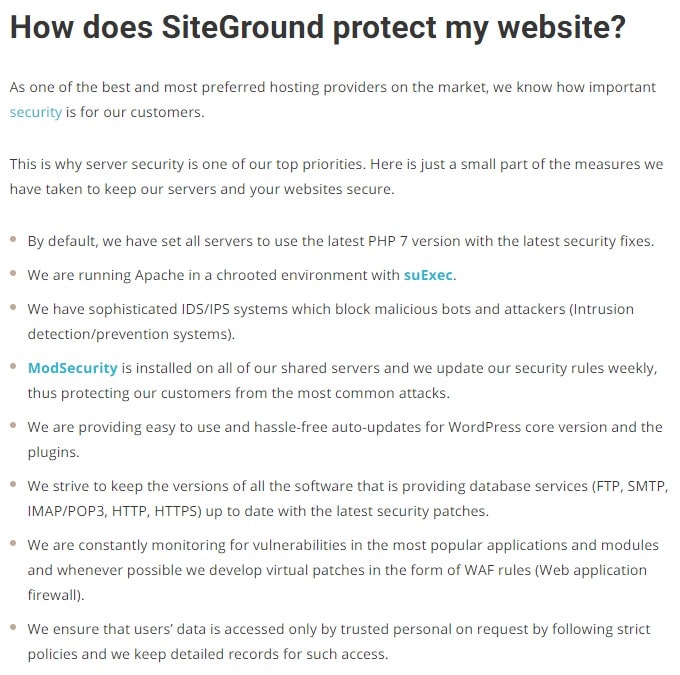 The Real-time server health checks do the server check every 0.5 seconds and automatically fix common issues to prevent potential problems.
The Smart Web Application Firewall (WAP) comes in handy to protect your sites from exploits. Their AI anti-bot automatically blocks malicious traffic from visiting your sites.
SiteGround Cons
1. Average performance
SiteGround used to be great, but with their recent developments, the performance was declining. Our test site recorded an average response time of 700ms, which is not great.
| Month | Average response time |
| --- | --- |
| September 2020 | 693 ms |
| October | 745 ms |
| November | 779 ms |
| December | 551 ms |
The score is only better than HostGator and Bluehost, while the rest of the similar hosts like GreenGeeks, A2 Hosting recorded better response time.
Since the initial response time is high, the Core Web Vitals are highly affected as there is no room for improvements.
2. More than 2x Renewal Price
SiteGround increased its price twice in the last few years. They sent an email stating that the price is increased to match their latest tech stacks. However, it wasn't received well from existing as well as new users.
In 2016, I bought Growbig account for $83.40 and the renewal in 2020 is $299.88 per year.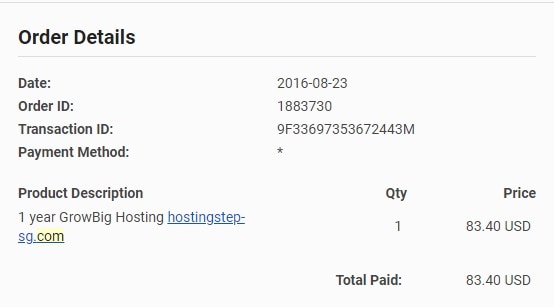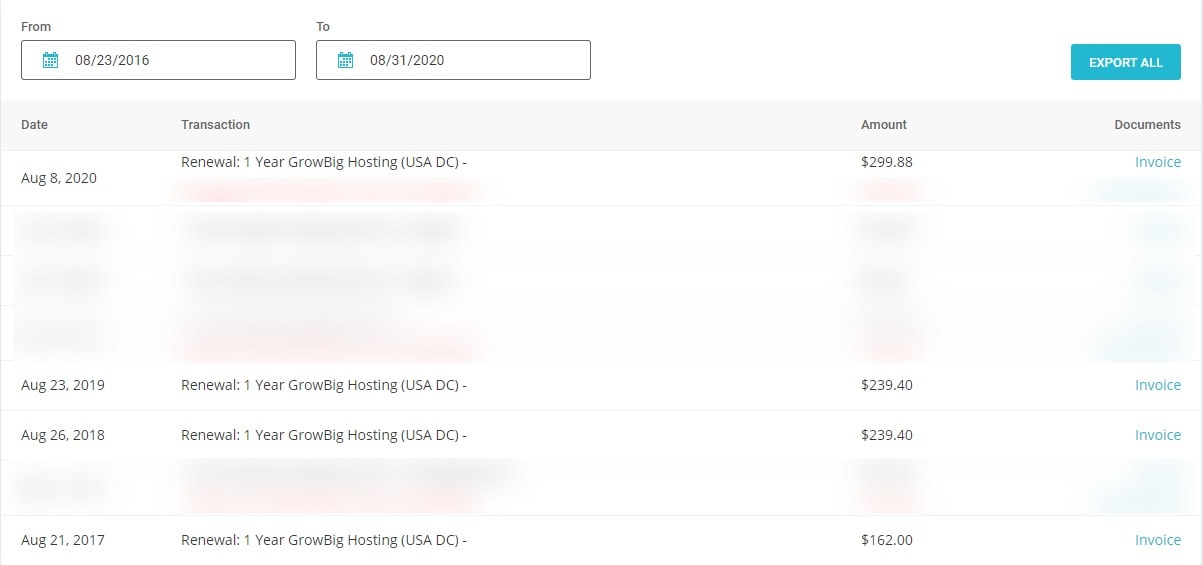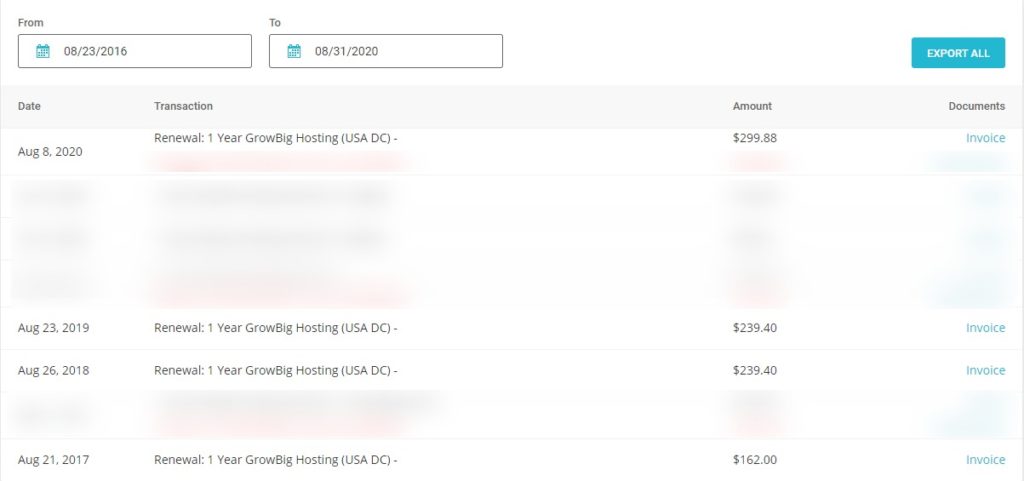 While most companies go for 1.5x more pricing during renewals, SiteGround goes for 2.5x more pricing. Their GoGeek package priced at $14.99 per month gets renewed at $39.99 per month, which is more than 2.5x of the initial price.
Though the prices have increased, SiteGround is not shy away from hiding the renewal prices. They put it very clear on the pricing page to avoid confusion of users while renewing.
Overall, SiteGround justifies the price point, but it's up to you to confirm the same.
3. Resource Limits
While SiteGround has increased the prices, the resources offered are not improved except for a few minor improvements to resources.
Even though their Growbig and GoGeek packages allow unlimited websites, SiteGround puts a considerable CPU and inode limit, making your site go down during the month-end. You can either upgrade to their $110 per month cloud hosting or keep your site down till then.
Apart from resource limits, SiteGround also puts package based limits, which you never find on Cloudways or WP Engine. The Startup plan is highly limited with no super cacher features, making the sites hosted with them to look awful.
SiteGround Features
1. Backups
SiteGround provides daily automatic backups and the ability to create manual backups (limited based on plan) when needed. The portal keeps backups of the last 30 days, and at one click, you can restore the site.
2. Staging Sites
The staging sites were introduced with their new control panel. You can create a staging copy of your production site and test new features or plugin updates. Once done, you can push the staging site files to the production site. You can password protect your staging sites to avoid public visits.
3. Free CDN
SiteGround partners with Cloudflare and provides deep integration with Cloudflare features. You can perform all the settings right inside the portal. Cloudflare is one of the popular free CDN providers with 200+ global POP locations.
4. SG Optimizer
SiteGround launched its caching plugin name SG Optimizer which is heavily inspired by WP Rocket. For every WordPress install, the plugin gets installed by default.
SiteGround support also claims their servers work best with SG Optimizer over other third party plugins like WP Rocket. The only issue here is, if you move out of SiteGround in the future, then SG Optimizer doesn't work on your new host, and you need to reconfigure your site for speed.
5. Automatic Transfer
SiteGround Migrator is another new feature in their arsenal. Almost 90% of the companies launched similar plugins for site transfer, and no wonder SiteGround too introduced one such plugin. You need to install the plugin on an existing site and enter the required details; the site transfer will be done.
When to Choose SiteGround?
Their GoGeek and Grow Big packages allow unlimited website hosting, which is quite useful for agencies who need to host many clients sites that receive less traffic. In that condition, SiteGround still holds good.
When not to choose SiteGround?
As you can see from our test, SiteGround has many cons, including average performance, 2x renewal prices, and limited resources. If you're a blogger or agency running websites that make passive money, SiteGround is not for you.
Conclusion
SiteGround, on the whole, used to be great, but with their price increase, average performance, I feel SiteGround doesn't offer the best value for money. Although under certain conditions, one can still choose SiteGround.
Frequently Asked Questions
How much does SiteGround cost?
SiteGround shared hosting Startup plan starts at $6.99 per month, Growbig costs $9.99 per month, and GoGeek at $14.99 per month. All the above plans renew at $14.99, $24.99, and $39.99 per month, respectively.
Is SiteGround good for WordPress?
SiteGround is one of the popular WordPress hosting companies. Based on our tests, SiteGround provides average performance for WordPress sites. While the uptime is excellent, the WordPress performance is below average and doesn't offer better money value.
Why is SiteGround so expensive?
SiteGround hosting was made expensive in the last few years. After the launch of their new control panel, they have increased prices, Google cloud, for their servers. Although the pricing was raised, there are no significant improvements in performance.
How do I contact SiteGround?
SiteGround provides 24/7 support via chat, phone, and tickets. You can access the support through your portal. Based on the issue type, several support requests are raised per month, you will be provided with either chat or ticket support.