A2 Hosting Vs. SiteGround – Introduction
A2 Hosting is one hosting company that emphasized speed to help sites with better SEO rankings and higher conversion rates. A2 has maintained a brilliant track record so far. Besides, the service comes with many advanced features and extremely reliable support.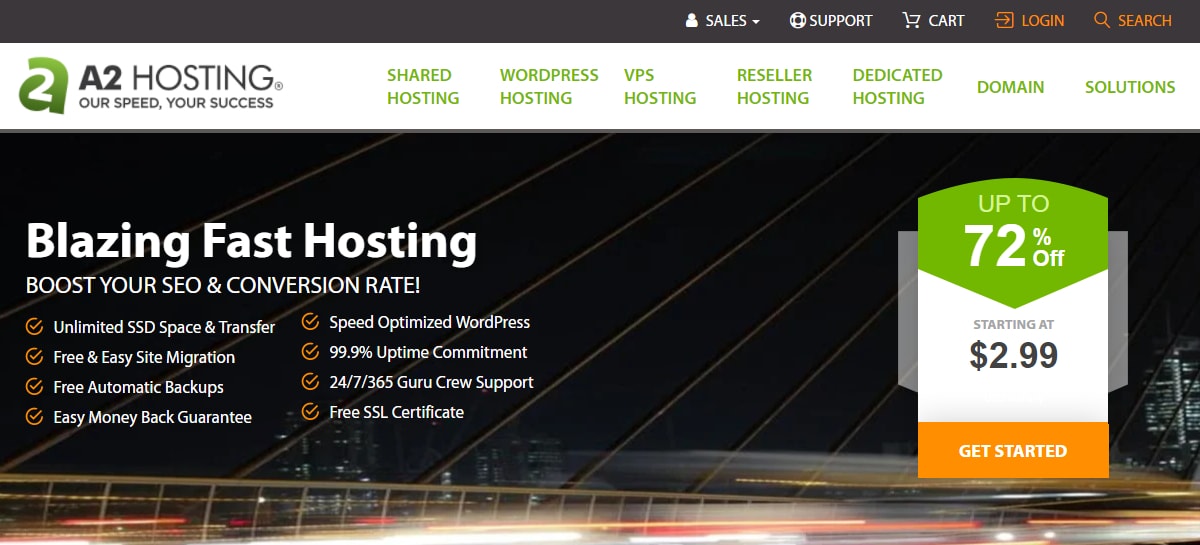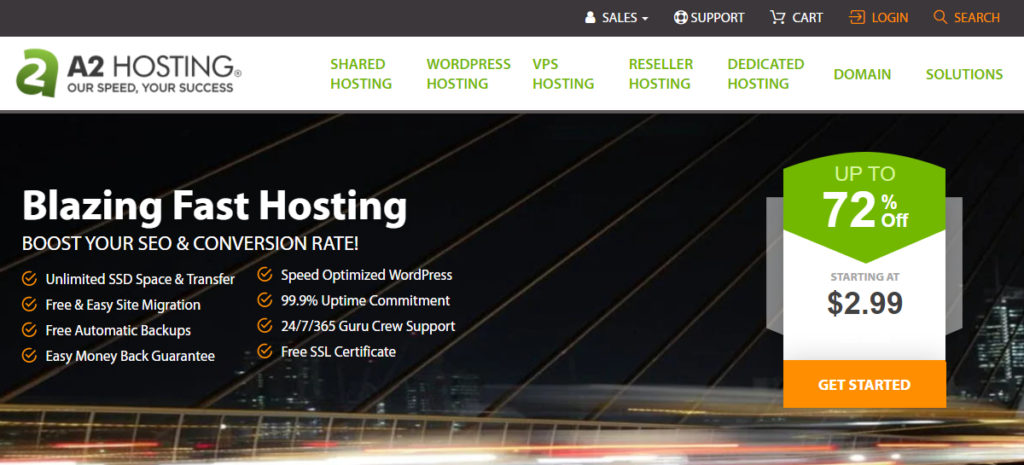 SiteGround is another reliable hosting service that has been around since 2004. Since its inception, the company has focused on providing its customers with advanced hosting with easy website management. Further, the service offers you many innovative tools to take your hosting experience to the next level.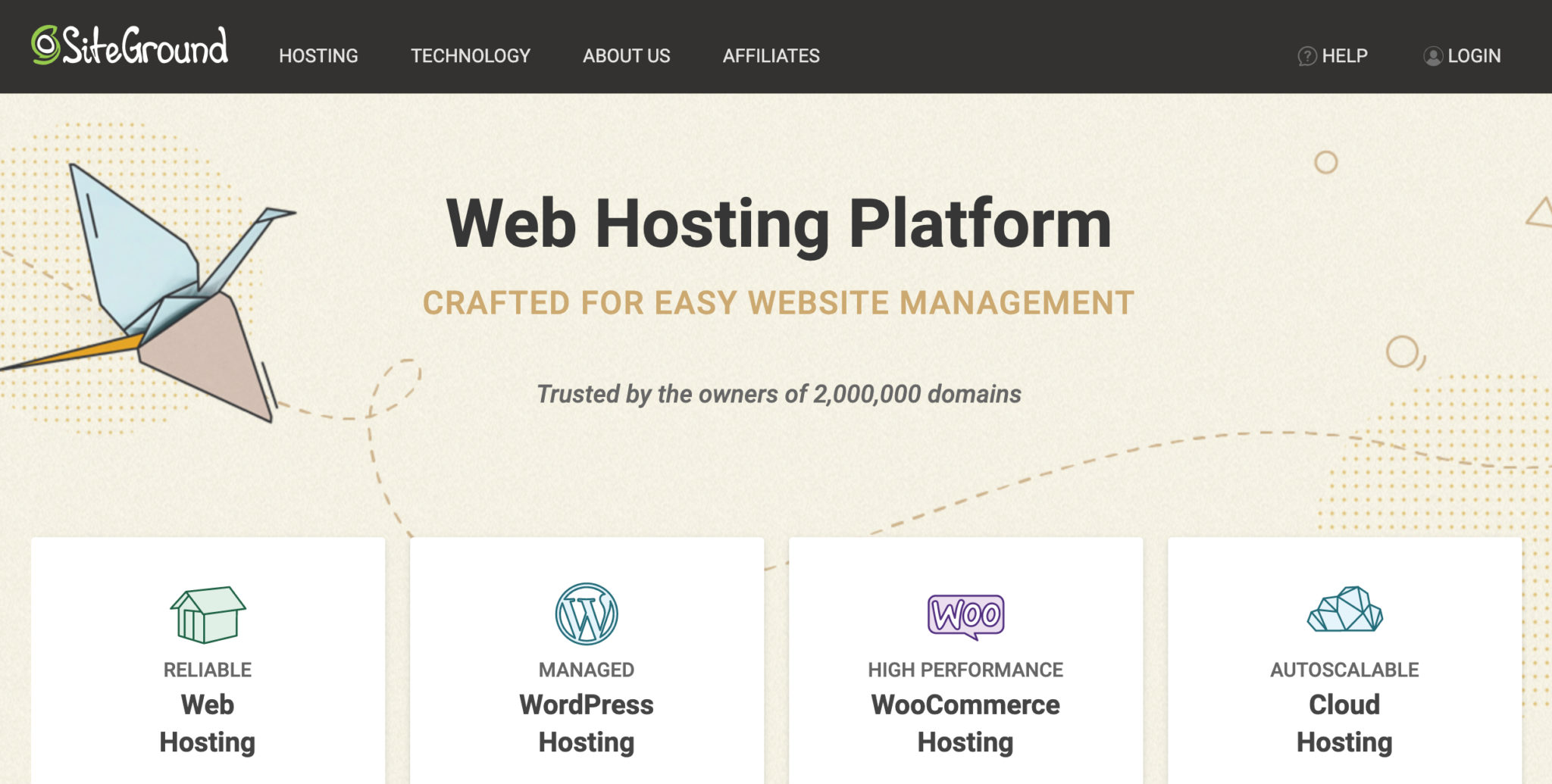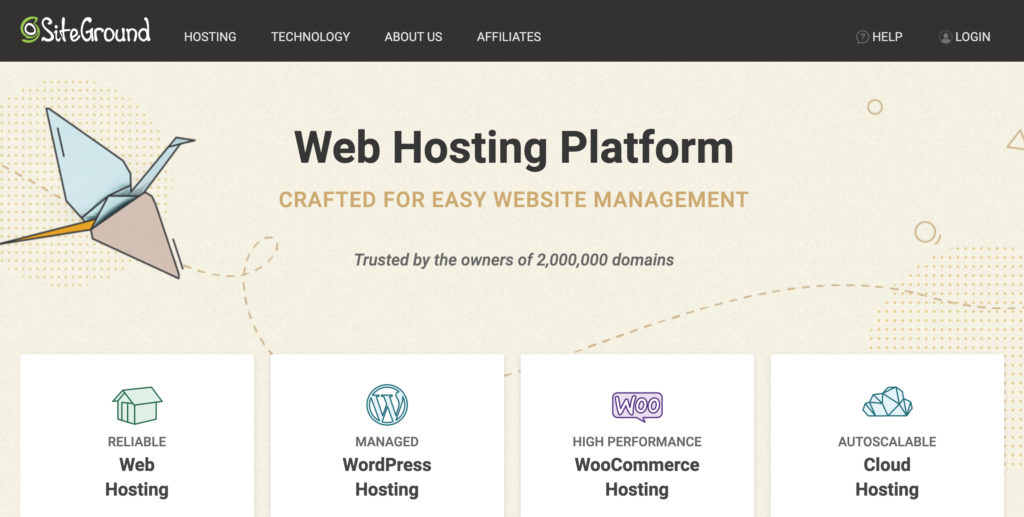 This post will help you understand the various aspects of the two services well, including performance and features. By the end of this post, you can easily choose the right hosting service for yourself as per your requirements.
A2 Hosting Vs. SiteGround: Performance
Server Response Time
To check the performance of the two services, I hosted demo sites with both and then tested the server response time of my sites. My A2 Hosting site recorded an average server response time of 323ms, while my SiteGround site had an average server response time of 396ms.
Hence, A2 Hosting has a much better server response time than SiteGround.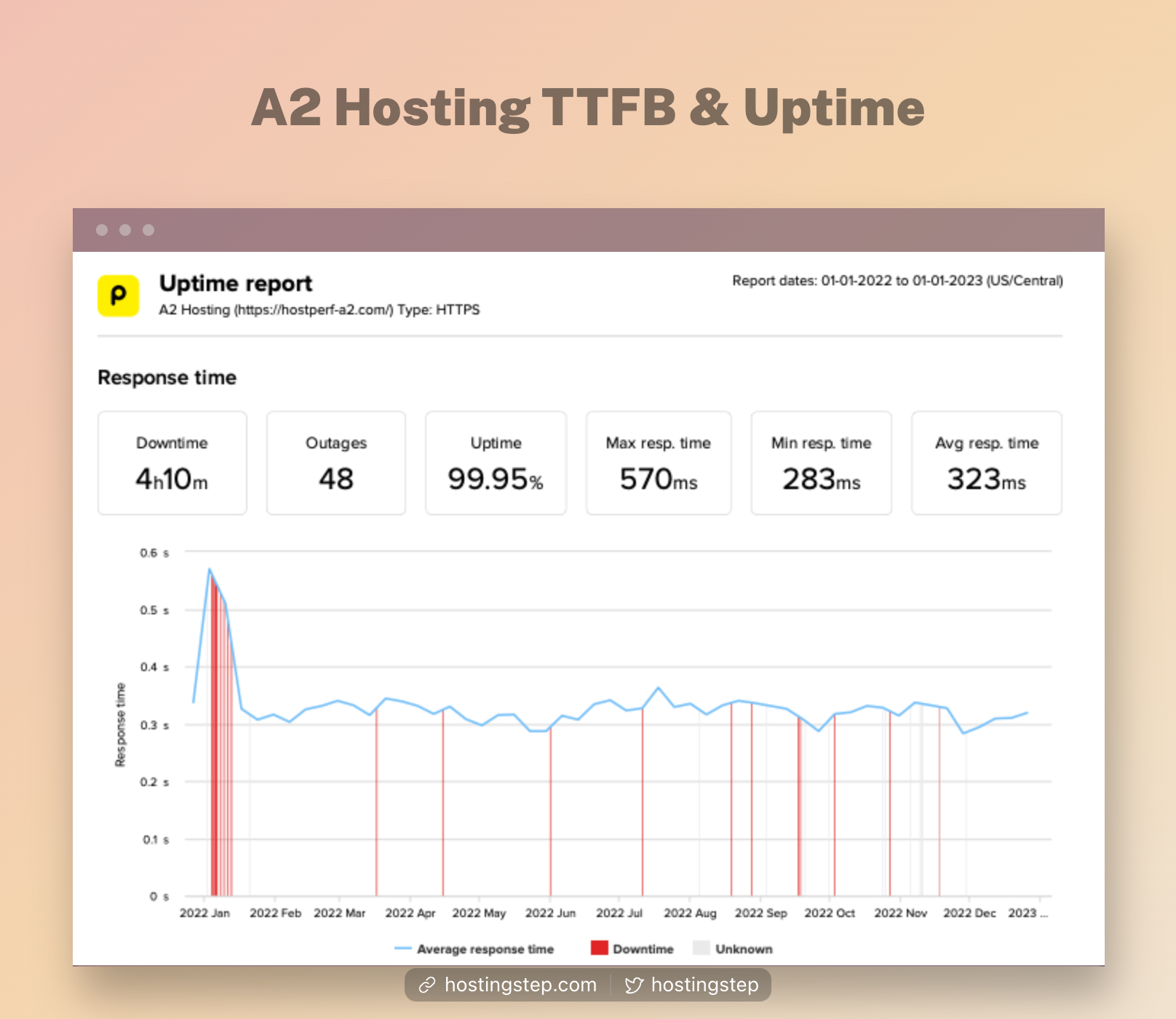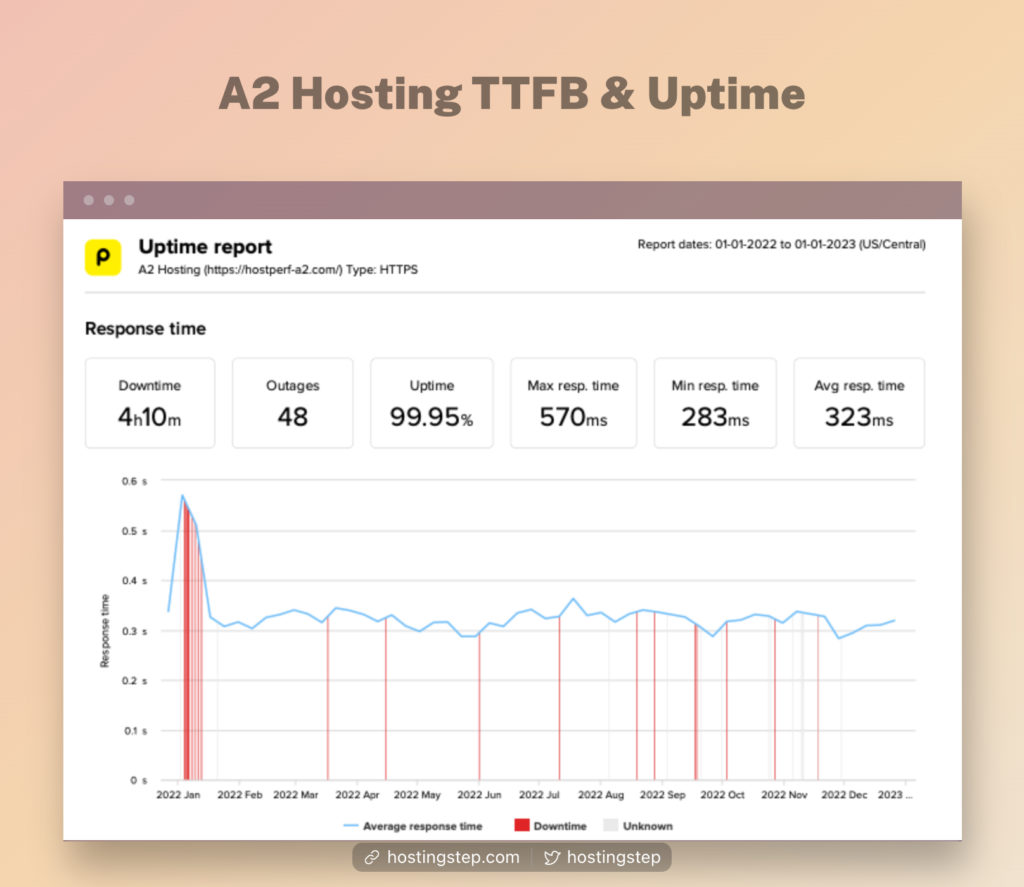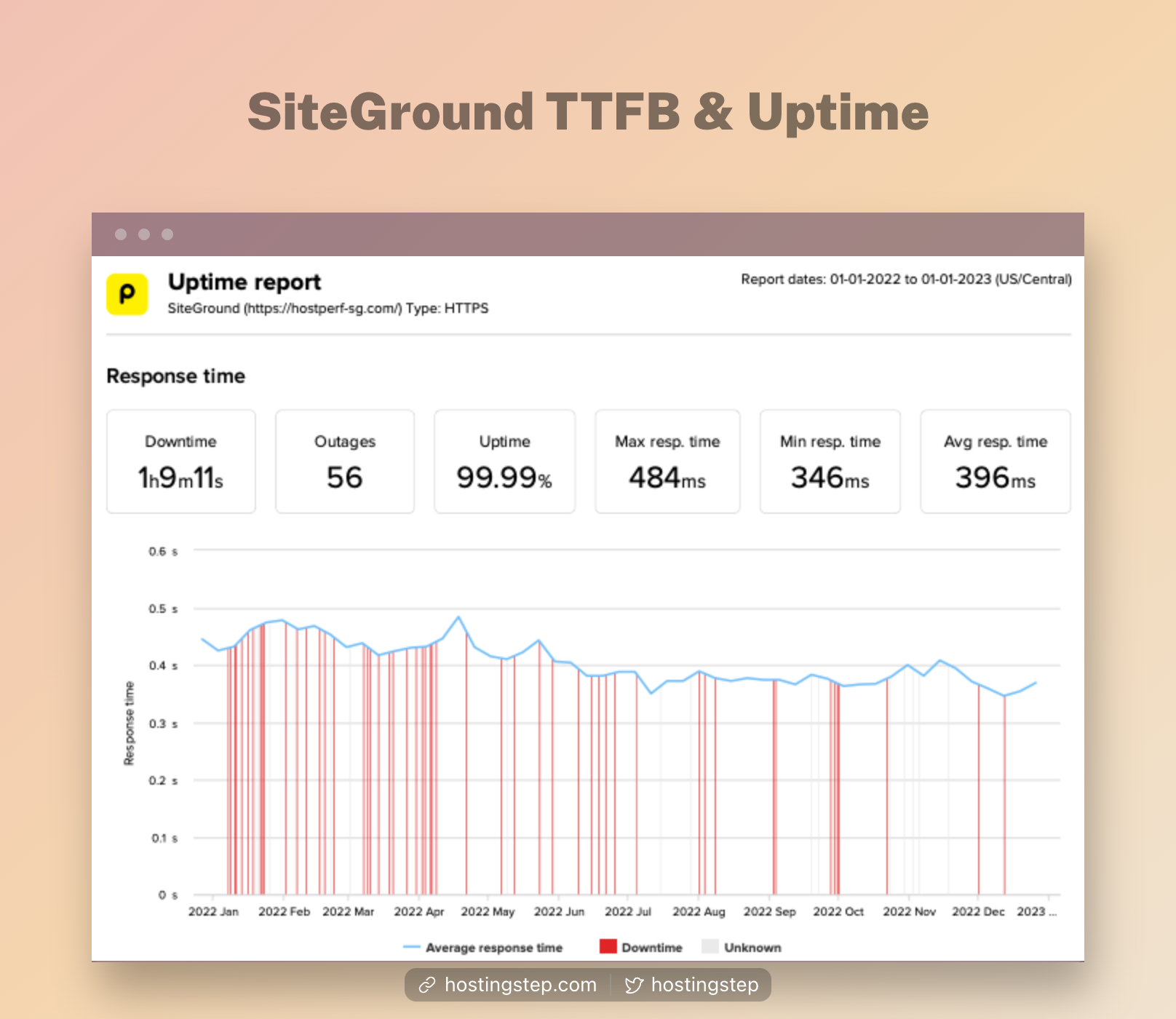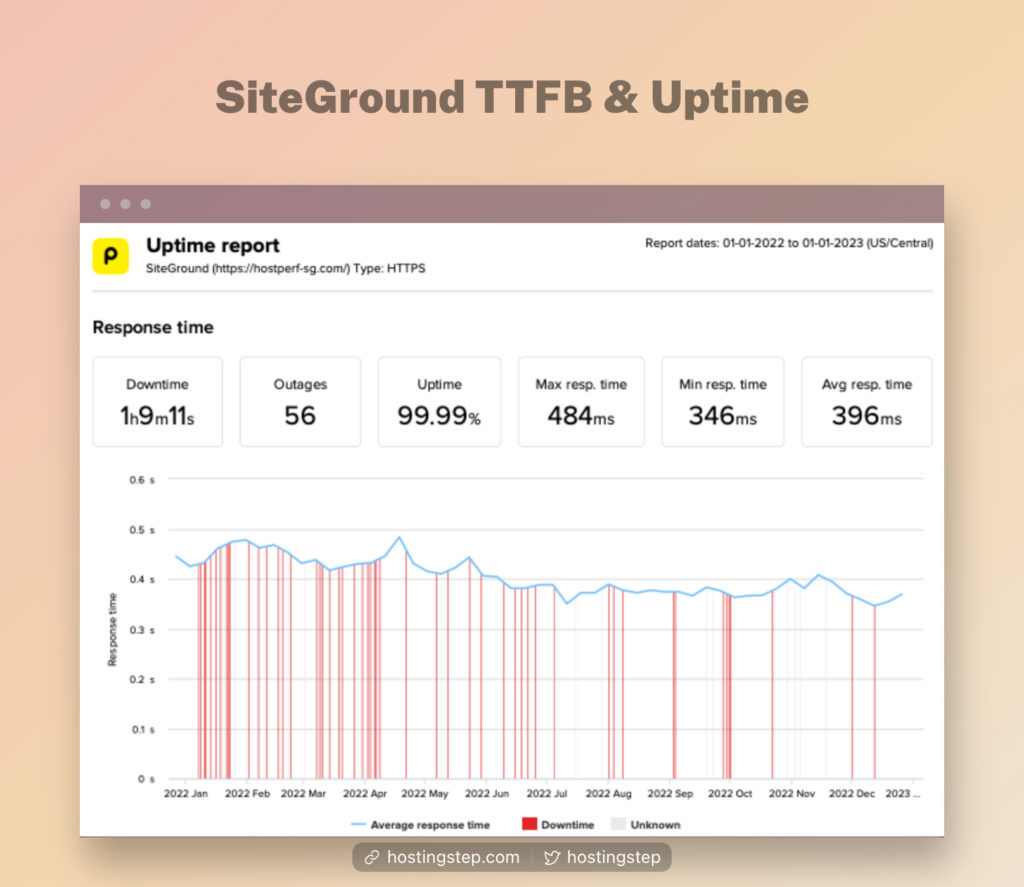 Uptime
When it comes to uptime, I tested the two services for the last few months.
A2 had an uptime of 99.95% uptime while SiteGround had an uptime of 99.99%, which makes them exceptionally reliable.
Load Testing
My next test of performance is load testing, wherein I tested the performance of my sites hosted with the two services by sending 1000 concurrent traffic.
As I performed the load testing on my sites, my A2 site recorded 102ms. My SiteGround site, on the other hand, recorded 173ms.
Hence, A2 had a better score than SiteGround once again.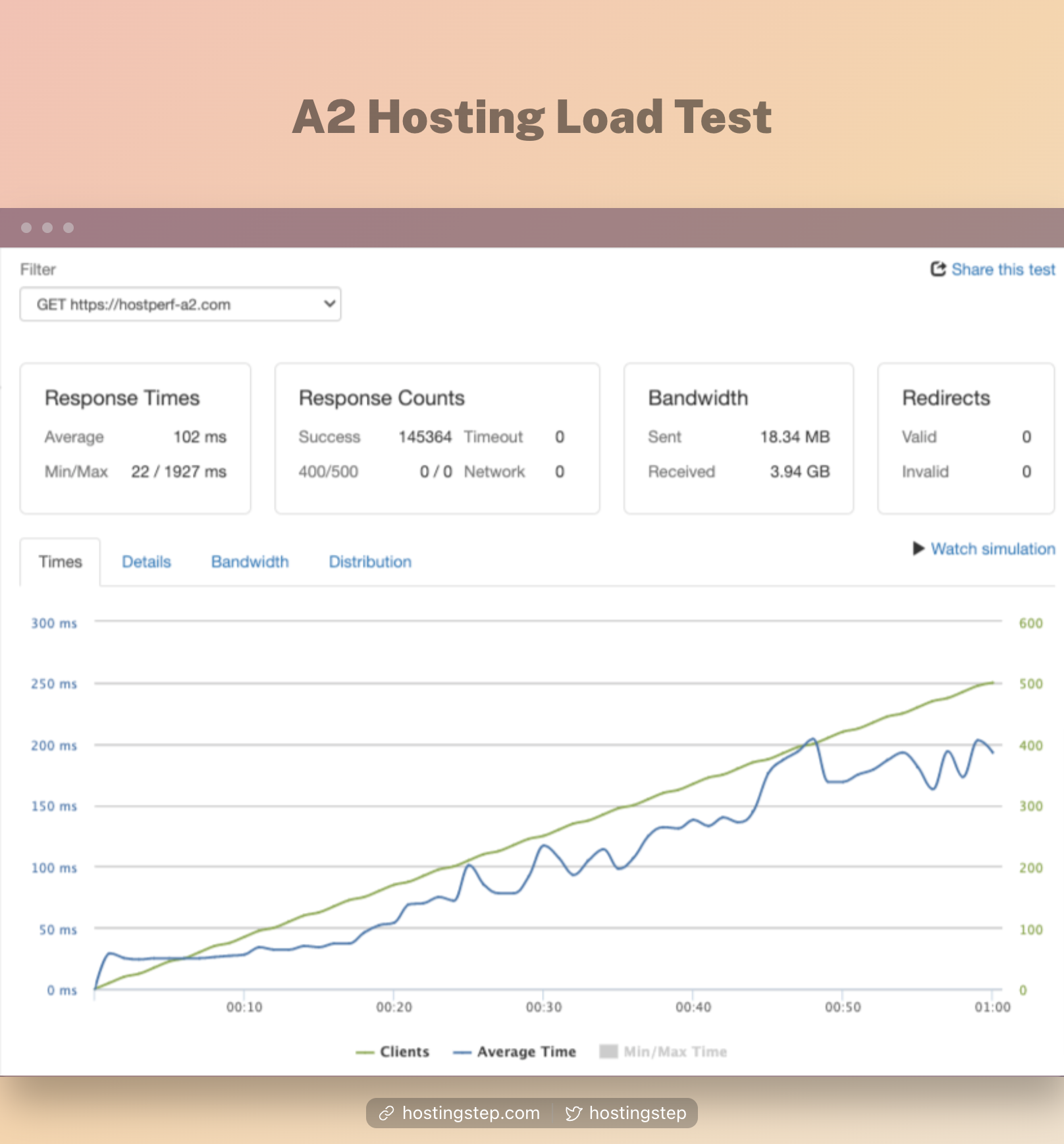 Modified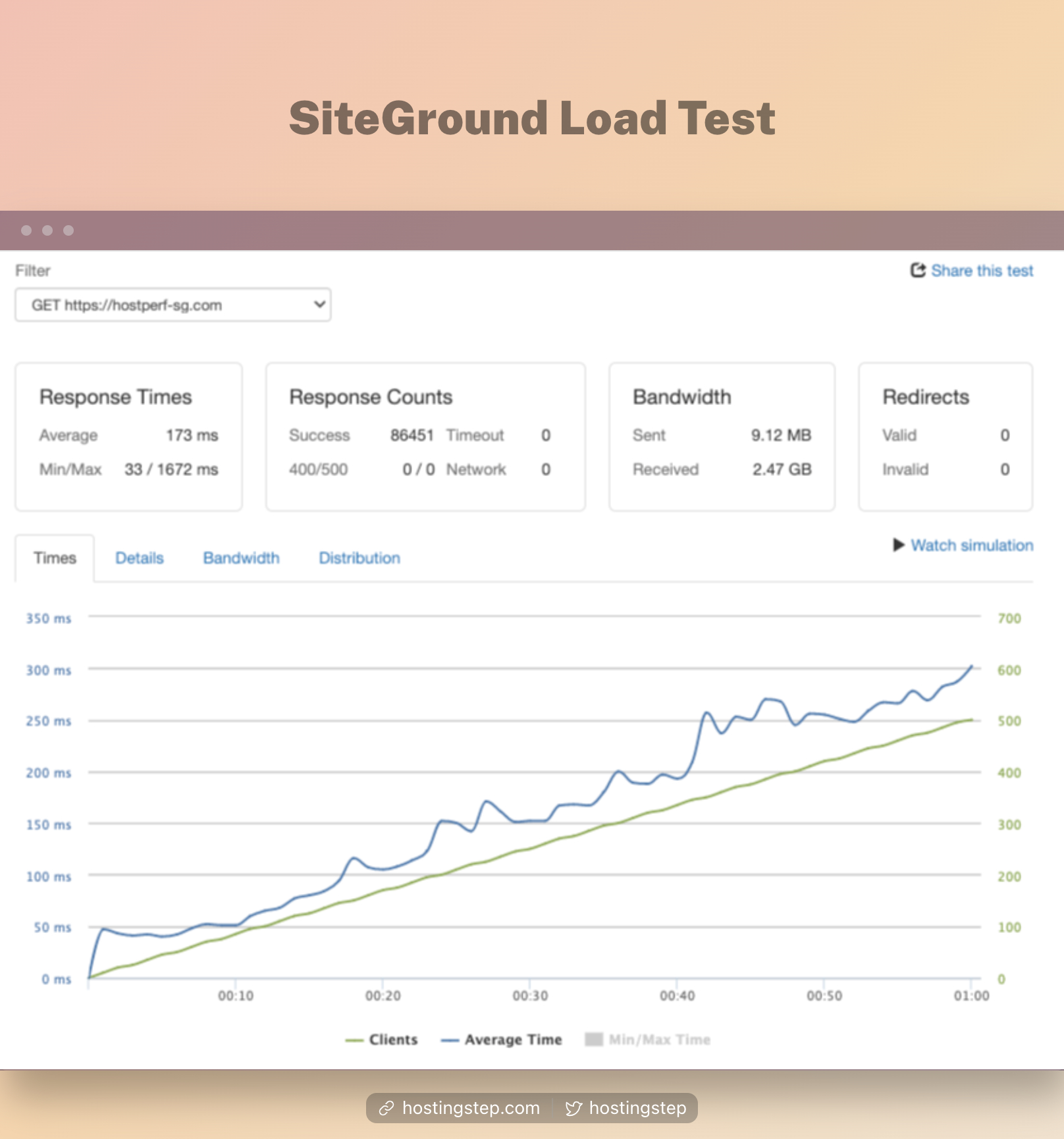 Original
Global TTFB
Next, I tested the Global TTFB for the two services by pinging my sites hosted with them from 10 global locations. This test is beneficial for those websites that largely depend on multiple global locations for their traffic.
My A2 site had great TTFB in all the global locations with an average of 639ms.
My SiteGround site had an average of 890ms. A2 is the winner in terms of Global TTFB.

Modified

Original
Core Web Vitals
While my A2 site had a 'Largest Contentful Paint' of 495ms, a 'Total Blocking Time' of 0 s, and a 'Cumulative Layout Shift' of 0, my SiteGround site recorded a 'Largest Contentful Paint' of 546ms, a 'Total Blocking Time' of 0 s, and a 'Cumulative Layout Shift' of 0.
Going by the results, SiteGround's Total Blocking Time is way too high, and A2 has comparatively better Core Web Vitals.




A2 Hosting Vs. SiteGround: Features
Data Center Locations
Data Center Locations hold a lot of importance in hosting, and A2 has 4 data center locations with its data centers in the USA, Europe, and Asia. However, SiteGround has 6 self-owned data center locations. Hence, customers will have more data center locations to choose from with SiteGround than A2 Hosting.
Staging
As far as Staging goes, A2 allows you to create a copy of your live site for staging, and you can do it by getting to the Softaculous apps installer on your cPanel. The process is pretty simple, and after you finish testing, you could deploy the final changes to your live site by clicking on the 'Push to Live' button. The feature is free on all plans in A2 Hosting.
SiteGround, on the other hand, has a more dedicated Staging feature with Git integration. However, the feature is not available on the StartUp plan. Creating a staging site in SiteGround is pretty straightforward and deploying the final changes to the production site is equally simple.
Backups
Backups play a crucial role in hosting, and this is a feature that you have to take very seriously. A2 has a good backup system with free automated daily backups. However, the feature is not available on the StartUp plan.
Unlike A2, SiteGround has automated daily backups free on all plans. You can always find 30 recent backups handy to restore at any point in time without any difficulty.
Security
A2 is well-known for its perpetual security, and the host has many advanced security features such as KernelCare rebootless kernel updates, brute force defense, a dual firewall, and (DDoS) Protection.
SiteGround also has an extremely robust security setup. The host has the advantage of running on the Google Cloud Platform and Google's high security in the first place. Besides, SiteGround security comprises a custom web application firewall, AI Anti-Bot System, Let's Encrypt SSL, and Linux containers.
Support
Both A2 and SiteGround have reliable support systems in place. A2's support team, the Guru Crew, has done a remarkable job over the years and continues to be one of the best support teams by its excellent assistance to the customers through 24×7 live chat, phone, and tickets.
SiteGround also has one of the finest support teams with the most dedicated and proficient executives to assist the customers with their issues and queries through 24×7 live chat, phone, and tickets.
Conclusion
I have tried to present you with a comprehensive picture of the two services, and at the same time, I tried to keep things precise and simple for you to understand. I studied the features of the services closely and tested the performance of the two services using some of the most advanced testing methods. Going by the test results, A2 Hosting has a better performance than SiteGround.
With increased pricing, removal of unlimited sites in GoGeek and Growbig plans, and the new control panel, that made it the users hard to contact customer support, there is no wonder the search for the SiteGround alternatives is increasing forever. The only good thing about SiteGround we noted was their reliable uptime and quality support, although there have been some limits raised on how many times you can contact the support per month.