5 Best Managed WordPress Hosting in 2021 (Comparison)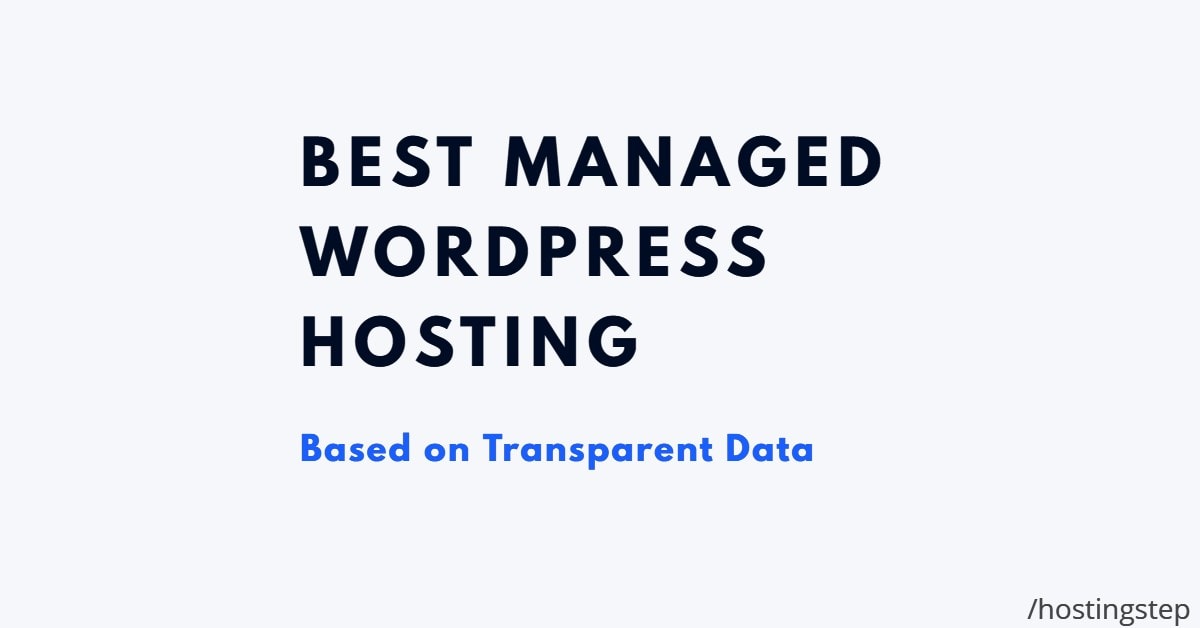 This post is the ultimate list of best managed WordPress hosting services. To pick the ideal managed WordPress hosting, I've bought an account with the below hosts and put them to test.
Thus, the list of best managed hosting for WordPress is based on actual performance data and features to price ratio.
Let's get started.
What is Managed WordPress Hosting?
The Managed WordPress hosting adds several convenient features to make it easier to manage, secure, and speed up your WordPress site.
To keep your site running smoothly, most hosting services must have a certain amount of work on your end. You can, however, get a hosting plan that takes care of several activities for you and enables you up to concentrate on important work, such as content production and website marketing. This is referred to as Managed Hosting and is a choice worth checking out.
Pros of Managed WordPress Hosting
Keep track of updates and build regular backups of your website for safekeeping.
Inspect for security threats on your web, and respond quickly to any problems that occur.
Handle optimization of results to keep your site running fast at all times.
If you're on a VPS or a dedicated plan, it configures your server to meet your needs.
Provide staging sites to help you test modifications and improvements safely.
Cons of Managed WordPress Hosting
The managed hosting plan will cost you depending on how heavily where you get it.
If you are a more technically experienced person, you may prefer configuring your server and optimizing the efficiency and protection of your website on your own; Managed hosting somehow restricts it.
Some managed WordPress hosts block certain plugins, like database-intensive related posts plugins.
Features of Managed WordPress Hosting
There is a range of different features currently provided by managed WordPress hosting companies. The following is only a list of some of the major highlights of its features to further elaborate on managed WordPress hosting uses.
Automatically Managed Updates – Managed WordPress hosting automatically applies security fixes as soon as they come out the same way as they apply major WordPress version updates to sites. With almost all managed WordPress hosts, using the latest version of WordPress is usually enforced. This is to secure your site and enhance its performance fully.
Automatic and Manual Backups – Managed hosts can make the backup process quicker, more effective, and more efficient because of the popularity of WordPress. Also, it makes the host do daily backups and easier to recover the site if things go wrong.
Better WordPress Support – Your support efficiency will vary from company to company. Still, it guarantees you that an average managed WordPress host will know substantially more about WordPress than a typical non-specialist host's support.
Automatic WordPress Setup – This allows you to get up and running with a new WordPress site in seconds. When you need a new site, a complete WordPress install will be created automatically.
Staging Environments – A staging environment begins as a perfect copy of your current site, which is only available to you directly, convenient for checking fresh plugins/themes or updating/modifying code before any improvements to your live site are applied.
Finely Tuned Dashboards – Managed WordPress hosting dashboards can do all kinds of useful stuff, such as providing you with personal usage/visitor statistics, allowing others access to your account, showing you whether you have outdated plugins.
The Best Managed WordPress Hosting Services are
1. WP Engine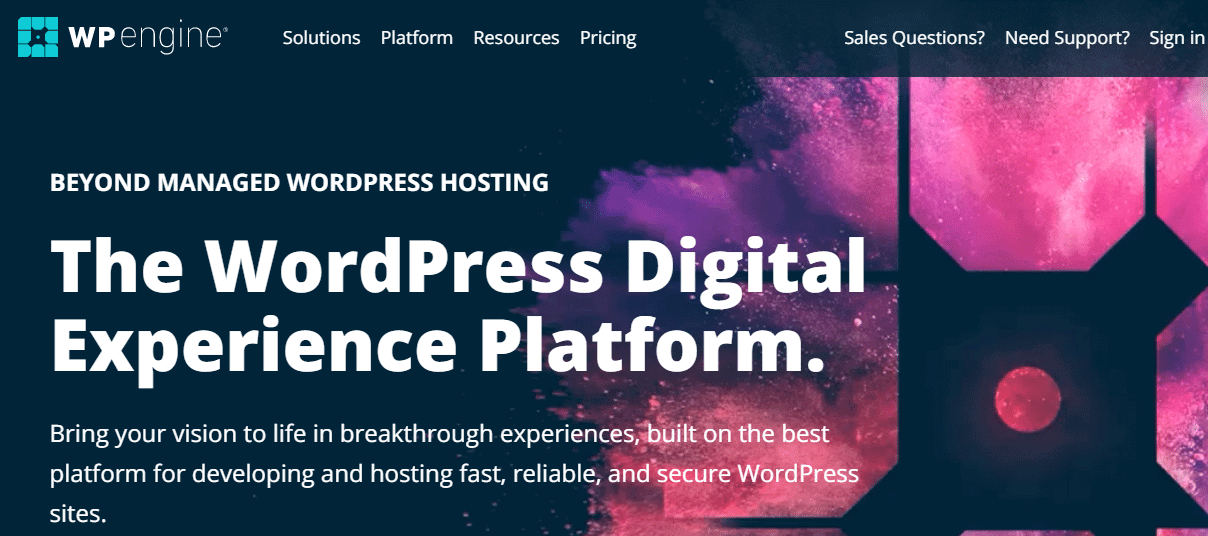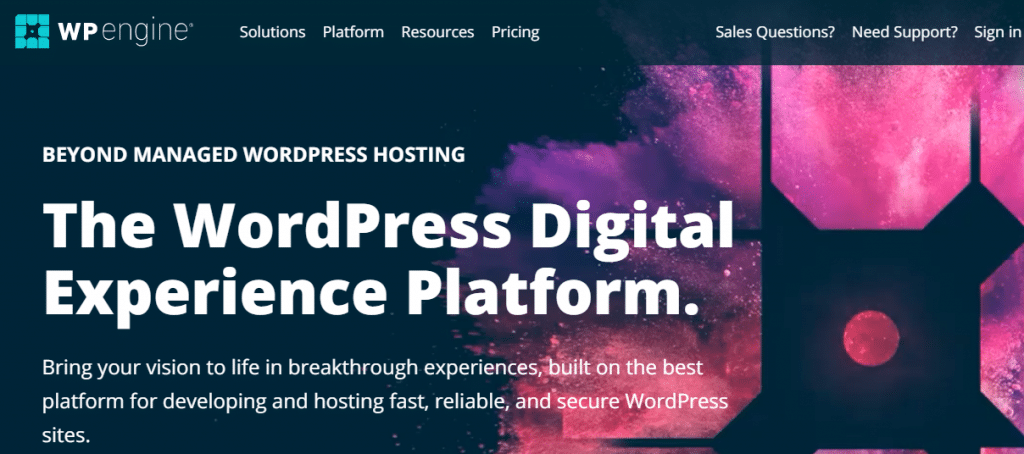 WP Engine is the overall best managed WordPress hosting service. WP Engine is proud to enable the entire spectrum of digital experiences on WordPress, from small businesses to creative agencies to enterprise brands. Go beyond managed WordPress hosting and strengthen the digital experience for businesses of all sizes on the fastest, reliable, and most secure hosting network.
Check our WP Engine Review to understand how faster the WP Engine performance with detailed data.
WP Engine Features
WP Engine provides strong technology, award-winning support, and an ecosystem of partners and developers that power your website and unify the WordPress digital experience platform. The WP Engine framework equips you with a suite of site-building and management tools, cloud storage, and security solutions to allow business performance and optimization tools to give you ongoing intelligence to drive more innovative agility.
WP Engine Features
StudioPress Themes – With 36 simple to use, premium themes powered by WP Engine Genesis Platform, featuring built-in SEO and security, and all included in your WP Engine package, create awesome, mobile-responsive WordPress digital experiences.
Auto Migration – With the WP Engine plugin, migration is free and in just easy one-step makes it fast and convenient to move your site without downtime using the Auto Migration plugin.
Serviced Onboarding – A dedicated technical and account management team ensure a smooth start and consistent performance for premium solutions at WP Engine.
One-Click Staging – Improve your site by utilizing WP Engine tools to improve and shorten cycles of growth by easily checking improvements so that you are never surprised.
Dedicated Dev Environments – Isolated environments for purposes of development and testing.
Manage and Personalize Features
Free CDN and SSL Certificates – WP Engine makes it easy to scale up your website with CDN and keep SSL security for your transactions; just add them with just one click.
Multi-Site Conversion – WP Engine lets you set up and turn off multisite with just a few clicks in the User Portal.
Ownership Transfer – Provides agencies or freelancers with a simple way to transfer site ownership and billing to clients post-launch.
WordPress Plugins – WP Engine helps you by powering various personalized experiences through plugins and custom functionality.
GeoTarget – Provides location-specific content to increase engagement and transactions with your audience.
High Availability and Speed Features
Fully Managed Global CDN – Using WP Engine Global Content Delivery Network (CDN), which routes local requests to your nearest server to load content faster.
Increased Speed – All users are guaranteed to enjoy an average of 38% faster load times by switching to WP Engine.
PHP 7.4 and HTTP/2 Enabled – With the new updates, you get improved SEO, visitor retention, and conversions, which can serve up to 3x more requests per second.
Uptime Protection – Keep up and running in dedicated environments with clustered configurations, fully managed network for content distribution, and proactive, multi-layered security controls.
Data Center Redundancy – Keep your data safe and sound with Amazon Web Services.
Development and Technology Features
Page Performance – With the first speed performance tool incorporated into the user dashboard, boost the website speed. As soon as you introduce them, see the effect of fresh plugins and site functionality.
Application Performance – Open up code-level access for your IT operations and development teams so that you can solve application problems, no matter how complicated your environment is.
Integration DNA – Take advantage of WP Engine's status as a master integrator while developing its own proprietary solutions, plugins, and software, integrating and optimizing 40+ technologies into the WP Engine platform.
Technology Partnerships – WP Engine collaborates with best-in-class innovators such as Amazon Web Services, Google Cloud Platform, and more, all tailored for WordPress; you can discover new capabilities.
Thousands of WordPress Plugins – Use curated solutions from over 55,000 WordPress plugins, from e-commerce to design, security, and beyond, to create scalable, robust digital experiences.
Security and Features
Managed Core Updates & Patches – Minor updates will be pushed through automatically, while WPEngine vets major updates thoroughly before recommending them.
Traffic Encryption with SSL – Use free SSL certificates on every page thanks to Let's Encrypt.
Threat Detection & Blocking – With WP Engine proprietary system, they dynamically detect and block malicious activity, ensuring that your site doesn't suffer embarrassing hacks.
Disaster Recovery – In the unlikely event, your site is compromised, bounce back quickly with WP Engine expert recovery help.
Knowledge and Advice – Learn more and go deeper with the content provided by WP Engine experts in Torque Magazine and Velocitize, award-winning publications.
WP Engine is most proud of its integration with best-in-class technology partners such as Google, AWS, and New Relic and optimizes their technology specifically for WordPress. WP Engine enhances its features to help you build, manage, personalize, develop, speeds up, and secure your site. With this, WP Engine promotes high security and 100% guaranteed support to all users.
WP Engine Support
The trusted experts from WP Engine function as an extension of your company and are committed to your success. WP Engine is here for you from pre-launch to live and go beyond. WP Engine guarantees you WordPress expertise at your service, and teams of rigorously-trained WordPress experts are available around the clock to ensure your business grows.
WP Engine Pricing
WP Engine allows you to pick a plan that fits your needs. Whether you need a custom enterprise solution or need managed WordPress hosting to get started, WP Engine has a plan that's right for you, including all tools and features you are looking for. WP Engine offers two pricing in which you are billed monthly or annually. If you choose to pay yearly, WP Engine generously offers you big discounts.
The following pricing listed below is monthly billed pricing plans.
WP Engine StartUp Plan – $30.00 per month
WP Engine Growth Plan – $115.00 per month
WP Engine Scale Plan – $290.00 per month
WP Engine Custom Plan – Custom pricing applied.
On its Startup, Growth, and Scale plans, WPEngine has a 60-day money-back guarantee, meaning you can sign up fully risk-free. You can get your money back as long as it is within the 60-day limit if you're not satisfied. That is how WP Engine guarantees you the best services without any commitment.
2. Kinsta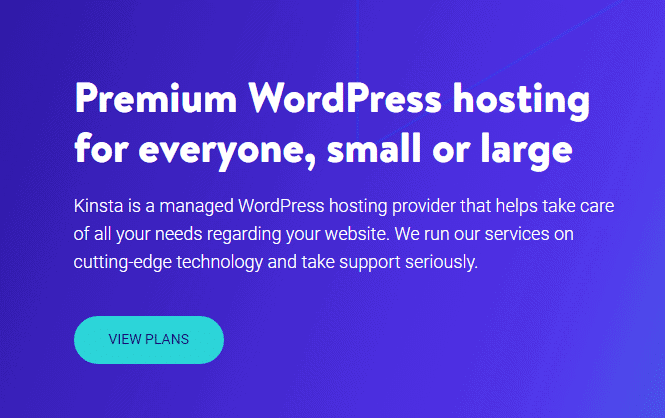 Kinsta is a managed hosting provider for WordPress that helps take care of all your website requirements. Kinsta runs its cutting-edge technology services with excellent customer support professionally. There is much more to see in partnership with Kinsta and experience great service of their premium WordPress hosting for everyone, whether it is a small or large platform.
Kinsta Features
Kinsta has merged the world's fastest network and platform (Google Cloud), mixing it with the best technical team and the industry's most experienced WordPress developers. MyKinsta dashboard was specifically designed for WordPress from the initial concept, making site management seamless. Kinsta claims that their services were made by WordPress hosting solutions as the highest quality on the market.
Listed below are major features of Kinsta you must look into:
Speed Obsessive Architecture – To ensure the website is loaded in the blink of an eye, Kinsta uses state-of-the-art technologies such as Nginx, PHP 8.0, LXD software containers, MariaDB, and compute-optimized VMs. Providing complete isolation of resources, automatic scalability, and high availability.
Next-Generation Infrastructure – At Kinsta, they only hire the best technology, from its server hardware to the applications they run. Kinsta still has the new versions of the application updated and up to date, no matter what development stack you use.
Google Cloud Platform – Google Cloud Platform and its 24 global data centers are powered. Over its premium tier network, all is interconnected, built to reduce distance and hops, resulting in the quick and safe transport of your data. Check Kinsta Review on Performance here.
Regular Uptime Checks – Every 2 minutes, Kinsta checks the status of all the sites they host. For each of your pages, that translates to 720 checks every day. Kinsta uptime checks allow users to respond to problems before many visitors are affected by them.
User-friendly Management – The platform and dashboard of Kinsta have been built with beginners in mind, yet developers will adore it with advanced features and tools.
Simplified site management – It's all there in one easy-to-use interface if you want to add a new site, deploy a staging server, clone a WordPress site, view comprehensive site statistics, or request a migration.
MyKinsta Dashboard – MyKinsta is a purpose-built framework for efficient site management, which is your gateway. Display comprehensive statistics, manage DNS settings, use advanced site resources, manage billing information, and more.
Elasticsearch – Restful engine for search and analytics that can solve an increasing range of use cases.
Nginx Reverse Proxy – Support for loading WordPress from a subdirectory when the root domain is loaded from a different website (WordPress or otherwise).
Scale Visits, Disk Space, and CDN – No schedule needs to be modified to accommodate a peak. You can measure in advance using transparent overage pricing.
Kinsta has more than 10 years of experience working with WordPress, and we have put all that know-how into making the best possible WordPress hosting solution today. Most especially, Kinsta improved its customer support and enhanced tools and features to accommodate all users' concerns.
Kinsta Support
Since day one, providing quick and knowledgeable help has been Kinsta number one priority. Kinsta has real WordPress experts standing by 24/7, ready to assist you instead of scripted responses. You will never have to repeat everything. Kinsta team has convenient access to all support tickets and conversations. This means that everyone on the team can pick up where another one left off quickly.
High-Security Network – Active and passive steps in its tracks to deter attacks and malicious intent. Continuous uptime control, detection of DDoS attacks, software-based limitations, SSL, and firewalls for hardware. Kinsta is always available 24/7; your site is tracked and secured.
Free Site Migrations – It will not incur any downtime to move your site to Kinsta. The Kinsta relocation team of experts is going to take care of it for you. They will assign your migrated site to a temporary domain and verify everything before going live.
WordPress Know-How – WordPress awareness at Kinsta help is their number one goal. Kinsta team speaks WordPress fluently, has expertise in troubleshooting, managing servers, establishing and developing themes and plugins. Read deep-dive guides into WordPress, ecommerce, marketing, and more.
Knowledge Base – Kinsta shares what they have learned in the knowledge base to help you get things done on your own if a challenge arises more often. Browse technical overviews, Kinsta and MyKinsta guides, and troubleshooting materials.
24/7 Live Support – Get help when you need it, whether it's 2 am or 2 pm. Connect with an engineer in real-time. Kinsta's expert team will be immediately ready to respond and solve any of your concerns.
Kinsta Pricing
Kinsta pricing plan is varied depending on the complexity you want, and Kinsta will give you everything you need. You will be pleased to be served regardless if you are just at the starting stage or too large solutions. Check out Kinsta plans and find what suits you, or if you need anything special, contact Kinsta, and they will immediately respond to you.
Kinsta Starter Plan – $30.00 per month
Kinsta Pro Plan – $60.00 per month
Kinsta Business 1 Plan – $100.00 per month
Kinsta Business 2 Plan – $200.00 per month
Kinsta Business 3 Plan – $300.00 per month
Kinsta Business 4 Plan – $400.00 per month
Kinsta Enterprise 1 Plan – $600.00 per month
Kinsta Enterprise 2 Plan – $900.00 per month
Kinsta Enterprise 3 Plan – $1200.00 per month
Kinsta Enterprise 4 Plan – $1500.00 per month
Kinsta Specialized Plan – Custom Pricing
All plans include free migrations and a hack fix guarantee. Kinsta also offers a 30-day money-back guarantee upon your purchase, so you do not have to worry about any commitment and just explore what Kinsta amazingly offers. All Kinsta plans starting from the starter plan up to the enterprise have different features and tools to offer, and bigger plans include exclusive and advanced features that help your business grow.
3. Templ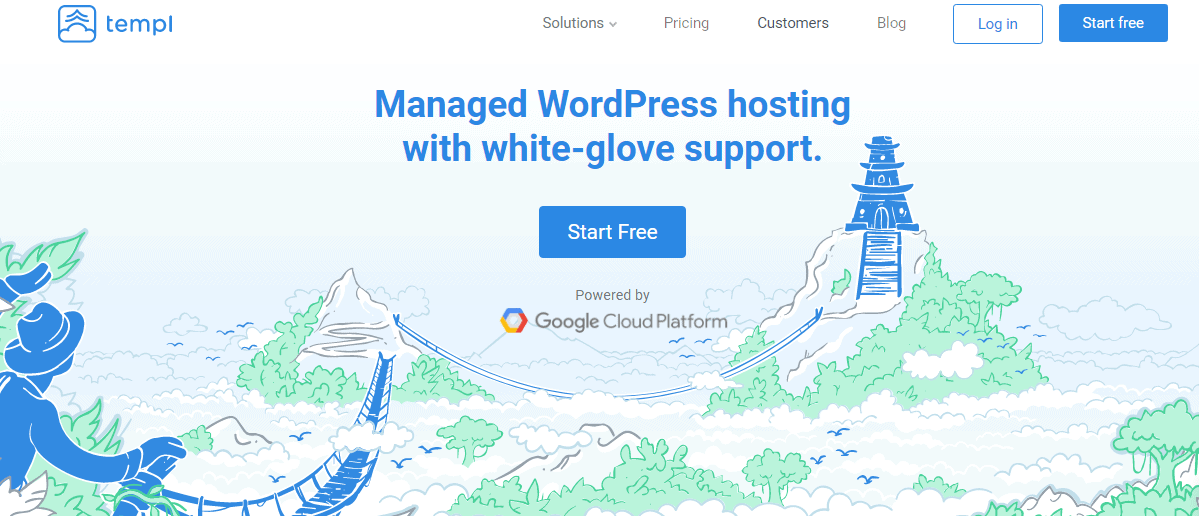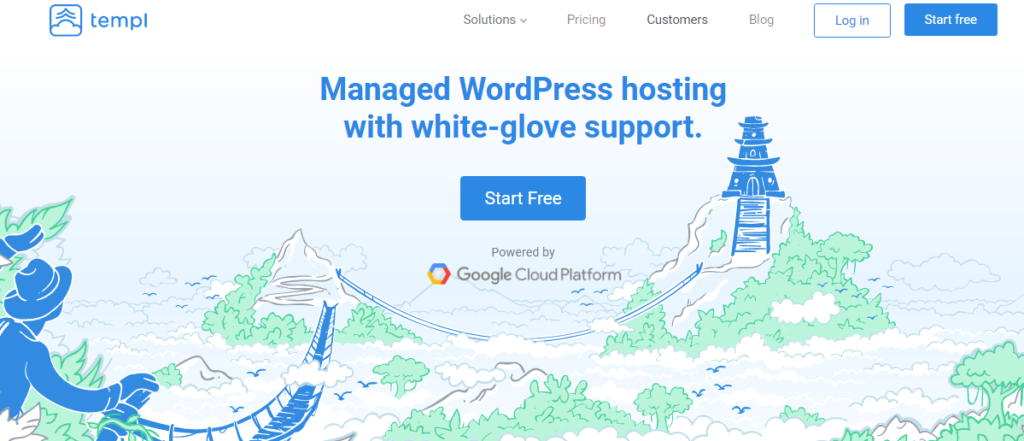 Templ is the best yet most affordable managed hosting for WordPress sites. I use Templ to host this site. Templ was established as an alternative to low-cost shared web hosts that are sluggish and unreliable, where hundreds of websites are hosted on the same server. It was created with a vision to create a solution that empowers and motivates individuals and organizations to create and design amazing websites and apps.
Templ Features
Templ provides all the functionality tools and features you can imagine, and maybe more, from a managed WordPress hosting service. You get a free WordPress installation, unlimited website transfer assistance, Let's Encrypt SSL certificates, and automatic daily backups. Templ guarantees their clients the best hosting services. Hence, Templ hosting is made absolutely fast and stable using the cloud infrastructure of Google.
The following are major features of Templ as taken from Templ Review:
Future-Proof Infrastructure – Templ has developed its cloud with stable, international, high-performance, cost-effective and continuous improvement for the long haul.
Environmentally Friendly – The templ infrastructure is carbon-neutral altogether. Google's worldwide data center network uses 50 percent less energy than the traditional data center.
Global Reach – Cloud CDN is always close to your users, with caches at more than 90 sites worldwide.
Easy to Use Control Panel – In minutes, be up and running and spend your time where it really matters. Templ control panel makes it simple and exciting for site management. Monitor usage of statistics, emails, domains, DNS, backups, and more.
Choose Your Data Center – Speed up your sites and minimize load times by locating your sites where your audience is. Hosting a website close to your end-users will increase up to 90 percent speed and latency.
Free Migration Services – Templ professional team will be in charge of the migration services for free. Templ temporarily provides you a domain to ensure that everything is working before officially pointing your domain at them.
Optimized for Wordpress – Templ has a perfect partnership with WordPress and has the means to prove that. On WordPress + WooCommerce, Templ works, and they optimize their own servers accordingly, so you don't have to take any hassle.
Easy Scaling as You Grow – In a moment, make your pages more enticing and enable Templ guarantees for excellent services. Templ infrastructure is designed to allow the scaling up of server resources as your company expands and the demands on your website increase.
Free SSL Out of the Box – Let your clients feel secure with SSL. All websites hosting templ receive a free, trustworthy certificate out of the box. There is no setup needed.
Your Own Cloud Server – Have access to your own private Google Cloud server optimized for WordPress and Woocommerce. Say goodbye to shared hosting, where your loading times can be harmed by other sites and undermine the security of your sites.
Templ Support
Templ has a single tech support channel, but it gives everything you might ever need and response faster than you expected! You also have a variety of options to choose from. Templ secures your account privacy and improves their services.
Real Human Support – Templ has professional and friendly support experts at WordPress and WooCommerces and is always ready to help.
Debugging – Templ helps you debug it and advise on how to fix it if your website is sluggish or is not going to load at all.
Available 24/7 – Friendly and professional. Templ average response time during business hours is 5 min, and 15 min outside office hours.
Experts at Wordpress – Templ have long and solid experience of WordPress and WooCommerce and are happy to share their knowledge in a way that is easy to understand.
Malware-check – Templ regularly scans all websites to make sure they are not infected with malware. And if they find something, you will receive help removing it.
Managed Security – Templ manages security for you and keeps your website safe at all times so that you can invest your time to grow your business.
Automatic Daily Backups – Templ performs daily automatic backups of your website and stores them for up to a month. They even offer a quick and easy 1-click restore function.
Templ Pricing
Templ hosting comes with upgrades and optimization and everything else you can mention. With Managed Hosting, you can feel the difference, and great service awaits you. Fortunately, templ gets you WordPress, plugins, and theme speed optimization and updates, carried out by hand, free of charge if you migrate today.
The pricing of Templ is transparent, and the company does not attempt to force you into long-term deals. On annual contracts, you get a discount, and you don't have to think about high renewal fees. In fact, before you determine if it's right for you, you get a free 10-day trial to test its functions.
Templ Micro Plan – $15.00 per month
Templ Small Plan – $29.00 per month
Templ Small Plus Plan – $54.00 per month
Templ Medium Plan – $79.00 per month
Templ Large Plan – $149.00 per month
Templ approves all major credit cards, but other options are not accessible by default. You have to request manual payments from customer service to use PayPal. Hence you might be asked to pay quarterly rather than monthly. Furthermore, templ does not provide a money-back guarantee but gives you enough time to start free and experience all exclusive and advanced features all at once.
4. Cloudways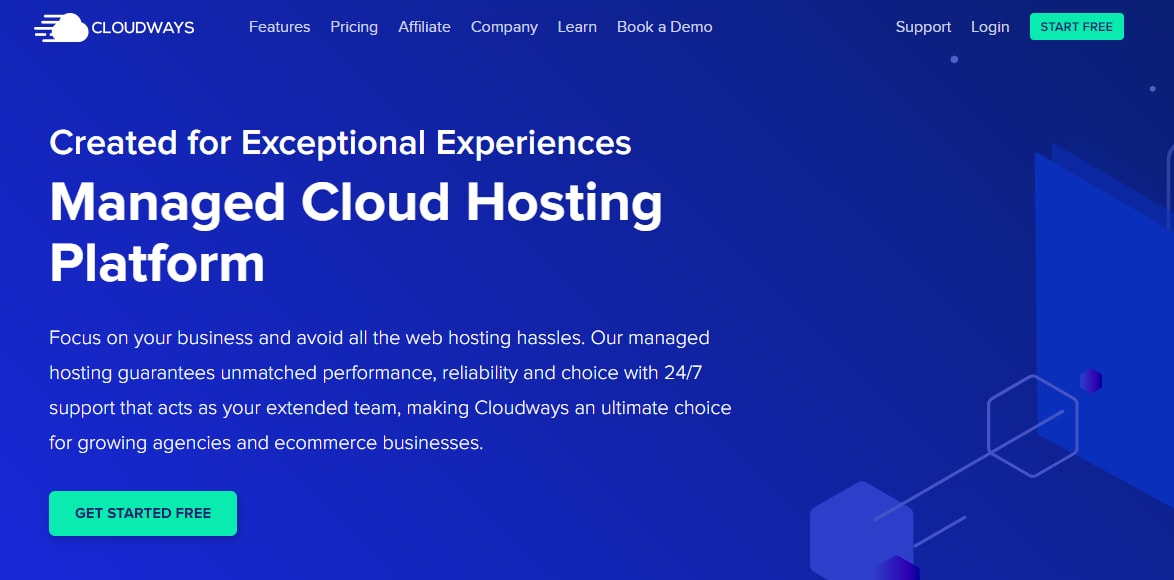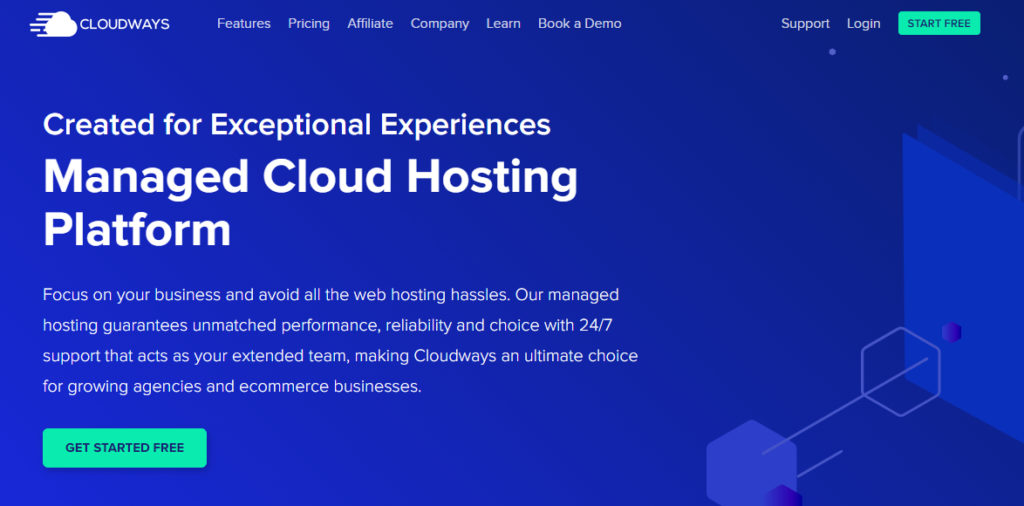 Cloudways is built for exceptionally Managed Cloud Hosting Platform experiences. A Cloudways partnership allows you to focus on your company and eliminate all the issues of web hosting. With 24/7 support that works as your extended team, Cloudways managed hosting guarantees unparalleled efficiency, reliability, and choice, making Cloudways the ultimate choice for growing agencies and e-commerce companies.
Cloudways Features
Cloudways is a managed hosting provider that enhances simplicity and efficiency. Cloudways guarantees to help you increase your business from the simple launch of the server and application to the server's continuous maintenance. Cloudways provides the ideal combination of features that help you get more out of the managed hosting solution For your business websites and client projects.
The following are the highlights of Cloudways features that provide you the functionalities that you are looking for.
SSD Hosting – SSD disks deliver optimum speed and durability alternative to traditional disks, thus meeting modern websites' demands.
Optimized Stack – For much better results, Cloudways stack includes Apache and NGINX as web servers, PHP-FPM, and MySQL/MariaDB as databases.
Vertical Scaling – Scale up your server resources with just a click so that your WordPress website stays up and running 24/7 when needed.
1-Click Actions – Every operational activity from server launch to SSL installation is available in just a few clicks, whether you're a starter or an experienced user.
Unlimited WordPress Websites – Cloudways only charge for the server resources you utilize to avoid unnecessary fees and just enjoy hosting unlimited websites on a single WordPress server.
Dedicated Firewalls – Cloudways periodically update and patch firmware so that your WordPress websites stay protected from possible threats.
IP Whitelisting – You can create a list of whitelisted IPs to restrict or allow IP addresses for SSH/SFTP access to your account or database.
SSL Certificates – The SSL certificate strengthens visitors' trust and ensures the encrypted transmission of their data. Deploy it for free with just one click.
Git Integration – Each hosting account comes with Git pre-installed, so you can quickly commit, alter, and deploy your source code.
Staging URLs – Get unlimited staging URLs for development modifications and compatibility with plugins/themes before making your website live.
Cloudways Wordpress Cache Plugin
Cloudways now has complex cache plugins with zero codings, maximum optimization, and a simple user interface.
Varnish – Cloudways servers come pre-installed with Varnish Cache, which can increase your page-loading speed in combination with Breeze cache.
Internal Caching – Breeze is equipped with internal and static caching functions that enhance WordPress pages' efficiency for page loading.
Database Optimization – To reduce the databases' scale and response time, Breeze optimizes and cleans up databases.
CloudwaysCDN Integration
Subscribe to Cloudways CDN add-on and give your business the boost in a hassle-free way. CloudwaysCDN helps to reduce latency and boost response times, especially when serving a WordPress website internationally.
Top Performance – Reaching out to a wider audience requires superior performance, and Cloudways CDN delivers global response times at the top of the chart.
Affordability – CloudwaysCDN is a pocket-friendly solution with a small hit on your finances that offers high efficiency.
Simplicity – Powerful, but easy and simple to handle. With only a few clicks and without any technicalities, you can integrate the service.
Cloudways Staging Environment
Cloudways Staging Environment includes a sandbox where you can test without destroying the live site with a new code base, plugins, and themes. Your staging sites are linked to the live site, and you can transfer data between the two using Push and Pull operations.
SSH and SFTP Access – By default, htpasswd is allowed to optimize protection in your staging area. You have the option of disabling password protection for staging.
IP Whitelisting – Whitelist IP addresses and gets unrestricted access over multiple networks through SSH and SFTP.
Five Cloud Providers – 60+ data centers of five world-class cloud providers including AWS, GCE, Vultr, DigitalOcean, and Linode.
Cloudways Website Migration
Cloudways migrate your web app to cloud servers hassle-free and with no downtime.
Website Optimization – Cloudways is designed to deliver mobile apps with fast load times. A combination of Apache, Nginx, Varnish, and Memcached with optional Redis is the hosting stack, aka "ThunderStac.".
No Bugs Guaranteed – Cloudways will ensure that your website's code remains in one piece. The cloud migration experts work closely with you to ensure that everything's perfect once your website is on Cloudways.
Free WordPress Migration Plugin – This plugin has been tested on hundreds of hosting environments, and it works 99% of the time.
Cloudways Support
Cloudways completes everything you need, from great service and performance to 24/7 Support. Cloudways platform is fully equipped with the features you will need, such as knowledge base, free migration, ticketing system, and more. You will never have to think over your WordPress websites' speed, security, and support.
Cloudways Pricing
Cloudways pricing plan offers a variety of options of which plan is right for you and the necessary features you are looking for, whether you are just a starter or a pro. Cloudways offers a pay-as-you-go mode; the pricing model of Cloudways means that they can only charge you for the services you have used. Cloudways doesn't connect you to annual payment packages, unlike traditional hosting. Host unlimited WordPress websites with various data centers to choose from, such as DigitalOcean, Linode, Vultr, Aws, and Google cloud.
Pricing varies from $10 per month and above, depending on the extent of your plans. Visit the official Cloudways page for more information and be surprised how much they offer. Cloudways has no contract needed, be care-free and enjoy what you are doing without any worry.
5. Nexcess


Nexcess is a web hosting provider that is extremely feature-rich and specially designed for a select few CMSes, including Magento and WordPress. Nexcess has been able to provide five data centers that have been in service throughout the United States, the United Kingdom, and Australia since 2000. Nexcess guarantees you the best and most trusted services with the truly managed commerce and content hosting platform, providing you the scalability, security, speed, and support you need for digital commerce.
Nexcess Features
Nexcess assures superior loading speeds and server performance, most especially for Magento or WordPress websites. Nexcess claims that they are up to 13 times faster than usual web hosting services. You are guaranteed Nexcess Managed WordPress Hosting fast, friendly, futureproof WordPress hosting and management solutions for dynamic websites. Let us further elaborate on all the amazing major features of Nexcess that you shouldn't miss out on.
Auto Scaling – Nexcess Auto Scaling resolves any of your traffic surges, maintaining speed, security, and a good customer experience. It is hassle-free and guarantees that your WordPress websites can handle the traffic.
One-Click Staging – With one click, you get a staging copy of production to be able to test anything you want for your WordPress website before making changes to the real live website and enjoy features without hassle.
Automatic Plugin and Core Updates – Nexcess provides you the continuous updates that always keep you current in your hosting management status.
Nexcess CDN – Effortlessly improved page speeds with the Nexcess built-in content delivery network. Nexcess CDN makes sure your content loads blazingly fast all over the world.
Domain Name System – Keep your DNS records fast, safe, and stable with 100% uptime, multiple redundancies, and advanced security features. So you get the most out of your hosting solution, Nexcess provides a DNS service and manages both the cost and implementation.
PCI Compliant Hosting – Compliance with PCI keeps your site protected so that you can securely process credit card details. With Nexcess, tightened network and data protection protocols mean it's simpler than ever before.
Compliant Hosting Environments – Nexcess applies advanced security hardening and proactive monitoring to all of our solutions, keeping your website and customers secure and safe.
99.99% Uptime – Nexcess promises 99.99 percent uptime for all its hosting solutions, ensuring that 99.99 percent of the time, every website or web service hosted on any Nexcess hosting service, including its managed hosting services, would be open to its users.
Image Compression and Lazy Loading – Nexcess provides the feature of Image Compression to reduce the size of images without affecting image quality and amazing speed up page load times and Image Lazy Loading to improve page load times as images only load when they are about to be seen by the end-user.
Development Sites – A dev site helps you to test modifications safely without impacting your production site. Nexcess Dev Sites allow you to scrub all personally identifiable information and keep customer data secure.
All the features mentioned above are just highlights of many more Nexcess managed WordPress hosting. You should also look forward to other features such as automatic updates, unlimited email, free SSL certificates, free migrations, and 24/7 support from industry experts.
Nexcess set out to fulfill the commitment to become a hosting provider that empowers customers to build and expand the companies they want. Nexcess maintains worldwide data centers that provide the best in terms of efficiency, reliability, and power.
Nexcess has managed to develop technologies that have fundamentally changed the face of web hosting support and management by embracing complexity, offering stability, and partnering with its customers, partners, and team members.
Nexcess Support
Beyond Management – A 24/7 team behind your site 100% of the time. Nexcess engages in a service that goes beyond that, empowers, and offers stability for users. Make your web hosting experience proactive site monitoring, security hardening, and a dedicated team.
Knowledge Library – A library full of step-by-step informative guides and how-tos. Find the tools you need to make the most of your solution for Nexcess hosting.
Application Support – Get in touch by either opening a ticket, sending an email, or calling Nexcess directly if you encounter an application difficulty.
Website Migrations – Nexcess provides simple website migrations with a dedicated team. Nexcess offers free site migrations with all hosting solutions, fast and minimal downtime.
24/7/365 Support – Nexcess guarantees all of their clients a 24/7/365 customer support platform specialist with deep WordPress expertise. Nexcess is conveniently available through phone, chat, and email.
Proactive Security – Nexcess has the security you don't have to think about. The Nexcess security is built right into your WordPress hosting.
Nexcess Pricing
Nexcess pricing is absolutely fair for what you consume and is worthy of your money. In Nexcess managed WordPress hosting, you can do whatever you want, and there is nothing to limit you to explore and be the best of what you do using Nexcess amazing features, tools, and support. Nexcess also has wide-ranging plans for every type of client, whether you are a starter, or who wants some upgrades, or a professional. Nexcess provides all the things you need and a plan that is just right for what you are looking for.
Nexcess Spark Plan – $15.00 per month
Nexcess Maker Plan – $65.00 per month
Nexcess Designer Plan – $90.00 per month
Nexcess Builder Plan – $124.00 per month
Nexcess Producer Plan – $249.00 per month
Nexcess Executive Plan – $457.00 per month
Nexcess Enterprise Plan – $832.00 per month
You can also sign up for Nexcess trial free for 14 days and explore the luxury of hosting Managed WordPress. No hidden fees and no need for a credit card. You'll have 2 weeks to explore a website that loads incredibly quickly, with built-in auto-scaling and automatic plugin and platform updates, and many more.
Managed WordPress Hosting Guide
To further clarify this, let's first break down the general online population into the three usually seen hosting services:
Shared WordPress Hosting is much more convenient for persons who are just starting and want to go for low-cost WordPress shared hosting. Shared WordPress hosting plans usually range anywhere from $3 to $25 per month.
It's important to understand what shared hosting offers and what it doesn't. You must take into consideration that low-cost hosting services also indicate slow performance and bad support. But there is nothing wrong if you just want to try things out. You can always upgrade your hosting provider later if you are really establishing a business.
WordPress VPS Hosting
VPS or Virtual Private Server hosting is like shared hosting, where your site shares a domain with other sites. A small VPS hosting pricing range usually lies from $5 to $15 per month. Compared to the shared hosting option, there are fewer sites on the same server. The server is also partitioned into multiple server environments that are virtualized.
However, WordPress VPS hosting also requires some work, especially if your VPS server went down. You have to fix it yourself. Therefore, VPS hosting is only favorable to people who have technical skills.
Managed WordPress Hosting
Managed WordPress Hosting is designed to manage WordPress specifically. To support WordPress websites, it offers optimum technology and services. All technical aspects of hosting for you are taken care of by partnering with a managed WordPress hosting company, including security, performance, and other factors.
Managed WordPress Hosting prices vary, with plans ranging from $10 to $2,000 per month depending on the resources and level of support they offer. Managed WordPress Hosting is particularly well-suited to large and enterprise-level businesses due to its superior security, reliability, and high performance.
Which Managed WordPress Hosting plan is right for your site?
It can be a little difficult to find a managed WordPress hosting plan. Therefore, you'll have to be vigilant to make sure you're really getting the value of your money.
You'll need to take a close look at the functionality it offers to decide whether or not a managed hosting plan has anything special to offer you. Here are things you must take into considerations:
Speed – A lightning-fast page loads boost your page load times and allow for scale when traffic spikes.
Security – A built-in safeguards that regularly update, monitor and protect your WordPress site to stop disasters before they strike.
Support – It must have expert human support that is attentive and user-friendly WordPress specialists committed to your success.
Overall, managed WordPress hosting is one of your great options. Managed WordPress hosting provides you with a finely tuned environment in which your site will be better prepared to flourish and withstand traffic spikes. The use of managed WordPress hosting often offers peace of mind in terms of additional reliability and security.
FAQs on Managed WordPress Hosting Services
Do I need managed WordPress Hosting?
The Managed WordPress hosting is future-centric and closely integrated with many services like CDN, backups, and site monitoring tools. For site owners, managed WordPress hosting saves a lot of time by offering an excellent productive platform.
Is Managed WordPress Hosting worth it?
The Managed WordPress hosting comes with premium pricing and produces excellent performance with global server locations. You can industry's best support from those premium hosting companies.