Cloudways Vs Bluehost 2022- Which Host is Best to use in 2021?
Cloudways vs Bluehost
Cloudways is a reliable managed cloud hosting service that has done an excellent job of helping many businesses, big and small, with managed cloud hosting solutions. Over the years, the provider has provided its customers with brilliant flexibility, choice, and reliability backed by the industry's best technologies.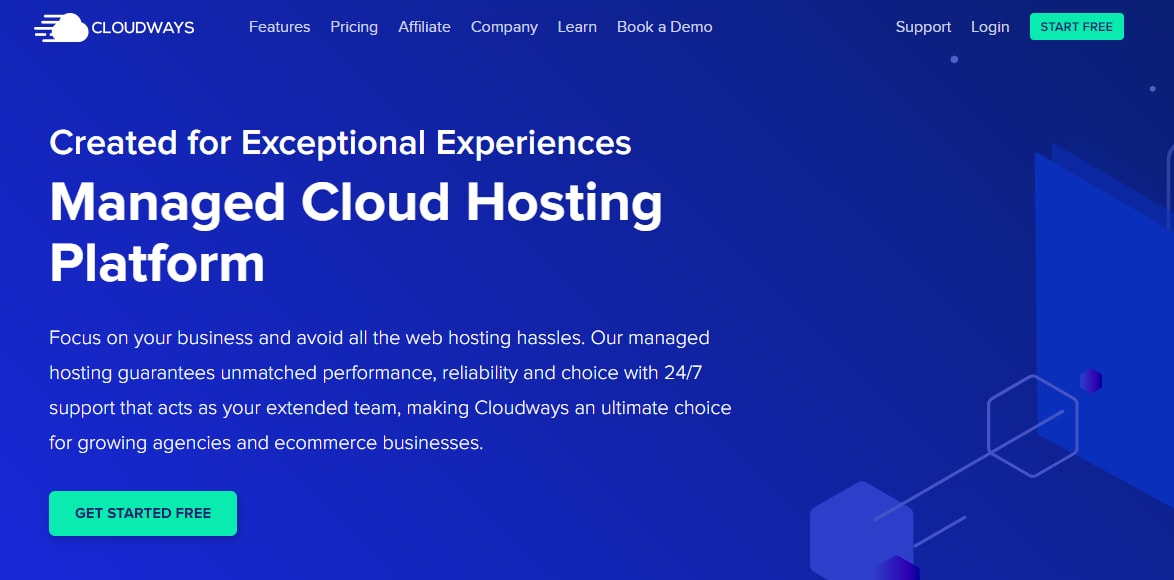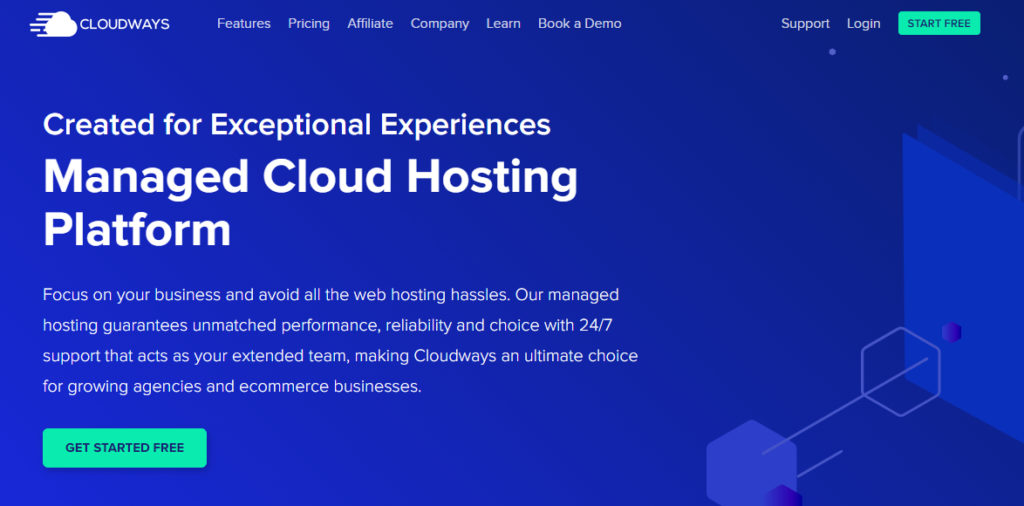 Starting in 2003, Bluehost is one of the most popular web hosting services in the industry. The service has gained widespread popularity since it is pretty easy to use and affordable. Further, the service comes with many advanced features.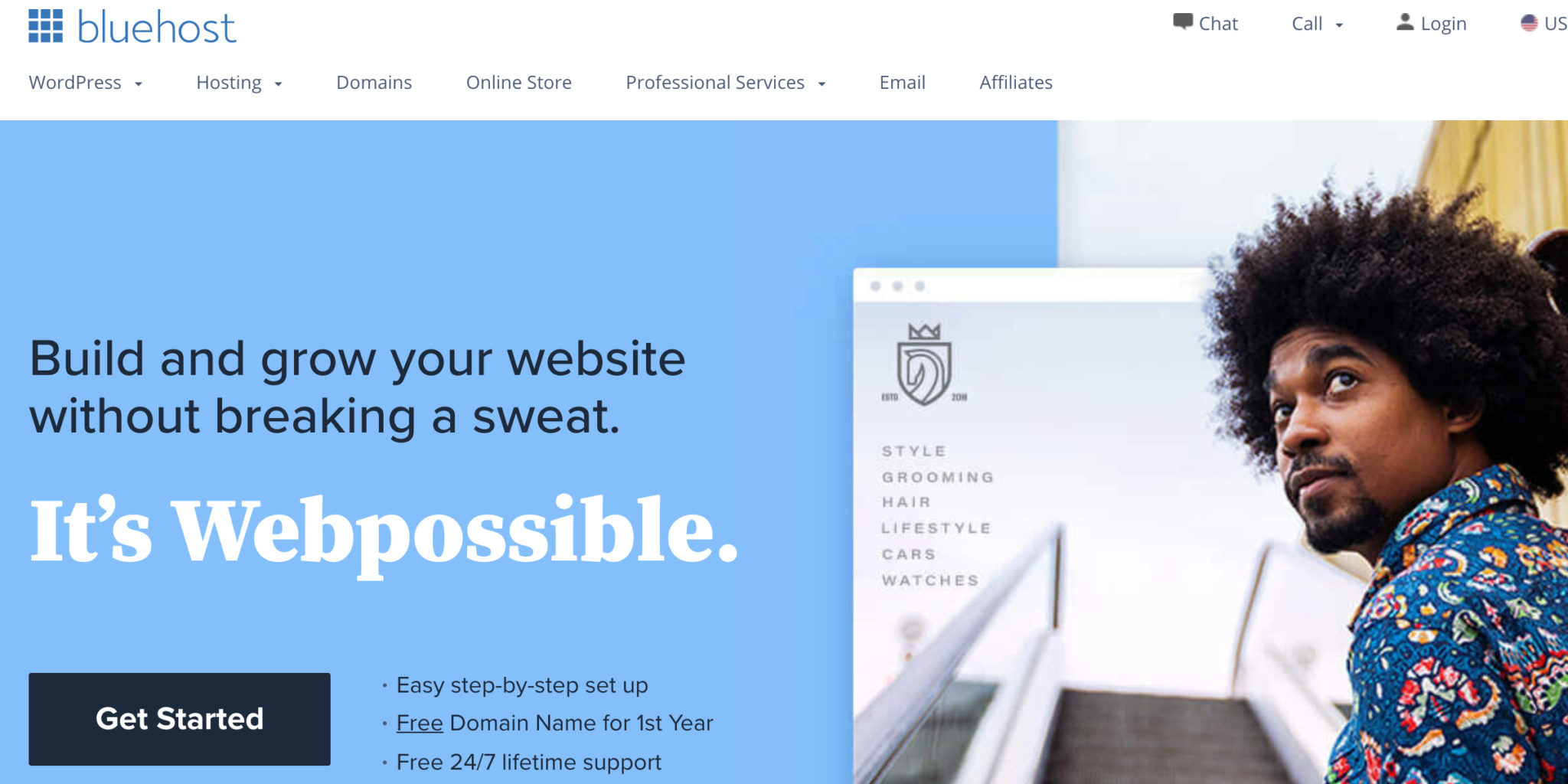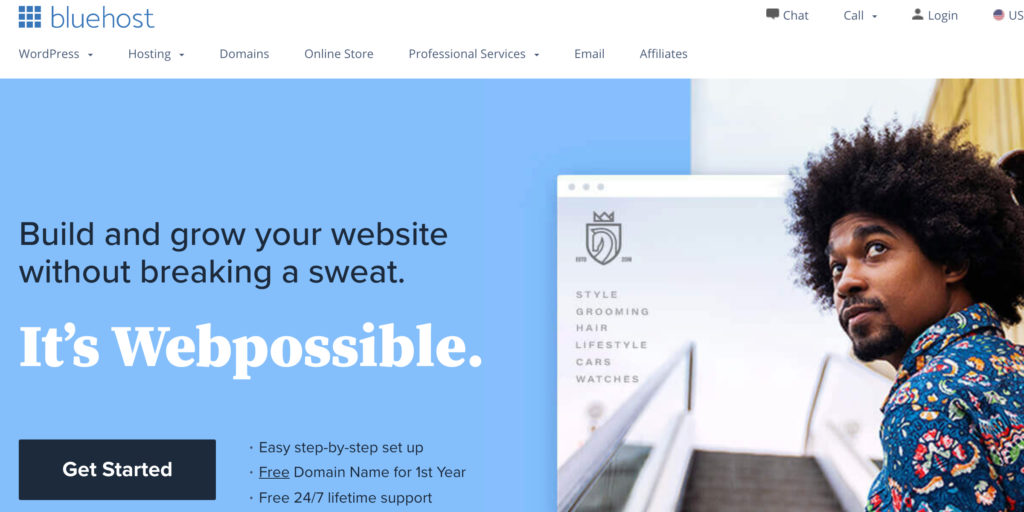 In this post, I will make you familiar with some of the important aspects of both the hosting services so that you can choose between the two with the greatest ease depending on your actual requirements.
Cloudways vs Bluehost: Pricing
Cloudways pricing model is based on good flexibility and choice. The provider has 11 plans available for the customers to select from, based on RAM, Core, Storage, and Bandwidth. This means one can easily find the right plan for one's project requirements. The lowest tier plan starts at $10 per month. Now, let's look at the other plans:
DO1GB: $10 per month, 1GB RAM, 1Core, 25GB Storage, 1TB Bandwidth
DO2GB: $22 per month, 2GB RAM, 1Core, 50GB Storage, 2TB Bandwidth
DO4GB: $42 per month, 4GB RAM, 2Core, 80GB Storage, 4TB Bandwidth
DO8GB: $80 per month, 8GB RAM, 4Core, 160GB Storage, 5TB Bandwidth
DO16GB: $135 per month, 8GB RAM, 6Core, 320GB Storage, 6TB Bandwidth
Some features are available on all plans, and they are:
24/7/365 Support
Free SSL
CDN Add-on
Free Migration
Unlimited Application Installation
Dedicated Firewalls
24/7 Real-time Monitoring
Automated Backups
Staging Environment
Optimized With Advanced Caches
Auto Healing
Regular Security Patching
HTTP/2 Enabled Servers
SSH and SFTP Access
Team Management
Bluehost has 4 different plans for its customers based on the number of websites and SSD Storage. The lowest tier plan in Bluehost starts at $4.95 per month.
Basic: $4.95 per month, 1 Website, 50 GB SSD Storage
Plus: $6.95 per month, Unlimited Websites, Unlimited SSD Storage
Choice Plus: $8.95 per month, Unlimited Websites, Unlimited SSD Storage
Pro: $14.95 per month, Unlimited Websites, Unlimited SSD Storage
All the plans have some features in common, and they are:
Free Domain for 1 year
Custom Themes
24×7 Customer Support
Free CDN
Free SSL
If you plan to start with Bluehost, I suggest you choose the Plus plan since the Basic plan comes with just 1 Website support. Besides, if you are looking for features such as free automated backup, free domain privacy, and free dedicated IP, you could consider choosing the Pro plan.
Cloudways vs Bluehost: Data Center Locations
Cloudways has over 65 data center locations across the globe. It has the advantage that it is partnered with 5 cloud providers comprising DigitalOcean, AWS, Google Cloud, Vultr, and Linode. Customers can easily find the closest server location to serve their target audience.
Bluehost has 6 data center locations across the USA, Europe, and Asia. Customers surely don't have as many server locations with Bluehost as they would have with Cloudways. If you are planning to choose Bluehost, you must first ensure that the server location that you have in your mind is available among the 6 Bluehost data center locations.
ChemiCloud vs Bluehost: Performance
1. Server Response Time
Measuring the performance of a hosting service takes a lot of testing, and one of these important tests is the average server response time test. I tested the average server response time my sites hosted on Cloudways and Bluehost.
My Cloudways site reflected an average server response time of 309 ms, and my Bluehost site recorded an average server response time of 460 ms. Cloudways has a better average server response time than Bluehost.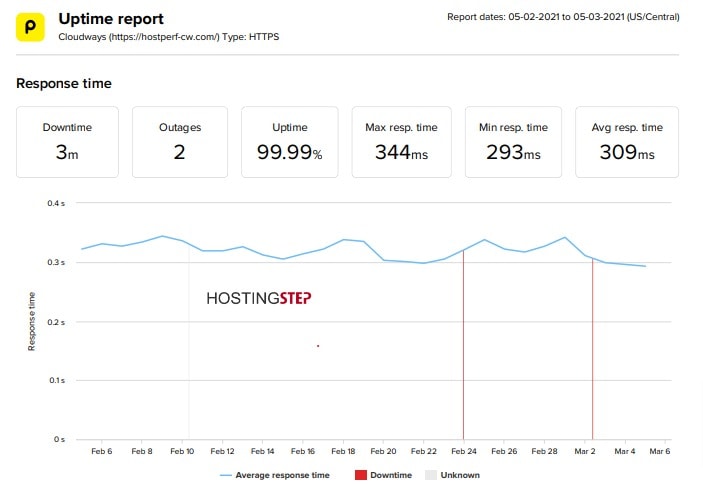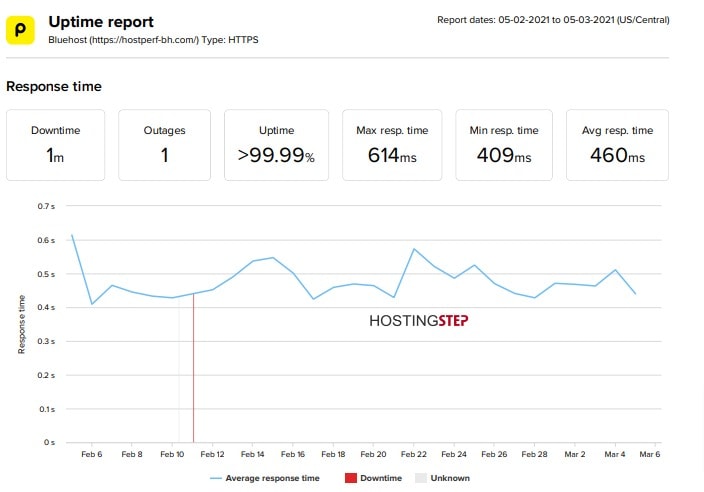 2. Uptime
As far as the uptime goes, I tested my Cloudways and Bluehost sites for 6 months, and there was actually no difference in uptime. Both the services had an uptime of 99.99%, which makes them pretty reliable.
3. Load Testing
Since performance is a crucial aspect these days, it's important to look beyond just uptime and average response time. This is where the Load testing comes into play. Load testing can be of 3 types:
Clients per test (1000 clients in 1 minute)
Maintain Client Load (500 clients in 1 minute)
Maintain Client Load (1000 clients in 1 minute)
'Maintain Client Load' test holds more importance than Clients per test. However, there are certain limitations, and this test can't be performed on shared hosting since the load is too high for shared hosting to handle.
As far as the Cloudways Load testing results go, it has reflected a response time of 10 ms in 1000 Clients Per Test, 168 ms in constant 500 Clients in 1 Minute Test, and 268 ms in 1000 constant Clients in 1 Minute test.
Bluehost recorded a response time of 54 ms in Clients Per Test, 374 ms in 500 Clients in 1 Minute Test. However, I couldn't test its response time for 1000 Clients in 1 Minute due to shared hosting limitations.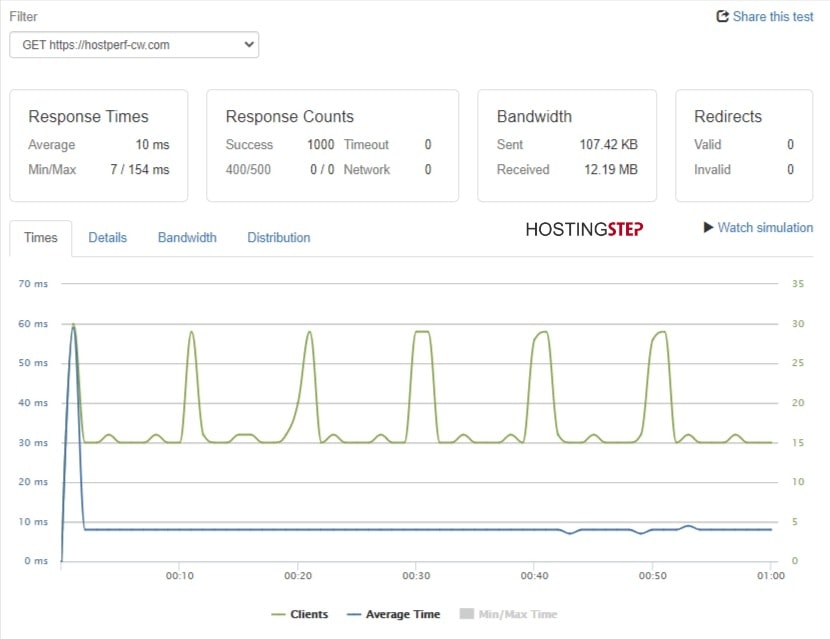 Modified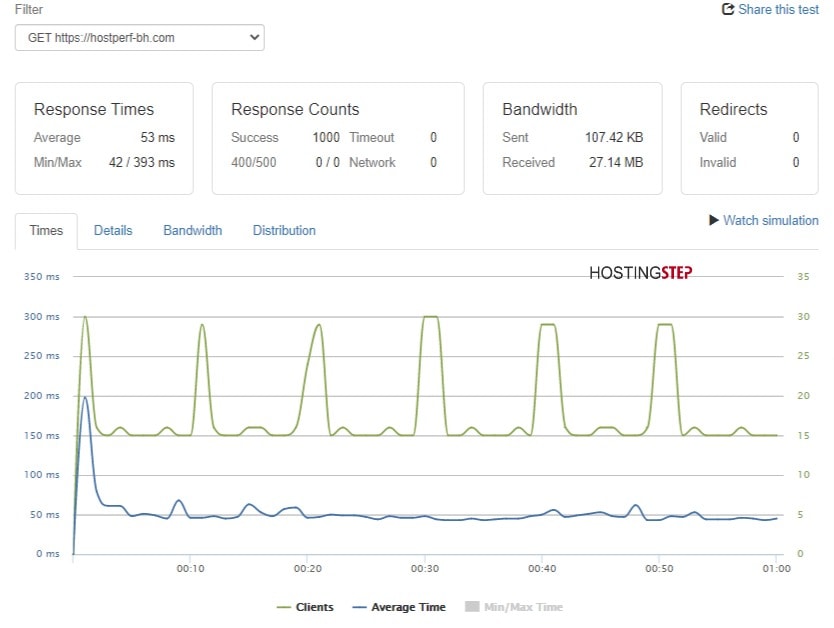 Original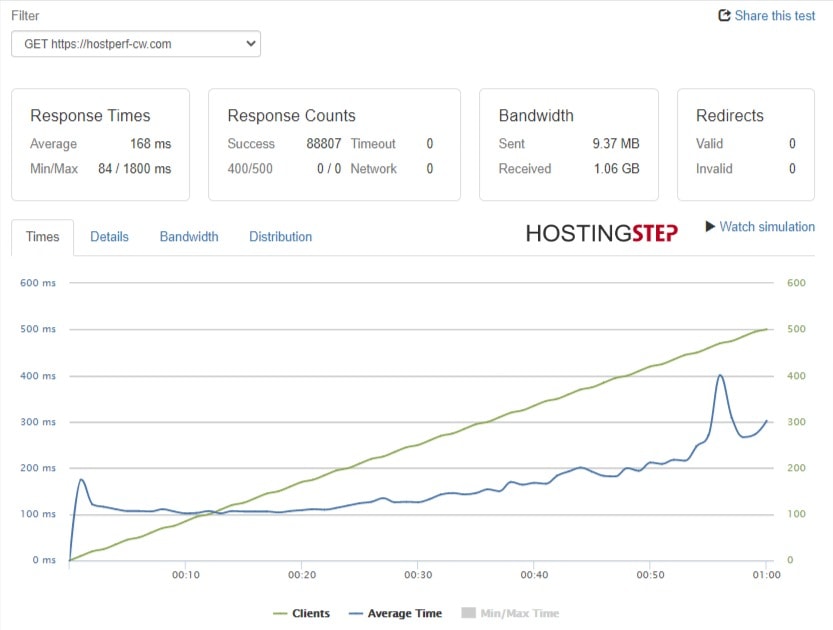 Modified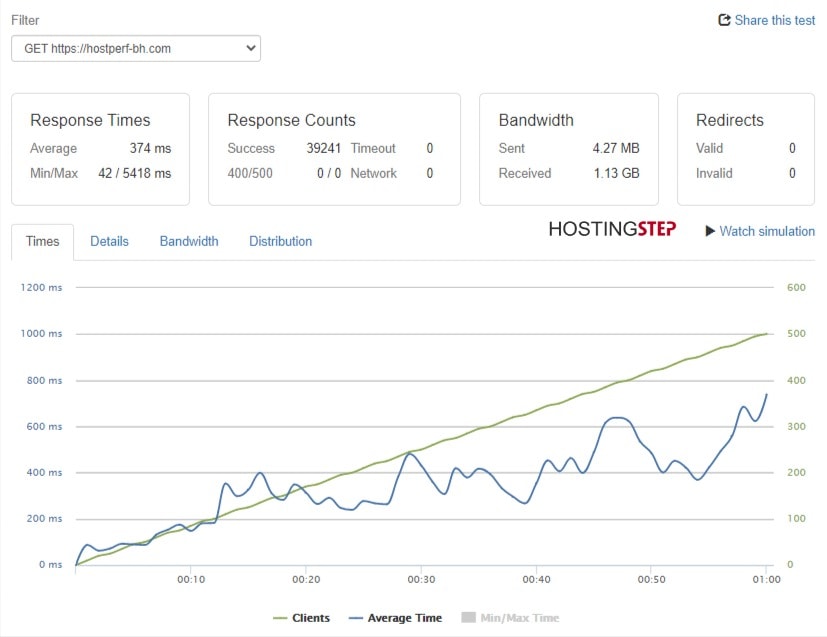 Original
4. Core Web Vitals
Core Web Vitals will become an important ranking factor from May onward. I checked the Core Web Vitals for both Cloudways and Bluehost.
Cloudways recorded a Largest Contentful Paint of 0.583 s, a Total Blocking Time of 0 s, and a Cumulative Layout Shift of 0. However, Bluehost recorded the Largest Contentful Paint of 1.080 s, a Total Blocking Time of 0.021s, and a Cumulative Layout Shift of 0.002.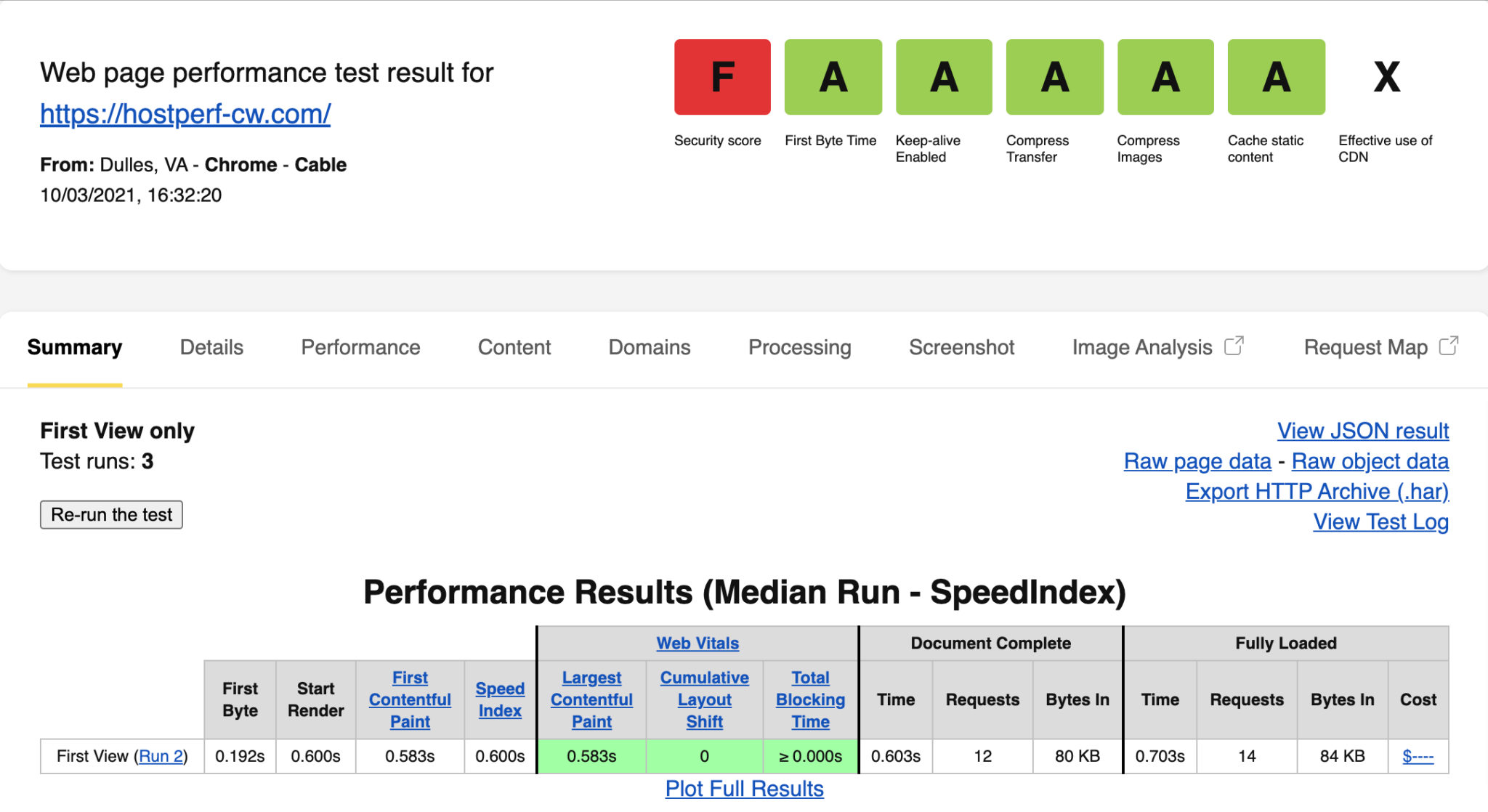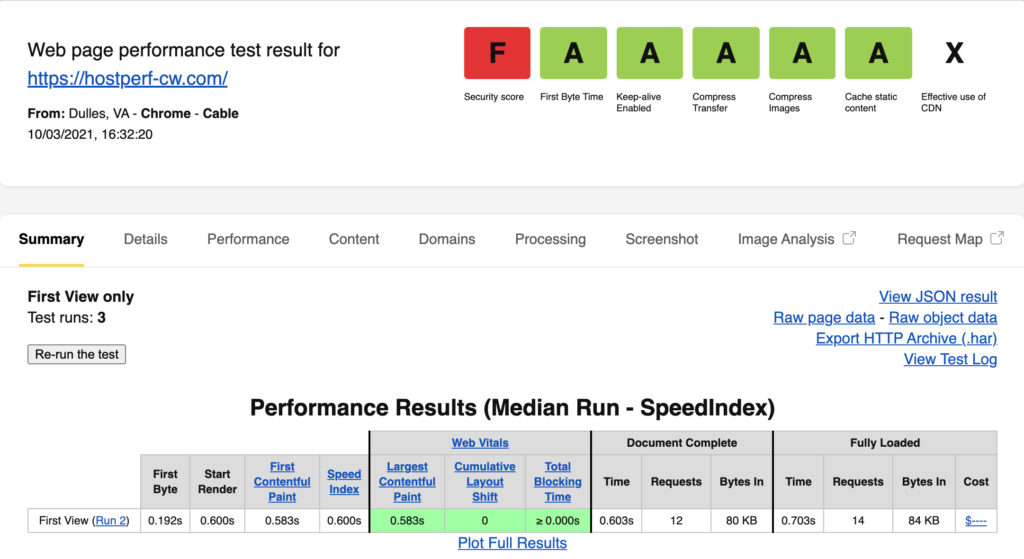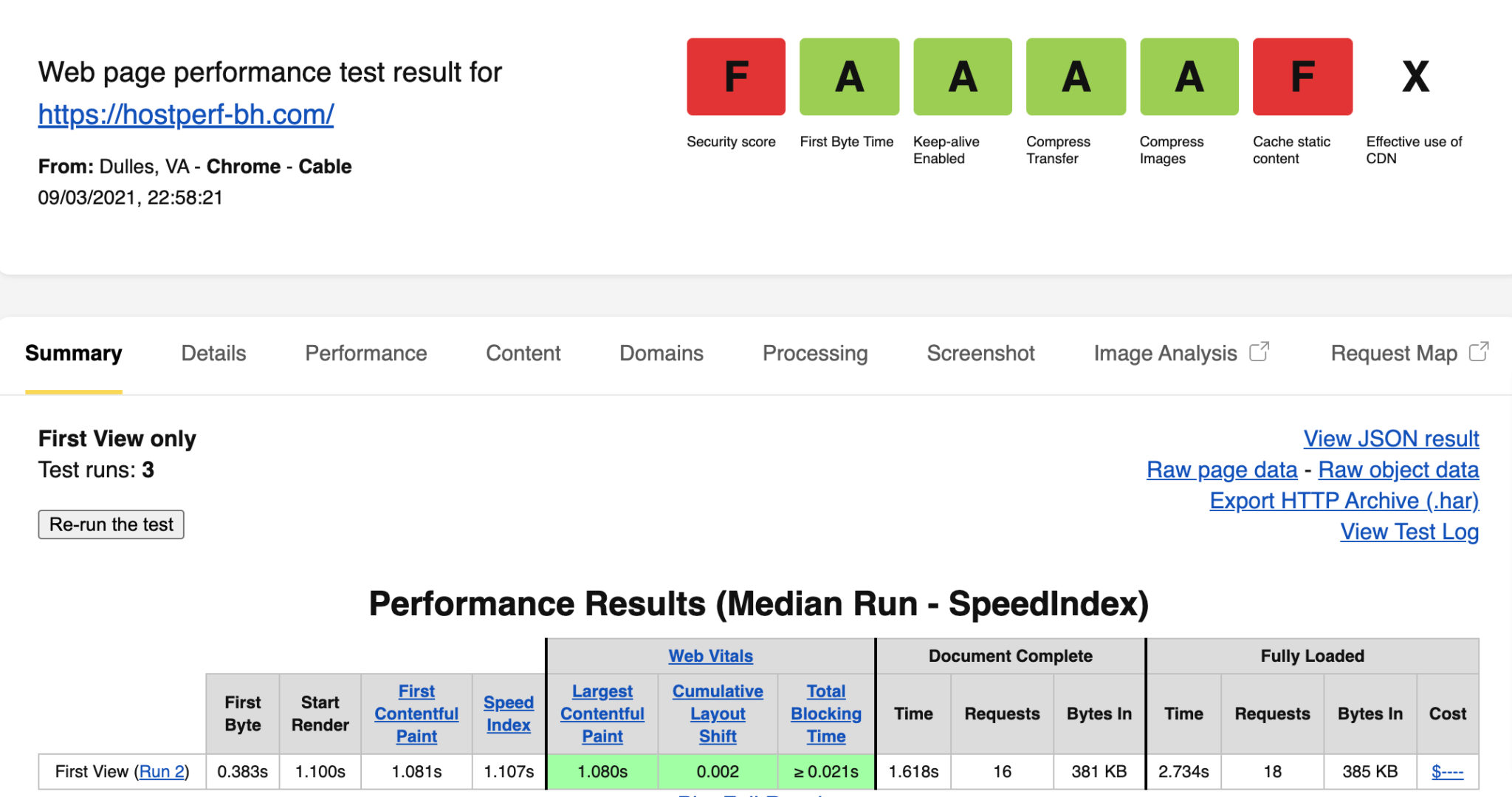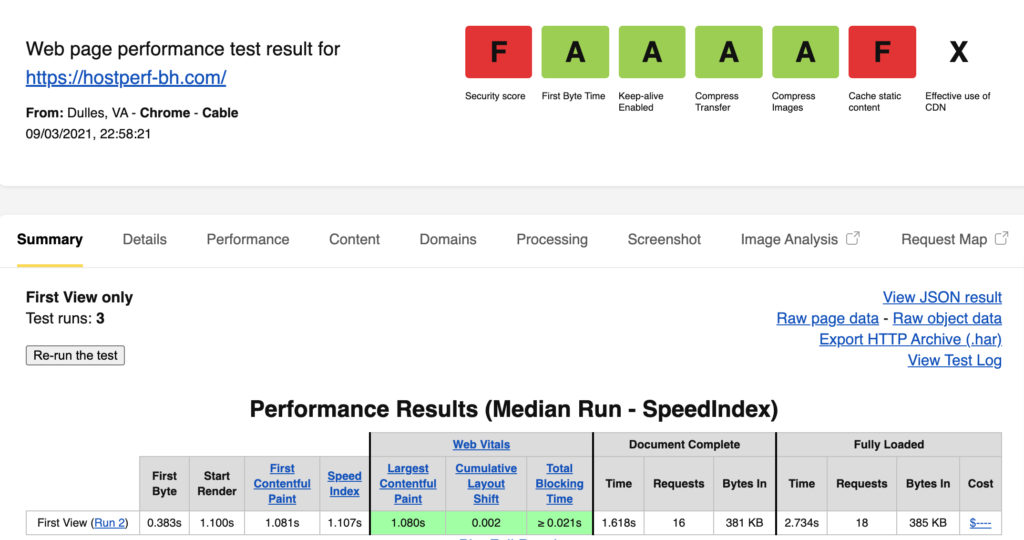 5. Global TTFB
Global TTFB measures the response time across different global locations and is a critical parameter to check if your site targets traffic from multiple global locations. I performed the Global TTFB test for both the services by pinging my sites hosted with these services from 10 different locations.
Cloudways had brilliant response times for Frankfurt, New York, Dallas, and Amsterdam. The service is extremely fast in New York with 14.47 ms TTFB. Bluehost had a good response time for New York, Dallas, and San Francisco. However, for places outside the USA, the TTFB is more than 400 ms.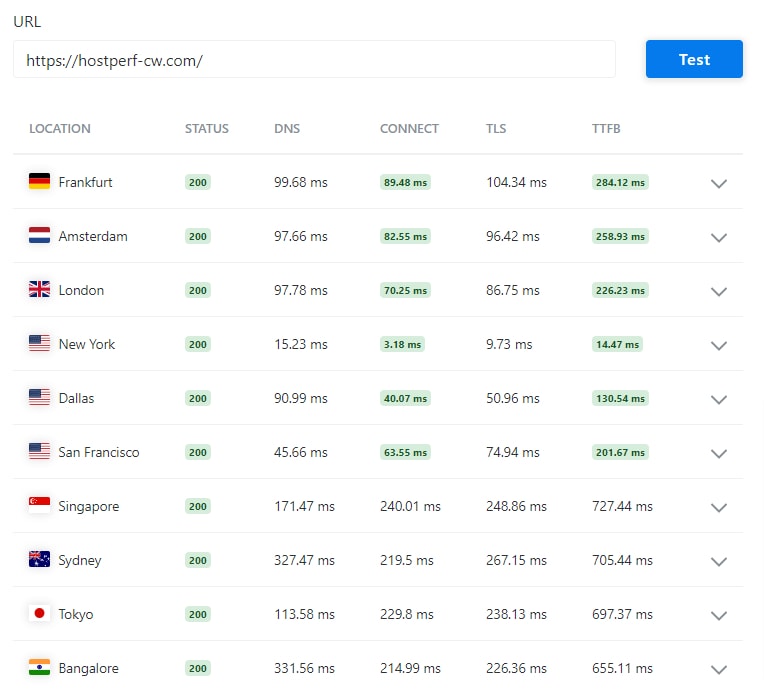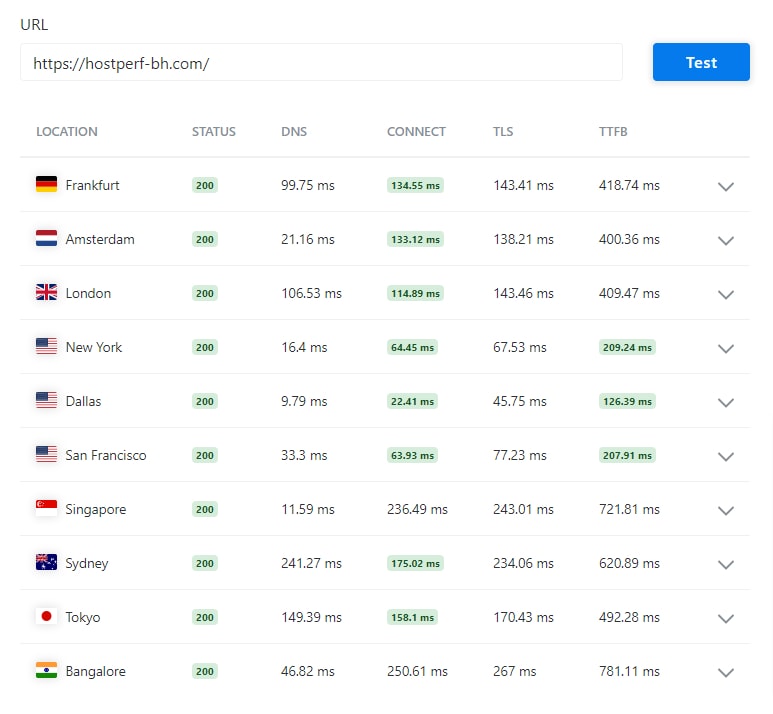 Cloudways vs Bluehost: Features
Control Panel
Cloudways has its custom control panel, which includes all the features you would usually find in cPanel and Plesk. In addition to this, the Cloudways control panel comes with many other advanced features such as server cloning, staging URL, team collaboration, a Free built-in cache plugin, and 1-Click CDN. Most importantly, it is pretty user-friendly, and even if you are totally new to it, it will take just about 10 minutes to get the hang of it.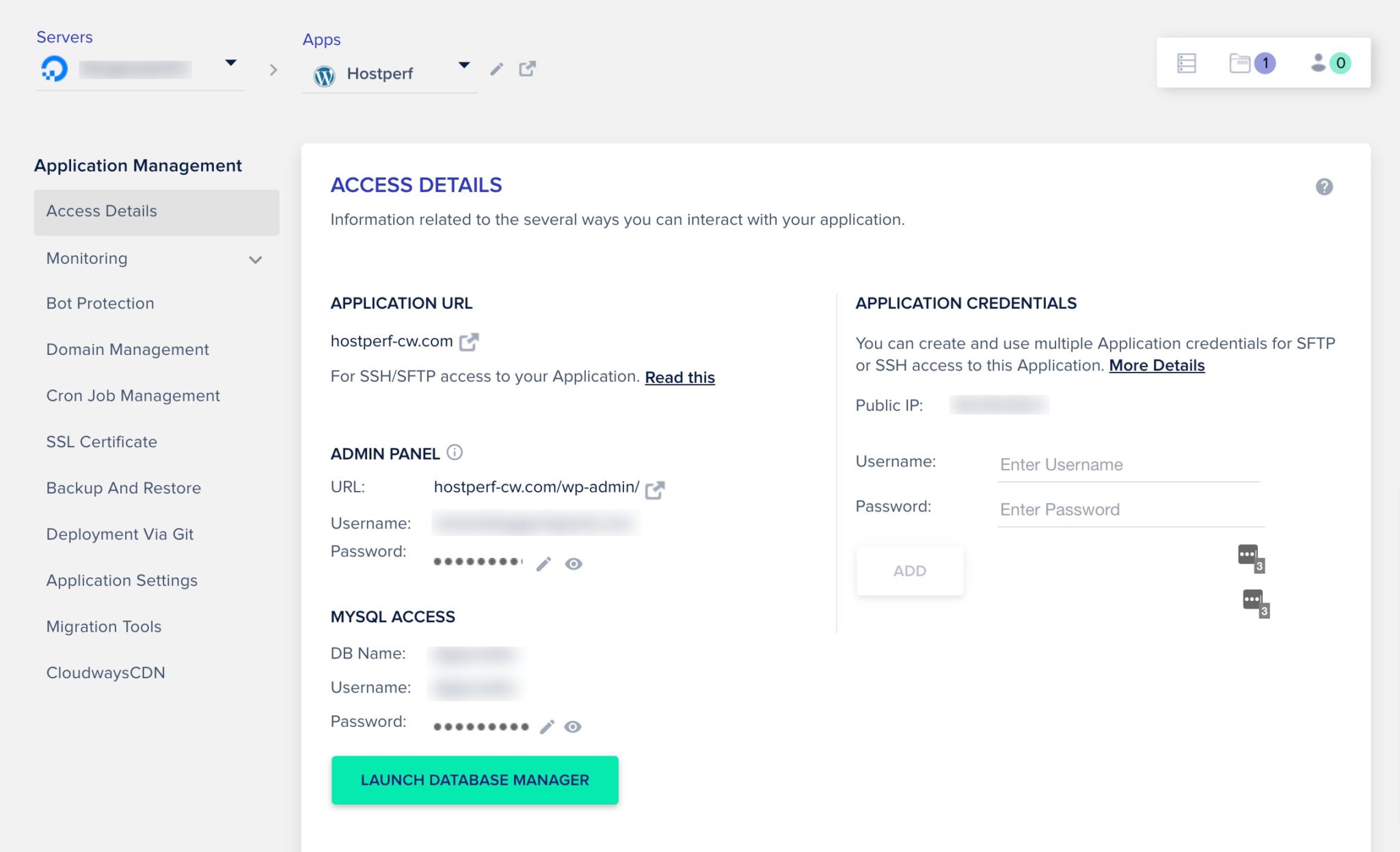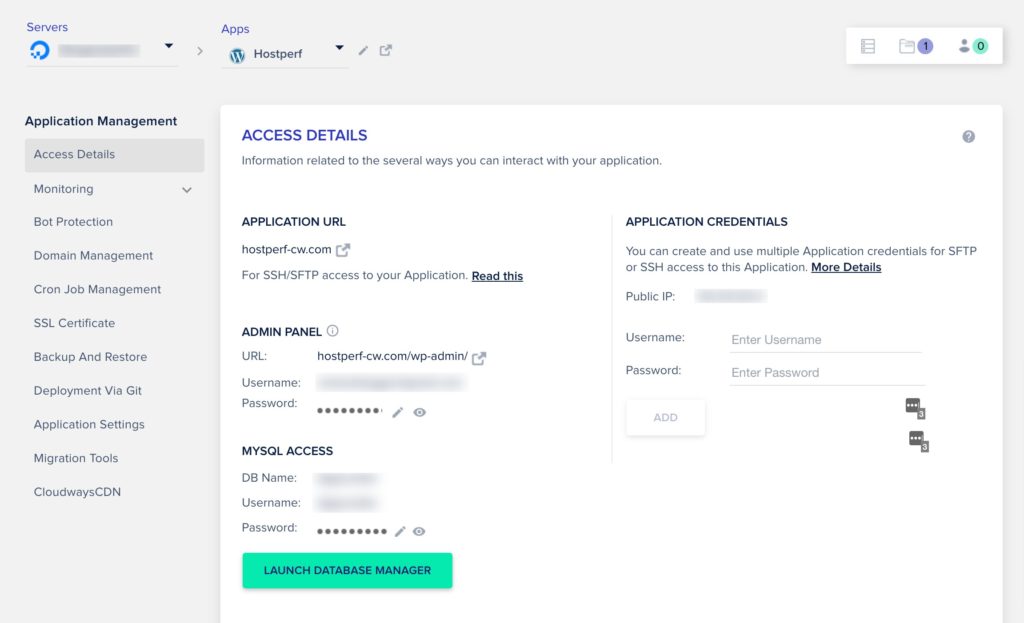 Bluehost uses customized cPanel and has all the features that a cPanel has. What makes it better is that the interface looks pretty clean and organized. Using the Bluehost cPanel is even easier than using the regular cPanel since it comes with a better theme.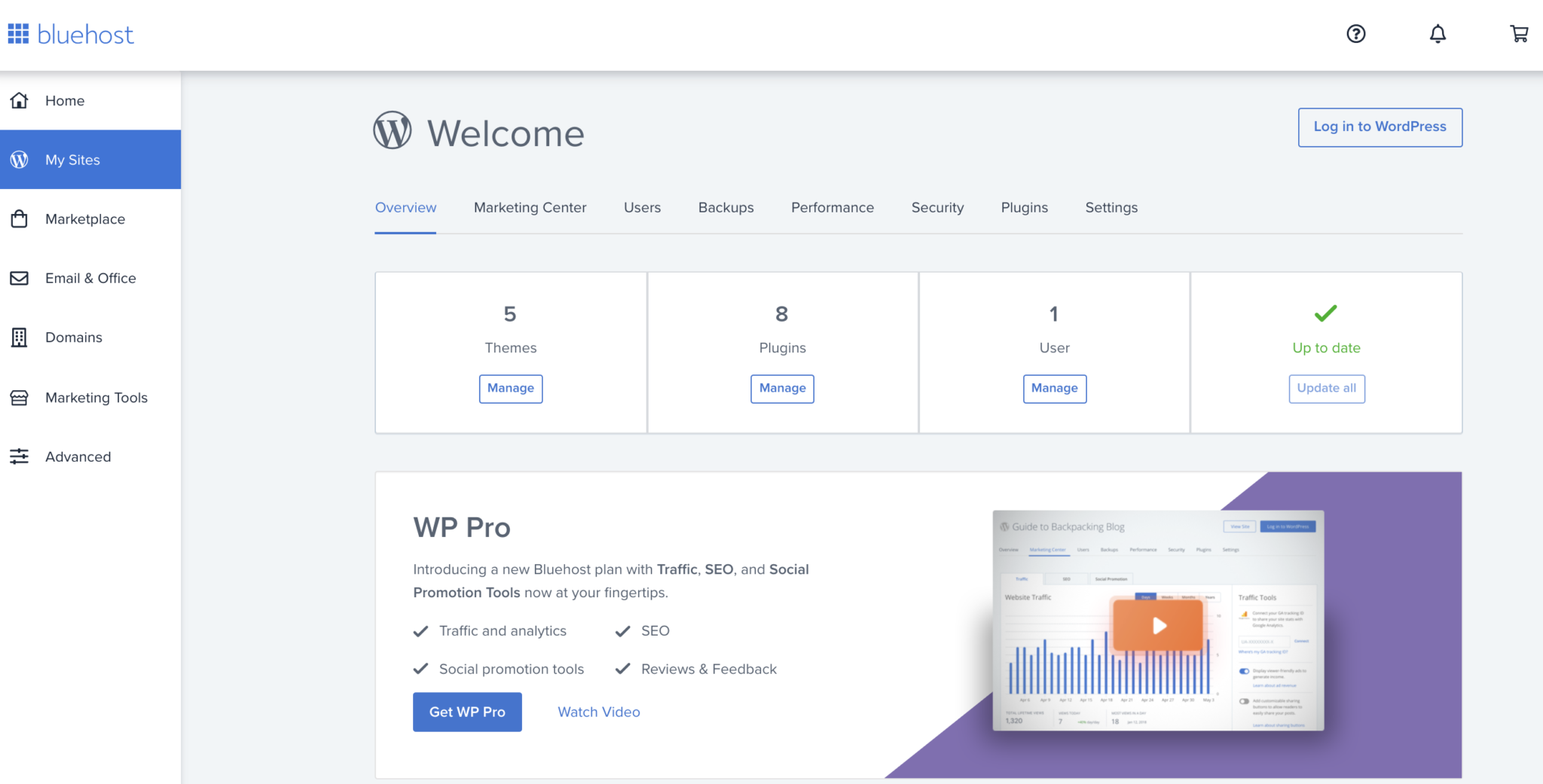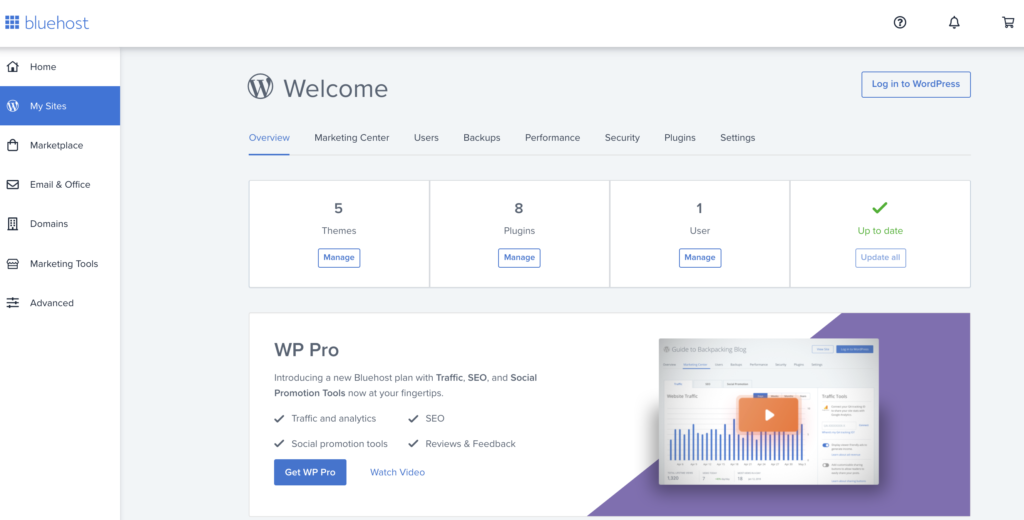 You can log in to the Bluehost cPanel by simply login into your Bluehost account with your username and password. The control panel gives you access to the databases, domains, files, logs, emails, SimpleScripts add-on for various applications such as Joomla, WordPress, Drupal, and Zen Cart.
CDN
A CDN helps you with faster content delivery making the best use of its wide global network. Both Cloudways and Bluehost have the CDN feature. Cloudways has an in-built CDN powered by StackPath, and the setup is pretty simple. However, the CDN is based on a pay-as-you model, and it charges $1 per 25GB of bandwidth for one site.
Bluehost has free Cloudflare CDN on all plans to increase the content delivery speed of your site using reverse-proxy, auto minification, and speeding up uncachable dynamic content from more than 152 global locations to serve your audience from the closest location.
Backups
Backup is a paid feature in Cloudways, and the host charges $0.33 per GB for backup. The backup process involves automatically backing up a site to an external storage network. If ever you need additional backup storage, you can have it for an additional charge.
Automated Backup in Bluehost is only available on the Choice Plus and Pro plans. Choice Plus has just one year of free Automated Backup, while Pro has unlimited free automated backups. The low-tier plans don't have automated backup, but customers can always have the CodeGuard add-on for an additional price if they want automated backup on the low-tier plans.
Staging sites
Cloudways allows you to create copies of your live site for testing various changes, and after you determine the changes you would want to have on your site, you could deploy them easily using the Cloudways staging feature itself. The feature is available for free on all the plans.
Bluehost offers to stage as well, and users can access the staging feature right from the dashboard and create a clone of their production website. Once you create a clone of your live site, you could feel free to test the various changes like testing different PHP versions, plugins, and updates.
After you are done and have a few modifications that you would like to have on your production site, you can push them in just a few clicks in just a few minutes. This is how simple it is.
Security
When it comes to security, you will have no reason to ever worry about your site's security with Cloudways since the service comes with reliable security comprising dedicated firewalls, Let's Encrypt SSL, IP Whitelisting, Regular Security Patching, Two-Factor Authentication, Bot Protection against DoS, and brute force.
Bluehost maintained reliable security so far with resource protection, traffic encryption, automated malware scanning, and expert monitoring. However, the security system is not as full-fledged as in Cloudways unless you get the security add-ons for an additional cost. Bluehost has security add-ons such as SiteLock, and Domain Privacy. I find Cloudways' security comparatively more reliable and robust than Bluehost.
Cloudways vs Bluehost: Support
Cloudways has done a commendable job in terms of customer support service, and further, it is backed by the most professional executives. You can always find the best assistance in Cloudways with 24×7 live chat and ticketing.
The provider also has advanced and premium support add-ons for customers who need an even faster resolution to their technical difficulties. If you are looking for phone and private Slack channel support besides live chat and tickets, you can opt for the Premium add-on.
Bluehost support service has been pretty reliable over the years, too, and the Bluehost support team does a brilliant job of assisting the customers through 24×7 chat, ticketing, and phone.
Conclusion
I understand how difficult it can be to choose between two popular hosting services. To me, it depends a lot on what you are actually looking for. However, for a good comparison, it is important to understand all the aspects of the two services well before you go ahead with choosing a hosting service. I have closely studied and tested the two services and shared all the important aspects of the two services. You can go through the features, compare, and see which one is better.
Besides, you have also to consider your actual requirements and see which one of these two services offer you the best value and meets your requirement the best. For example, if you are looking for the best performance, Cloudways certainly has a leading edge over Bluehost and can be the right service to opt for.
If you are looking for an affordable service, Bluehost is comparatively affordable than Cloudways, although the renewal pricing will be higher on Bluehost and its same renewal price with Coudawys. Also, when it comes to performance, Cloudways should be your ultimate choice.