Cloudways vs Bluehost – Introduction
Cloudways is a managed Cloud Hosting platform that gives you the power to launch your website in minutes. It offers a simple to use platform powered by Cloud providers such as DigitalOcean, Vultr, Linode, AWS and GCP. With built-in cache and CDN, Cloudways offers a speed optimized WordPress setup with 24/7 expert customer support.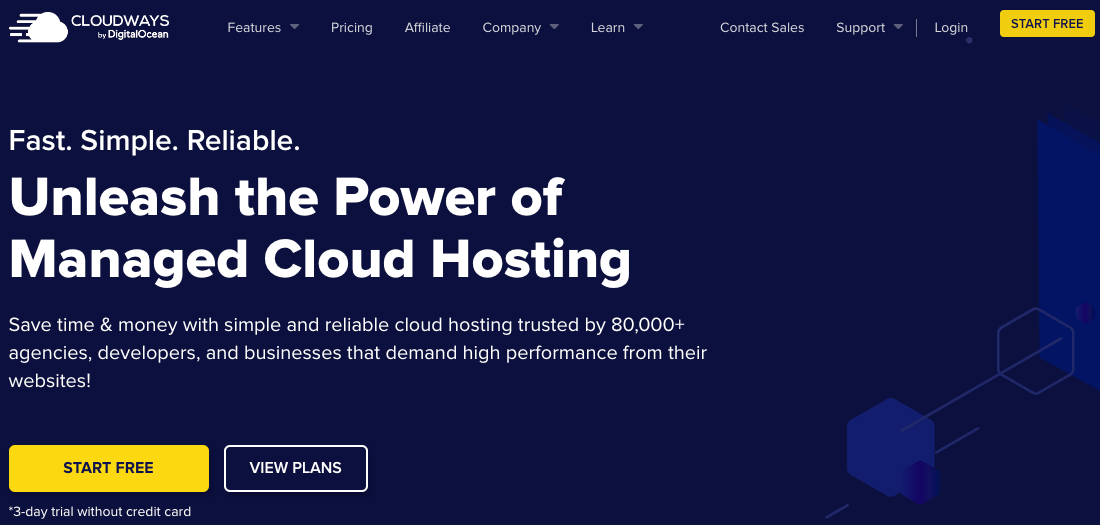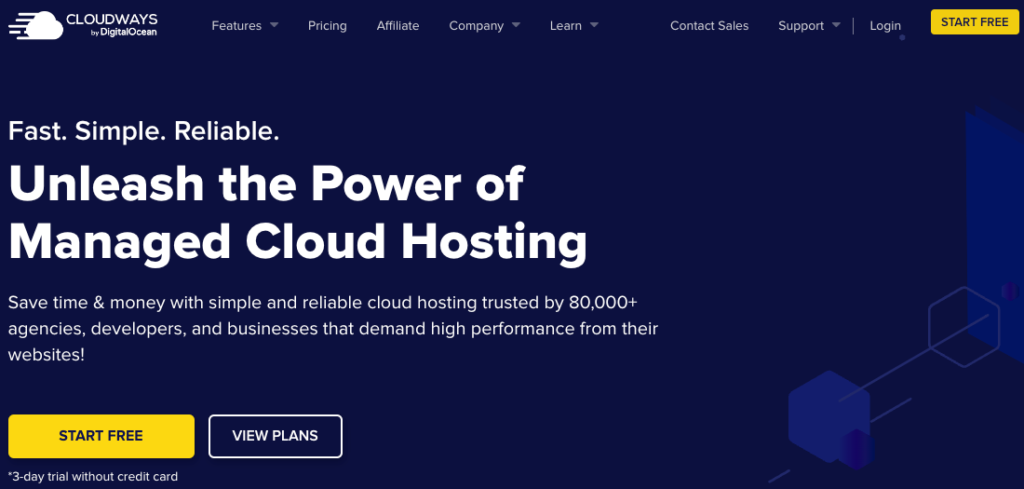 Starting in 2003, Bluehost is one of the most popular web hosting services in the industry. It offers a range of hosting services that includes Shared WordPress, VPS and Dedicated Server Hosting. Bluehost plans starts at $2.95/month along with a free domain for first year.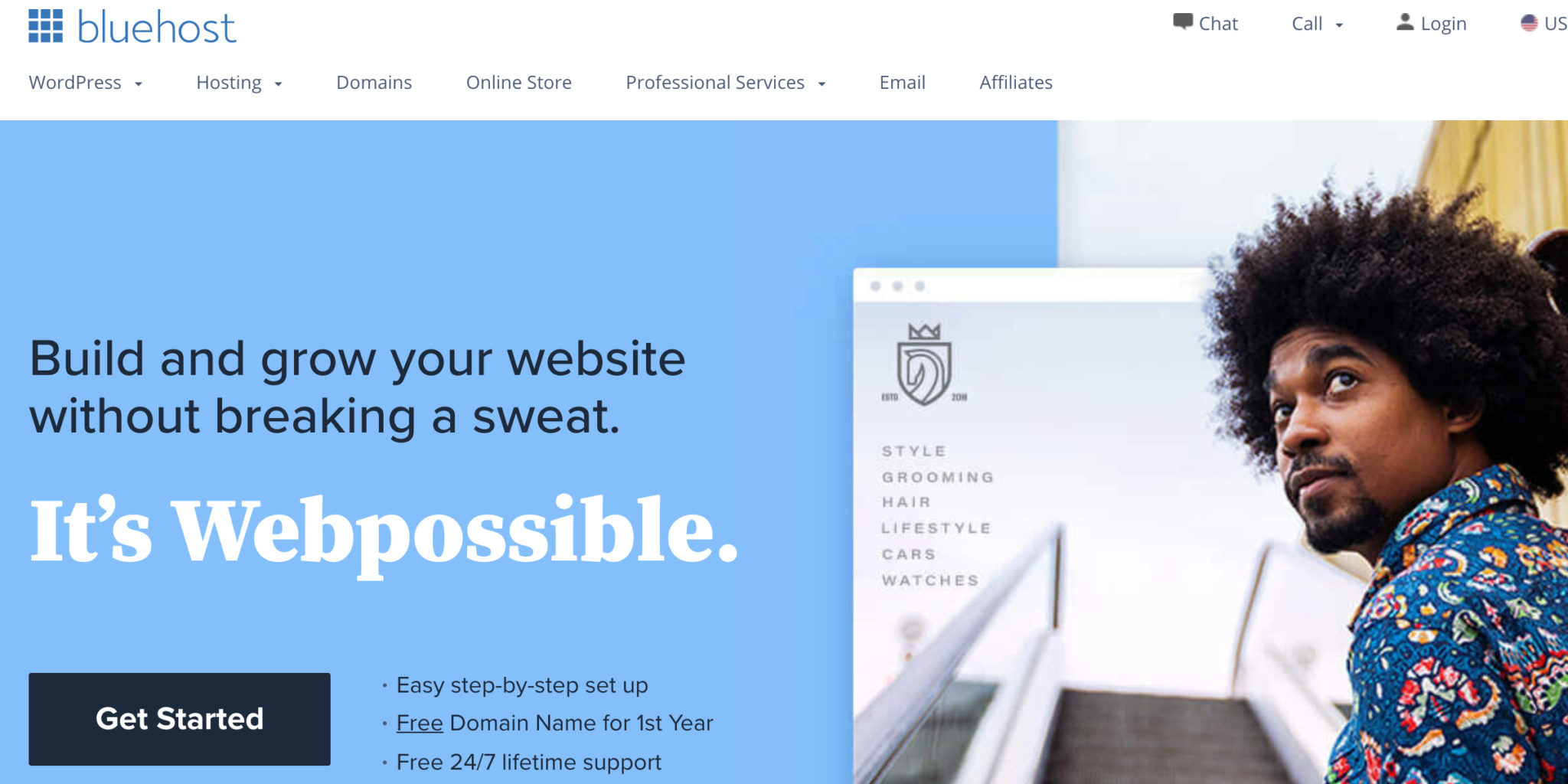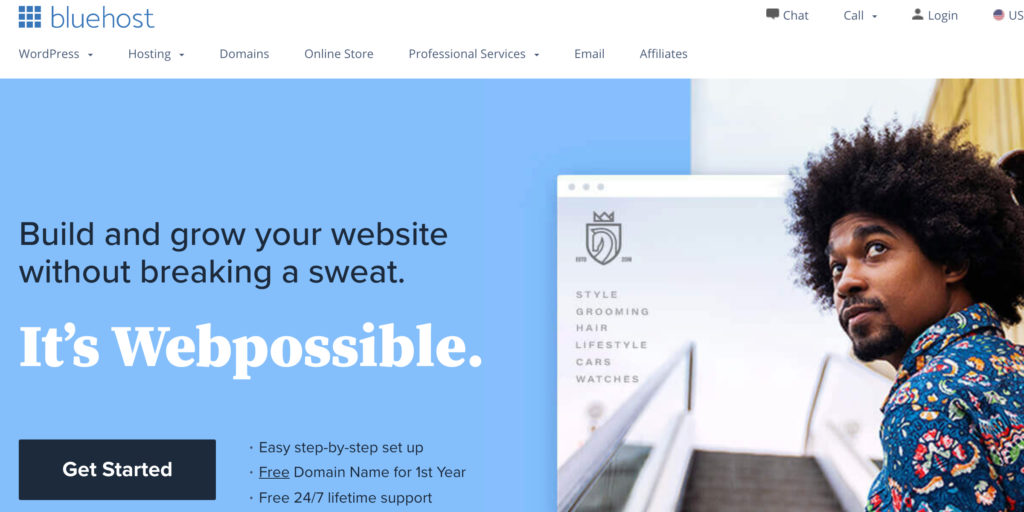 Cloudways vs Bluehost: Pricing
Regarding pricing, Cloudways stands out for its flexibility and array of options. With 11 different plans available, customers can easily select the right fit for their project requirements based on RAM, Core, Storage, and Bandwidth. The lowest tier plan starts at $10 per month or lesser with Cloudways discount. with other options including:
DO1GB: $11 per month, featuring 1GB RAM, 1Core, 25GB Storage, and 1TB Bandwidth.
DO2GB: $24 per month, featuring 2GB RAM, 1Core, 50GB Storage, and 2TB Bandwidth.
DO4GB: $46 per month, featuring 4GB RAM, 2Core, 80GB Storage, and 4TB Bandwidth.
DO8GB: $88 per month, featuring 8GB RAM, 4Core, 160GB Storage, and 5TB Bandwidth.
Bluehost has 4 different plans for its customers based on the number of websites and SSD Storage. The lowest tier plan in Bluehost starts at $4.95 per month.
Basic: $4.95 per month, 1 Website, 50 GB SSD Storage
Plus: $6.95 per month, Unlimited Websites, Unlimited SSD Storage
Choice Plus: $8.95 per month, Unlimited Websites, Unlimited SSD Storage
Pro: $14.95 per month, Unlimited Websites, Unlimited SSD Storage
If you plan to start with Bluehost, I suggest you choose the Plus plan since the Basic plan comes with just 1 Website support. Besides, if you are looking for features such as free automated backup, free domain privacy, and free dedicated IP, you could consider choosing the Pro plan.
Cloudways vs Bluehost: Performance
1. Server Response Time
Assessing the performance of a hosting service involves extensive testing, with server response time being a critical metric. To evaluate Cloudways and Bluehost regarding server response time, I conducted tests on my websites hosted on each platform.
Over the past 24 months, I deployed a test site on both Cloudways and Bluehost servers to measure their TTFB (Time To First Byte). The results showed that my Cloudways site had an average server response time of 303ms, while my Bluehost site recorded an average server response time of 455ms.
Based on these tests, Cloudways demonstrated a better average server response time compared to Bluehost.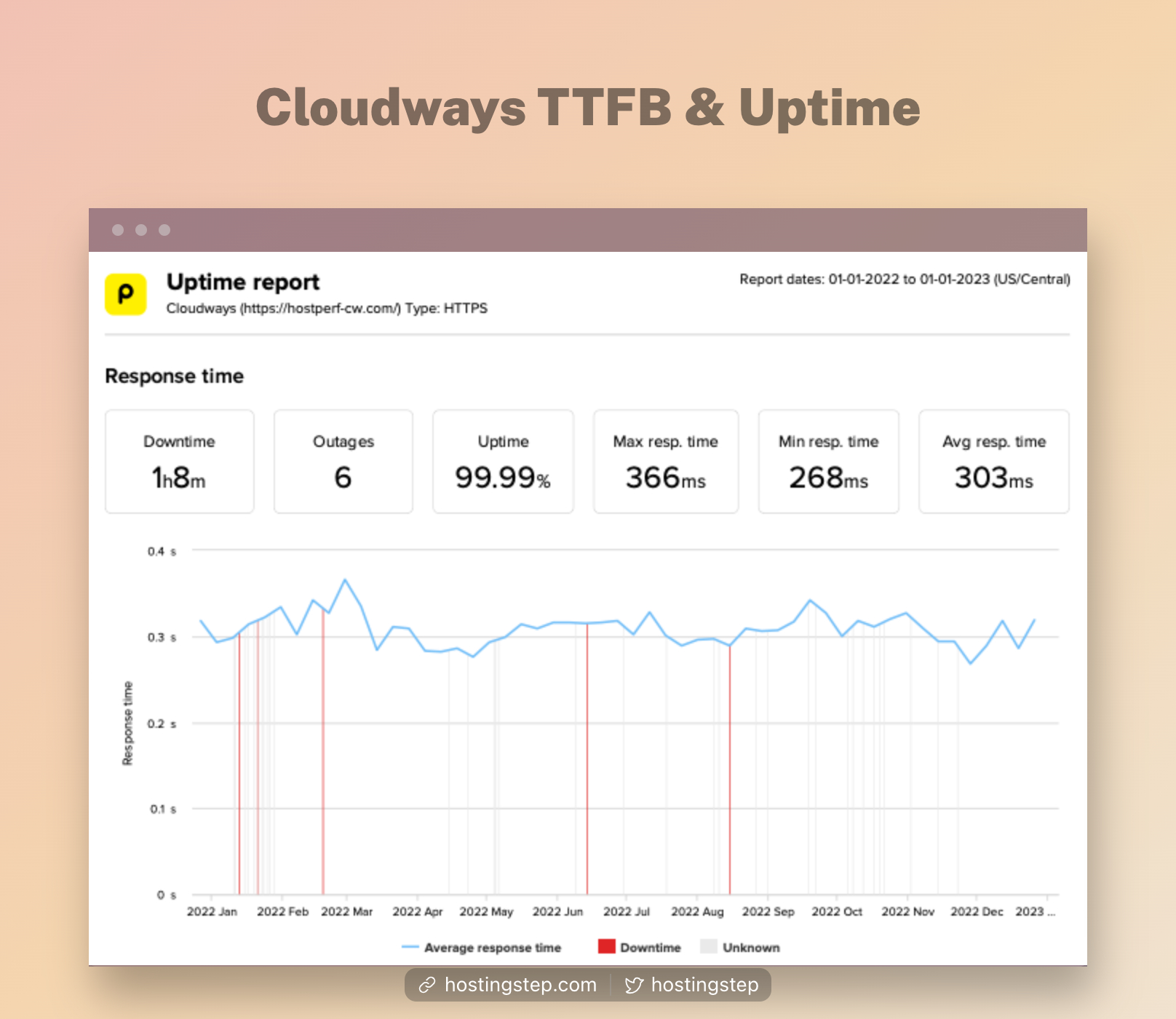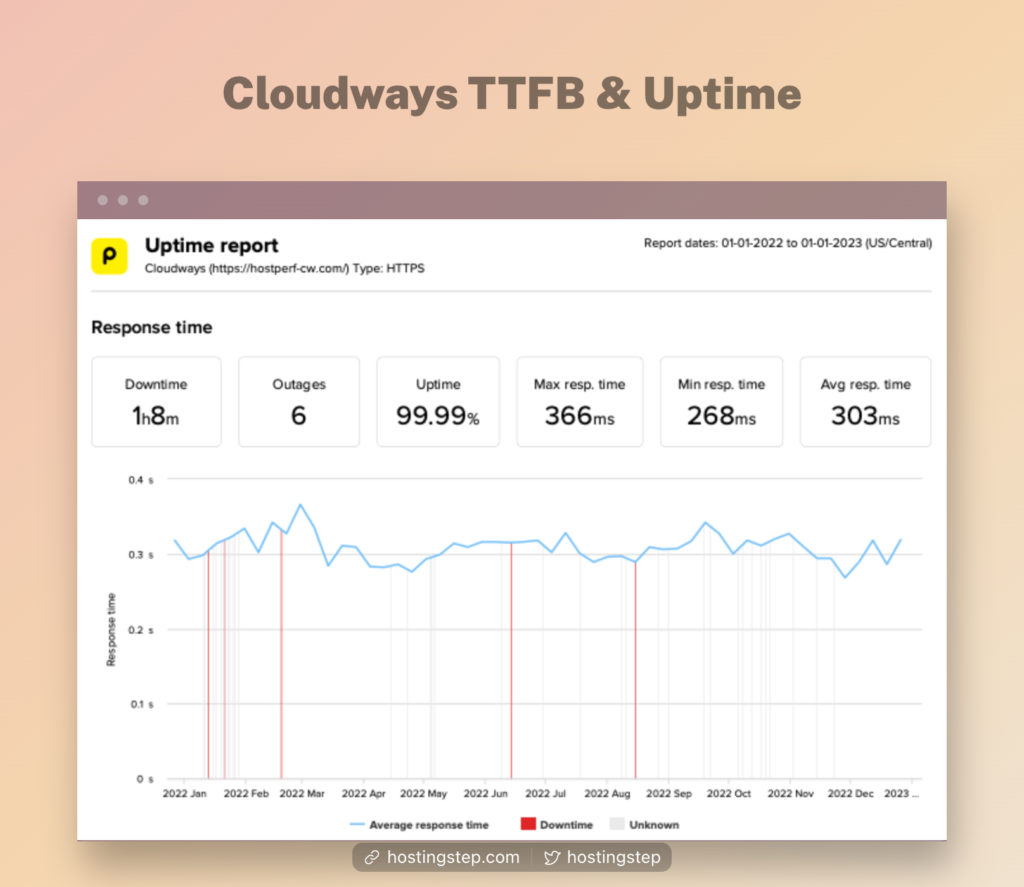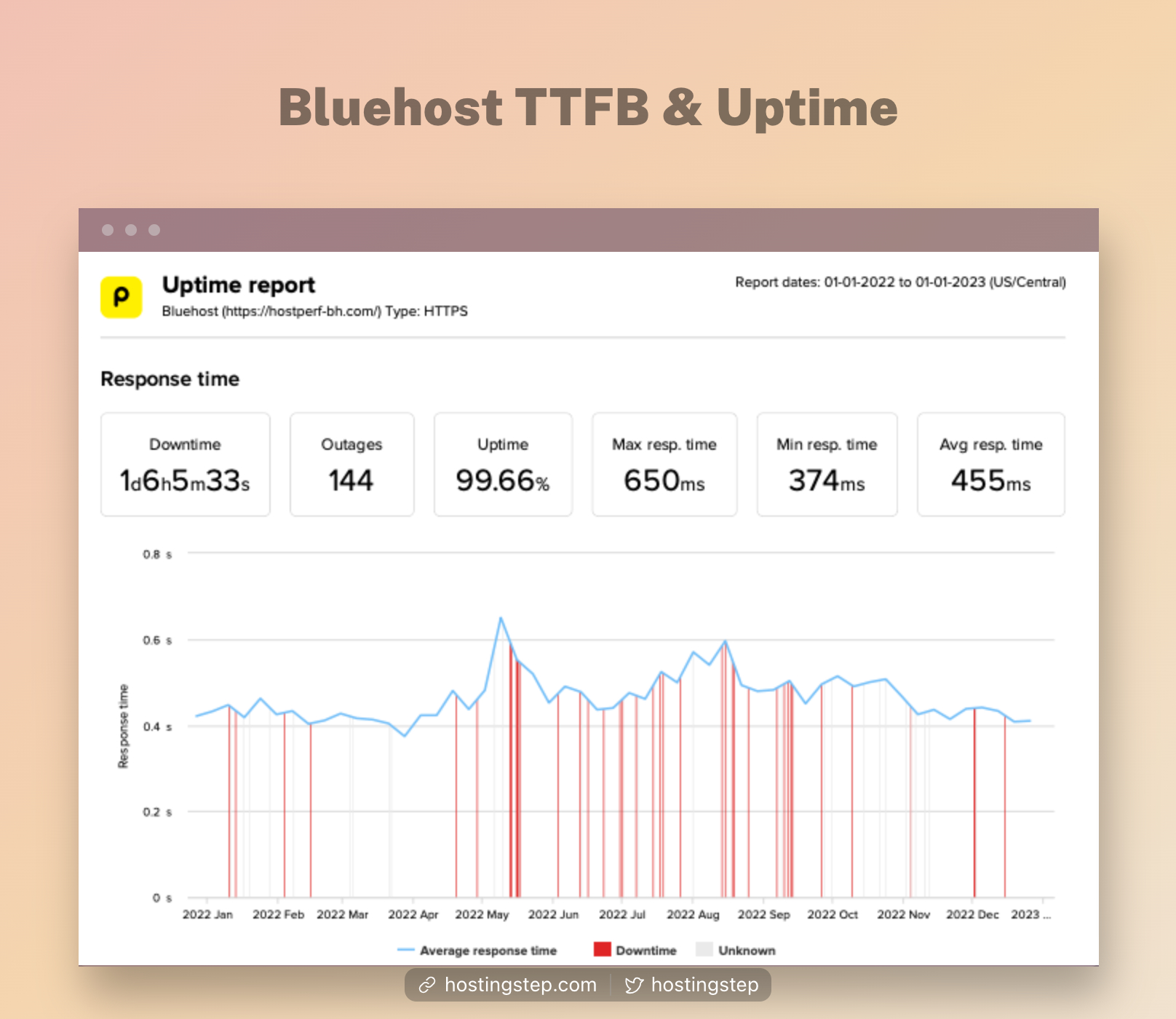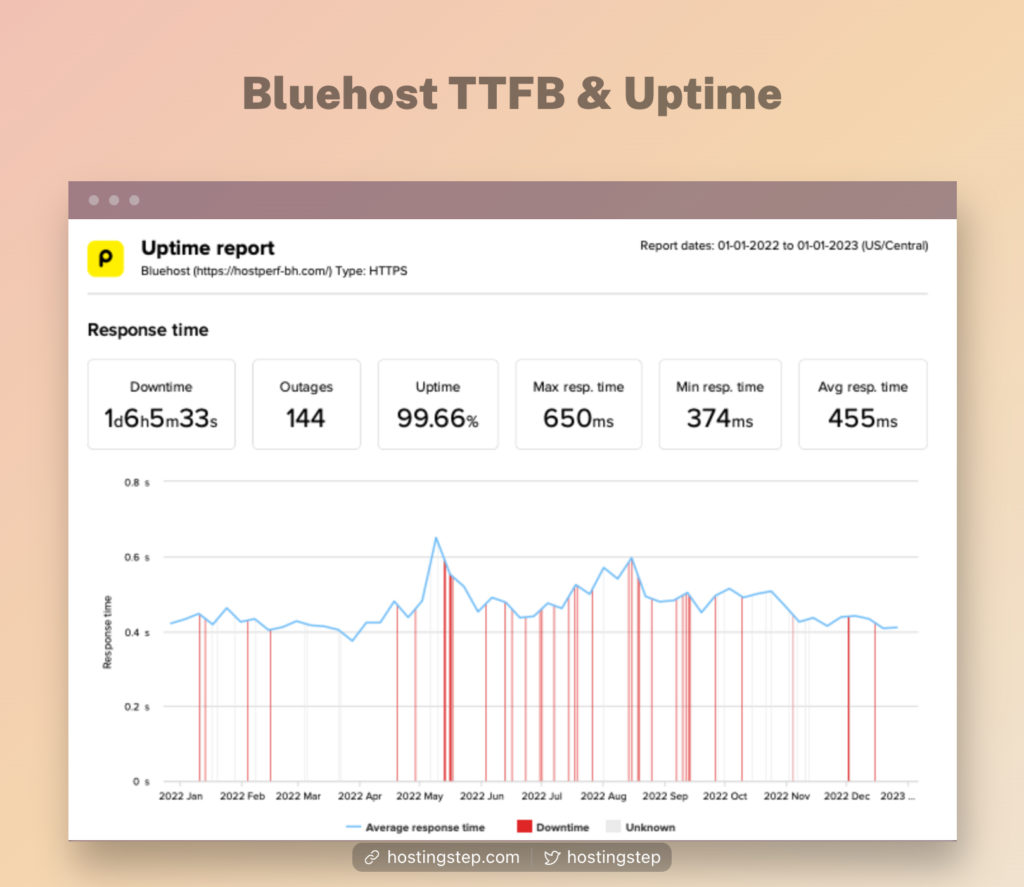 2. Uptime
Regarding uptime, Pingdom data reveals that Cloudways has an exceptional track record, with an average uptime of 99.99%.
In contrast, Bluehost had a relatively poor uptime of 99.66%, rendering their starter plan unsuitable for professional business websites.
3. Load Testing
In addition to uptime and average response time, load testing is essential to consider when evaluating hosting performance. To test the ability of Cloudways and Bluehost to handle high-traffic loads, I sent 500 simultaneous visitors to each site and measured the average response time.
The results showed that Cloudways had an impressive average response time of 180ms, while Bluehost recorded a score of 309ms. This indicates that Cloudways is nearly twice as fast as Bluehost in handling high-traffic loads, making it a better option for websites anticipating heavy traffic.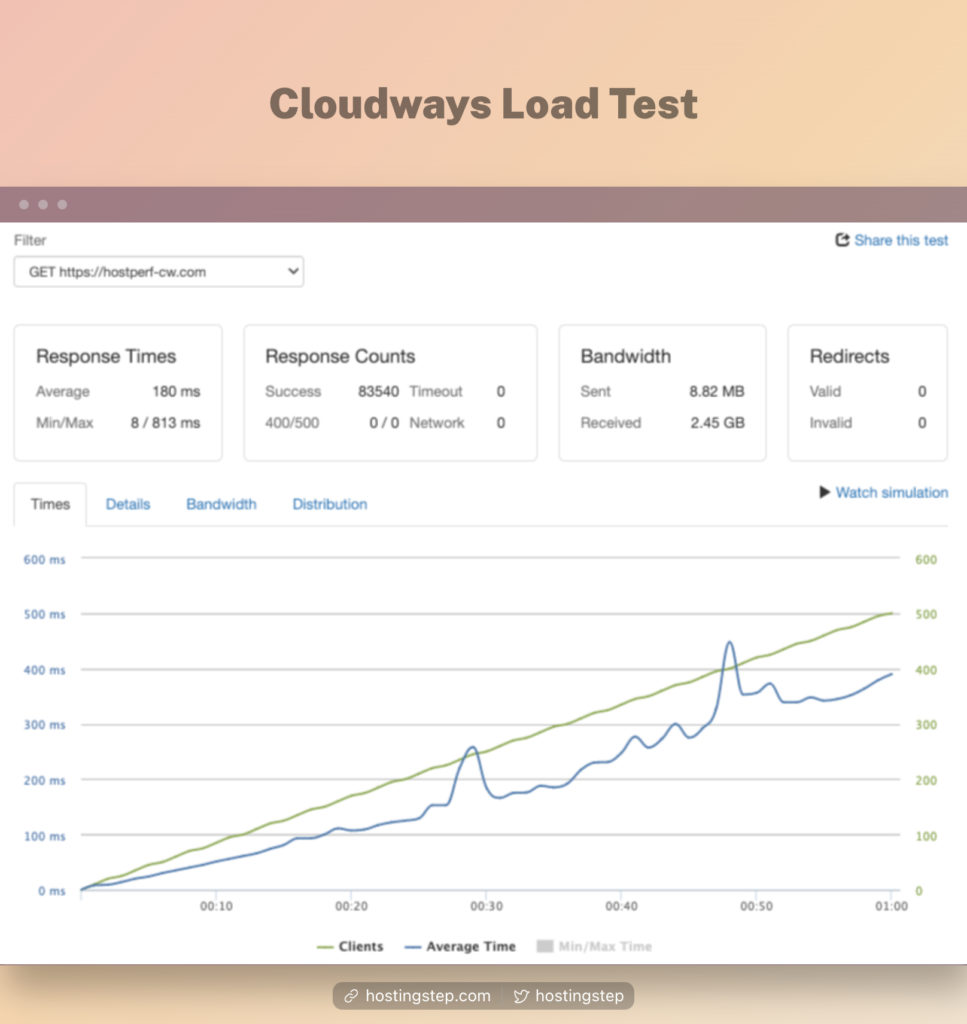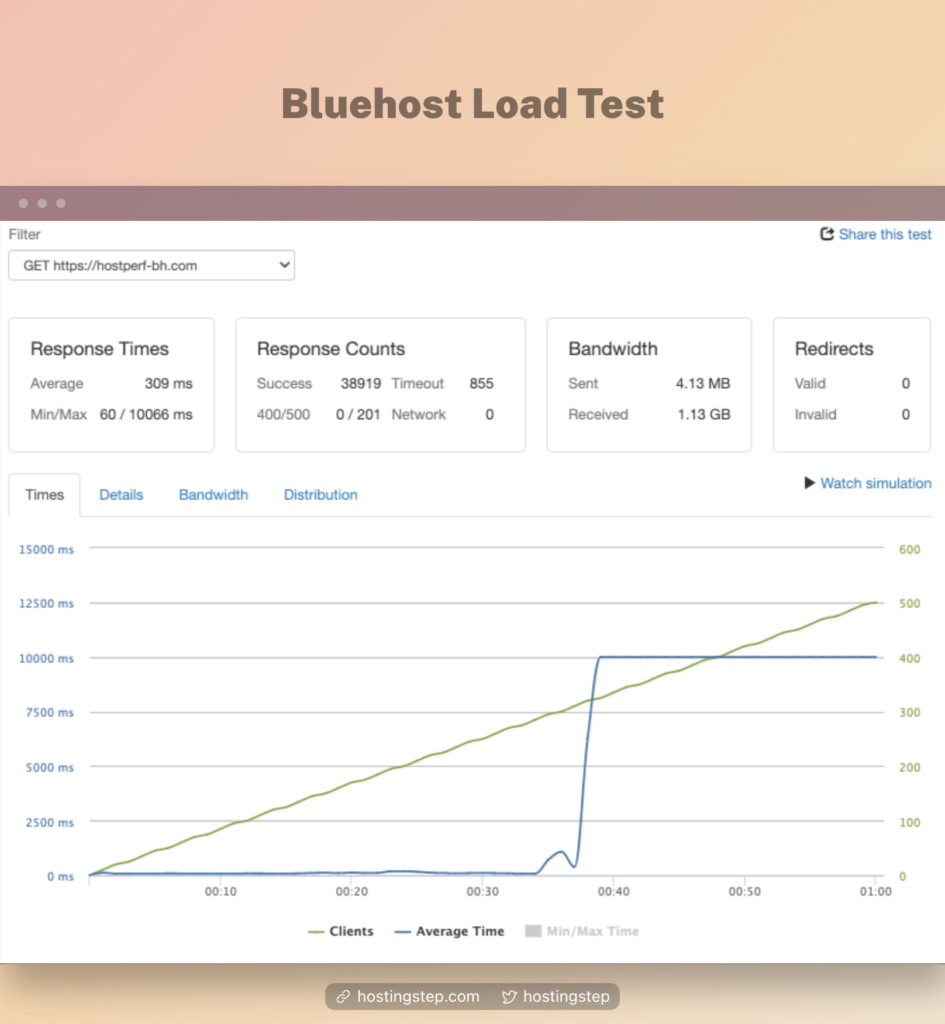 4. Core Web Vitals
Core Web Vitals has become a user experience factor. I conducted tests on their respective sites to assess the Core Web Vitals of both Cloudways and Bluehost.
The results showed that Cloudways recorded a Largest Contentful Paint of 468ms, a Total Blocking Time of 0ms, and a Cumulative Layout Shift of 0. In comparison, Bluehost recorded a Largest Contentful Paint of 435ms, a Total Blocking Time of 0ms, and a Cumulative Layout Shift of 0.
Overall, both Cloudways and Bluehost performed well in terms of Core Web Vitals, with Bluehost having a slightly better Largest Contentful Paint score.




5. Global TTFB
Global TTFB measures the response time across different global locations and is a critical parameter to check if your site targets traffic from multiple global locations. I performed the Global TTFB test for both the services by pinging my sites hosted with these services from 35 different locations.
Cloudways had brilliant response times with a Global TTFB of 437ms. However, Bluehost had a lower response time of 586ms.

Modified

Original
Cloudways vs Bluehost: Features
Control Panel
When it comes to control panels, both Cloudways and Bluehost have unique offerings. Cloudways features a custom control panel that includes server cloning, staging sites, team collaboration, and 1-Click CDN activation. Despite its advanced functionality, Cloudways' control panel is user-friendly and easy to learn, taking only 10 minutes to master.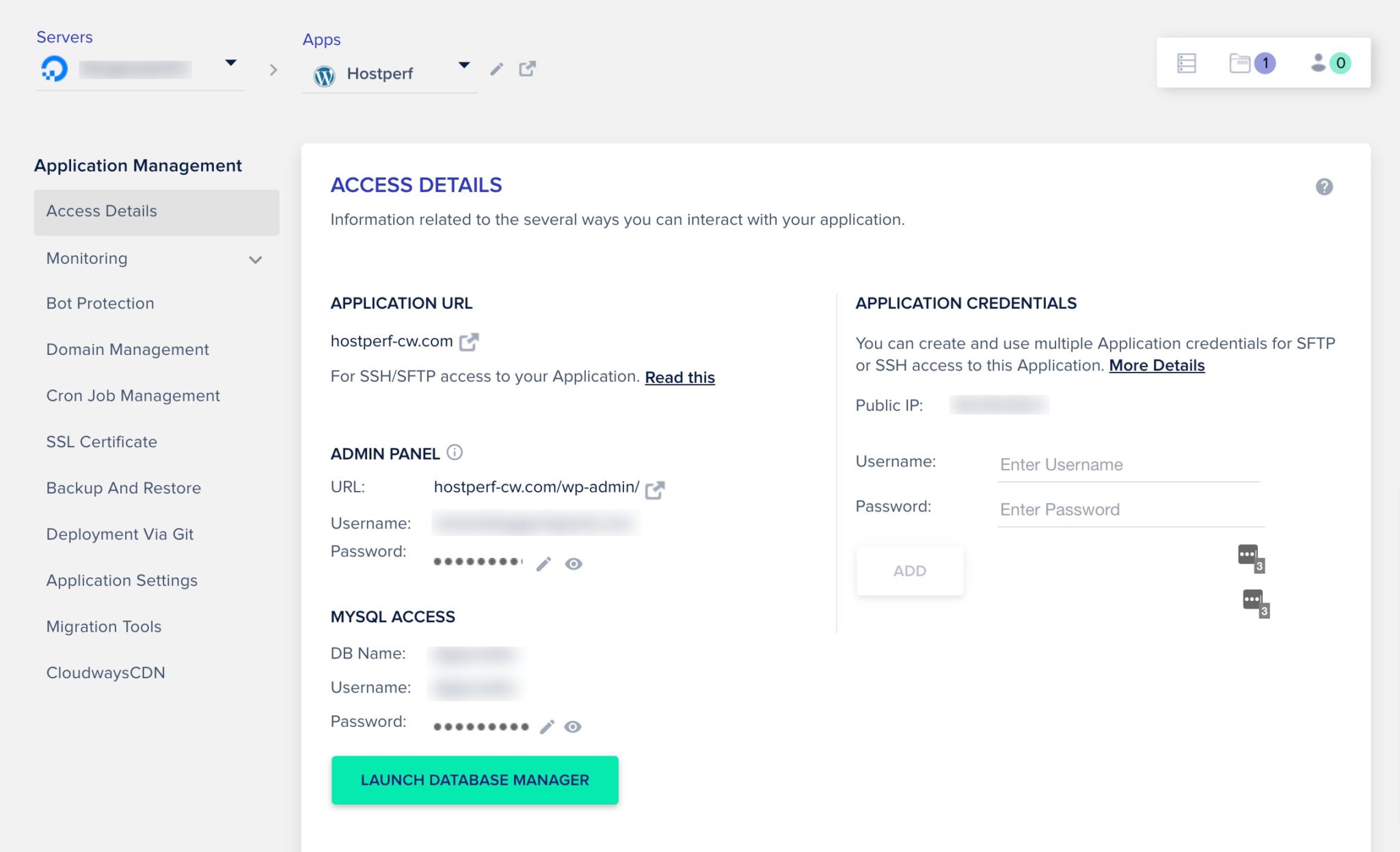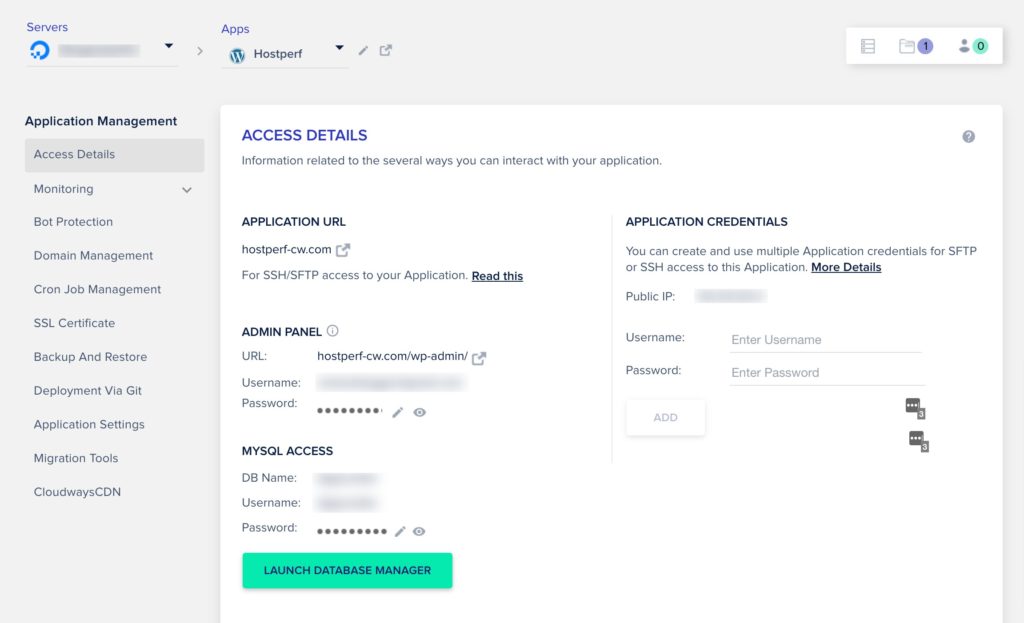 On the other hand, Bluehost utilizes a customized cPanel that contains all the features of a standard cPanel. However, the interface is designed to be clean, organized, and user-friendly, making navigating even easier.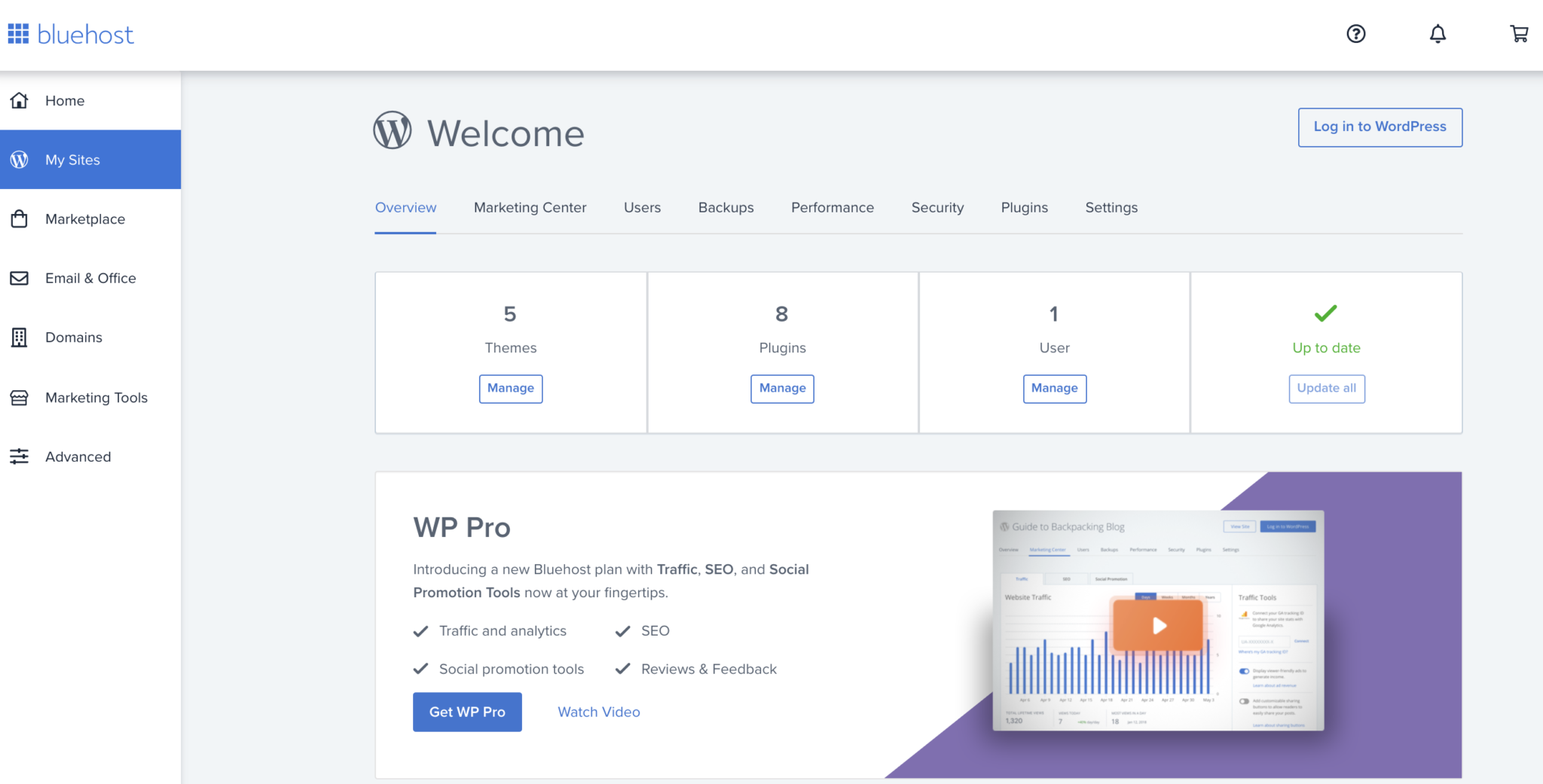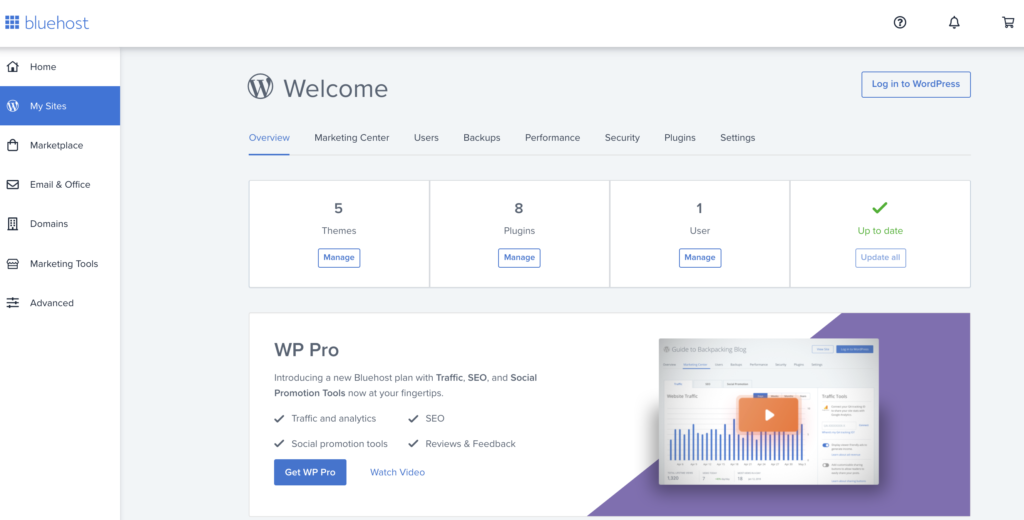 CDN
Content Delivery Networks (CDN) play a crucial role in delivering content quickly by utilizing a global network of servers. Both Cloudways and Bluehost offer CDN services, but with some differences.
Cloudways provides an in-built CDN powered by Cloudflare Enterprise with 275 global locations. This allows for faster content delivery and improves website performance.
In comparison, Bluehost offers a free Cloudflare CDN on all plans. However, it is worth noting that free versions of CDNs may not always provide the best performance, and in some cases, they may even increase page load times.
Backups
Backup services vary between Cloudways and Bluehost.
In Cloudways, backup is a paid feature that costs $0.33 per GB, and it involves automatic backup of your site to an external storage network. Customers can purchase additional backup storage for an extra fee if needed.
In Bluehost, automated backup is only available on the Choice Plus and Pro plans. The Choice Plus plan includes one year of free automated backup, while the Pro plan provides unlimited free automated backups. However, the low-tier plans do not have automatic backups. Customers can add the CodeGuard add-on for an additional fee for automated backup on their low-tier plans.
Data Center Locations
Cloudways and Bluehost differ in terms of data center locations.
Cloudways boasts over 65 data center locations across the globe, with partnerships with five major cloud providers, including DigitalOcean, AWS, Google Cloud, Vultr, and Linode. This vast network of data centers allows customers to quickly find the closest server location to serve their target audience.
In comparison, Bluehost has only six data center locations across the USA, Europe, and Asia. While this may be sufficient for some customers, it may not offer the same level of flexibility and global reach as Cloudways. If you are considering Bluehost, it is essential to ensure that the server location you require is available among the six data center locations they offer.
Security
Security is a critical consideration when choosing a hosting service. Cloudways and Bluehost offer different levels of security features.
Cloudways provides robust security features, including dedicated firewalls, Let's Encrypt SSL, IP whitelisting, regular security patching, two-factor authentication, bot protection against DoS, and brute force attacks. These features make Cloudways a reliable and secure option for hosting your website.
On the other hand, Bluehost also maintains reliable security with resource protection, traffic encryption, automated malware scanning, and expert monitoring. However, the security system is not as comprehensive as Cloudways unless customers purchase security add-ons at an additional cost. Bluehost offers security add-ons such as SiteLock and Domain Privacy. Overall, while Bluehost provides adequate security, Cloudways' security measures are more robust and comprehensive.
Cloudways vs Bluehost: Support
Cloudways and Bluehost both offer reliable customer support services, although they differ in their approach.
Cloudways has a commendable customer support service staffed by knowledgeable professionals. Customers can reach out for assistance via 24/7 live chat and ticketing. Additionally, Cloudways offers advanced and premium support add-ons for customers who require even faster resolution of technical difficulties. The Premium add-on includes phone and private Slack channel support, live chat, and ticketing.
Similarly, Bluehost offers reliable customer support through 24/7 chat, ticketing, and phone. Their support team does an excellent job of assisting customers with technical issues.
Overall, both Cloudways and Bluehost offer reliable customer support services, although Cloudways provides more advanced and premium support options for customers who need them.
Conclusion
In conclusion, when comparing Cloudways and Bluehost, it is important to consider your specific needs and priorities.
Bluehost is more affordable than Cloudways, although customers should be aware that renewal pricing may be higher. Additionally, Bluehost offers reliable customer support and security features.
On the other hand, Cloudways offers superior performance, with faster average server response times, better uptime, and improved load-handling capabilities. Cloudways also provides more flexibility in terms of data center locations, control panel features, and advanced support options.
Ultimately, your choice between Cloudways and Bluehost will depend on your individual needs and priorities. If performance is your top priority, then Cloudways is the better option. However, if affordability and reliable customer support are your primary concerns, then Bluehost may be the right choice for you.