Cloudways Promo Code 2022 ($25 Discount Coupon Code)
If you're looking for a Cloudways promo code, you've come to the right place!
Here at Hostingstep, we pride ourselves on being the #1 source for all things about Cloudways. Whether you're looking for a discount or a free trial, we've got you covered.
So what are you waiting for? Check out our Cloudways promo codes and save big on your next purchase!
Cloudways Promo Code 2022
Through this promo code, Cloudways offers $25 free hosting credits to your new account. On the signup page, enter the coupon "BIO25" where it says, "Got a promo code." The deal is exclusive to Hostingstep readers, and the discount applies to all their plans.
Coupon: BIO25
Deal: Get $25 free hosting credits
Pricing: $10/month
Website: www.Cloudways.com
How to add Promo Code to Cloudways?
To add your promo code to your Cloudways account, you should do it during the signup. Go to Cloudways homepage -> click the START FREE NOW button, -> Add the promo code BIO25, where it asks for "Got a Promo Code?". Verify your account, and the promo code discount of $25 credits will be applied to your account.
If you're looking for step by step guide, check below.
To claim the discount using the promo code, follow the below steps.
1. Visit www.Cloudways.com/signup and enter your basic details to get started.
2. Fill up your email address and your approximate budget. Now you can see a question, "Got a Promo Code?"
3. Enter the Cloudways Promo Code "BIO25" and click on START FREE. You will be asked to verify your phone number and email address.
4. The $25 free hosting credits will be credited to your account after verification.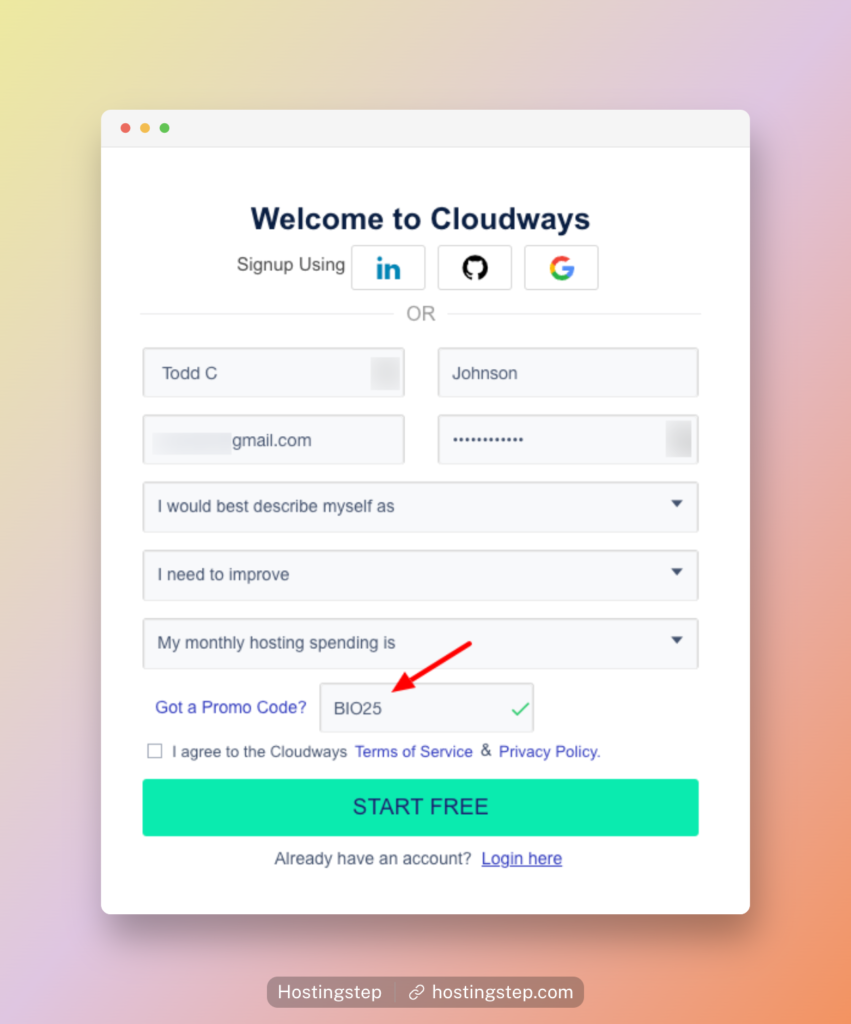 Cloudways Pricing Overview:
Cloudways is a managed cloud hosting company that offers various plans and features to suit the needs of businesses of all sizes. The company has a simple pricing structure based on the number of servers, apps, and projects. There is no minimum contract, and customers can cancel at any time.
Their plans start at just $10 per month, making them one of the most affordable managed cloud hosting providers. They also offer a 3-days free trial, so you can try out their service before you commit to a paid plan.
The following details illustrate the different plans offered by the company.
DigitalOcean: Starts at $10/month with premium droplet pricing starting at $12/month.
Vultr: Plans start from $11/month, and their High-frequency plan comes at $13/month.
Linode: Starts from $11/month
Amazon Web Services: Starts at $36.51/month
Google Cloud: Starts at 33.18/month
Latest updates related to Cloudways pricing:
Free Astra Pro: The Astra Pro WordPress theme costs $59/year. The company offers Astra Pro free for the first year with an exclusive partnership. This applies to all plans.
Cloudflare Enterprise CDN: Costs $200/month on Cloudflare.com, but Cloudways managed to offer it for just $4.99/domain. If you use Cloudflare Enterprise for more than 25 sites, the pricing goes down to $1.99/domain.
Object Cache Pro: The company offers Object cache pro free for all plans except the starter plan. It costs $95/month if bought from the official site. This plugin offers a faster backend performance.
SafeUpdates: With this feature, the company does automated WordPress updates for your site. If it finds any issues with the update, it will be rolled back to the previous version. It costs $2/month.
Cloudways Features Overview:
Cloudways is trusted by 75,000+ businesses, thanks to their strong tech stacks and cool features. All their plans come with the following features:
1. The company offers 24/7/365 customer support through live chat. The company also offers premium support through slack channels at an additional cost.
2. All plans come with free unlimited SSL. Enter the domain name and email address; the SSL will be automatically installed on your sites.
3. The company offers free unlimited migrations through its migrator plugin. You can transfer unlimited sites to Cloudways at zero cost with a simple setup.
4. You can install unlimited applications on all their plans, including their $10/month starter plan. No company offers such a unique feature. It's a huge cost-saving thing for agencies.
5. The 24/7 Real-time monitoring setup scans your site and updates you in case of any issues. It will help you to fix issues through their control panel.
6. The staging environment is offered free of cost. You can create as many staging sites for your need.
7. Breeze cache plugin for WordPress eliminates the need for any 3rd party caching plugin. Apart from caching, the plugin also offers speed optimization features to speed up your site.
8. Automated Backup features come in handy to restore your site in case of any bugs. You can either restore or create additional instant backups if needed with one click.
9. Auto-healing servers fix the most common issues by themselves without alerting site owners.
10. Through the partnership with five cloud providers, the company offers the privilege to host your site from any of their 60+ global data center locations.
Which Cloudways Server is Best For You?
I've been a long-term user of Cloudways, hosting several websites across all the popular Cloud providers at Cloudways (DigitalOcean Standard/Premium, Vultr Standard/High Frequency, and Linode)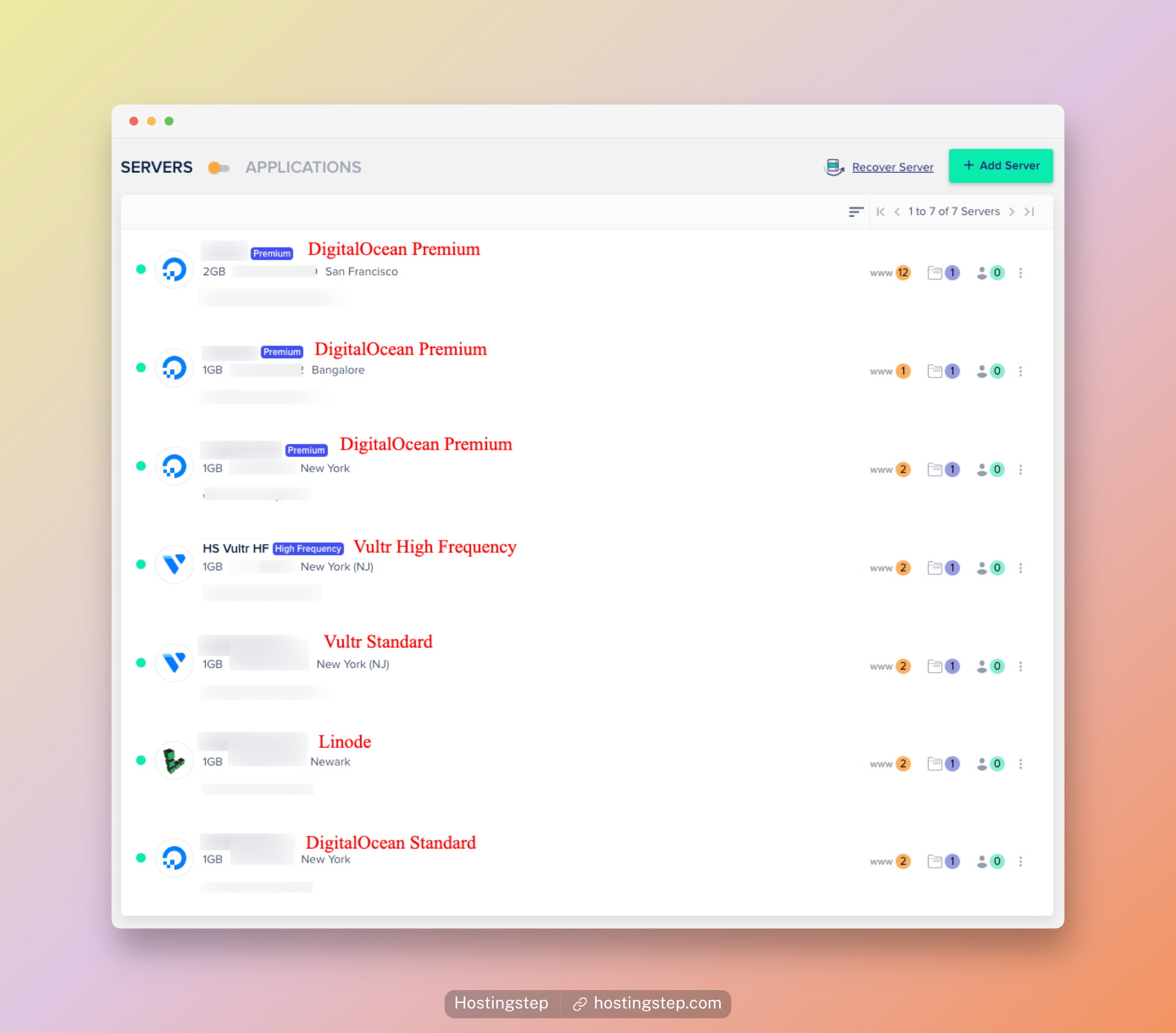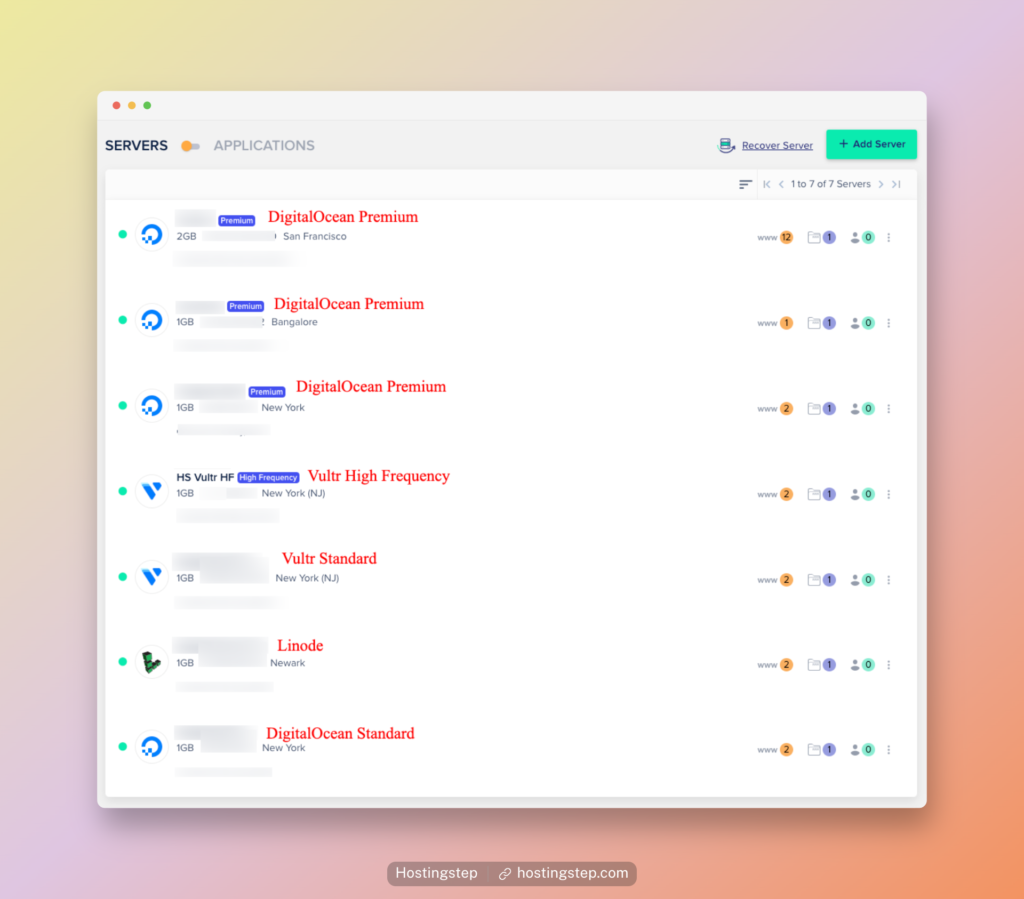 If you ask me which is the best server to choose of all?
I recommend going with Vultr HF at $13/month. If you're on a budget, start with DigitalOcean Standard at $10/month (you don't need DigitalOcean Premium if your site is new and basic)
At any time, you can upgrade to higher plans with no downtime.
Getting started with Cloudways is a pretty simple process. First, Choose the WordPress Version and then name your Managed App and Managed Server.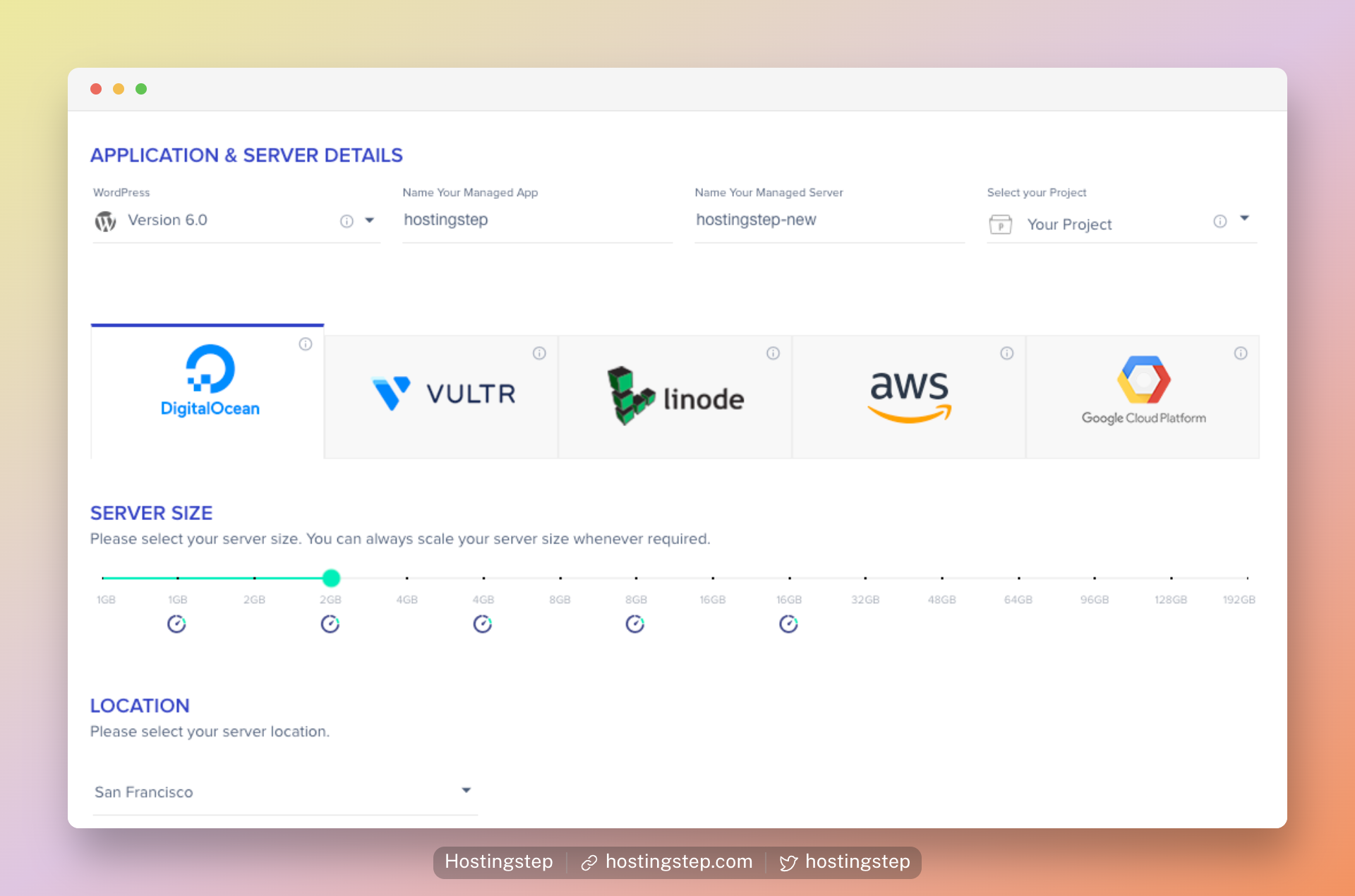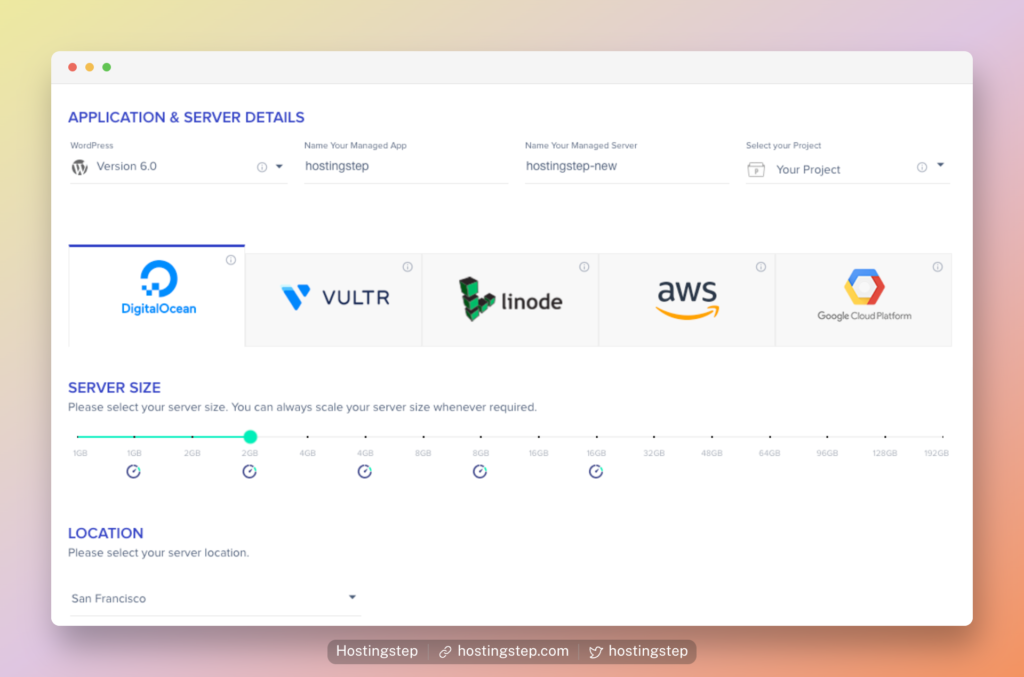 Managed App is nothing but your website name, and for Managed Server, you can input any name. Now choose your preferred server like Digital Ocean, and select the server size.
Once chosen, choose the data center location that is closer to your target audience. It will take less than 5 minutes, and your site will be ready to use.
Why Should You Choose Cloudways?
Cloudways help businesses save money, improve efficiency, and scale faster. The company offers a suite of tools and services that help businesses get the most out of their cloud-based solutions. Cloudways is used by more than 100,000 developers and over 50,000 customers worldwide.
1. Cloudways offers faster Performance and reliable uptime
Cloudways offer you exceptionally reliable Performance, and I can say it confidently after having tested the Performance of the service meticulously using the most advanced performance tests.
The host recorded an average server response time of 302ms in the TTFB server response time test(based on 12 months of performance data). Here is a table comparing the TTFB performance of Cloudways with its competitors.
Cloudways: 302ms
WP Engine: 363ms
SiteGround: 422ms
Kinsta: 470ms
---
I performed load testing on my Cloudways site by sending 1000 concurrent visitors for 1 minute. The results are impressive, with a 10ms response time. The below table compares the load handling speed of Cloudways with others.
Cloudways: 10ms
Kinsta: 33ms
WP Engine: 40ms
SiteGround: 45ms
---
It's also worth mentioning that Cloudways has an outstanding Global TTFB across different global locations.
When I tested its Global TTFB using as many as ten global locations, my site recorded an average Global TTFB of 390.15 ms. This is undoubtedly a good sign for those sites that rely on multiple global locations for their traffic.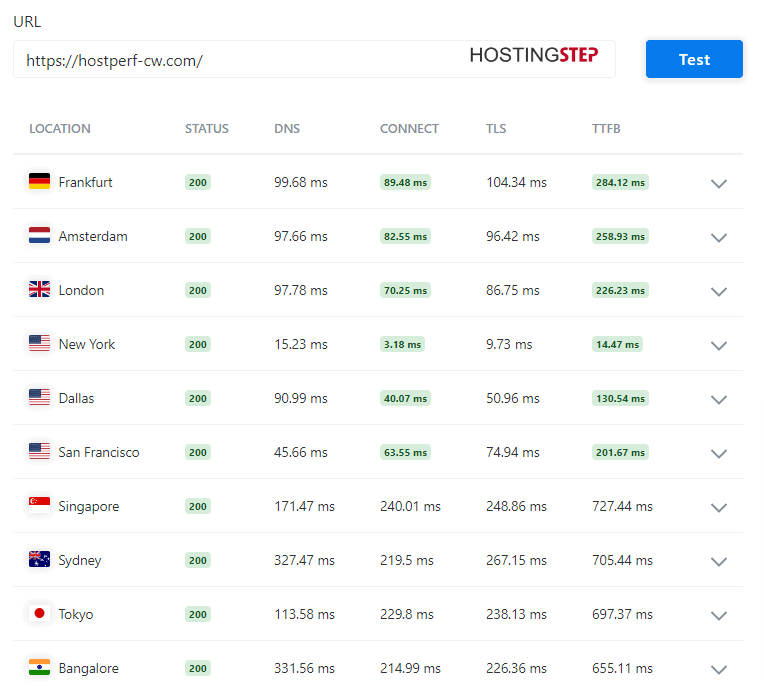 Cloudways also has excellent Core Web Vitals, which is essential for sites to offer visitors a good user experience, and user experience is an important ranking factor these days.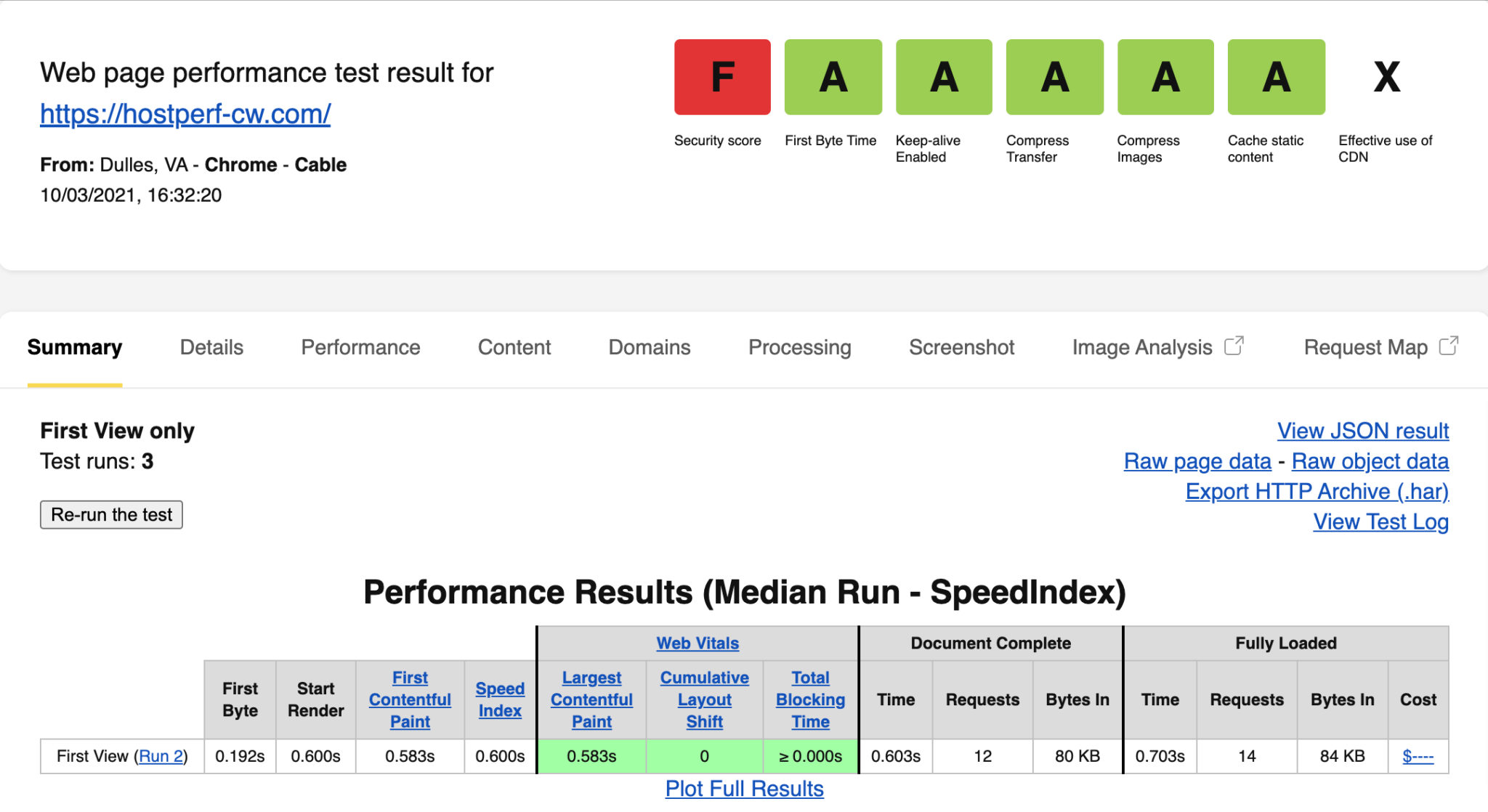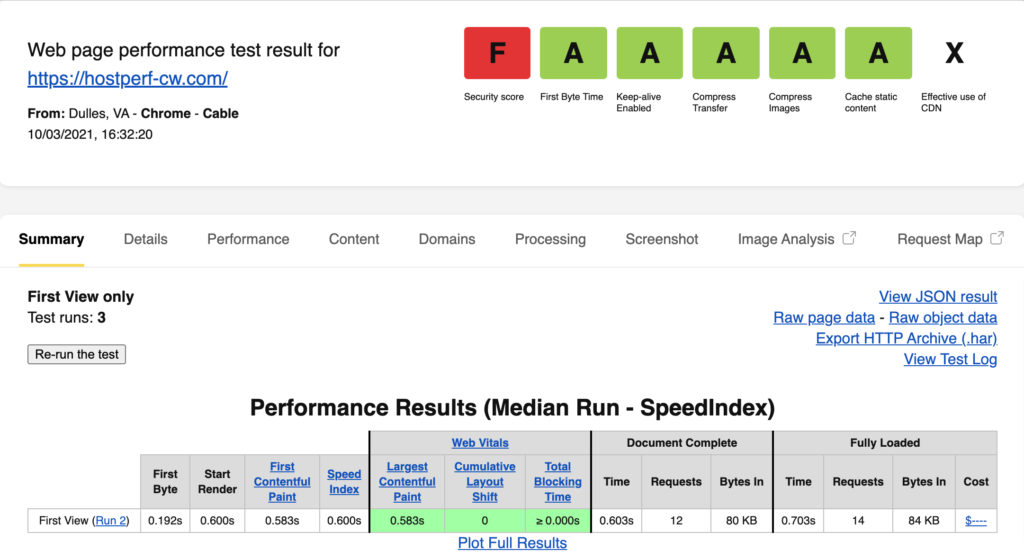 2. Easy to use control panel with no technical complexities
Despite being an incredibly advanced hosting service, it is commendable that Cloudways keeps things ridiculously easy for users. The service offers the comfort of managing everything from a single point through its neat and organized custom control panel.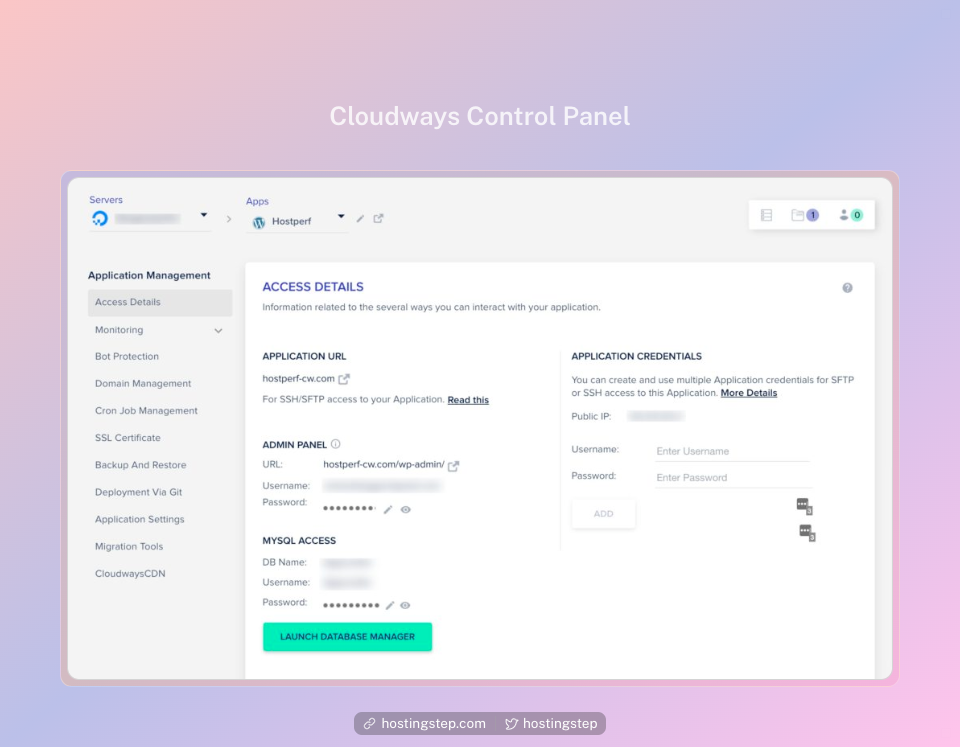 Users can find and access other essential options such as server monitoring, a Free built-in cache plugin, 1-Click CDN, server cloning, staging URL, and team collaboration. Most importantly, even if you are new to it, you can get familiar with the panel in about 15 minutes.
3. Excellent Security with advanced setup
Cloudways pays much attention to security. The advanced security features include dedicated firewalls, Let's EncryptSSL, IP Whitelisting, Regular Security Patching, Two-Factor Authentication, Bot Protection against DoS, and brute force.
They've also partnered with several 3rd party services like Malcare to offer tight security protection on all sites by default.
4. Reliable 24/7/365 Customer Support
Even when you host your site on managed services, you can't rule out getting stuck with technical difficulties, especially if you are new to the service. However, this is normal and shouldn't bother you much as long as you have a dedicated support service 24/7, which is valid for Cloudways.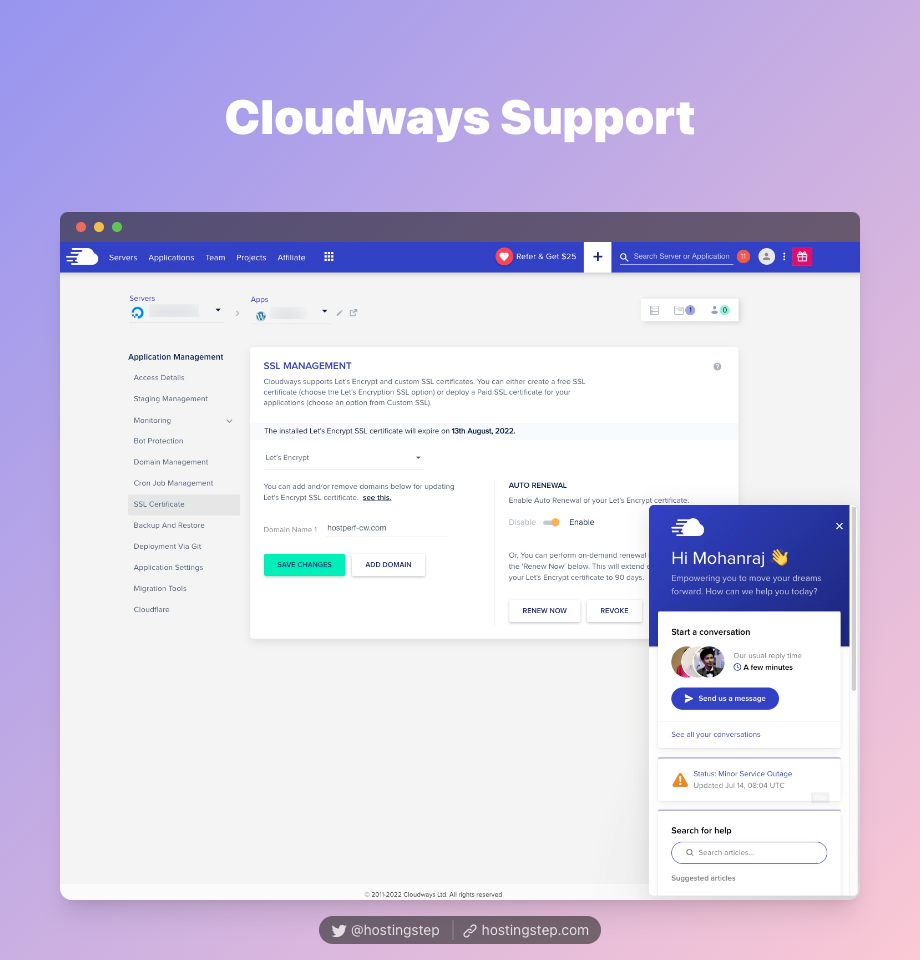 The host has an exceptionally dedicated and helpful support team to address the technical difficulties of the customers in no time. Most importantly, reaching out to support doesn't take much time. The Cloudways support team does a remarkable job of helping customers 24/7 through live chat and tickets. Further, the host also offers advanced and premium support add-ons at an additional price for even faster and better assistance.
5. Cloudflare Enterprise CDN at an affordable price
Cloudways comes with its in-built CDN, powered by Cloudflare Enterprise. Anyone familiar with Cloudflare pricing should know that their Enterprise plan costs $200/month. Yes, it's a whopping $200/month. However, with an exclusive partnership, Cloudways brings the Enterprise plans for just $4.99/ per website/month for its users.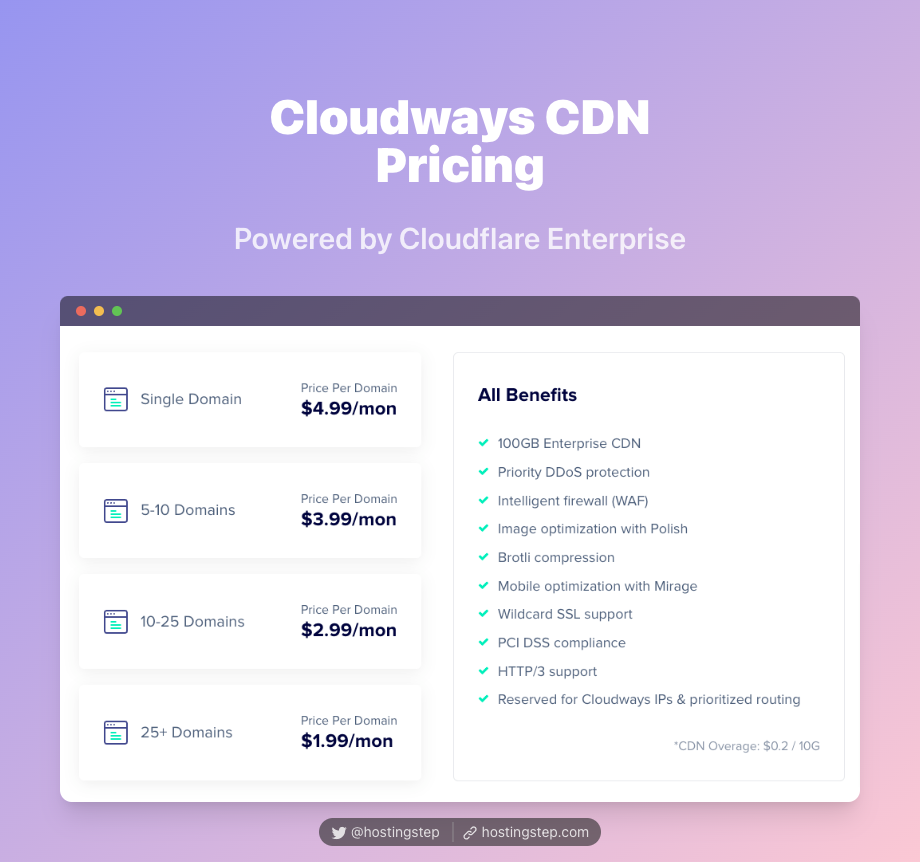 The CDN enhances sites' load times through better global reach. Even though the CDN is not free, it is more affordable than many other services. The CDN costs just $4.99 for a single website. The CDN is based on the pay-as-you-go model, making it convenient and affordable for users.
6. Reasonably Priced Plans (With a Good Amount of Resources)
Besides providing customers with many plans, Cloudways also keeps its plans reasonably priced. Unlike many leading managed WordPress hosting companies like Kinsta, Cloudways offers much more affordable pricing. For example, their lowest tier provides 25 GB storage for $10 per month, while the Kinsta Starter plan offers only 10 GB storage for $30 per month.
Cloudways Pros:
Easy-to-use dashboard
Excellent performance and uptime
Supports numerous web applications
Pay-as-you-go affordable plans.
Offers a 3-days free trial
free staging sites
Cloudways Cons:
No domain registrations
No free email hosting and CDN
Frequently Asked Questions:
1. What is Cloudways?
Cloudways is an affordable managed cloud hosting with live chat support priced at $10/month.
2. Does Cloudways promo code work for existing users?
No. This Promo code only works for new users from one month to three months based on the applied promo code.
3. Can Two Cloudways Coupons be clubbed together?
You can see only one option to enter your promo code if you check the signup page. You can enter one month or three months codes based on your requirement.
5. How to Migrate to Cloudways?
Cloudways offers one-click automated migration from your existing host, and you can transfer unlimited sites. However, if you have questions and require manual migration, Cloudways 24×7 live chat can help you move your sites without downtime.
---
In conclusion, if you're looking for a cloud hosting platform that is reliable, scalable, and affordable, then Cloudways is the way to go. And with a promo code, you can get started for even less.
So what are you waiting for? Get started today and see how Cloudways can help your business grow.