Get Cloudways promo code For November 2023 to get 40% discount for 4 months.
Looking for the best Cloudways promo code to save money? Check out Hostingstep.com and get 40% off, saving you $40!
Cloudways is one of the most popular Managed Cloud Hosting for individuals, agencies, and small businesses.
Cloudways offers affordable pricing, lightning-fast speeds, top-notch support, and unbeatable uptime, making website hosting stress-free. Save $40 with promo code CW30FOR3 for 40% off for 4 months.
Cloudways Promo Code 2023
40% Off For 4 Months + 40 Free Migrations
Cloudways Black Friday is here. Get 40% Off for 4 Months on all hosting plans. Additionally, get 40 free site migrations handled by experts. Use the new promo code BFCM4040 to sign up with Cloudways.
Deal: Get 40% off for 4 Months.
Promo Code: BFCM4040
Total savings: $40.
Link:

Activate Deal
30% Off for 3 Months Cloudways Coupon Code 2023
Take advantage of a 30% discount for three months with Cloudways! Use promo code CW30FOR3 and save $30.
Deal: Get 30% off for 3 Months.
Promo Code: CW30FOR3
Total savings: $30.
Link:

Activate Deal
25% OFF Exclusive Cloudways Code
Hostingstep has partnered with Cloudways to offer an exclusive deal of 25% off for 3 months.
To avail of this discount, simply use the promo code "BIO25" during checkout. By taking advantage of this promotion, you can save a total of $25.
Deal: Get 25% off for 3 Months.
Promo Code: BIO25
Total savings: $25.
Link:

Activate Deal
30% OFF For Three Months Cloudways Halloween Sale
Cloudways offers a Halloween treat with a 30% discount for 3 months on all plans for their managed cloud hosting service.
To take advantage of this offer, use the promo code TREAT23. This promotion is valid until October 2023.
40% OFF For 4 Months Cloudways Black Friday Deals
Get 40% off for 4 months with Cloudways Black Friday Deals. Use promo code BFCM4030 to activate deal and save $40.
Deal: Get 40% off for 4 Months.
Promo Code: BFCM4030
Total savings: $40.
Link:

Activate Deal
How to Use Promo Code in Cloudways?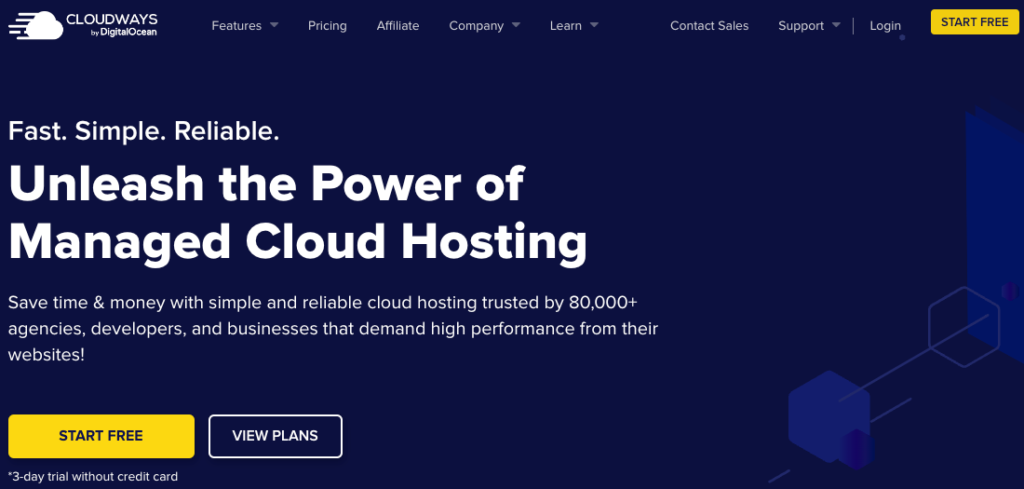 Are you looking to save money on Cloudways web hosting plans? Hostingstep offers exclusive promo codes that can get you a 30% discount.
Here's a step-by-step guide on How to redeem the Cloudways promocode and maximize your savings.
Step 1: Visit Cloudways official site
First, you need to click this exclusive link and visit the Cloudways site to get the promo code applied automatically. You will see the Signup page.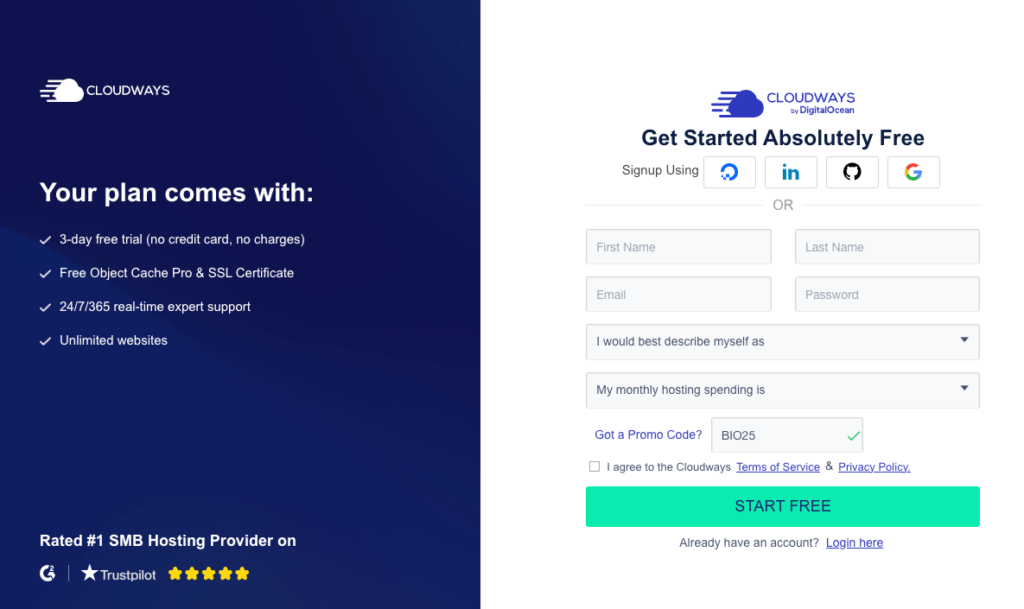 Step 2: Create an Account
Enter the required details like Name, Email address, and additional information like profession and monthly spending amount.
These details can help Cloudways to cater to personalized experiences. Enter the details for best savings to confirm the coupon was applied correctly.
Step 3: Coupon Auto-applied
If you click our exclusive link and enter the details, you can see the promo code "BIO25" gets automatically applied.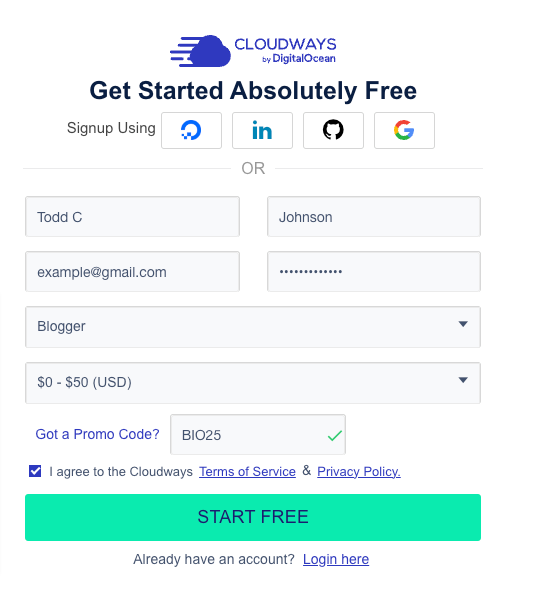 If you don't see the coupon, click on the box next to "Got a Promo Code?" and Enter the Cloudways Coupon code "BIO25".
If you see a Green tick next to the coupon, then the coupon got successfully applied.
Now, agree to Cloudways terms of service and click "START FREE."
Now, you will be asked to verify your email address and Phone number. Once done, the account will be activated. That's all.
Then, you can choose a Cloudways server, install WordPress or other CMS, and get your site live in minutes.
Cloudways Plans and Pricing
Cloudways provides affordable Managed WordPress hosting services starting at $10/month.
Here are the different plans offered by Cloudways:
DigitalOcean: Starting at $11/month, premium droplets at $14/month. (compare between Cloudways premium vs standard)
Amazon Web Services: Starts at $38.56/month.
Google Cloud Platform: Starts at $37.45/month.
My personal experience with Cloudways:
I've been a long-term user of Cloudways, running 23 WordPress sites hosted on DigitalOcean Standard & Premium servers.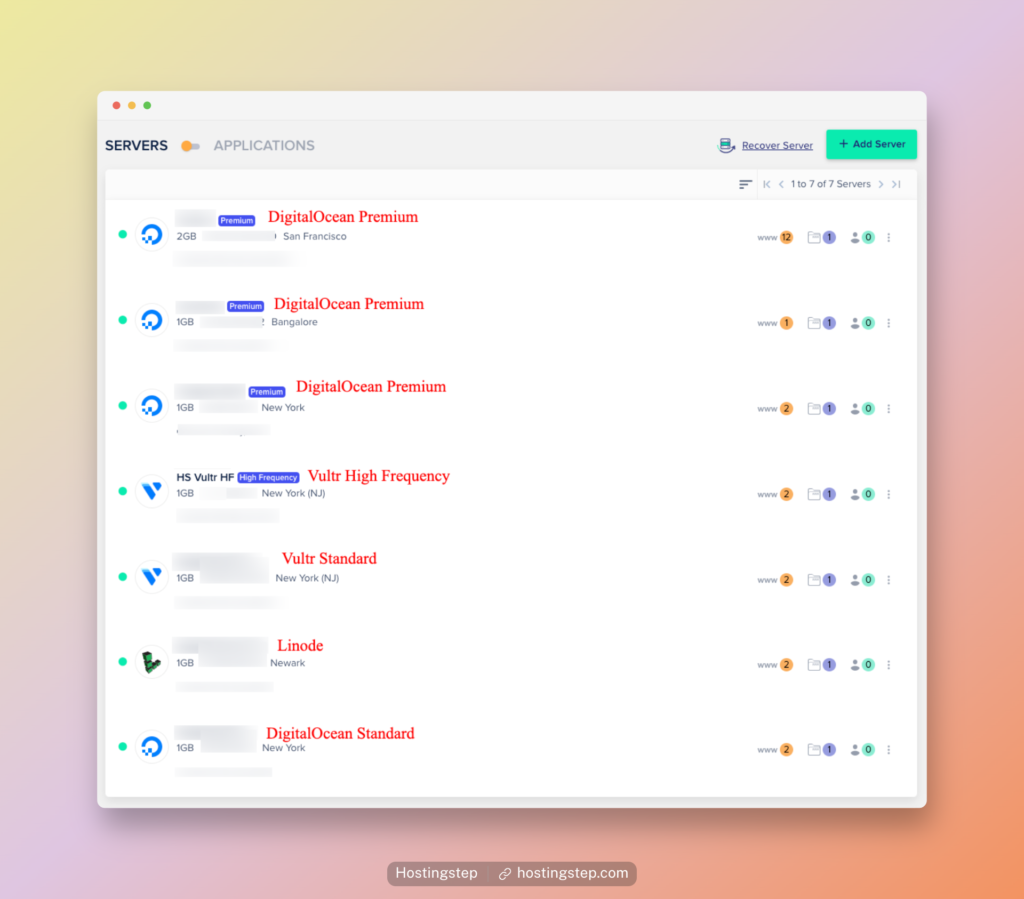 I recommend going with DigitalOcean plans as they are the affordable Cloudways plans to get started.
Getting started with Cloudways is a pretty simple process. First, Choose the WordPress Version and then name your Managed App and Server.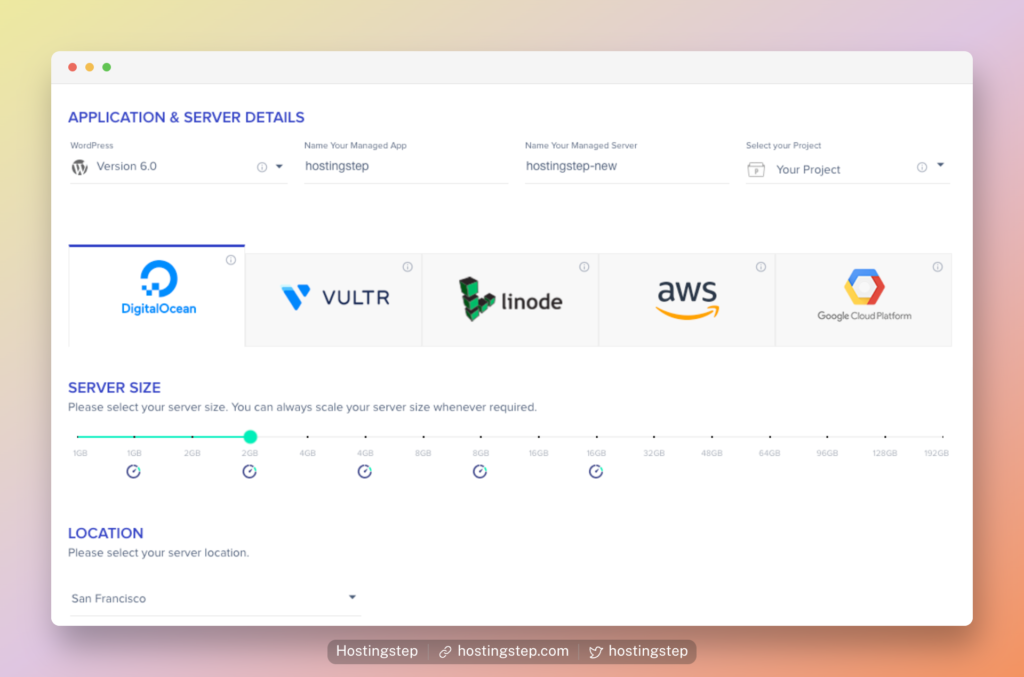 Managed App is your WordPress website name; you can input any name for Managed Server. Choose your preferred server, like Digital Ocean, and select the size.
Once chosen, choose the data center location closer to your target audience. It will take less than 5 minutes, and your site will be ready.
Cloudways Features:
1. Easy-to-use control panel
Cloudways control panel is advanced, yet first-time users can get familiar with it quicker.
The company offers the comfort of managing everything from a single point through its neat and organized custom control panel.
Users can find and access other essential options such as server monitoring, 1-Click CDN, server cloning, staging URL, team collaboration, etc.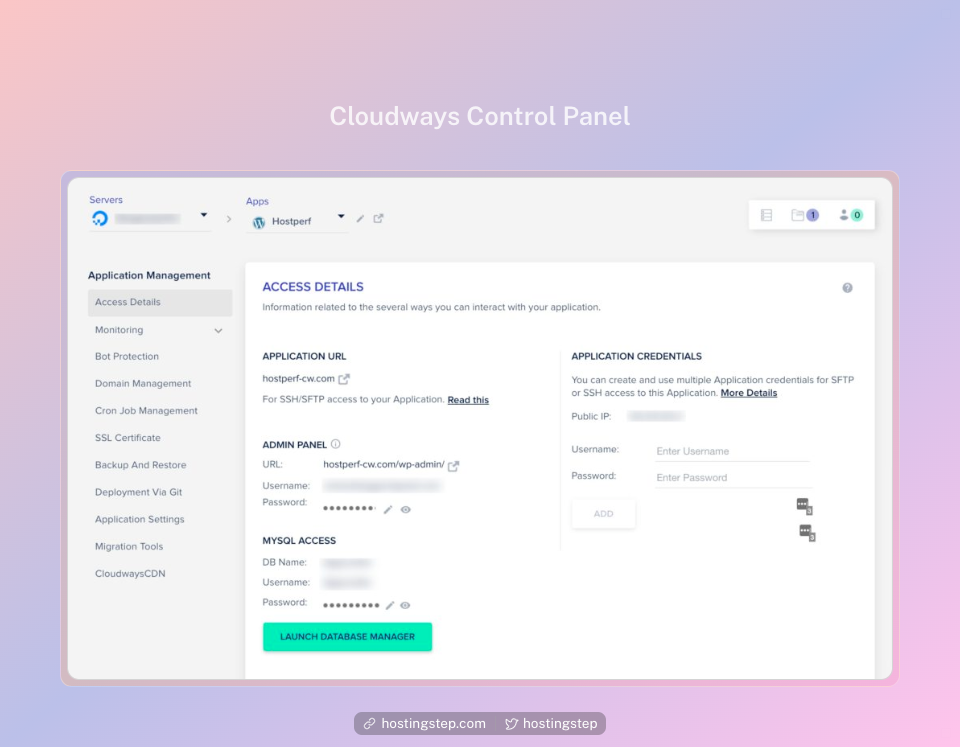 2. Excellent Security
The Cloudways advanced security features include dedicated firewalls, IP Whitelisting, Regular Security Patching, Two-Factor Authentication, Bot Protection against DoS, and brute force.
They've also partnered with several 3rd party services like Malcare to offer site-level security protection on all sites by default.
3. Customer Support
The Cloudways support team does a remarkable job of helping customers 24/7 through live chat and tickets.
The company has an exceptionally dedicated and helpful support team to address the technical difficulties of the customers in no time.
Most importantly, reaching out to support doesn't take much time.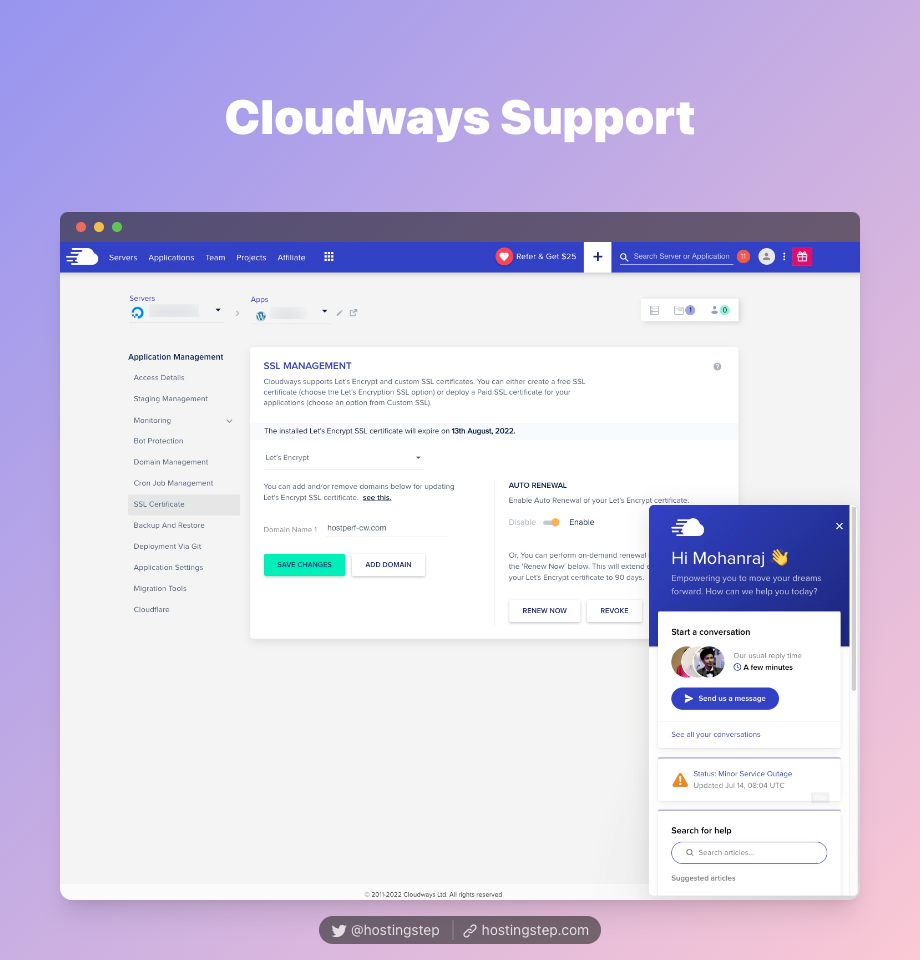 4. Cloudflare Enterprise CDN
Cloudways comes with its in-built CDN, powered by Cloudflare Enterprise. Anyone familiar with Cloudflare pricing should know that their Enterprise plan costs $200/month.
However, with an exclusive partnership, Cloudways brings the Enterprise plans for just $4.99/ per website/month for its users.
The promo code also works with this addon CDN plan.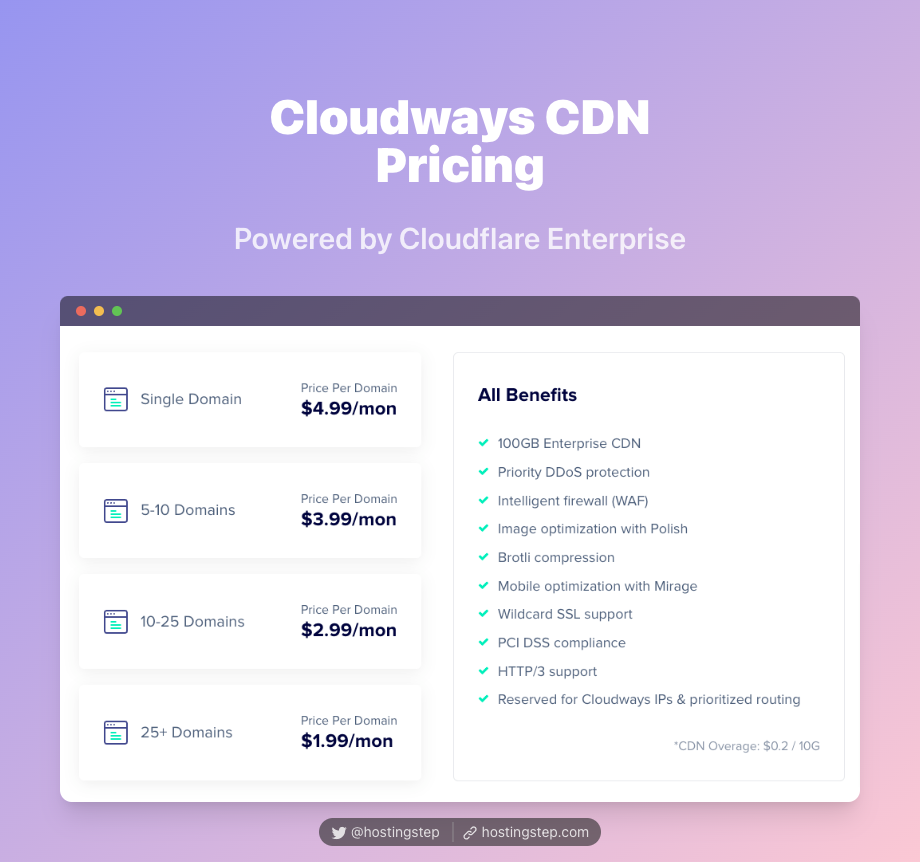 Cloudways Pros and Cons:
Pros:
Easy-to-use dashboard
Excellent performance and uptime.
Free Object Cache Pro
Supports numerous web applications
Pay-as-you-go affordable plans.
Offers a 3-day free trial
Staging sites
Cons:
No domain registration
Paid email hosting and CDN
Latest Cloudways Coupons and Promo Codes
| Description | Discount |
| --- | --- |
| Get $25 free credits | BIO25 |
| Get 30% Off for 3 Months | TREAT22 |
| Three days free trial | FREE TRIAL |
Concluding
We highly recommend using our Cloudways Promo Code to receive $25 worth of hosting credits.
By taking advantage of this opportunity, you can effectively cut down on costs as you embark on your Cloudways journey.
Frequently Asked Questions
What is the Promo code for Cloudways?
Cloudways offers a 25% discount for new customers. Use the coupon code BIO25 to get the discount.
How to get Cloudways for Free?
Cloudways offers a 3-day free trial for all new accounts. Head to Cloudways.com, click "Get Started for Free," and get Cloudways for the first three days.
What is a Cloudways coupon?
A Cloudways coupon is a promotional code that can be applied while purchasing new Cloudways hosting services. It's an excellent way to save money for new users.
How can I use a Cloudways coupon code?
You can apply a Cloudways coupon code at checkout. Enter the coupon code in the "Have a Promo code" box before paying, and the discount will be used.
Where can I find the latest Cloudways coupons?
You can find the latest Cloudways coupon codes on their official website or by subscribing to their newsletter. Additionally, you may find valid coupons on Hostingstep.com.
Can I use a Cloudways coupon on any hosting plan?
Usually, Cloudways coupons can be applied to any hosting plan, including their addon services like CDN, DNS, and Email.
What is Cloudways hosting?
Cloudways is a managed cloud hosting provider, which means they handle the server management for you. They offer hosting plans that cater to websites of all sizes, from small personal blogs to large e-commerce sites. They are great alternatives for WP Engine and Kinsta.
What kind of discounts can I get with a Cloudways discount code?
The discounts you can get with a Cloudways discount code vary. They can range from a percentage off your total purchase, a flat dollar amount off, or even free months of service. The specific discount will be mentioned with each code.
How does Cloudways compare to other cloud hosting providers?
Cloudways is known for its robust performance, solid security measures, and excellent customer service. They offer assistance on major cloud platforms like DigitalOcean, Amazon AWS, and Google Cloud. For more detailed comparisons, consider Check our Cloudways comparison articles.
Can I use a discount coupon on an existing Cloudways account?
Typically, discount coupon Code are meant for new Cloudways customers.
What should I consider when choosing a Cloudways plan?
When choosing a Cloudways plan, consider factors like the expected size of your website, your budget, the level of customer support you might need, and the specific features important to you, such as storage, bandwidth, and server location.
Is there any current Cloudways offer I can avail of?
Cloudways regularly updates its offers. You can bookmark this page, and we usually edit the post with seasonal Cloudways discount codes like Black Friday and Cyber Monday deals.
How can I find genuine reviews of Cloudways services?
Genuine reviews of Cloudways services can be found on Hostingstep.com. We buy a Web hosting account on Cloudways, test them, and provide authentic reviews.