In this post, I will reveal the exclusive Cloudways Promo Code for 2023, a deal that offers maximum value.
Cloudways is the popular managed Cloud hosting known for its simplicity, performance, security, and affordable pricing.
Please keep reading to learn more about utilizing our promo code to enjoy a 30% discount for the first three months.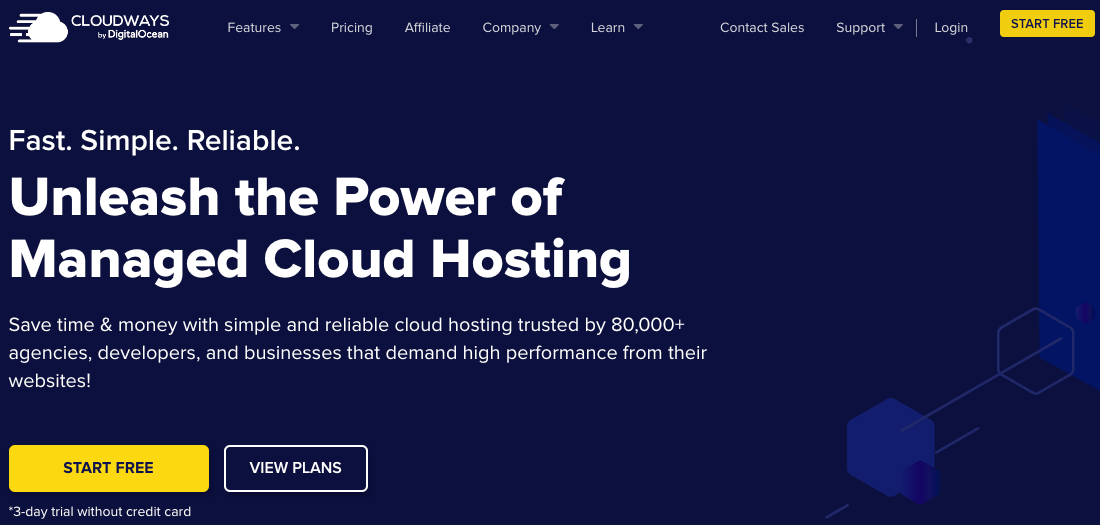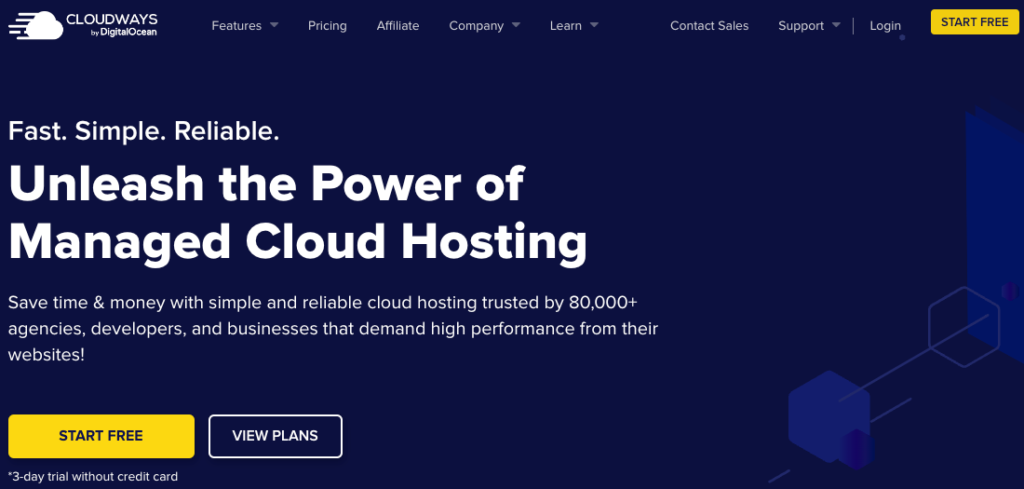 Cloudways Promo Code 2023
The Cloudways Promo Code is an exclusive promotion that enables new users to enjoy 30% OFF for the first 3 Months on all Cloudways Plans.
This offer is an excellent opportunity for site owners looking to try out Cloudways services at a discounted price.
Deal: Get 30% off for 3 Months.
Total savings: $35.
Link: Activate Deal
How to Activate Cloudways Promo Code 2023?
To Take advantage of our exclusive Cloudways Promo Code for 2023 and get 30% off for the first three months, follow these simple steps:
Activating the Cloudways Promo Code is an easy process. Here's a step-by-step guide:
Step 1: Visit Cloudways official site
Visit the Cloudways.com exclusive link and land on the signup page, which mentions "Get Started Absolutely Free."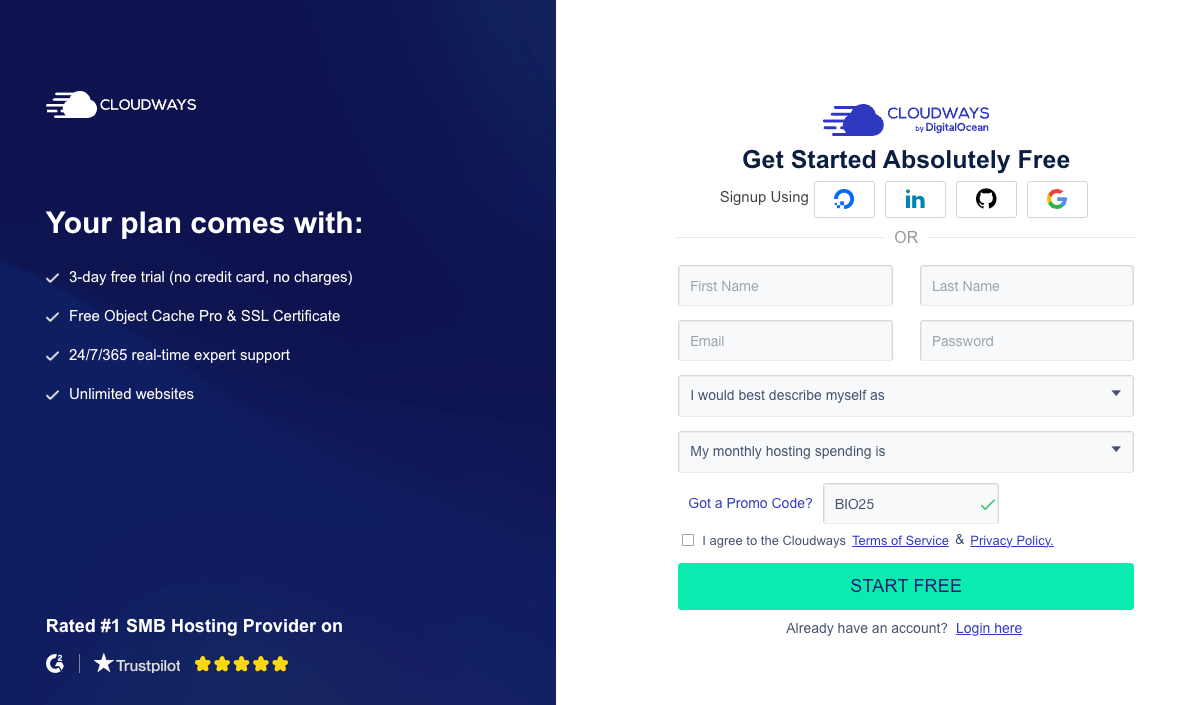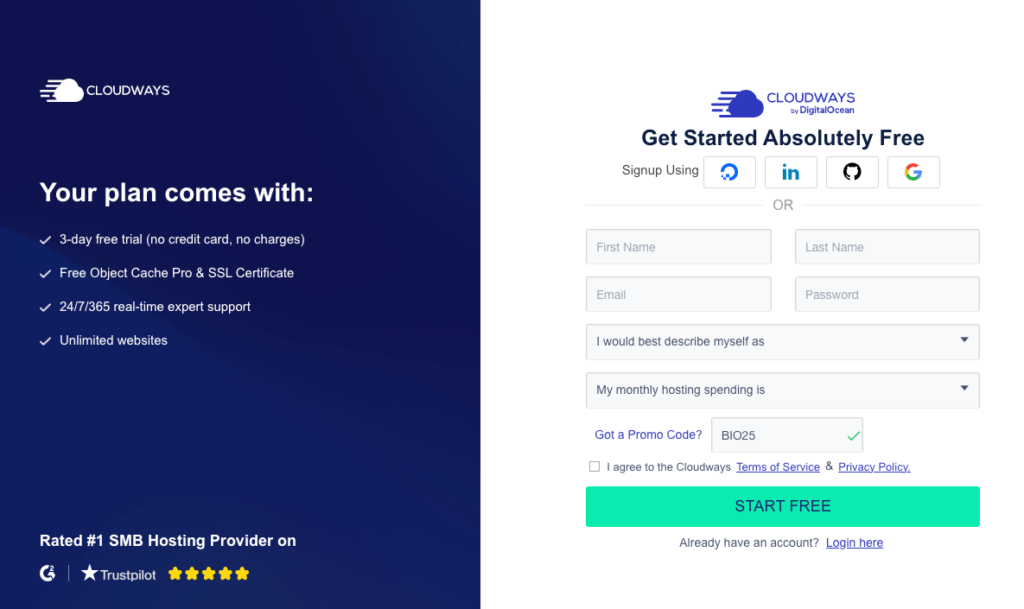 Step 2: Create an Account
Fill out the signup form with the required information like Name, Email address, profession, and monthly spending amount.
These details can help Cloudways to cater to personalized experiences.
Step 3: Coupon Auto-applied
Look for the "Got a Promo Code?" field on the same page. You can see the promo code gets applied automatically.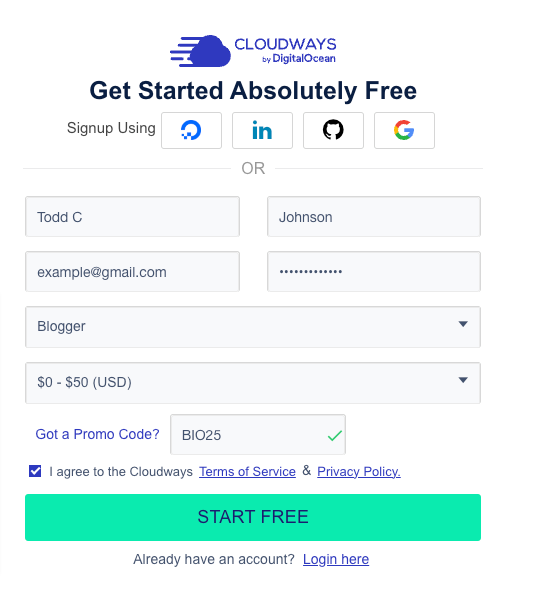 If you don't see the coupon, click on the box next to "Got a Promo Code?" and Enter the Cloudways Coupon code "BIO25".
If you see a Green tick next to the coupon, then the coupon got successfully applied.
Now, agree to Cloudways terms of service and click "START FREE."
Now, you will be asked to verify your email address and Phone number. Once done, the account will be activated.
That's all.
Then, you can choose a Cloudways server, install WordPress or other CMS, and get your site live in minutes.
If you encounter any issues while applying the coupon code, contact Cloudways customer support for assistance.
What is Cloudways?
Cloudways is a managed Cloud hosting platform that simplifies deploying, managing, and scaling web applications. It allows users to host their websites on the top of cloud providers like DigitalOcean, Amazon Web Services, and Google Cloud Platform.
Some of the critical features of Cloudways hosting include:
Easy to use control panel to manage server and applications
One-click Automatic installation for popular CMS like WordPress, Magento, and Drupal.
Managed security patches and updates
Global data center locations
Cloudflare Enterprise CDN
Expert customer support.
With such features, Cloudways offers a hassle-free and high-quality hosting experience.
Why Choose Cloudways Hosting?
1. Easy-to-use control panel
Cloudways control panel is advanced, yet first-time users can get familiar with it quicker.
The company offers the comfort of managing everything from a single point through its neat and organized custom control panel.
Users can find and access other essential options such as server monitoring, 1-Click CDN, server cloning, staging URL, team collaboration, etc.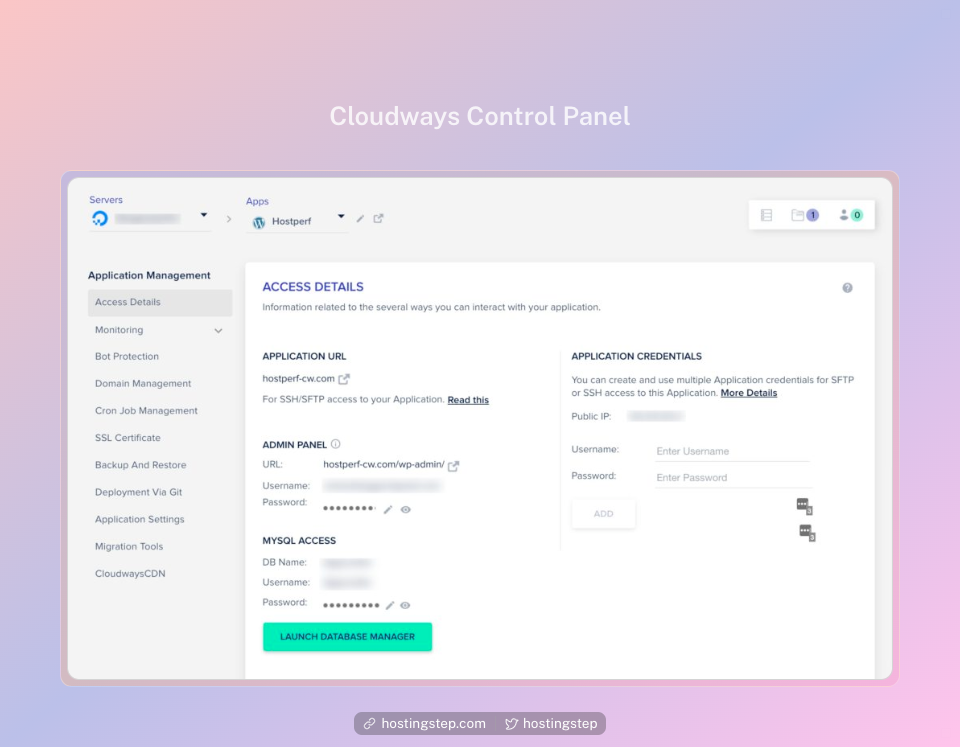 2. Excellent Security
The Cloudways advanced security features include dedicated firewalls, IP Whitelisting, Regular Security Patching, Two-Factor Authentication, Bot Protection against DDoS, and brute force.
They've also partnered with several 3rd party services like Malcare to offer site-level security protection on all sites by default.
3. Customer Support
The Cloudways support team does a remarkable job of helping customers 24/7 through live chat and tickets.
The company has an exceptionally dedicated and helpful support team to address the technical difficulties of the customers in no time.
Most importantly, reaching out to support doesn't take much time.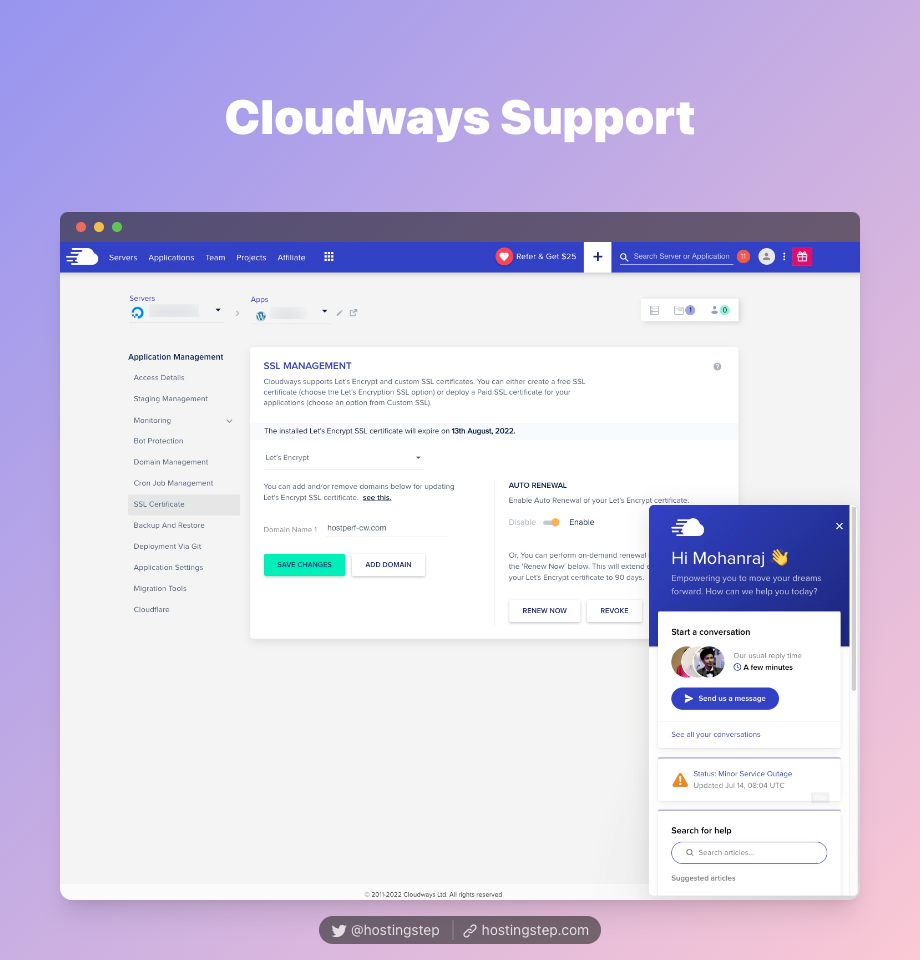 4. Cloudflare Enterprise CDN
Cloudways comes with its in-built CDN, powered by Cloudflare Enterprise. Anyone familiar with Cloudflare pricing should know that their Enterprise plan costs $200/month.
However, with an exclusive partnership, Cloudways brings the Enterprise plans for just $4.99/ per website/month for its users. The promo code also works with this add-on CDN plan.
Cloudways Plans and Pricing
One of the major perks of using this Cloudways Promo Code is that it comes with a three days free trial.
This allows users to test Cloudways platform features without paying the full price upfront.
Cloudways provides affordable Managed WordPress hosting services starting at $11/month. Here are the different plans offered by Cloudways:
DigitalOcean: Starting at $11/month, premium droplets at $14/month. (compare between Cloudways premium vs standard)
Amazon Web Services: Starts at $38.56/month.
Google Cloud: Starts at $37.45/month.
Cloudways hosting plans are affordable, and with the Cloudways coupon code, you can get an even better deal, giving you more savings.
My Personal Experience with Cloudways"
Once you've signed up with Cloudways and applied the promo code, it's time to set up your Cloudways account and explore the dashboard.
I've been a long-term user of Cloudways, running 23 WordPress sites hosted on DigitalOcean Standard & Premium servers.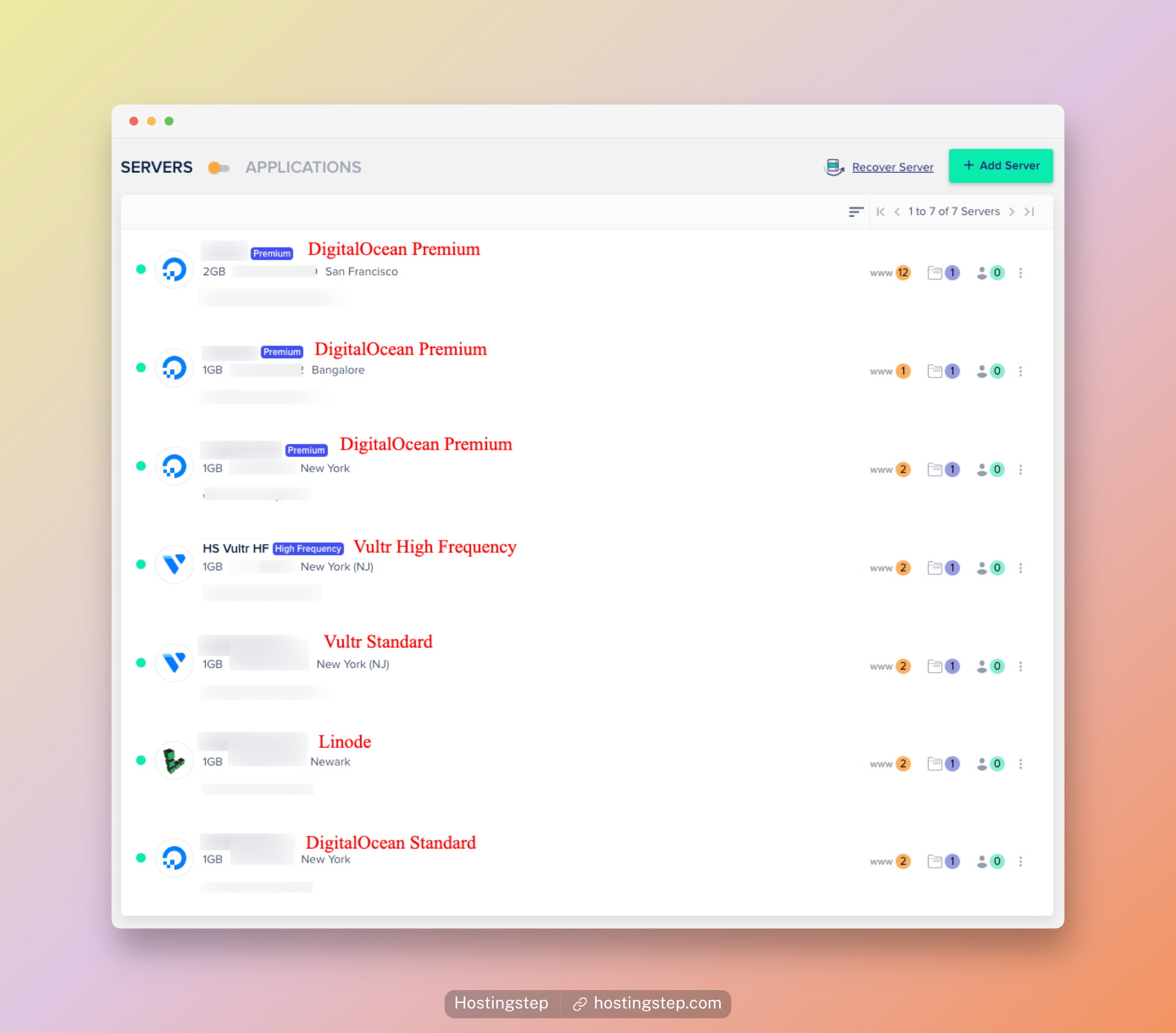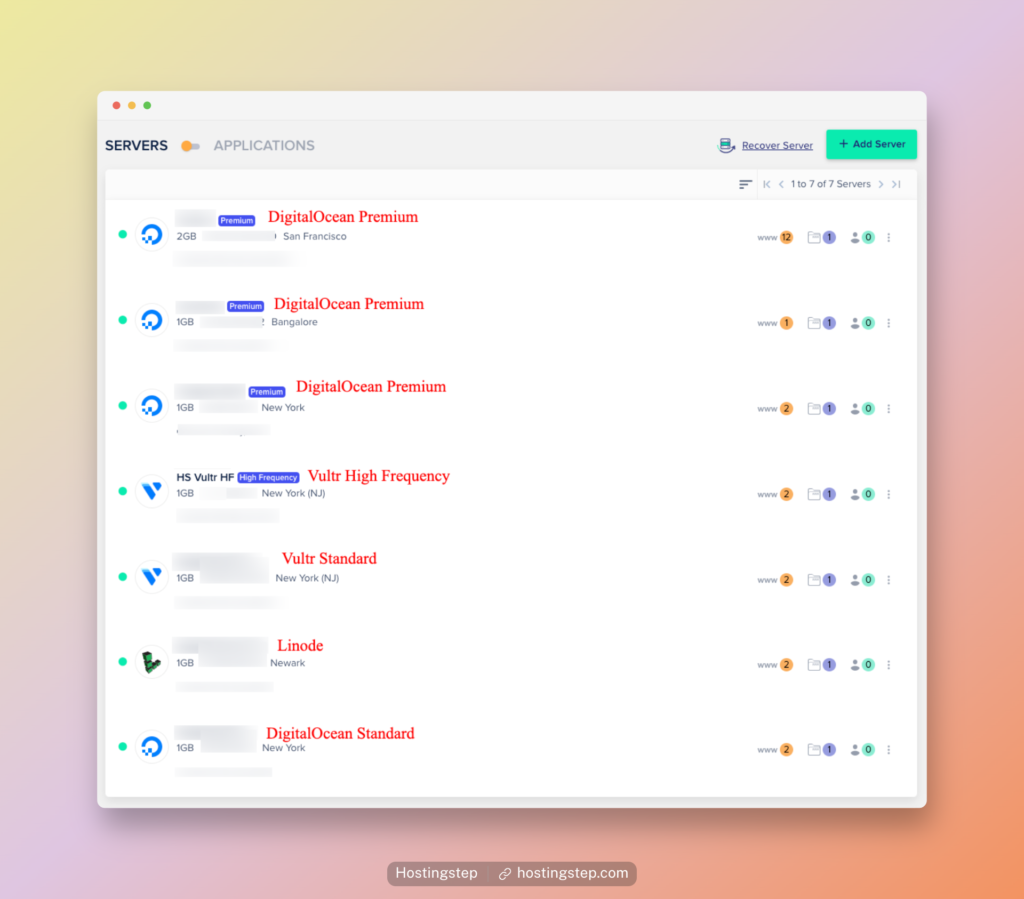 I recommend going with DigitalOcean plans as they are the affordable Cloudways plans to get started.
Getting started with Cloudways is a pretty simple process. First, Choose the WordPress Version and then name your Managed App and Server.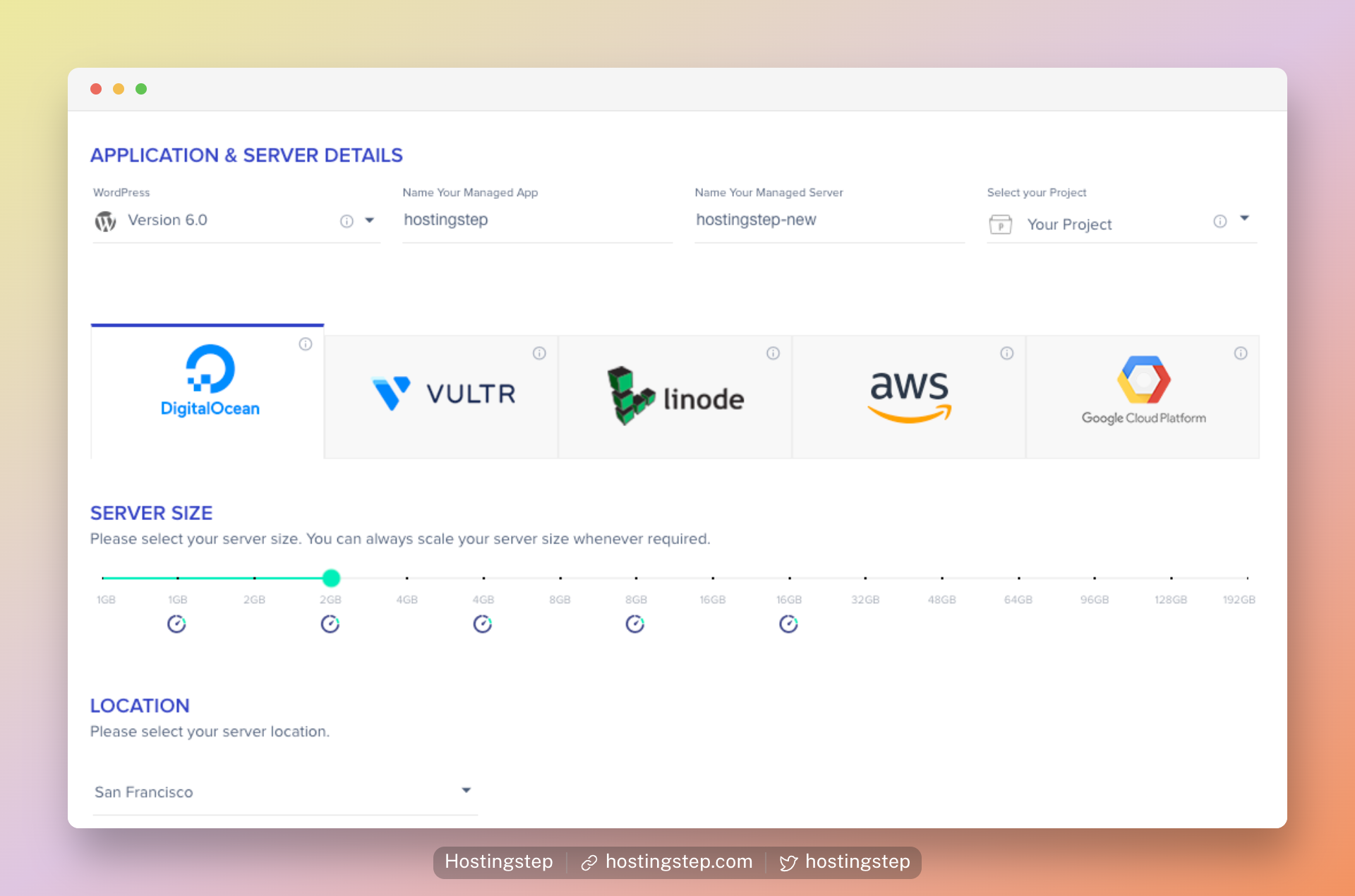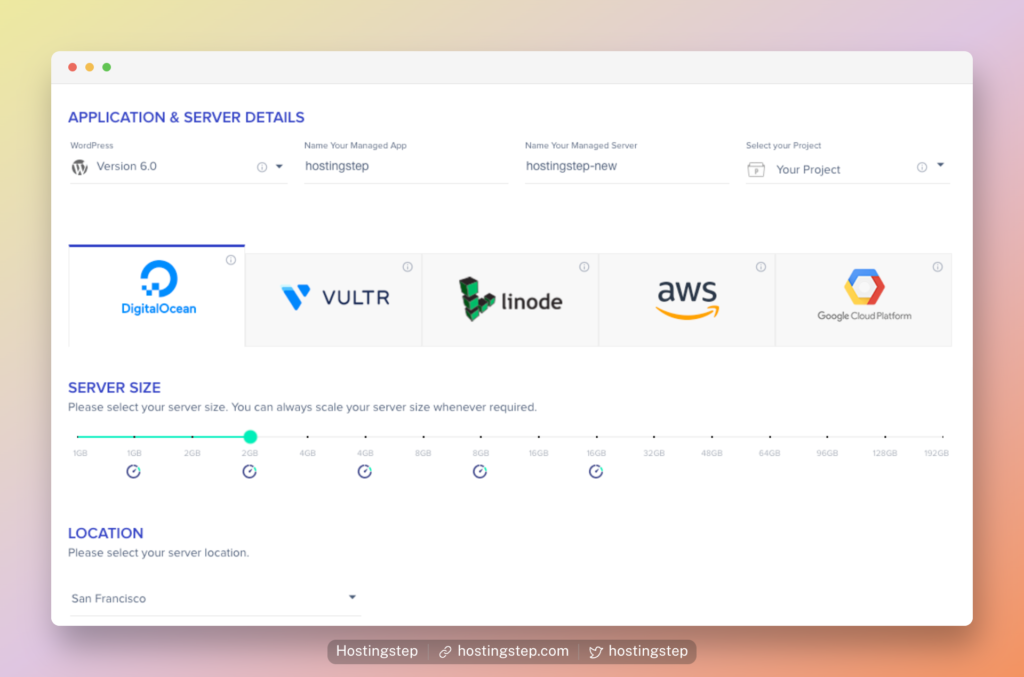 Managed App is your WordPress website name; you can input any name for Managed Server. Choose your preferred server, like Digital Ocean, and select the server size and location.
It will take less than 5 minutes, and your site will be ready.
Cloudways Pros and Cons
Here is a brief review of the Cloudways platform, including its pros and cons.
Pros:
Easy-to-use dashboard
Excellent performance and uptime
Supports numerous web applications
Pay-as-you-go affordable plans.
Offers a 3-day free trial
Staging sites
Cons:
No domain registration
Paid email hosting and CDN
Latest Cloudways Coupons and Promo Codes
| Description | Discount |
| --- | --- |
| Get $25 free credits | BIO25 |
| Get 30% Off for 3 Months | TREAT22 |
| Three days free trial | FREE TRIAL |
Conclusion
You are now armed with the exclusive Cloudways Promo Code for 2023, ready to start with a superior cloud hosting provider at a fraction of the cost.
More than the coupon savings, Cloudways is an excellent investment to host your websites as they are known for their reliable, easy-to-use, and performance-focused service.
I've guided you through the process of applying the promo code, and I've revealed how to install WordPress on your server.
I wish you all the best in getting started with Cloudways.
Frequently Asked Questions
What is the Promo code for Cloudways?
Cloudways offers a 25% discount for new customers. Use the coupon code BIO25 to get the discount.
How to get Cloudways for Free?
Cloudways offers a 3-day free trial for all new accounts. Head to Cloudways.com, click "Get Started for Free," and get Cloudways for the first three days.
How to apply Cloudways promo code 2023 to get the highest discount?
Visit the official Cloudways.com site by following this link. The promo code will be applied instantly.