Cloudways Reviews 2022: How Good is This Cloud Hosting?
Our expert review on Cloudways focuses on performance, pricing, features, and support.
Founded in 2009, Cloudways positions itself as the affordable Managed Cloud Hosting provider at just $10 per month.
They are in this unique price range and don't have a real competitor! With such a positive note, read our reviews on Cloudways to know the good and bad at Hostingstep and existing user reviews below.
Cloudways Review: Summary
Cloudways offers simple, fast, and convenient managed cloud hosting. With transparent pricing, high performance, and best-in-class support, I rate them as the best managed cloud hosting industry.
What is Cloudways?
According to Cloudways.com
Cloudways is a managed cloud hosting platform to build, deploy, scale, and manage web applications. Cloudways provides high standards of performance, best-of-breed technologies for a simplified hosting experience.
Cloudways Plans and Pricing
Cloudways plan starts at $10.00 per month with a free trial for three days. There is also our Cloudways Promo Code for 2022 that offers $25 free credits. Cloudways does have packages at every price point. The most popular Cloudways plans of each cloud providers are
DigitalOcean: Starts at $10 per month
Linode: Starts at $12 per month
Vultr: Starts at $11 per month
Vultr High Frequency: Starts at $13 per month
Amazon Web Services: Starts at $36.51 per month
Google Cloud: Starts at $33.63 per month
All Cloudways plans get every feature and differ based on server resources like RAM, CPU, Storage, and Bandwidth.
Cloudways Performance Review
Server Response Time
When it comes to judging the performance of hosting services, we have to take into account various factors. Of course, speed and uptime are the most important factors and most of you are already aware of them. Besides, there are other factors such as Load handling, Global TTFB, and Core Web Vitals. A good hosting service should be good at all these factors or most of these factors.
I started the performance test with the server response time test and for that, I hosted a site on the Cloudways platform. I have been monitoring the site's server response time consistently using the Pingdom tool and according to the data collected in the last test, my Cloudways site recorded an average server response time of 309 ms which is better than Kinsta and WP Engine. Hence, if you are looking for a blazing fast hosting service, Cloudways can be the right hosting service for you to choose.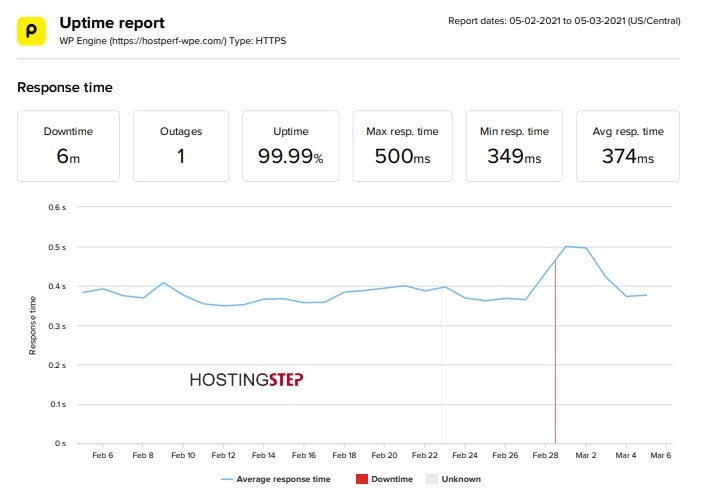 Uptime
Uptime is undoubtedly the most important factor for any website. A website struggling with a bad uptime is most likely going to lose potential traffic and can never succeed. I have been constantly monitoring the uptime of my Cloudways site and as per the last uptime test, my Cloudways site recorded an uptime of 99.99%.
Further, throughout the testing period, the site maintained a stable uptime without the slightest glitch in the performance. Hence, Cloudways has a very reliable uptime for sure.
Load Testing
For a high-traffic website that is constantly surrounded by the risk of unexpected traffic surges, it is extremely important to ensure that it is hosted on a hosting platform that can efficiently handle high traffic. If you are wondering how is that even possible for a hosting service to handle high traffic load, it is done using a scalable architecture wherein resources are automatically scaled up whenever there is a traffic spike.
As I performed load testing on my Cloudways site by sending 500 and 1000 concurrent traffic to my site, it recorded 10 ms in Clients Per Test (1000 Clients in 1 Minute), 168 ms in Maintain Client Load ( 500 Clients in 1 Minute), and 268 ms in Maintain Client Load (1000 Clients in 1 Minute). Going by the results, it wouldn't be wrong to say that Cloudways is a reliable platform for hosting high-traffic sites.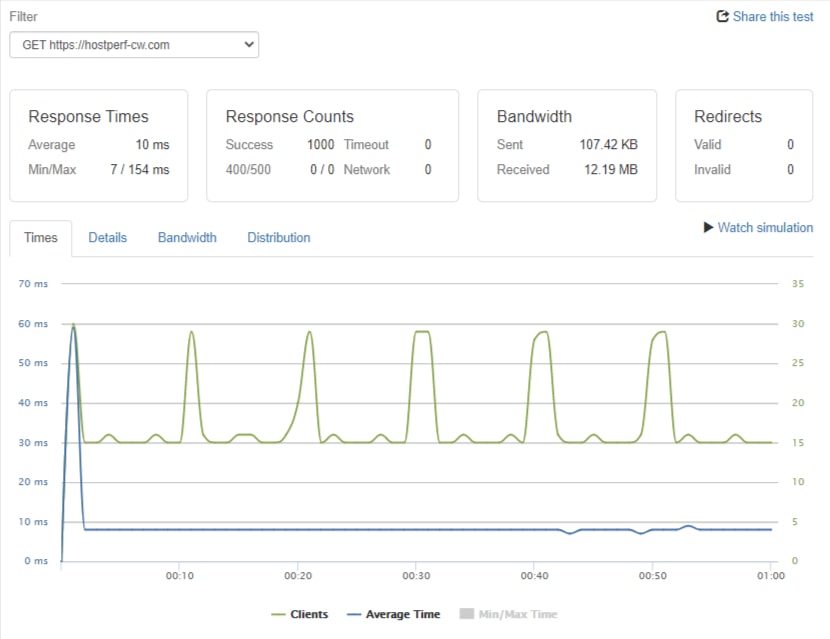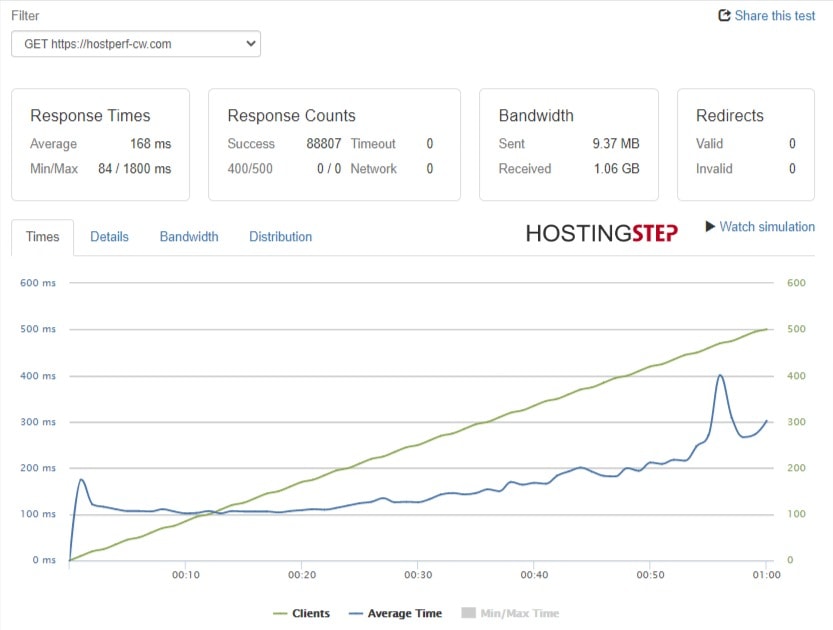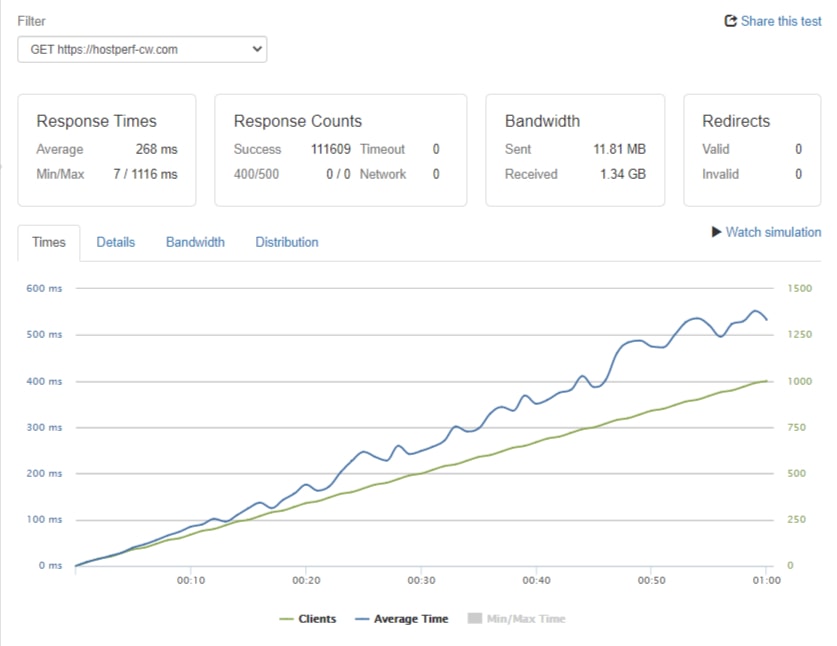 Global TTFB
Many sites receive their traffic from multiple global locations and if you are planning to host such a site, you have to check in advance if the hosting service you are going to choose has good Global TTFB. I tested the Global TTFB of my Cloudways site across ten global locations. I pinged my Cloudways site from all ten locations.
As per the data collected from the recent test, my Cloudways site recorded an average global TTFB of 390.15 ms with decent TTFB in all the places. Further, the site had the lowest TTFB in New York with 14.47ms and the highest TTFB in Singapore with 727.44 ms. Hence, you can certainly count on Cloudways for its Global TTFB.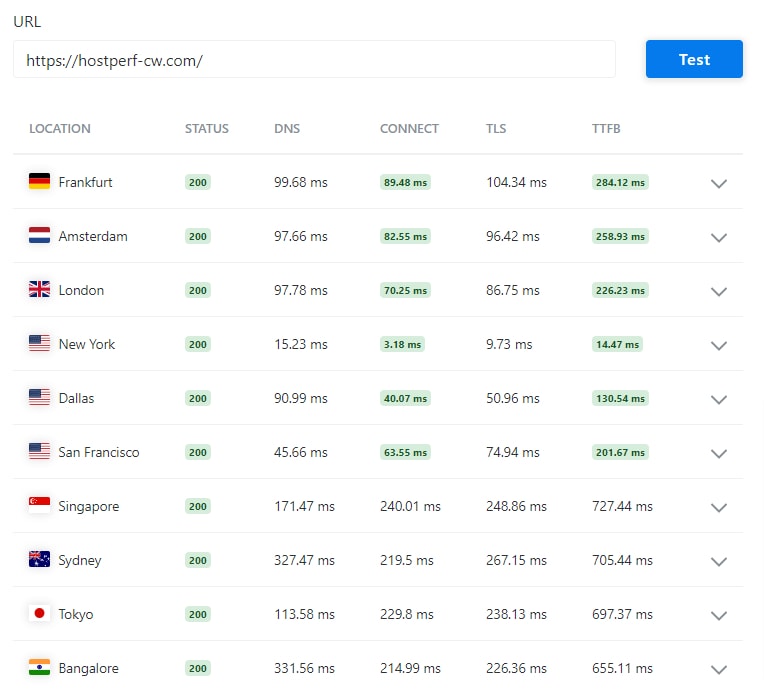 Core Web Vitals
User experience has a huge impact on search engine ranking and you must ensure that your site delivers an excellent user experience to see your site make it to the top. However, a lot depends on the hosting service and you can know if a hosting service is reliable in terms of user experience from its Core Web Vitals.
I tested the Core Web Vitals of my Cloudways site and the site recorded a 'Largest Contentful Paint' of 0.583 s, a 'Total Blocking time' of 0.000 s, and a 'Cumulative Layout Shift' of 0. Hence, if you want to deliver the best user experience to your visitors, you can get a lot of help from the Cloudways platform.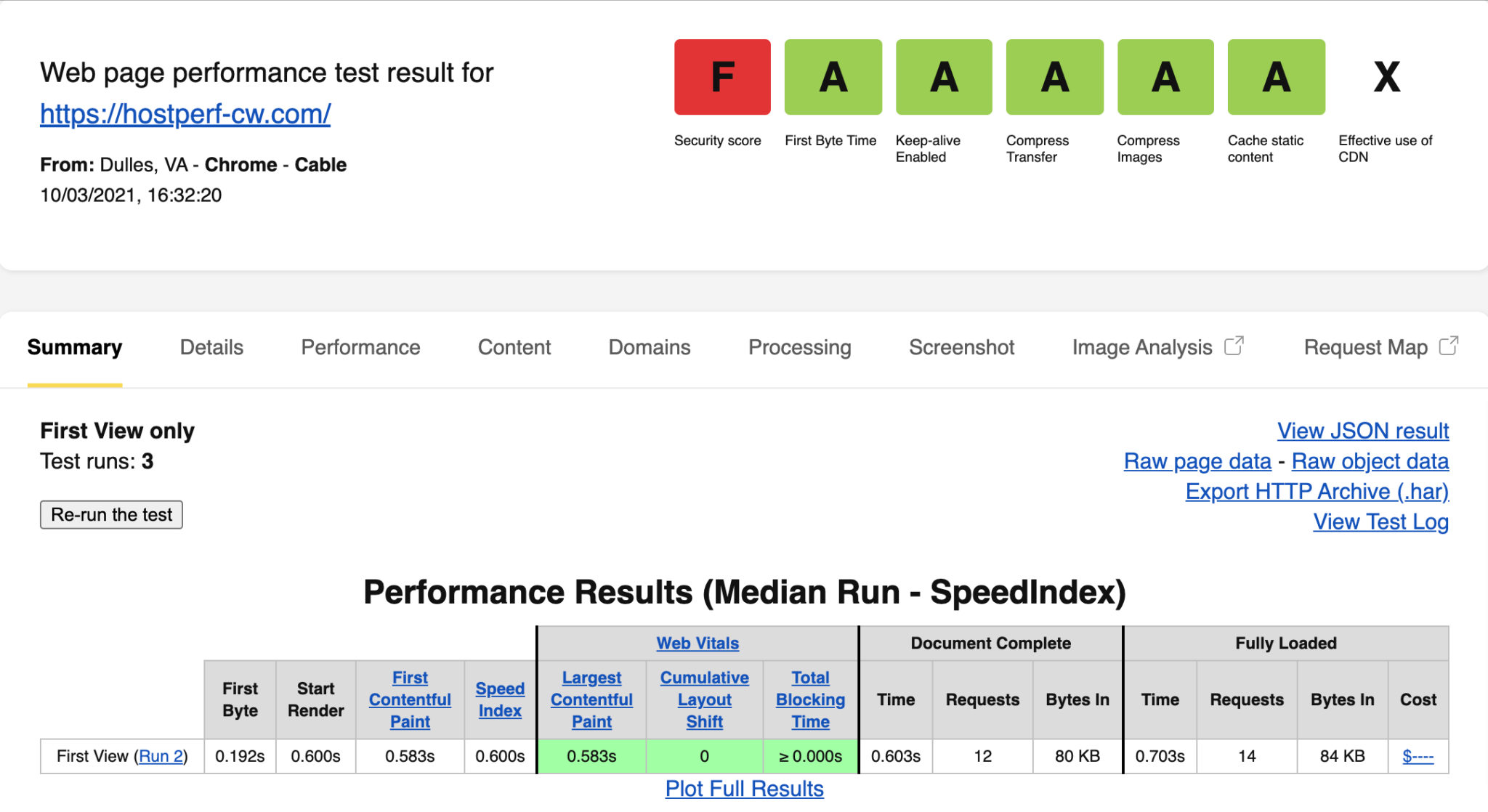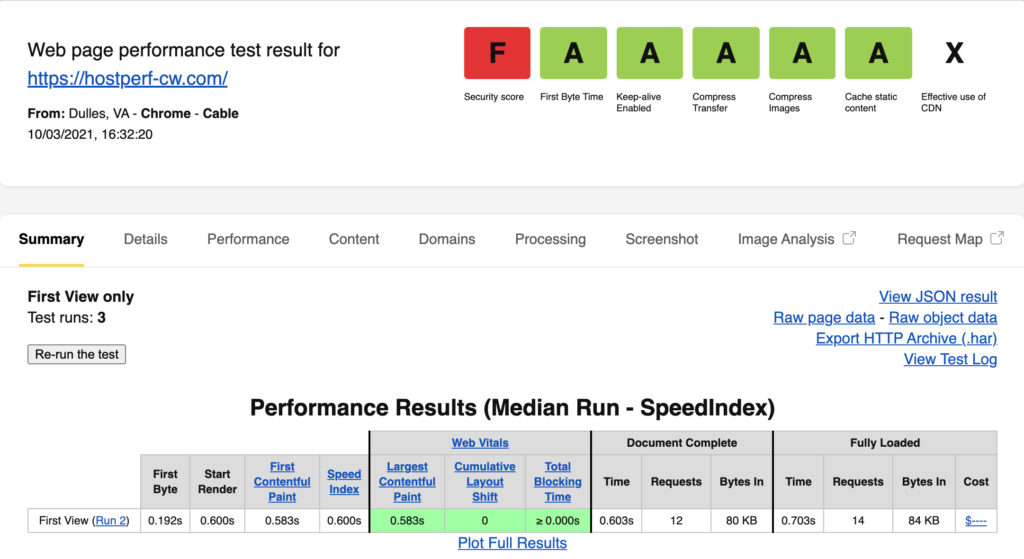 Cloudways Pros
1. Cloudways offer high performance.
Cloudways is known for its high performance, and it got reflected in our daily tests. I signed up with Cloudways as a customer and bought an account with DigitalOcean for a $10 per month plan.
Our test site recorded an average response time of 325ms, which is impressive than most other hosts we've tested so far.
Cloudways performance is impressive since they're affordable, while most of their competitors like SiteGround struggle to provide good performance.
2. Impressive Uptime (100%)
Cloudways have different uptime guarantees based on each cloud provider. While Vultr provides 100%, DigitalOcean has a 99.9% guarantee on their servers.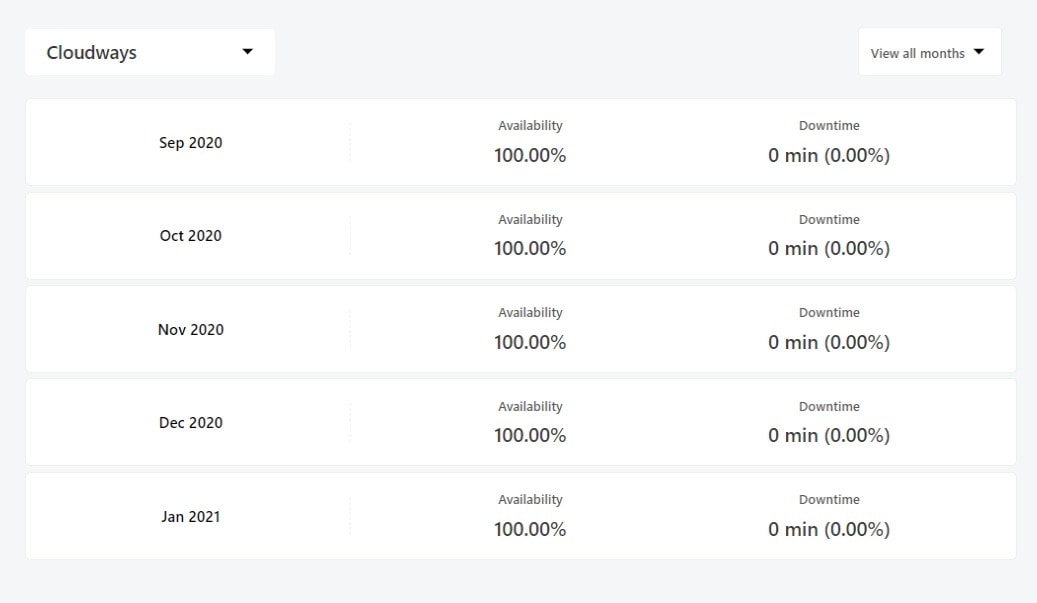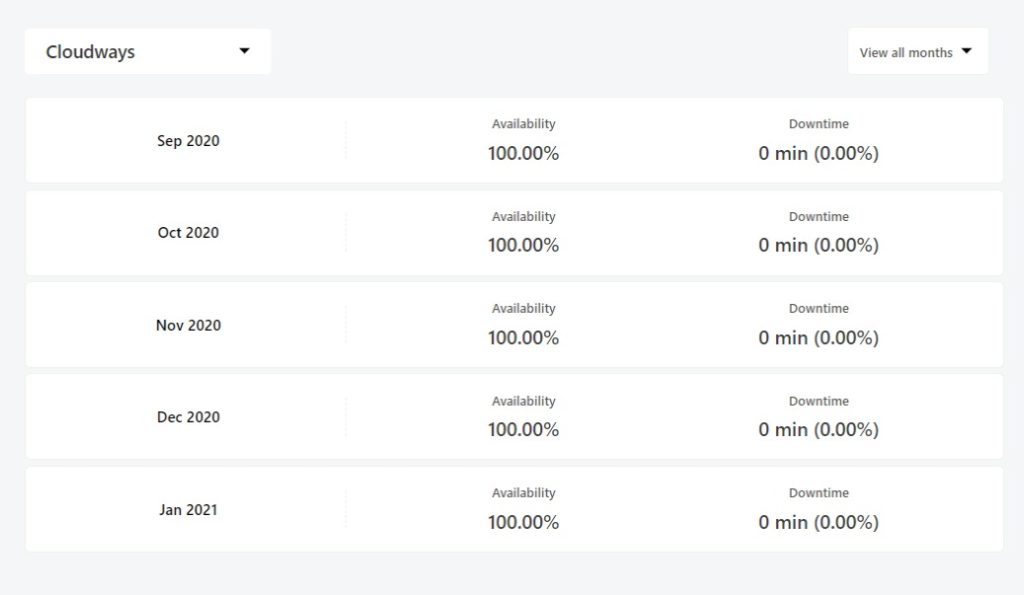 Contrary to their claim, DigitalOcean itself recorded a 100% uptime throughout the last three months; Our site is hosted on Chicago datacenter.
Our test site is monitored every 60 seconds once to monitor even minor outages. I also put a secondary tool for testing, and I've got a similar 100% uptime.
3. Affordable Managed Cloud hosting
Cloudways packages start at just $10 per month. While most of the shared hosting like HostGator, Bluehost offers cheap introductory pricing, the renewals will be above $10 per month.
When the shared host itself costs over $10, Cloudways provides managed cloud hosting at a similar price is commendable.
The concurrent plans are too affordably priced. The next level of Cloudways cost $22 and $42 per month.
Considering the performance and uptime combined with affordable pricing, Cloudways offers the best value for money cloud hosting in the industry.
4. 60+ global data center locations
Cloudways partnered with five laaS providers (Infrastructure as a service), namely.
DigitalOcean
Linode
Vultr
Amazon Web Services
Google Cloud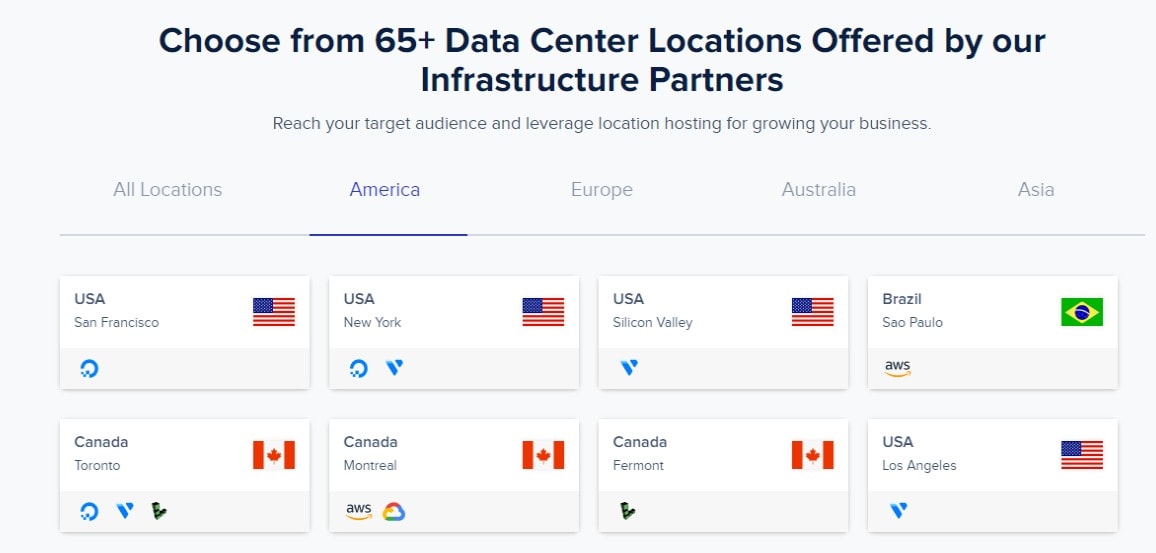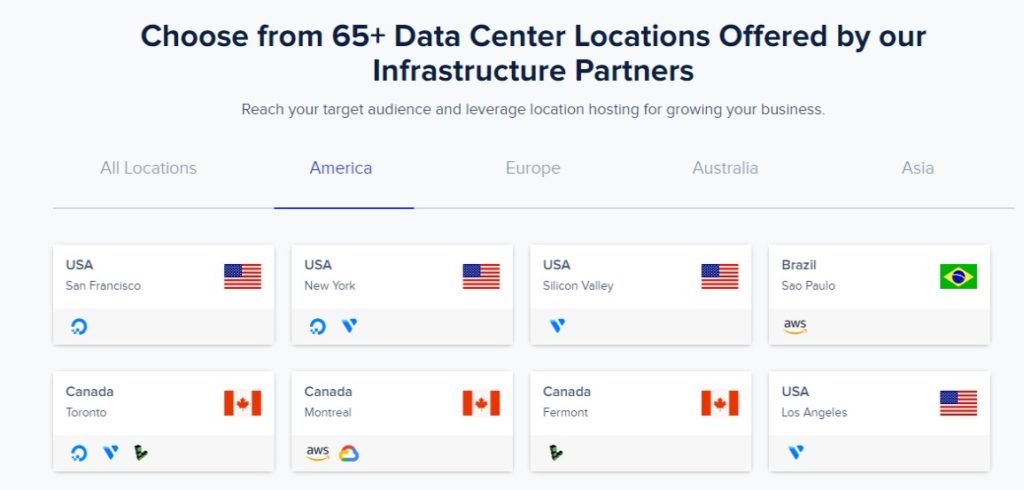 Cloudways can provide their services from over 60+ global data center locations with complete access to all providers. No other host in the world achieved this kind of flexibility in choosing data centers.
Using services like Cloudharmony, you can find low latency data centers and use them via Cloudways to delight your visitors with a better user experience.
5. Powerful Control Panel
If you are coming from cPanel, then Cloudways control panel will improve your productivity a lot. The tasks can be done in less than 1 – 3 clicks, taking at least 5 – 7 clicks in cPanel.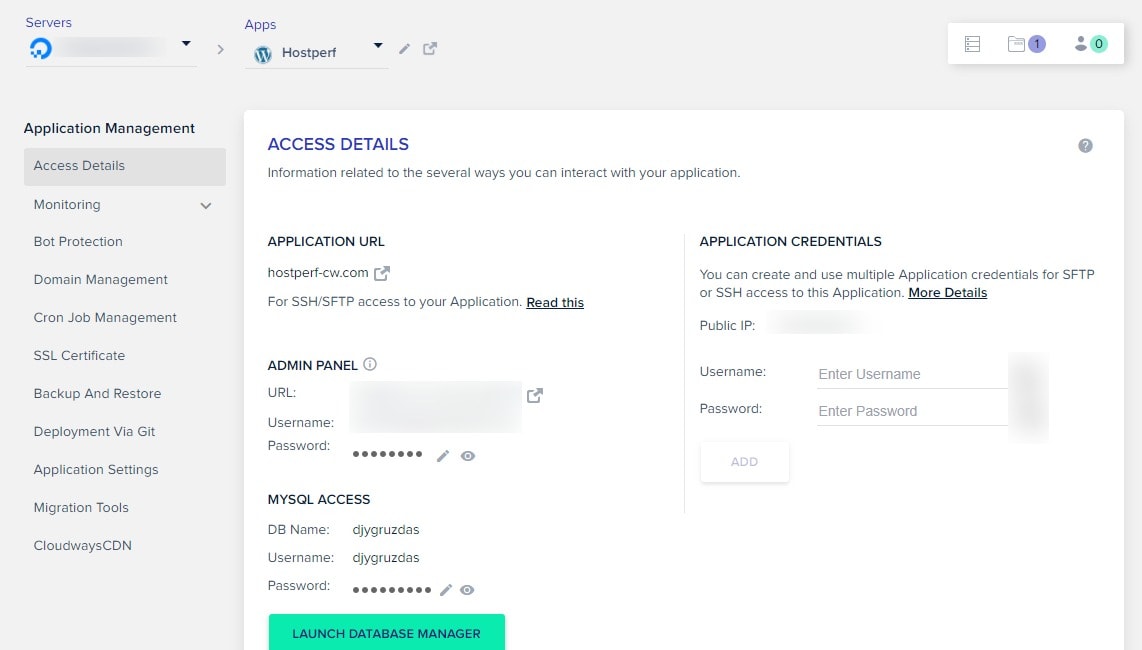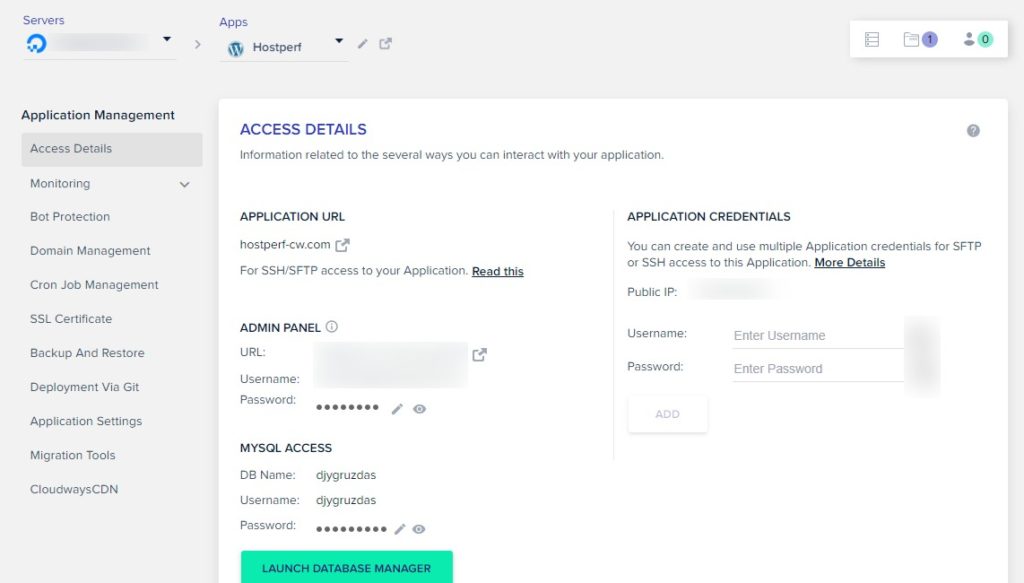 In the beginning, you might find it challenging to use. But once you get comfortable, it will be a cakewalk for you. There are a lot of features that you don't usually find with other hosts, and Cloudways did a similar job here.
Cloudways Cons
1. CDN and Email hosting as an addon
Unlike shared hosts, Cloudways doesn't offer CDN and Email hosting for free. However, Cloudways provides affordable add-ons like CDN ($1 for 25GB Bandwidth) and Email hosting ($1 per account)
CloudwaysCDN is powered by StackPath, while Rackspace is used for email hosting.
Cloudways Basic Features
Performance
When it comes to performance, Cloudways undoubtedly has the best performance. We have also seen it in the performance tests. The host has an extremely low server response time and is faster than even Kinsta and WP Engine. Besides, the host also has a very reliable uptime. Cloudways also has good Global TTFB and high traffic handling ability. Further, the host has good Core Web Vitals.
If we look into the factors that are helping the service to perform so well, there are many advanced technologies involved such as dedicated environment, SSD-Based Hosting, Built-in advanced caching, PHP 7 Ready Servers, CloudwaysCDN, Auto-Healing Managed Cloud Servers, Free WordPress Cache Plugin, Redis Support, Pre-configured PHP-FPM, and HTTP/2 Supported Servers.
Security
Security has become a crucial aspect in web hosting and without the best security in place, a site is constantly surrounded by many dreadful online threats such as Bruteforce, DDoS, etc. As far as the Cloudways security goes, it is extremely robust, characterized by Dedicated Firewalls, Let's Encrypt SSL, IP Whitelisting, Regular Security Patching, Two Factor Authentication, and Bot Protection.
Besides, if we consider the track record of Cloudways so far, there hasn't been a single security issue so far. Hence, it would not be wrong to say that your sites have the best security in Cloudways.
Choice
The best part about the Cloudways service is that customers have a lot to choose from. The host allows customers to choose from 5 different cloud providers that include DigitalOcean, Google Cloud Platform, Amazon Web Services, Linode, and Vultr. Besides, customers have the freedom of extending their storage in just a few clicks.
Resource scaling is also as simple as just a couple of clicks and you can have more RAM and CPU for your site. Further, the service comes with all PHP Supported Apps, Multiple PHP Versions, and Global Availability.
Collaboration
Cloudways is also an excellent platform for team collaboration and the platform offers many advanced collaboration tools. Some of these tools are Git Integration, SSH and SFTP Access, Application & Server Cloning, One Account Multiple Teams, Projects, Staging Area & URLs, and Server Transfer.
Control
Cloudways offers users an exceptionally powerful custom control panel with an easy-to-use user interface. All the options are neatly arranged and users shouldn't have any problem with navigation and usability.
As far as the options are concerned, users have the convenience of managing every aspect of their hosting account from a single point of control. This includes Server Settings and Packages via UI, 1-Click Backup & Restore, Cron Job Manager, WP-CLI Pre-installed, 1-Click Stop App, App Settings via UI, and Advanced/Custom Varnish Settings.
Integrations & Addons
Cloudways users can continue using their favorite applications even on the Cloudways platform since the host offers seamless integrations with many apps and besides, the platform also has many useful add-ons.
Some of them are CloudwaysBot Channels, Cloudways API, Application Migration add-on, SMTP Add-on, Rackspace Email Add-on, and DNS Made Easy Add-on. Most importantly, integrating your favorite apps in Cloudways is just a matter of a few clicks.
Monitoring
Cloudways gives you the advantage of 24/7 real-time monitoring based on 16 different metrics. Besides, troubleshooting and identifying issues are exceptionally simple with the New Relic Integration. Cloudways Bot Notifications is another handy feature for the customers to keep up with the performance and application insights.
Expert Support
Cloudways has a very reliable and dedicated support service in place with mainly 24/7/365 Live Chat, and Online Ticketing to assist the customers with things such as Server Customization and Configuration, and Application-level Issues.
The assistance is pretty fast and friendly. Besides, Cloudways also has a Premium Support add-on which comes with enhanced SLAs, Phone Access, Private Slack Channel, and faster ticket response times.
Advanced Features
Breeze Caching Plugin
Cloudways comes with the free WordPress Caching plugin called Breeze. Breeze is a hassle-free WordPress cache plugin with no technical complexities. Further, the plugin comes with a user-friendly interface.
Breeze works smoothly with Varnish Cache and CDN. Besides, the plugin comes with internet and static caching features to boost page loading for WordPress sites. Further, the cache plugin optimizes and databases. This reduces the size of the databases and helps them with a good response time.
Free SSL
Cloudways provides customers with a free SSL Certificate by Let's Encrypt on all plans. The SSL Certificates encrypt the traffic communicating between the browsers and the website. The SSL Certificates are easy to install on the websites and can be used in conjunction with the Cloudways' ThunderStack optimization for optimized performance and security.
Staging Environment
Cloudways offers customers a simple and stress-free staging environment that allows you to test your changes relating to plugins, themes, and code within a sandbox. Besides, the staging site is connected to the live site in a way to easily push and pull operations. Further, the staging environment is password protected and SSL enabled.
Cloudways CDN
Cloudways has its in-built CDN solution called the CloudwaysCDN which is pretty powerful. The CloudwaysCDN helps sites reach out to a wider audience and deliver extremely high performance with the best global response times. Besides, the CDN is pretty easy to integrate. Even though Cloudways doesn't offer the CDN for free, it is pretty affordable and it charges $1 per 25GB for every application.
Cloudways Bot
Cloudways comes with its very own Smart Assistant called the CloudwaysBot. CloudwaysBot is based on artificial intelligence and it provides customers with many valuable insights on optimization and applications with real-time alerts. Besides, customers can easily integrate it with their Email services, Slack, Hipchat, and Custom API.
Free Website Migration
Migration is very straightforward in Cloudways and customers can migrate their web apps to the Cloud server with much ease. The best part is if you can't do it on your own, the Cloudways team will help with the migration.
However, it is important to bear in mind that only the first Migration is free and beyond that, it would be chargeable. Customers can also use the Free Cloudways WordPress Migration plugin to transfer as many web apps as they want for free.
Addons
Cloudways has several add-ons for the customers to choose from, for extended functionalities and a single point of control. Some of these add-ons that customers can subscribe to are Gmail SMTP, Support Add-ons, DNS Made Easy, Rackspace Email Hosting, and more. Besides, there are add-ons such as Applications Upgrade and Applications Migration. The Gmail add-on is free while the rest of the add-ons are available for an additional price.
When to Choose Cloudways?
If you are upgrading from shared hosting, then Cloudways is your ultimate choice. By choosing Cloudways, you don't need to burn your pockets by boosting to Managed WordPress hosting, which usually costs $30 per month.
When not to Choose Cloudways?
Though Cloudways is excellent, it's not auto-scalable and requires a manual upgrade (although it takes just a few clicks). If you are highly concerned about autoscaling, then Cloudways is not a good option.
Frequently Asked Questions
How much is Cloudways?
Cloudways is an ultimately managed cloud hosting with free migrations and 24/7 Human support. Cloudways comes with an innovative control panel suitable for both business owners and developers.
How much is Cloudways?
Cloudways pricing starts at $10.00 per month, per server. You can get three days of a free trial. Check the complete details in the pricing section.
How long is Cloudways free trial?
Cloudways provides a 3-day free trial for all users. Once the trial ends, the account can be upgraded to the full version. Google Cloud servers don't come under a free trial.
Is Cloudways shared hosting?
Cloudways is a cloud hosting platform that provides easy access to launch websites. Cloudways doesn't fall under either shared, VPS, or Dedicated hosting.
How does Cloudways work?
Cloudways partnered with six laaS providers, namely Google, Amazon, DigitalOcean, Linode, and Vultr. Cloudways will deploy your applications at just a few clicks, and you don't need to pay extra for those cloud providers.
Does Cloudways have a cPanel?
Cloudways comes with its Proprietary control panel and doesn't use cPanel. Their control panels come with many intrinsic features to ease your site management.