Hostinger Vs Bluehost 2022: Which Shared Host is Best?
If you are confused between Hostinger Vs Bluehost, then you are in the right place. In this post, Hostinger Vs Bluehost gets compared based on performance, pricing, and support.
Hostinger Vs. Bluehost
Hostinger started its journey in 2004, and the service is characterized by an easy setup, fast speed, 1-click WordPress installation, user-friendly control panel, and good support. Hostinger is one of the most affordable hosting services and has a solution from micro to large-scale for all customers. The provider has done a commendable job over the past couple of years.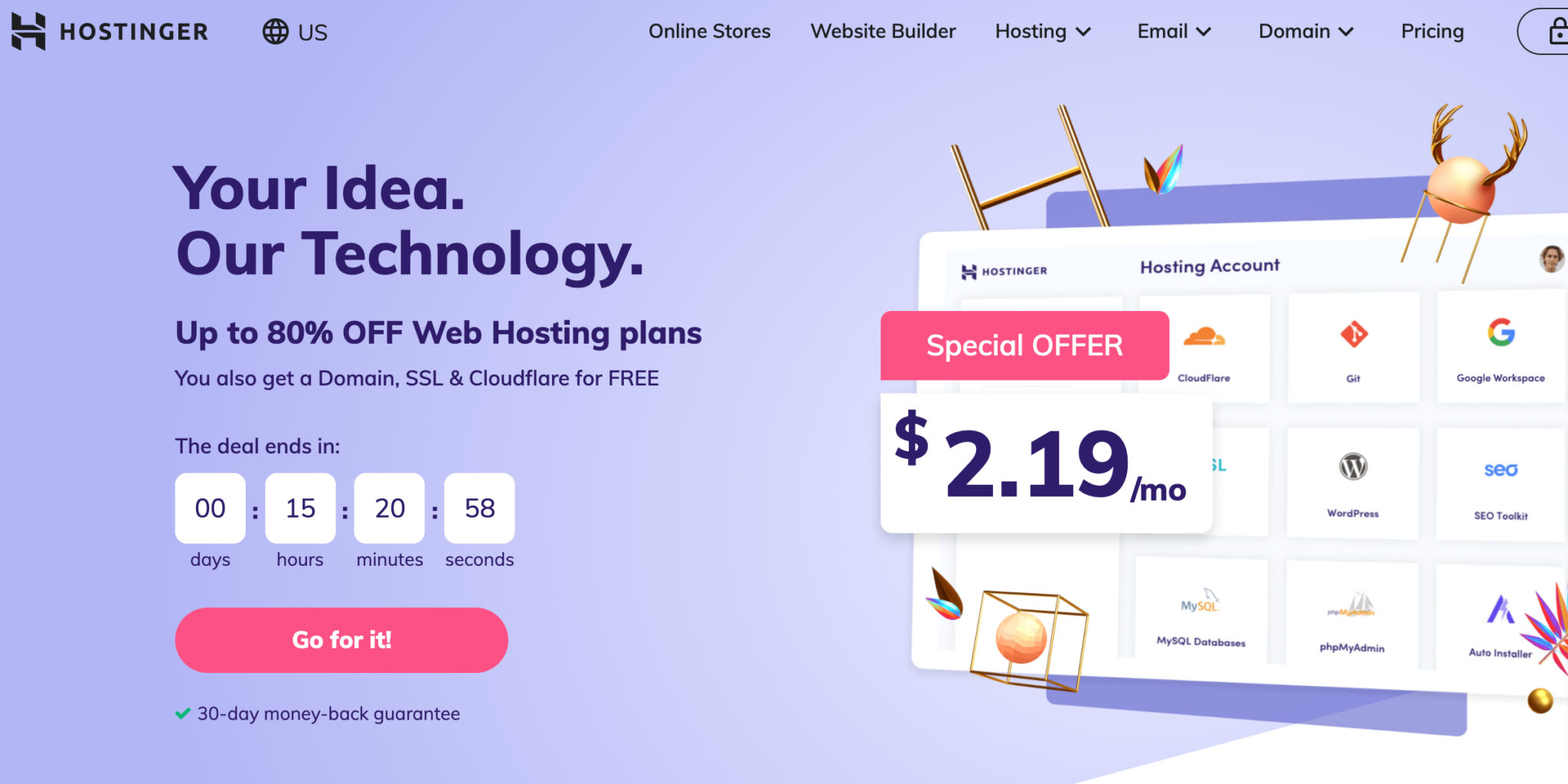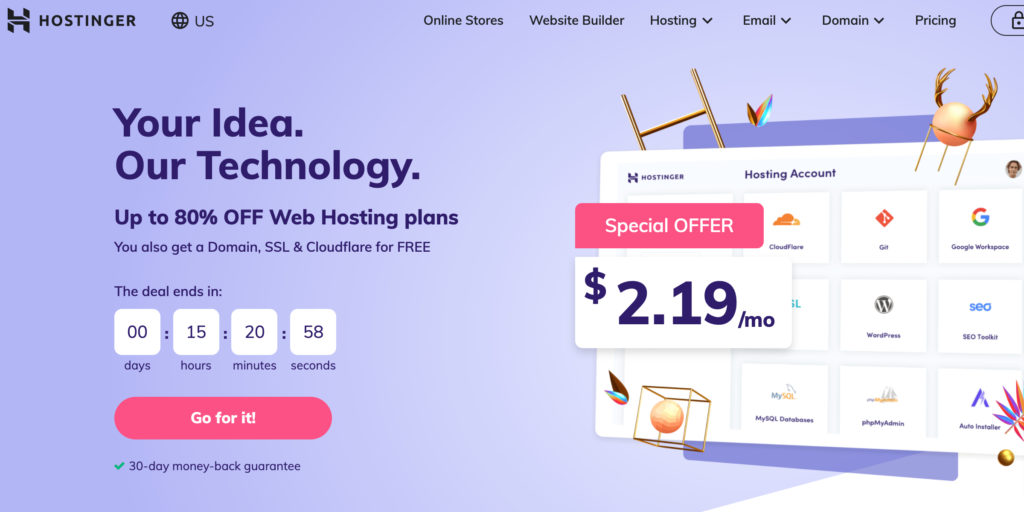 On the other hand, Bluehost started in 2003 and is one of the most reliable and popular hosting services with a super-easy setup and many other advanced features. Over the years, all types of customers have benefitted from using this service.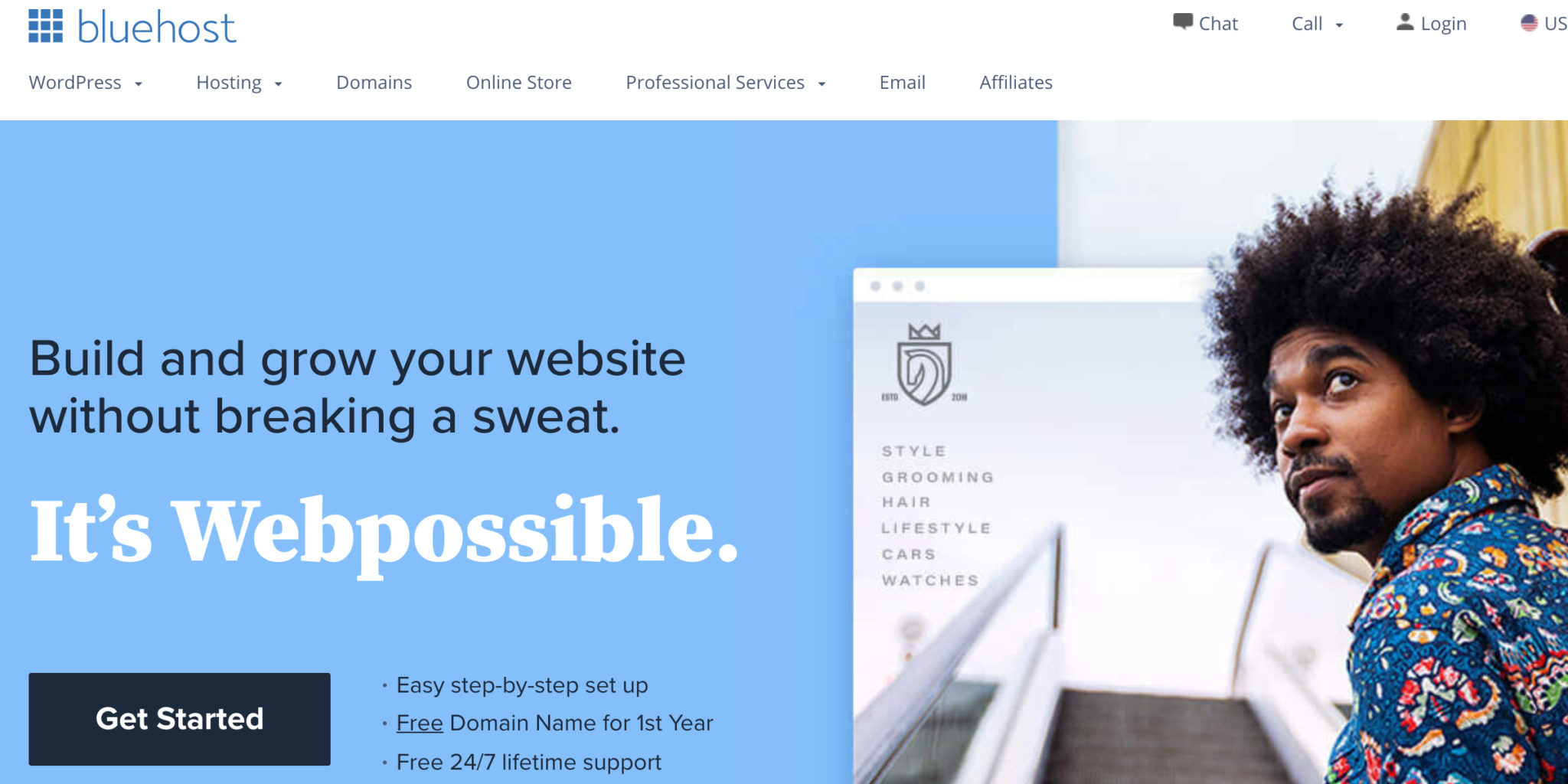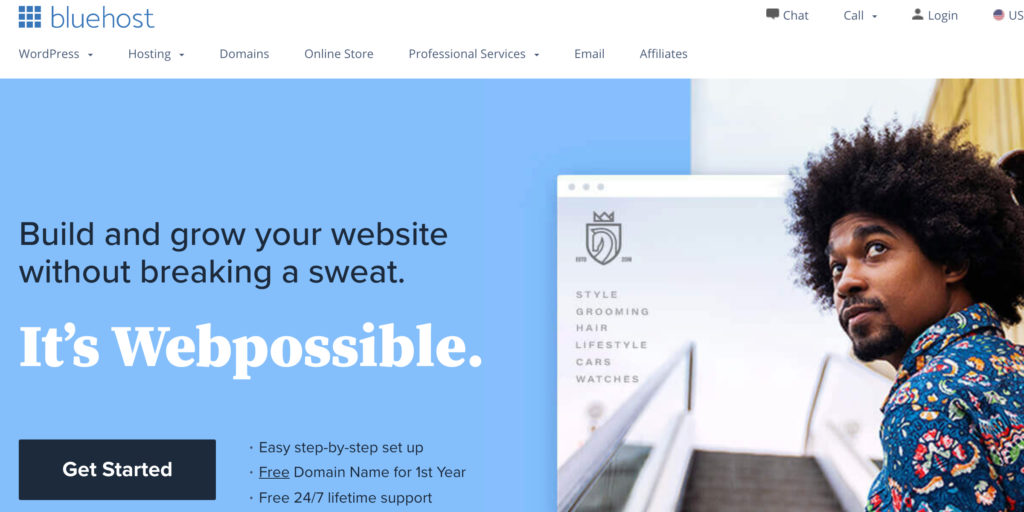 Hostinger Vs. Bluehost: Data Center Locations
Hostinger has 7 data center locations across the USA, Europe, and Asia. Customers can choose from any of these 7 data center locations to deliver their content to their audience from the closest location. However, one wise thing you can do if you plan to choose Hostinger is checking if the host has your desired data center location.
However, Bluehost has just one data center location, and it is located in Utah in the USA. Despite the fact, the provider has just one data center location; it shouldn't be a problem as long as you have your audience in the USA. Further, the provider also uses CDN.
Hostinger Vs. Bluehost: Performance
1. Server Response Time
Performance is a significant factor for the success of a website, and it also has its direct impact on ranking these days. This is why we have to monitor the performance of service well before choosing one. Testing the server response time is one of the important methods of evaluating the performance of a service.
After I tested the server response time of the two services, I found my Hostinger site with an average server response time of 659 ms, while my Bluehost site had an average server response time of 460 ms. Hostinger's response time is comparatively better.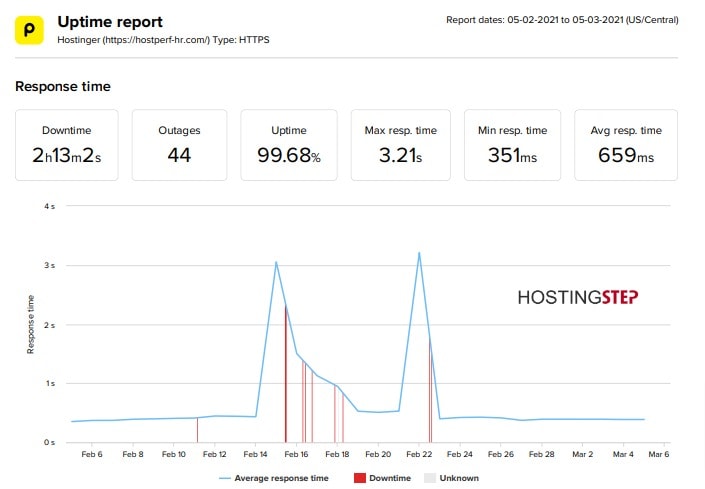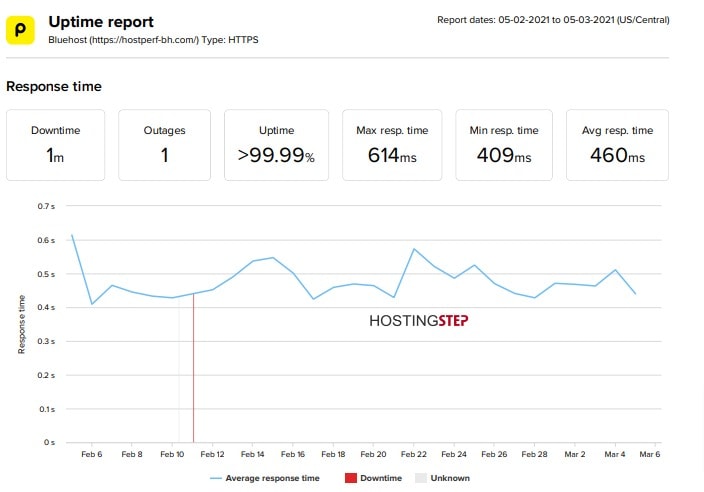 2. Uptime
Uptime is another crucial aspect of performance, and without constant availability, your website is bound to lose a lot of potential traffic and opportunities. I tested the uptime of the two services over the last few months. While Bluehost secured 99.99% uptime and Hostinger struggled a lot and their average uptime is just 99.68%.
3. Load Testing
Load Testing is another excellent method of testing performance, and the process consists of 3 types of testing to measure the performance accurately. The types are:
Clients per test (1000 clients in 1 minute)
Maintain Client Load (500 clients in 1 minute)
The 3rd type is the most important test to determine the performance of a service. However, it is not always possible to perform this test on a service, especially if the service is shared hosting since shared hosting cannot handle the load. Further, the test may not work on some managed hosting either since some managed hosting services don't allow us to perform this test.
However, my load testing on the Hostinger site had failed. This might have happened due to low server resources, or maybe the provider had blocked load testing. As far as the Bluehost load testing results go, the service reflected a response time of 54 ms in Clients Per Test, 374 ms in 500 Clients in 1 Minute Test.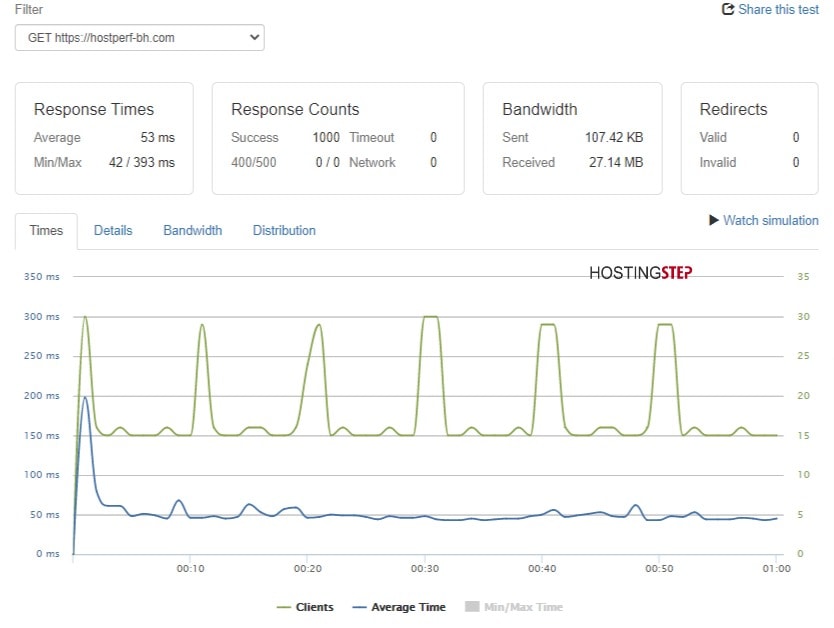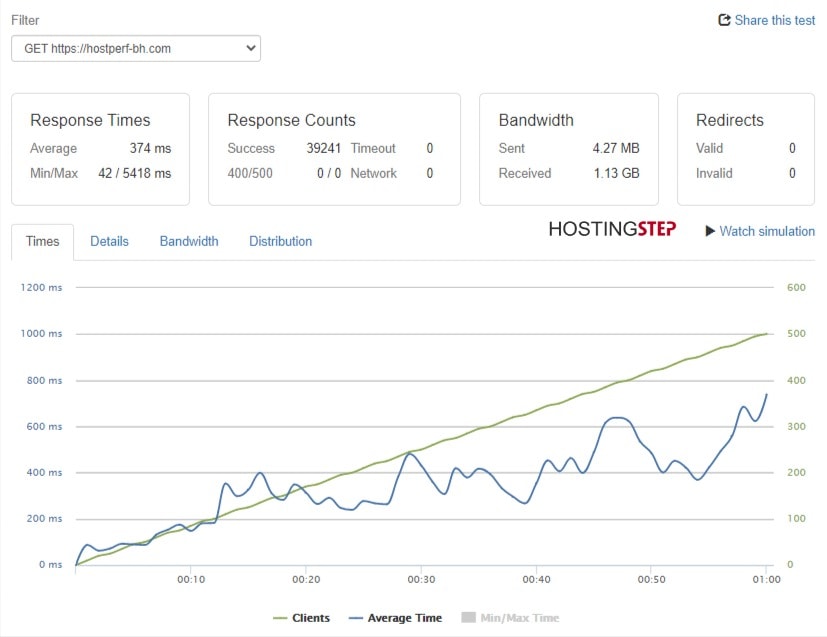 4. Core Web Vitals
If you aren't familiar with Core Web Vitals as yet, this is an important parameter proposed by Google to offer searchers a better user experience and will have a huge impact on ranking from May 2021 onward.
My Hostinger site reflected a Largest Contentful Paint of 0.701 s, a Total Blocking Time of 0 ms, and a Cumulative Layout Shift of 0. In contrast, my Bluehost site reflected the Largest Contentful Paint of 1.080s, a Total Blocking Time of 0.002 s, and a Cumulative Layout Shift of 0.021. Hostinger's Core Web Vitals result was pretty fascinating.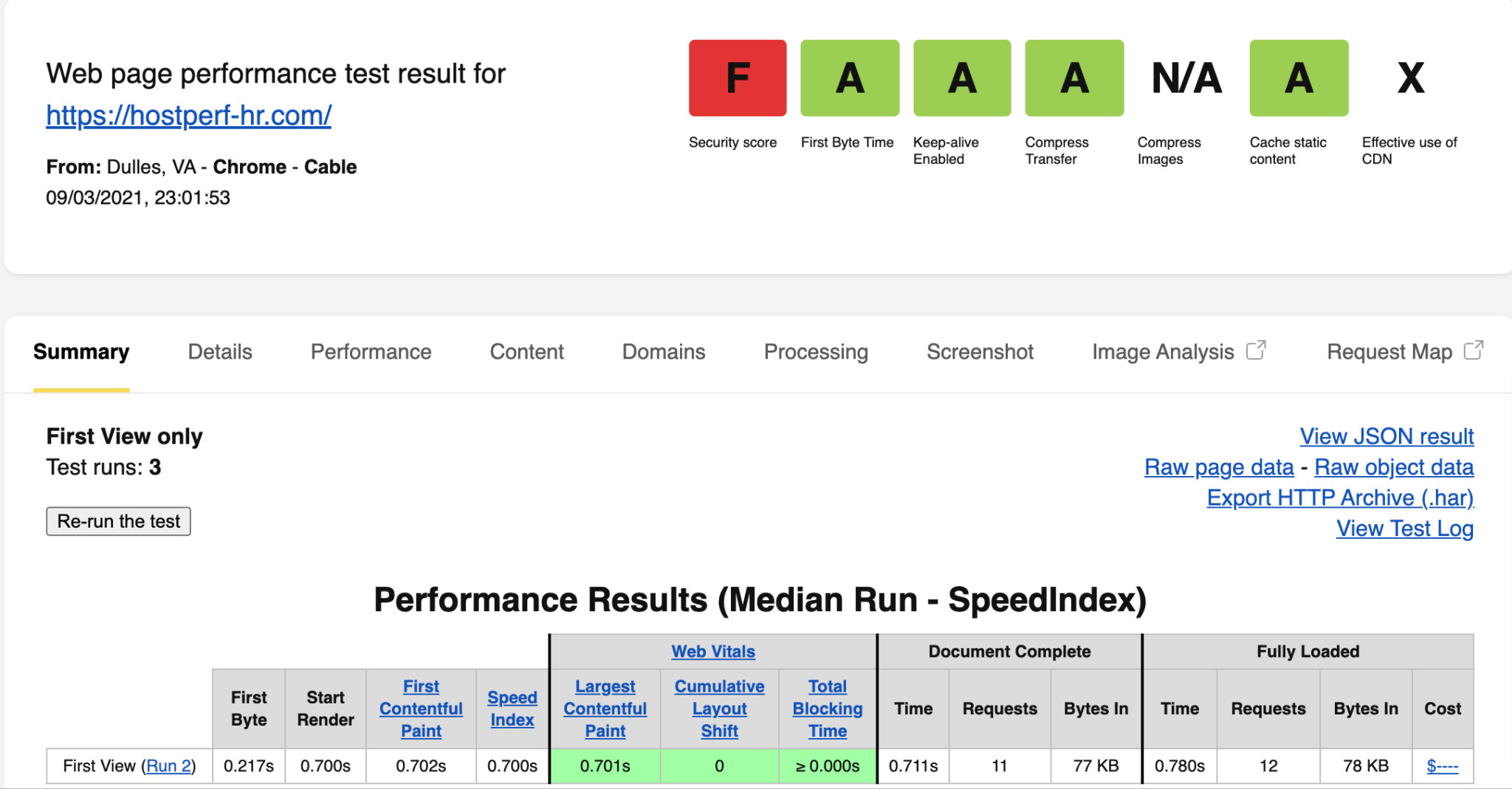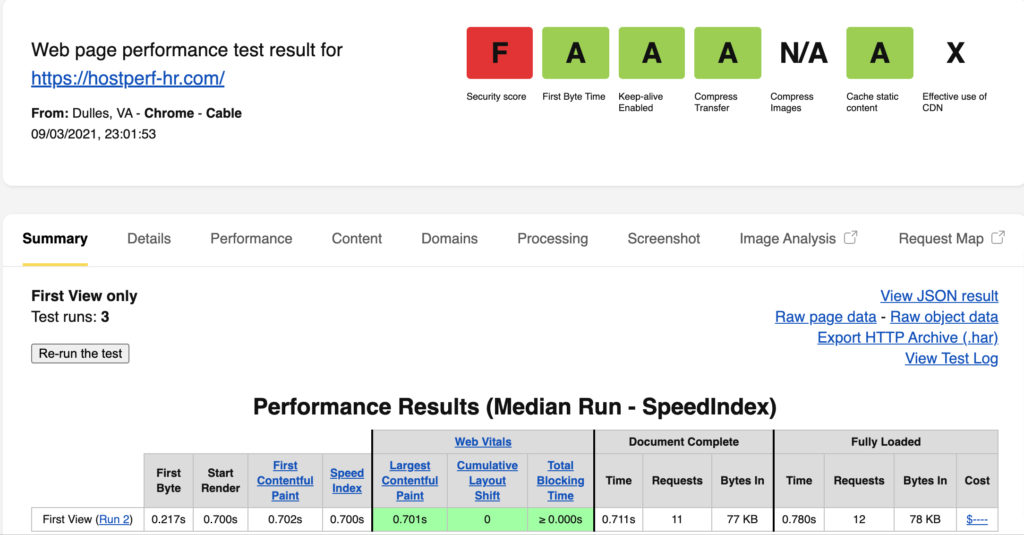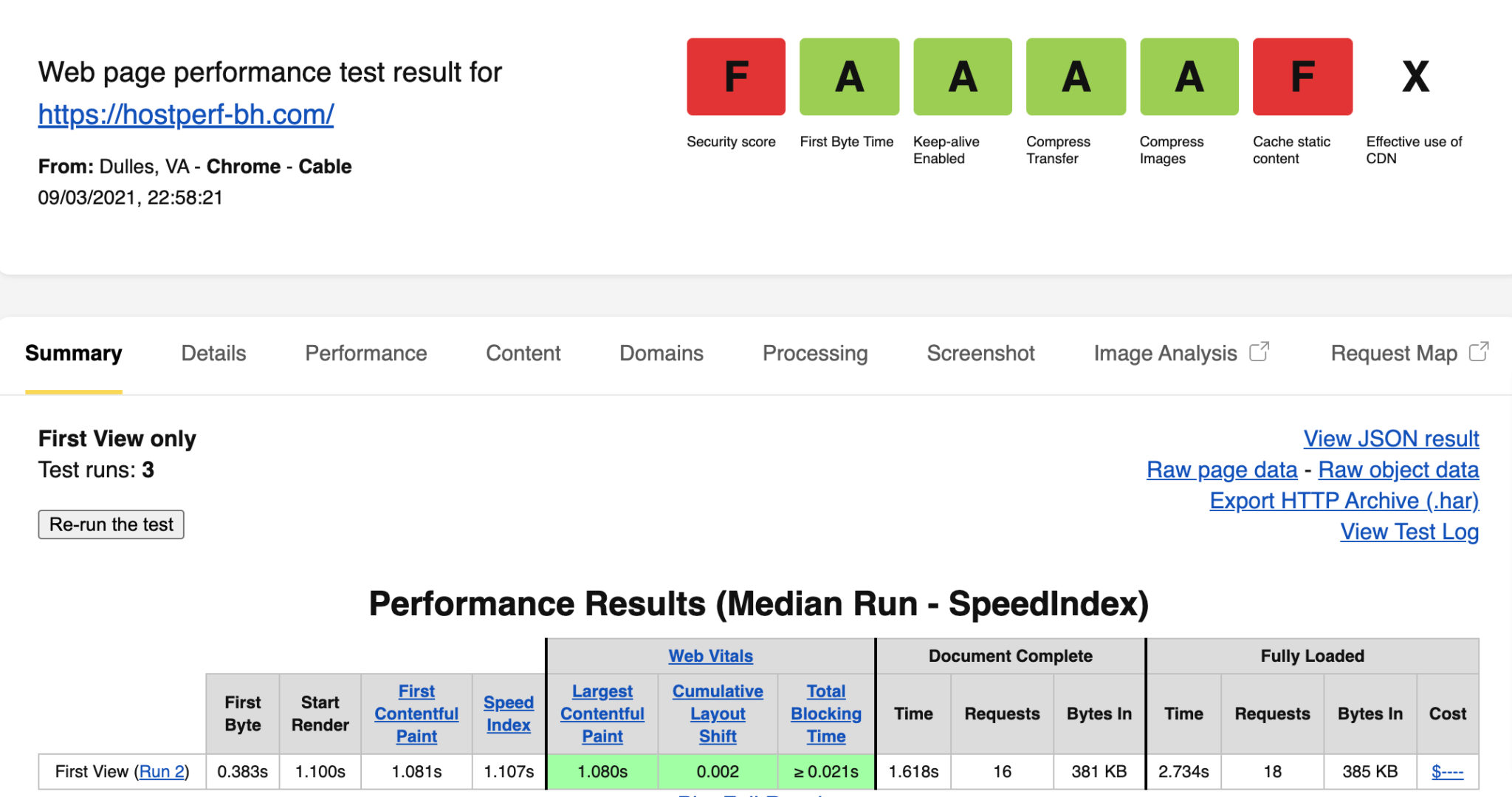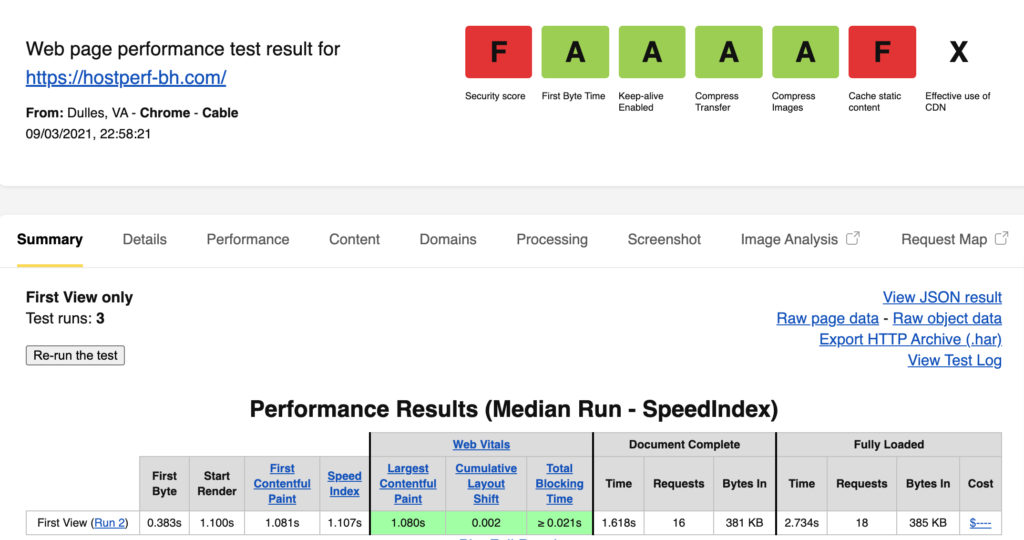 5. Global TTFB
Global TTFB is a method of testing response time for different global locations and is very effective for any site targeting an audience from multiple global locations. I performed the test by pinging my Hostinger and Bluehost sites from 10 different global locations.
My Hostinger site had good Global TTFB in Frankfurt, Amsterdam, London, New York, Dallas, and San Francisco. Bluehost had a decent response time in New York, Dallas, and San Francisco. However, for places outside the USA, the TTFB is more than 400 ms. However, Hostinger had a comparatively better Global TTFB than Bluehost.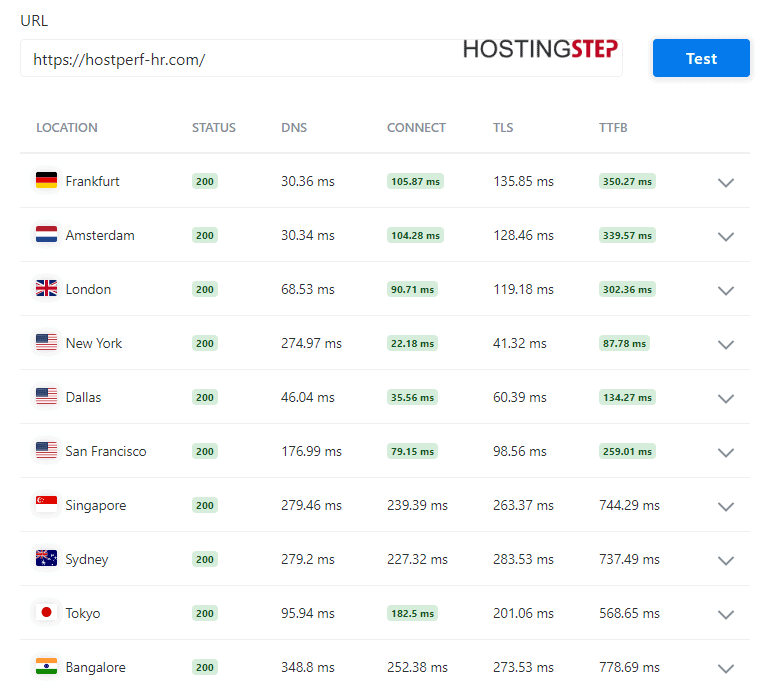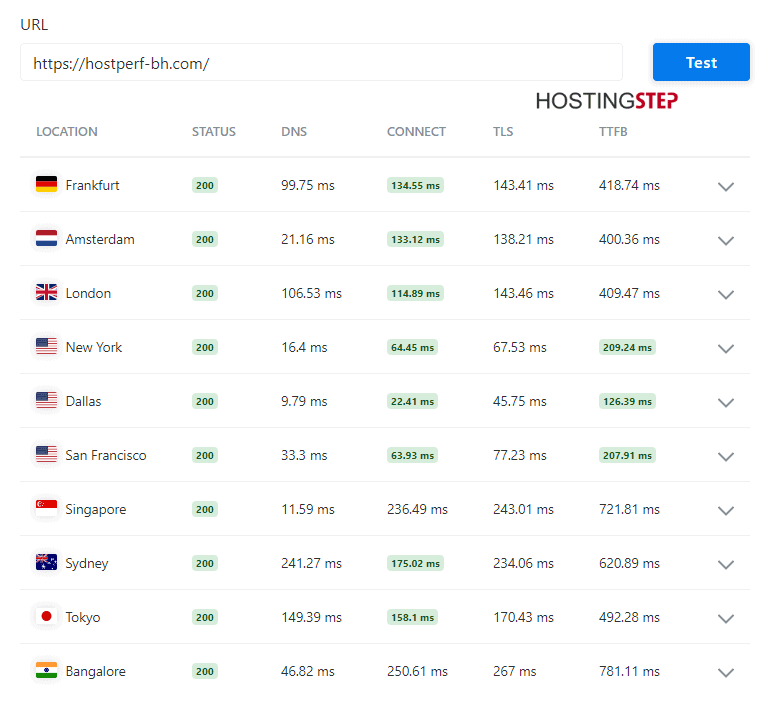 Hostinger Vs. Bluehost: Features
1. Control Panel
Hostinger has a customized cPanel which is best known as the hPanel. Unlike the traditional control panel, the Hostinger control panel is pretty neat and easy to use. Most importantly, the control panel has pretty straightforward options.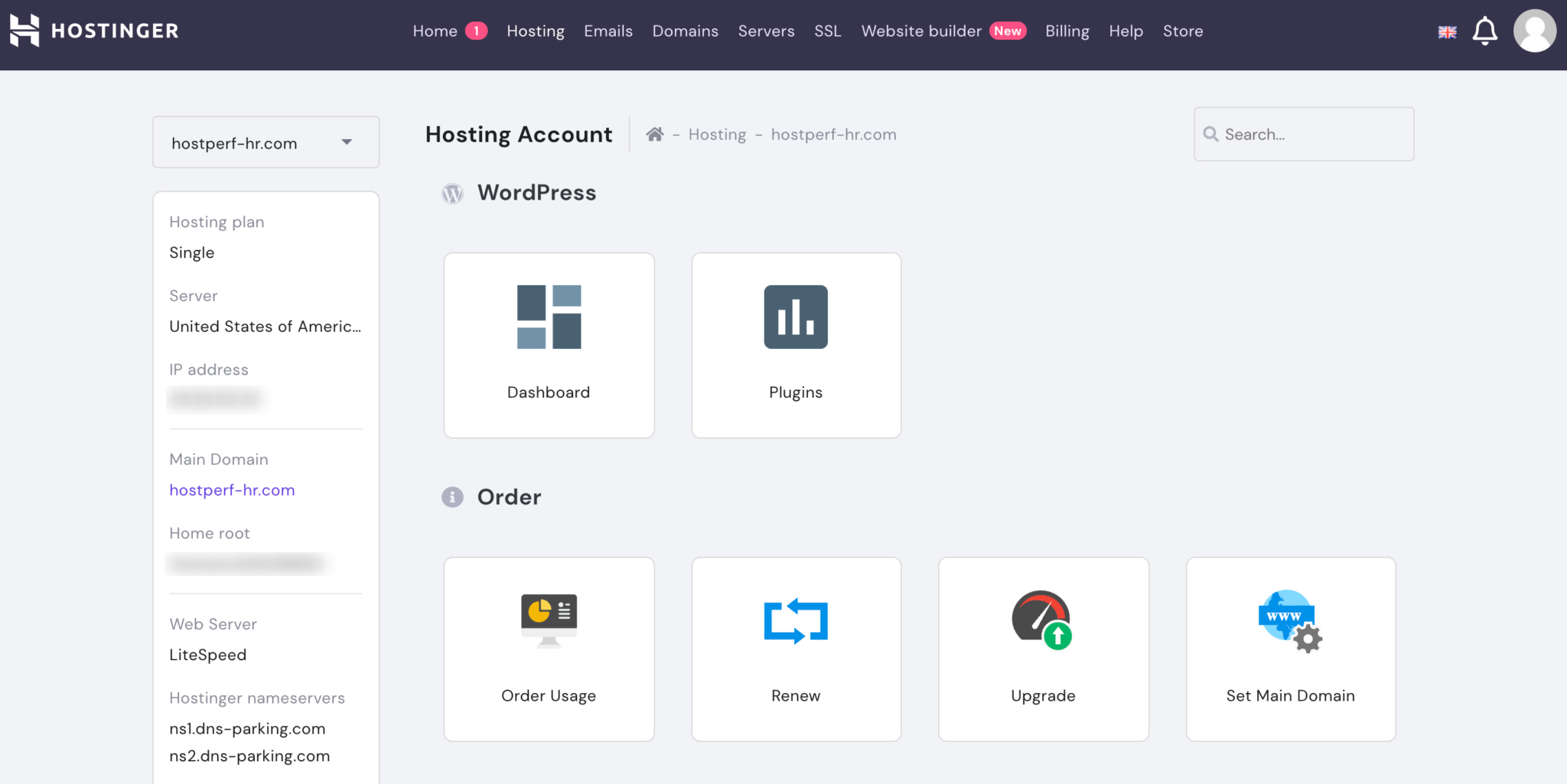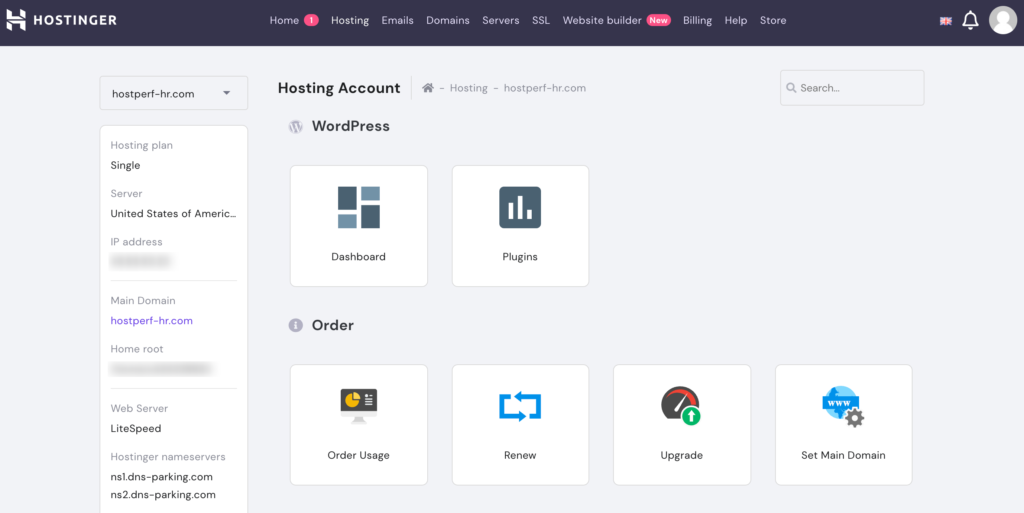 The control panel offers users an automatic caching toggle option that can be accessed right from the control panel.
Bluehost also comes with a custom cPanel with all the features that a cPanel usually has. However, the difference lies in the theme, and the Bluehost control panel comes with a better theme that makes it appear pretty clean and organized.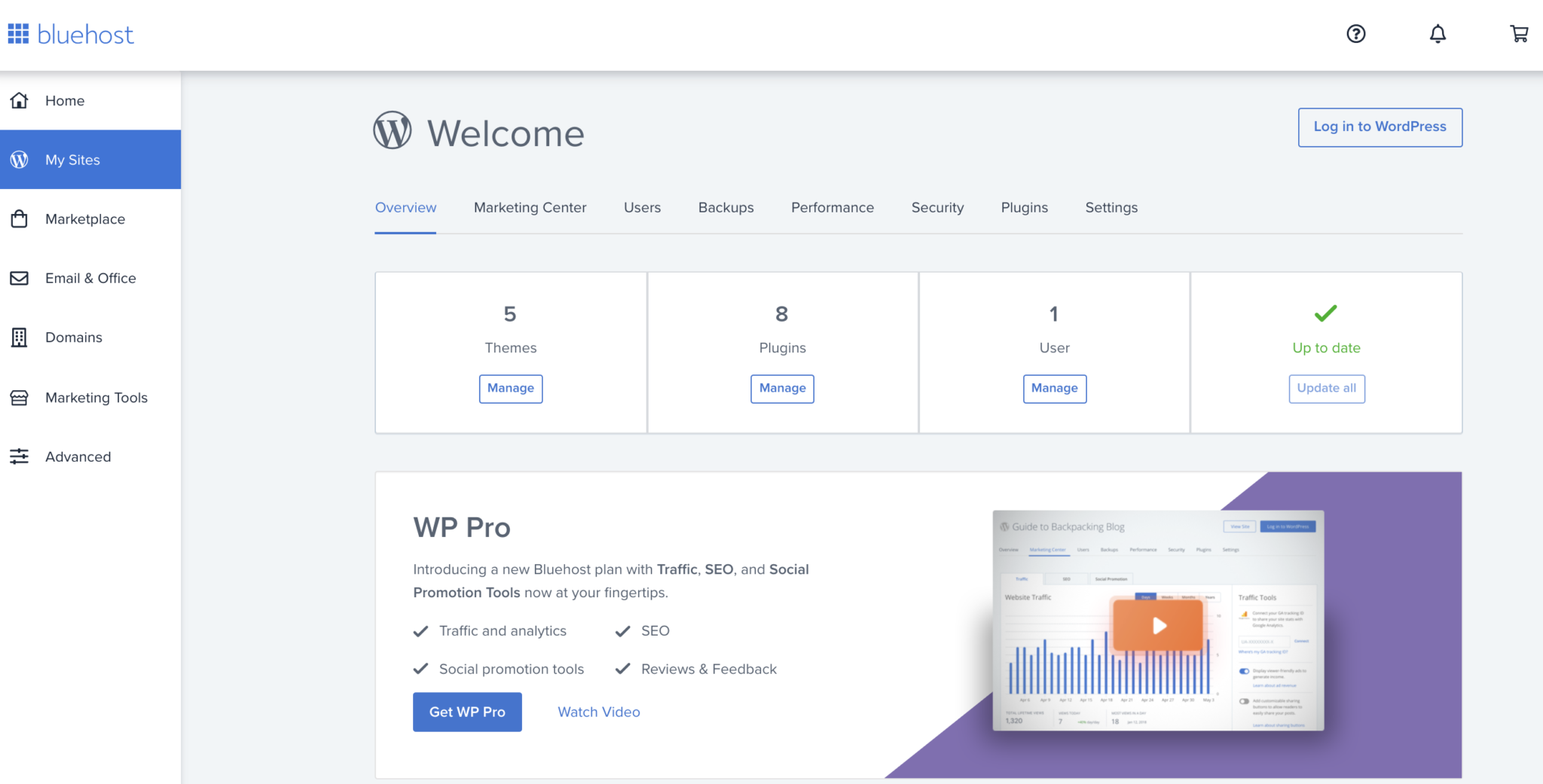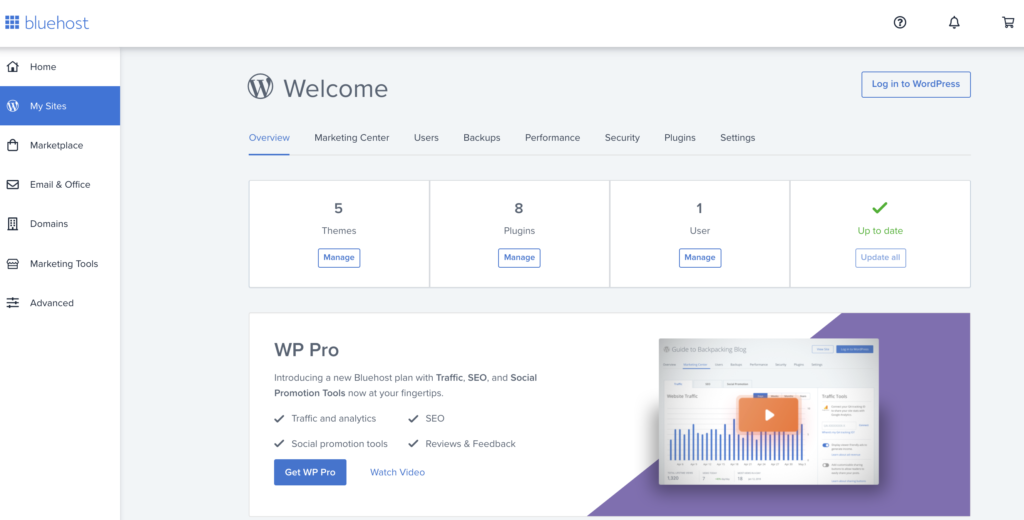 You can access the Bluehost control panel by logging into your Bluehost account. You can access your databases, domains, files, logs, emails, and the various CMS platforms right from the control panel.
2. CDN
A CDN can largely enhance your site's performance by delivering your site content from multiple global locations using various advanced technologies such as minification and caching.
Both Hostinger and Bluehost use Cloudflare CDN and offer it for free on all plans. Cloudflare CDN comes with advantages of features such as reverse-proxy, auto minification, and over 152 global locations.
3. Backups
Website files need to be backed up daily to avoid losing them out of any server or network issues. This is where the automated daily backup comes into play. Hostinger has the daily backup feature only on the Business Web Hosting.
Hostinger has only weekly backups on the lower plans. Using a lower plan, you may consider using a free WordPress backup plugin like UpdraftPlus.
Bluehost doesn't have an automated daily backup on all the plans and offers it only on the Choice Plus and Pro plans. Precisely, Choice Plus comes with only one year of free automated backup. If you are using a low-tier plan, you can get the Bluehost CodeGuard add-on for an extra cost.
4. Staging sites
Staging is creating a test site by copying the production site for testing purposes, and the process also involves deploying the important changes to the production site. Hostinger doesn't have the staging feature on any of its plans. However, you can create a staging site manually by creating a subdomain and uploading the site files and database to the subdomain.
Staging is pretty straightforward in Bluehost, and the feature is available for free on all the plans. Customers can clone a live site right from the WordPress dashboard by going to the Bluehost option and selecting the Staging option. After you clone a site and finish testing, you can deploy the important changes seamlessly by clicking on deploy all changes.
5. Security
As far as security goes, both the services are pretty reliable, and over the years, both have maintained a pretty good track record in terms of security. If we look into Hostinger's security, it is server-based and comprises Apache mod_security, Suhosin PHP hardening, PHP open_basedir protection, etc.
Bluehost security comprises resource protection, traffic encryption, expert monitoring, and automated malware scanning. For better security, you can get the paid security add-ons such as SiteLock, and Domain Privacy.
6.Support
You can't rule out the significance of a good support system in a web hosting service. There are times when you may run into some technical difficulties, and at times like these, a good support service can be the greatest relief.
Hostinger has a good support team with knowledgeable and friendly executives, which has done a remarkable job of assisting the customers through 24×7 live chat and email. Bluehost also has a very reliable support team in place and offers excellent assistance through 24×7 live chat, phone, and ticketing.
Conclusion
I tried to present you with a clear picture of Hostinger Vs. Bluehost by explaining all the important aspects of the two services. I am sure you have a decent understanding of the two services after reading this post.
Performance-wise, both the services are pretty reliable. Hostinger uses SSD storage and LiteSpeed Web Servers. Bluehost uses technologies such as SSD storage, CDN, and resource protection to enhance server response time.
However, both services have certain advantages over each other in some places. For example, Hostinger doesn't come with the staging feature, while the staging feature is free on all the Bluehost plans. Further, staging in Bluehost is ridiculously simple.
Hostinger has the advantage of having more data center locations than Bluehost. Besides, Hostinger is also much more affordable. However, a lot depends on your project requirement, and you can choose any of the services depending on your project requirement.