Cloudways Vs WP Engine 2022: Which WordPress Host is Fast & Reliable?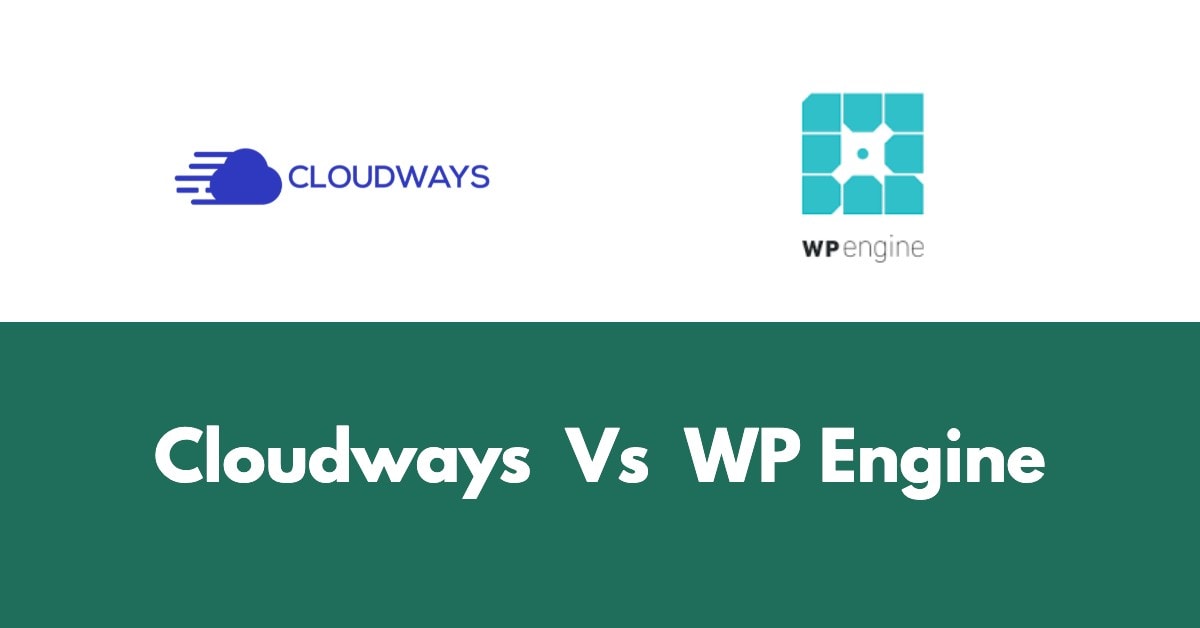 In this post, Cloudways Vs. WP Engine is compared. Both Cloudways and WP Engine are tested by launching a demo site, and here is what I found out.
Cloudways vs. WP Engine
Cloudways is an excellent managed Cloud Hosting Platform with the prime focus on helping businesses with unmatched performance, reliability, and choice. Over the years, Cloudways has done a commendable job of helping many agencies and eCommerce businesses worldwide.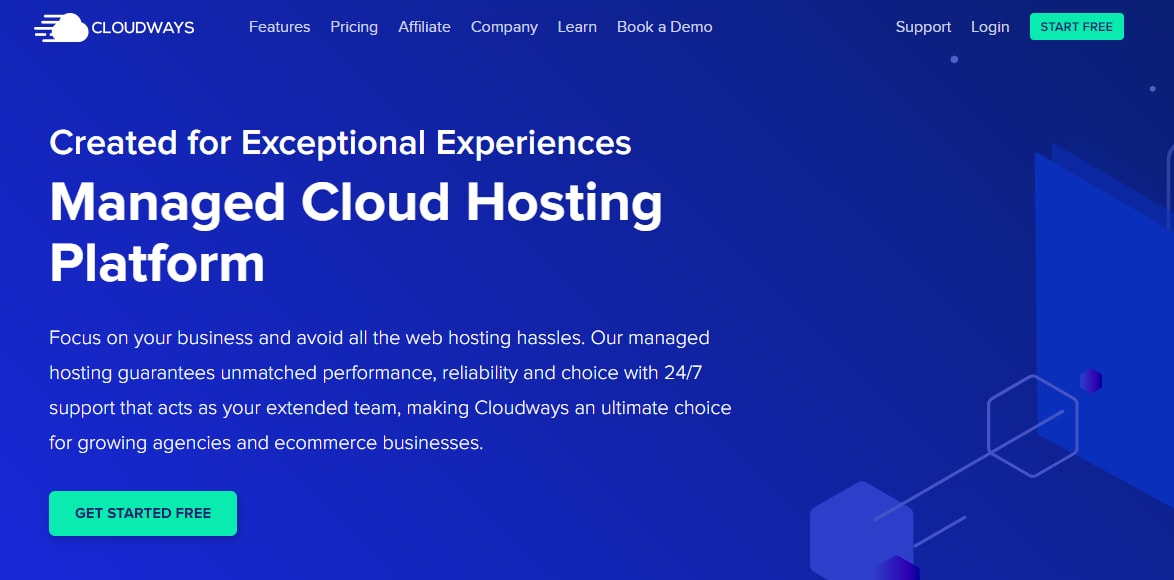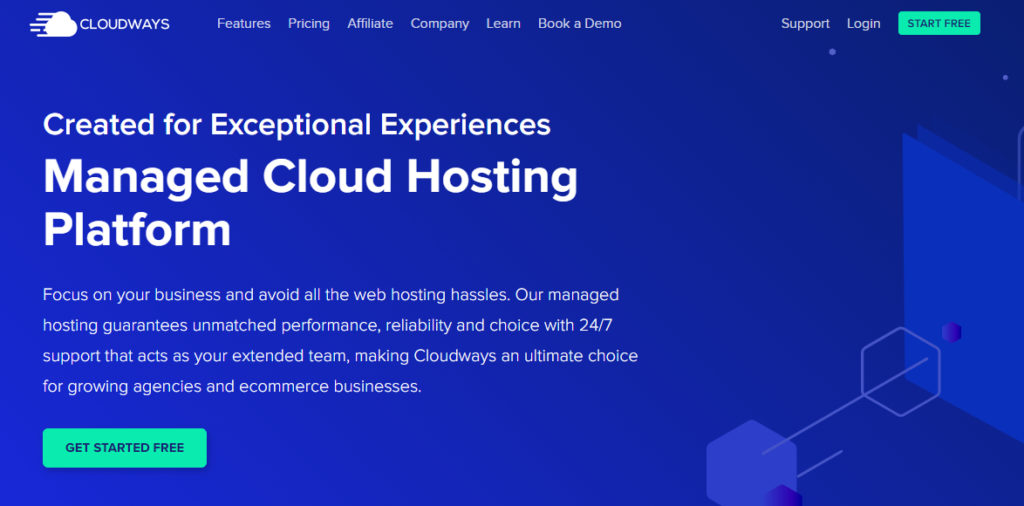 WP Engine is a top-rated managed WordPress hosting service that provides businesses of all sizes with a speedy and reliable hosting experience. WP Engine has supported many small businesses, creative agencies, and enterprise brands in its journey.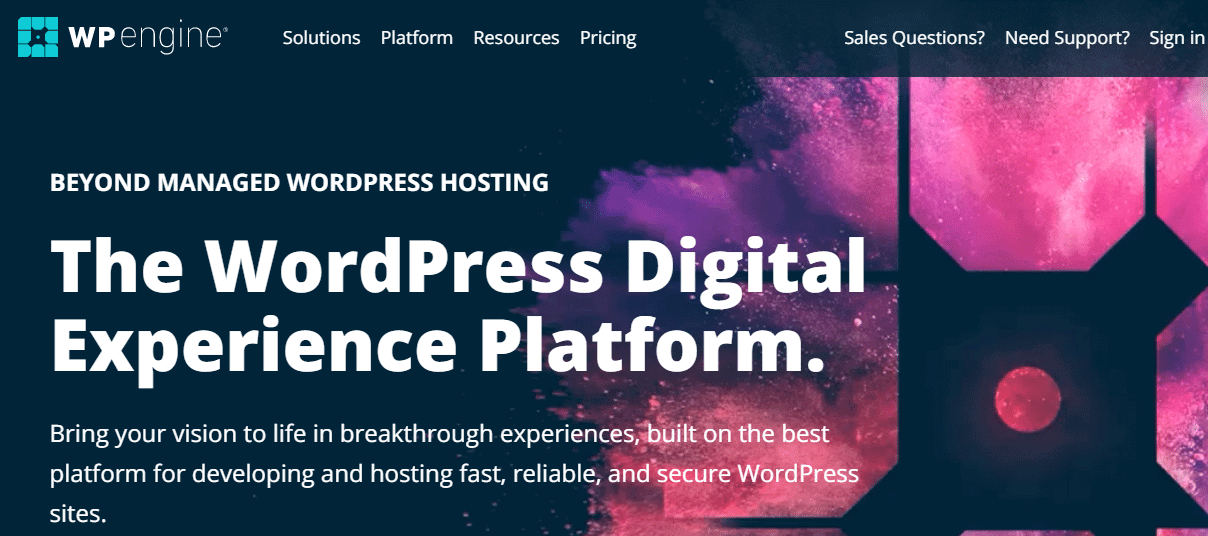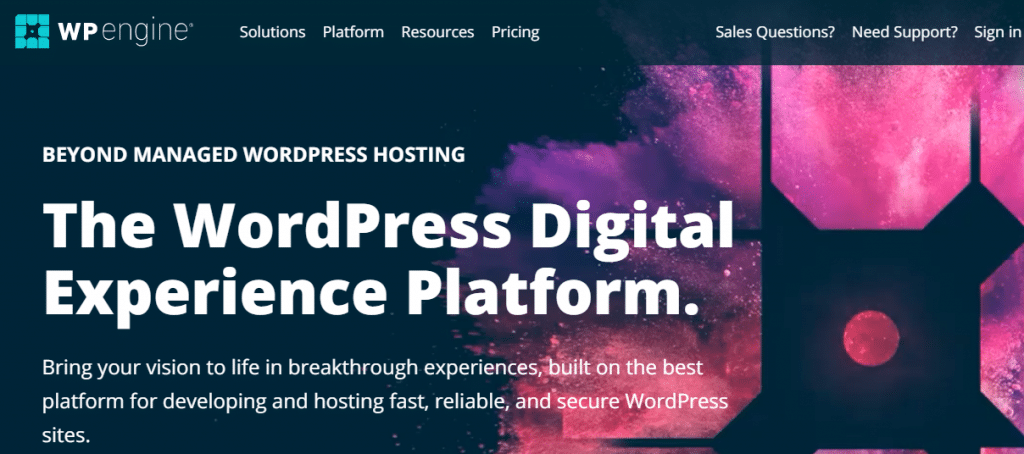 I have done in-depth research on both the hosting services, spending hours, and in this post, I will walk you through all the important aspects of both hosting services. By the end of this post, you should be able to choose between the two, based on your requirements.
Cloudways vs. WP Engine: Pricing
Cloudways is one of those hosting companies that offer customers a lot of choice and flexibility, which largely reflects on its plans and pricing. The provider has suitable plans for all types of customers and has 11 different plans based on RAM, Processor, Storage, and Bandwidth. Now, let us look at some of the popular Cloudways plans:
DO1GB: $10 per month, 1GB RAM, 1Core, 25GB Storage, 1TB Bandwidth
DO2GB: $22 per month, 2GB RAM, 1Core, 50GB Storage, 2TB Bandwidth
DO4GB: $42 per month, 4GB RAM, 2Core, 80GB Storage, 4TB Bandwidth
DO8GB: $80 per month, 8GB RAM, 4Core, 160GB Storage, 5TB Bandwidth
DO16GB: $135 per month, 8GB RAM, 6Core, 320GB Storage, 6TB Bandwidth
Several important features are common in all the plans, and they are:
24/7/365 Support
Free SSL
CDN Add-on
Free Migration
Unlimited Application Installation
Dedicated Firewalls
24/7 Real-time Monitoring
Automated Backups
Staging Environment
Optimized With Advanced Caches
Auto Healing
Regular Security Patching
HTTP/2 Enabled Servers
SSH and SFTP Access
Team Management
On the other hand, WP Engine doesn't have as many plans as Cloudways and offers 4 different plans based on the number of sites, local storage, and bandwidth. However, WP Engine also provides customers with the option to have a customized plan by contacting the sales team.
StartUp: $25 per month, 1 site, 25000 visits, 10GB local storage, and 50GB bandwidth
Professional:$49 per month, 3 sites, 75000 visits, 15GB local storage, and 125GB bandwidth
Growth: $95 per month, 10 sites, 1,00,000 visits, 20GB local storage, and 200GB bandwidth
Scale: $241 per month, 30 sites, 4,00,000 visits, 50GB local storage, and 500GB bandwidth
All the WP Engine plans have these features in common:
24/7 support
30+ premium themes
Free automated migrations
Daily backups
Free SSL and SSH
Advanced security
One-click staging site
Faster site speed with website caching
Threat detection & blocking
Site content in the cloud (CDN)
Handoff to clients with transferable sites
Activity log & user permissions
Page performance monitoring
Local developer tools
SSH access with WP-CLI, MySQL, and bash
GIT & SFTP connections
Multi-factor password authentication
Up-to-date PHP
Cloudways vs WP Engine: Data Center Locations
Cloudways is partnered with 5 Cloud providers comprising DigitalOcean, AWS, Google Cloud, Vultr, and Linode, which gives it the advantage of having over 65 data center locations across Europe, the USA, and Asia.
WP Engine has tie-ups with Google Cloud and AWS. This helps the provider provide the customers with different server locations across Europe, the USA, and Asia to select from. Hence, both Cloudways and WP Engine allow customers to choose the closest server location to their global audience.
Cloudways vs WP Engine: Performance
1. Server Response Time
Average server response time is a very crucial factor when it comes to performance. I tested and recorded the average response time of the two services. While my Cloudways site reflected an average server response time of 309 ms, my WP Engine site recorded an average server response time of 374 ms. Hence, Cloudways gets a leading edge over WP Engine in terms of average server response time.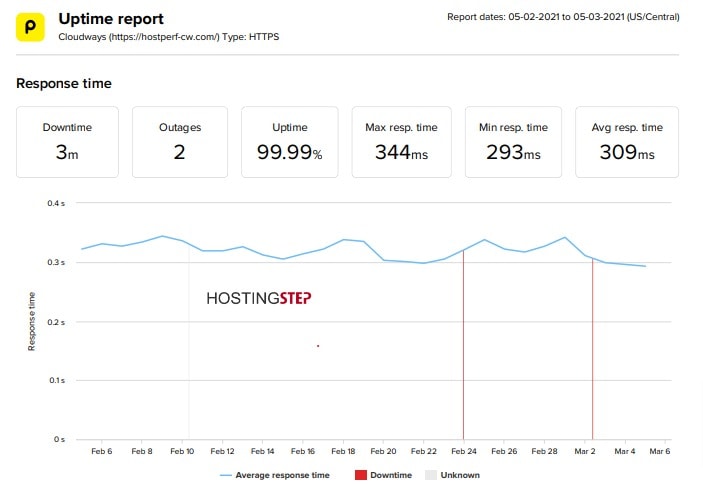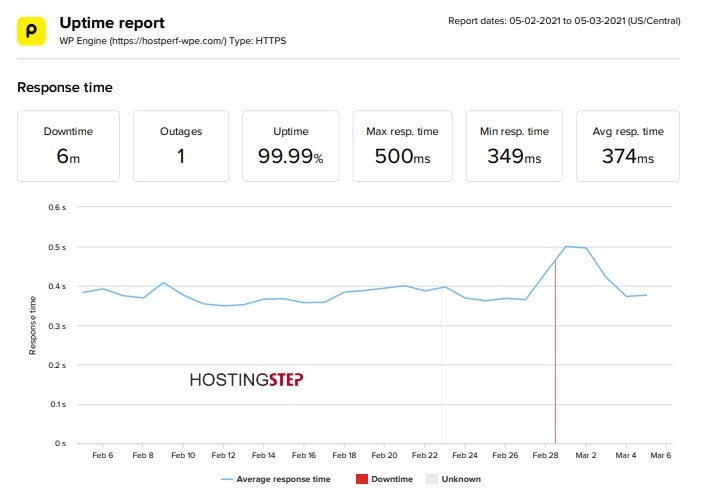 Based on our independent test, Cloudways is one of the Fastest WordPress hosting services along with Templ hosting. I looked into the features that were helping the Cloudways average server response time, and there are advanced features such as Optimized Stack, Built-in CDN, and PHP 7.3 Ready Servers. WP Engine also has some advanced performance-optimized features such as PHP 7.4, HTTP/2, and the Proprietary EverCache.
2. Uptime
The next important factor to check is the uptime, and without a reliable uptime, no website can ever succeed. I tested the two hosting services over months continuously and closely monitored their uptime. Both Cloudways and WP Engine recorded 99.99% uptime with some minimal downtime. Thus both the hosts are good in terms of uptime.
3. Load Testing
Another brilliant way to test performance is Load testing. As I performed the '1000 clients in 1 minute' test, my Cloudways site had a response time of 10 ms and my WP Engine site had a response time of 40 ms. Hence, you can see that Cloudways has done better than WP Engine.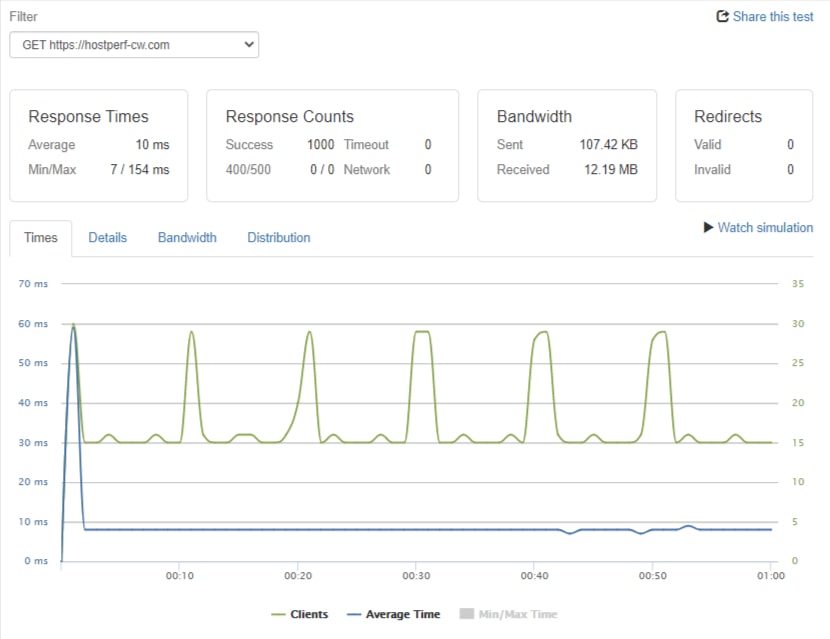 Modified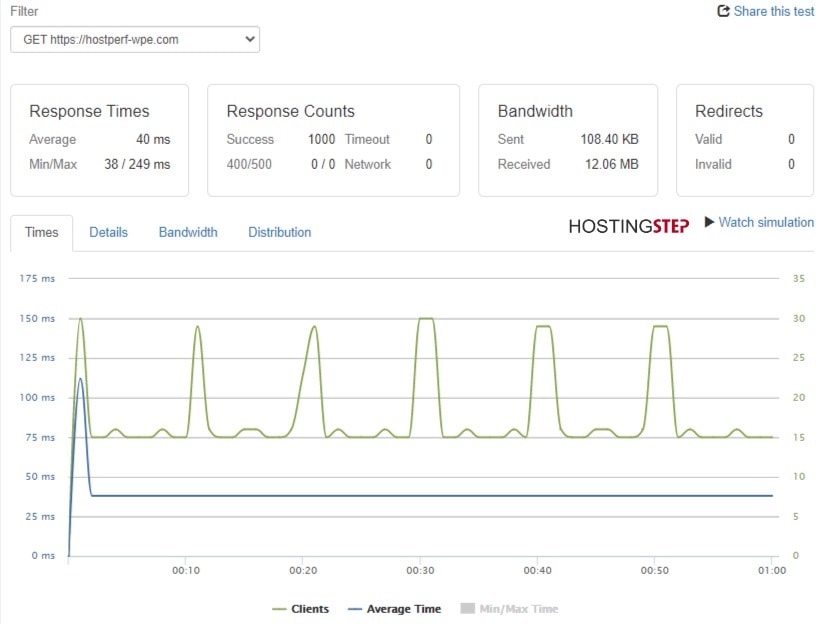 Original
4. Global TTFB
Next, I checked the Global TTFB of the two services across 10 global locations by pinging my sites from each of the global locations. WP Engine had good TTFB in Frankfurt, Amsterdam, London, New York, Dallas, and San Francisco.
Cloudways had a comparatively better TTFB than WP Engine in all the 10 global locations and had impressive TTFB in Frankfurt, Amsterdam, London, New York, Dallas, and San Francisco.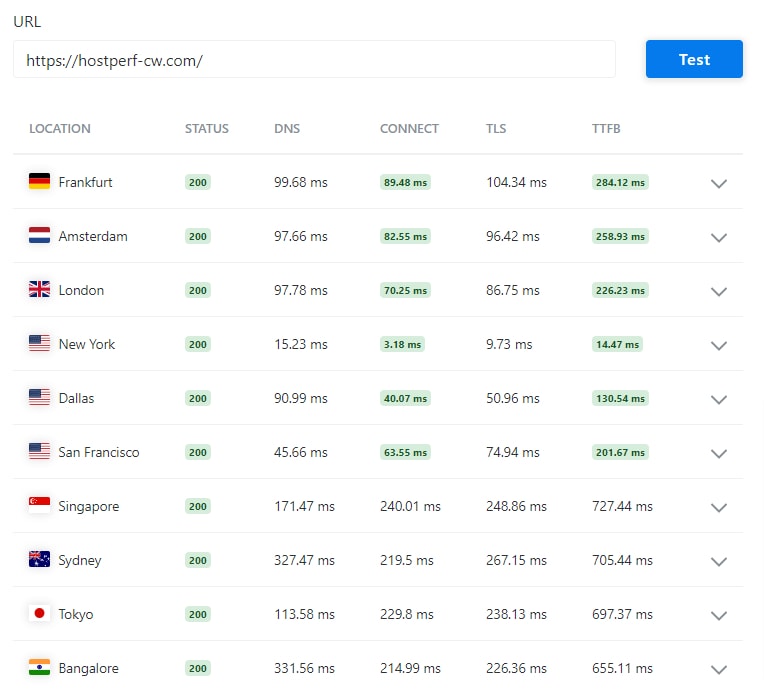 Modified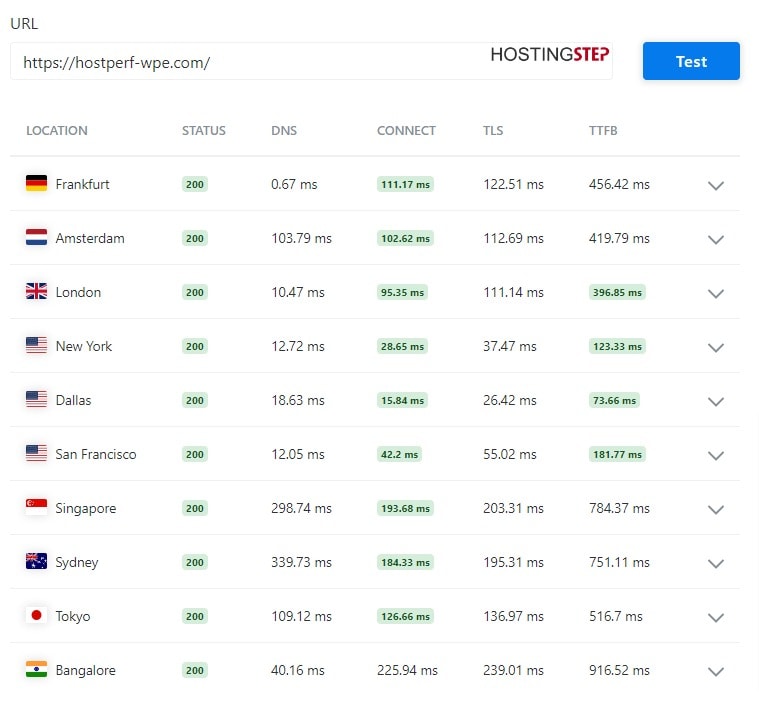 Original
Core Web Vitals
Testing the Core Web Vitals is undoubtedly essential to provide users with a good user experience in all aspects. As I tested the Core Web Vitals of the two services, my WP Engine site recorded a 'Largest Contentful Paint' of 0.737 s, Total Blocking Time of 0 ms, and Cumulative Layout Shift of 0, and interestingly, my Cloudways site had the LCP of 0.583 s, Total Blocking Time of 0 ms and CLS of 0.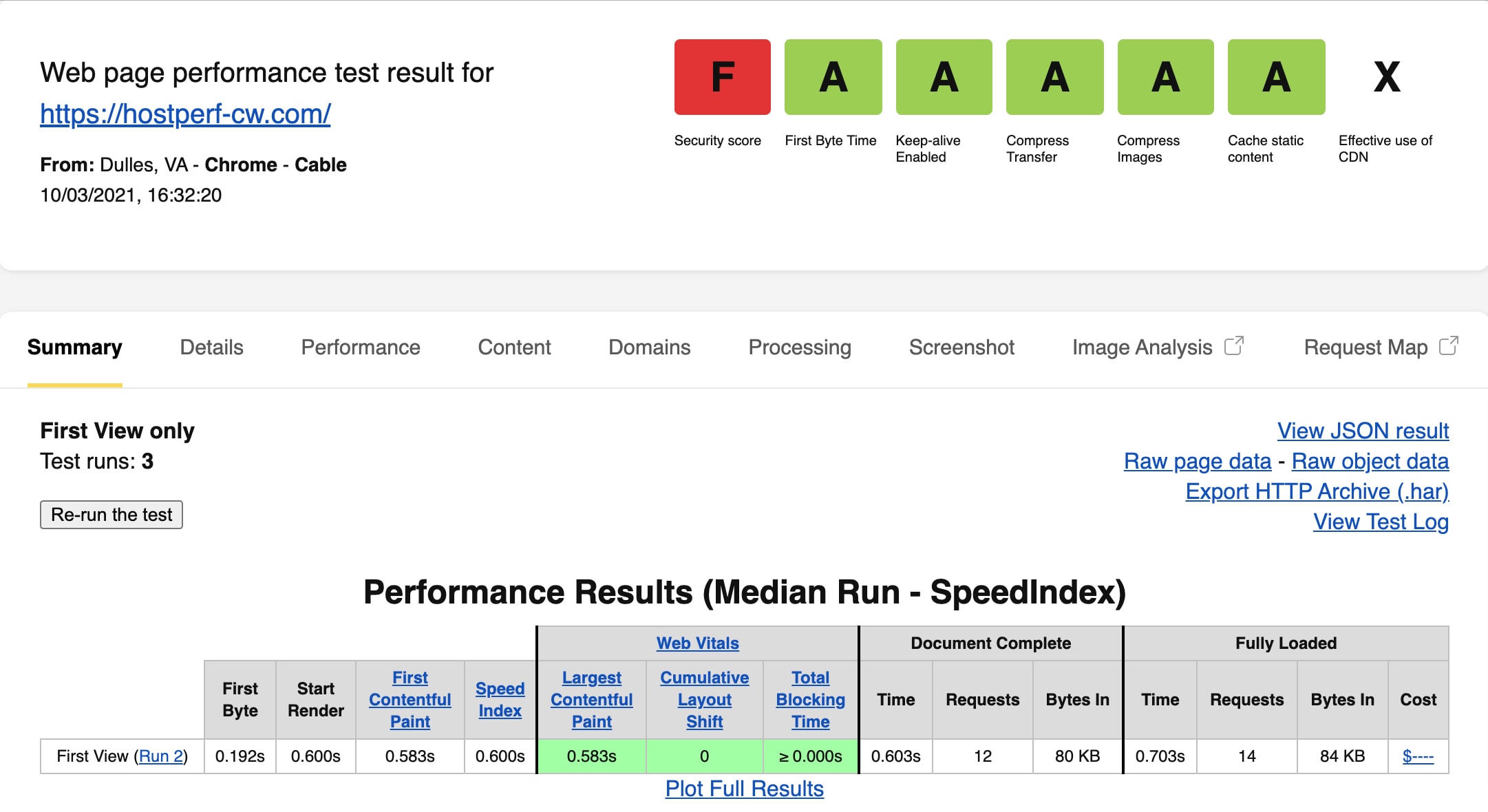 Modified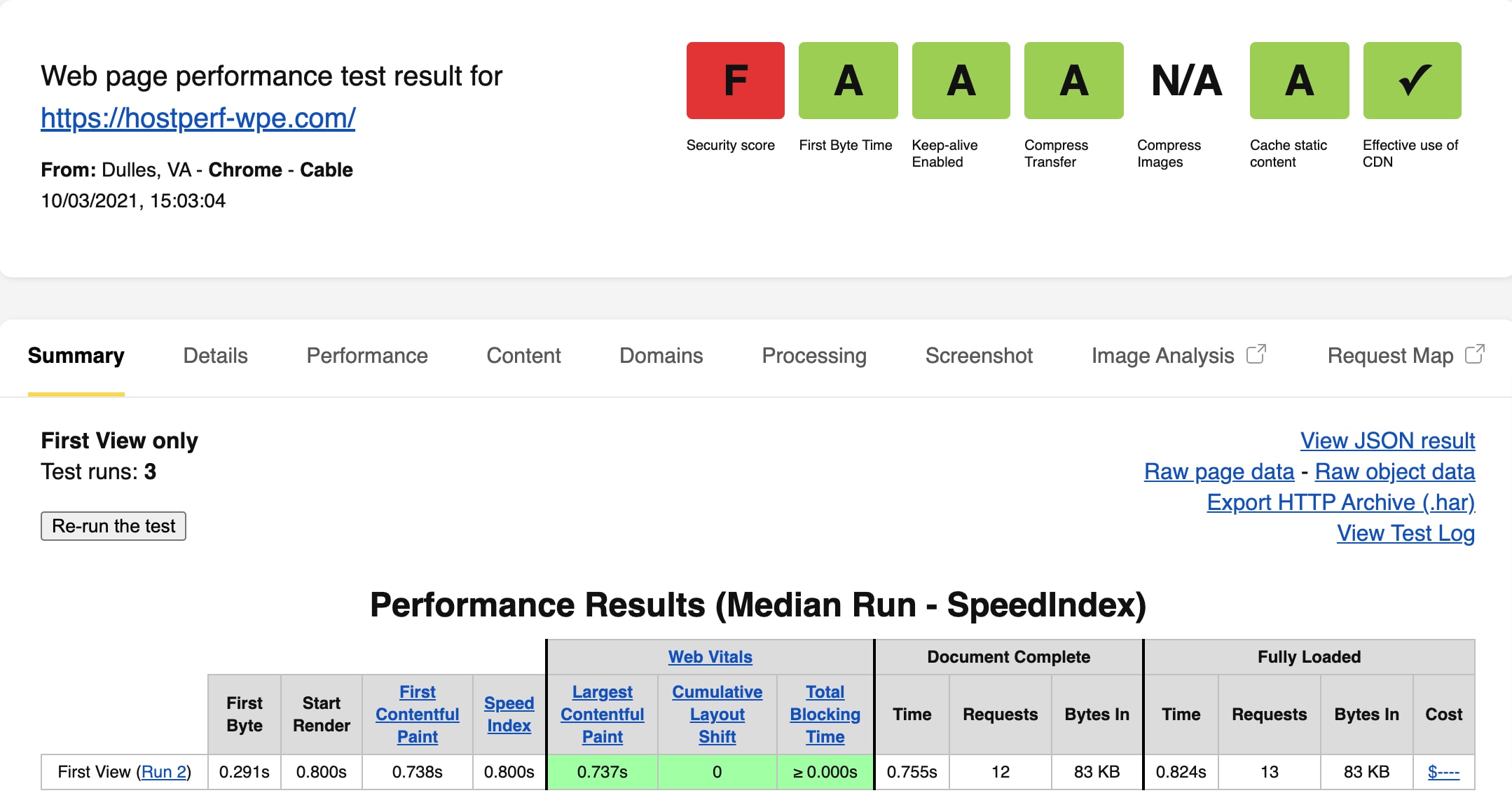 Original
Cloudways vs. WP Engine: Features
1. Control Panel
As far as the control panel goes, both Cloudways and WP Engine come with their custom control panels. Cloudways control panel has all the features you would usually have on cPanel or Plesk, such as SSH/CLI access, API, DNS manager, Server logs, and GIT integration.
However, the Cloudways control panel is much straightforward and less cluttered. Besides, it comes with server monitoring, a Free built-in cache plugin, 1-Click CDN, server cloning, staging URL, team collaboration, and much more than what cPanel or Plesk has.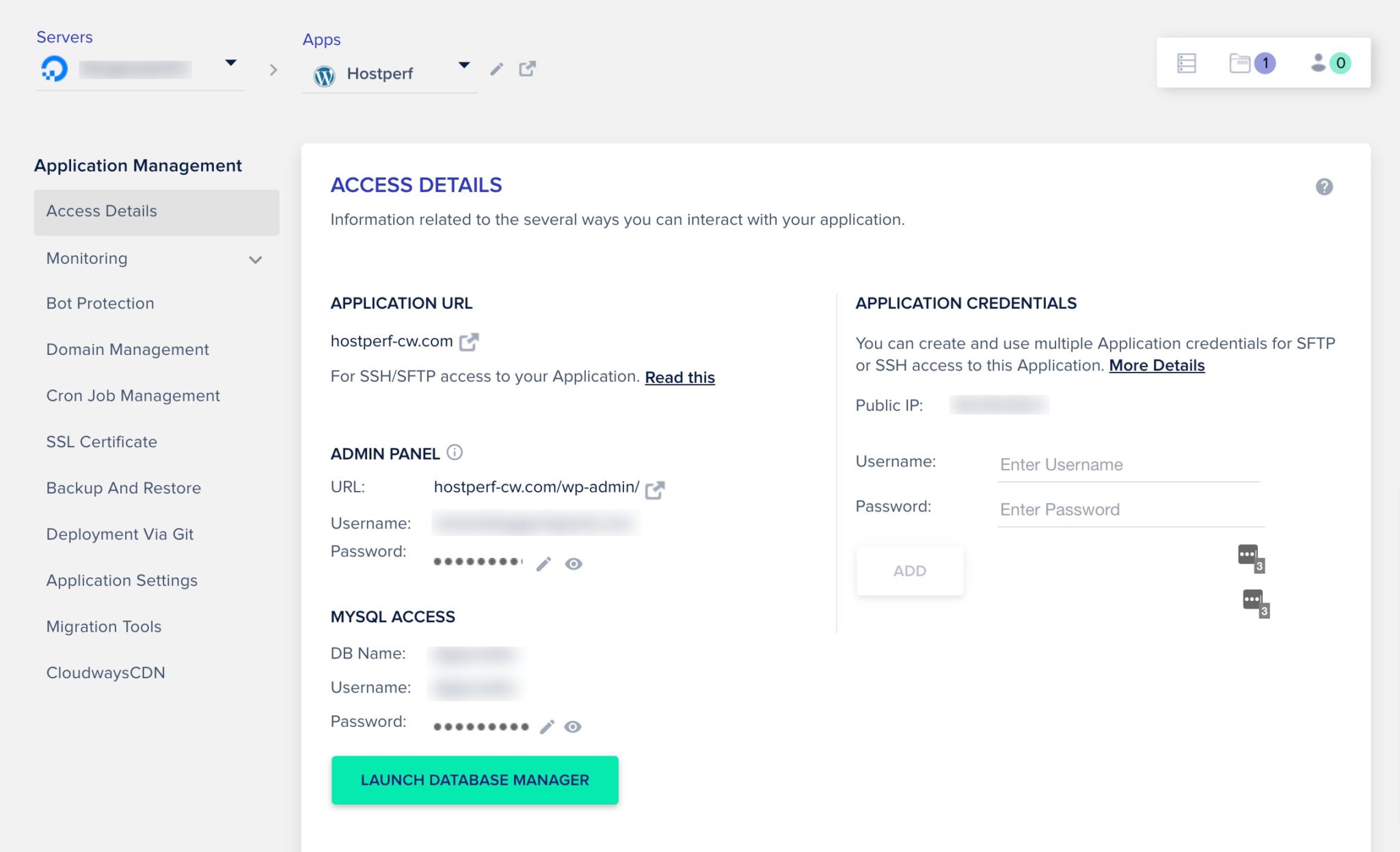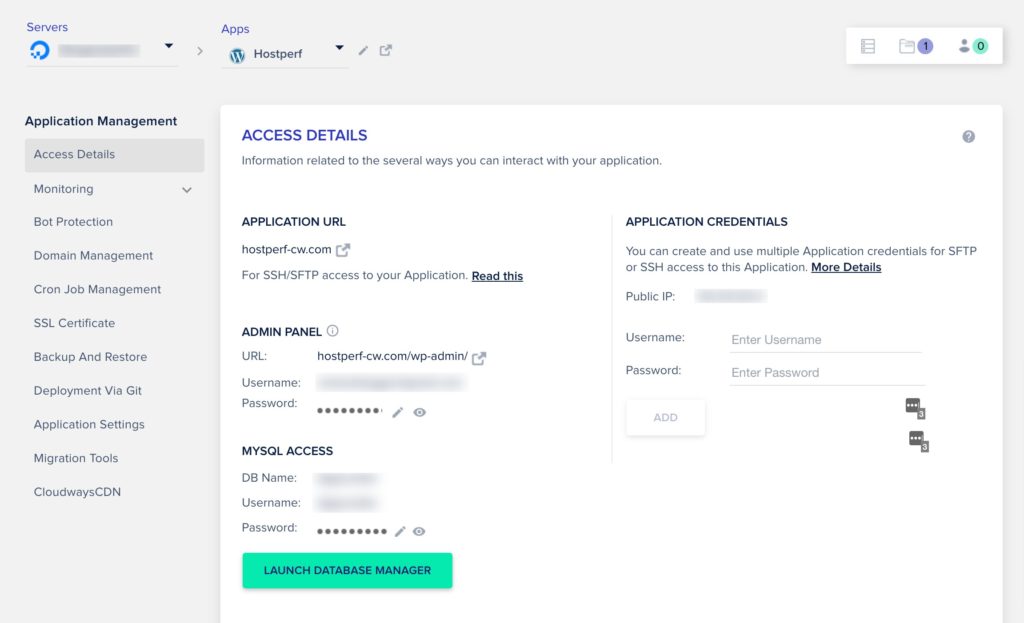 WP Engine has a User Portal, which you can access using the URL, https://my.wpengine.com/, and this is the section wherein you can manage your sites, access SFTP login details, database, create sites and environments, and view billing details.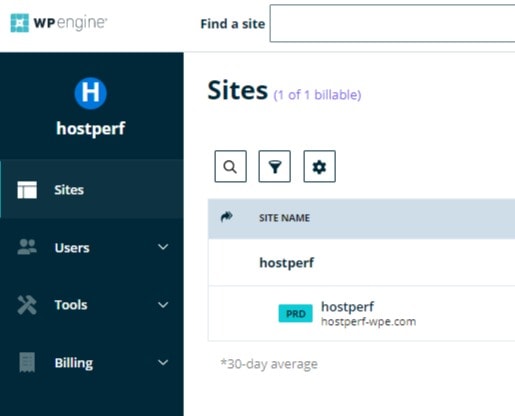 The section includes collapsible navigation. The user portal provides you with user management, tools, billing details, support, CDN, Git push, Site Migration, and various environment stats. Compared with cPanel or Plesk, WP Engine's user portal is certainly much more comprehensive. To me, both hosts have equally good custom control panels.
2. CDN
Cloudways has its in-built CDN for faster performance and a wider audience. Setting up the CDN takes just about a few clicks. The CDN can drastically improve the response times. You can get the Premium Cloudways CDN for as low as $1 per 25GB.
WP Engine uses StackPath and offers it for free on all the plans. The CDN caches the static content like CSS, JS and image. Then serves it to your audience. You can enable the CDN from the user portal.
3. Backups
Cloudways provides customers with automated backups to an external storage network, and most importantly, the backup system is incremental. However, you have to bear in mind that Cloudways has no free backup system, and it charges $0.33 per GB for backups.
WP Engine, on the other hand, offers free automated daily backups on all plans. Further, the host has the ideal backup system for all environments, from production, staging to development.
The host stores the backups offsite on Amazon S3 and encrypts them in transit. As far as restoring backups are concerned, you get 40 backup points for restoring in the user portal. The best part is you can contact the support and request 60 most recent backup points. 'Backup and restore' is pretty seamless in WP Engine, giving WP Engine a leading edge over Cloudways.
4. Staging sites
Staging or creating a clone of the production site for testing purposes is ridiculously simple in Cloudways since it offers a free one-click staging environment for all applications. WP Engine offers you One-Click Staging as well for testing various changes without hampering the live site. After you are done, you can easily push the changes to the production site.
I tested the level of technical expertise required to create a staging site on both platforms by creating a staging site with both services. I found creating a staging site with WP Engine comparatively easier than catering one with Cloudways.
5. Security
When it comes to security, Cloudways has a pretty tight security system in place with dedicated firewalls, Let's Encrypt SSL, IP Whitelisting, Regular Security Patching, Two-Factor Authentication, Bot Protection against DoS, and brute force.
Security in WP Engine is equally robust, backed by code reviews and security audits of all internal environments, managed core updates and patches, Multi-Factor Authentication, Traffic Encryption with SSL, Threat Detection & Blocking, and Disaster Recovery.
Cloudways vs. WP Engine: Support
Cloudways offers a very reliable support service through 24×7 live chat and ticketing alongside a comprehensive knowledge base for a quick reference. Besides, it also offers advanced and premium support which you could get for an additional charge. With paid support, you can have faster assistance. Cloudways also offers a private Slack channel and phone support in the Premium add-on.
WP Engine support team is ranked among the best support teams in the industry and has maintained a brilliant track record so far. Most importantly, the team consists of WordPress experts, and you can rest assured of the best assistance 24×7 through live chat, email, and phone every time you run into any technical difficulty.
Conclusion
I have tested several aspects of both the hosting companies to help you get a clear picture. Cloudways offers you affordable plans to start with, but again, backup is not a free feature while it's entirely free in WP Engine. Performance-wise, Cloudways is slightly better than WP Engine. Cloudways also gives you the advantage of choosing between five cloud providers and has a huge global network.
Both the hosts come with a good custom control panel, reliable security, and support. Both allow you to create staging sites for free. However, the staging site feature in WP Engine is a little simpler than in Cloudways. If you are looking for an affordable managed WordPress solution, Cloudways can be the right service to go with. For mission-critical websites, WP Engine is surely the right service.