In this article, we'll compare Cloudways and WP Engine to help you decide which one fits your needs better.
The Cloudways Vs WP Engine comparsion will be based on 12-months performance data, pricing and support.
Let's dive in and look at these two managed WordPress hosting services.
Cloudways vs WP Engine – Introduction
Cloudways is a top-notch managed cloud hosting platform that prioritizes providing businesses with exceptional performance, reliability, and flexibility.
Over time, Cloudways has made significant improvements and has earned a reputation for being a preferred choice for many renowned agencies and eCommerce enterprises.
Additionally, bloggers looking to upgrade from shared hosting to cloud managed WordPress hosting often choose Cloudways as their first option.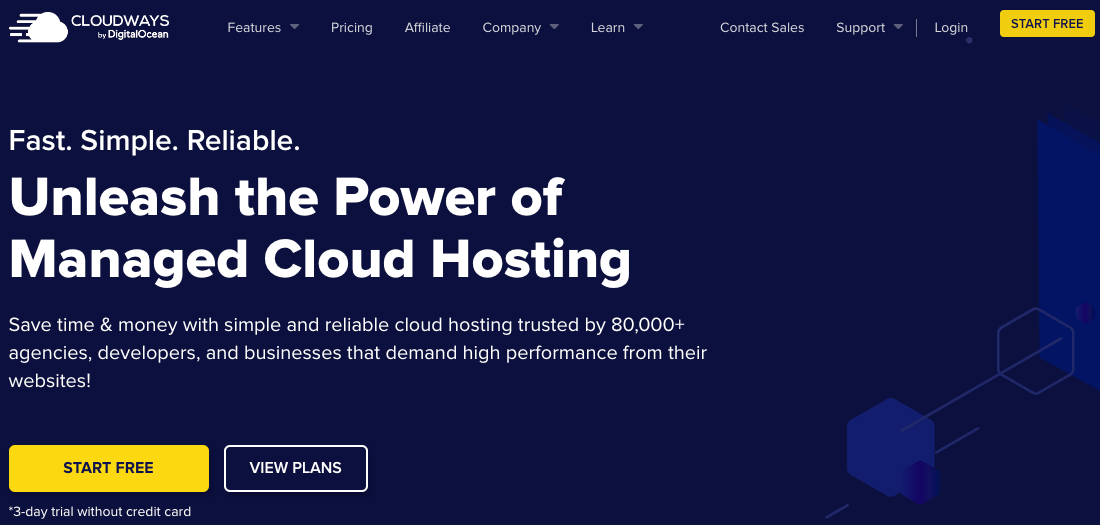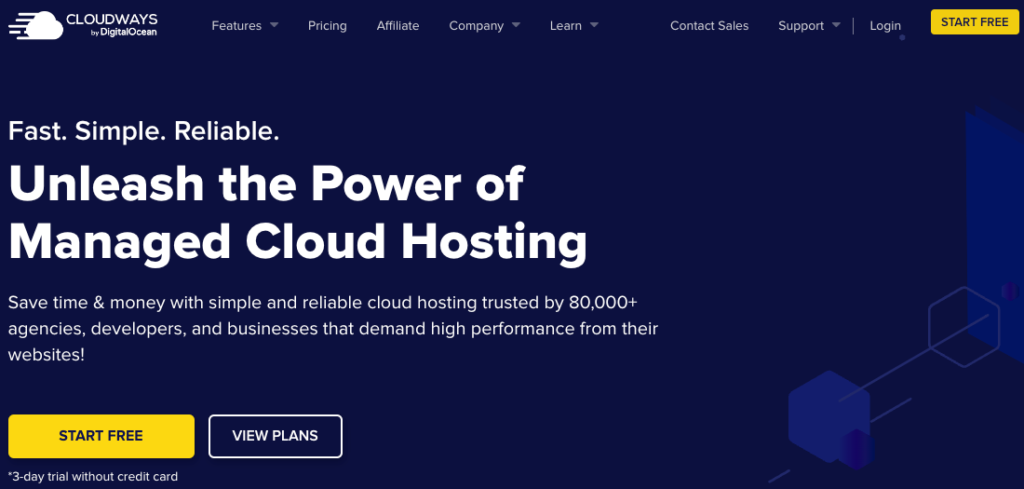 WP Engine is a renowned managed WordPress hosting service that delivers fast and dependable hosting experience to businesses of all sizes. It has assisted numerous small enterprises, creative agencies, and big brands in their journey to online success.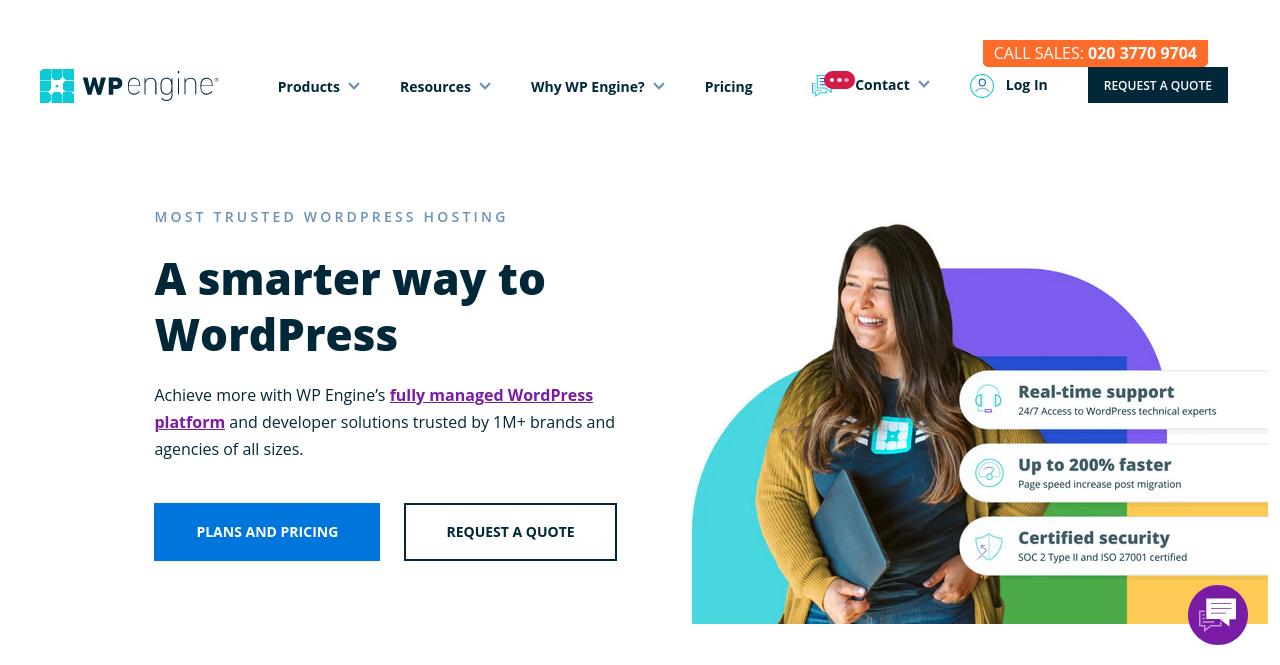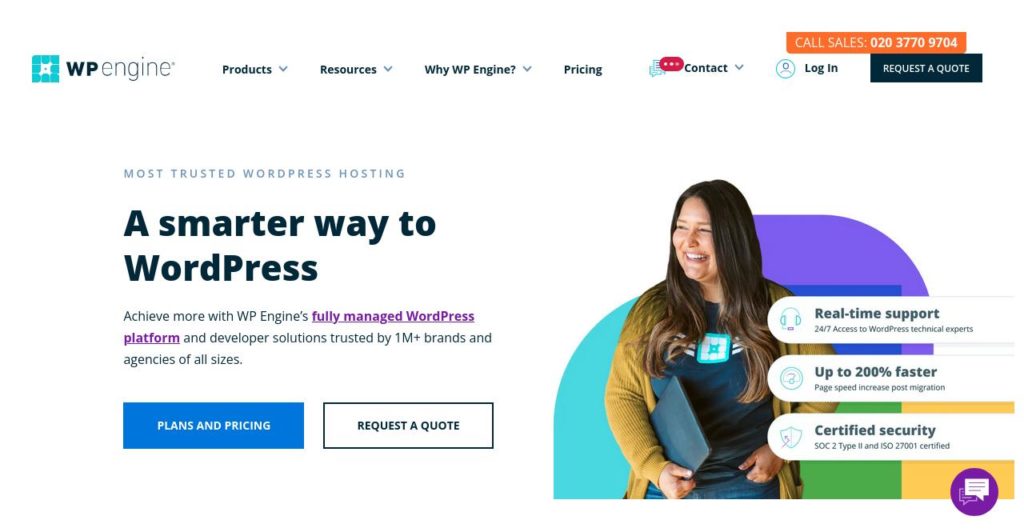 After conducting extensive research on both hosting services, I have spent countless hours analyzing and comparing their features, performance, pricing, and support.
In this article, I will guide you through all the important aspects of Cloudways and WP Engine, so that you can make an informed decision on which one is best suited for your needs.
Cloudways vs WP Engine: Performance
1. Cloudways outperforms WP Engine in TTFB
The average server response time, also known as TTFB, is a critical performance factor for any website. As a paying customer of both companies, I've been monitoring their performance for over 12 months.
My Cloudways site had an average TTFB of 303ms, while my WP Engine site had an average TTFB of 380ms. This shows that Cloudways has a faster TTFB than WP Engine.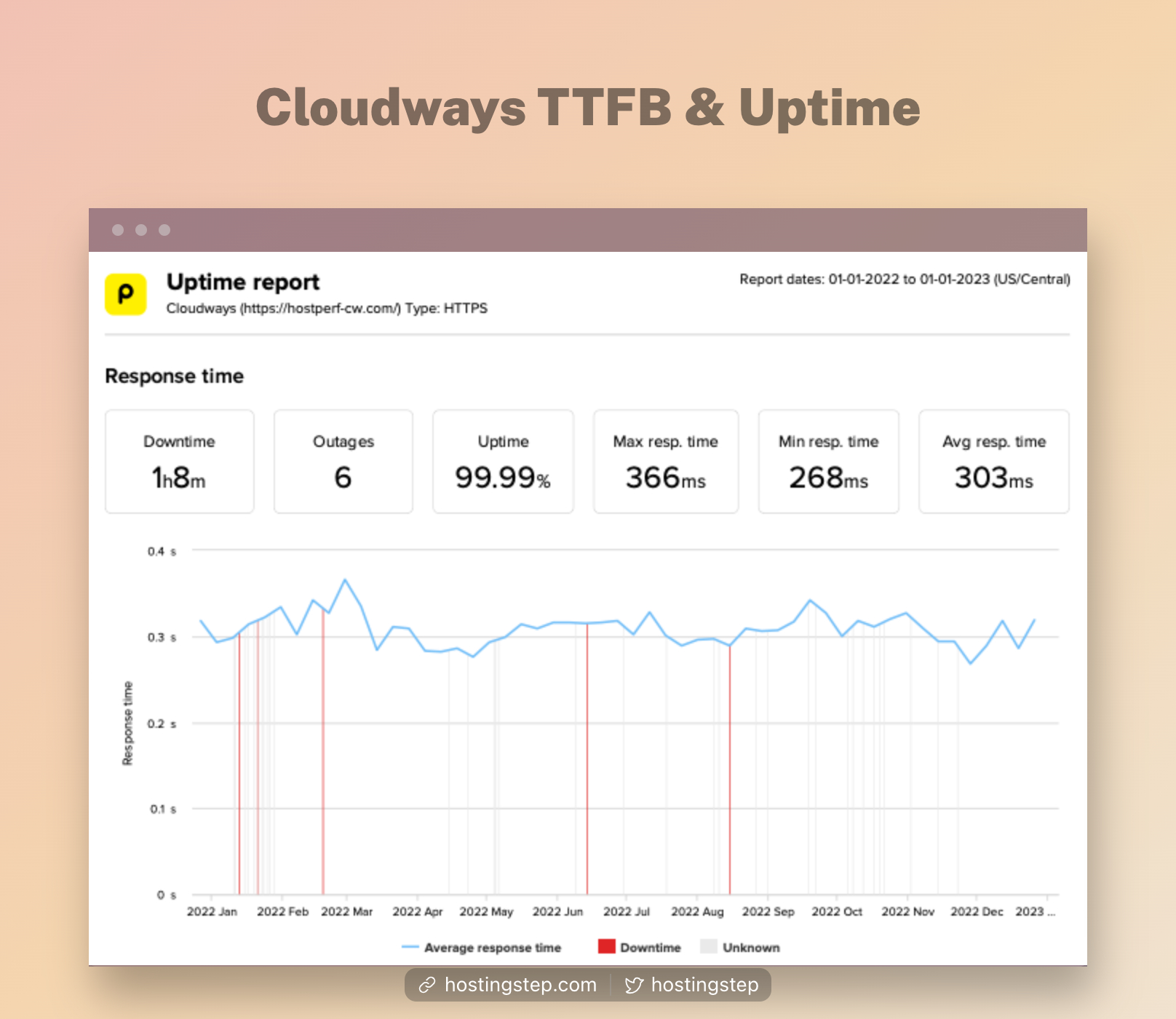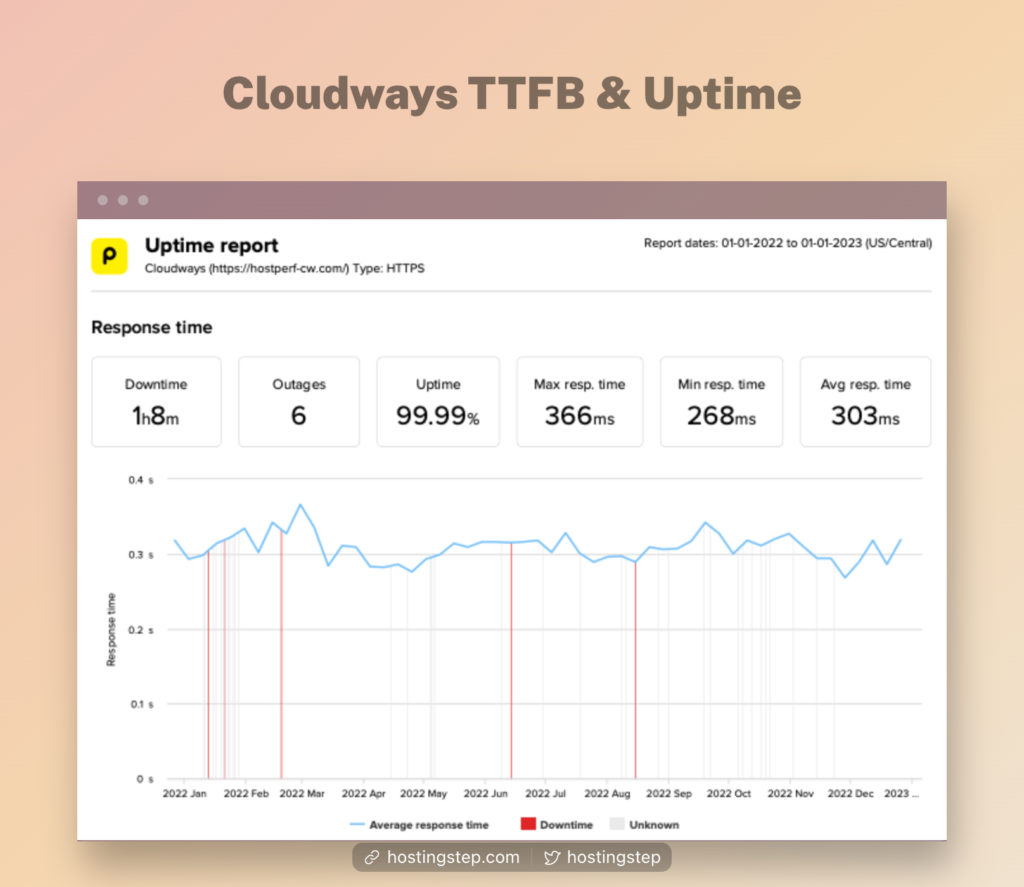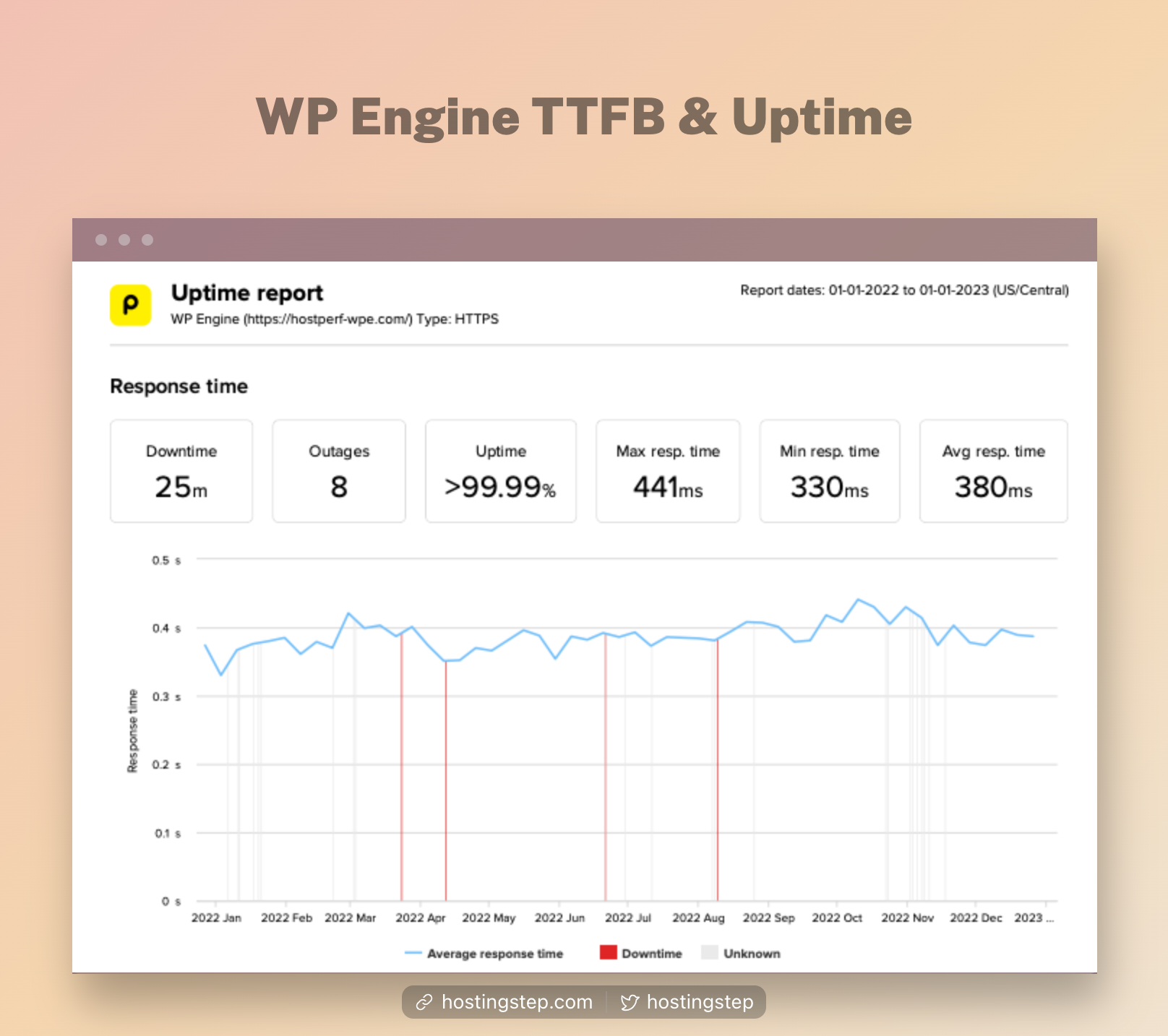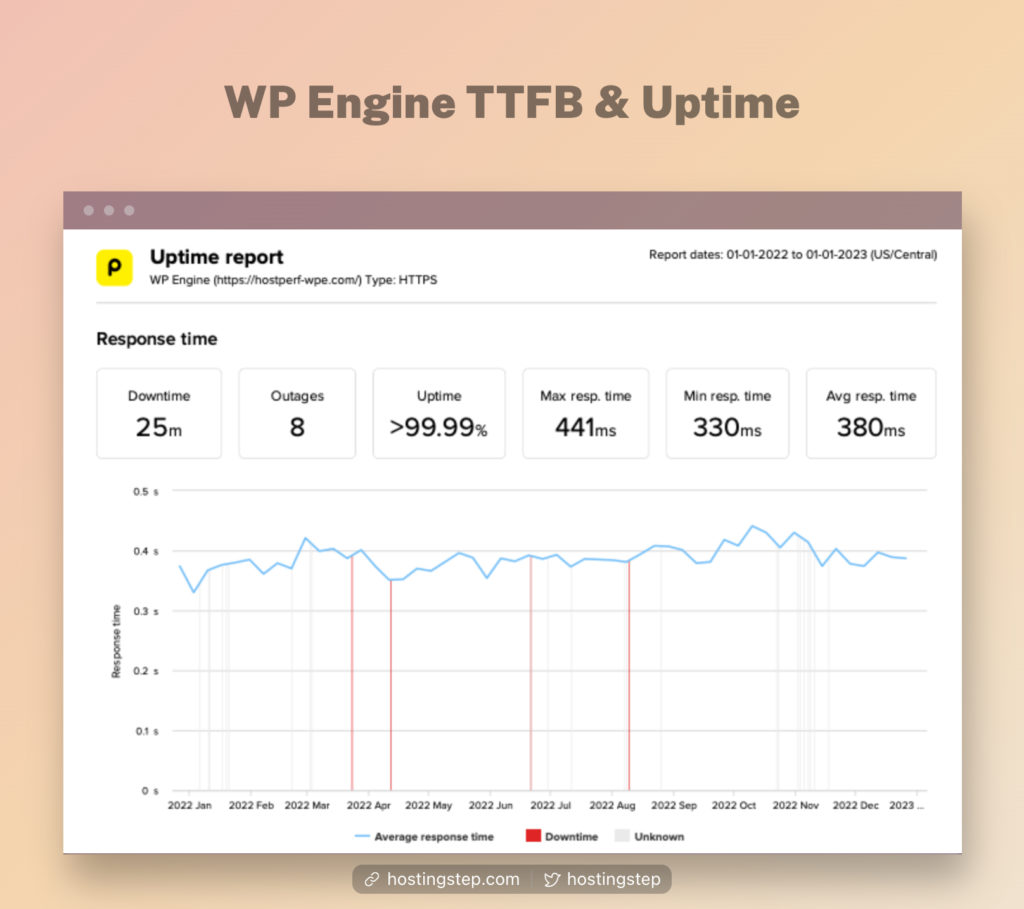 In fact, Cloudways is one of the fastest WordPress hosting services that I've tested, with a speed-optimized WordPress setup that includes backend optimizations for faster TTFB from the outset.
Winner: Cloudways
2. WP Engine has got better uptime than Cloudways
Reliable uptime is crucial for any website's success. After conducting a thorough analysis of both hosting services for 12 months, I closely monitored their uptime.
It is worth noting that both Cloudways and WP Engine demonstrated impressive uptime rates of 99.99%, with only minimal downtimes. Consequently, it can be concluded that both hosts are reliable in terms of uptime.
Winner: both.
3. Load Testing
Load testing is another great way to assess the performance of a hosting service. To do this, I sent 1000 concurrent visitors to both hosting services and monitored their response times. My Cloudways site had an impressive response time of 10ms, while my WP Engine site had a response time of 40ms. Therefore, it's clear that Cloudways outperformed WP Engine in this test.
To put it simply, Cloudways was able to handle 1000 visitors in a minute with a response time of 10ms, while WP Engine took 40ms to handle the same level of traffic. Based on our findings, Cloudways takes the lead in this category.
Winner: Cloudways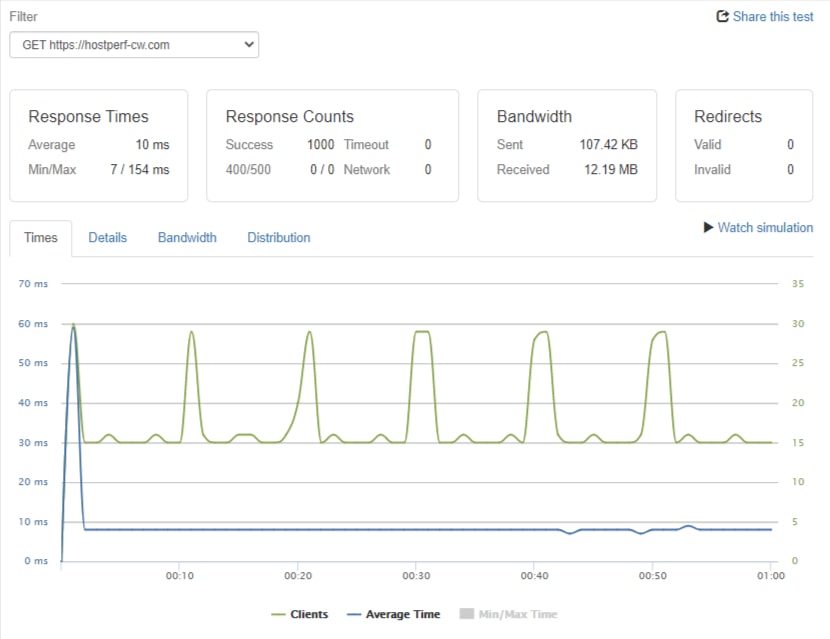 Modified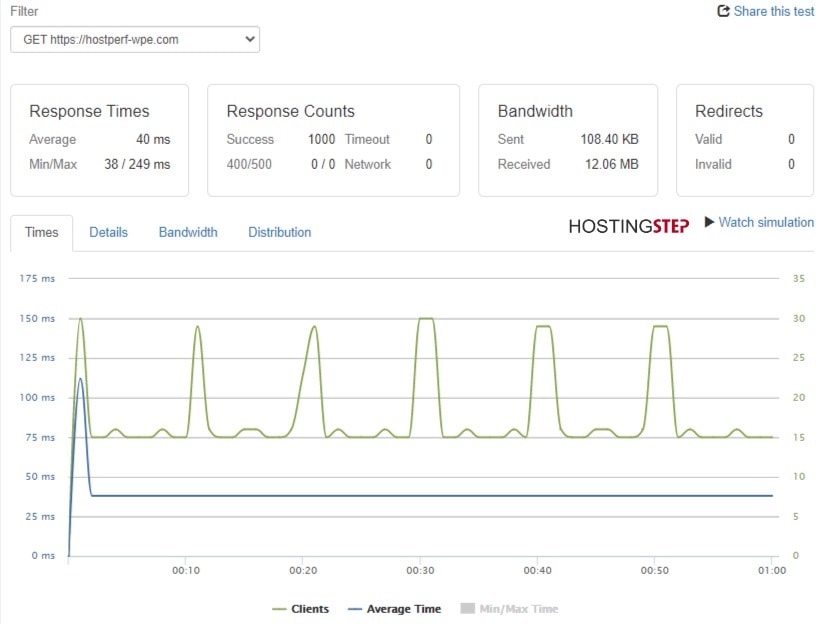 Original
4. Cloudways has better Global TTFB
To assess the performance of the two hosting services, I also checked their Global TTFB across 35 global locations by pinging my sites from each. This test is particularly helpful for websites with international traffic.
While WP Engine showed good TTFB of 637ms, Cloudways recored an even better global TTFB of 437ms. If you're picking a hosting company based on performance, Cloudways should be your choice over WP Engine.
Winner: Cloudways

Modified

Original
5. Cloudways has better Core Web Vitals Score than WP Engine
Upon testing the Core Web Vitals of both hosting services, it was found that Cloudways outperformed WP Engine.
The WP Engine site recorded a 'Largest Contentful Paint' of 635ms, a Total Blocking Time of 0 ms, and a Cumulative Layout Shift of 0. Meanwhile, the Cloudways site had a faster LCP of 468ms, 0 milliseconds of Total Blocking Time, and a CLS of 0.
This indicates that Cloudways provides better Core Web Vitals results, which is crucial for improving user experience on websites.

Modified

Original
Tip: If you see Core Web Vitals Assessment failed in WordPress, follow this guide to solve the issue.
Winner: Cloudways
WP Engine Vs. Cloudways Performance Review: When it comes to Performance, Cloudways beats WP Engine in all our tests. If you're solely looking for a host based on speed, then Cloudways is the best option to get started. Don't forget to apply Cloudways Promo Code for $25 free credits.
Cloudways vs WP Engine: Features
1. control panel
Both Cloudways and WP Engine provide their customers with custom control panels. While Cloudways' control panel includes all the standard features of cPanel or Plesk, such as SSH/CLI access, API, DNS manager, server logs, and GIT integration, it can appear cluttered and overwhelming to some users.
On the other hand, WP Engine's control panel is designed to be user-friendly and straightforward, with easy-to-navigate menus and a clean interface. Additionally, WP Engine's control panel comes with server monitoring, a free built-in cache plugin, 1-Click CDN, server cloning, staging URL, team collaboration, and other features that are not typically available on cPanel or Plesk.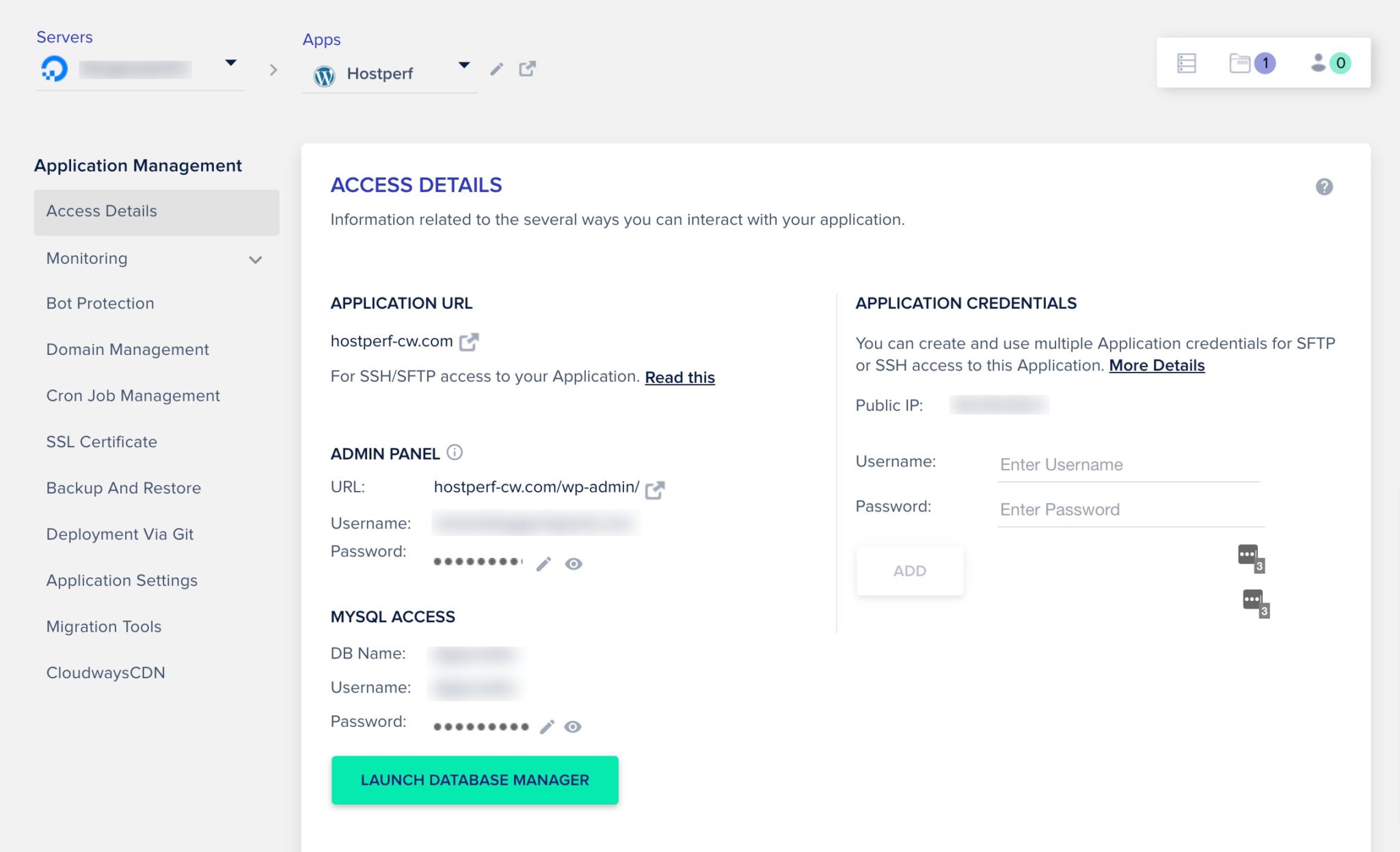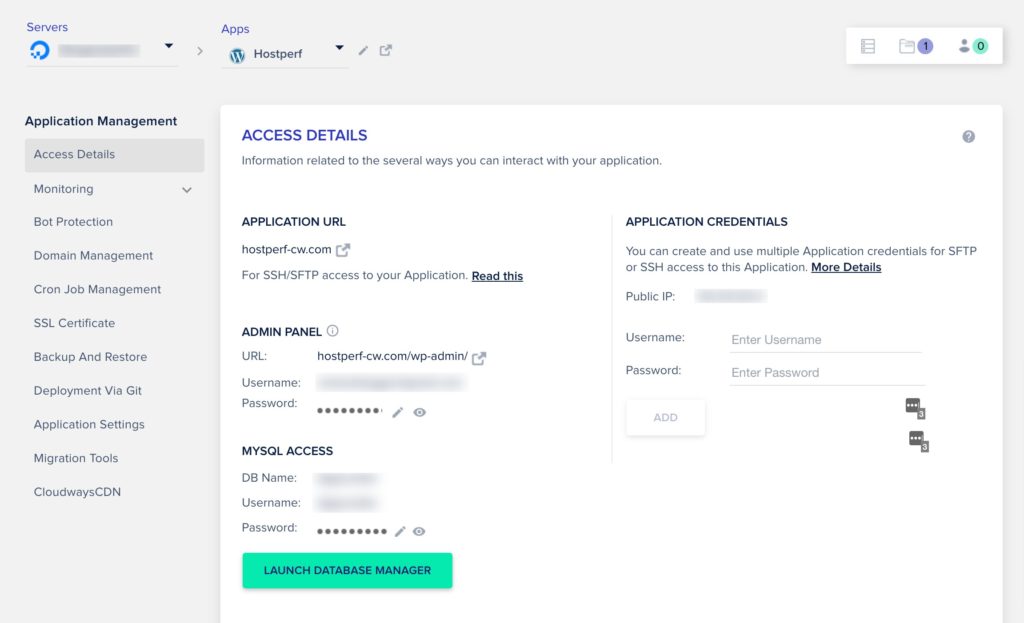 WP Engine has a User Portal, which you can access using the URL https://my.wpengine.com/, and this is the section wherein you can manage your sites, access SFTP login details and database, create sites and environments and view billing details.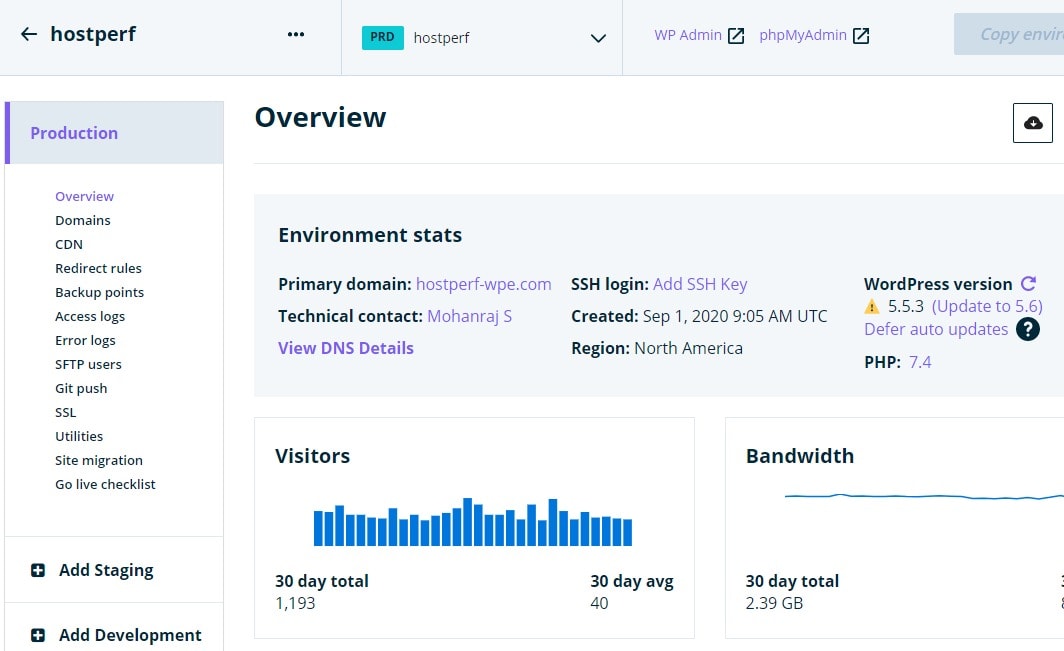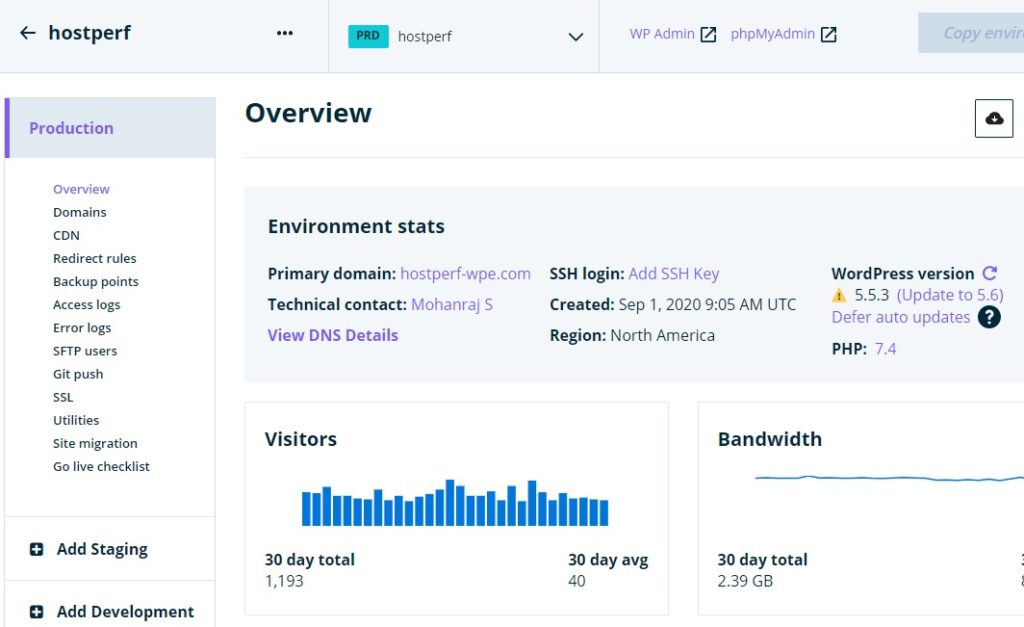 The section includes collapsible navigation. The user portal provides you with user management, tools, billing details, Support, CDN, Git push, Site Migration, and various environment stats. Compared with cPanel or Plesk, WP Engine's user portal is much more comprehensive. To me, both hosts have equally good custom control panels.
However, if you ask me which is best to use, I rate WP Engine at the top. Their dashboard is less cluttered; all the essential options are placed for instant access. It is also easier to contact chat support with fewer clicks. Though the Cloudways dashboard is detailed and comprehensive, it will take a long time for you to get familiar with it.
Winner: both.
2. Both WP Engine and Cloudways offer Cloudflare CDN
Cloudways offers the Cloudflare Enterprise CDN add-on for $4.99/domain/month. With CF Enterprise, you will get access to all their best features. Setting up the CDN takes just a few clicks.
On the other hand, WP Engine offers a Cloudflare-integrated CDN in the name of "Advanced Network." Through this option, the Cloudflare CDN gets integrated at the DNS level. In simple terms, once you point the advanced network DNS to your domain name, the CDN will get activated. The company offers free CDN on their plans.
Winner: both.
3. Backups
Cloudways provides customers with automated backups to an external storage network; most importantly, the backup system is incremental. However, you must remember that Cloudways has no free backup system, which charges $0.33 per GB for backups.
On the other hand, WP Engine offers free automated daily backups on all plans. Further, the host has the ideal backup system for all environments, from production and staging to development.
The host stores the backups offsite on Amazon S3 and encrypts them in transit. Regarding restoring backups, you get 40 backup points for restoring in the user portal. The best part is you can contact Support and request the 60 most recent backup points. 'Backup and restore' is pretty seamless in WP Engine, giving WP Engine a leading edge over Cloudways.
Winner: WP Engine
4. Staging sites
Staging or creating a clone of the production site for testing purposes is ridiculously simple in Cloudways since it offers a free one-click staging environment for all applications. WP Engine also provides you One-Click Staging for testing various changes without hampering the live site. After you are done, you can quickly push the changes to the production site.
I tested the technical expertise required to create a staging site on both platforms by creating a staging site with both services. I found creating a staging site with WP Engine comparatively easier than catering to one with Cloudways.
Winner: WP Engine
5. Security
When it comes to security, Cloudways has a pretty tight security system in place with dedicated firewalls, Let's Encrypt SSL, IP Whitelisting, Regular Security Patching, Two-Factor Authentication, Bot Protection against DoS, and brute force.
Security in WP Engine is equally robust, backed by code reviews and security audits of all internal environments, managed core updates and patches, Multi-Factor Authentication, Traffic Encryption with SSL, Threat Detection & Blocking, and Disaster Recovery.
Winner: both.
Cloudways vs WP Engine: Pricing
Cloudways is one hosting company that offers customers many choices and flexibility, primarily reflected in its plans and pricing. The company has 11 plans based on RAM, Processor, Storage, and Bandwidth. Cloudways offers free $25 hosting credits for all new plans through our discount code. Now, let us look at some of the popular Cloudways plans:
DO1GB: $11 per month, 1GB RAM, 1Core, 25GB Storage, 1TB Bandwidth
DO2GB: $24 per month, 2GB RAM, 1Core, 50GB Storage, 2TB Bandwidth
DO4GB: $46 per month, 4GB RAM, 2Core, 80GB Storage, 4TB Bandwidth
DO8GB: $88 per month, 8GB RAM, 4Core, 160GB Storage, 5TB Bandwidth
Several important features are standard in all the plans, and they are:
24/7/365 Support
Free SSL
CDN Add-on
Free Migration
Unlimited Application Installation
Dedicated Firewalls
24/7 Real-time Monitoring
Automated Backups
Staging Environment
Optimized With Advanced Caches
Auto Healing
Regular Security Patching
HTTP/2 Enabled Servers
SSH and SFTP Access
Team Management
On the other hand, WP Engine doesn't have as many plans as Cloudways and offers four different plans based on the number of sites, local storage, and bandwidth. However, WP Engine also provides customers with the option to have a customized plan by contacting the sales team.
StartUp: $25 per month, 1 site, 25000 visits, 10GB local storage, and 50GB bandwidth
Professional:$49 per month, three sites, 75000 visits, 15GB local storage, and 125GB bandwidth
Growth: $95 per month, 10 sites, 1,00,000 visits, 20GB local storage, and 200GB bandwidth
Scale: $241 per month, 30 sites, 4,00,000 visits, 50GB local storage, and 500GB bandwidth
All the WP Engine plans have these features in common:
24/7 support
30+ premium themes
Free automated migrations
Daily backups
Free SSL and SSH
Advanced security
One-click staging site
Faster site speed with website caching
Threat detection & blocking
Site content in the cloud (CDN)
Handoff to clients with transferable sites
Activity log & user permissions
Page performance monitoring
Local developer tools
SSH access with WP-CLI, MySQL, and bash
GIT & SFTP connections
Multi-factor password authentication
Up-to-date PHP.
Winner: Cloudways.
Cloudways vs WP Engine: Data Center Locations
Cloudways is partnered with 5 Cloud providers comprising DigitalOcean, AWS, Google Cloud, Vultr, and Linode, which gives it the advantage of having over 65 data center locations across Europe, the USA, and Asia.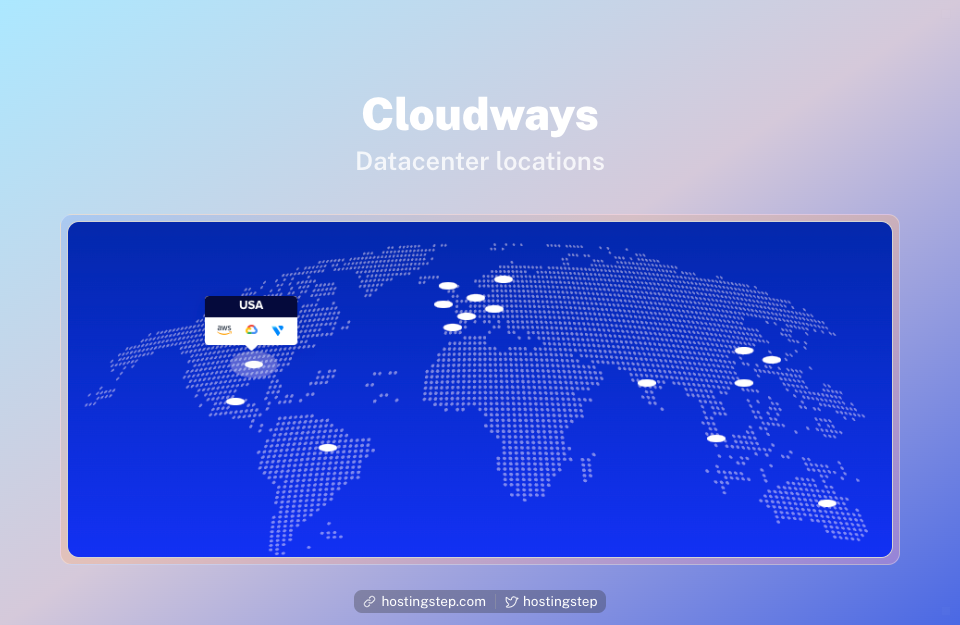 WP Engine has tie-ups with Google Cloud and AWS. This helps the provider provide the customers with different server locations across Europe, the USA, and Asia to select from. Hence, Cloudways and WP Engine allow customers to choose the closest server location to their global audience.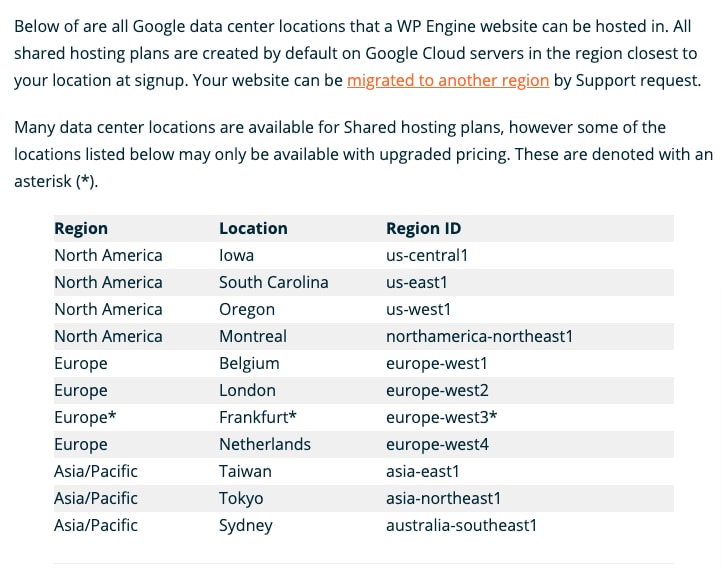 Cloudways vs WP Engine: Support
Cloudways offers a reliable support service through 24×7 live chat and ticketing alongside a comprehensive knowledge base for quick reference. Besides, it also provides advanced and premium Support, which you could get for an additional charge. With paid Support, you can have faster assistance. Cloudways offers a private Slack channel and phone support in the Premium add-on.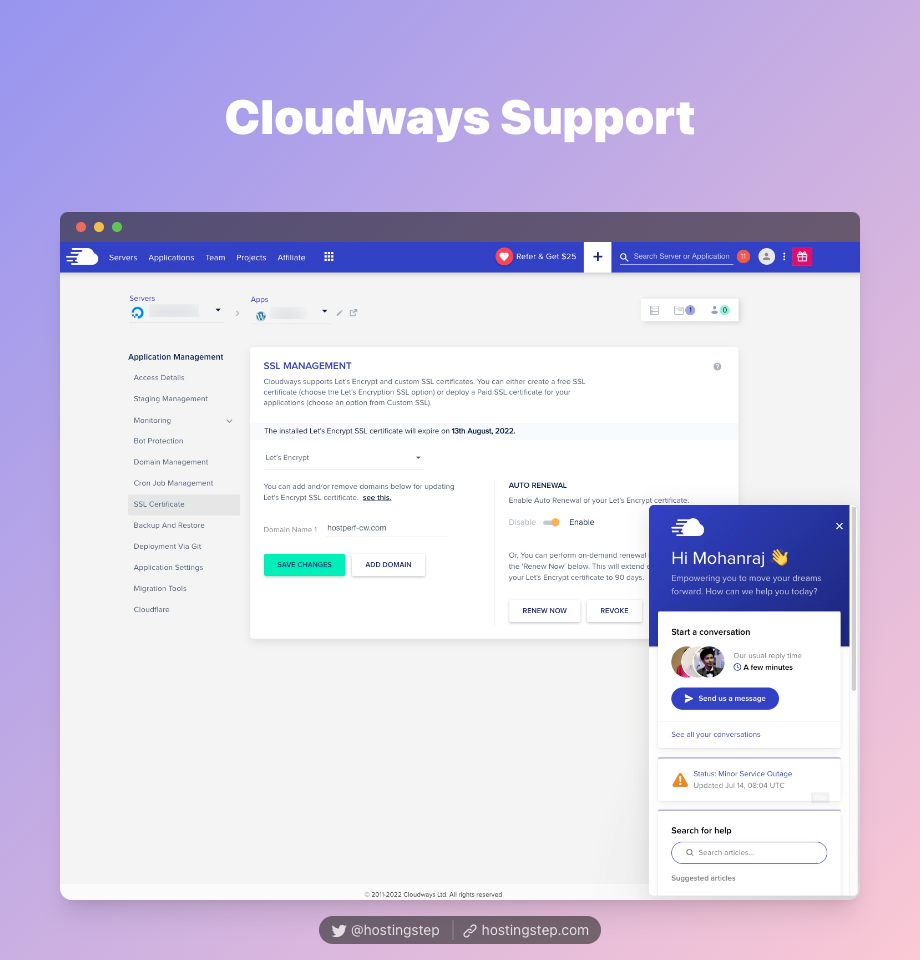 WP Engine support team is ranked among the best support teams in the industry and has maintained a brilliant track record. Most importantly, the group consists of WordPress experts, and you can rest assured of the best assistance 24×7 through live chat, email, and phone whenever you encounter any technical difficulty.
Cloudways or WP Engine – Which is Best?
In conclusion, after thoroughly testing both hosting services, it is clear that both Cloudways and WP Engine have their strengths and weaknesses.
Cloudways offers affordable plans, better performance, and the advantage of choosing from five cloud providers with a vast global network. On the other hand, WP Engine offers free backups, a comprehensive user portal, and is the go-to option for mission-critical websites.
Both services have a reliable security system and user-friendly control panels and provide support for creating staging sites. However, WP Engine's staging site feature is simpler than Cloudways.
Ultimately, the choice between Cloudways and WP Engine depends on your specific needs and budget. If you're on a tight budget and need a cost-effective solution with excellent performance, Cloudways is the right service.
If you're looking for a premium managed WordPress hosting service for mission-critical websites, WP Engine is the better option.