WP Engine Reviews 2019
I welcome WP Engine, the first managed WordPress hosting company to be tested at Hostingstep. Like all reviews, this WP Engine reviews never compromises or biased, the reviews are exactly based on the transparent data we started monitoring a few months back.
About WP Engine
WP Engine provides managed WordPress hosting sites around the world. The company claims to offer amazing support,enterprise-class, & optimized WordPress hosting solutions.
Let's see whether WP Engine impressed me or not.
WP Engine Reviews 2019
Pros of WP Engine
#1 100% Amazing uptime
I never enjoyed 100% uptime with most companies. But WP Engine, right from the beginning gets 100% uptime. Nothing more to write here, you can verify the image to verify the data.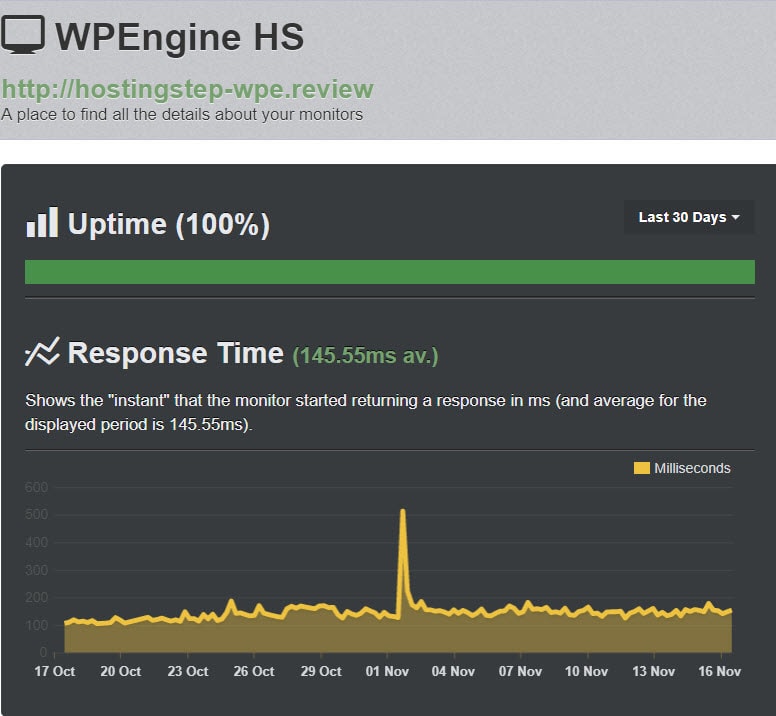 #2 Impressive 140ms response time without CDN
The most amazing thing about WP Engine is response time. The site took 140ms average for a month which is way faster than all the companies we tested so far.
Other companies which got similar response time are LiquidWeb 170ms and A2 Hosting 172ms.
#3 Real 24×7 customer support
Since this is our first attempt at WP Engine, the dashboard looked completely new and I'm really noob here. But the customer support is good & knowledgeable and they answered all my queries. Since WP Engine is WordPress exclusive, they are trained well on all the core pieces of stuff and you don't need an outsider to solve your issues.
#4 Global WordPress Hosting Network
WP Engine has data centers on four continents across the globe which is powered by CDN with vast locations covering 136 countries which is huge considering the fact a decent CDN starter plan itself costs $20/month.
One of the cons, the CDN is not available for the entry-level plan, I mean I need to pay extra to use CDN service. But expect starter plans, all the other plans come with free CDN access.
What I wondered is, Hostingstep demo site took 140ms to load without CDN. I wonder what would be loading time when CDN is used? I bet it will be fastest WordPress hosting on the market.
#5 Continuous innovation
Please don't expect this features in cPanel based hosting company. WP Engine developed three tools named Page performance, application performance and content performance.
Page performance helps to solve performance issues related to the particular page. It displays each pages load time and you can find which one is slow loading. WP Engine experts helps you with better optimization solutions.
This is how a random data looks like

Likewise, you can learn more about Content & application performance here.
#6 EverCache – WP Engine exclusive caching mechanism
WP Engine claims, EverCache is one of the secret sauce which helps them to deliver web pages 40-60% faster than sites hosted on non- WP Engine servers.
Evercache is completed into their WordPress infrastructure thus the caching is done immediately whenever there is a need. Apart from it, if your sites special caching rules, you can always do it, with the help of customer support.
#7 Free automated migrations
Manual site migrations? WTH.? Welcome to WP Engine free automated migrations. Follow the simple steps or contact the live chat behind you. WP Engine does automatic site transfer with zero downtime.
#8 Free SSL Certificates
It's 2017 and still, companies like HostGator charges money for SSL certificates. You can start your site on WP Engine with the one-click option to enable it.
WP Engine SSL is powered by Let's Encrypt.
#8 60 days money back guarantee
I think no other managed hosting company offers such a long 60 days guarantee. You got more times to test their servers and sure, you will be impressed like me.
Cons of WP Engine
Learn about WP Engine cons at Hostingstep WP Engine Reviews 2019.
#1 Restrictions to plugins
WP Engine restricts usage of plugins which took huge resources. WP Engine claims such plugins affect other user's sites in their hosting environment.
Though it looks like cons, actually its good. Why your site should suffer for someone's wrong move?
#2 No Email Hosting
Like most managed hosting companies, WP Engine doesn't allow email hosting on their servers. You need to choose alternate services like GSuite or Microsoft 365.
Concluding
WP Engine is truly an incredible hosting solution to host your WordPress websites. If you came here to learn about WP Engine, I'm sure you will be getting an account now with 20% OFF
WP Engine Reviews 2019 appeared on Hostingstep and don't forget to share your experience in comments.
WP Engine Reviews 2019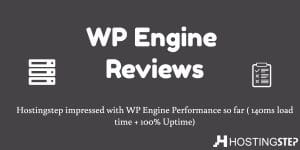 WP Engine provides managed WordPress hosting sites around the world. The company claims to offer amazing support,enterprise-class, & optimized WordPress hosting solutions.