5 Best Hostinger Alternatives 2022
Are you searching for the best Hostinger alternatives in 2021? If you are looking for powerful Hostinger alternatives, then this article is for you. Here, I've got you covered the 5 best alternatives to Hostinger.
Hostinger is an outstanding hosting service company. However, its slow and unreliable customer support service has made users switch their hosting provider. Moreover, other features such as automatic backups and expensive plans have also letdown Hostinger.
Therefore, I have personally tested each of the hosting servers mentioned below and bring you the 5 best Hostinger alternatives:
5 Best Hostinger Alternatives to Try in 2021
1. FastComet – $2.45
FastComet is an advanced and reliable hosting provider that can easily be used as an alternative to Hostinger. It provides a wide variety of hosting services, including shared hosting, VPS hosting, and dedicated hosting with amazing features such as free domain name, free CloudFlare CDN, SSD cloud storage, free website migration, and many more.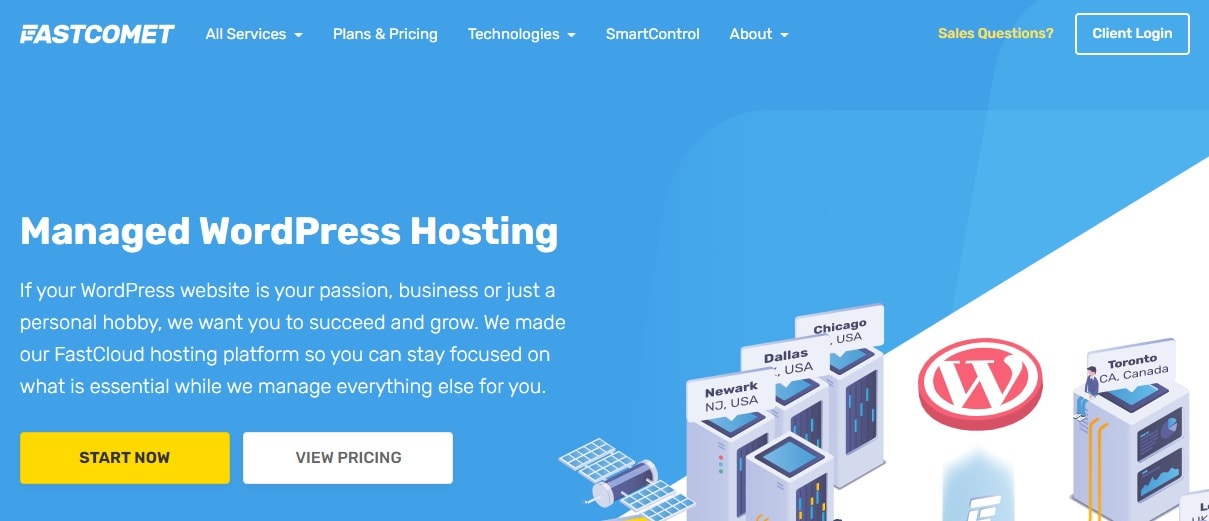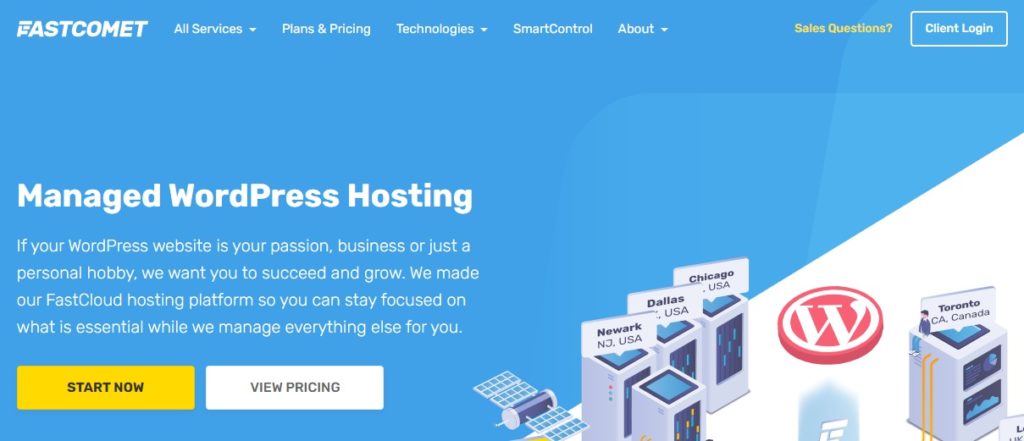 It offers its services from 11 data centers to support the diverse global customer base so that you can make multiple versions of your site for different locations. Though FastComet is not as big as Hostinger, it is still worth trying as it provides fast and affordable hosting services starting at $2.45 per month. With FastComet Coupon, you can further sign up with lower price.
With each hosting package offered by FastComet, you get SSD cloud storage and free site migration in case your site is being hosted on another provider. You also get one free premium CPanel with each FastComet account from where you can manage all your WordPress sites.
Both Hostinger and FastComet provide enough storage space and bandwidth to run your website smoothly. However, it is important to note here that FastComet offers a free domain transfer, whereas Hostinger doesn't provide any free domain transfer feature. Instead, it only gives a free domain name for popular and premium plans.
On comparing the performance of Hostinger with FastComet, I found that the FastComet guaranteed 99.995 uptime which is better than the Hostinger uptime of 99.68%. Moreover, I didn't even notice the slightest reduction in the FastComet uptime; it performed extremely well. Similarly, when we conducted an independent test to check the server response time of each host, FastComet recorded an average response time of 322 ms, which is again better than Hostinger that took 659 ms to load.
Our testing didn't end with server response time; we further found how well both these hosts are in handling high traffic. While FastComet recorded 45ms in Clients Per Test (100 clients in 1 minute), unfortunately, I couldn't perform the load testing on the Hostinger site due to low server resources. So, if your website has a high traffic load, then I would recommend you to choose FastComet.
Talking about security, Hostinger offers several security features, including Litespeed's cache engine, SSL certificate, Cloudflare's protection, and immunify360. FastComet also provides strong security with its Let's Encrypt, Web application firewall, Malware Scan and daily/weekly free backups. The usefulness of backups cannot be undermined, and it's something that is not present in Hostinger lower-level plans.
While Hostinger provides a one month refund policy, FastComet allows you to test their hosting services for 45 days for free. Considering customer support service, Hostinger might be a giant in comparison to FastComet, but FastComet provides an outstanding and quick response to the user's queries.
Thus, if you're someone who has a reasonable budget to invest in quality web hosting services, I would suggest you to go with FastComet as it offers many advanced features that will help you scale your WordPress site easily.
Pros
FastComet is way better than Hostinger when it comes to hosting support.
Provides a 45-day money-back guarantee.
Robust server uptime performance
Free site migration for first-time users
Cons
FastComet is more expensive than Hostinger.
It doesn't offer a free domain.
2. GreenGeeks – $2.49
GreenGeeks is another independent hosting provider started in 2008, offering the best quality and performance for all its hosting services. As its name suggests, GreenGeeks is an eco-friendly hosting service that runs on fully renewable resources to host its servers.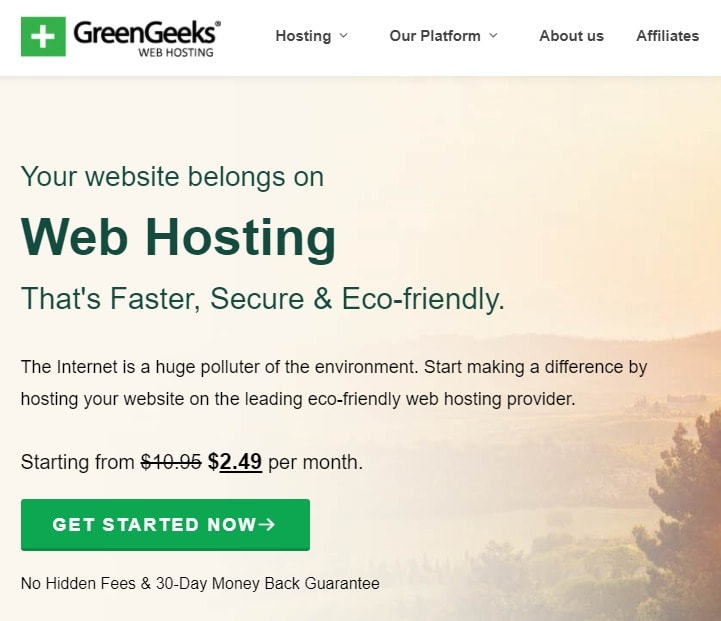 By choosing GreenGeeks, your website will load much faster in comparison of Hostinger by matching its 300% green energy. The GreenGeeks web hosting offers unlimited features such as free domain name, free website builder, unlimited website storage, free caching plugin and email accounts. You can choose from the five different data centers of GreenGeeks located in Phoenix, Montreal, Amsterdam, Chicago and Toronto and host your website near your target audience to get better speed and performance.
Compared to Hostinger, GreenGeeks does not have a large customer base with 35000+ clients and hosting 300k+domains on its servers. Still, the company offers unlimited storage, free SSL, free domain name and unlimited data transfer, whereas hosting has a limitation on webspace and bandwidth for all plans.
Though GreenGeeks shared hosting plans are relatively expensive than Hostinger, you get solid-state for content storage. Further, free CloudFlare CDN and multiple cache levels are also available with GreenGeeks hosting packages that enhance your website performance.
Considering the hosting plans and features, Hostinger provides three plans for shared hosting; you can host one to unlimited websites, get 30 GB to 200 GB SSD storage, 100 GB to unlimited bandwidth and 1 to unlimited email accounts. All the hosting plans come with free weekly backups, a free SSL certificate, a custom control panel and an app installer. Remember, Hostinger only offers daily backups service and SSH access to its business and premium users.
Just like Hostinger, GreenGeeks also comes with three shared hosting packages and provides similar features. However, it offers unlimited SSD storage, unlimited bandwidth and unlimited email accounts, unlike Hostinger on all its plan. Especially, GreenGeeks's SSD is made up of RAID-10 SSD storage that ensures maximum performance and redundancy, which is extremely better than Hostinger's SSD. Furthermore, if you want to migrate your site to GreenGeeks server from your previous one, you can get a free site migration facility from GreenGeeks free of cost with all its hosting plans. Hostinger doesn't provide any site migration service, not even for its paid plans.
Other than this, GreenGeeks also have better uptime and loading speed than Hostinger, which makes it a stable host, especially for beginners. Upon testing the uptime and loading speed of both the hosts with the Pingdom tool, GreenGeeks recorded an uptime of 99.99% with a server response time of 291 ms. In comparison, Hostinger recorded an uptime of 99.68%, with an average response time of 659 ms. When I tested the global TTFB, GreenGeeks had the decent TTFB across all locations and had the lowest TTFB in New York with 65.42ms, while the Hostinger lowest TTFB in New York was recorded to be 87.78 ms.
Another significant advantage of GreenGeeks is that it offers a cPanel which is the easiest control panel preferred by WordPress users to manage their website. In the cPanel, you can find the options of files, domains, emails and advanced options like track DNS, error pages etc. On the other hand, Hostinger doesn't provide any cPanel. Instead, it offers a modern personalized panel with no advanced options, known as Hpanel. If you're a traditional WordPress user, you might not feel comfortable using Hpanel, so consider going for GreenGeeks.
It is an ideal choice for both beginners as well as advanced users to host their websites on a reliable hosting server. The company also provides decent customer service, and their support agents are highly qualified available 24/7 to assist you anytime via various mediums.
Pros
It is environmentally friendly.
GreenGeeks shared hosting plans come with higher resource allocations.
Its customer support service is highly responsive and quicker than Hostinger.
Intuitive interface and is easy to use even for a beginner.
Extremely reliable with 99.99% uptime.
Cons
GreenGeeks has higher renewal rates in comparison to Hostinger.
You can sign up with GreenGeeks Coupon Code and get started for $2.49/month on 36-months billing.
3. ChemiCloud – $2.76
ChemiCloud is a popular US-based hosting service based out of Delaware, the United States, which excellently competes with big brands like Hostinger, Bluehost etc. The company is steadily rising significantly, offering multiple data center locations, incredible uptime, breakneck loading speed, and renewals that too with affordable cost.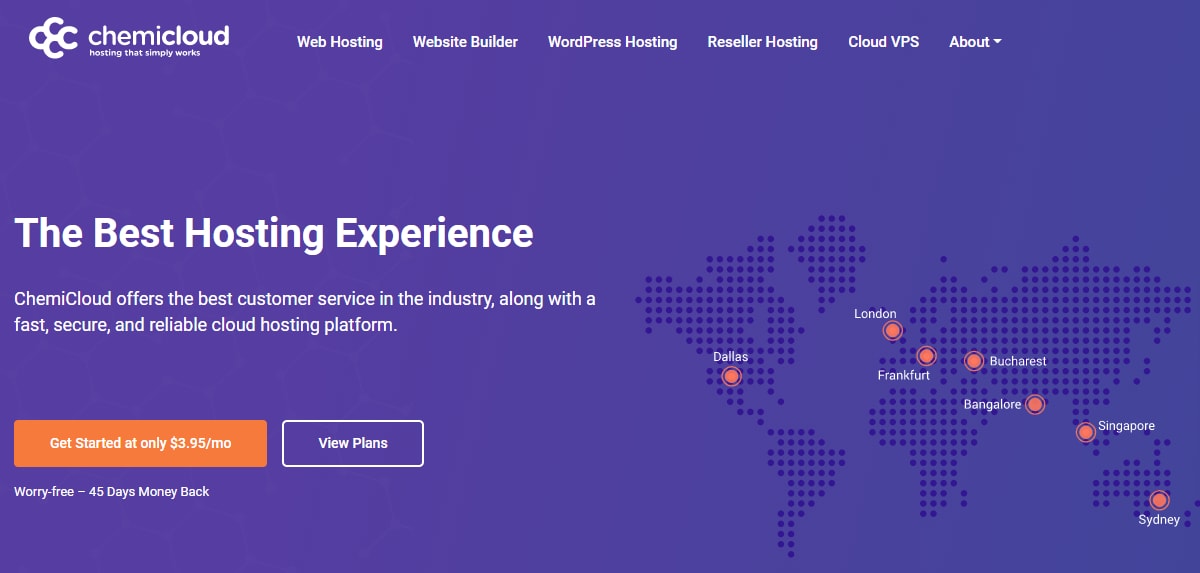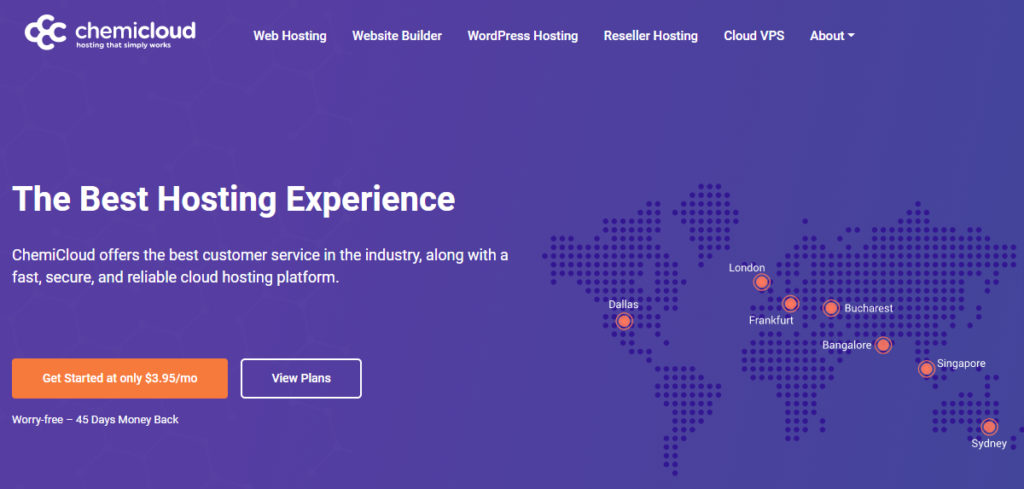 Comparing the pricing, Hostinger hosting plans are much cheaper than ChemiCloud. On the one hand, the starter plan of Hostinger costs $0.99 per month, while that of ChemiCloud is priced at $3.95 per month. Note, our ChemiCloud Coupon code can lower the price further with 60% OFF one time discount. However, in terms of features, ChemiCloud has left no stone unturned and provides various benefits like free SSL, free CDN, reliable email service, and automatic backup enabled with which you can restore data from the previous 30 days.
Talking about uptime and speed, I tested the uptime and speed of both hostings using my premium tools. ChemiCloud recorded a greater uptime of 99.99% and a faster loading speed of 150 ms than Hostinger uptime of 99.95% with a loading speed of 363 ms. All ChemiCloud hosting packages come with a free domain which will help you save some money on your website maintenance. With Hostinger also, you get a free domain; however, it is only available for premium or business hosting users.
Considering the security of the hosts, ChemiCloud offers tight bulletproof security with constant server monitoring, SSL encryption, daily backups and custom firewall rules. In addition to this, it also provides free professional migration help to website owners for migrating their sites easily. On the other hand, in Hostinger, you have to migrate your site using an FTP client like FileZilla. Moreover, there is no direct information about site migration with Hostinger, which makes it all very confusing.
With ChemiCloud, you get a 45 days money-back guarantee, whereas Hostinger only offers a 30-day refund policy. Furthermore, ChemiCloud provides a great and reliable customer support service via chat, phone, email and ticket support system.
Pros
Free lifetime domain name.
Multiple data centers are located worldwide.
Free SSL encryption.
45 days money-back guarantee.
Free website migration service
Cons
Hostinger plans are relatively cheaper than ChemiCloud.
No dedicated server hosting.
4. A2 Hosting
Another Hostinger alternative that comes with a dedicated focus on speed is A2 hosting. A2 Hosting is widely prevalent among bloggers, affiliate marketers, and millions of other customers located worldwide.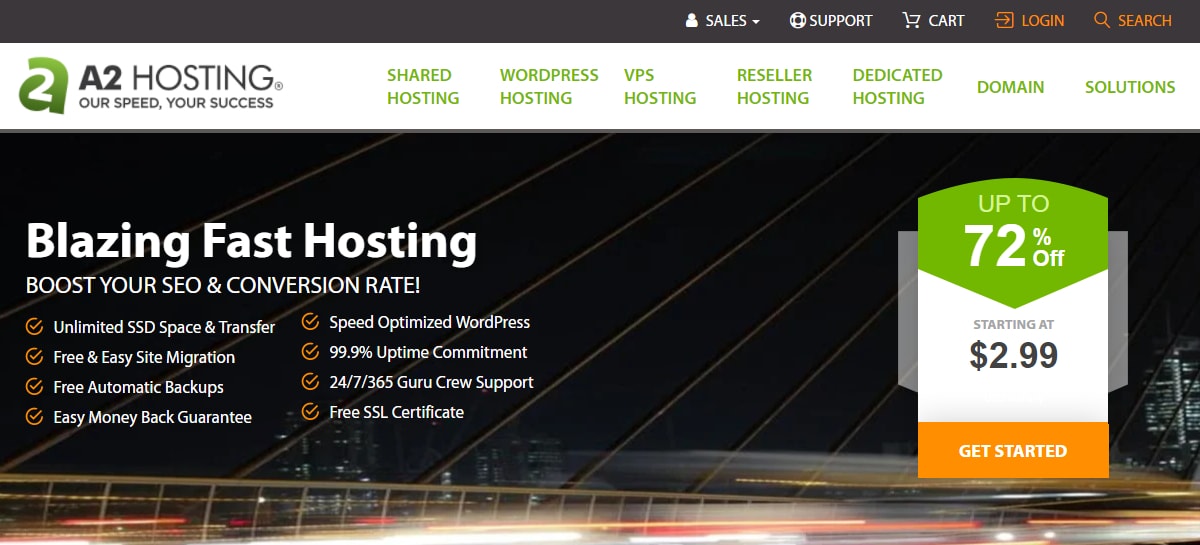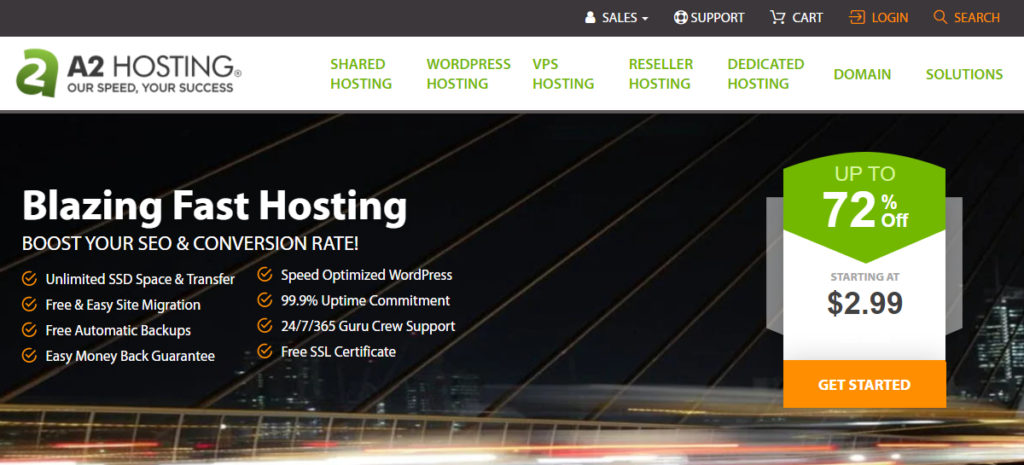 It beats Hostinger by offering one of the best customer services in the hosting industry and incredibly fast shared servers powered by the latest technologies like SSDs, multi-level caches, and A2optimise features. In addition to this, A2Hosting ensures the fastest site speed, worldwide data centers, free solid storage and PHP7. PHP 7 alone possesses the ability to significantly improve a site's speed, especially for sites relying heavily on organic traffic.
Compared to Hostinger, A2 Hosting provides the fastest cloud speed and performance, which loads your website faster. When I tested the server response site for both the hosts, I found A2Hosting had an average server response time to be 353ms while that of Hostinger was 659ms. In terms of uptime also, A2Hosting is more reliable than Hostinger, recorded an uptime of 99.99%, whereas Hostinger recorded an uptime of 99.68% with some glitches.
Since there are many sites that rely on global locations for their traffic, I have also done the global TTFB test. In comparison, A2Hosting had decent TTFB in all the global locations with an average of 418.08 ms than Hostinger TTFB, which turned out to be 430.23ms.
Both A2Hosting and Hostinger depend on SSDs for their server technology and have sufficient features to run your WordPress site smoothly. However, there are some features like SSD storage, in-built security, and high performance where A2Hosting has the edge over Hostinger.
While Hostinger's shared hosting and WordPress hosting is cheaper than A2Hosting, it seems to have an advantage in its unmanaged VPS solutions. The Hostinger's VPS 4 package will cost you 50% more costly in comparison of the A2 comparable runway 4 package, with which you can get 5 times more SSD storage.
In terms of features, both Hostinger and A2Hosting provide the same set of features with their shared hosting packages like enough storage space, bandwidth and email accounts, free CloudFlare CDN, along with free site transfers. The one significant difference between the two is their control panels, where A2Hosting comes with the traditional cPanel, and Hostinger has its own customized Hpanel. That being said, some of the cPanel features like staging sites, and website cloning are absent in Hpanel.
Considering the security of your site, you can trust both Hostinger and A2Hosting as they include free SSL certificates on all plans and ensure that your site remains protected from any malicious attacks. While Hostinger provides DDOS protection, server-wide firewalls and Bitninja security, A2Hosting also offers DDOS protection, dual side firewalls, a virus scanner, along with a patchman security tool that helps you to detect any outdated software installed on your account.
Like Hostinger, A2 hosting also comes with a 30-day money-back policy with monthly payment plans, which again means you don't have to purchase costly yearly plans.
The only drawback of A2Hosting is that you don't get automated backups for the starter plan. However, you can schedule your own backups if you want to use cPanel without purchasing any premium plan.
Pros
It provides unlimited storage and bandwidth on most of its plans.
Servers are well optimized to ensure the best performance.
The loading speed of A2Hosting is much better than Hostinger.
It comes with reasonable renewal rates and a signup discount.
Cons
Overall more expensive for similar plans, except unmanaged VPS
It doesn't offer a free domain name or a free site migration service.
5. Cloudways – $10
Cloudways is a leading Hostinger alternative that offers a free SSL certificate, free CloudwaysCDN, and daily automatic backups with all its plans, just like Hostinger. However, you get more storage space, RAM and CPU scores in Cloudways as compared to Hostinger.
Their plans starts at $10/month. However, our Promotional Code helps you to enjoy 25% discount on first month billing.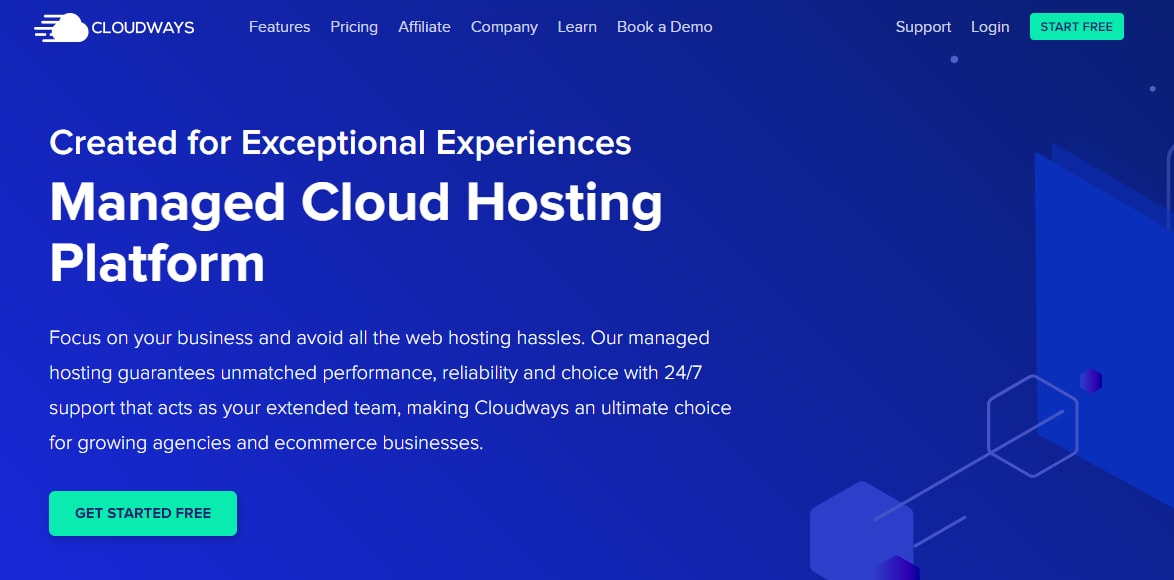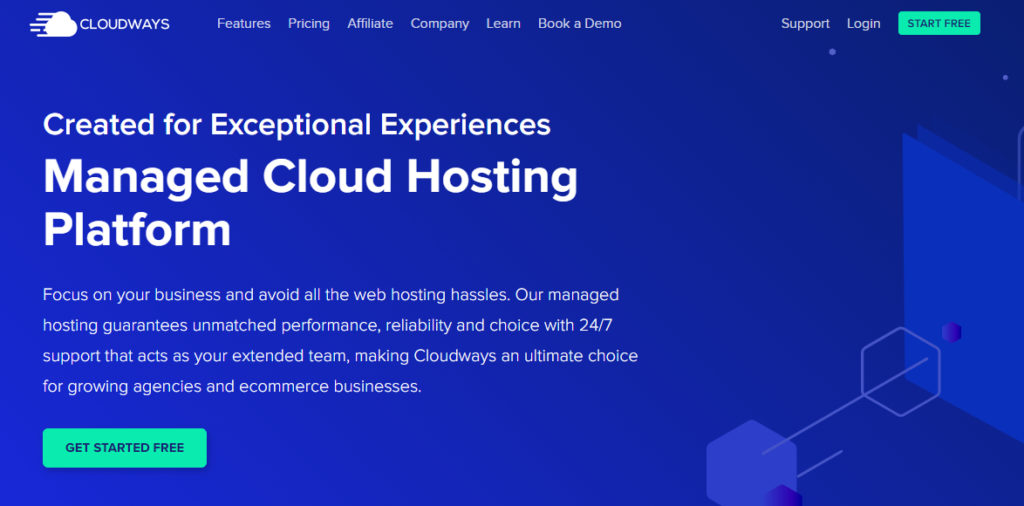 In addition to this, Cloudways provides more powerful features such as one-click server cloning, auto-healing servers and Cloudways bot (An AI smart assistant that regularly sends real-time performance reports to help you optimize your apps and servers.)
Both Hostinger and Cloudways offer good value for money. Hostinger provides a wide range of hosting services ranging from shared hosting, WordPress hosting, ecommerce hosting, cloud hosting to VPS. On the other hand, Cloudways only offer managed cloud hosting from five cloud providers – Digital Ocean, Vultr, Amazon Web Services, Linode, and Google Cloud Platform. Both hosts offer free website migration on all their plans.
Considering the data centers, both Hostinger and Cloudways have a vast network of global locations. You can find Hostinger servers in the UK, Brazil, USA, Indonesia, Singapore, Netherlands and Lithuania. Cloudways, on the other hand, has its servers in the UK, USA, Singapore, Netherlands, Germany and Canada. The provider has more than 65 data center locations, making it easier for users to choose the locations nearest to their target audience and boost the speed of their website. Both the hosts provide excellent SSD storage for their services to improve the overall performance of your website. While Hostinger offers CloudFlare CDN with all its hosting plans for free, Cloudways has its own CloudwaysCDN powered by Stackpath, which is accessible with all its plans for $1 per 25GB of bandwidth for one site.
Cloudways also provides its users with the facility of staging sites on all hosting plans to test the various codes and plugins on their site before publishing it live. On the other hand, Hostinger doesn't offer any staging site features. As far as security is concerned, Cloudways has OS-level firewalls that filter out malicious traffic from your website and provides protection against DDOS attacks. Other than this, it also provides IP whitelisting; let's encrypt SSL, regular security patching and two-factor authentication and brute force.
Talking about performance, when I tested the server response time on both the hosts, I found that Cloudways recorded an average response time of 309 ms, which is far better than the Hostinger average response time of 659ms. Uptime is another crucial aspect I consider while testing the performance of any host. Cloudways has an excellent uptime of 99.99%, whereas Hostinger faced a lot of downtime and recorded 99.68% uptime in the same test.
Further, I tested the global TTFB of both the hosts to know if it performs well for the website receiving traffic from various global locations. Cloudways had good global TTFB in Dallas, New York, Frankfurt, Amsterdam and London. Hostinger site also had a decent global TTFB in Frankfurt, Amsterdam, Dallas and San Francisco. However, I found that Cloudways has a slightly better global TTFB in comparison of Hostinger.
While Hostinger offers a 30-day money-back guarantee, you do not get any money-back policy with Cloudways. Instead, it provides a 3 day free trial along with a quick and responsive 24/7 customer support service via live chat, phone, email and ticket support system.
Pros
1 click unlimited WordPress installations and staging sites.
Responsive and knowledgeable support team available 24/7.
Offer free automatic backups with all its hosting plans.
Two-factor authentication to protect Cloudways accounts.
Cons
There is no cPanel or Plesk
No domain name registration
No integrated email accounts.
Which Hostinger alternative is good for you?
I have tried my best to compile the best Hostinger alternatives for you by testing their performance, uptime, loading speed, Global TTFB, pricing and customer support.
If you are looking for a perfect Hostinger alternative, you can try FastComet as it provides a high-quality hosting service with excellent speed and performance. However, if the environment is of utmost importance to you, then you may choose GreenGeeks.
ChemiCloud, A2 Hosting and Cloudways are equally competitive and work great in comparison to Hostinger. So, now it's up to you what you choose based on your needs and budget.