A2 Hosting offers the fastest Hosting experience at affordable pricing. It includes powerful tech stacks, an anytime money-back guarantee, and 24/7 customer support. Based on the A2 shared hosting plan, our test delivered excellent uptime and performance.
Our Verdict
Overall: A2 Hosting is an excellent choice for fast, reliable, and affordable WordPress hosting. A2 Hosting performance is excellent in our test, with an average TTFB of 323ms, which is better than their competitors like SiteGround and Bluehost. Additionally, A2 Hosting recorded a decent score of 102ms in load handling capacity. A2 Hosting uptime is 99.95% on their starter plan.
A2 Hosting promotes its Turbo plans heavily, starting at $6.99/month. While the first two plans (Startup and Drive) have slightly old tech stacks, the Turbo plans are feature-rich with the most advanced stacks like LiteSpeed, high CPU & RAM resources, and NVMe SSD. The best bet is to use A2 Hosting Turbo plans for maximum benefits. However, the A2 Hosting starter plans are still effective and recommended.
Performance: A2 Hosting offers the fastest Hosting experience. Even with its Apache web stacks, the company delivers exceptional speed through its A2 Optimized WordPress setup. The only drawback is their Turbo tech stacks aren't available on the starter plan, and the uptime can be improved further on the $2.99/month plan.
Features: The A2 Optimized setup is the core feature of A2 Hosting for delivering faster services. The server rewind backups are exclusive at A2 Hosting, making a superior experience. An A2 Deluxe WordPress toolkit is available on Turbo plans for easier site management.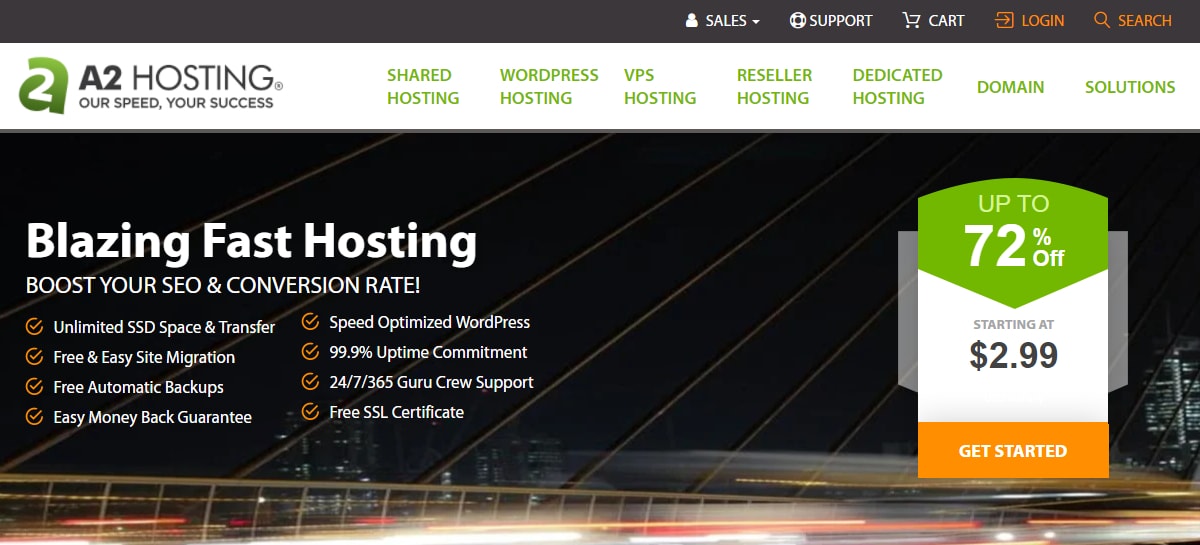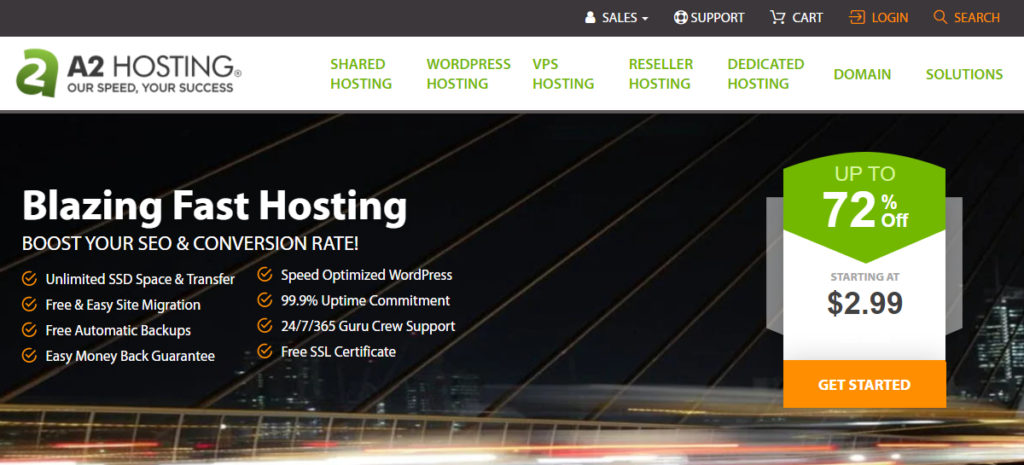 A2 Hosting Pros and Cons:
A2 Hosting Pros:
Unparalleled performance
Affordable Pricing
Quality customer support
Anytime money back guarantee
Powerful Tech Stacks
A2 Hosting Cons:
No free domain.
Starter plans lack Turbo features.
A2 Hosting Plans and Pricing
A2 Hosting offers a variety of hosting plans for all your needs. Here is a glimpse of A2 Hosting plans and pricing across the sites.
Shared Hosting: Starts at $2.99 per month and renews at $8.99 per month.
WordPress Hosting: Starts at $2.99 per month and renews at $8.99 per month.
Managed WordPress: Starts at $12.99 per month, renews at $24.46 per month.
Managed VPS: Starts at $39.99 per month and renews at $45.99 monthly.
Dedicated server: Starts at $141.09 per month and renews at $169.99 per month.
Reseller hosting: Starts at $18.99 per month, renews at $34.99 per month.
There is also an unmanaged VPS and Dedicated server plan starting at just $4.99 per month. Since A2 Hosting operates its own data centers, all the plans come with enormous bandwidth, disk space, and high-tech stacks.
A2 Hosting Speed Test 
When judging the quality of Hosting services, performance is most likely the first factor to cross your mind. However, performance has many important aspects: server response time, uptime, traffic load handling, global TTFB, and Core Web Vitals. Each one of these aspects has to be carefully tested.
1. A2 Hosting TTFB
The A2 Hosting test site recorded an average TTFB of 323ms in the last 12 months. Its TTFB is better than Kinsta and WP Engine.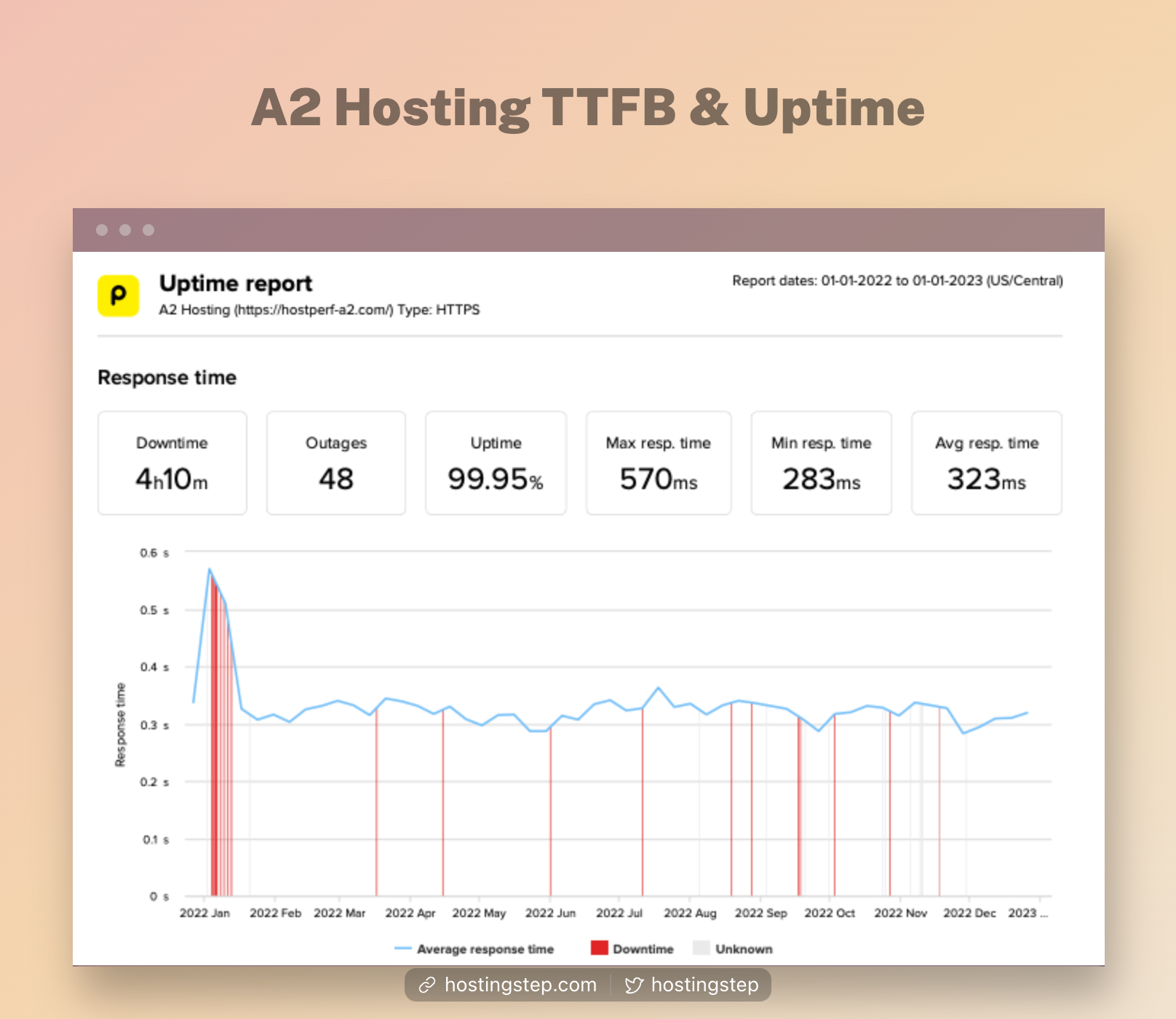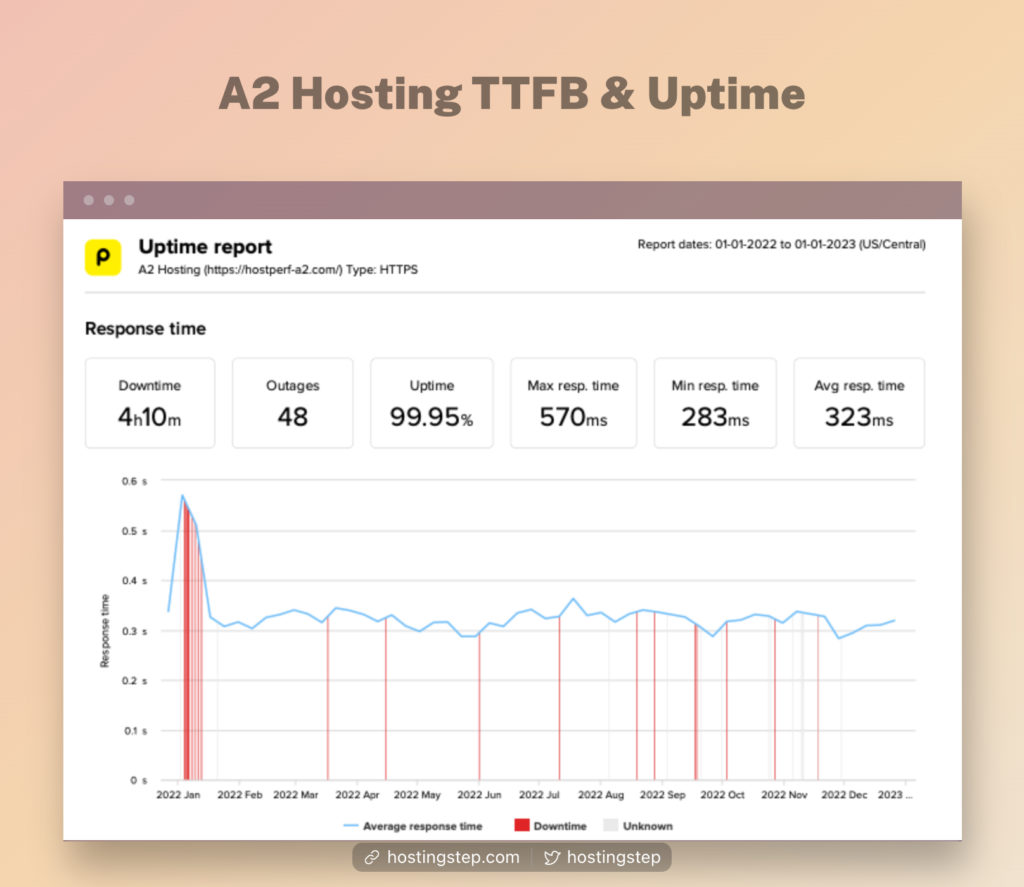 Uptime
A2 Hosting recorded an average uptime of 99.95% in the same period. The uptime is well within their commitment uptime of 99.9%.
Load Testing
The A2 Hosting recorded an average response time of 102ms in the load handling test. I sent 500 simultaneous visitors to the site for this test and measured the response. The test site handled the load better with no 400/500 errors.
Global TTFB
The A2 Hosting site recorded an average global TTFB of 639ms.

Core Web Vitals
The A2 Hosting recorded a good performance in the Core Web Vitals test. The LCP is 495ms, TBT is 0ms and CLS is 0.


Conclusion: Do I recommend A2 Hosting? 
A2 Hosting impressed me with excellent uptime, impressive performance, support that doesn't rush to close tickets, and the lowest possible price to get started. They also offer the best in class technology for all customers. Overall, At Hostingstep, we recommend A2 Hosting as the fastest shared Hosting for all businesses.
A2 Hosting Frequently Asked Questions
Is A2 Hosting Reliable?
A2 Hosting guarantees 99.9% uptime, a reliable promise from the hosting company. Our A2 Hosting sites are reliable, with 99.95% uptime on all the months to confirm the same.
Who owns A2 Hosting?
A2 Hosting is a privately held company founded in 2001, and its headquarters is in Ann Arbor, Michigan, in the United States. Bryan Muthig, a prominent person in the Hosting industry, founded A2 Hosting.
How much is A2 Hosting?
A2 Hosting costs $2.99 per month for a starter plan. The A2 Turbo packages start at $9.99 per month. A2 Hosting also provides VPS hosting, starting from $4.99 per month.
A2 Hosting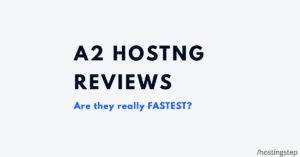 Read A2 Hosting Expert opinions and user reviews at Hostingstep. Know more about A2 Hosting performance, support, features and latest news.