A2 Hosting Reviews 2021: Are they really FASTEST?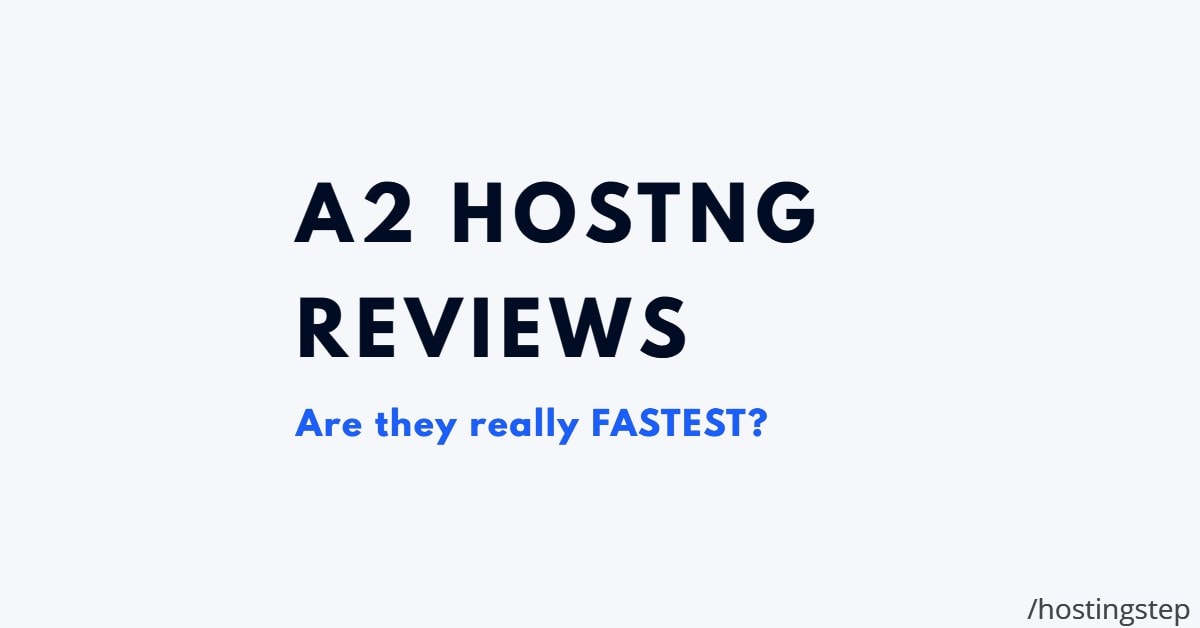 Our expert review on A2 Hosting focuses on performance, uptime, feature, pricing, and support.
Right from their launch in 2001, A2 Hosting is focused on speed, which is still evident in their latest A2 Hosting Turbo plan, which involves NVMe Storage and AMD CPU for 40% faster load time.
With such affordable pricing, Anytime Money Back Guarantee, and faster load time claims, A2 Hosting makes some bold moves, which is unseen, particularly among shared hosting companies.
Upon reading our reviews on A2 Hosting, you will get a clear idea of whether A2 Hosting is fast or not. Also, don't forget to check the user reviews right here at Hostingstep.
A2 Hosting Review: Summary
A2 Hosting offers the fastest hosting experience at affordable pricing. It includes powerful tech stacks, an anytime money-back guarantee, and 24/7 customer support. Our test on A2 Hosting shared hosting starting at $2.99 per month, delivered an excellent uptime and performance.
What is A2 Hosting?
According to A2Hosting.com
A2 Hosting, founded in 2001, is known for its fast, reliable web hosting services. A2 Hosting is the industry leader in providing optimized hosting setup on all their hosting services.
A2 Hosting Plans and Pricing
A2 Hosting offers a variety of hosting plans for all your needs. Here is a glimpse of A2 Hosting plans and pricing across the sites.
Shared hosting: Starts at $2.99 per month, renews at $8.99 per month.
WordPress hosting: Starts at $2.99 per month, renews at $8.99 per month.
Managed WordPress: Starts at $12.99 per month, renews at $24.46 per month
Managed VPS: Starts at $39.99 per month, renews at $45.99 per month
Dedicated server: Starts at $141.09 per month, renews at $169.99 per month.
Reseller hosting: Starts at $18.99 per month, renews at $34.99 per month.
There is also an unmanaged VPS and Dedicated server plan starting at just $4.99 per month. Since the A2 Hosting operates its own data centers, all the plans come with enormous bandwidth, disk space, and high tech stacks.
A2 Hosting Pros
1. Unparalleled performance
A2 Hosting delivered an average response time of 320ms in the last three months. I signed up with A2 Hosting as a customer and bought a shared hosting account. I installed WordPress on the site and put it for performance monitoring.
| A2 HOSTING | AVERAGE RESPONSE TIME |
| --- | --- |
| September 2020 | 453 ms |
| October | 336 ms |
| November | 346 ms |
| December | 200 ms |
The A2 Hosting performance is impressive, considering their hosting plan costs just $3 per month. The more remarkable fact is A2 Hosting scores are better than most of its competitors.
2. Impressive uptime – 99.99%
A2 Hosting sites recorded a 99.99% uptime in the last three months. The site gets monitored every 60 seconds once to record even a short outage. I also put the site monitoring from a secondary tool, and both the results confirm A2 Hosting offered 99.99% uptime in the last three months.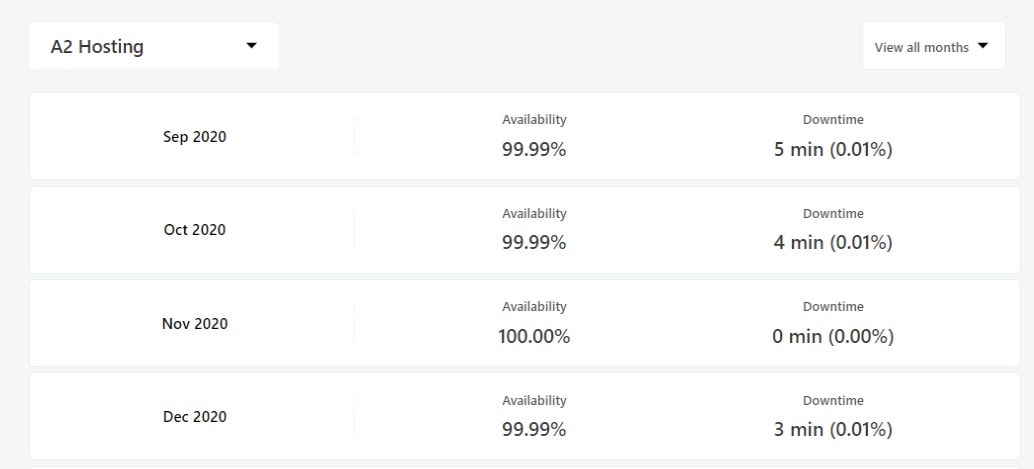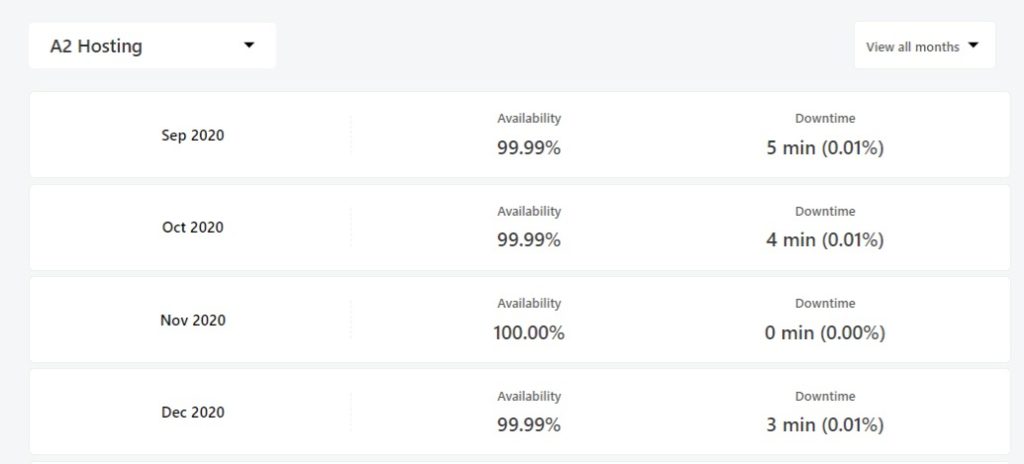 Considering the plan is affordable, the uptime scores are commendable, and A2 Hosting did a great job.
3. Affordable pricing
All A2 Hosting plans come with 66% OFF introductory pricing for default. There is no coupon code required, and you just need to check the official site to get started.
The cheapest package that comes from A2 is Startup, which is priced at $2.99 per month. The renewals aren't too high; it costs just $8.99 per month. SiteGround, the main competitor of the A2 Hosting package, starts at $6.99 per month and renews at $14.99 per month with many limitations on caching and advanced features.


Overall, A2 Hosting provides a better value for money as it satisfies users with cheap intro pricing, impressive performance, and high uptime.
4. Quality customer support
A2 Hosting support team is available 24/7 via chat and tickets. Their support was never outsourced, and good at solving issues. Since I host many sites with them, I systematically talk to them.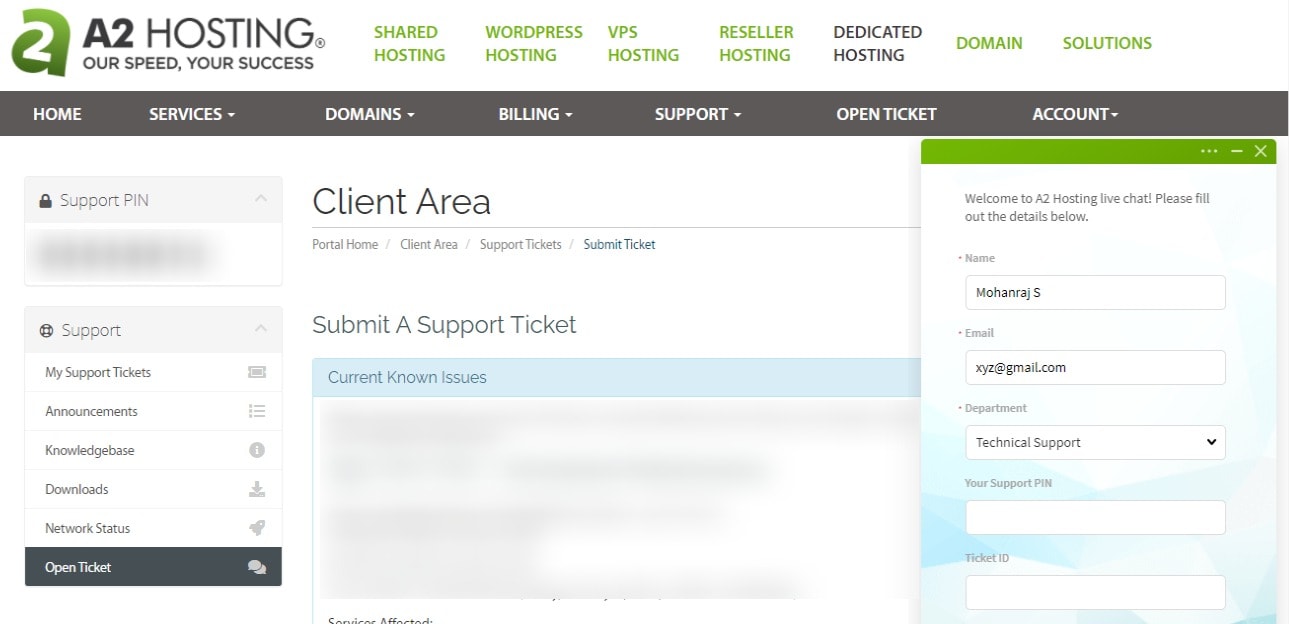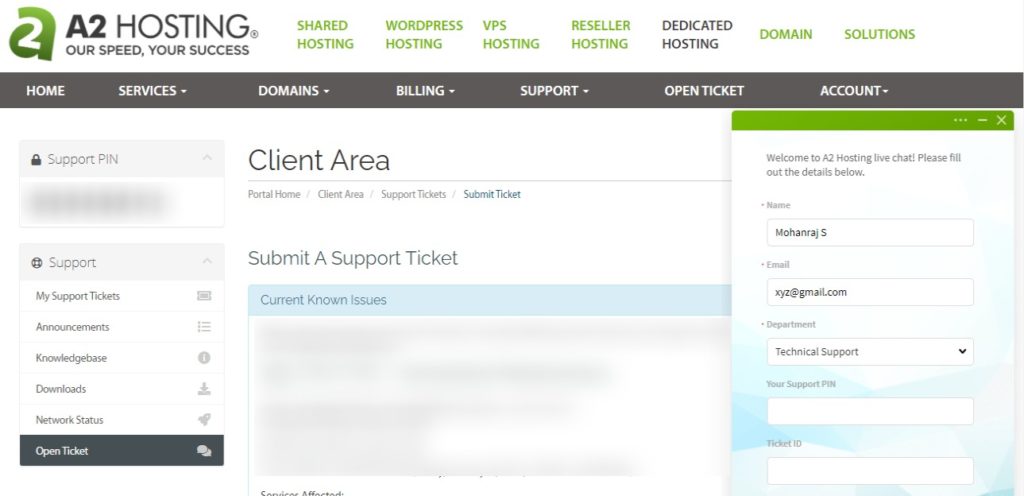 All the time, the support responded well with clear information to solve the issues.
5. Anytime money-back guarantee
A2 Hosting is the only host to offer an anytime money-back guarantee, which defines their reliable services. Every hosting plan is entitled to 45 days guarantee with a full refund. Post 45 days, you will be provided with a prorated refund based on your usage days.
6. Powerful Tech stacks
A2 Hosting was the first to introduce the latest technology to their services in the last few years. They are the first to include the newest PHP support, used SSD way back in 2013, etc. They're one of the first few companies to introduce NVMe SSD, which is 100x faster than traditional SSD. Their servers come equipped with LiteSpeed, MariaDB, HTTP/3 QUIZ, etc.
An A2 Optimized WordPress setup comes with caching and speed optimization pre-configured, thus providing you with impressive performance, just out of box installing your site.
A2 Hosting Cons
1. No free domain
A2 Hosting doesn't include free domain on its shared hosting plans. While their competitors like GreenGeeks include domain free for the first year. Although I don't recommend using the domain from hosting providers, people still look for such freebies to start their online business on a budget.
Conclusion: Do I recommend A2 Hosting?
A2 Hosting impressed me with excellent uptime, impressive performance, support that doesn't rush to close tickets, and the lowest possible price to get started. Along with it, they offer the best in class technology for all customers. Overall, At Hostingstep, we recommend A2 Hosting as the fastest shared hosting for all businesses.
Frequently Asked Questions
Is A2 Hosting Reliable?
A2 Hosting guarantees 99.95% uptime, which is a reliable promise from the hosting company. Our A2 Hosting sites are reliable with 99.99% uptime on all the months to confirm the same.
Who owns A2 Hosting?
A2 Hosting is a privately held company founded in 2001 and its headquarters in Ann Arbor, Michigan, in the United States. A2 Hosting was founded by Bryan Muthig, a prominent person in the hosting industry.
How does the money back guarantee work at A2 Hosting?
A2 Hosting provides 45 days money-back guarantee on the shared and WordPress hosting services. There is also an anytime money-back guarantee that prorated refunds at any time of the year, based on your remaining days.
How much is A2 Hosting?
A2 Hosting costs $2.99 per month for a starter plan. The A2 Turbo packages start at $9.99 per month. A2 Hosting also provides VPS hosting, starting from $4.99 per month.