GreenGeeks Reviews 2021: How Does it Stack Up?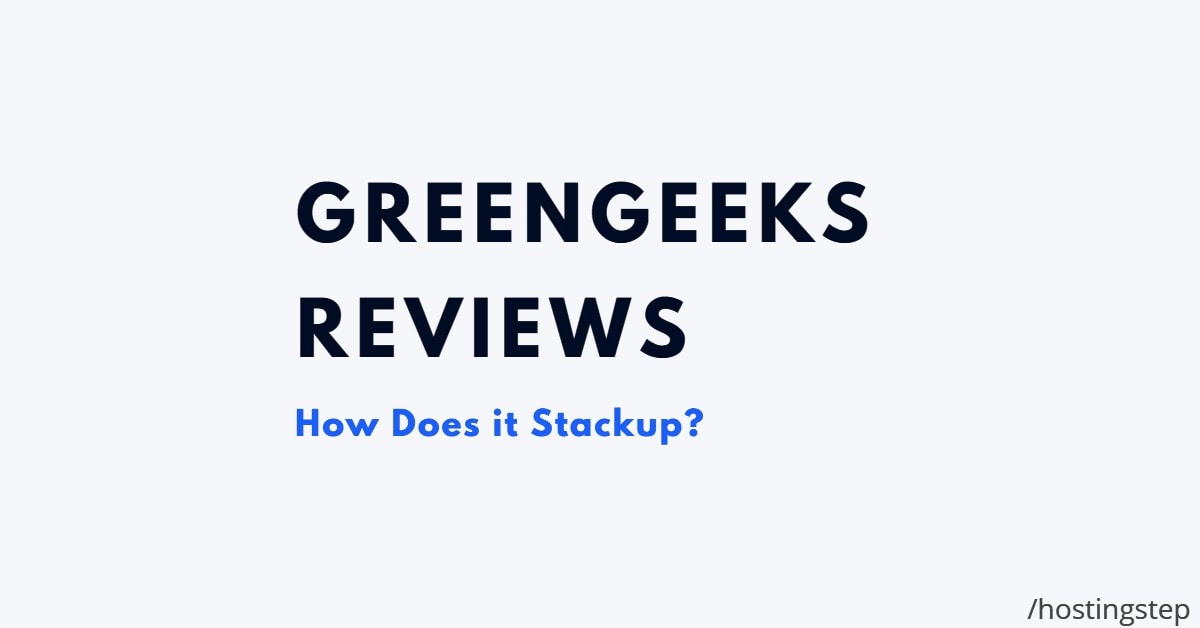 This review on GreenGeeks is written with a focus on Performance, Uptime, features, and support. GreenGeeks was founded in 2008 as a traditional web hosting service with a focus on "Green Energy." While the initiative is excellent, all other parameters are equally essential to withstand against Competitors.
They did a significant upgrade to their hosting platform in 2017 and introduced many new tech stacks like LiteSpeed Web Servers, MariaDB for databases, etc., to keep their services more reliable. With things in mind, read our exciting reviews on GreenGeeks along with existing GreenGeeks user's reviews live at Hostingstep.com.
GreenGeeks Review: Summary
GreenGeeks is a 300% Environment-friendly web hosting provider. Their tech stacks are potent and ever-changing to make an early impact for the future. It's therefore ideal for beginners as well as advanced users to launch their sites with them. GreenGeeks provides a more excellent balance between pricing and performance than most of its competitors' offerings.
What is GreenGeeks?
GreenGeeks is a web hosting platform engineered for speed, security, and scalability while being an eco-friendly web hosting. They have 24/7 customer support offering various hosting plans from Shared hosting to Reseller hosting suitable for beginners to digital agencies. GreenGeeks prices are affordable to get started with modern features.
GreenGeeks Pricing
GreenGeeks pricing is straightforward, with three different shared hosting plans. There are also VPS and Reseller hosting plans. Here is a glimpse of all plan
Shared hosting: Starts at $2.95 per month, renews at $9.95 per month.
WordPress hosting: Starts at $2.95 per month, renews at $9.95 per month.
VPS hosting: Starts at $39.95 per month, renews at $39.95 per month
Reseller hosting: Starts at $19.95 per month, renews at $29.95 per month.
GreenGeeks Pros
1. Impressive Performance
GreenGeeks sites recorded an average response time of 300ms for the last three months. I signed up for GreenGeeks as a customer, installed WordPress, and put the site for continuous testing.
Overall, GreenGeeks is pretty fast, even on the cheapest plan.
| GreenGeeks | Average Response Time |
| --- | --- |
| September 2020 | 263 ms |
| October | 308 ms |
| November | 307 ms |
| December | 156.15 ms |
2. Perfect Uptime
GreenGeeks' uptime as great as their performance. The company offers a 99.9% service level agreement SLA for a year. However, our site recorded a 99.99% uptime throughout the last four months, which is quite good.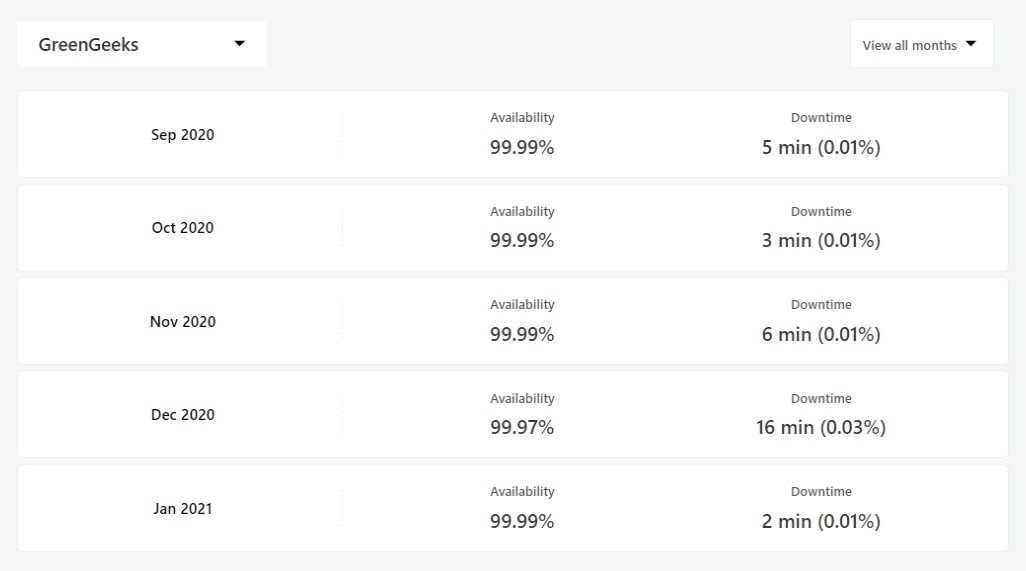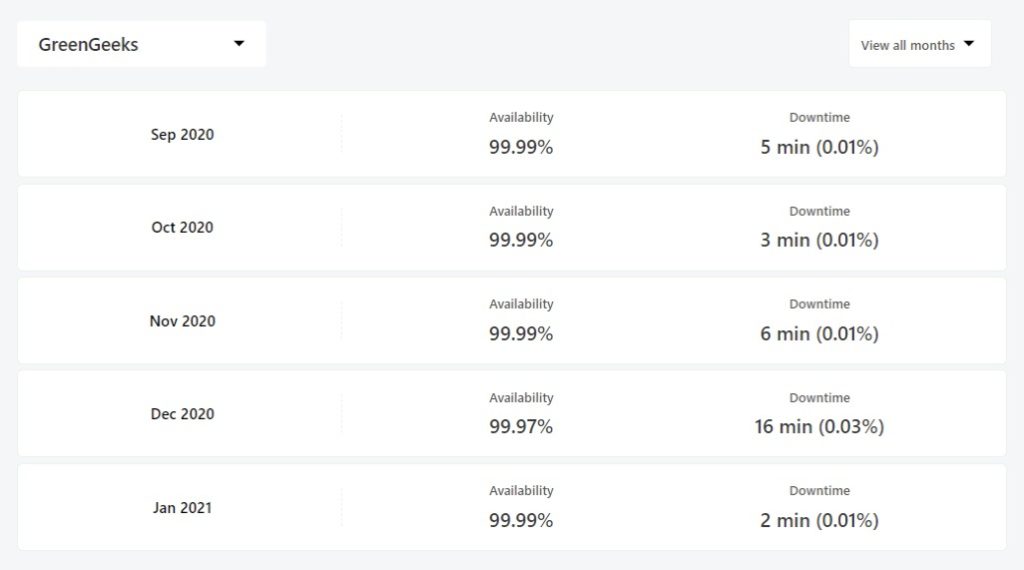 3. Cheap Introductory Pricing
The GreenGeeks is easy to get started at $2.95 per month. There is no coupon code required; the 60% OFF initial discount is added by default. The renewal rates are $9.95 per month, not the best, but a balanced one.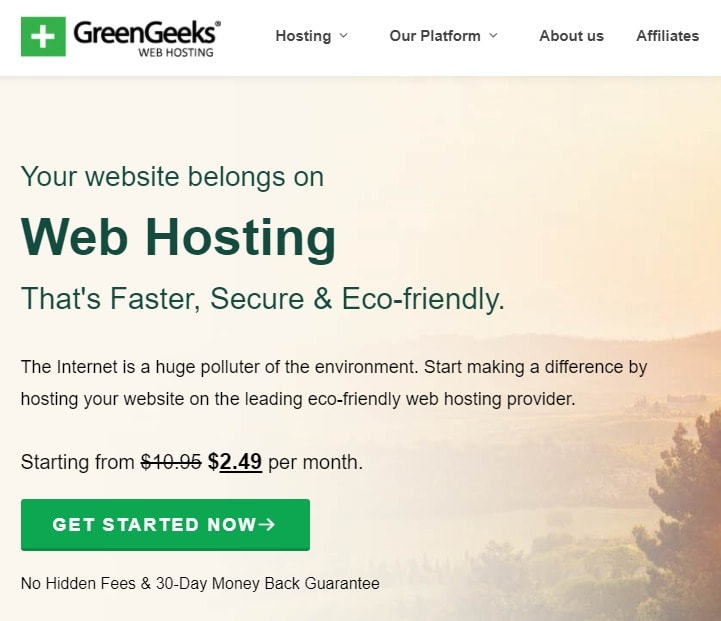 4. 24/7 Customer support
GreenGeeks provides 24/7/365 customer support through live chat, tickets, and robust knowledgebase.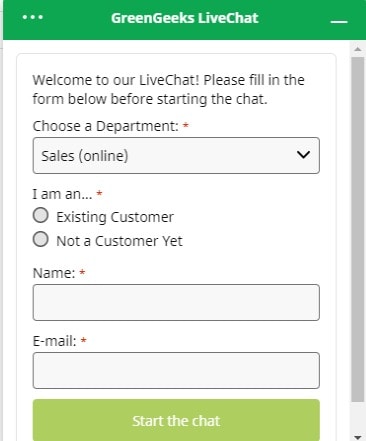 I've tested their live chat multiple times, and most times, I get connected in seconds, and the answers are satisfactory.
5. Scalable shared hosting
For the first of its kind, GreenGeeks introduced "Scalable Computing Resources" to shared hosting. You can easily add RAM or CPU cores through this feature when there is a need for it.
I found this feature impressive, where I haven't heard scaling resources on shared hosting is possible.
6. Powerful Tech Stacks
GreenGeeks always upgrades its technology stacks. In 2018, they upgraded their entire hosting architecture from the base for better reliability.
Their tech stacks include LiteSpeed Web Server and Caching, MariaDB, SSD RAID-10 Storage, Container-based technology, HTTP/3 QUIC, free malware cleanups advanced WAF/AI for protection.
GreenGeeks Cons
1. Not so cheap renewals
GreenGeeks initial prices are great, but the renewals are on the higher side. Notably, their Premium plan starts at $11.95 per month and renews at $24.95 per month.
Users can pay for 36 months in advance; thus, you can enjoy introductory pricing for a more extended period.
Conclusion: Do I recommend GreenGeeks?
GreenGeeks managed to satisfy us well. They've got a great control panel, impressive performance, and uptime, 24/7 customer support that cares. On top of that, the pricing is so cheaper than Netflix.
Overall, you can put your trust in GreenGeeks for your online businesses with an easy option to upgrade plans to VPS if needed.
Frequently Asked Questions
Is GreenGeeks hosting good?
GreenGeeks claims to be environmentally friendly with great speed and security. During our test, GreenGeeks sites responded with a good uptime of 99.99% and a response time of 350ms. The results are promising, which proves GreenGeeks is a great host to get started.
Who owns GreenGeeks?
GreenGeeks was founded by Trey Gardner, a prominent name in the web hosting industry. He is the Chief Executive Officer of the company since 2008. GreenGeeks have got 50,000+ customers with 6,000,000+ websites hosted on their platform across the data centers.
Is GreenGeeks.Com Legit?
GreenGeeks.com is the official website of GreenGeeks. They are legitimate web hosting companies in the industry with 12 years in business. They have their registered and physical office in Agoura Hills, California, the United States of America.
What does GreenGeeks do for the environment?
The United States Environmental Protection Agency has recognized GreenGeeks as a Green Power Partner. BEF is a Green Energy Partner where GreenGeeks shared their info on how many servers and websites are hosted, and BEF calculates the GreenGeeks yearly consumption and carbon footprint. BEF purchases RECs 3 times higher than the consumed rate, thus putting the energy back into the grid.