GreenGeeks Reviews 2022: How Does it Stack Up?
This review on GreenGeeks is written with a focus on Performance, Uptime, features, and support. GreenGeeks was founded in 2008 as a traditional web hosting service with a focus on "Green Energy." While the initiative is excellent, all other parameters are equally essential to withstand against Competitors.
They did a significant upgrade to their hosting platform in 2017 and introduced many new tech stacks like LiteSpeed Web Servers, MariaDB for databases, etc., to keep their services more reliable. With things in mind, read our exciting reviews on GreenGeeks along with existing GreenGeeks user's reviews live at Hostingstep.com.
GreenGeeks Review: Summary
GreenGeeks is a 300% Environment-friendly web hosting provider. Their tech stacks are potent and ever-changing to make an early impact for the future. It's therefore ideal for beginners as well as advanced users to launch their sites with them. GreenGeeks provides a more excellent balance between pricing and performance than most of its competitors' offerings.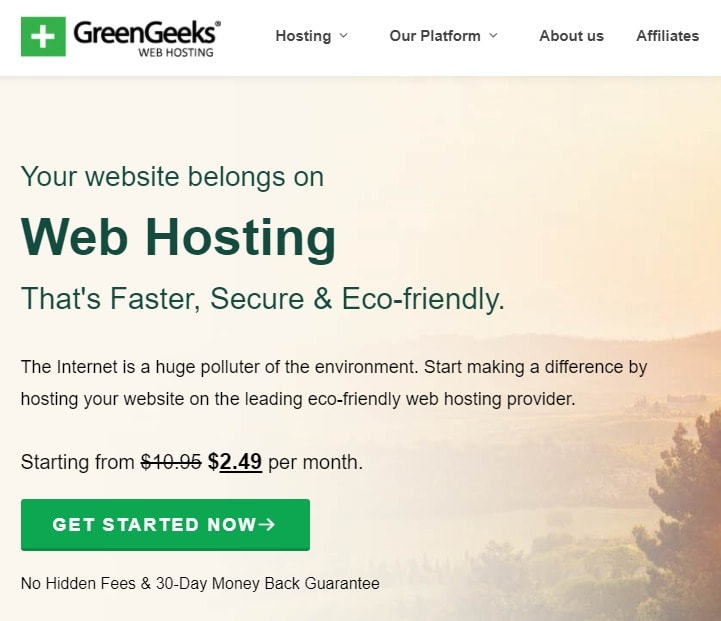 What is GreenGeeks?
GreenGeeks is a web hosting platform engineered for speed, security, and scalability while being an eco-friendly web hosting. They have 24/7 customer support offering various hosting plans from Shared hosting to Reseller hosting suitable for beginners to digital agencies. GreenGeeks prices are affordable to get started with modern features.
GreenGeeks Pricing
GreenGeeks pricing is straightforward, with three different shared hosting plans. There are also VPS and Reseller hosting plans. Here is a glimpse of all plan
Shared hosting: Starts at $2.95 per month, renews at $9.95 per month.
WordPress hosting: Starts at $2.95 per month, renews at $9.95 per month.
VPS hosting: Starts at $39.95 per month, renews at $39.95 per month.
Reseller hosting: Starts at $19.95 per month, renews at $29.95 per month.
GreenGeeks Performance Review
Server Response Time
When you are running a site, everything revolves around performance. We need to test the performance of a hosting service carefully. The performance test isn't only limited to only testing the speed and uptime. There's more to it with Load handling, Global TTFB, and Core Web Vitals. You will understand them gradually as we proceed further but to begin with, let's start with the server response time.
The server response time determines the speed of a website. I hosted a site on the GreenGeeks platform for testing the server response time and have been closely monitoring it using the Pingdom tool.
As per the last test, my GreenGeek site recorded an average server response time of 291 ms, blazing fast and even faster than many leading hosting providers such as A2 Hosting, Kinsta, and WP Engine. Hence, if you are looking for a hosting service that is exceptionally fast, GreenGeeks can be one of the best options to select.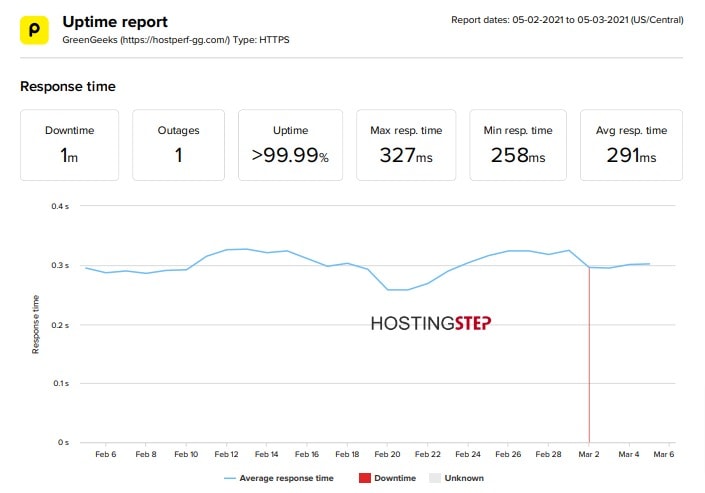 Uptime
Uptime is another very important aspect of performance. Interestingly, even if you have a blazing fast site but an unstable uptime, your site will fail to create an impact out of unexpected downtimes. Downtime will only drive the potential traffic and excellent sales opportunities away. This is why we need to test the uptime of a hosting service really well before choosing one.
As far as the uptime of my GreenGeeks site goes, the site recorded an uptime of 99.99%, and all along the testing period, there was just 1-minute downtime. Overall, the GreenGeeks uptime is very reliable.
Load Testing
One aspect that most of us tend to overlook while selecting a hosting service is the load handling capacity of the hosting service. In other words, it means how well a hosting service handles high traffic. Honestly, I feel you can't afford to miss out on checking this aspect since everyone wants more traffic for one's website.
Besides, a hosting platform with a good load handling capacity can even prevent a website from going down during an unexpected traffic spike or DDoS attack. I have been continually keeping up with the load handling ability of various web hosting services.
Load Testing consists of sending 500 and 1000 concurrent traffic to sites and monitoring how the sites handle it. According to my last test on my GreenGeeks site, my site recorded 25 ms in the Clients Per Test (1000 Clients in 1 MInute) and 35 ms in the Maintain Client Load (500 Clients in 1 Minute). Going by the results, you can largely rely on GreenGeeks when it comes to loading handling.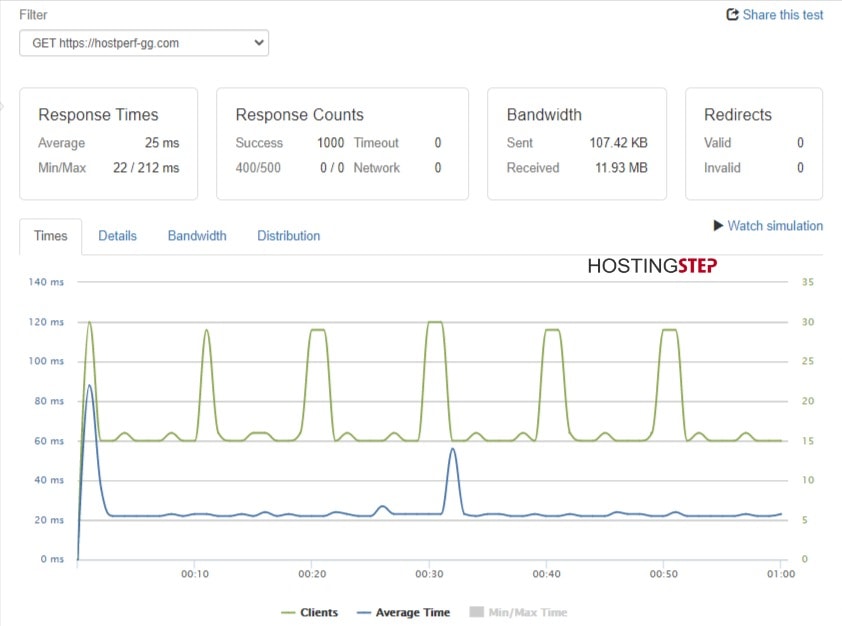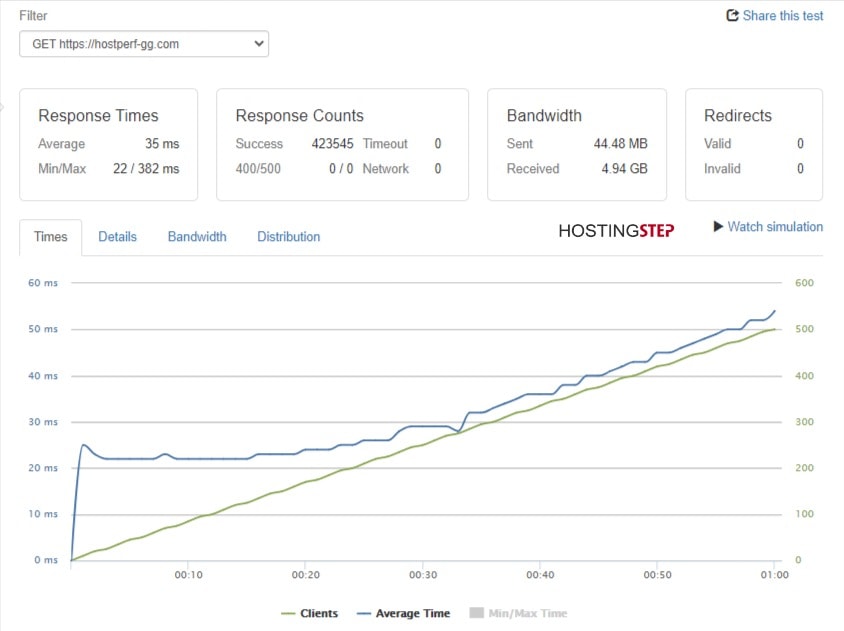 Global TTFB
Many sites rely on multiple global locations for traffic, which has proved very effective for many websites. If you want to make the most out of this strategy, you can; however, before that, you must ensure that you choose a hosting service with the brilliant global TTFB. It means that the hosting service you choose should have excellent TTFB in all the places you are targeting.
I have been consistently checking the Global TTFB of many hosting services. I ping my sites hosted with these services from ten different locations and monitor their TTFB. My last Global TTFB test was performed on my GreenGeeks site; my site recorded an average TTFB of 354.37 ms with excellent TTFB across all the places. The site had the lowest TTFB in New York with 65.42 ms and the highest TTFB in Bangalore with 696.12 ms.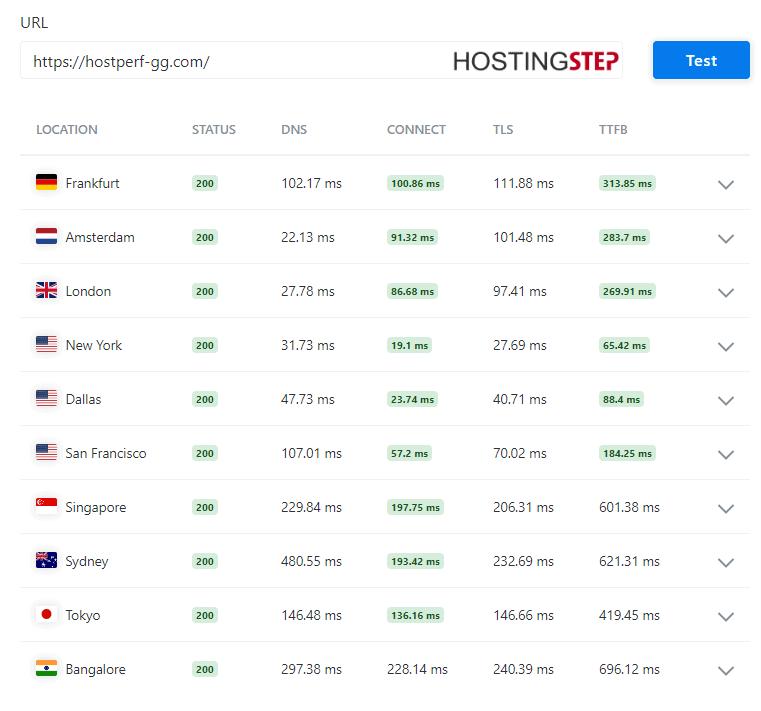 Core Web Vitals
Sites have to strive really hard to deliver an excellent user experience to their visitors to rank higher on the search engines. This also depends on the hosting platform to a large extent. Precisely, the best user experience that a site can deliver directly depends on the Core Web Vitals of the hosting platform you hosted it on.
According to my last Core Web Vitals test on my GreenGeeks site, my site recorded a 'Largest Contentful Paint' of 0.655s, a 'Total Blocking Time' of 0.000s, and a 'Cumulative Layout Shift' of 0. Hence, GreenGeeks can help sites to a large extent in delivering a great user experience.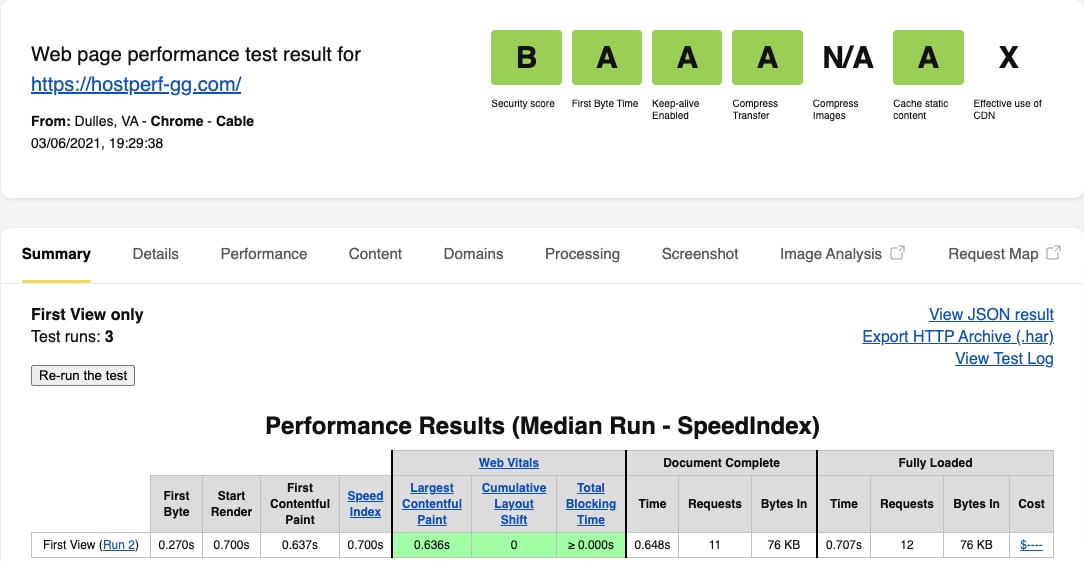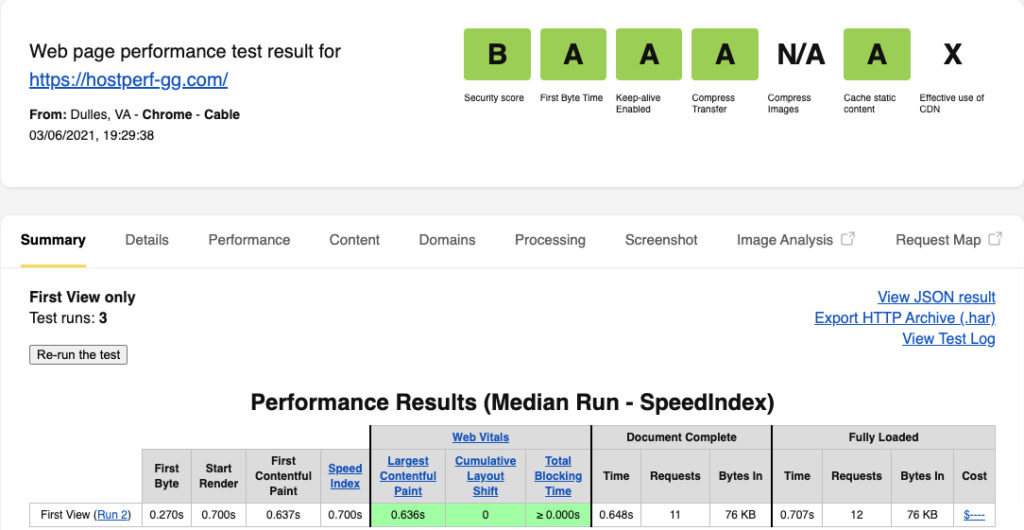 GreenGeeks Pros
1. Impressive Performance
GreenGeeks sites recorded an average response time of 300ms for the last three months. I signed up for GreenGeeks as a customer, installed WordPress, and put the site for continuous testing.
Overall, GreenGeeks is pretty fast, even on the cheapest plan.
2. Perfect Uptime
GreenGeeks' uptime as great as their performance. The company offers a 99.9% service level agreement SLA for a year. However, our site recorded a 99.99% uptime throughout the last four months, which is quite good.
3. Cheapest price in the industry
Price is a big consideration for individual bloggers or startups due to limited budgets. At this time, it's better to compare which hosting you can best afford to, without compromising on important aspects like performance and security.
Fortunately, GreenGeeks offers the cheapest price in the hosting space. You see, it offers an introductory price of just $2.95/month. And this is not the end of it; you get a free domain name as well.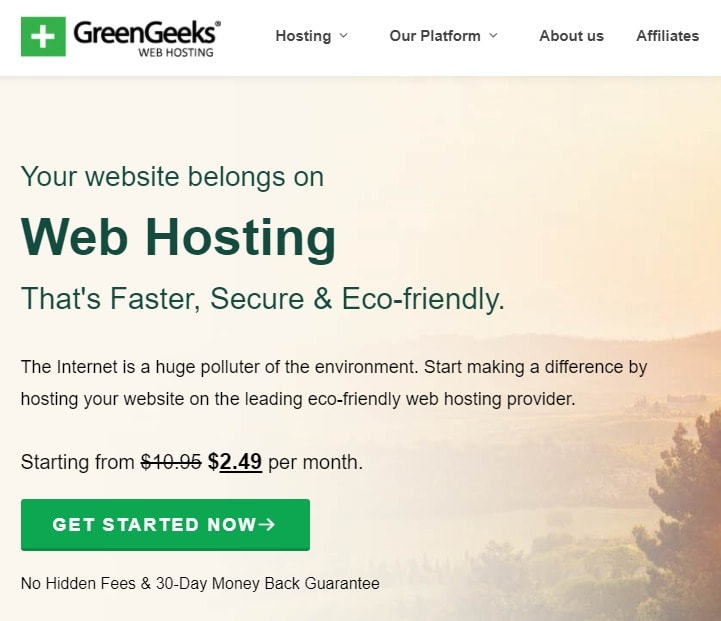 So, you can register a fresh domain name or transfer your existing one with them without investing extra money.
4. Fastest Server Configuration
To run your website well, a high-performing server configuration is always desirable. For this, GreenGeeks utilizes the latest and innovative technologies like the ultra-fast LiteSpeed Web Server and MariaDB to fuel your site performance.
Additionally, GreenGeeks takes care of site performance as a whole by offering scalable resources so you can add extra RAM or memory in need and several data centers to enjoy faster page loading. It also offers LSCache – the caching technology for you to harness its power further to increase page loading speed further.
GreenGeeks also provides the latest versions of PHP 7 and HTTP/2 to strengthen your development team.
For the first of its kind, GreenGeeks introduced "Scalable Computing Resources" to shared hosting. You can easily add RAM or CPU cores through this feature when there is a need for it.
I found this feature impressive, where I haven't heard scaling resources on shared hosting is possible.
5. 100% US-based 24×7 support
No machine is 100% efficient. There might be the likelihood of circumstances where you would need expert support with your website. At this time, only knowledgeable persons can help to deliver the exact solution.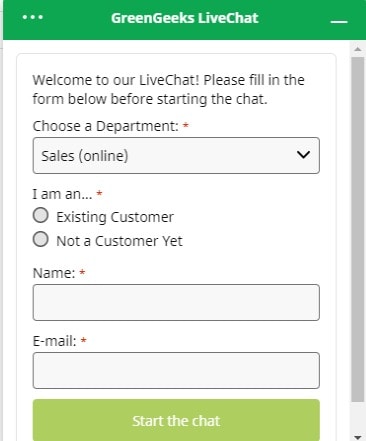 We found GreenGeeks's 24/7 US-based customer support to be good in terms of solving issues while maintaining professionalism. You can call them anytime to seek help via three modes – phone, chat, and ticket, which many service providers don't provide for free.
6. Unlimited web space, websites, Bandwidth
When you check the pricing list of GreenGeeks for web hosting, you could spot so many "unlimited" offerings. It means that the hosting provider offers so many features and essentials to keep running your website without any restrictions.
For the starting plan, i.e., Lite, you get unlimited web space and unlimited bandwidth for transferring your data. But if you compare it with other hosting providers, you can realize how much extra functionality GreenGeeks offers for free.
Similarly, in higher plants, you get unlimited websites and web space and data transfer along with enhanced performance.
7. Free Website Migration
There are hosting providers out there offering site migration by charging you hefty amounts. It again becomes a constraint for beginners.
GreenGeeks, on the other hand, doesn't charge a single penny for site migration. So, if your site is hosted somewhere else, the expert site migrators of GreenGeeks can help transfer your website to their own servers, free of cost.
8. Free dedicated IP on the top plan
If you have a dedicated IP address, you are the sole user of it. It gets tied to your website domain name. It's analogous to your home and its address. While your dedicated IP address is the physical address where your home is located, your website is your home.
Its advantages are:
You can access your website easily
Protects your email reputation and business identity
A requirement while installing an SSL certificate
Improves SEO
GreenGeeks offers a dedicated IP address for free, even on its top plan, so you can reap its extended benefits.
9. In-house developed security
GreenGeeks is endowed with in-house developed security features to provide superior protection to your website. It uses container-based technology for the scalability and security of hosting accounts. With account isolation, it keeps your website fast.
GreenGeeks ensures maximum uptime with redundant hardware along with continuous server monitoring. To safeguard your website from online threats, it offers real-time security scanning. GreenGeeks automatically updates your applications like WordPress, Joomla, Drupal, etc.
With in-built spam protection, GreenGeeks helps reduce the amount of received spam. It offers nightly data backup to ensure your website data is safe from accidental erasure or hardware failure.
10. Free SSL/CDN/SSD Drives
With GreenGeeks as your hosting companion, you get an SSL certificate by Let's Encrypt absolutely free. Additionally, premium SSLs are also available that you can upgrade to for better site credibility.
If you browse the internet for online shopping, social media, or any other website every time, you interact with a CDN. Hence, it plays an instrumental role in your global reach.
The good news is GreenGeeks offers a free CDN, allowing you to optimize your site to reach your customers from anywhere across the globe.
Furthermore, GreenGeeks uses the latest RAID-10 SSD technology for enhanced performance and maximum redundancy.
Apart from the above-mentioned pros, check out some more points to understand GreenGeeks's hosting solution better.
1-click WordPress install
Environment-friendly as it compensates 3x the energy, it consumes out of the grid with renewable energy credits.
Drag and drop builder for free
Free email accounts
cPanel and Softaculous
Unlimited sub and parked domains along with MySQL databases
30-day money-back guarantee.
GreenGeeks Hosting: Cons
1. Price increase for renewals
While the introductory plans are one of the most affordable options available at just $2.95/month, the renewal charges are eye-popping.
The price jumps to $9.95/month for Lite, $14.95/month for Pro, and $24.95/month for Premium plan to continue using the hosting service.
This is a pretty huge jump that many people would not like to incur.
Conclusion: Do I recommend GreenGeeks?
GreenGeeks managed to satisfy us well. They've got a great control panel, impressive performance, and uptime, 24/7 customer support that cares. On top of that, the pricing is so cheaper than Netflix.
Overall, you can put your trust in GreenGeeks for your online businesses with an easy option to upgrade plans to VPS if needed.
Frequently Asked Questions
Is GreenGeeks hosting good?
GreenGeeks claims to be environmentally friendly with great speed and security. During our test, GreenGeeks sites responded with a good uptime of 99.99% and a response time of 291ms. The results are promising, which proves GreenGeeks is a great host to get started.
Who owns GreenGeeks?
GreenGeeks was founded by Trey Gardner, a prominent name in the web hosting industry. He is the Chief Executive Officer of the company since 2008. GreenGeeks have got 50,000+ customers with 6,000,000+ websites hosted on their platform across the data centers.
Is GreenGeeks.Com Legit?
GreenGeeks.com is the official website of GreenGeeks. They are legitimate web hosting companies in the industry with 12 years in business. They have their registered and physical office in Agoura Hills, California, the United States of America.
What does GreenGeeks do for the environment?
The United States Environmental Protection Agency has recognized GreenGeeks as a Green Power Partner. BEF is a Green Energy Partner where GreenGeeks shared their info on how many servers and websites are hosted, and BEF calculates the GreenGeeks yearly consumption and carbon footprint. BEF purchases RECs 3 times higher than the consumed rate, thus putting the energy back into the grid.