1
FastComet Reviews 2020
If you're planning to start a hosting company and looking to capture a big market share, what should you do?
​You​ should offer ​every features and latest technologies with no upsells and ​deliberately offer something ​​​which visitors ​can't refuse to accept.
FastComet did the same. They clearly understand the market needs and they're offering something special which you can't refuse.
Let's check this FastComet Reviews and find what's the special thing.
FastComet Reviews 2020
​Let's check what are the positives followed by drawbacks of this hosting company.
​FastComet Pros

#1 FastComet Uptime - 99.97%
As a part of our review, I bought an hosting account with FastComet like an customer and installed a WordPress site on their servers. Then I started monitoring uptime and response time every second, so that I can analyze the server performance.
Now, you can checkout the historical uptime data of our site hosted on FastComet below.
Historical FastComet Uptime
FastComet uptime ranks #3 in our companies list only next to SiteGround (99.99%) and A2 Hosting (99.98%).
#2 Good Response Time - 435ms
​Historical FastComet Response Time
If you look into the table, FastComet response time were between 400-500ms mostly. However, recently the response time was getting lowered resulting in much more fast loading sites.
Currently, FastComet ranks #3 in our top web hosting list and if these trend continues (less than 300ms response time) FastComet will surely reach #1 in our list.
#3 Good Customer Support (5/5)
​I can write a separate post about FastComet customer support but I would like to keep them short for this FastComet Reviews.
FastComet offers 24/7/365 customer support through live chat, phone and through tickets.
If you're choosing a web hosting, then you should definitely look for response time of customer support ticket and chat.
Tickets are the major way to solve your issues with FastComet and honestly, most of the times, I get an reply in less than 10 minutes.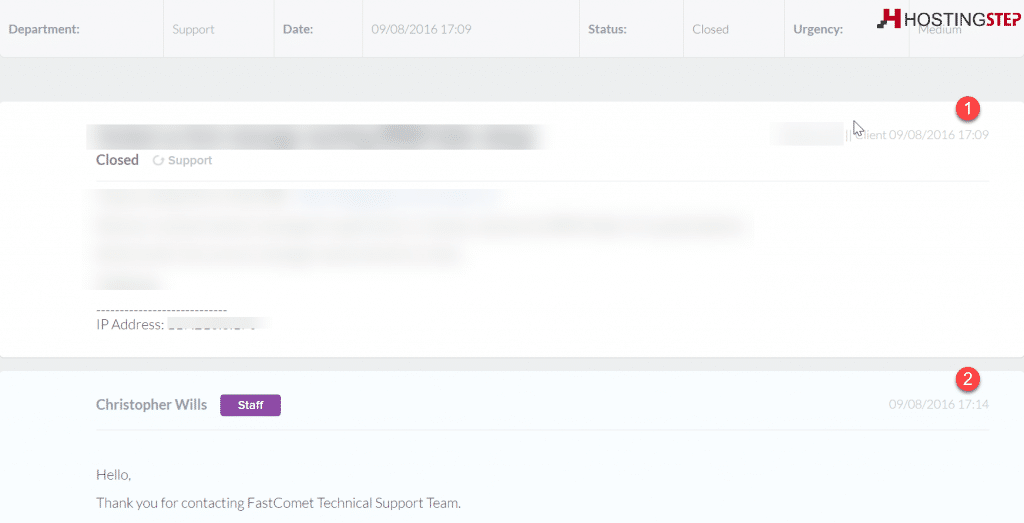 ​FastComet customer support people are ​knowledgeable techies having ​trained on most open source applications​ ​and I don't find any major complaints with them.
Great insights of #FastComet hosting with historical uptime, response time and TTFB values.
#4 Free Domain Name Forever
Remember, I told there is something FastComet offers which you can't refuse to accept?

Yes, you heard it right. None of the company so far have such an incredible offer. There are 10+ domain extension which includes .COM .ORG .NET and country specific domain extensions ​which you can grab for absolute free of cost.
Suppose you're getting an hosting account for $2.95/month, then you'll get a free domain name for lifetime.

How this works?
You can register a new domain name for free and they will keep on renewing it for you as long as you keep an active hosting account with them.
This is one hell of a offer you can get, just remember renewals ​for .COM alone costs $13.95 per year.
#5 Same Renewal Price
No marketing Gimmicks. Pay $2.95/month for a plan and continue paying the same $2.95/month for lifetime. It won't increase to $9.95/month during renewals. How good it is when comes to savings?
That's what I told in the homepage of this site, "Love saving money more than anything? FastComet is the hosting you're looking for"
99.97% Uptime + less than 500 ms loading time + free domain name + same renewal price + 24/7/365 customer support. Do you need anything else from a hosting company?
#6 45 days money back guarantee
FastComet offers 45 days money back guarantee on all hosting plans and you will get a full refund.
#7 ​Eight Datacenter locations (Most by Any)
You can be at any part of the world, FastComet offers you the best hosting experience and they have the most datacenter locations compared to other hosting companies. So I rate them 10/10
You can get free site transfer for all type of hosting plans be it Shared, VPS or dedicated hosting. I transferred one of my site in less than 8 hours, however if you have big websites it may take upto 24-48 hours.
#9 Free Email Hosting
It's becoming a trend, hosting companies stopped offering free email hosting. FastComet still offers Email hosting through cPanel.
The basic plan gets an 250MB mailbox size while the premium plan comes with 1GB Mailbox size.
#10 Bunch of Security Addon for Free.
I should really congratulate FastComet for partnering with multiple companies to offer secured hosting solution for such a nominal cost.
1. Let's Encrypt Free SSL : Most companies offer the same, so there is no special about it.
2. Free Globalsign SSL : I can see ​Globalsign charges $249/year since it offers premium SSL solution but it comes free of cost along with FastComet on selected hosting plans.
3. SpamExperts: All the incoming and outgoing emails are filtered by SpamExperts, the leaders in email solutions. So most of the spam emails gets filtered even before reaching your inbox.
4. BitNinja: Its an all in one security suite to defend our websites which costs $10/month basically but with this company, you can get this for free, ofcourse.
5. JetBackUp: The company takes care of cPanel based backup solutions. While the cPanel's default backup solutions is not so reliable, the company integrated JetBackup which usually costs $3.95/per site on monthly basis.
Apart from it, there are few more premium tools added into their servers, but I think its enough to tell you how well they are an customer friendly company.
​FastComet Cons

​1. Limited Resource on Starter Plans
​These are some of the global practices followed in hosting industry and not particular to FastComet.
​I think the users needs to understand the basic package comes with limited resources, so once if the site is getting good traffic, you'll get resource limit if you continue in the same package.
​I always suggest people to go with middle level or higher level hosting plans, so that they can enjoy better hosting experience.
2. Setup fee for Monthly Billing
If you're planning to have monthly billing, you need to pay a one time setup fee of $19.95 during first billing.
No such charges are implied on second month billing or yearly billing.

FastComet Pricing & Plans
​Apart from Shared hosting plan, FastComet offers different types of hosting including managed Cloud VPS and dedicated hosting for its customer at some seriously stunning pricing (learn more).
Reasons to Buy FastComet
HostingStep Verdict
I'm absolute stunned and impressed with their business model. They built hosting package covering up the entire thing right from fast loading servers to awesome customer support, all bundled together with competitive pricing (infact same renewal price forever).
So I recommend them for Hostingstep visitors and please share your reviews on comments.