Rocket.net Reviews 2022 – The Future of WordPress Hosting?
This expert review on Rocket.net talks about their performance, features, support, and pricing.
The moment you look into the official site of Rocket.net, they talk about SPEED a lot. The numbers mentioned on the site like Cache Hit Ratio, Time to First Byte are impressive; not many use control panels, blazing fast speed, and built-in website security.
Rocket.net was founded by Ben Gabler, who has 17 years of experience working on HostGator, HostNine, UK2, GoDaddy, and StackPath.
Rocket.net Review Summary
Rocket.net competes with other managed WordPress hosting companies. Rocket.net pricing is similar to the likes of WP Engine and Kinsta, but the resources allocated to each plan is enormous. Considering the performance and features, Rocket.net is a great managed WordPress hosting to get started.
Rocket.net Plans and Pricing
Rocket.net comes with four plans named Starter, Pro, Agency and Business.
Starter: $30 per month, 1 WordPress install, 250,000 visits, 10GB Storage
Pro: $60 per month, 3 WordPress install, 1,000,000 visits, 20 GB Storage
Business: $100 per month, 10 WordPress installs, 2,500,000 visits, 40 GB Storage
Agency: $200 per month, 25 WordPress installs, 5,000,000 visits, 0 GB Storage.
Features like Enterprise CDN features, Uptime Guarantee, Free SSL Certificates, 24/7 Support, automated daily backups, multi-site support, etc., are included in all the plans.
There are some differences though, for example, the Starter plan allows one WordPress site hosting option, Pro gives 3, Business gives 10, and Agency allows 25.
There is 50 GB bandwidth on Starter, 100 GB on Pro, 300 GB for Business, and Agency holds 500 GB bandwidth. As for disk space, the Agency pack has 50 GB of it, Business holds 40 GB, Pro 20 GB, and the Starter pack only has 10 GB space.
Rocket.net Technology Stacks
Nginx Web Server, PHP 7.4, HTTP/2
Cloudflare Enterprise CDN
Brotli Compression
Guaranteed RAM and CPU Core
CloudLinux Virtualized Environment
Immunify360 Server Protection
Rocket.net Performance Test
At Hostingstep, we are a performance-focused web hosting review platform. Thus, I've created a separate section for performance testing alone. There are four tests carried out here.
Server Response Time
Rocket.net recorded an average response time of 268 ms, the best score among all the hosts tested at Hostingstep.com. Lower the response time, faster is your server.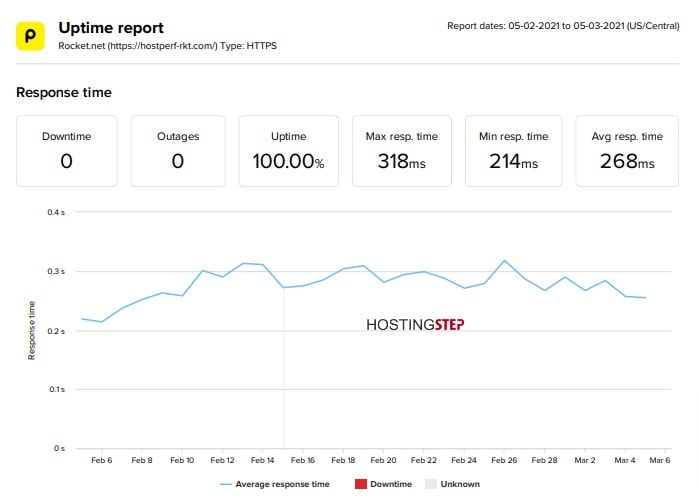 Thanks to Cloudflare Enterprise Integration with full page caching, the response time score is impressive.
Uptime
Rocket.net recorded 100% uptime in the last three months. The site was monitored 60 seconds once from two tools, and both confirmed the 100% score.
Uptime is an important factor, too, at this premium price range. Rocket.net servers are reliable, and I hope the scores will continue in the coming days.
Load Testing
For this test, I've sent 1000 concurrent visitors to the site for 1-minute, and I've got 14 ms average response time during load, which is the best score I've ever recorded among all hosting companies.
This test ensures how good or bad your servers are when your site receives viral traffic. Lower the response time, faster is your server handling the traffic well.
Apart from response time, one needs to look into Response counts. You can see the server processed all the 1766220 requests with just 121 errors.
Core Web Vitals
As Core Web Vitals get into a ranking factor, one can't merely neglect those scores. Our demo sites at Rocket.net scored 2.6 seconds of Largest Contentful Paint ( less than 2.5 seconds is recommended to get pass score in search console.)
| core web vitals | Largest contentful paint | cumulative layout shift |
| --- | --- | --- |
| Rocket.net | 2.6 s | 0 ms |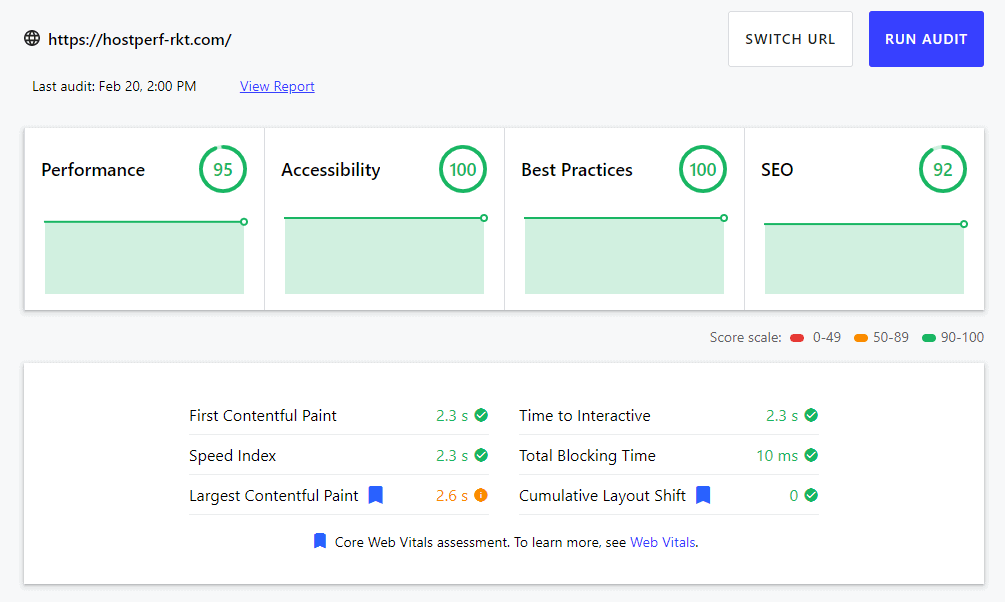 Global TTFB
This is our usual test to determine the server response time across the global locations. If your site has visitors from multiple countries, then you need to look into this.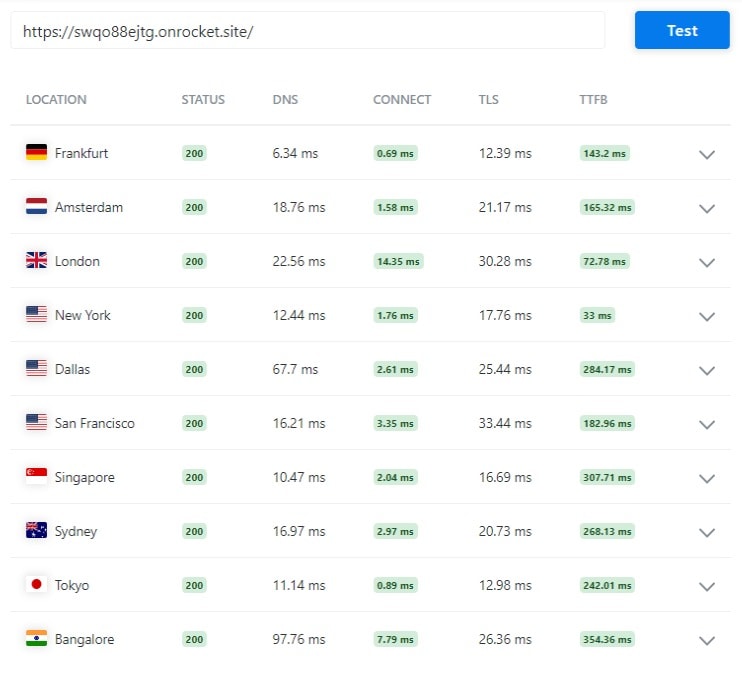 Since Rocket.net comes with full page caching, the TTFB is below 400 ms across the globe. It doesn't matter where your visitors are located, the Cloudflare Edge network will deliver the sites at the lowest possible TTFB.
Summary: Rocket.net attains the highest best possible score in all tests beating the most popular Managed WordPress hosts. If you need affordable yet powerful WordPress hosting, then Rocket.net is the one you should choose now.
Rocket.net Pros and Cons (Summary)
Rocket.net Pros:
The only host to get powered by Cloudflare Enterprise network.
Full page Edge caching enabled by default offering sub-100ms TTFB
Enormous traffic limits compared to competitors.
Excellent performance and reliable uptime
No Upsells; everything comes included in the plans.
Rocket.net Cons:
No email hosting
Not affordable for beginners.
Rocket.Net Pros in Detail
Rocket.net is Powered by Cloudflare Enterprise
Rocket.net uses Cloudflare Enterprise network. Thus all the sites are always-ON with CDN and WAF.
What is the special about Cloudflare Enterprise? Cloudflare has a free, Pro and Business plan priced at $0, $20, and $100 per month respectively. All these plans have limited access to their Global CDN locations.
I've my location in Kansas city and the Rocket.net site got delivered from Cloudflare's Kansas POP while another site hosted on Free or pro plan got it delivered from the next nearest St.Louis POP. Check for abbreviations here.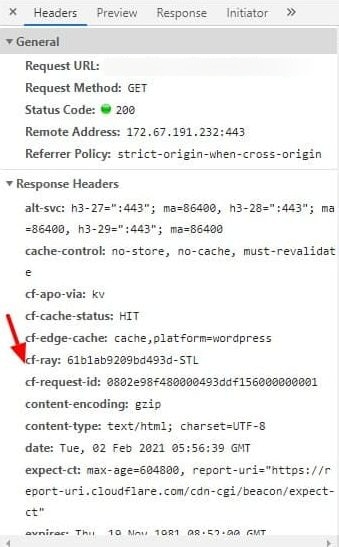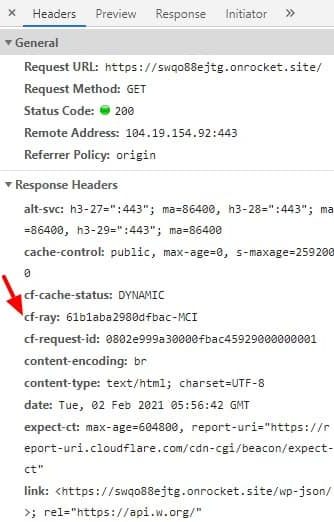 Take this another example from India. Cloudflare got seven POP locations in India. The first site is hosted on Cloudflare free or Pro plan and the content is delivered from Singapore. Whereas, the site hosted on Rocket.net is delivered from Bombay, the major POP of Cloudflare in India. That's the power of Cloudflare Enterprise.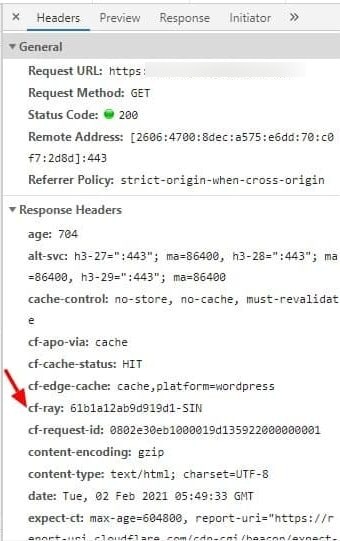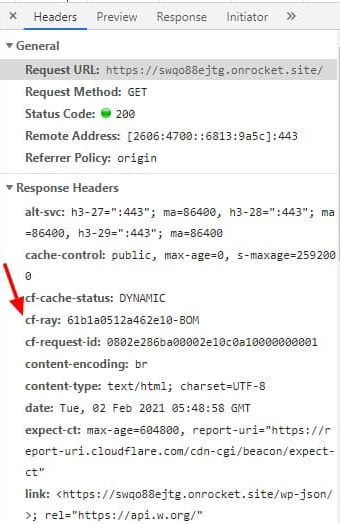 Rocket.net uses Cloudflare Enterprise to host your sites; thus, you will be getting the maximum performance as the site will get access to all global POP locations. Apart from global access, Rocket.net also integrates the Enterprise features like Polish and Mirage Image optimization, Cookie Cache Bypass, etc.
Full Page Caching
Rocket.net deploys your site on Cloudflare Full Page Caching by default. Irrespective of the data center location, Full Page Caching can deliver sub-100ms TTFB throughout the globe. Below is the comparison between SiteGround (APO Cloudflare) and Rocket.net (Cloudflare Full Page Cache), where Rocket.net outsmarts the traditional CDN setup.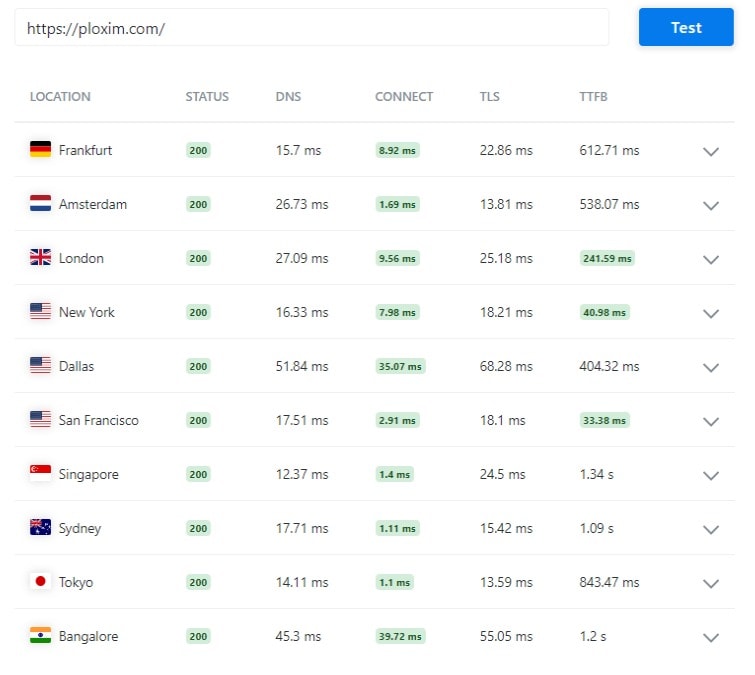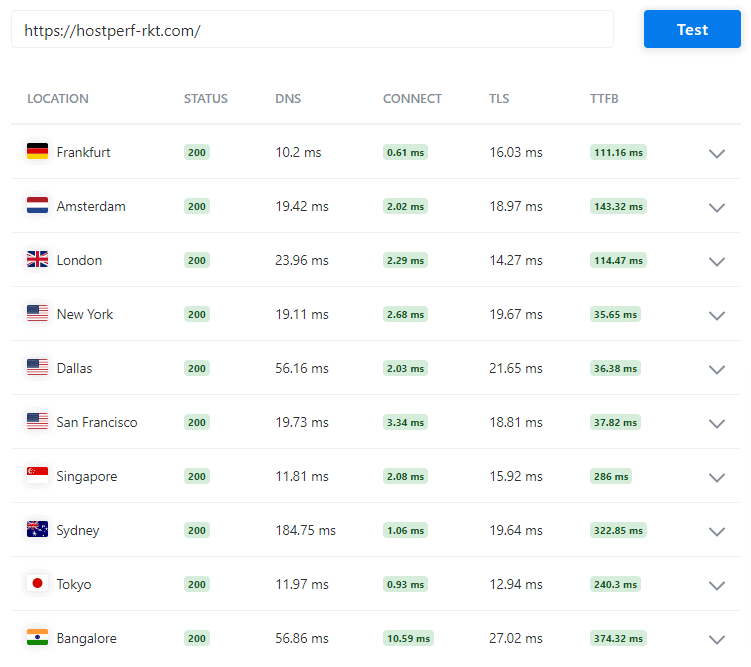 The site hosted on SiteGround doesn't have a great global TTFB and in fact, at some locations, the TTFB itself is over 1 seconds while the site hosted on Rocket.net delivers low TTFB throughout the globe.
WP Engine offers the same feature as a "Global Edge Security" add-on priced at $30 per month per site.
Powerful Performance and Uptime
Rocket.net recorded an average response time of 271 ms this month. To test their performance, I've bought an account with Rocket.net and deployed a WordPress demo site.
| ROcket.net | Average Response Time |
| --- | --- |
| January 2021 | 247 ms |
| February | 271 ms |
The response time was mostly on an average of 100 ms, but when Cloudflare MISS the cache, the response time is as high as 1000 ms. Thus the overall server response time is recorded at 386.25 ms. If you ignore the spikes, Rocket.net could have recorded an average of 100 ms throughout the month.
| ROcket.net | UPTIME |
| --- | --- |
| January 2021 | 100% |
| February | 100% |
The uptime of Rocket.net is 100% throughout our test period. On record, Rocket.net promises a 99.99% uptime guarantee, which also slightly better than their competitors WP Engine and promises 99.95%, and Kinsta promises 99.9%
Enormous Traffic Limits
Rocket.net offers nearly double the bandwidth when compared to WP Engine and Kinsta. If you are looking for a perfect alternative to the above two hosts, Rocket.net will impress you much.

The Starter plan at $30 per month comes with 250,000 visits per month, while competitors offer 25,000 visits per month at the same price. Here is a table that compares the traffic limits of Rocket.net with Kinsta and WP Engine.
Rocket.net Features
Simple yet effective Dashboard
Rocket.net dashboard is simple with no distracting elements. On My Dashboard page, you can see the overall stats of the number of sites hosted, visits, disk usage, and bandwidth limits.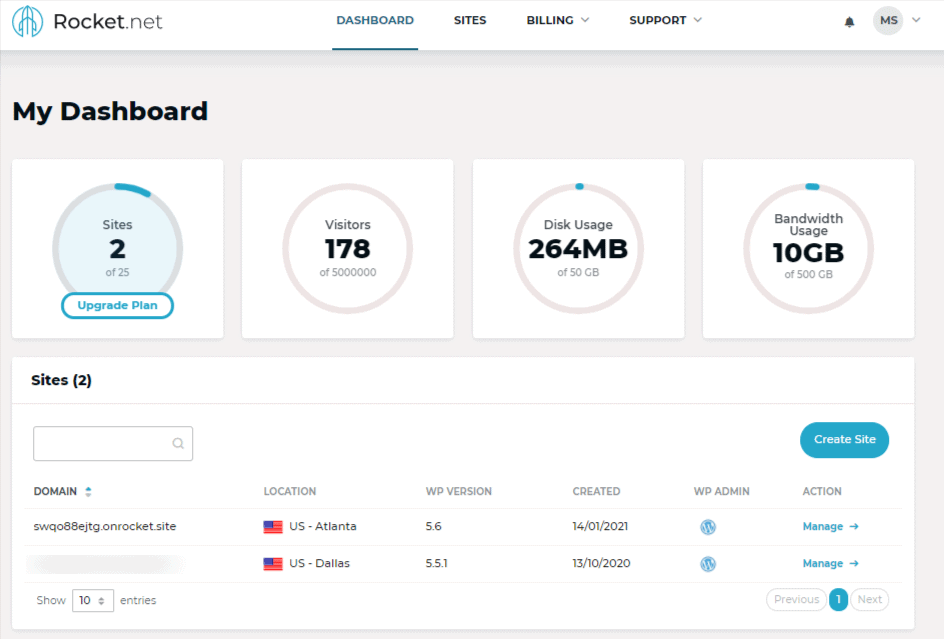 Next to it, the number of sites is listed with Rocket.net server location, WordPress version, and quick login access to WP Admin and then the "Manage" option to do advanced functions. There is also an option to create tickets and view the latest Rocket.net updates in the dashboard. As said above, the dashboard is clean, with only the essential things required for a user.
Site Management
This is the site management page for each site hosted on Rocket. There are six significant features listed for easy access.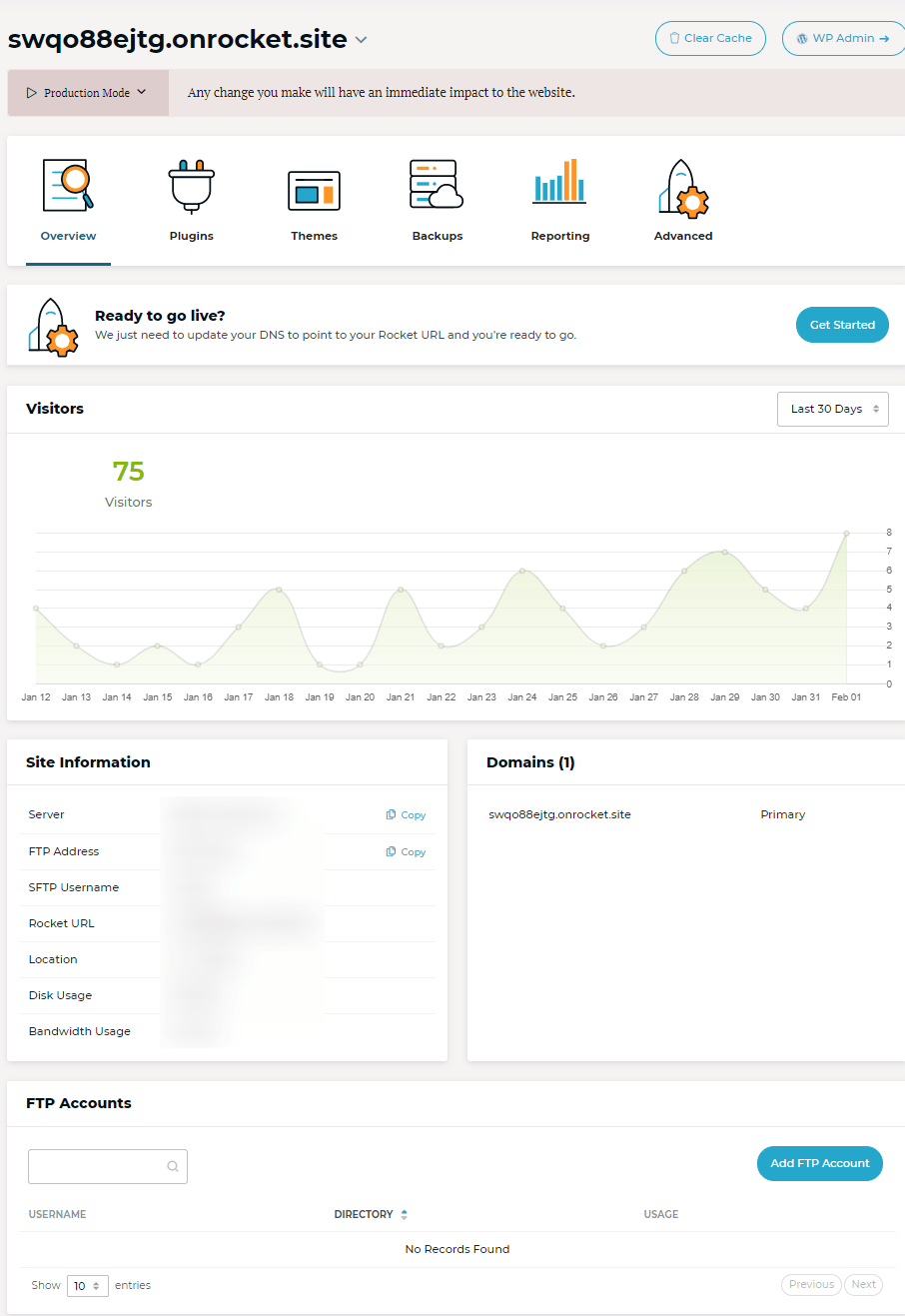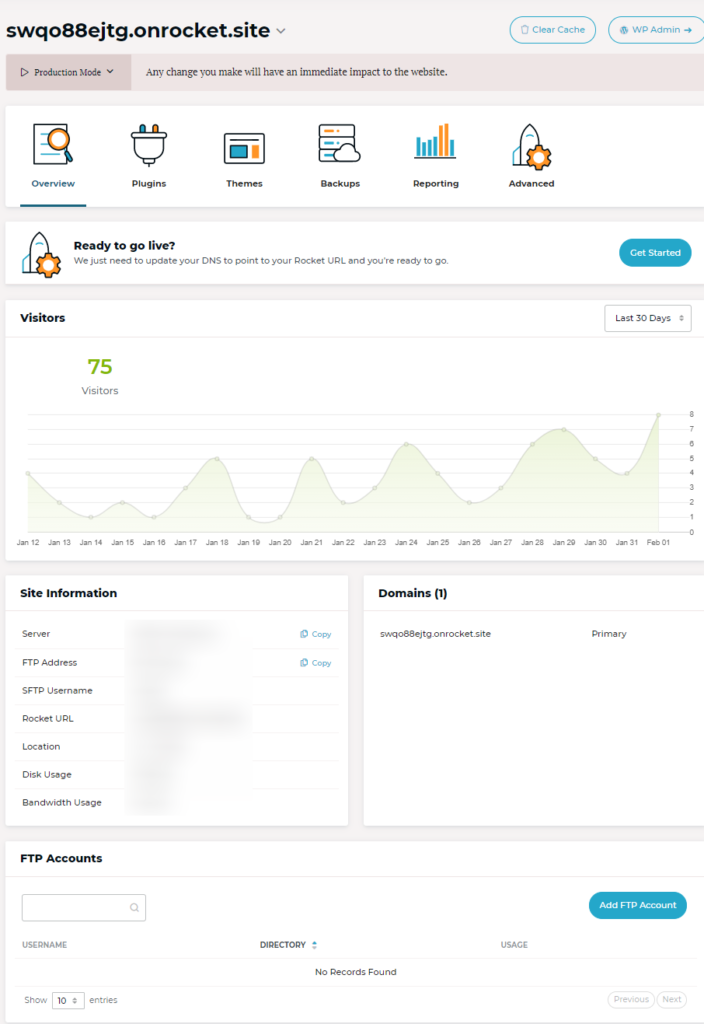 Overview
Through Overview, you can check for a detailed visitor graph for the last 24 hours or up to the extent of 60 days. After that, the site information comes with the server name, FTP address, SFTP Username, Rocket Temporary URL, server location, disk, and bandwidth usage. Adding an FTP account is included in the Overview itself for rapid development.
Plugins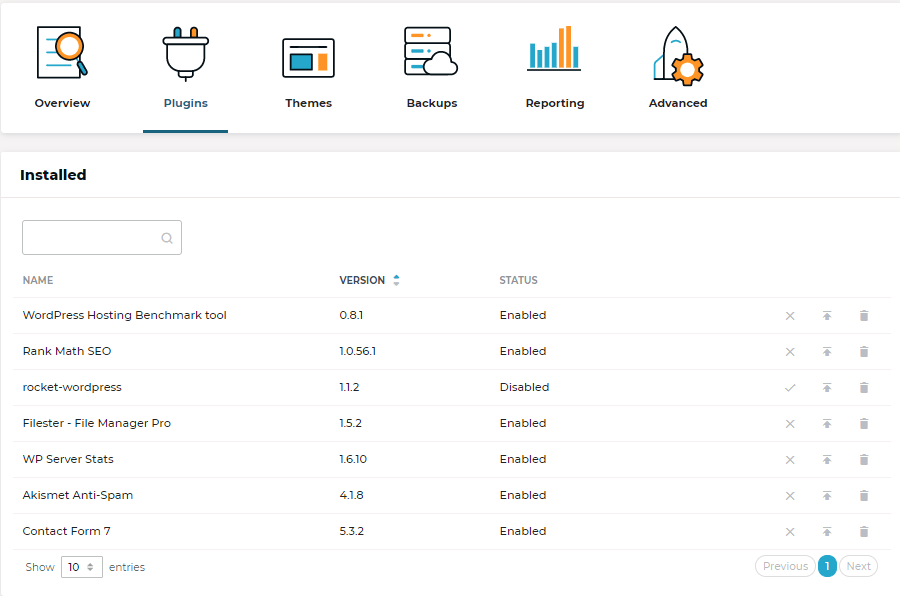 This is my favorite section in Rocket that lists all the plugins installed on the site. It also displays the plugin version and option to update, delete or deactivate the plugin without logging into the sites. This feature reduces the hassles of managing plugins at once screen. At times, plugins might be affected by malware and require an immediate update, and at this time, this feature comes in handy. If you're using paid services like manageWP to handle such tasks, this will be a great money-saver.
Another highlighting feature is that you can search for new plugins inside the dashboard. Yes, just enter the name; Rocket.net will look into WordPress.org and list you the related plugin you can activate from this dashboard.
Themes
This section is similar to Plugins, where one can manage themes updates and install new themes or deactivate live themes. You can also search for new themes and install them on the go.
Backups
Rocket.net allows both manual and automated backups. The automatic backups are made daily and available for restore at one-click. At times, you'll need to create manual backups while testing new features, and the manual backup will be useful for developers.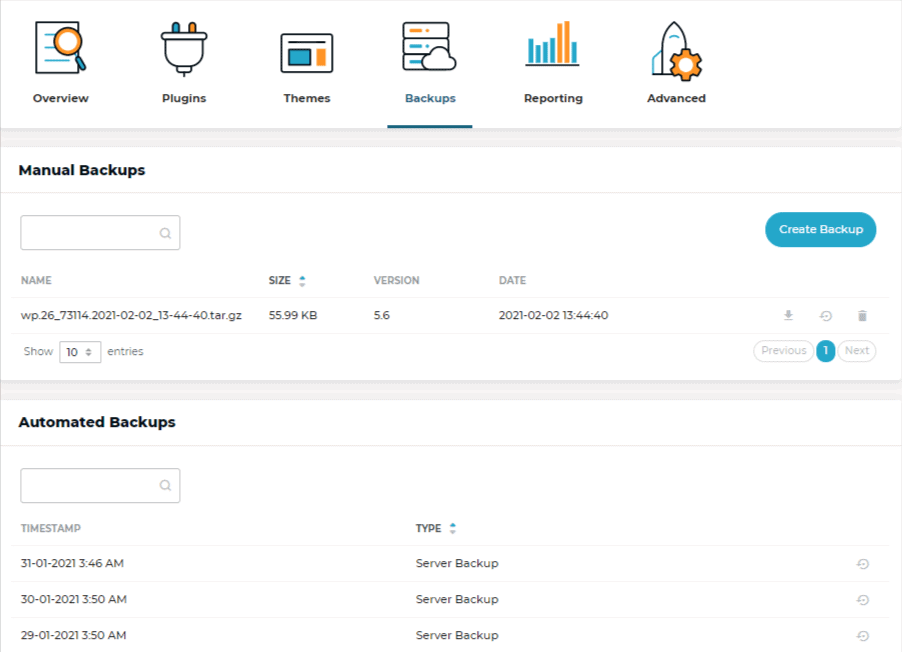 You just need to click on Create Backup and then choose between Backup Directory, Backup Data Directory, or Backup Database to initiate manual backups.
Reporting
I already discussed Rocket.net is powered by Cloudflare. This reporting section lists exciting data related to CDN with data of up to the last seven days.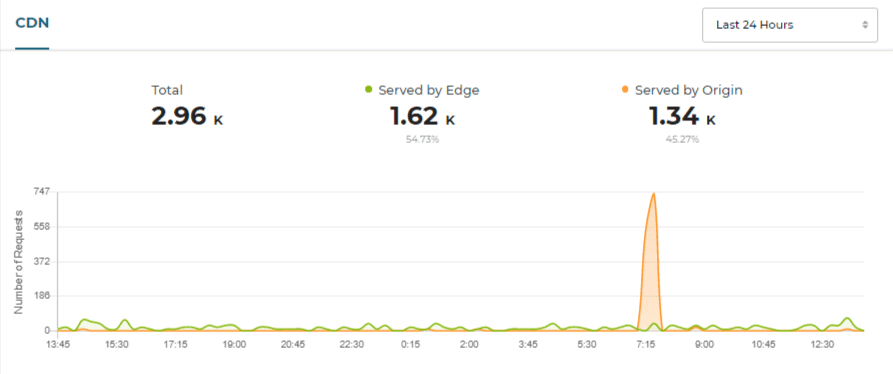 Our sites recorded 1.68k requests in the last 24 hours, and out of it, only 60 requests are served by Origin, and the rest of 1.62 requests are served from Cloudflare Edge. Under Cache Status, the Cache to Hit Ratio is available. Out of 1620 requests handled by Edge, only ten requests have missed the cache delivery; thus, the overall cache-to-hit ratio is 96.43%, which is pretty impressive. Lower the cache MISS, higher the possibility of your sites getting a passing score in Core Web Vitals.
In case you need more data, here are our last seven days' CDN reports. There have been 1.82 million requests made, and out of them, 1.81 million requests are edge cache, thus delivering a 99.88% cache-to-hit ratio.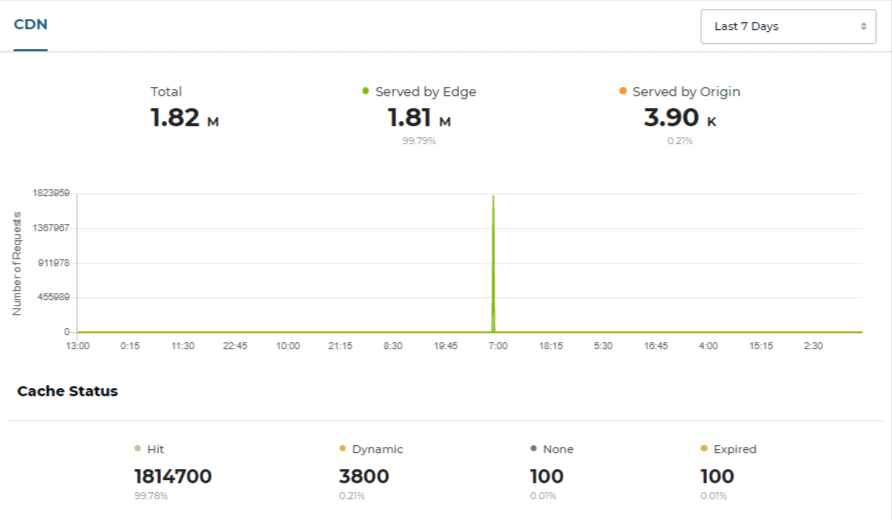 After that, the split up details like Content Types, Countries from where requests are made, device types, Host, Query Strings, Status Codes, and URL paths are listed.
Advanced
Managing WordPress sites PHP version, update preferences are present here. With one-click, you can change the PHP versions. Rocket.net supports up to PHP 7.4 at the time of writing, and I expect PHP 8.0 will be available any time soon. You can also enable or disable the Auto updates of WordPress cores, themes, or plugins. SSH access can be enabled only when needed.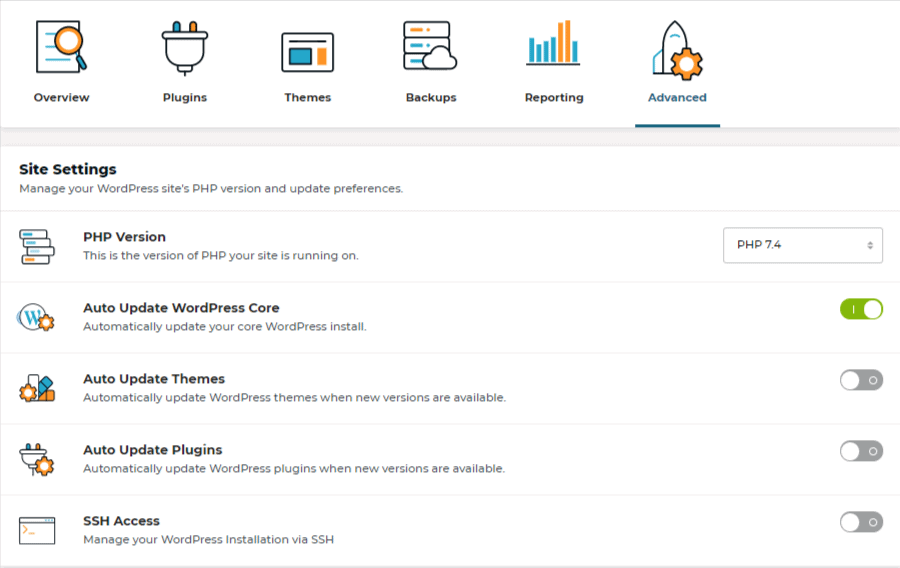 You can create Cron Jobs to automate commands or scripts on your site. Rocket.net recommends moving WP-Cron.php to an automated cron job to help decrease page load time.
Staging sites

At single click, Rocket.net creates a staging environment in seconds. The staging mode has got the exact setup of the main dashboard with a different sub-URL. All the development works can be carried out here, and at a single click of Publish button, the staging site contents will be pushed into the production site.
Rocket.net Data Center Locations
Rocket.net provides service from 19 global locations across the globe. Rocket.net calls them Edge Hosting locations. The locations are
Atlanta, United States
Austin, United States
Chicago, United States
Dallas, United States
Los Angeles, United States
Miami, United States
New York City, United States
Orlando, United States
Phoenix, United States
San Jose, United States
Seattle, United States
Toronto, Canada
Vancouver, Canada
Montreal, Canada
Amsterdam, Netherlands
London, United Kingdom
Frankfurt, Germany
Sydney, Australia
Tokyo, Japan.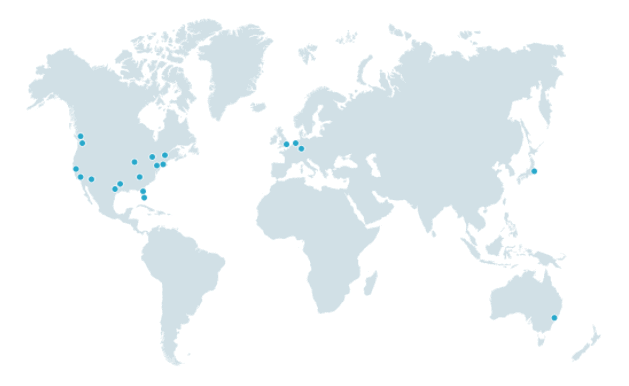 Rocket.net provides the ultimate flexibility of choosing any data centers for any number of sites available in your plan.
Frequently Asked Questions
What is Rocket.net?
Rocket.net is the managed WordPress hosting platform that is optimized and delivered from Cloudflare Enterprise. Sites hosted on Rocket.net comes with built-in CDN and WAF security by default.
Is Rocket.net any good?
Rocket.net possessed a very high uptime, low response time, and handled 1000s of concurrent users without any issues based on our testing. So, overall, Rocket.net offers the best value for money, and it's good.