A2 Hosting started in 2003 and claims to be one of the fastest hosting services with up to 20X faster speed.
A2 Hosting offers shared, managed WordPress hosting, VPS, and Dedicated Server hosting. A2 Hosting offer good security features and unmatched Guru Crew Support.
A2 Hosting Pros
1. Superior Performance
A2 Hosting places a significant focus on delivering fast website loading speeds. According to the TTFB test conducted over the past 12 months, A2 Hosting achieved an impressive score of 323ms. This places A2 Hosting among the top 5 fastest shared hosting services out of the 22 we have tested to date.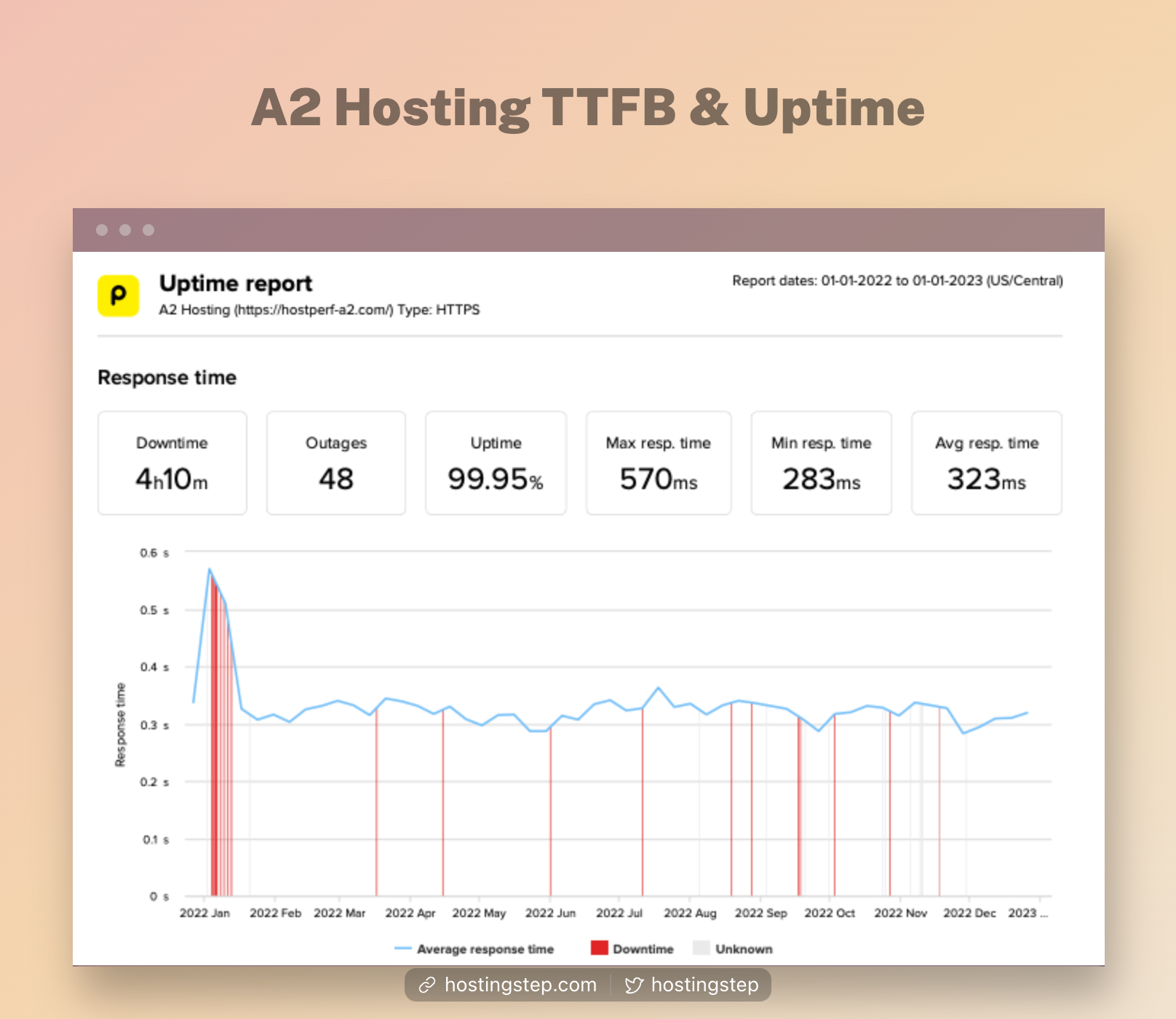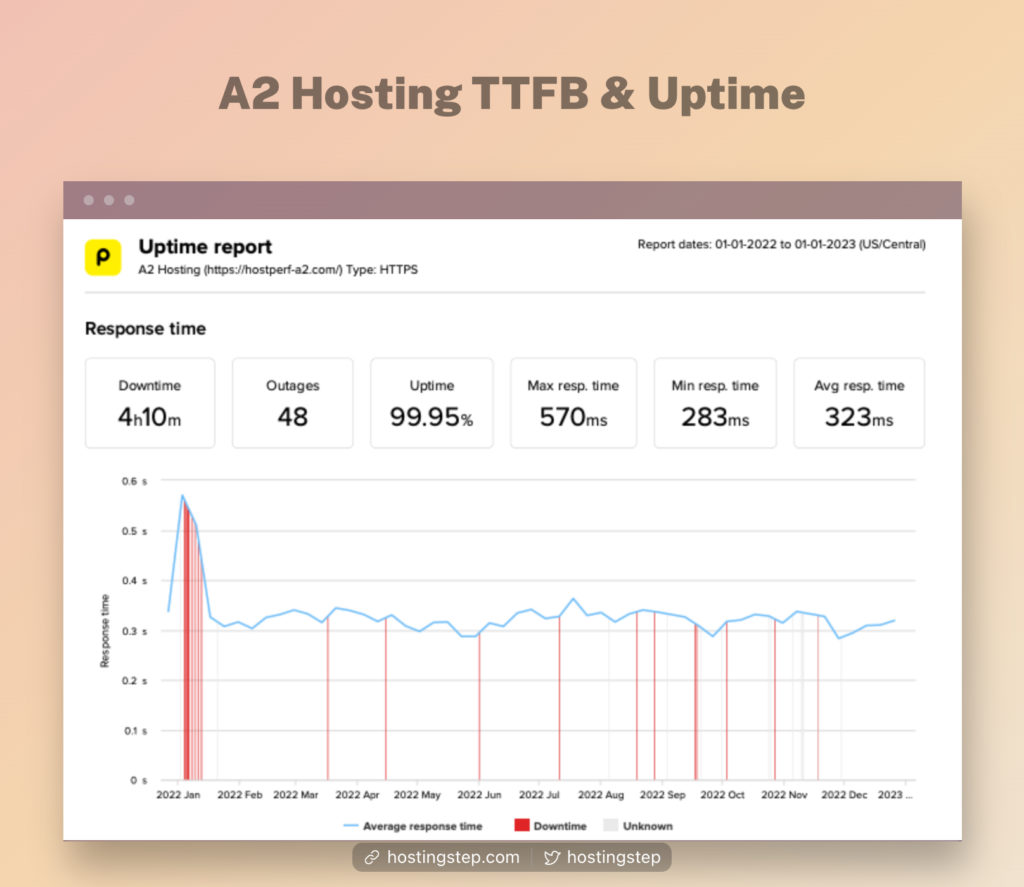 The service comes with many advanced speed optimization features such as LiteSpeed, Turbo Servers for 20x faster speed, NVMe, and SSD storage which helps the service offer such a brilliant speed.
2. Affordable pricing to get started
A2 Hosting is one of those hosting services that offer the lowest entry price. A2 Hosting offers excellent introductory prices and allows customers to start for as low as $2.99 per month with its STARTUP plan.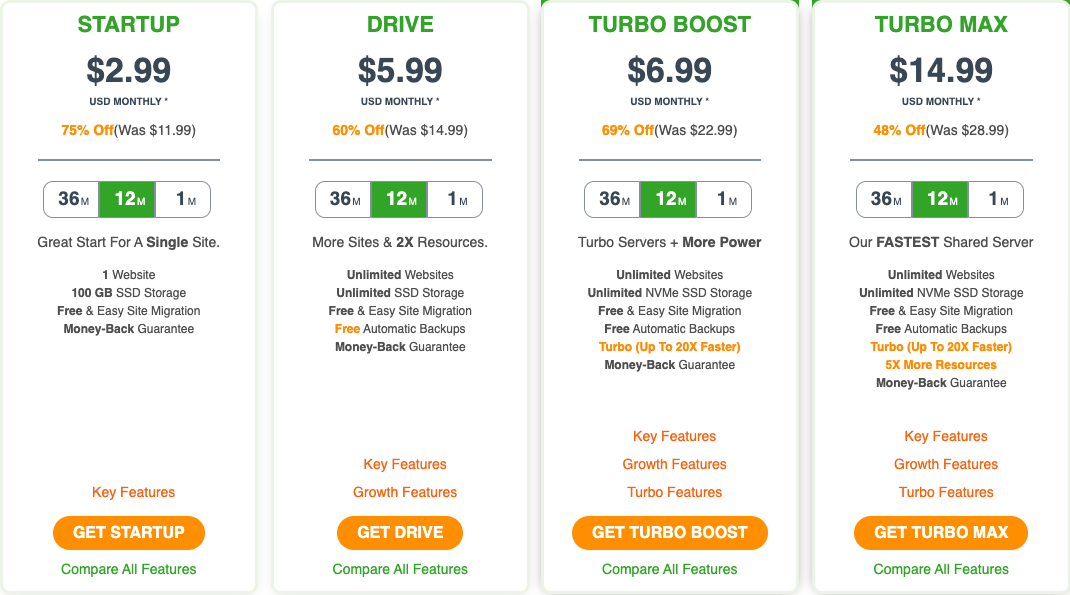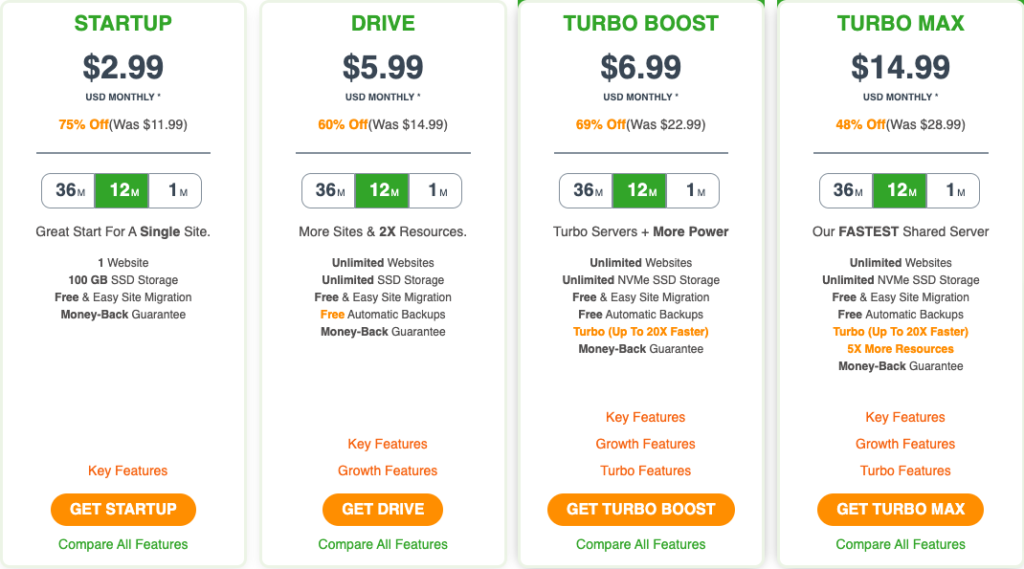 If we compare the introductory price of the plan with its actual price, the introductory price is at a discount of 75%. However, the only cache is that you have to buy it for 12 months in order to get the plan at this price.
If we consider the Drive and Turbo plans, they are also available at decent discounts. Hence, A2 certainly has an affordable entry price.
3. Great customer support
A2 has a dedicated and experienced customer support team, which is popular as Guru Crew Support.
The A2 support team is considered one of the best support teams in the industry. The support team does an exceptional job of helping the customers 24/7 through live chat, phone, and email. Besides, the host has a decent knowledge base for quick reference.
4. Flexible money-back guarantee
A2 Hosting is the only company to offer flexible money back guarantee. A2 Hosting by default offers 30-days money back guarantee with full refund and a pro-rated 30 days money back guarantee in the next 30 days.
So, A2 customer can get up to 60 days money back guarantee. This is the only shared hosting company that offers such a long guarantee.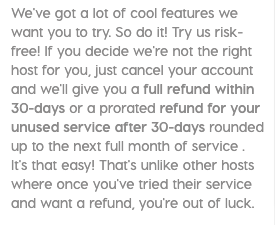 It makes A2 pricing absolutely risk-free, and customers can try A2 without worry. It is an excellent option for the customers and also reflects A2's commitment to its customers.
4. Global data centers
A2 has four global data center locations comprising Arizona(USA), Michigan (USA), Amsterdam (Europe), and Singapore (Asia).
It helps customers serve their global audience better and faster.
5. Free SSL, CDN (no major upsells)
A2 offers free SSL and Cloudflare CDN on all plans. This eventually reduces the cost of maintaining websites for customers since they don't have to get SSL and CDN paying additional charges.
It is especially good for those customers that are starting with a tight budget. On top of that, A2 doesn't have any upsells.
6. Free Email hosting
Many hosting companies have stopped free email hosting with hosting plans in recent years. However, A2 continues to offer the feature for free, which is commendable for the hosting provider since customers will not have to buy this feature for an additional cost.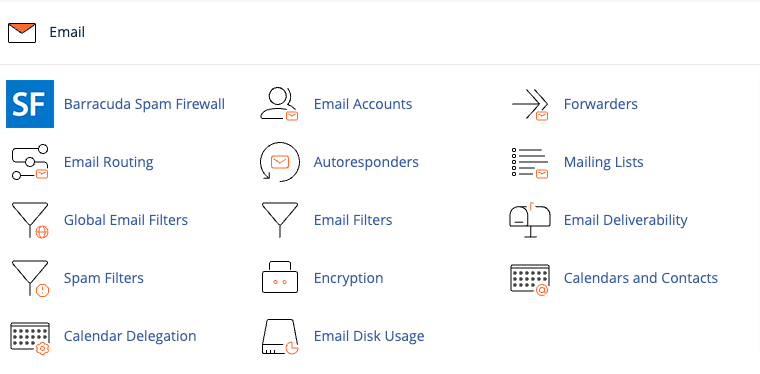 Further, A2 comes with premium Barracuda Spam Firewall for spam protection.
7. Best security features
When it comes to website security, A2 is one of those hosting services that come with the most robust security features. A2's perpetual security comprises Immunify360 malware protection, Two-Factor Authentication, Virus Scanner, Firewall, and Brute Force Defense.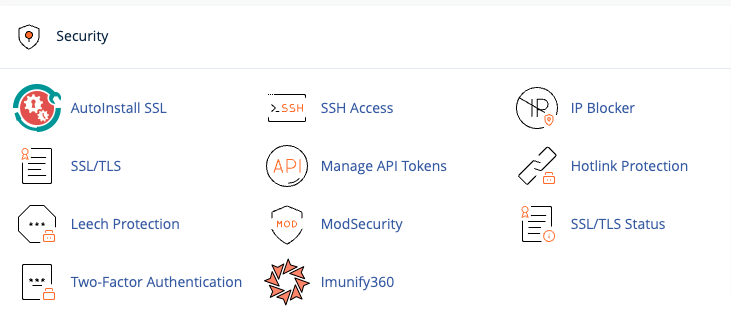 Further, the service comes with KernelCare Daily, Automatic & Rebootless Kernel Updates, and Reinforced DDoS Protection. Hence, it wouldn't be wrong to say that customers can have the best website security with A2 Hosting.
A2 Hosting Cons
1. The starter plan has limited features
Even though A2 offers customers an affordable entry price, the plan comes with pretty limited features.
For example, the STARTER plan comes with SSD storage instead of NVMe storage. Besides, it comes with limited storage and allows you to host just one website.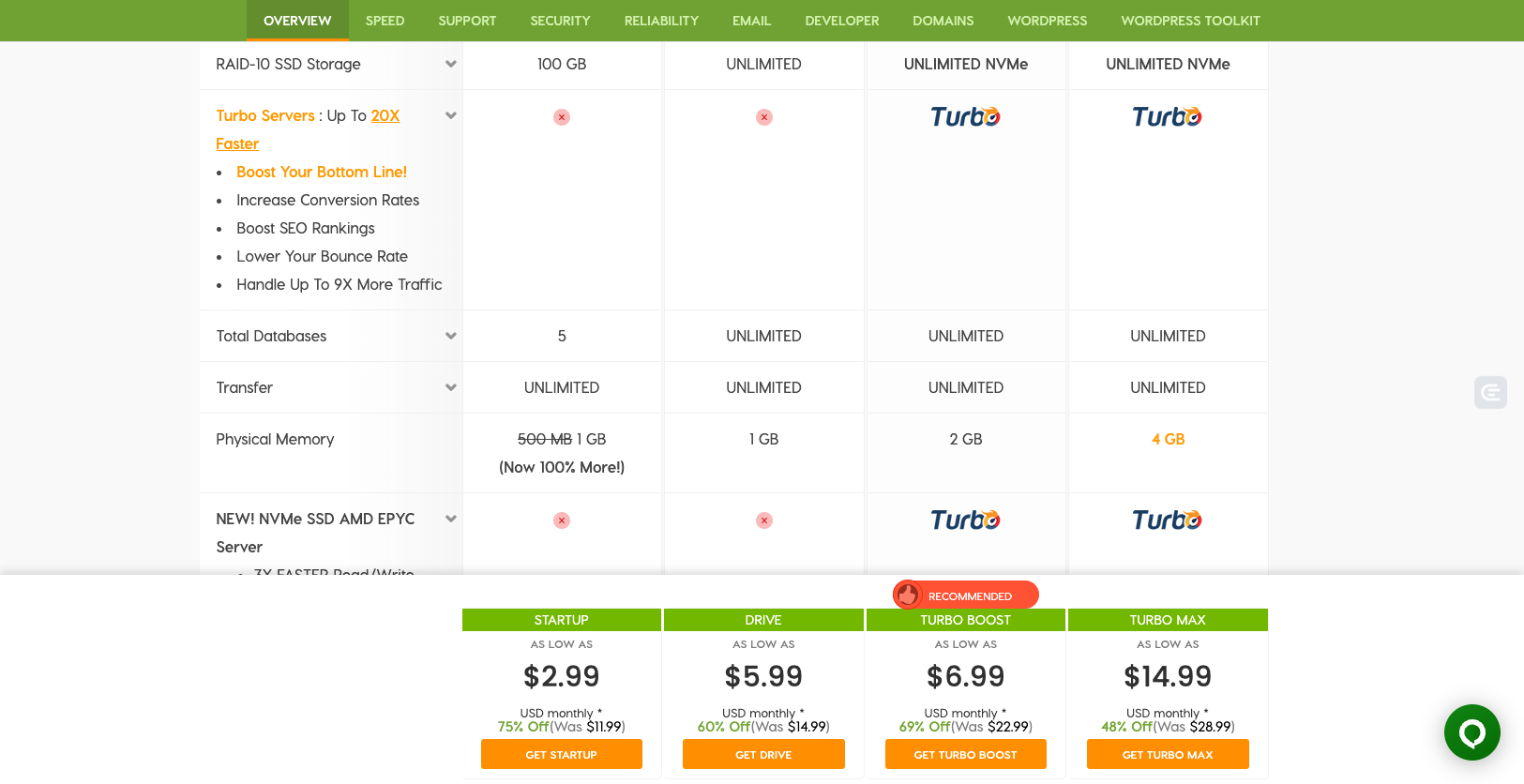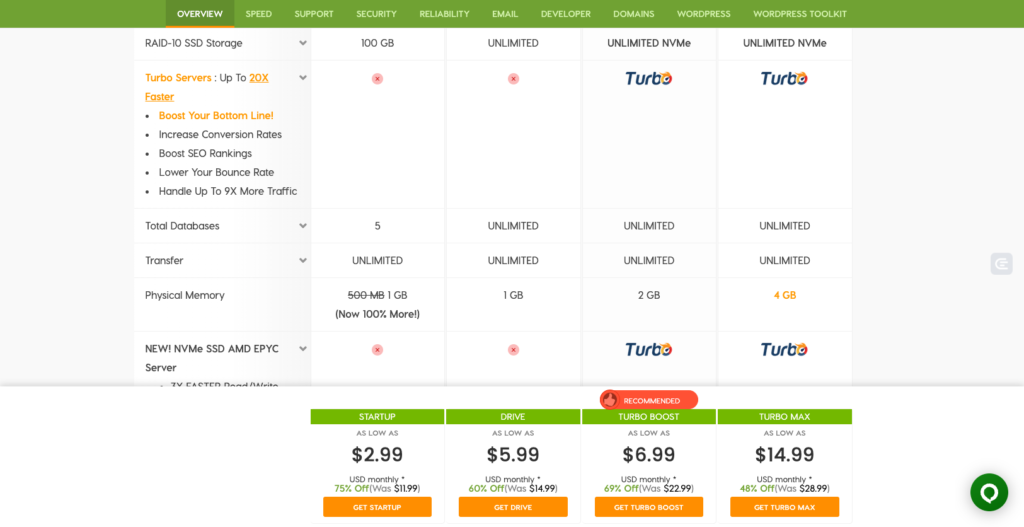 Further, the plan doesn't have LiteSpeed and other speed optimization options. However, even with such limited speed features, A2 Hosting offers a fast loading pages which is better than their competitors like SiteGround, HostGator and Bluehost.
2. No free domain
While many hosting companies like Chemicloud, Bluehost, and Hostinger offer a free domain with their plans, A2 doesn't offer it.
The free domain feature can make things cost-effective for beginners. If you need this feature, it can be a little disappointing for you.
3. The industry practice of high renewal price
The introductory price is different from the renewal price. Even though the introductory pricing seems affordable, the renewal price for the same plans is pretty high.
For example, the STARTUP plan is offered at an introductory price of $2.99 per month. However, the renewal price for the same plan is $10.99 per month.
FAQs
How much does A2 Hosting cost?
A2 Hosting has four different plans and the lowest tier plan costs $2.99 per month. The plan allows you to host one website and comes with 100 GB SSD Storage.
What are the pros of A2 Hosting?
A2 Hosting is a powerful hosting service and comes with many pros. Here are some of the pros of A2 Hosting:
A2 offers an affordable entry price
The service offers excellent speed
Security features are exceptionally powerful
A2's Guru Crew support is the best support team in the industry
The service comes with free SSL, CDN, and free email hosting
A2 comes with global data centers
The Flexible Money Back Guarantee makes A2 pricing risk-free.
What are the cons of A2 Hosting?
A2 is undoubtedly a reliable service, but it has a few cons. It's wise to make yourself aware of the cons before going ahead with the service. Here are the cons:
A2's STARTER plan comes with limited features
The service doesn't come with any free domain
A2 has a high renewal price
The Bottom Line
A2 Hosting is one of the most reliable hosting services and has been around for a long time. However, before going ahead with the service, it's essential to know the pros and cons of the service.
I have shared my honest opinion about A2 Hosting in this post, which should give you a clear picture of the service. Overall, A2 is a very reliable and robust hosting service with excellent performance and security.