This Nexcess Review is based on their Managed WordPress hosting. This Review on Nexcess talks in detail about performance, pricing, and support.
Nexcess Review Summary
Nexcess revamped its Managed WordPress hosting plans to compete against WP Engine, Kinsta, etc. They placed their pricing strategically lower than their competitors yet offered double the resources. When looking at their performance, it's good and provides value for money.
Overall, Nexcess is powerful yet simple managed WordPress hosting suitable for individuals and primarily for agencies.
Nexcess Pros and Cons:
Nexcess Pros:
Auto-scalable at no extra cost
Premium CDN included
24/7/365 customer support
Nexcess Cons:
Performance can be improved.
Nexcess Pricing
The Nexcess plan starts at $19 per month. The plans are differentiated based on storage, sites allowed, and Bandwidth.
Spark: $19 per month, 1 Site, 15 GB Storage, 2 TB Bandwidth
Maker: $79 per month, 5 sites, 40 GB Storage, 3 TB Bandwidth
Designer: $109 per month, 10 sites, 60 GB Storage, 4 TB Bandwidth
Builder: $149 per month, 25 sites, 100 GB Storage, 5 TB Bandwidth
Producer: $299 per month, 50 sites, 300 GB Storage, 5 TB Bandwidth
Executive: $549 per month, 100 sites, 500 GB Storage, 10 TB Bandwidth
Enterprise: $999 per month, 250 sites, 800 GB Storage, 10 TB Bandwidth
There are also four months of free hosting if you pay annually. In the review section, I've mentioned its suits the best agencies, which you can confirm from the above pricing.
Nexcess Tech Stacks
Web Server – Nginx Cloud caching
Object cache – Redis
PHP Workers – 10 per site
CDN – in-house Global CDN
Image Optimization – TinyPNG
Security – iThemes Security Pro
Nexcess Performance Test
Server Response Time
The Nexcess site recorded an average response time of 406ms in the last 365 days.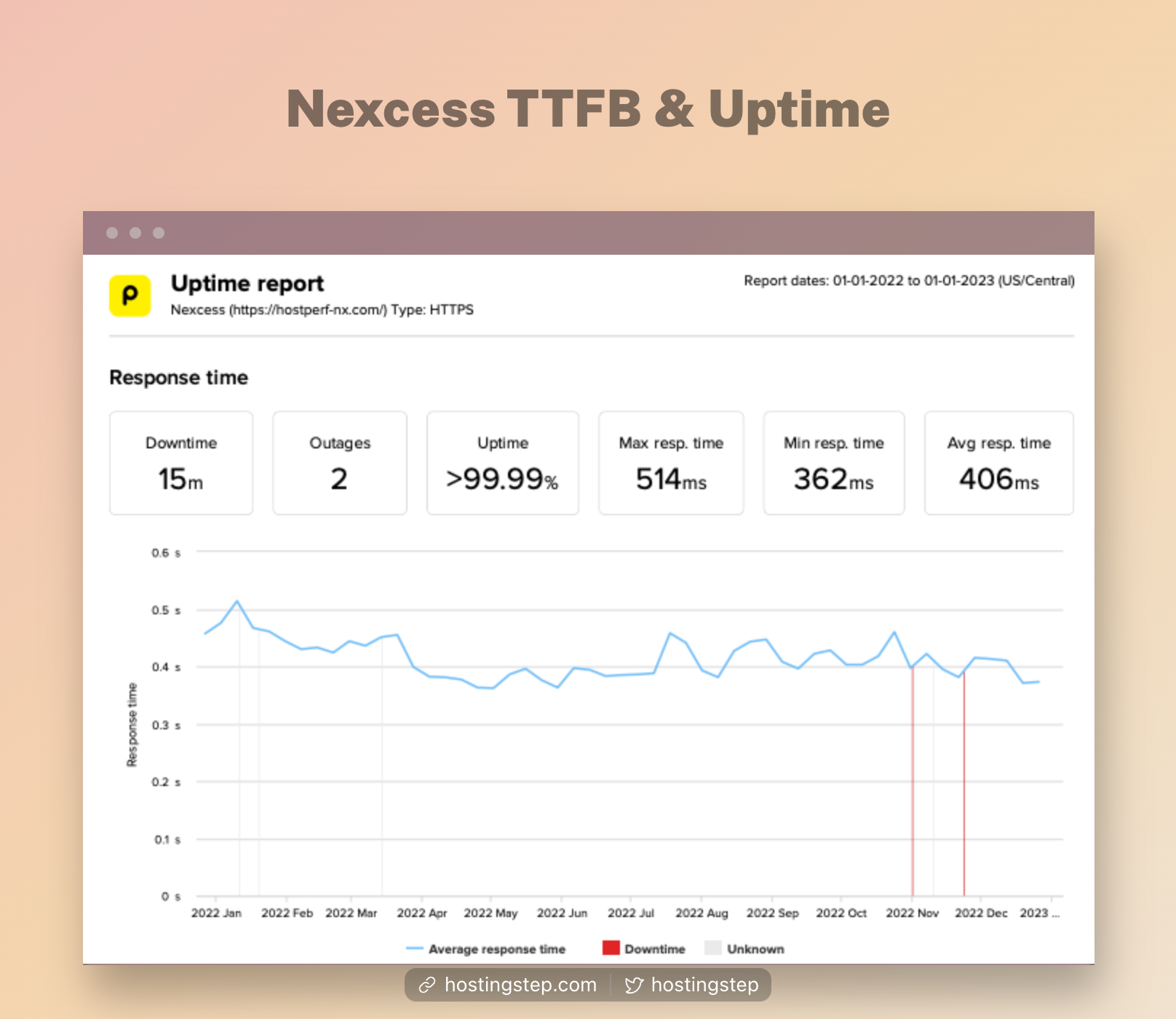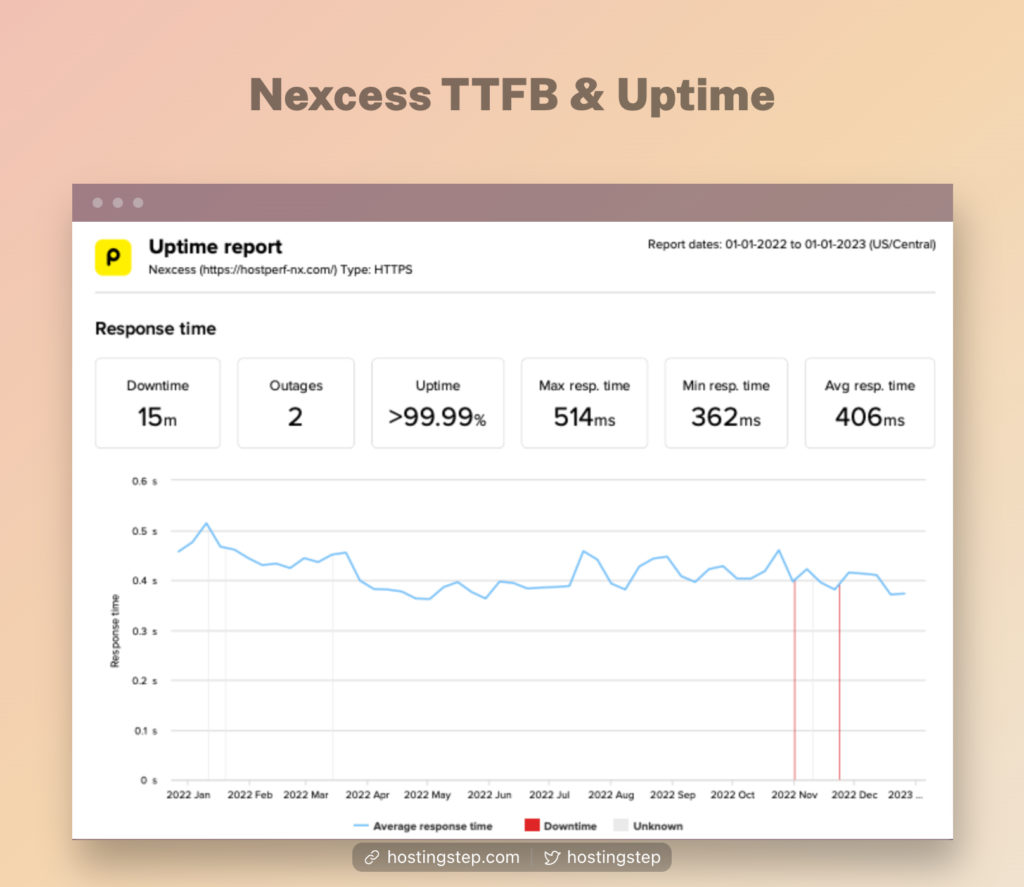 Uptime
The Nexcess site recorded 99.99% uptime. Their uptime is reliable, with only two outages in the last 12 months.
Load Testing
Nexcess recorded an average response time of 320ms while handling 500 concurrent visitors. The scores are impressive, considering the affordable pricing and free auto-scaling architecture with Nexcess.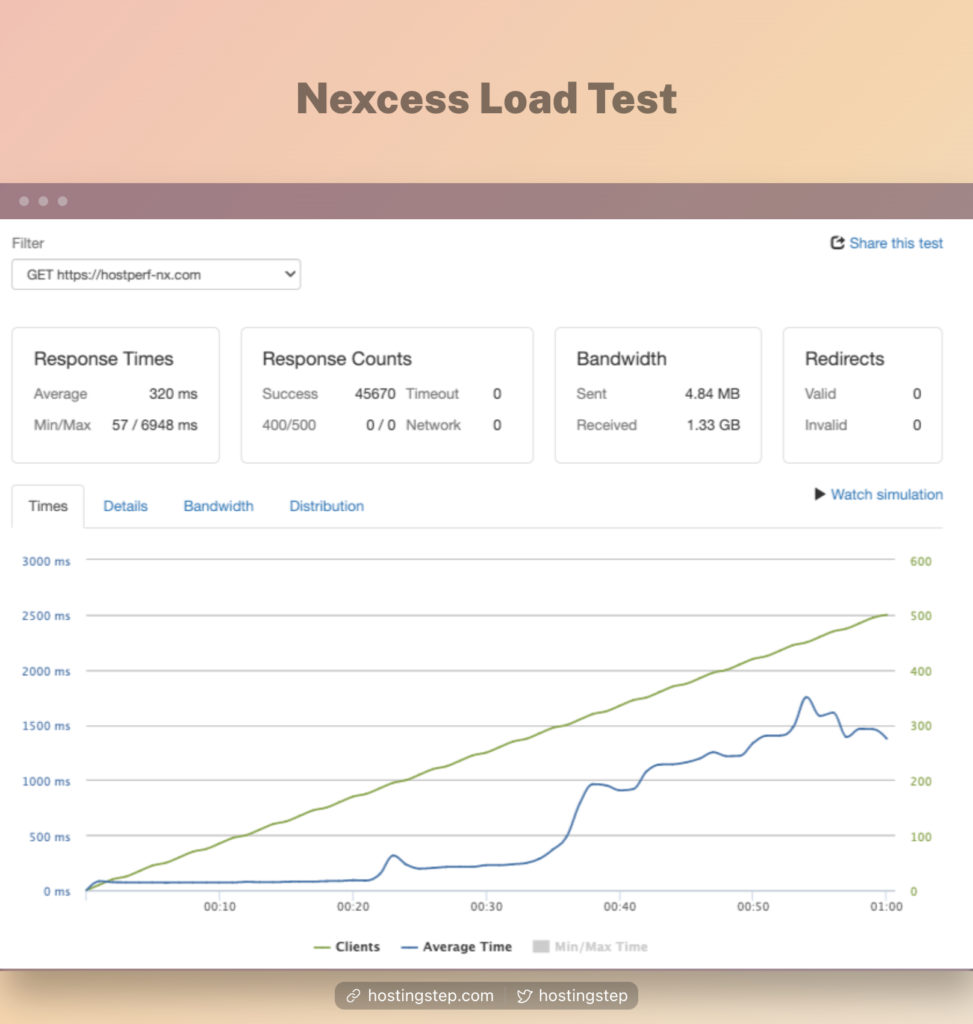 Core Web Vitals
With Core Web Vitals getting into the ranking factor, we can't simply ignore it. This basic test will measure the metrics like Largest Contentful Paint and Cumulative Layout shift.


Global TTFB
The Nexcess hosting global TTFB is 597ms. The score is obtained by testing the site from 35 global locations.

Nexcess Features
Free Auto Scaling
The only host to offer free auto-scaling is Nexcess. Nexcess automatically scales your site for 24 hours a month whenever your site requires more power. Those 24 hours can happen anytime and don't need to be continuous. You can have 8 hours of auto-scaling in the first week, 10 hours in the next week, or any other possible combinations. Nexcess claims this 24 hours of free scaling is enough for most sites.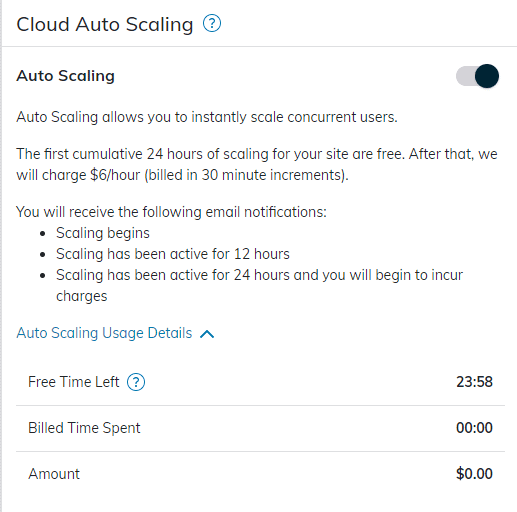 Powerful CDN
With Nexcess, you don't need to pay for CDN. They've developed their global CDN with 22 Edge locations across the globe. The major highlight is the 250 GB Bandwidth per month.


Automatic Updates
This feature is not a traditional automatic WordPress core and plugin update. Through the visual comparison feature, Nexcess will take a screenshot before and after updating the plugin. If the visual seems broken after the update, Nexcess will revert the update. If there are no issues with the visual, the update will be passed to the production site.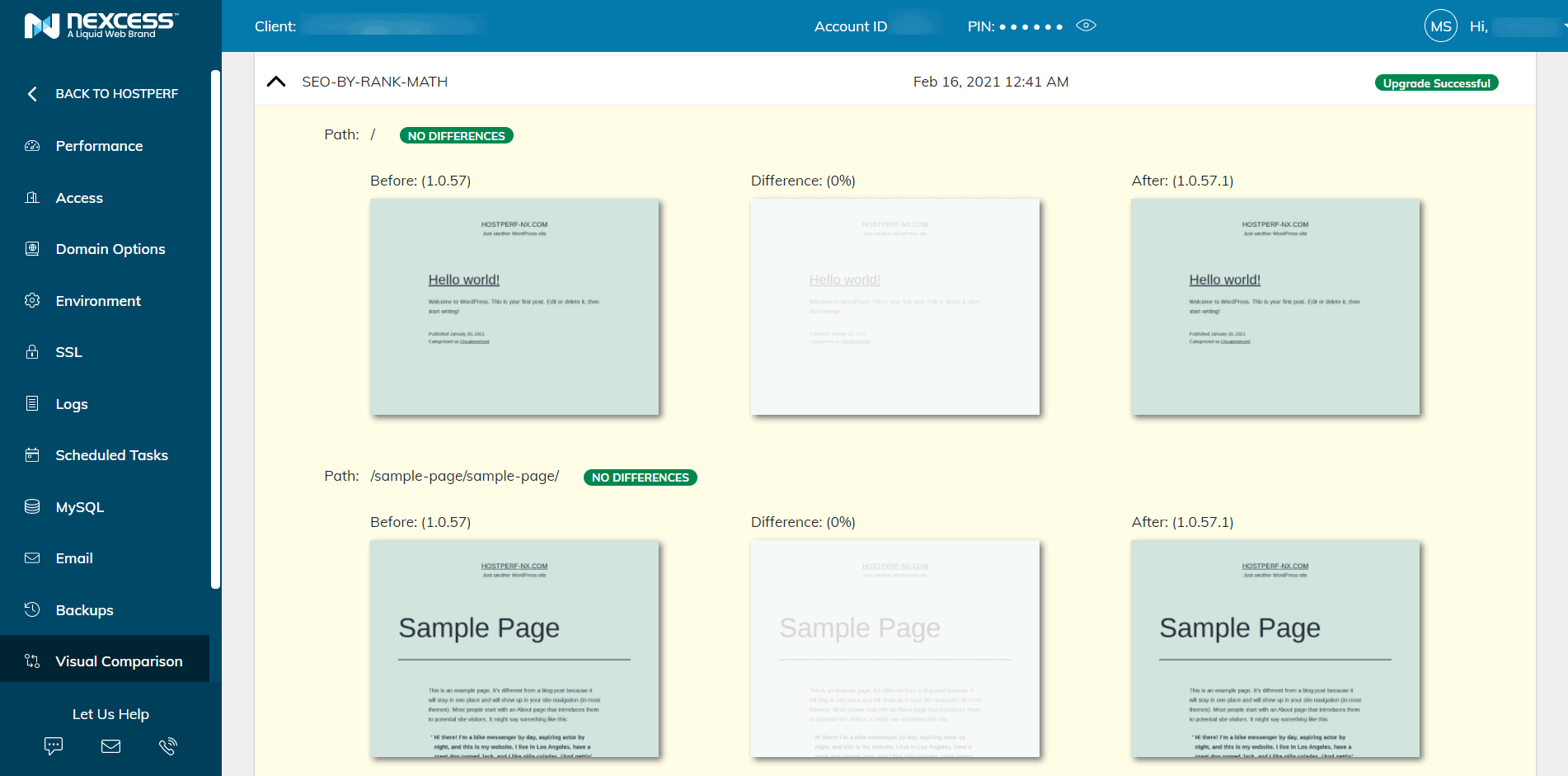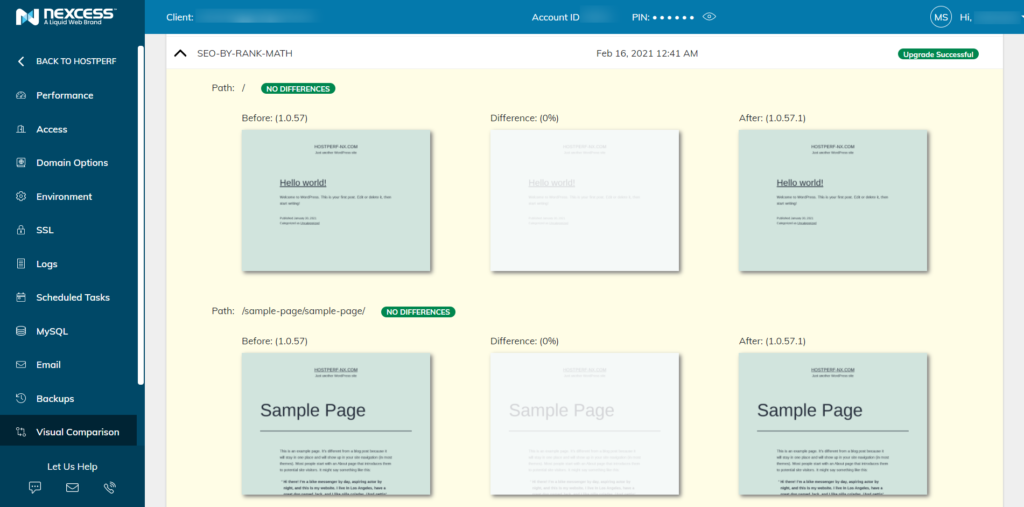 How good is this feature not found on other hosts, and how much time can one save with this incredible feature? With Nexcess, it's nearly a set-and-forget regarding automatic updates.
No Traffic based limits
Nexcess limits your plan based on bandwidth and not on Traffic. This is an excellent advantage as you won't get shocking bills at the end of the month. WP Engine limits 25,000 visits on their $30 per month plan, while Nexcess, $19 per month, can handle 5x more Traffic.
Control Panel
Nexcess has its own control panel that is faster and easy to use. It's super fun working on this panel as I see some unique features like visual comparison, stencils, etc.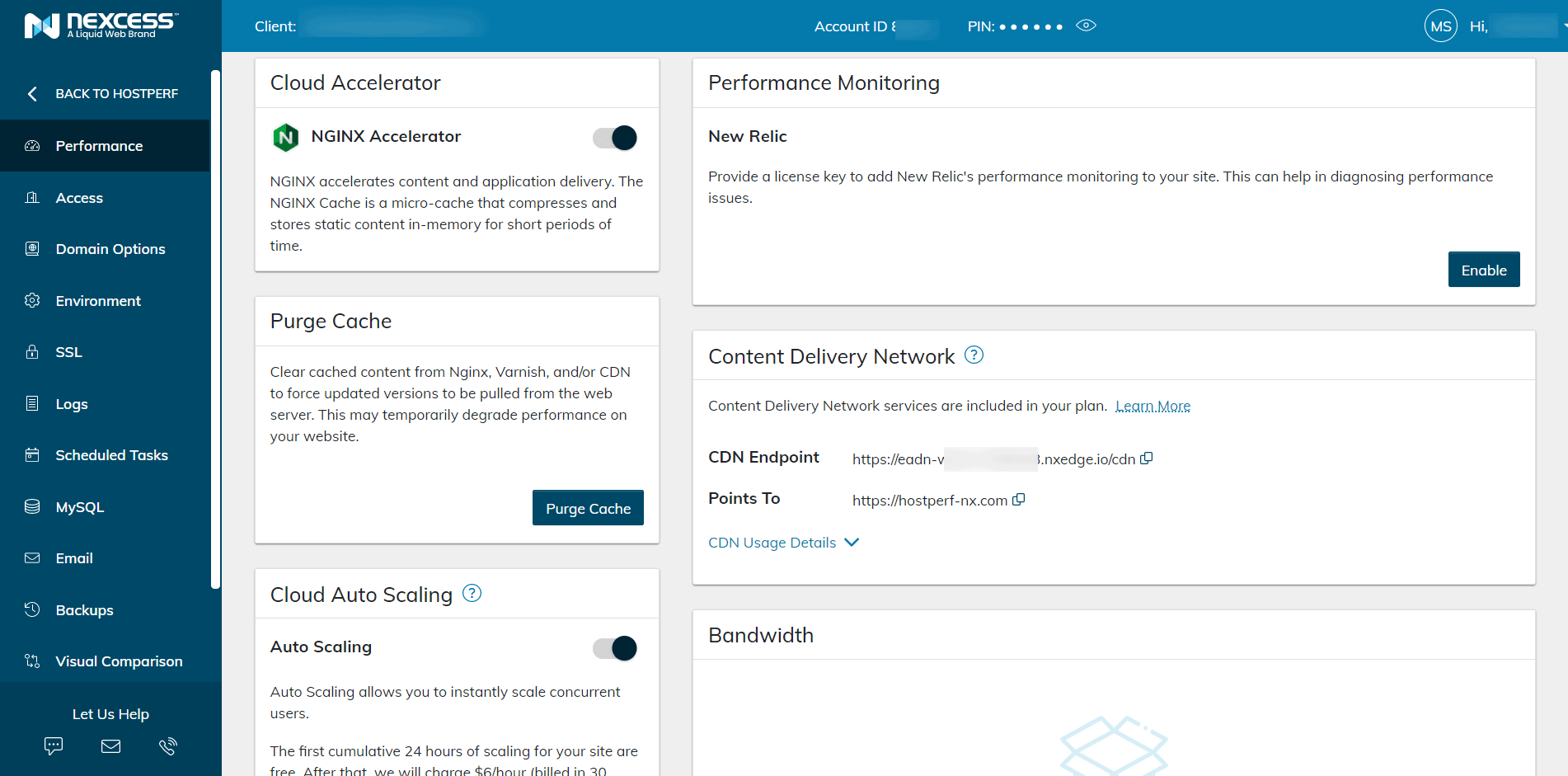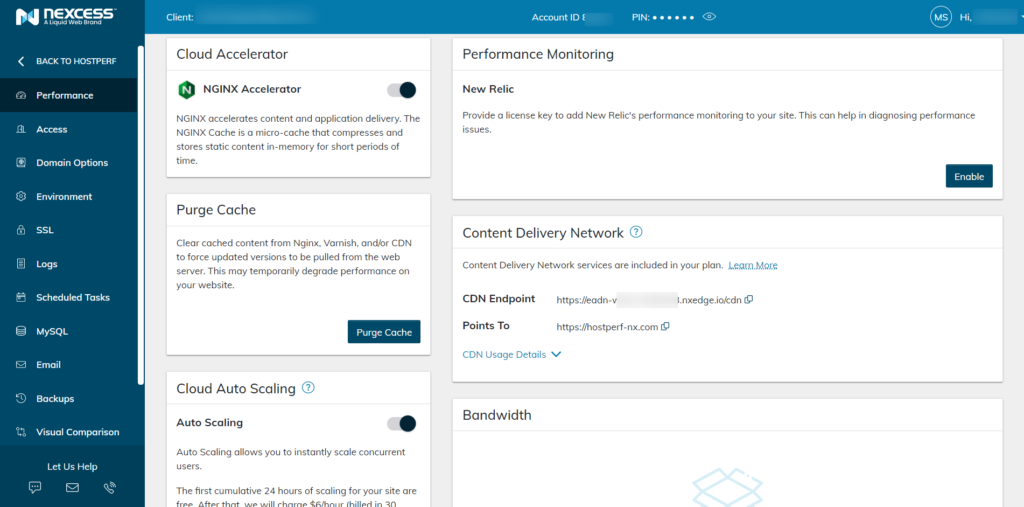 Right after the login, the Home tab gives you complete information like invoices, support tickets, announcements, etc. Under the Plans option, you can use site-related features like
Enabling auto-scaling, CDN, and SSL
Create staging sites
Access logs and domain options
Managing backups and restores
Email hosting access, etc.
The other panel options are SSL, Support, Billing, and DNS, which do their respective jobs.
Backups
Nexcess provides automatic backups and stores the last 30 days' copies for free. You can also manually create backups when needed. Restoring is accessible and available with a single click.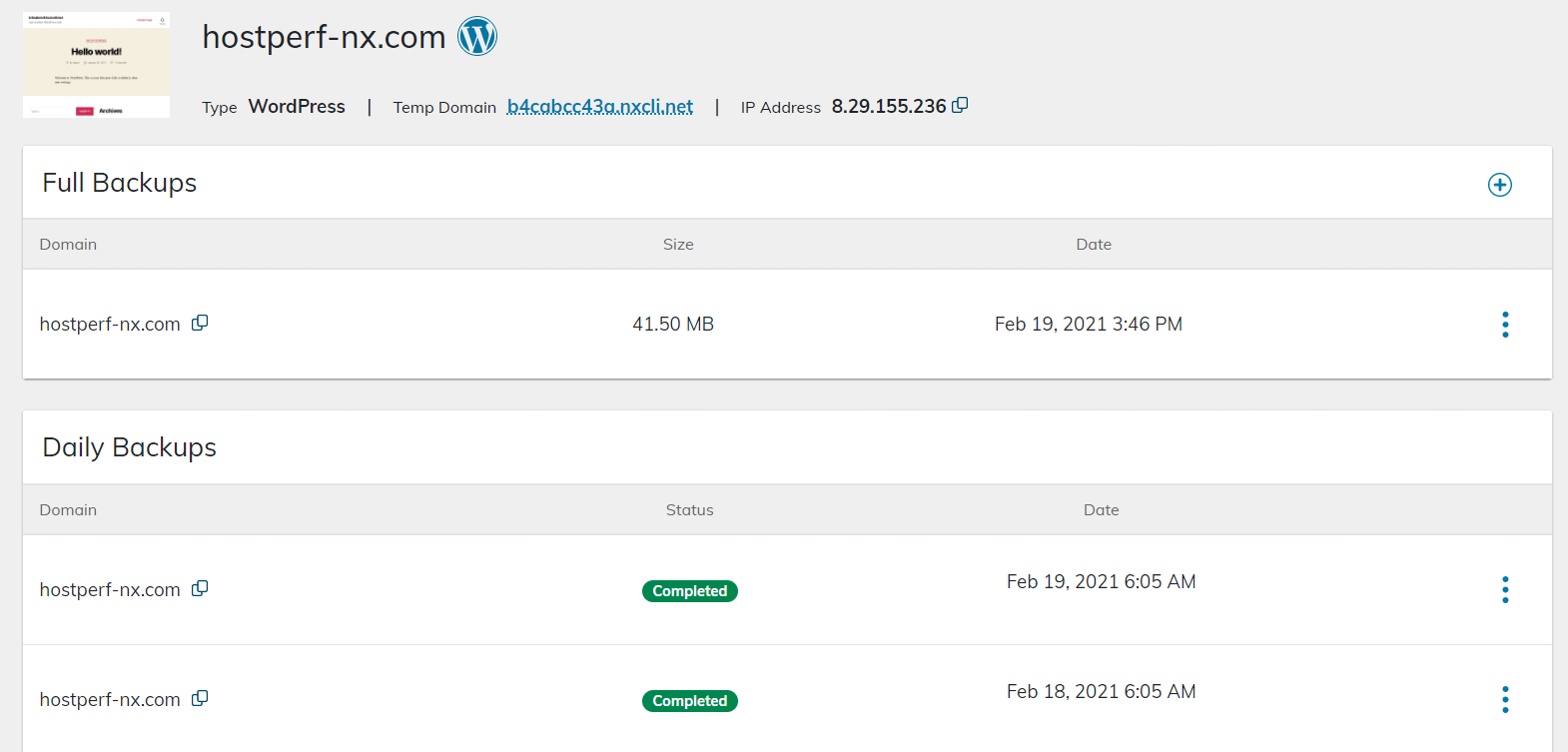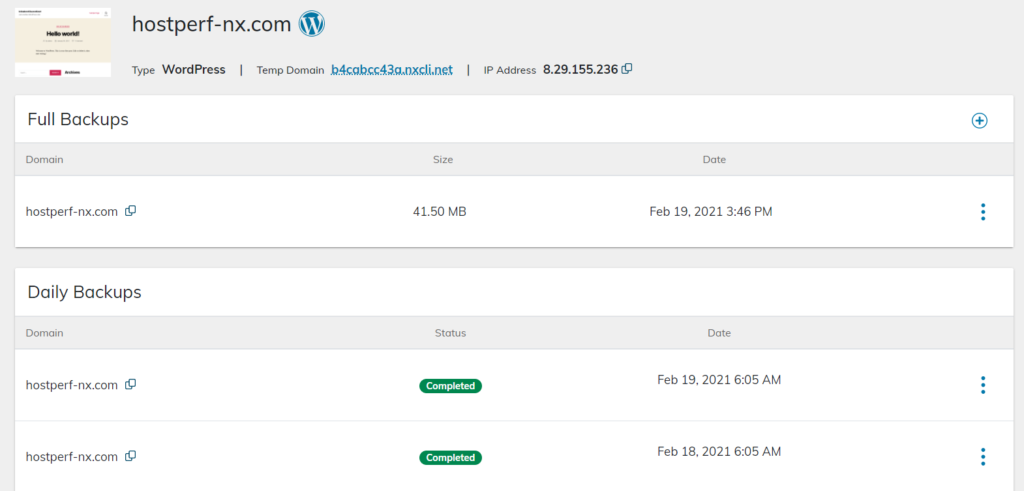 Email Hosting
If you need an email and a host, you'll love this feature of Nexcess. You can create unlimited emails for any number of your sites. You can either use Local mail delivery or access Webmail to check your emails.
Staging sites
Staging sites come with the same setup as a production site. You can even enable CDN on the staging site to check the site's performance. 
Nexcess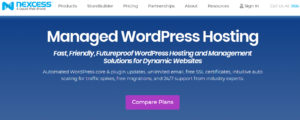 This Nexcess Review is based on their Managed WordPress hosting. This Review on Nexcess talks in detail about performance, pricing, and support.