Five Fastest WordPress Hosting of 2019
Hostingstep's Fastest WordPress Hosting post helps you to know about the list of companies that offers the fastest WordPress hosting 2019 and Google making website speed as a mandatory factor for ranking sites on search results, this guide surely helps you to keep your site ahead of your competitors.
If you're new to Hostingstep, let me give you a brief intro. To find the best fastest hosting companies, I got a hosting account with top hosting companies recommended by people and signed up as a customer.
I installed a WordPress site on all the hosting accounts. Right from the first day, I started monitoring uptime, response time (speed), customer support and many more factors that are essential for a web hosting company.
I already tested best hosting companies and now its turn to test the Fastest WordPress Hosting 2019.
Here comes off the list of Fastest WordPress Hosting companies that are not only faster but also comes with reliable uptime, customer support and much more things you expect from a hosting company.
Here is the list of Best Fastest WordPress Hosting of 2019.
1. ​A2 Hosting – The Fastest WordPress Hosting.
A2 Hosting was one of the companies I started testing since the inception of Hostingstep. Trust me, A2 Hosting  offers the fastest hosting experience and no other company comes close to it for the past 15+ months.
A2 Hosting loads on an average of 172ms where the next closest response time was from SiteGround where the average response time is 344ms.
How A2 Hosting loads such faster? Thanks to A2 Optimized WordPress installations which does the job. The A2 optimized WordPress setup is not something you saw from your old hosting provider.

A2 Hosting plans start from $3.92/month without Turbo Hosting. Turbo Hosting is something much faster as claimed by A2 Hosting costs $9.31/month.
Not only in speed, A2 Hosting also rocked in uptime where they scored 99.98% uptime for the last 12 months and the company ranks #2 in uptime out of 10+ companies I've tested so far.
Another major advantage of A2 Hosting is localized payment gateways. The credit card penetration is so low in most developing countries, so people can't able to get hosting from top international companies. But A2 Hosting solves the issue by bringing localized payment gateways so people can buy a hosting account with their own debit cards itself.
Check A2 Hosting Reviews | Also the Best Web Hosting India
2. SiteGround – 2019 Fastest WordPress Hosting
I claim SiteGround as the Best Fastest WordPress Hosting and I have a solid reason. As discussed earlier, SiteGround ranked #2 in speed loads on an avg.344ms and the reason why I call them best is their uptime is top notch and ranks #1 on our list. Just have a look at this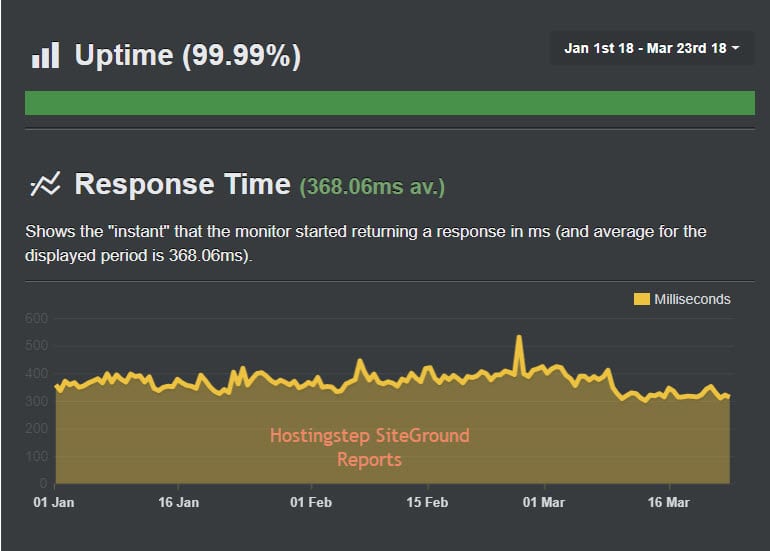 See how constant the graph. Apart from one big spike nearer to 1000ms, almost for a year, the response time is quite constant and it also scores well in uptime i.e 99.99%
Can you remember any hosting company that offered 99.99% uptime? Though most companies claim so, they failed miserably and even A2 Hosting falls short of SiteGround.
So, these are the obvious reasons, I claim SiteGround as the Best Fastest WordPress Hosting to get started.
Another major advantage of SiteGround is pricing. The starter plan costs $3.95/month even for 12 months billing where to incase of A2 Hosting, the $3.92/month pricing applicable only on 36 months billing. Even no other companies I mentioned in this post offers such a low price for 12 months billing.
3. FastComet – The Cheapest Fast WordPress Hosting
FastComet always steals the title, "Cheapest yet Fastest" or "Cheapet yet Best" thanks to its free domain for the lifetime and same renewal price forever.
FastComet ranks #3 in our Fastest WordPress Hosting where the response time is 416ms on an average. The company also ranks #3 in uptime and here are our data images.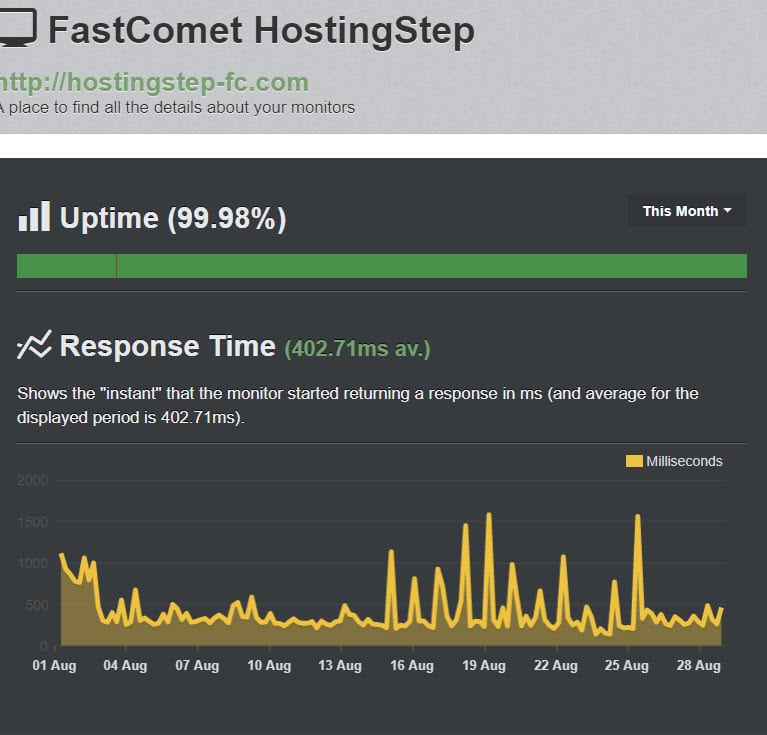 One of the major advantages of FastComet is data center locations. The company offers eight datacenter locations across the globe to host your websites wherein SiteGround offers five and A2 Hosting offers four data center locations respectively.
As discussed earlier, FastComet provides the free domain name for the lifetime, same renewal pricing, so is entitled to the tag "cheapest" since you can save a lot of bucks.
Other Honourable Mentions
4. WP Engine – Fastest Managed WordPress Hosting
I have a couple of websites hosted with WP Engine and the experience has been always great in terms of speed and uptime. Also, I am pretty much impressed by its excellent transparency of pricing and features. It's never wrong to consider WP Engine to be the fastest managed WordPress Hosting and there are several reasons for it.
I haven't ever found its service to contradict with what it actually promises to offer and this holds true for its uptime as well. So far, I have experienced a brilliant uptime of 100% with WP Engine. Despite the fact that a lot of companies promise to offer 99.99% uptime, only a few actually offer it in real and WP Engine is certainly one of those few companies that offer it in real.
It offers a brilliant response time of 140ms even without CDN and you can imagine the speed it offers with a CDN.
On top of that, it has the most helpful customer support team that stays right by its customers' side all the time to help them with every bit of assistance that they might need from time to time.
Apart from this, it offers innovative tools such as page performance, application performance and content performance to help users evaluate the performance of the website. WP Engine is undoubtedly a technologically advanced hosting Company and this holds true for its speed technologies as well.
The EverCache is an amazing caching mechanism Of WP Engine that gets the websites 40 to 60% faster than the websites on non-WP Engine servers. This has turned out to be its greatest strength over the years.
Most importantly, it offers a global WordPress network with data centers powered by CDN on the four continents across the globe covering locations as vast as 136 countries. However, it doesn't offer a free CDN on the starter plans.
Also, it offers free automated migrations and free SSL certificates. Automated migrations are by far more convenient than manual migrations and on top of that, a customer can contact the live chat pertaining to one's website migration to WP Engine. Website Migration is ridiculously simple with WP Engine's automated migration and it completely has no downtime.
Most importantly, WP Engine has an unbeatable commitment towards its customers' satisfaction and also, it's pretty confident about its service which is clearly indicated by its 60 days money back guarantee.
If we consider all the aspects of WP Engine into account, it's certainly one of the fastest managed WordPress Hosting Company and every single penny you spend on it will worth it. I have never had any disappointing moment with WP Engine so far.
5. Liquid Web – Fastest WordPress VPS Hosting
We tested Liquid Web in the recent past and reached some stunning conclusions in terms of its uptime, response time, customer support and more. What we really found great about the Liquid Web VPS Hosting is its excellent page loading speed and of course, a consistent uptime. Liquid Web is certainly one of the fastest WordPress hosting in all aspects.
We have been testing its uptime for the past 6 months and interestingly, we found it 100% except for January, earlier this year wherein it declined to 99.92% caused by the Meltdown and Spectre issues that have shaken up the entire hosting industry earlier this year. The last downtime we experienced with Liquid Web lasted for 11 minutes because of the Meltdown and Spectre issues.
With a massive amount of RAM and CPU cores available, the response time is pretty impressive with an average of 199ms. Also, a user can use a minimum of two vCPU and with a little more extra spending; one can get up to 8 vCPU systems to work. The response time gets even better with cloud dedicated servers as you get Intel Xeon processors with up to 28 cores paired with up to 128 GB RAM to work.
One of its greatest strength is its customer support for sure which comprises 24X7 support via live chat, tickets and phone. It has certainly got the most dedicated customer support people in this industry. We contacted the customer support team 4-5 times via live chat as well as over the phone and surprisingly, we found the Liquid Web customer support team quite professional, knowledgeable and of course, pretty friendly.
Bandwidth wise, Liquid Web is a lot different from the other VPS hosting companies as it offers 10 TB of bandwidth even on starter plans while the other VPS hosting companies offer only 2 to 3 TB of bandwidth. This is one of the reasons why Liquid Web has been extensively used by the users from all over the world over the years.
Liquid Web has its data center at three different location; Lansing, Phoenix and Amsterdam. The data centers are run at the highest level of security and maintenance. A user can actually visit the Liquid Web site and test each of these locations to check their speed and can switch between the locations as well as per one's hosting need.
With Liquid Web free backups, you can rest assured of the maximum protection of your content. The backup option can be conveniently triggered from the control panel and this will offer daily and weekly backups. In fact, it's an absolutely brilliant feature that can greatly help the users take the extra burden of unnecessary worries off their shoulders and focus on the core business.
Also, it offers free DDoS Protection till Layer 4 up to 2Gbps traffic which is not a free feature in every hosting company. Furthermore, a user can buy premium DDoS protection to 10 Gbps traffic. On top of that, it offers various other powerful and premium features for free such as free CDN, free SSD, free SSL and more.
Transferring a website from the current host to Liquid Web is unimaginably simple and easy with the Liquid Web Free Site Transfer feature. While other hosting providers actually charge for it, Liquid Web offers it for free. All one has to do is provide the customer support team with the credentials of the old site and they will get it all done for you. Usually, it takes about an hour or two without any downtime and in case, your site is too big, it may take up to 48 hours.
Also, it offers free Email Hosting wherein you can create inbound and outbound custom filters to detect and block the spammers. It also supports mobile access points and several email clients.
Concluding
I compiled this list of Fastest WordPress Hosting through our data-driven hosting analysis and at Hostingstep, we're planning to add more hosting companies to get tested and if you have any questions, do add in comments!