10 Fastest WordPress Hosting Services of 2021
This post reveals the fastest WordPress hosting on the market right now. The exciting part is that the list is not based on random thoughts but based on transparent data.
I signed up as a customer with 16 popular WordPress hosts in the market and added a demo site on each host. Now, I put each host to a regressive test to bring the fastest WordPress hosting.
Check August performance data:
Why Should You Trust Us?
I recommend hosting companies purely basd on data. The data is readily available throughout this post.
I don't have any exclusive partnership with hosting companies and the top host list is not inclined to any particular hosts; it might get changed based on the new data.
I'm doing 24/7/365 days of performance tests instead of a one-time test. I bring fresh data every single month and it gives you a clear picture of which host is best & fastest in the long run.
With this post, I aim to set a benchmark to find the fastest host for WordPress.
Let's get started.
Disclosure: As an affiliate, I earn from qualifying purchases.
How was the test site setup?
All our test sites are developed to simulate a real site. Thus all our sites are built with a common setup using.
Default WordPress theme
PHP 7.4 on all sites
Using plugins of Akismet, Contact Form 7, Caching*, Rank Math.
Since I want to replicate a real blog, I installed these must-have plugins on the site. Most hosts started offering server-side caching, which can't be disabled. So, I installed caching plugins on other sites so that this review gives equal opportunity to all hosts in testing.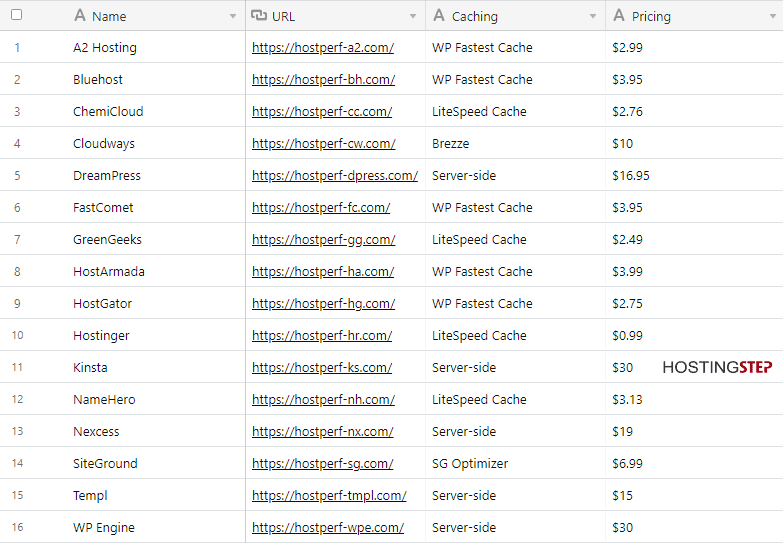 Why don't we test full load time?
Most sites will have this mandatory full load time testing. However, this test doesn't provide you real value anymore.
Even the popular GTMetrix upgraded to Google Lighthouse Metrics, ditching fully loaded time. They've mentioned this on their blog.
Fully Loaded Time showed you how long it took for your page to load completely — but with modern websites taking advantage of client-side rendering and other strategies, it became less of a useful metric.

You might see a good or bad score in testing tools; however, the real user will be experiencing a different load time. Hence, focusing on Core Web Vitals metrics like LCP, FID and CLS should be the site owner's ultimate choice as they set a standard for web performance and be a ranking signal.
Test 1 – Server Response Time
Server Response Time (TTFB) is the most important factor for any hosting company. The lower the response time, the faster the server is. To get a passing score in Core Web Vitals or provide a good user experience to visitors, one needs to get a fast server response time.
Our Pingdom tool monitors the sites from 20 locations in the United States for 60 seconds, averages the data, and then calculates the average server response time.
Results
Test 2 – Uptime
There is no matter in using the fastest hosting that comes with poor uptime. This test ensures the fastest hosting for WordPress is also reliable. Note, the sites are monitored from the industry's two best tools, and here comes the uptime data. Refer to the Server Response time screenshots for reports.
Results
Test 3 – Load Testing
I've done three types of load testing with the help of loader.io
Clients Per Test (1000 clients in 1 minute) – Through this test, the 1000 clients are evenly distributed throughout the test duration.
Maintain Client Load (500 clients in 1 minute) – A constant client count will be maintained throughout the test duration.
Maintain Client Load (1000 clients in 1 minute) – The same above test with high constant client load to measure premium WordPress plans' performance.
The "Maintain Client Load" test is important as the load will be maintained throughout the duration, wherein "Client Per test," the load will be placed at random times and not for the whole test duration.
I faced few challenges while doing the load test. The starter plans of shared hosting don't have the resource to handle high client load, and a few managed WordPress hosting don't allow to perform Maintain client load tests. So, I've settled for this combination.
Clients Per Test (1000 clients in 1 minute) – Works with all hosting.
Maintain Client Load (500 clients in 1 minute) – Works on both shared and selected managed host.
Maintain Client Load (1000 clients in 1 minute ) – Tested on Premium WordPress hosts.
Results
Test 4 – Core Web Vitals
Core Web Vitals is the new performance metric, and one cannot simply ignore it. It's the new standard in website optimization, and Hostingstep.com is the first site to measure hosting companies' Core Web Vitals score.
The demo sites are tested using WebPageTest, and the Core Web Vitals metrics like Largest Contentful Paint and Cumulative Layout Shift are calculated in this test. The First Input Delay is field data, and hence it can't be measured in tools. However, Google recommends considering Total Blocking Time as a proxy measurement; hence we include it.
Results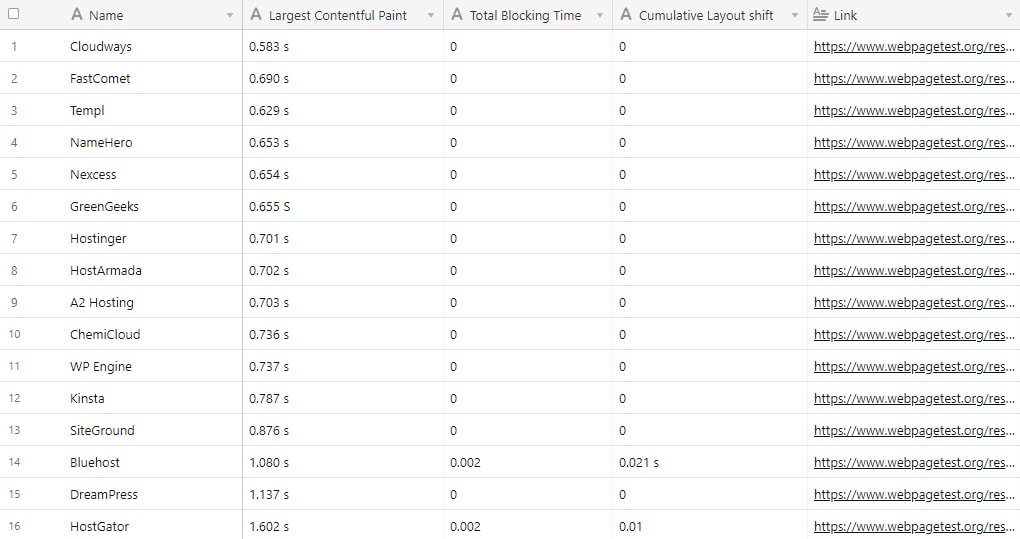 Personal thought: You may optimize your shared host to produce good results in lab data, but Core Web Vitals is based on field data, so there is a high chance the LCP might fluctuate for real users, and getting a passing score might be difficult on shared hosting.
Hosts like WP Engine, Templ, Kinsta, Cloudways, and DreamPress recorded the best results. Now, we have completed five performance tests on all hosts. Based on reports, below are the top three hosts that can fit anyone's needs.
Test 5 – Global TTFB Test
The site is tested from 10 global locations to measure the server response time (TTFB). If you have a site audience from multiple countries, watch these results to test the server's global network performance.
Results
Fastest WordPress Hosting #1 – Templ
Templ is the fastest hosting for WordPress, and it starts at just $15 per month (Claim $30 credits). Templ sites secured top spots in all our tests. Templ host uses the Google Cloud platform, CDN, and DNS, and it helps you host your sites, like how Google hosts their web properties like Gmail and Youtube. Google says their CDN locations are the same they use to serve Google's Web properties.

This site hostingstep.com is hosted on Templ host with Google CDN full page caching enabled and is the only host to offer this feature.
Website: Templ.io
Fastest WordPress Hosting #2 – Cloudways
Cloudways is our third best recommendation for fast WordPress hosting. Their TTFB is the best, along with Templ. Their simple load test provided impressive results but performed average in other load tests. Considering the pricing, performance as factors, Cloudways truly deserves to be on our list.
Website: Cloudways.com (use code BLOGGINGIO to get $25 free credits)
Fastest WordPress Hosting #3 – GreenGeeks
GreenGeeks is the fastest shared hosting for WordPress. I was super impressed with their performance in terms of server response time and load testing. For the affordable price of $2.49/month and this kind of performance, GreenGeeks surely deserves a place in our top three fastest hosting providers.
Website: GreenGeeks.com
How do I choose the top Fastest WordPress Hosts?
Many review sites have done performance reviews like us. But most sites don't consider the importance of CDN. Almost all the sites use CDN in real life, and it's good to analyze the fast hosting based on CDN, as CDN is the one that will take care of connecting the end-user with your server.
In fact, Google recommends using CDN to get a fast loading time. Thus, I've considered the point of CDN in making the final decisions.

According to CDNPerf, below are the list of fastest CDN based on 300 million tests every day.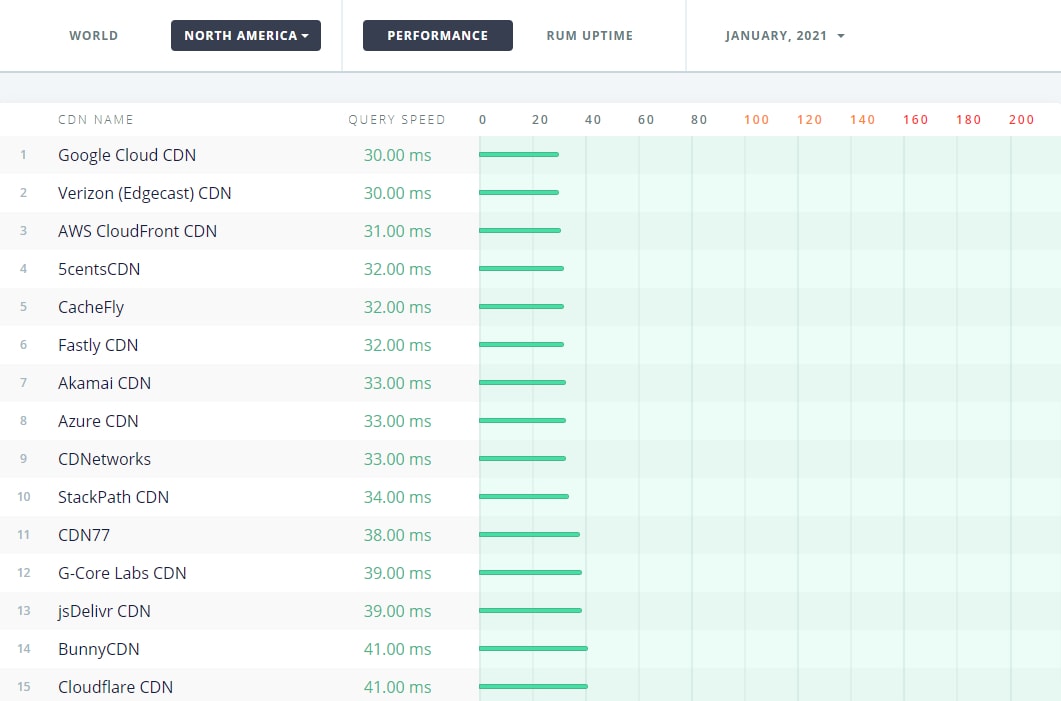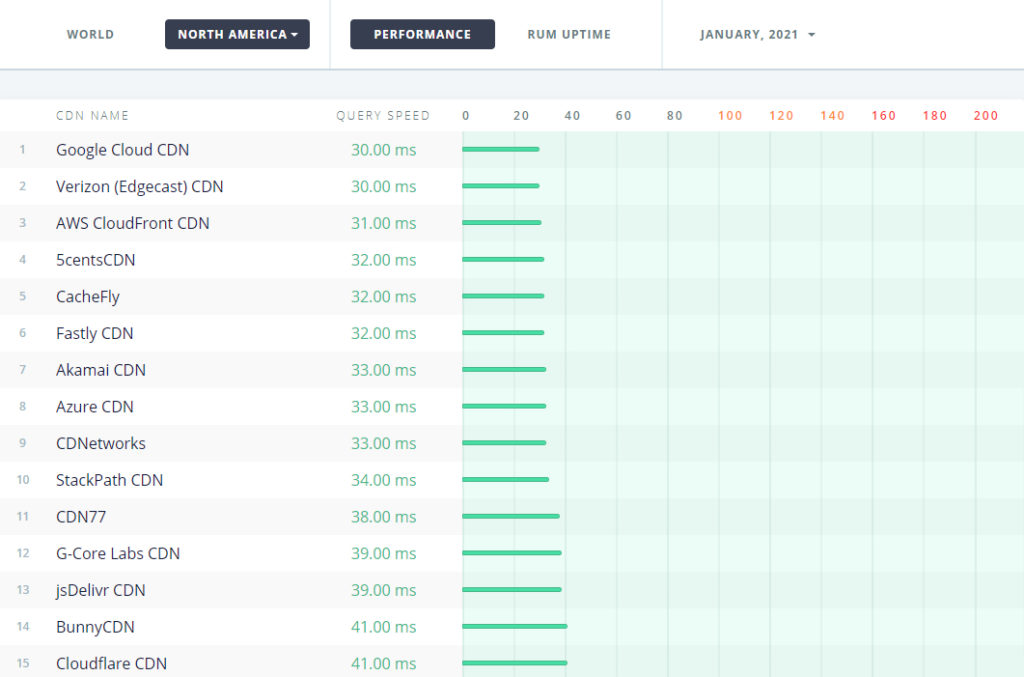 I have made my final choices based on the above data and comparing it with our fast performing hosts.
Templ: Along with Google Cloud, Templ includes Google CDN for free, the fastest CDN (30 ms) in the above test.
Cloudways: StackPath CDN powers their CloudwaysCDN fast (34 ms) than many other CDNs.
GreenGeeks: This host offers a free Cloudflare CDN. Instead of speeding up your websites, this free CDN will increase the TTFB and make your site load slower. Alternatively, you can use StackPath (34 ms) or BunnyCDN (41 ms) as both are affordable yet produce faster performance.
GreenGeeks got the #3 position, and it might surprise many (& doubt) as shared hosts are not great when it comes to performance. However, our transparent data proved it wrong where the $2.49 GreenGeeks plan conveniently beat $30 managed WP hosts in response time and Load testing. GreenGeeks is recommended for someone who is just getting with the online business but at the same time requires a fast host.
The Fastest WordPress Hosting Companies are
1.

Templ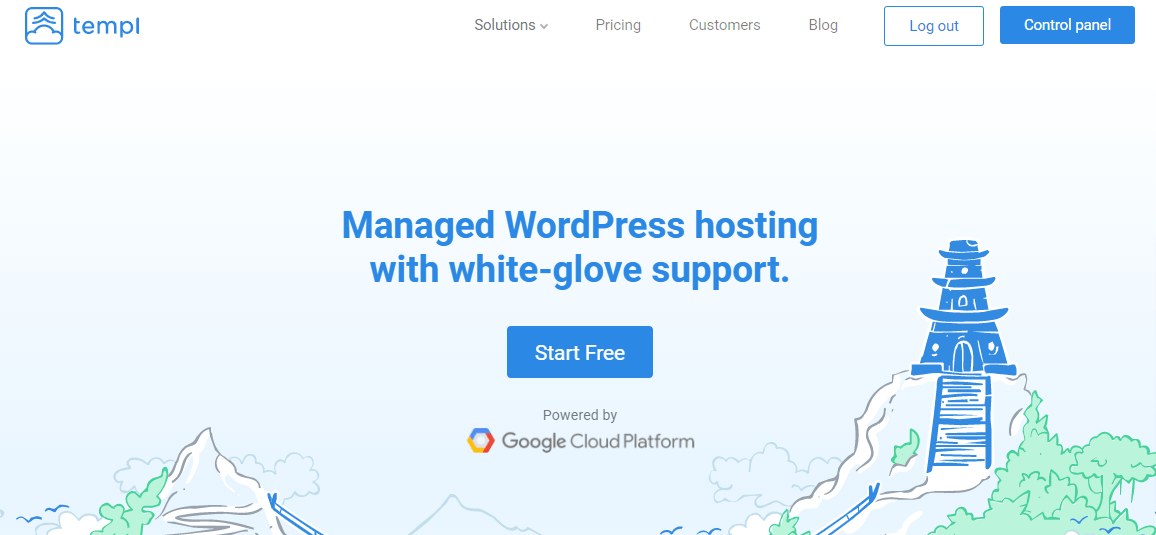 Templ is the overall fastest managed WordPress hosting we've tested. Templ is the managed WordPress hosting powered by Google Cloud, CDN, and DNS. Our demo site hosted on Templ recorded the fast server response time and produced impressive load testing results. The best of Templ features are
Google Cloud + DNS + CDN
Auto-scaling architecture
Redis, Quic, Brotli
Nginx, MariaDB
Server-based caching
No PHP workers limit
24/7 Live chat WordPress support.
Templ plan starts at $15 per month and goes to $149 per month. There is also an option to create custom plans inside their dashboard. You can get started with $30 credits, giving you up to 60 days of free hosting based on your plan.
Templ sites recorded 309 ms average response time and 100% uptime throughout our testing period. Their response time is better than Kinsta and WP Engine and, at the same time, priced 50% lesser, thus makes it a great option to recommend as the topmost fastest hosting provider.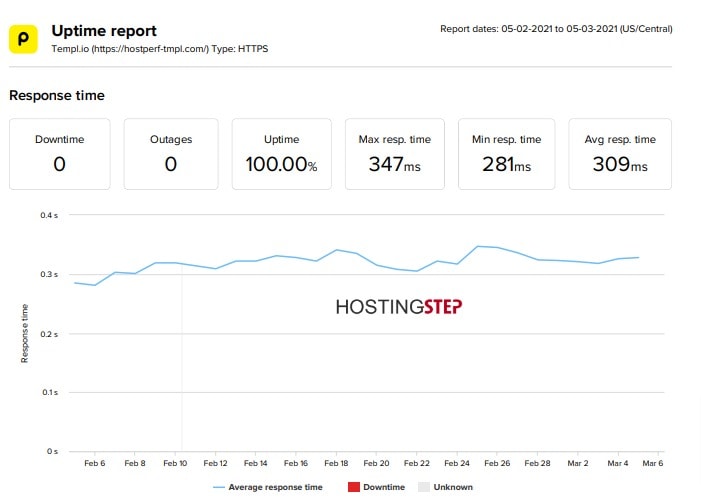 Templ hosting also produced impressive results in load testing. Templ secured the top spot in our most stressful load testing (load test 3), beating other managed WordPress hosts, and processed all the requests without any errors.
On top of that, the Global TTFB of Templ is the fastest among all the 16 hosts we've tested here. Templ averaged 354 ms while tested from below ten locations. Even though the server was located in the United States, you can see their TTFB is fast in most parts of the world, thanks to the Google Premium network.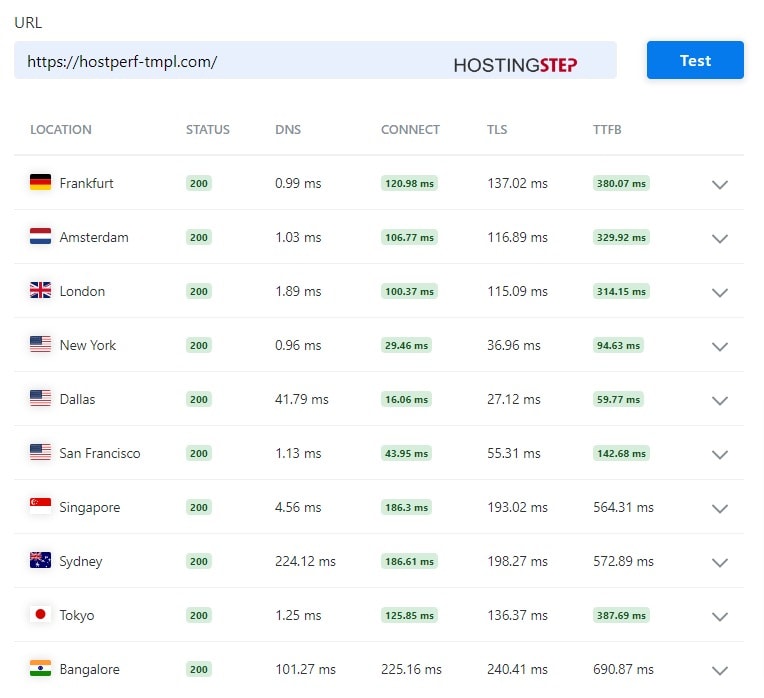 Overall, Templ is the rockstar hosting I use and recommend for anyone looking for an affordable yet fastest managed WordPress hosting service.
2.

GreenGeeks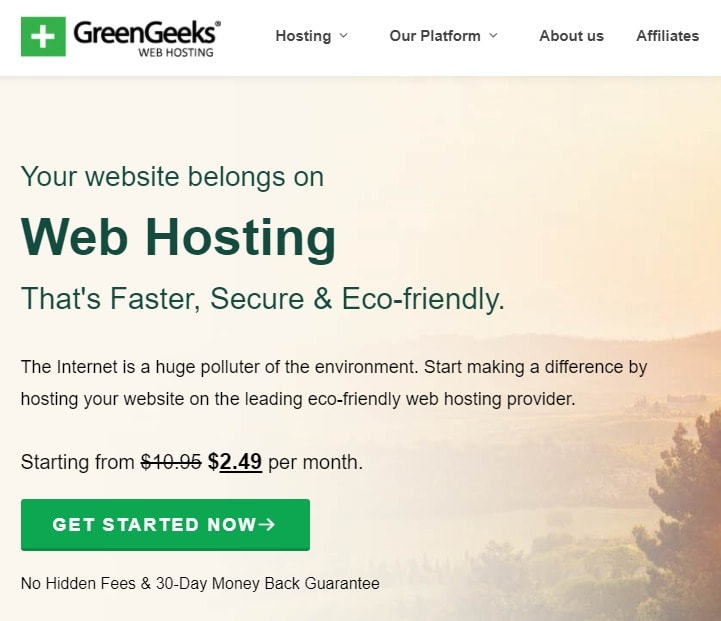 GreenGeeks is the fastest shared WordPress hosting we've tested. While most shared hosts fluctuated a lot in our tests, GreenGeeks showed great reliability. In fact, their server response time is the fastest among all the shared hosts listed here. GreenGeeks also produced fast scores in load testing, an unbelievable performance for less than $5 per month.
The best features of GreenGeeks are
LiteSpeed and MariaDB
HTTP/3 QUIC enabled
Container-based account isolation
300% Green Energy Match
Scalable Computing Resources
24/7 customer support.
GreenGeeks costs just $2.49 per month with a 30-day money-back guarantee.
GreenGeeks has the Fastest server response time of 291 ms, nearly 20 ms faster than Templ and Cloudways. I can't deny the fact that their load testing results are faster than many managed WP hosts. Their Global response rate is nearly equivalent to Templ.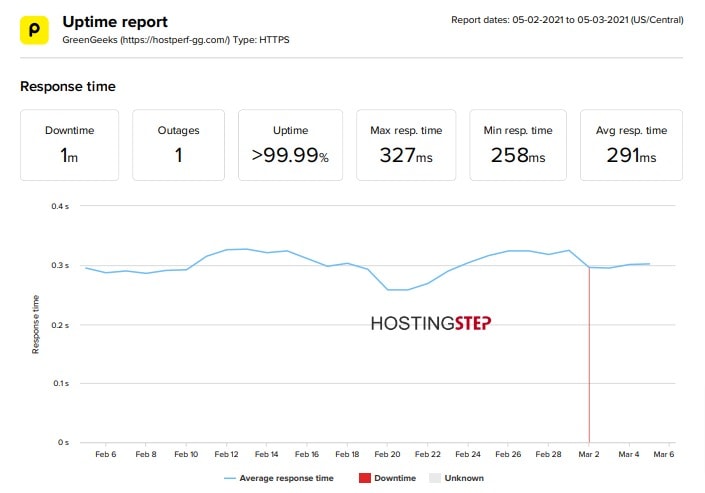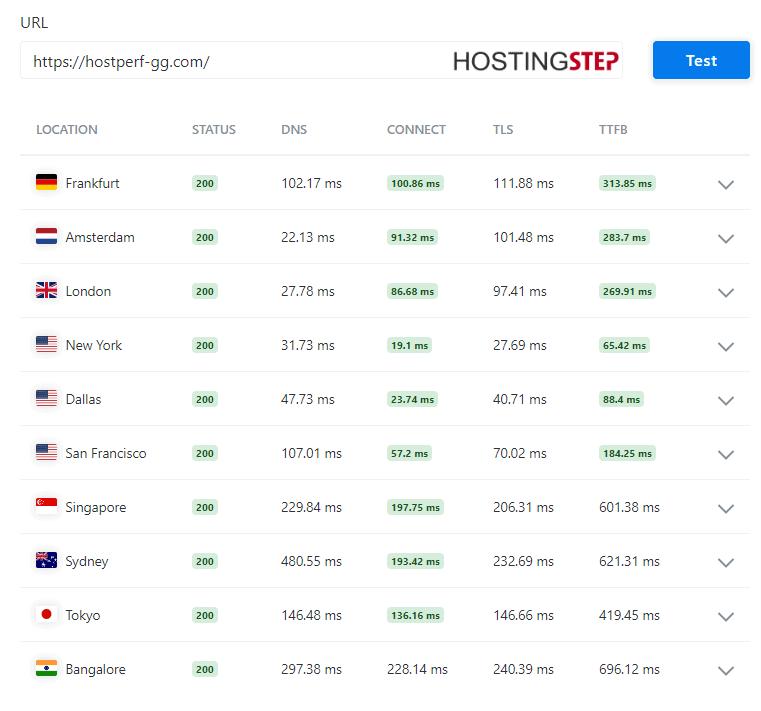 GreenGeeks never disappointed us in any of the tests, and thus we recommend GreenGeeks as the Fastest shared hosting for WordPress.
3.

Cloudways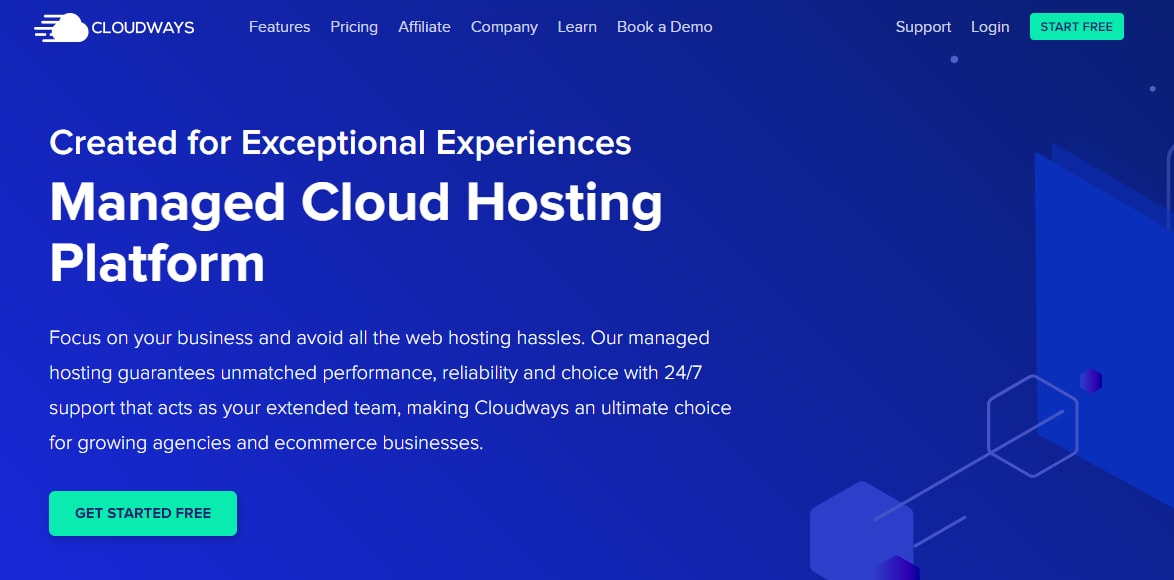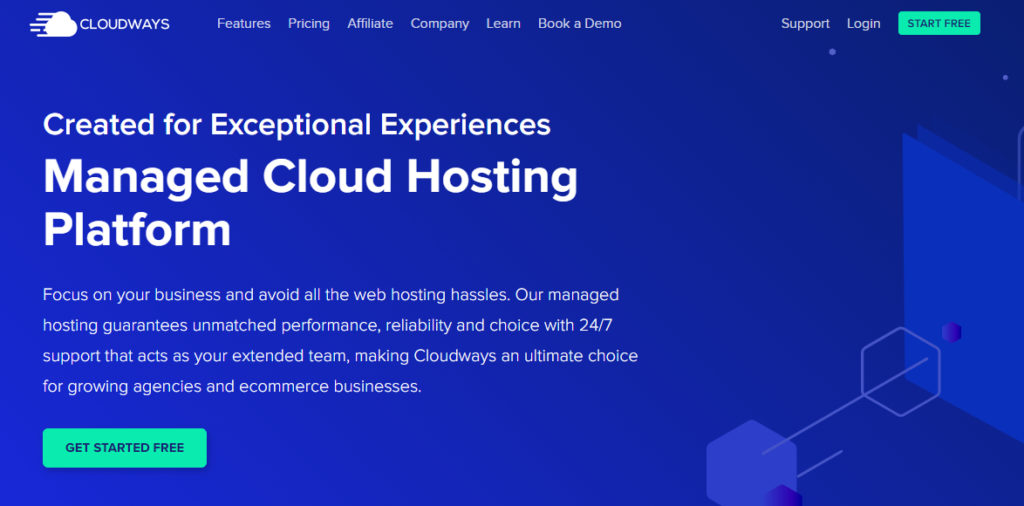 Cloudways is yet another fastest WordPress hosting service provider. Our test was made on Cloudways DigitalOcean's $10 per month plan, and the site performed well in load testing and server response time. The best features of Cloudways are
Choose from five cloud providers.
Built-in caching
Dedicated server resources
Redis support
24/7 support
Cloudways starts at $10 per month, and there are a lot of plans available during upgrades. There is no lock-in period, and Cloudways offers free migration to get started.
According to Pingdom, Cloudways recorded the same average time of 309 ms as Templ but got hit with two outages. However, they've secured the second spot out of 16 hosts is a great thing.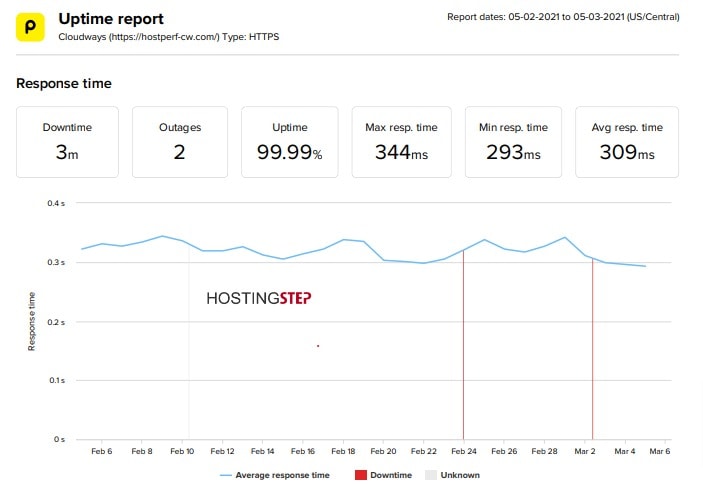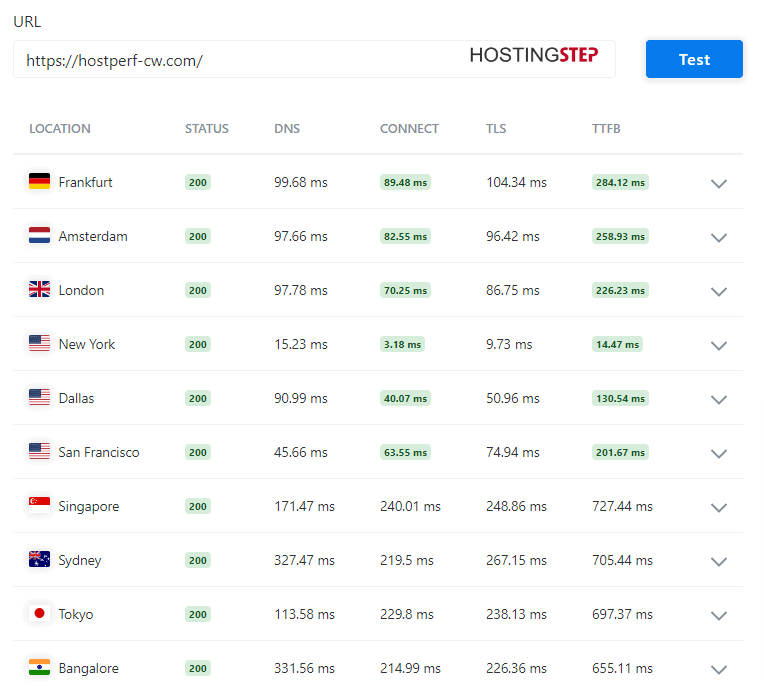 Their load testing results are super impressive, with the fastest response time. I've also included their Global TTFB, which proves they're a great host to get started.
Update: Based on user request, I published a post comparing Cloudways Digital Ocean Vs Vultr in load testing. I've also included Linode and Vultr HF in the above post.
4. A2 Hosting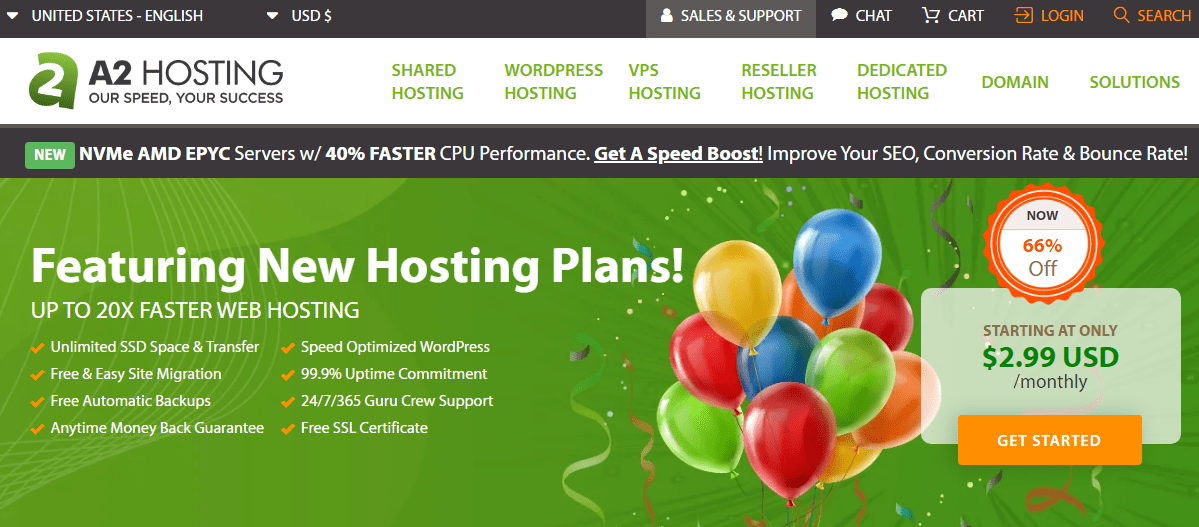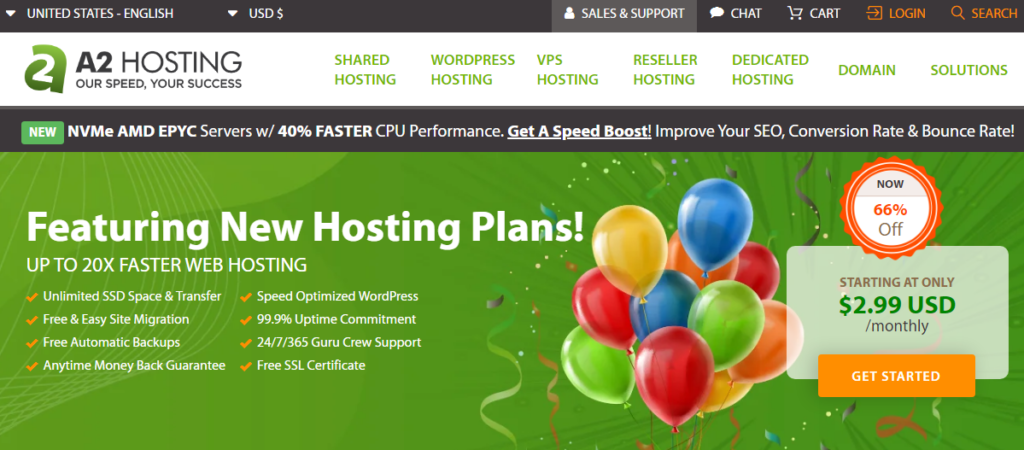 A2 Hosting is the second-fastest shared hosting for WordPress. Our site hosted on A2 Hosting recorded a fast server response time, and their load testing results are good, which you can check later. The best of A2 Hosting is
A2 Optimized server setup
Guaranteed server resources
24/7 customer support
A2 Hosting plans start at $2.99 per month and comes with an anytime money-back guarantee.
In most of our tests, A2 is a decent performer but doesn't hold in the top three positions. Their average response time and load test results are next best to GreenGeeks in the shared hosting category and produced better results than big names like SiteGround, Bluehost, etc. Overall, an excellent host to get started.
The interesting observation I made here is the starter plan I've tested doesn't come with the latest tech stacks. Their Turbo plan offers 40% faster CPU performance, 2x faster TTFB, and 3x faster Read/Write speed. They also use LiteSpeed, HTTP/3 QUIC, three more layers of caching on the Turbo plan. In the future, I'll try to test it.
5. Kinsta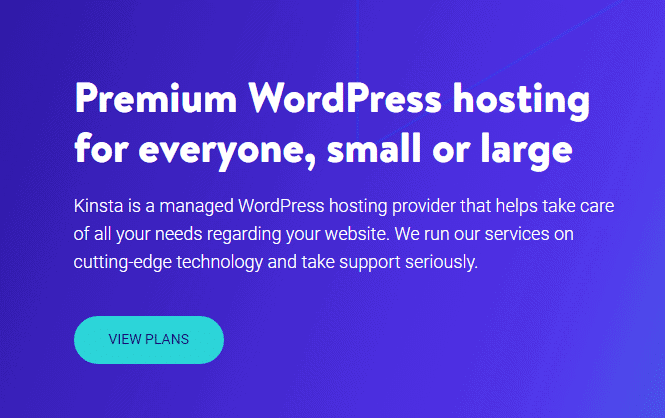 Kinsta is the managed WordPress hosting with a lot of advanced features. Kinsta uses the Compute Optimized C2 Google Cloud VM, the most powerful among all other Google VMs like N1, N2, etc. They are also Google's premium network tier for fast data transfer.
The best features of Kinsta are
Access to 24 Google Cloud data centers
24/7 WordPress live support
Self-healing technology and auto DB optimization.
Nginx, LXD containers, MariaDB
Kinsta CDN with 30+ POP locations
Staging sites with powerful admin panel
Kinsta plan starts from $30 per month with a 30-day money-back guarantee. For a limited time, Kinsta offers unlimited site migrations from other top hosts.
Kinsta took the managed WordPress hosting industry by storm with a first of its kind features like Google C2 VMs, APM tool, etc. Their TTFB is good but not the best compared to the Templ host, which utilizes the same Google Cloud Platform.
However, Kinsta can be a real fast host considering that they use Google C2 VMs, the most powerful Google Cloud Platform servers that come with up to 3.8 GHz processors. They wrote a post explaining their architecture and talks about improving the server execution time of high-traffic sites.
Thus, if you have a WordPress site that requires many PHP and MySQL executions, Kinsta should be your utmost choice.
6. WP Engine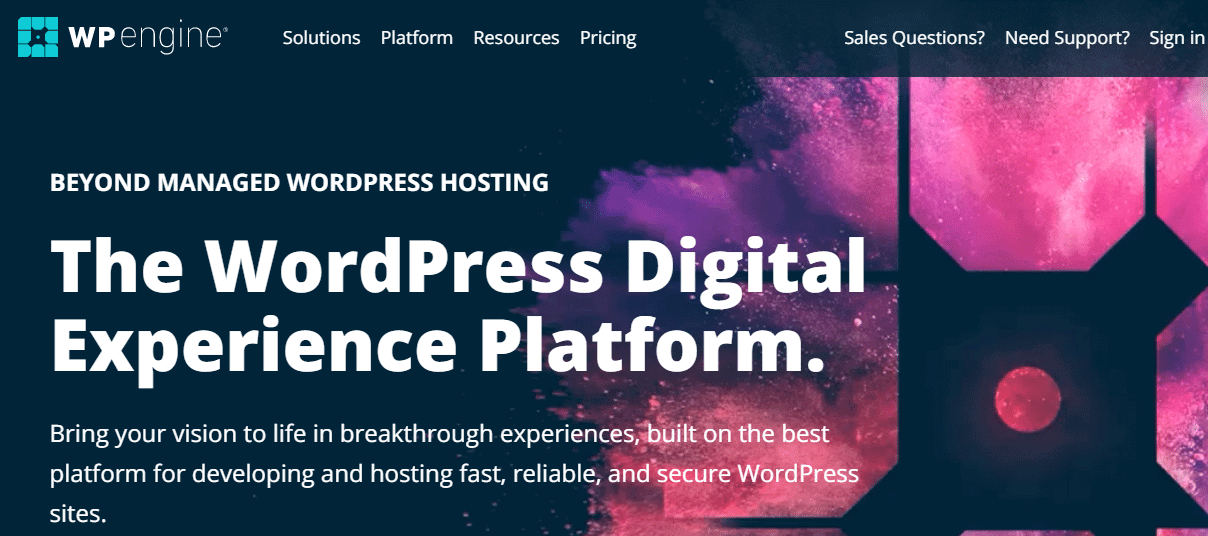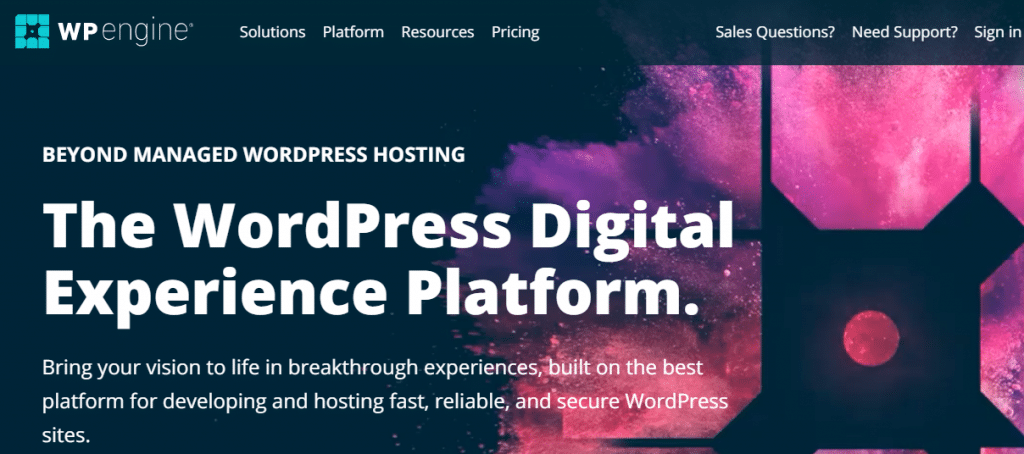 WP Engine is the industry leader in Managed WordPress space that offers a robust digital experience for businesses of all sizes. Powered by Google Cloud and Amazon Web Services, WP Engine acts as more than a hosting platform, and they call it "WordPress Digital Experience Platform." In our tests, WP Engine secured a good average response time and performed well in load tests.
Some of the best features of WP Engine are
Access to Genesis themes
Dev, Stage and Production environments
Scalable architecture
Free CDN and SSL
International, 24/7 support
WP Engine plan starts at $30 per month, although they offer enormous discounts for first-time buyers so that you can get started for as low as $22 per month. Out of all the managed WordPress hosting listed here, WP Engine is the only host to offer yearly discounts on their plans.
WP Engine performance recorded 374 ms response time and 100% uptime throughout our testing period. The WP Engine site recorded 40 ms in load testing, which is great but not the best. Most people ask me this question of comparing WP Engine with Kinsta. If you consider the performance metrics, Kinsta is just 10 – 15 ms faster than WP Engine, so there are no significant differences.
However, WP Engine offers aggressive discounts for first term billing through which you can get three months of free hosting on all annual plans. Their 10-site hosting plan is the cheapest in the industry as it costs just $10 per site.
So, if you're planning to host multiple sites and need a host without compromising on performance, then WP Engine is the only host you should choose now.
7. ChemiCloud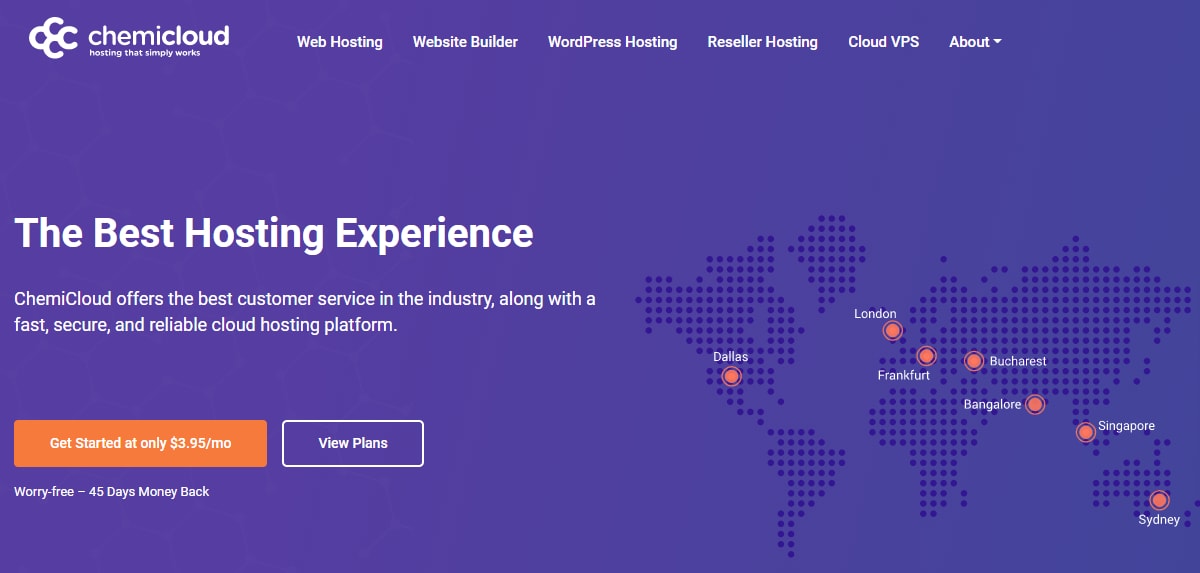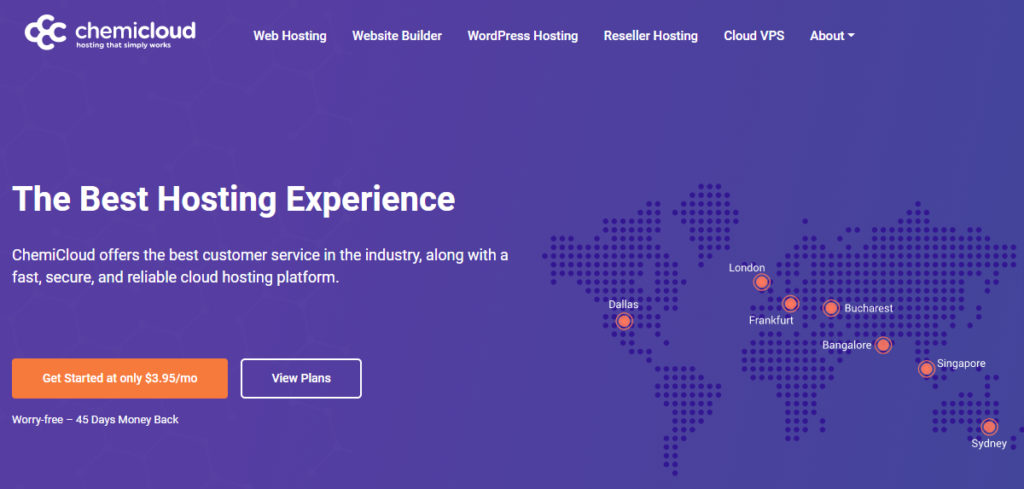 ChemiCloud is another shared WordPress hosting that is faster in terms of server response time and load time. I was impressed with their load testing performance. Some of the fast features of ChemiCloud are
LiteSpeed web server and caching
HTTP/2, APC, and OPCache
QUIC support
24/7 customer support.
Free domain for life.
ChemiCloud plan starts at $3.95 per month with access to seven global data center locations. There is also a 45-day money-back guarantee so that you can get started without any issues. ChemiCloud site recorded above-average performance in our tests. They offer a free domain for a lifetime, and their TTFB is the fastest among Oceania locations.
8. FastComet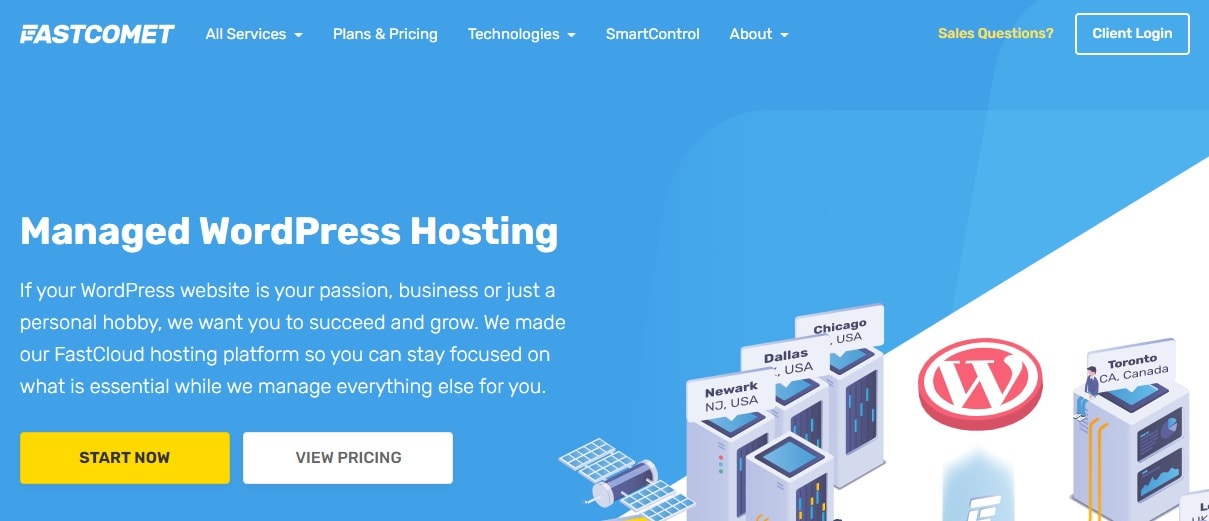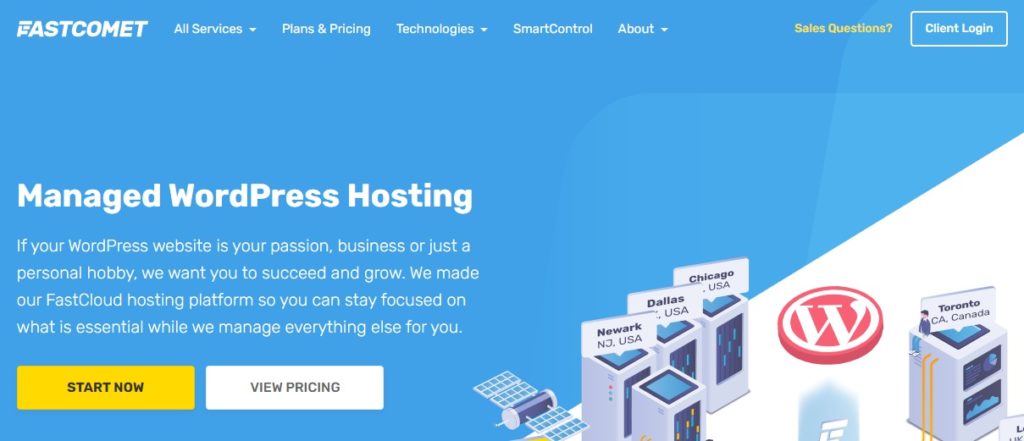 FastComet makes it into our top ten list thanks to its fast server response time; the third-fastest shared hosting for WordPress, next to GreenGeeks and A2 Hosting. However, their load test is not impressive. Some of the features of FastComet are
Optimized WordPress setup
Guaranteed server resources
Five layers of caching mechanism
24/7 customer support
11 Global data centers.
FastComet plan starts at $3.95 per month and comes with affordable renewal prices. There are also 45 days of money back to get started.
FastComet site secured the top three positions in server response time; their global TTFB was also great. Their load testing results are below average, which is why I kept them down.
However, if you're starting a new site and don't care about load testing results, FastComet is the next best host to GreenGeeks.
9. Nexcess


Nexcess is the affordable yet moderately faster-managed WordPress hosting. Their server response time is 374 ms; however, their load test results are not attractive. Some of the best features of Nexcess are
Free Auto-scalable hosting
10 PHP Workers per sites
Free Premium CDN included
24/7 customer support
Image Optimization included.
The Nexcess plan starts at $19 per month, and through discounts, you can get started for around $13 per month. If you are an agency looking for a fast yet affordable managed host, Nexcess should be your choice as their 25/50/100 site plans are much cheaper than any other hosts.
Nexcess is a reliable host with exceptional features, and all I can say, they're a great host with a decent host, especially suitable for agencies. They've got the industry-best feature of WordPress auto-updates using a visual comparison method, free auto-scaling, includes unlimited email hosting, and more features focused on agencies.
Their 25-site plan costs $149/month, where each site's cost will be $6 per site. Considering their performance to cost ratio, Nexcess will be an excellent choice for agencies.
Reviews of Other WordPress Hosting Tested Here
Bluehost
Bluehost has definitely improved its tech stacks compared to the last five years. Their focus on performance is clearly visible; however, it does not hold well in most tests. The interesting fact is Bluehost performed better than the other EIG brand HostGator.
Closte
Closte is the pay-as-you-go hosting service. My demo site in Closte struggled a lot in all load tests, with irregular spikes seen in the graph throughout the test duration.
DreamPress
DreamPress is the premium WordPress hosting from Dreamhost. A pretty average performer in most tests. Considering the price to performance ratio, DreamPress is not a good choice.
HostArmada
This new host in our test didn't perform well, often having issues in uptime and uneven performance. Let's see how they perform in the coming months.
HostGator
HostGator performed poorly, probably getting the last place in most tests. Their uptime is not great, high load time, poor TTFB. I can't recommend them for any reason.
Hostinger
A well-promoted brand but fails in most tests apart from decent response time. Their server resources seem to be so low where the load test even fails to start.
NameHero
NameHero provides above-average performance in load tests, but their server response time can be improved.
SiteGround
SiteGround response time (TTFB) is poor, only better than HostGator. They performed decently in a simple load test but had an average performance in high load testing. Their global TTFB is not good either, recording 1 second in TTFB in most locations.
Improve Us
This is our first update on showcasing the Fastest WordPress hosting in the industry. As said earlier, Hostingstep.com will be the only site to run benchmarks in a recurring manner and not a random one time test. Thus, you can provide your inputs in comments on how to improve our tests further, and we will bring better reports in our next month's updates.
Changelog:
23.3.2021 – Cloudways Linode, Vultr, Vultr HF, Closte load testing data added. The server response time, uptime data above hosts will be added once we collect 30-days of data.