Fastest WordPress Hosting (Feb. 2018) – Buyer's Guide
Hostingstep's Fastest WordPress Hosting post helps you to know about the list of companies that offers the fastest WordPress hosting in 2018 and Google making website speed as a mandatory factor for ranking sites on search results, this guide surely helps you to keep your site ahead of your competitors.
Fastest WordPress Hosting
If you're new to Hostingstep, let me give you a brief intro. To find the best fastest hosting companies, I got a hosting account with top hosting companies recommended by people and signed up as a customer.
I installed a WordPress site on all the hosting accounts. Right from the first day, I started monitoring uptime, response time (speed), customer support and many more factors that are essential for a web hosting company.
I already tested best hosting companies and now its turn to test the Fastest WordPress Hosting 2018.
Here comes off the list of Fastest WordPress Hosting companies that are not only faster but also comes with reliable uptime, customer support and much more things you expect from a hosting company.
1. A2 Hosting – The Fastest Hosting I Ever Tested.
A2 Hosting was one of the companies I started testing since the inception of Hostingstep. Trust me, A2 Hosting offers the fastest hosting experience and no other company comes close to it for the past 15+ months.
A2 Hosting loads on an average of 172ms where the next closest response time was from SiteGround where the average response time is 344ms.
How A2 Hosting loads such faster? Thanks to A2 Optimized WordPress installations which does the job. The A2 optimized WordPress setup is not something you saw from your old hosting provider.

A2 Hosting plans start from $3.92/month without Turbo Hosting. Turbo Hosting is something much faster as claimed by A2 Hosting costs $9.31/month.
Not only in speed, A2 Hosting also rocked in uptime where they scored 99.98% uptime for the last 12 months and the company ranks #2 in uptime out of 10+ companies I've tested so far.
Another major advantage of A2 Hosting is localized payment gateways. The credit card penetration is so low in most developing countries, so people can't able to get hosting from top international companies. But A2 Hosting solves the issue by bringing localized payment gateways so people can buy a hosting account with their own debit cards itself.
2. SiteGround – The Best Fastest WordPress Hosting
I claim SiteGround as the Best Fastest WordPress Hosting and I have a solid reason. As discussed earlier, SiteGround ranked #2 in speed loads on an avg.344ms and the reason why I call them best is their uptime is top notch and ranks #1 on our list. Just have a look at this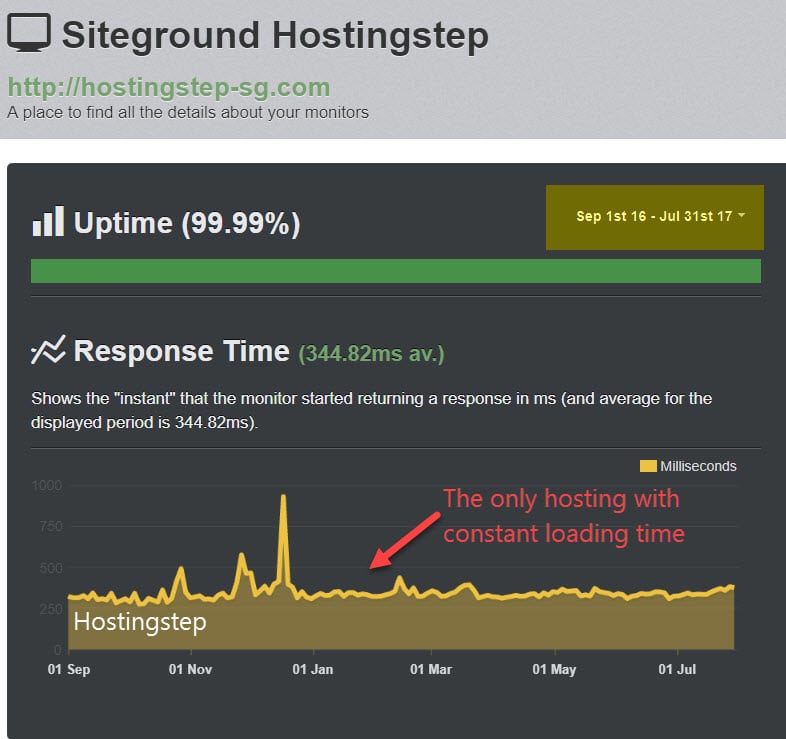 See how constant the graph. Apart from one big spike nearer to 1000ms, almost for a year, the response time is quite constant and it also scores well in uptime i.e 99.99%
Can you remember any hosting company that offered 99.99% uptime? Though most companies claim so, they failed miserably and even A2 Hosting falls short of SiteGround.
So, these are the obvious reasons, I claim SiteGround as the Best Fastest WordPress Hosting to get started.
Another major advantage of SiteGround is pricing. The starter plan costs $3.95/month even for 12 months billing where to incase of A2 Hosting, the $3.92/month pricing applicable only on 36 months billing. Even no other companies I mentioned in this post offers such a low price for 12 months billing.
3. FastComet – The cheapest Yet Fastest WordPress Hosting
FastComet always steals the title, "Cheapest yet Fastest" or "Cheapet yet Best" thanks to its free domain for the lifetime and same renewal price forever.
FastComet ranks #3 in our Fastest WordPress Hosting where the response time is 416ms on an average. The company also ranks #3 in uptime and here are our data images.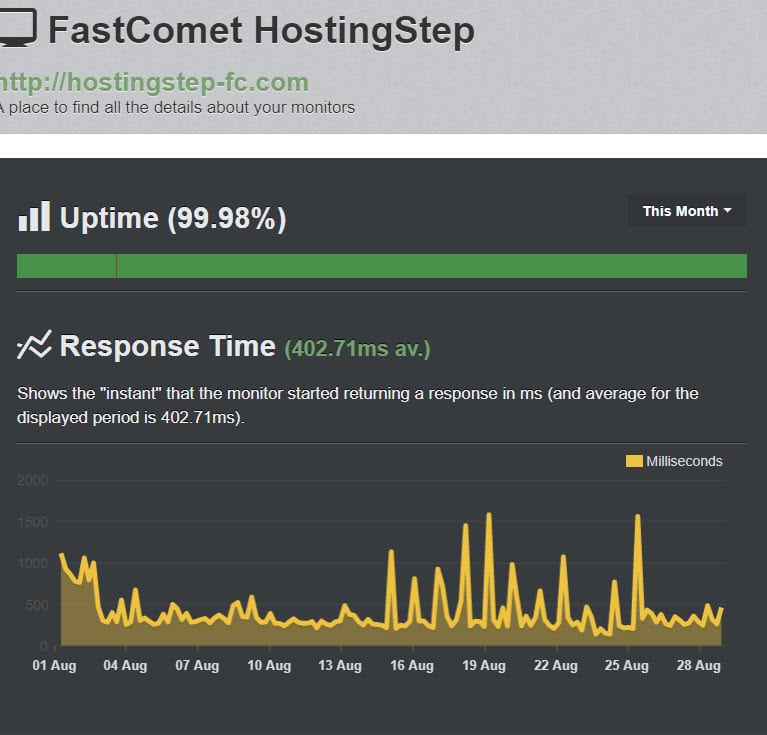 One of the major advantages of FastComet is data center locations. The company offers eight datacenter locations across the globe to host your websites wherein SiteGround offers five and A2 Hosting offers four data center locations respectively.
As discussed earlier, FastComet provides the free domain name for the lifetime, same renewal pricing, so is entitled to the tag "cheapest" since you can save a lot of bucks.
Other Honourable Mentions
4.TMDHosting – 510ms average load time – 99.97% Uptime
The company also offers Fastest WordPress Cloud Hosting.
4. InMotionHosting – 570ms average load time – 99.97% Uptime
One of the premier hosting company ranks #5 on our list.
Concluding
I compiled this list of Fastest WordPress Hosting through our data-driven hosting analysis and at Hostingstep, we're planning to add more hosting companies to get tested and if you have any questions, do add in comments!