10 Fastest WordPress Hosting 2022 (Based on 12 Months Data)
If you're looking to find the "Fastest WordPress Hosting" services to host your WordPress site, then you're at the right place.
Last year, I bought hosting accounts from multiple WordPress hosting services and put a WordPress site on each host to measure their performance. Fast forward, now I've collected 12 months performance data of more than 15 WordPress hosting services.
Coming up next is the unbiased, transparent data-backed list of "Fastest WordPress Hosting" Services which you can use to host your next online projects.
Why Should You Trust Hostingstep.com?
I recommend WordPress hosting services based on data. The data is verifiable and available throughout this post.
I don't have any exclusive partnership with companies to place them at top positions. The top 10 list is based on the performance data.
We're doing 24/7/365 performance tests instead of a one-time test. I bring fresh data every single month. I take pride to say, Hostingstep.com is the only site to do this.
Let's get started.
Summary of Fastest WordPress Hosting Services
Load Testing* – This is simple load testing where 1000 Virtual users hit the site at random times for 1 minute.
Load Testing** – This is advanced load testing where 500 Virtual users client load is consistently hitting the site for 1 minute.
Speed (lower is better)
Uptime (higher is better)
10 Fastest WordPress Hosting Services
1. Best Overall Fastest WordPress Hosting -Rocket.net
The Rocket.net is the overall best fastest Managed WordPress hosting services in 2022. Rocket.net is configured for speed by default. The pre-configured optimizations include
Cloudflare Enterprise network with access to all Cloudflare CDN PoP's.
Full Page Caching on Cloudflare network by default, offers fastest TTFB.
Options to choose from 20 Data centers in all global locations.
Google Fonts, Image and JavaScript optimizations on cloud.
Rocket.net WordPress hosting plans start from $30 per month with enormous resource limits of 250,000 visits, 10 GB Storage, and 24/7 live chat support.
Since Cloudflare Enterprise also powers their network, your sites will be protected by their Enterprise WAF, and in addition, Rocket.net also uses Imunify360 for malware protection.
The WordPress site hosted on Rocket.net recorded an average response time of 260ms thanks to full page caching and several other speed optimizations techniques involved. The uptime is also great with just a 3-minute downtime in the last 12 months and recorded a 99.99% uptime.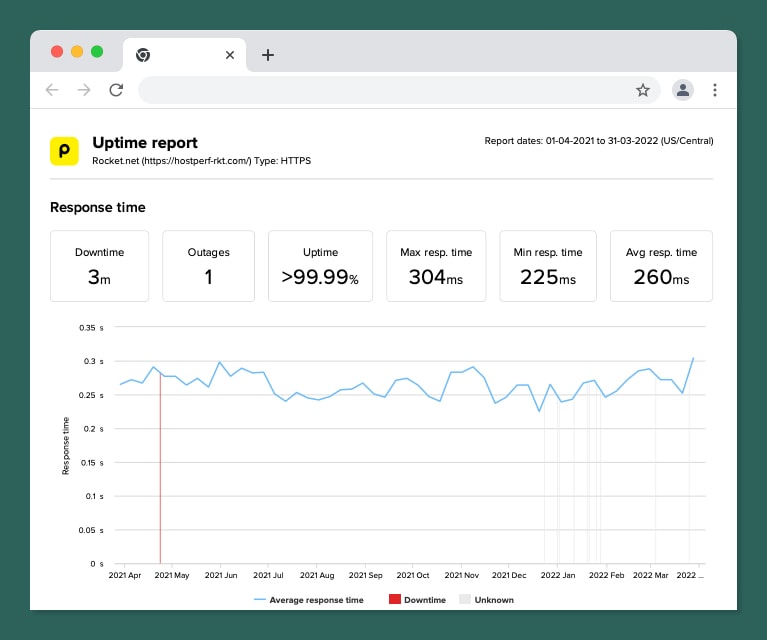 We did three types of load testing and Rocket scored well in all tests surpassing the most renowned WordPress hosts. The company also delivered sub-100ms response time in our global TTFB test, thanks to Cloudflare.
If you're looking for the fastest hosting services for WordPress, then Rocket is a great choice to get started.
Use Rocket.net coupon code "50OFF1ST3MONTHS" to get 50% OFF on all their plans for the first three months. You can also use "25OFFANNUALS" to get a 25% OFF discount on annual plans.
2. Super Fast WordPress Hosting To handle High Client Load – Templ
The Templ is the fastest WordPress hosting for high traffic sites. Templ handles the concurrent traffic load better than any other host in our list. Templ is the managed WordPress hosting powered by Google Cloud, CDN, and DNS. Our demo site hosted on Templ recorded the fast server response time and produced impressive load testing results. The best of Templ features are
Google Cloud + DNS + CDN
Auto-scaling architecture
Redis, Quic, Brotli
Nginx, MariaDB
Server-based caching
No PHP workers limit
24/7 Live chat WordPress support.
Templ WordPress plan starts at $15 per month and goes to $149 per month. There is also an option to create custom plans inside their dashboard. You can get started with $30 credits, giving you up to 60 days of free Hosting based on your plan.
Templ sites recorded 315 ms average response time and 100% uptime throughout our testing period. Their response time is better than Kinsta and WP Engine and, at the same time, priced 50% lesser, thus making it a great option to recommend as the topmost fastest hosting provider.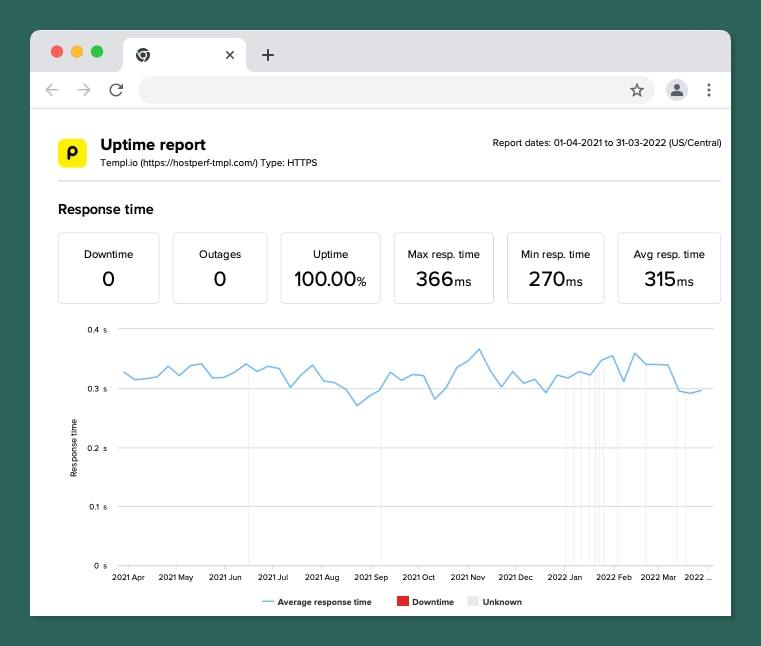 Templ Hosting also produced impressive results in load testing. Templ secured the top spot in our most stressful load testing (load test 3), beat other managed WordPress hosts, and processed all the requests without any errors.
The Global TTFB of Templ is the fastest among all the 17 hosts. The Templ averaged 354 ms while tested from below ten locations. Even though the server was located in the United States, you can see their TTFB is fast in most parts of the world, thanks to the Google Premium network.
Overall, Templ is the rockstar hosting I use and recommend for anyone looking for an affordable yet fastest managed WordPress hosting service.
3. Fast Managed Cloud WordPress Hosting -Cloudways
Cloudways is the fastest wordpress cloud hosting service provider. The test is done through Cloudways DigitalOcean's $10 per month plan, and the site performed well in load testing and server response time. The best features of Cloudways are
Choose from five cloud providers.
Built-in caching
Dedicated server resources
Object Cache & Redis support
24/7 support
Cloudways starts at $10 per month, and there are a lot of plans available during upgrades. There is no lock-in period, and Cloudways offers free migration to get started.
According to Pingdom, Cloudways recorded the same average time of 303ms. They've secured the third spot out of 22 hosts is a great thing.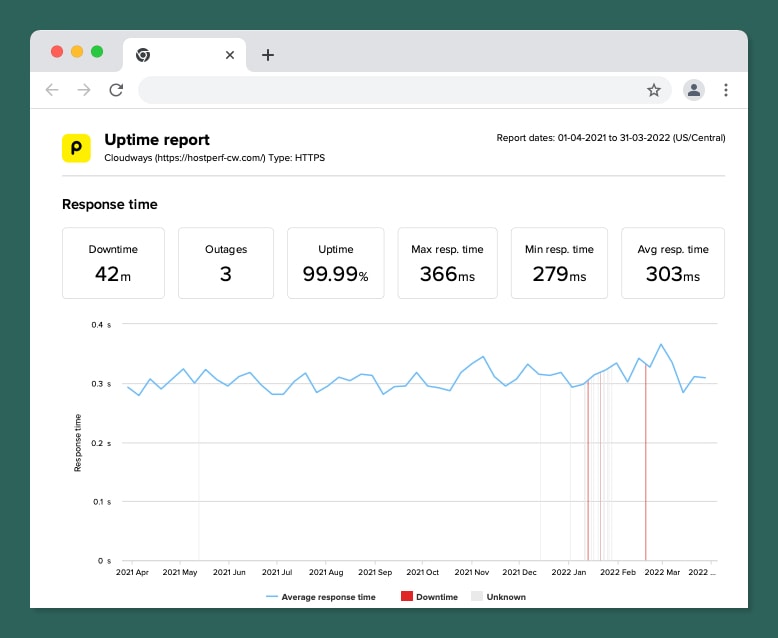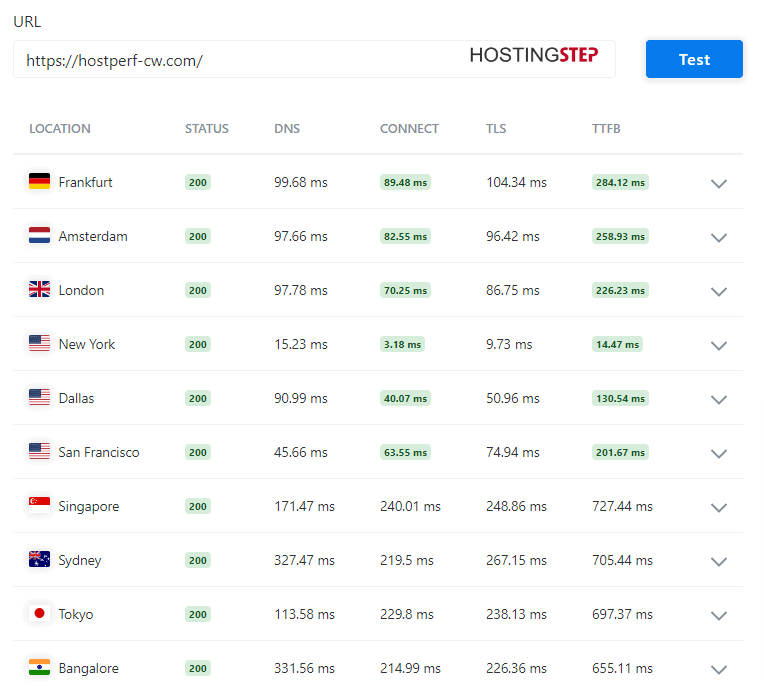 Their load testing results are super impressive, with the fastest response time. I've also included their Global TTFB, which proves they're a great WordPress host to get started.
Update: I published a post comparing Cloudways Digital Ocean Vs Vultr based on user requests. Claim your $25 free credits through our Cloudways Promo Code and get huge savings for the first three months.
GreenGeeks is the fastest shared WordPress hosting in 2022. While most shared hosts fluctuated wildly in our tests, GreenGeeks showed excellent reliability. Their server response time is the fastest among the shared hosts listed here. GreenGeeks also produced fast scores in load testing, an unbelievable performance for less than $5 per month.
The best features of GreenGeeks are
LiteSpeed and MariaDB
HTTP/3 QUIC enabled
Container-based account isolation
300% Green Energy Match
Scalable Computing Resources
24/7 customer support.
GreenGeeks costs just $2.49 per month with a 30-day money-back guarantee.
GreenGeeks has the Fastest server response time of 309 ms, nearly 20 ms faster than Templ and Cloudways. I can't deny that their load testing results are also faster than many managed WordPress hosts listed here.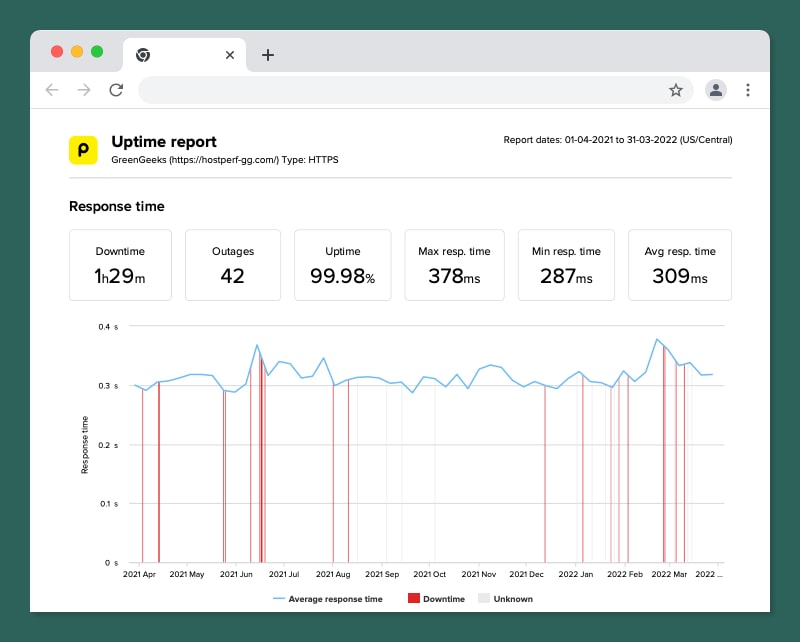 GreenGeeks never disappointed us in any of the tests, and thus we recommend GreenGeeks as the Fastest shared hosting for WordPress.
A2 Hosting is the second-fastest shared hosting for WordPress. Our site hosted on A2 Hosting recorded a fast server response time, and their load testing results are promising, which you can check later. The best of A2 Hosting is
A2 Optimized server setup
Guaranteed server resources
24/7 customer support
A2 Hosting WordPress plans start at $2.99 per month and come with an anytime money-back guarantee.
A2 is a decent performer in most of our tests but doesn't hold in the top three positions. Their average response time and load test results are next best to GreenGeeks in the shared hosting category and produced better results than big names like SiteGround, Bluehost, etc. Overall, an excellent host to get started.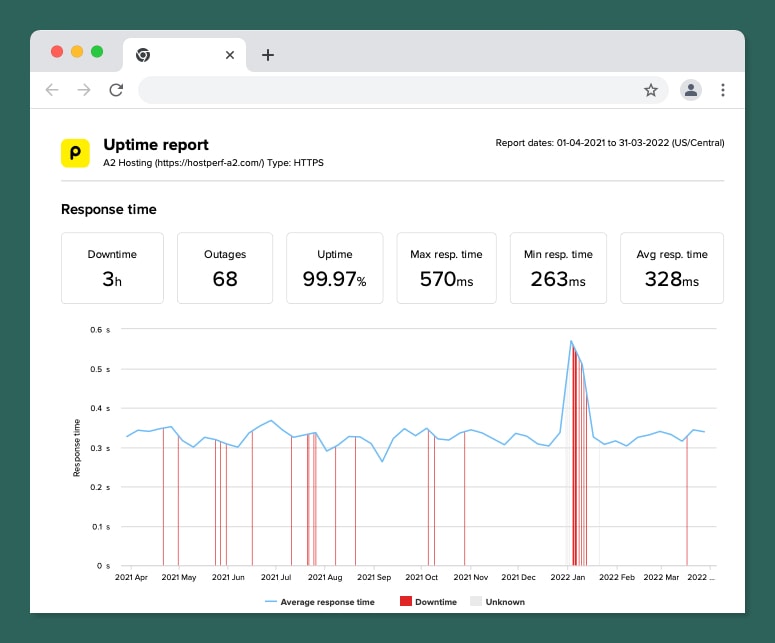 The interesting observation I made here is the starter plan I've tested doesn't come with the latest tech stacks. Their Turbo plan offers 40% faster CPU performance, 2x faster TTFB, and 3x faster Read/Write speed. They also use LiteSpeed, HTTP/3 QUIC, and three more caching layers on the Turbo plan. In the future, I'll try to test it.
6. WP Engine
WP Engine is the industry leader in Managed WordPress space that offers a robust digital experience for businesses of all sizes. Powered by Google Cloud and Amazon Web Services, WP Engine acts as more than a hosting platform, and they call it "WordPress Digital Experience Platform." WP Engine secured an excellent average response time in our tests and performed well in load tests.
Some of the best features of WP Engine are
Access to Genesis themes
Dev, Stage and Production environments
Scalable architecture
Free CDN and SSL
International, 24/7 support
WP Engine plan starts at $30 per month, although they offer enormous discounts for first-time buyers so that you can get started for as low as $22 per month. Out of all the managed WordPress hosting listed here, WP Engine is the only host to offer yearly discounts on their plans.
WP Engine performance recorded 356 ms response time and 100% uptime throughout our testing period. The WP Engine site recorded 40 ms in load testing, which is excellent but not the best.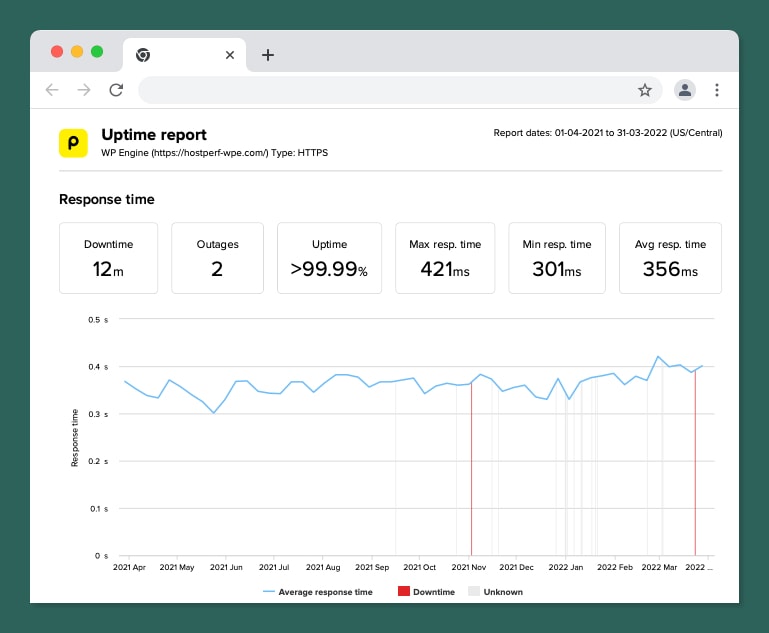 However, WP Engine offers aggressive discounts for first term billing through which you can get three months of free Hosting on all annual plans. Their 10-site hosting plan is the cheapest in the industry as it costs just $10 per site.
So, if you're planning to host multiple sites and need a host without compromising on performance, then WP Engine is the only host you should choose now.
7. Kinsta
Kinsta is the managed WordPress hosting with a lot of advanced features. Kinsta uses the Compute Optimized C2 Google Cloud VM and Google's premium network tier for fast data transfer.
The best features of Kinsta are
Access to 24 Google Cloud data centers
24/7 WordPress live support
Self-healing technology and auto DB optimization.
Nginx, LXD containers, MariaDB
Kinsta CDN with 30+ POP locations
Staging sites with powerful admin panel
Kinsta took the managed WordPress hosting industry by storm with a first of its kind features like Google C2 VMs, APM tool, etc. Kinsta plan starts from $30 per month with a 30-day money-back guarantee. Their TTFB is good but not the best compared to the Templ host, which utilizes the same Google Cloud Platform. Thus, if you have a WordPress site that requires many PHP and MySQL executions, Kinsta should be your utmost choice.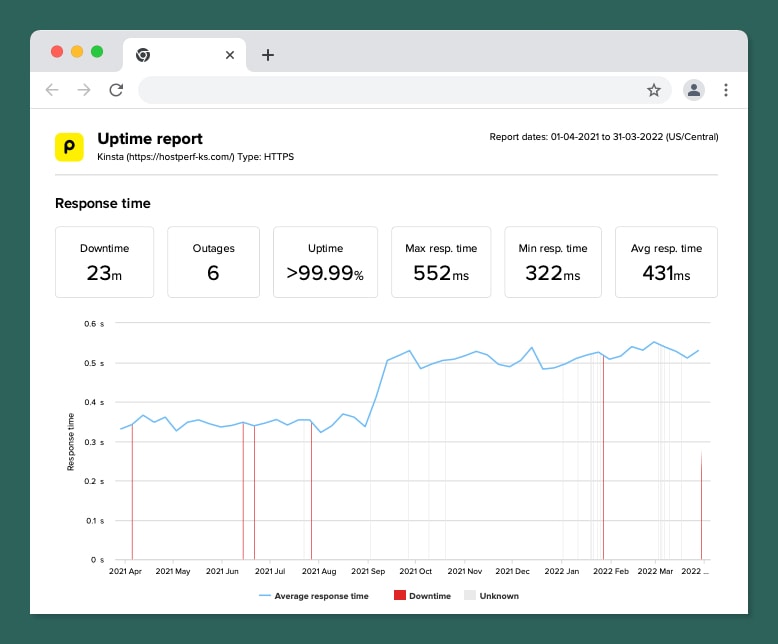 8. ChemiCloud
ChemiCloud is another shared WordPress hosting that is faster server response time and load time. I was impressed with their load testing performance. Some of the fast features of ChemiCloud are
LiteSpeed web server and caching
HTTP/2, APC, and OPCache
QUIC support
24/7 customer support.
Free domain for life.
ChemiCloud WordPress plan starts at $3.95 per month with access to seven global data center locations. There is also a 45-day money-back guarantee so that you can get started without any issues. ChemiCloud site recorded above-average performance in our tests. They offer a free domain for a lifetime, and their TTFB is the fastest among Oceania locations.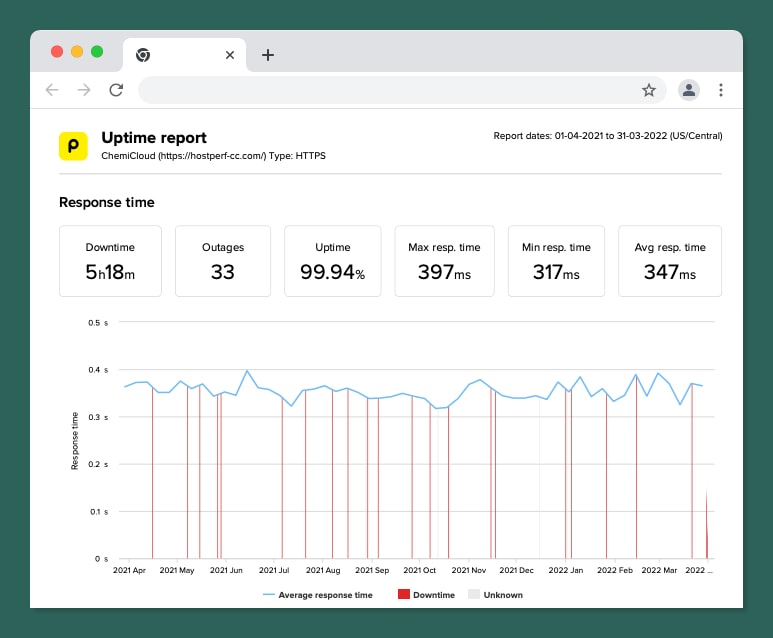 9. FastComet
FastComet makes it into our top ten list thanks to its fast server response time; the third-fastest shared hosting for WordPress, next to GreenGeeks and A2 Hosting. However, their load test is not impressive. Some of the features of FastComet are
Optimized WordPress setup
Guaranteed server resources
Five layers of caching mechanism
24/7 customer support
11 Global data centers.
FastComet plan starts at $3.95 per month and comes with affordable renewal prices. There are also 45 days of money back to get started.
FastComet site secured the top three positions in server response time; their global TTFB was also excellent. Their load testing results are below average, which is why I kept them down.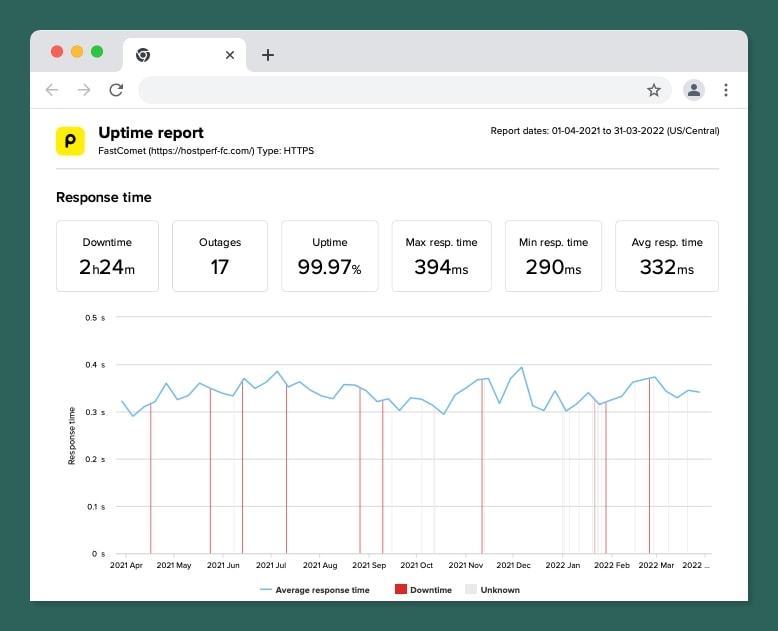 However, if you're starting a new site and don't care about load testing results, FastComet is the next best host to GreenGeeks.
10. Nexcess
Nexcess is the affordable yet moderately faster-managed WordPress hosting. Their server response time is 374 ms; however, their load test results are not attractive. Some of the best features of Nexcess are
Free Auto-scalable hosting
10 PHP Workers per sites
Free Premium CDN included
24/7 customer support
Image Optimization included.
The Nexcess plan starts at $19 per month, and through discounts, you can get started for around $13 per month. If you are an agency looking for a fast yet affordable managed host, Nexcess should be your choice as their 25/50/100 site plans are much cheaper than any other hosts.
Nexcess is a reliable host with exceptional features, and all I can say, they're a great host with a decent host, especially suitable for agencies. They've got the industry-best feature of WordPress auto-updates using a visual comparison method, free auto-scaling, includes unlimited email hosting, and more features focused on agencies.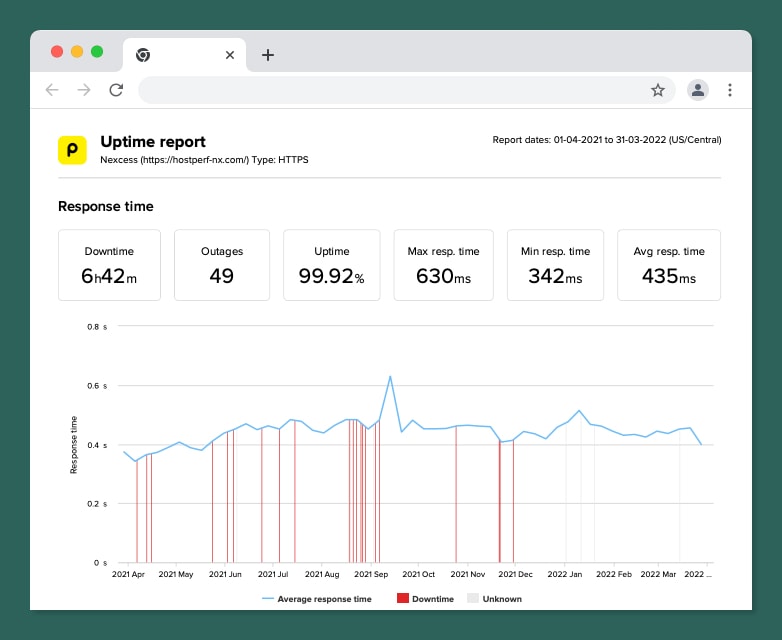 Their 25-site plan costs $149/month, where each site's cost will be $6 per site. Nexcess will be an excellent choice for agencies considering the performance to cost ratio.
How was the test site setup?
Our WordPress test sites are developed to simulate a real site and built with a standard setup. The setup consists of
Default WordPress theme
PHP 7.4 on all sites
The list of plugins installed on site are Akismet, Contact Form 7, Caching*, Rank Math.
Here are the list of sites with URL, Caching used and Price:
Test 1 – Server Response Time
Server Response Time (TTFB) is the most critical factor for any WordPress hosting company. The lower the response time, faster the server are. To get a passing score in Core Web Vitals or provide a good user experience to visitors, the site should have a fast server response time.
Our Pingdom tool monitors the sites from 20 locations in the United States for 60 seconds, averages the data, and then calculates the average server response time. Check out the results in below table and the screenshot comes next to it.
Key takeaways:
Results
Test 2 – Uptime
There is no matter in using the fastest Hosting that comes with poor uptime. This test ensures the fastest hosting for WordPress is also reliable. I used the same Pingdom data to calculate the uptime, one can refer to the above Server Response time screenshots for uptime data.
Key takeaways:
None of the WordPress shared hosting companies able to offer 99.99% uptime. GreenGeeks and Bluehost managed to offer 99.98% uptime while A2 Hosting secured 99.98%.
Results
Test 3 – Load Testing
I've done three types of load testing with the help of loader.io
Clients Per Test (1000 clients in 1 minute) – Through this test, the 1000 clients are evenly distributed throughout the test duration.
Maintain Client Load (500 clients in 1 minute) – A 500 users client load will be maintained throughout the test duration.
Maintain Client Load (1000 clients in 1 minute) – The same above test with high 1000 users client load to measure premium WordPress plans performance.
The "Maintain Client Load" test is vital as the load will be maintained throughout the duration, wherein "Client Per test," the load will be placed at random times and not for the whole test duration.
I faced a few challenges while doing the load test. The starter plans of shared Hosting don't have the resource to handle high client load, and a few managed WordPress hosting don't allow to perform Maintain client load tests. So, I've settled for this combination.
Clients Per Test (1000 clients in 1 minute) – Works with all hosting.
Maintain Client Load (500 clients in 1 minute) – Works on both shared and selected managed WP hosts.
Maintain Client Load (1000 clients in 1 minute ) – Tested on Premium WordPress hosts.
Results
Test 4 – Core Web Vitals
Core Web Vitals is the new performance metric, and one cannot simply ignore it. It's the new standard in WordPress website optimization, and Hostingstep.com is the first site to measure hosting companies Core Web Vitals score.
The demo sites are tested using WebPageTest, and the Core Web Vitals metrics like Largest Contentful Paint and Cumulative Layout Shift are calculated in this test. The First Input Delay is field data, and hence it can't be measured in tools. However, Google recommends considering Total Blocking Time as a proxy measurement; therefore, we include it.
Results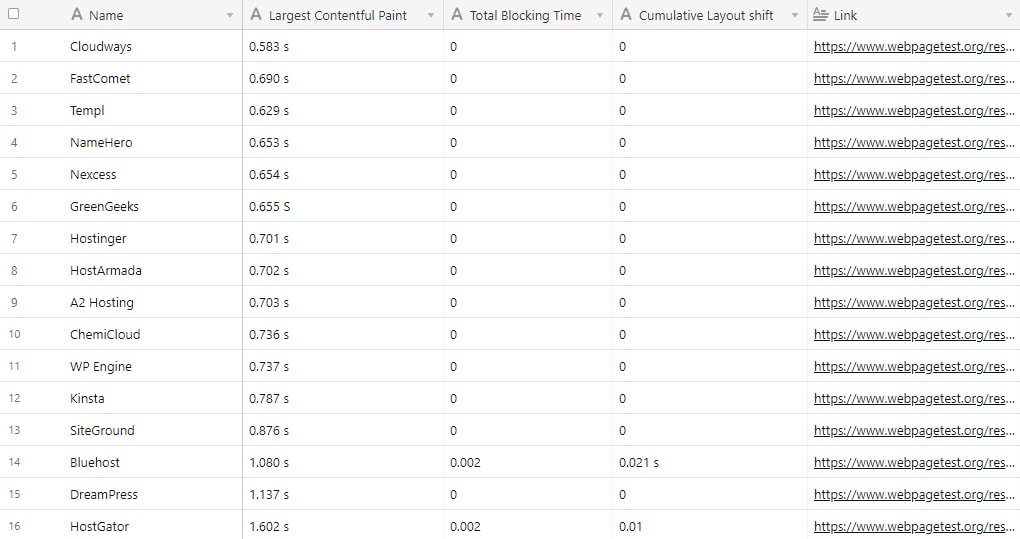 Honestly, I was not satisfied with my test here as the results are not consistent. I'm working on a new solution to track the scores. However, there is a clear outcome which I got through this test.
If you care about getting a "Pass" in Core Web Vitals or care about delivering a fast site for all visitors, you should use managed WordPress hosting. To get the best score on each host, I did 5-7 repeated tests, and sites hosted on shared Hosting showed many fluctuations were the Largest Contentful Paint loads from 2.4 seconds to 3.5 seconds.
However, Managed WordPress Hosts provided consistent results even after running 5-7 tests. The LCP loads only between 1.4 seconds to 2.6 seconds and is consistent in all tests.
Test 5 – Global TTFB Test
The site is tested from 10 global locations to measure the server response time (TTFB). If you have a site audience from multiple countries, watch these results to test the server's global network performance.
Results
Based on the average data, Templ (353 ms), GreenGeeks (354 ms), and FastComet (371.84 ms) are the top three hosts with fast global response times.
---
Reviews of Other WordPress Hosting companies tested for speed:
Bluehost
Bluehost has improved its tech stacks compared to the last five years. Their focus on performance is visible; however, it does not hold well in most tests. The exciting fact is Bluehost performed better than the other EIG brand HostGator.
DreamPress
DreamPress is the premium WordPress hosting from Dreamhost. A pretty average performer in most tests. Considering the price to performance ratio, DreamPress is not a good choice.
HostGator
HostGator performed poorly, probably getting the last place in most tests. I can't recommend them for any reason. Their uptime is not great, high load time, poor TTFB.
Hostinger
A well-promoted brand but fails in most tests apart from decent response time. Their server resources seem to be so low that the load test fails to start.
NameHero
NameHero provides above-average performance in load tests, but their server response time can be improved.
SiteGround
SiteGround response time (TTFB) is poor, only better than HostGator. They performed decently in a simple load test but had an average performance in high load testing. Their global TTFB is not good either, recording 1 second in TTFB in most locations.
WPX Hosting
WPX Hosting records a lot of short period downtimes throughout all the month. For the premium pricing, their TTFB is not great either.
Frequently asked Questions
Improve Us
This is our first update on showcasing the Fastest WordPress hosting in the industry. As said earlier, Hostingstep.com will be the only site to run benchmarks systematically and not a random one-time test. Thus, you can provide your inputs in comments on how to improve our tests further, and we will bring better reports in our next month's updates.
Changelog:
Dec 2021: Removed HostAramada and NameHero WordPress hosting from our testing.