WP Engine Reviews 2022: Does it Justifies the Price?
This is our expert review of WP Engine, focusing on performance, support, and pricing. 
Being the first host to introduce the concept of "Managed WordPress Hosting," WP Engine has been riding high since its launch in 2010. 
But in recent years, many new hosts have given stiff competition to WP Engine in terms of performance. Did WP Engine see this coming and work to level up the game? 
Let's see an exciting review coming next, and also, check the existing user reviews of WP Engine right here.
WP Engine Review: Summary
WP Engine is the world's #1 managed WordPress hosting platform. Based on our rigorous tests, performance hosting, great uptime, auto-scalable architecture, and excellent WordPress support with plans starting at $30/month.
What is WP Engine?
According to WPEngine.com,
WP Engine powers your WordPress websites with a great digital experience by delivering the fastest and most reliable hosting for businesses of all sizes. WP Engine places itself beyond Managed WordPress hosting with its futuristic features.
WP Engine Plans and Pricing
WP Engine plan ranges from $30 – $290 per month. The same plan can be bought from $25 – $241, that roughly calculates four months of free hosting when paid annually. They can also deliver custom Enterprise or Dedicated WordPress hosting based on your needs. Each of their pre-designed plans got this:
Startup: Starts at $30 per month, renews at the same price;
Growth: Starts at $115 per month, renews at the same price;
Scale: Starts at $290 per month, renews at the same price;
All the plan includes the following features.
Access to Genesis Framework
24/7 chat support
Dev/Stage/Prod Environments
PHP 7.4
Global CDN
Evercache, Properotiary caching from WP Engine
Page Performance Monitoring
Automated SSL certificates
The add-ons available are Global Edge Security, Smart Plugin Manager, and additional sites if required.
WP Engine Performance Review
Server Response Time
Testing hosting service performance is extremely important before choosing a hosting service. However, performance testing is not as simple as it seems since performance is not just limited to speed and uptime. Many other factors need to be considered to gain good clarity on performance: load testing, global TTFB, and core web vitals.
To begin with, let me start with the server response time first. I hosted a site in the WP Engine platform, and I have been monitoring the site constantly using the Pingdom tool. As per the last test, my WP Engine site recorded an average server response time of 374 ms, and this is a decent speed for any website. Hence, you can expect good loading times for your sites with WP Engine.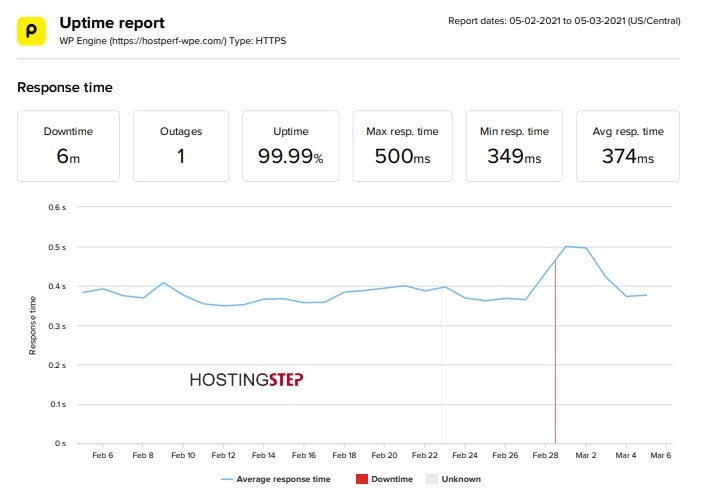 Uptime
Just speed alone isn't enough, and a hosting service must also have a reliable uptime, without which a site will consistently fail despite all efforts. I have constantly been keeping up with the uptime of my WP Engine site, and according to my last uptime check, my WP Engine site recorded an uptime of 99.99%. Further, throughout the testing, I didn't notice any glitches in the uptime. Hence, you can expect the best uptime with WP Engine.
Load Testing
High-traffic sites need a hosting service that handles high traffic and traffic spikes. This is where the load testing comes into play, and I perform load testing frequently on all the hosting services that I keep up with. I have also been keeping up with the load handling capacity of my WP Engine site, and in my last load testing performed on my WP Engine site, I sent 1000 concurrent traffic to my WP Engine site.
I closely monitored how the site handled the traffic and how fast it responded. When I performed load testing on my WP Engine, my site recorded 45 ms in the 'Clients Per Test (1000 Clients in 1 Minute). Hence, it wouldn't be wrong to say that WP Engine has good load-handling ability, and over the years, WP Engine has hosted websites of all services.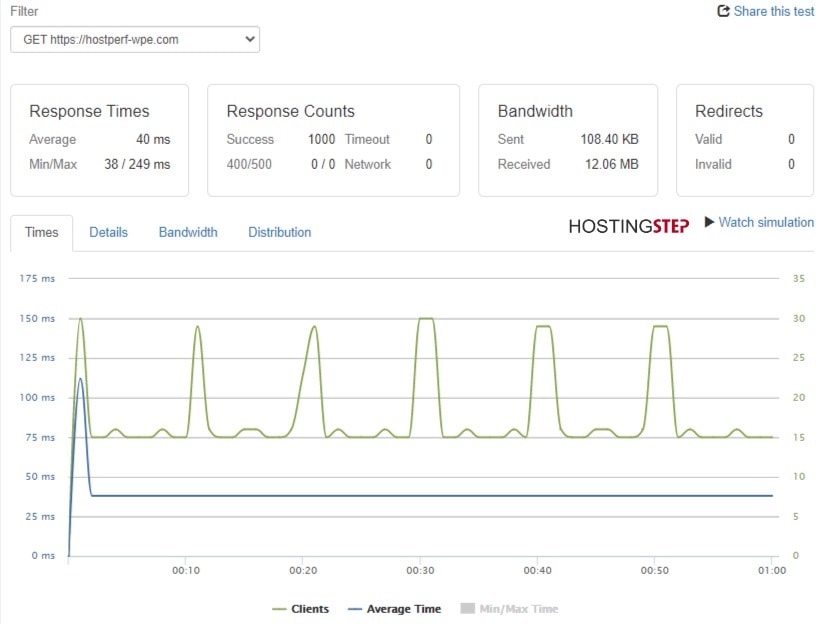 Core Web Vitals
User experience is another significant factor for any website today, and sites have to strive to deliver the best user experience to their audiences. However, it is impossible unless a site is hosted on a hosting platform with the best Core Web Vitals. I have been dedicatedly testing the Core Web Vitals for my WP Engine site.
As per the last test, my WP Engine recorded a 'Largest Contentful Paint' of 0.737s, a Total Blocking Time of 0.000s, and a 'Cumulative Layout Shift' of 0.' Going by the results, WP Engine certainly has brilliant Core Web Vitals, and sites can have the best user experience with WP Engine.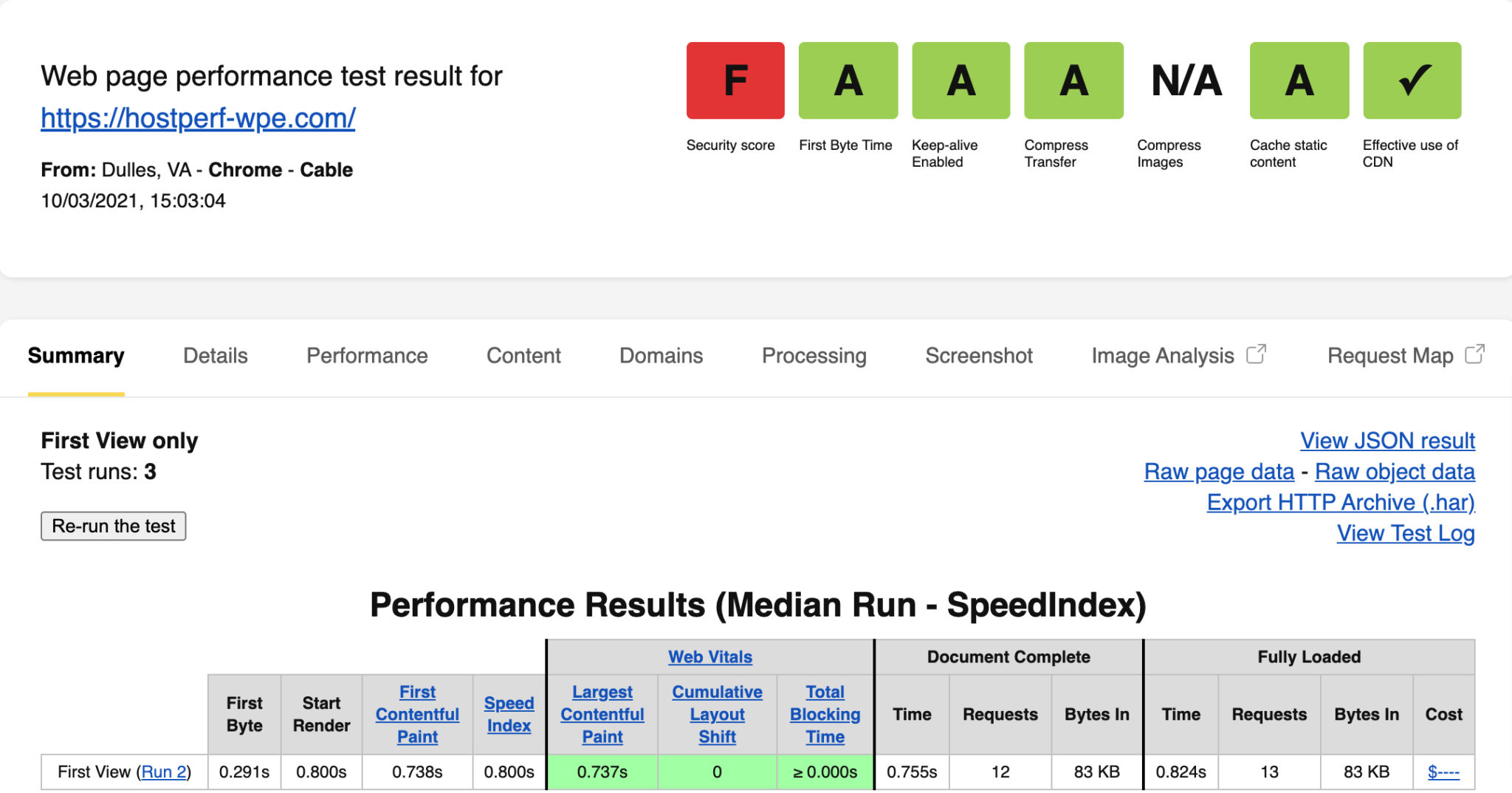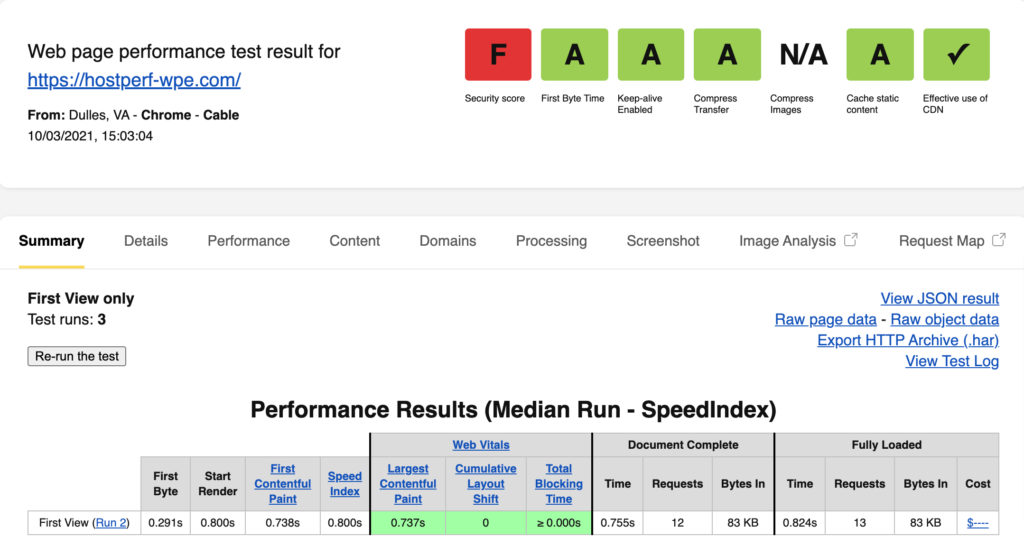 Global TTFB
Sites that rely on multiple global locations must be hosted in a hosting platform with a good global TTFB. I tested the TTFB of my WP Engine site across ten global locations, and my WP Engine had an average server response time of 462.05 ms with excellent TTFB in almost all the places. The site recorded the lowest TTFB in Dallas with 73.66 ms and the highest TTFB in Bangalore with 916.52 ms. Hence, WP Engine is one of the best options for any site that relies on multiple global locations for traffic.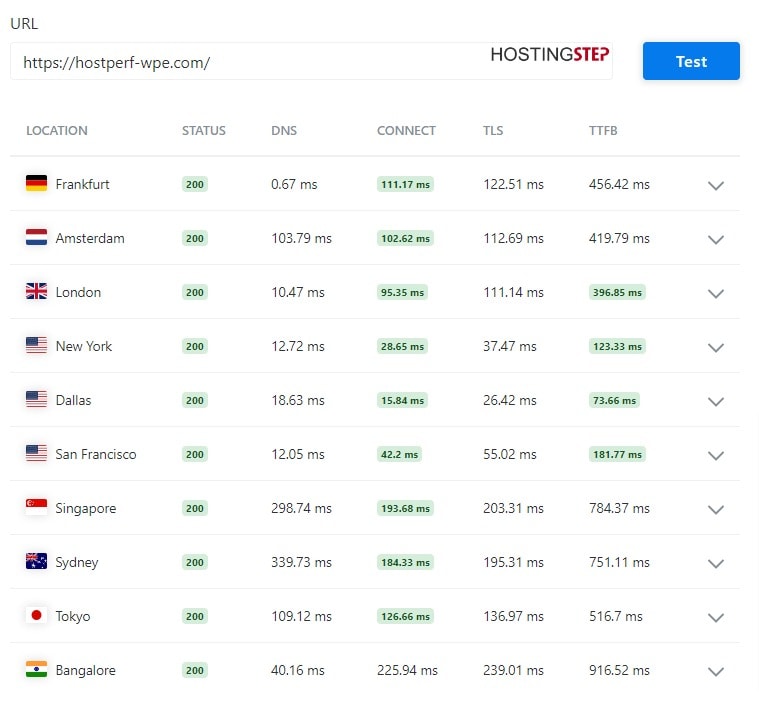 WP Engine Pros
1. WP Engine Excellent Performance
I signed up for WP Engine as a customer and bought a Startup account at $30 monthly. I did a rigorous test in the last three months to measure the performance. WP Engine test sites have scored 374 ms average response time in the last three months.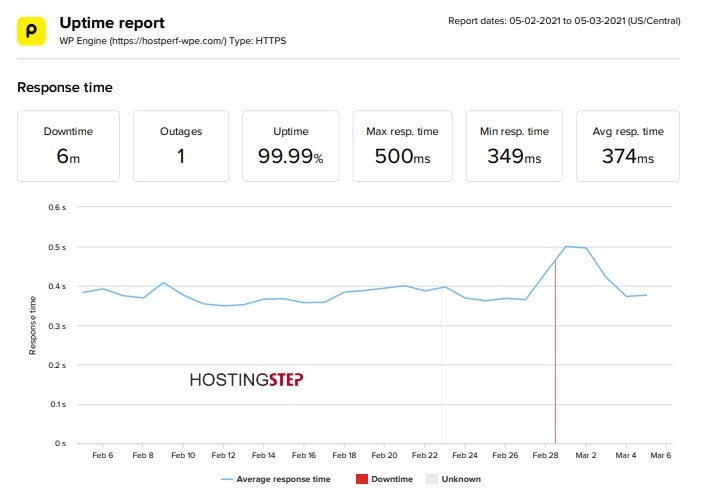 WP Engine uses Google Cloud as the infrastructure partner, and I expected a good performance. Our test site is hosted on the IOWA data center, and I'm pretty much satisfied with the results.
In this case study, WP Engine says the site performance has increased by 40% after choosing Google Compute Optimized Virtual machines. If you are new to this, Compute Optimized (C2) VM are the most potent VMs developed by Google to perform intensive workloads.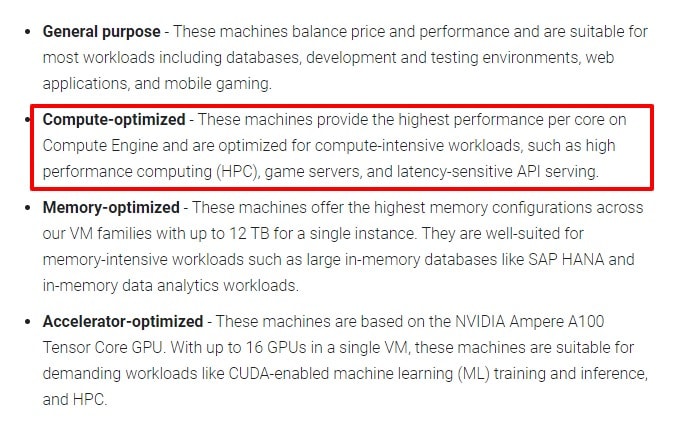 Overall, WP Engine offers excellent performance combined with Google Cloud hosting.
2. Excellent Uptime (100%)
WP Engine recorded a 100% uptime throughout our testing (and we are still testing). The test sites are monitored every 60 seconds instead of five minutes once to record even the shortest downtimes.
But, WP Engine was impressed with 100% uptime. I also put our secondary tool for testing, which confirms the same.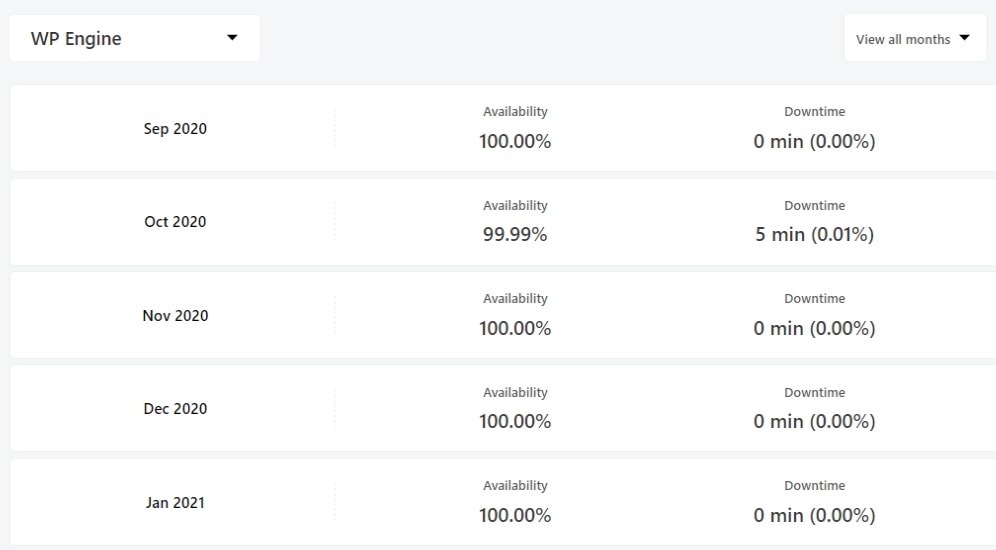 Uptime is one of the prime factors; users should consider while getting a hosting account. When WP Engine is priced at $30 per month, you can't expect downtimes from them, which can ruin users' site experience.
With Google cloud as a partner and a matured hosting architecture, WP Engine gets good in our Uptime test.
3. Introductory Discounted Pricing
WP Engine is kind enough to offer an introductory discount on their plan. You can choose an annual plan for four months of free hosting. You can save a minimum of $60 to $580 through these sales.

Let's get the facts right. Most companies' Managed WordPress hosting plan starts at $30 per month, which is not affordable. Because of it, most people stay on shared hosting, which is unsuitable for speed.
If anyone is looking to upgrade to Managed WordPress hosting, then WP Engine should be the best option.
There are also periodic discounts that can bring even better deals at times.
4. Quality WordPress Support
WP Engine offers 24/7 chat support on startup and Growth plan. The scale plan users include both chat and phone support.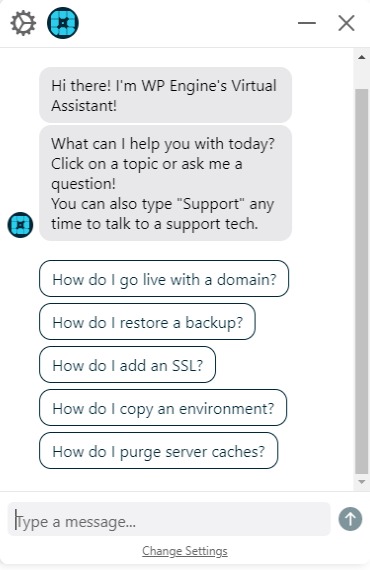 Their WordPress experts at chat are well trained and answered most of my questions satisfactorily. I asked all about their platform and features plans. There is no urgency among agents to close the chat and the average wait time is less than 3 minutes, although I usually get connected in less than a minute.
WP Engine claims more than 200 service experts are on schedule to handle support tasks, which are quite remarkable.
5. Easy Site Management
WP Engine dashboard gives you all site management features for your sites. The four major sections are Sites, Users, Tools, and Billing.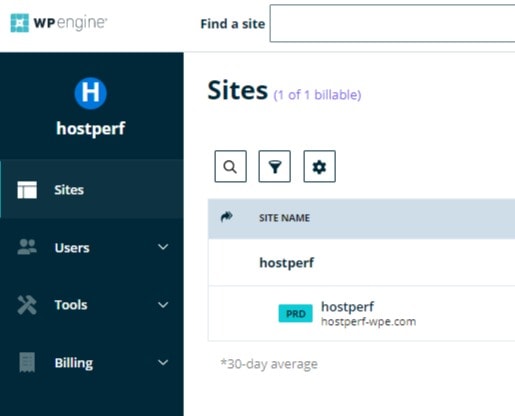 Under Sites, you can do site-specific functions like enabling CDN, accessing logs, adding redirect rules, FTP/SFTP, and site migration requests. You can create staging & development sites and access analytics data like traffic, storage, etc.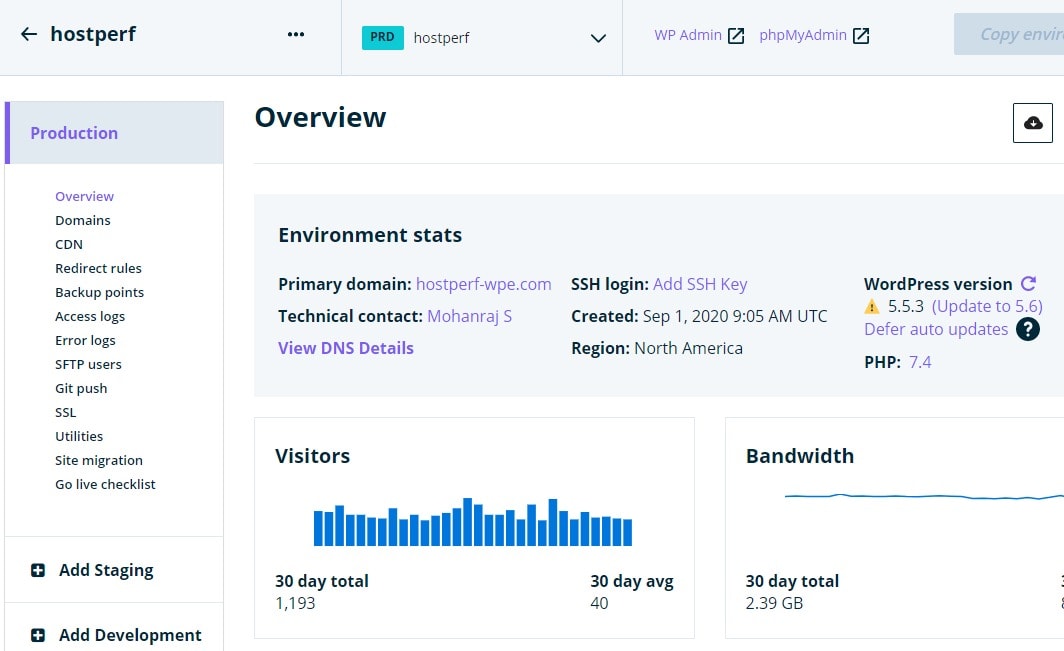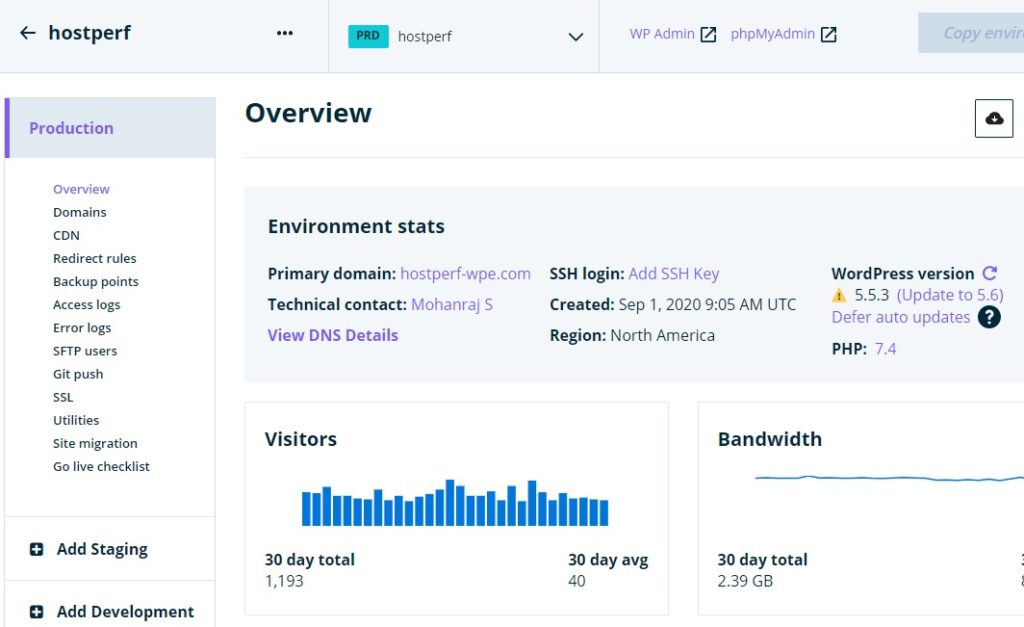 The user is a hub to manage all users across your sites. You can invite new users to the WPEngine portal with full or partial control.
The Tools section is my favorite section, which is unique to WP Engine. Get access to StudioPress themes and Genesis Pro for free. The Page Performance runs Google PageSpeed insights on your behalf and provides you with speed optimization suggestions to improve your site (great, right!)
WP Engine Cons
1. Premium Plans
WP Engine is excellent, no doubt about it. But it's not affordable for all online businesses. People still love to get started with shared hosts at affordable prices with little compromise to performance. So, if you are in such a scenario, WP Engine won't suit you.
2. Upsells and Overages
No host is different here, including WP Engine, which does upsell and overage charges. Once your site hits the visit limit, WP Engine won't put your site down; instead, it will auto-scale, but additional costs are incurred.
WP Engine Features
1. WPEngine CDN
WP Engine uses StackPath as their CDN Partner. Its good WP Engine uses StackPath, which is relatively faster than most CDNs like Amazon Cloudfront, Cloudflare, KeyCDN, etc.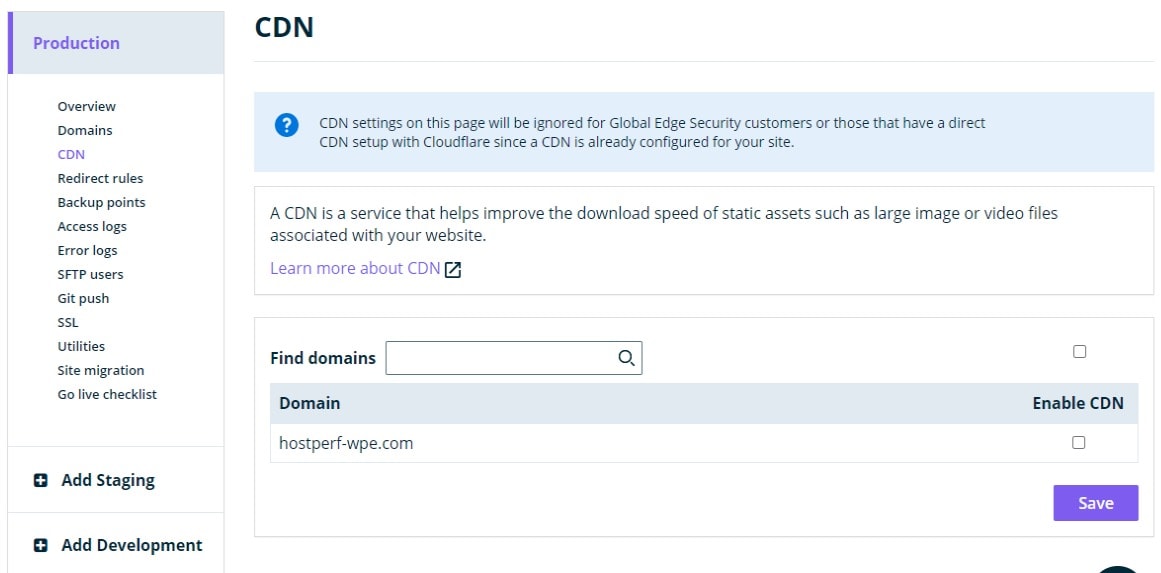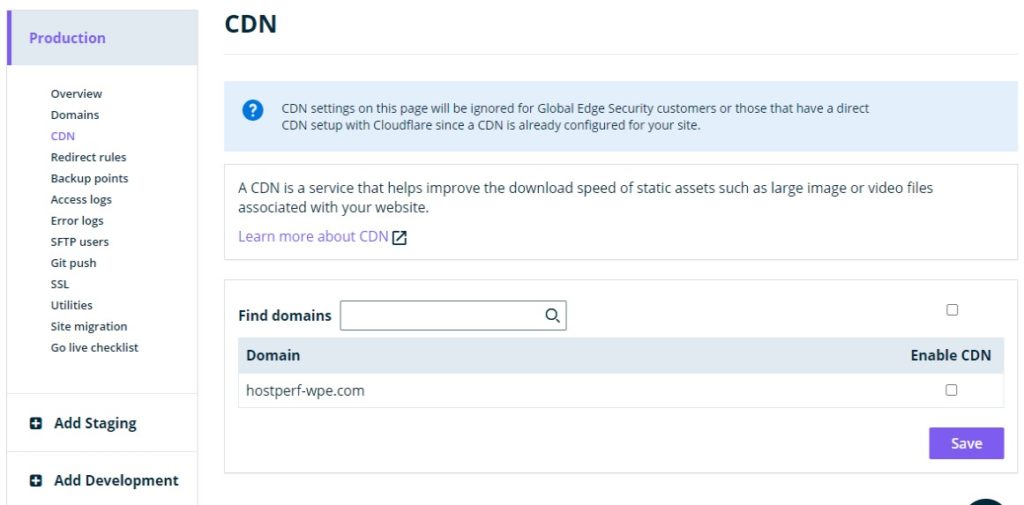 WP Engine provides humourous bandwidth so that you won't be hitting the limits soon. CDN delivers static assets like images, CSS, and JavaScript from their global POP locations instead of base server location, which speeds up the content delivery to users.
2. Backups
WP Engine automated daily backups with options to create a manual backup when needed. You can also download either as full or partial backups.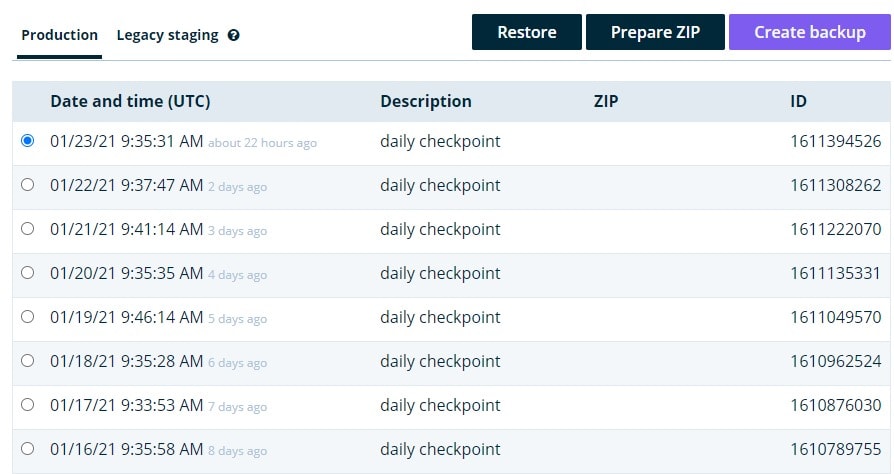 Restoring can be done in the same way available at a single click. You can either restore a directory or databases alone.
3. Staging, Production, and Development sites
WP Engine offers three environments; Staging, production, and development.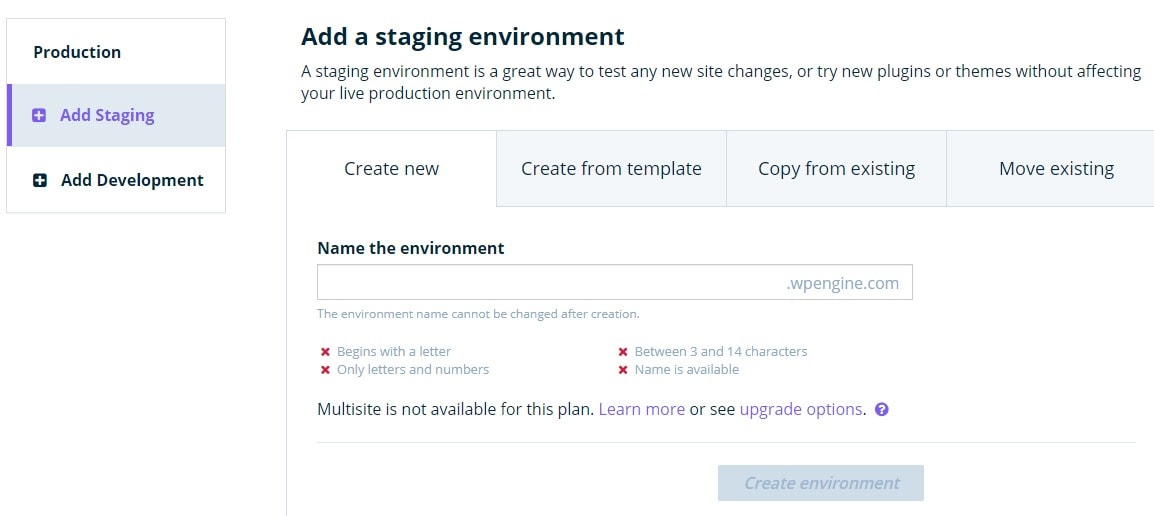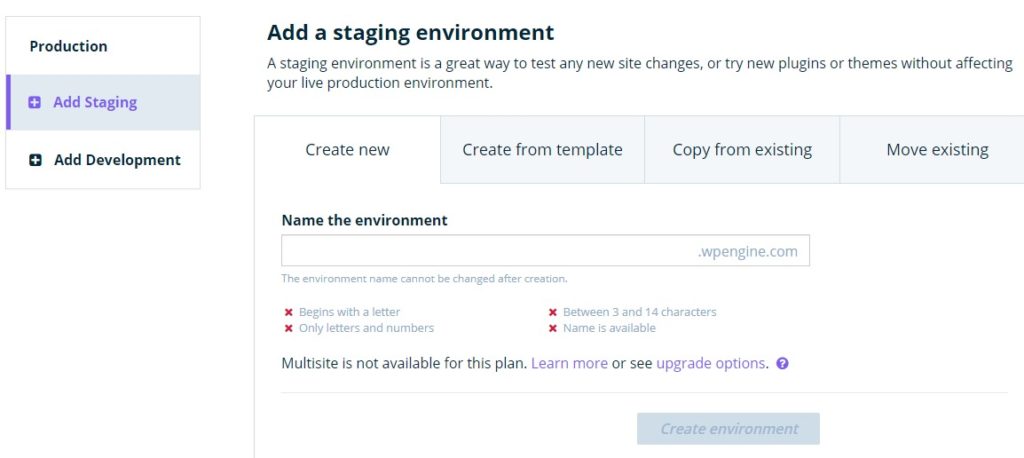 The production is where the live site is hosted. A staging option is a great way to test any new changes to sites or try new plugins or themes without conflicting with the production site. You can create a new staging site with a fresh WordPress install or take a copy of the production site and work on it.
The development environment helps to check those changes are working correctly before pushing it to staging for testing.
4. Automated Migration
WP Engine WordPress plugin helps you to do automated migration. There is also a manual way, but the auto mode will be faster and super fun.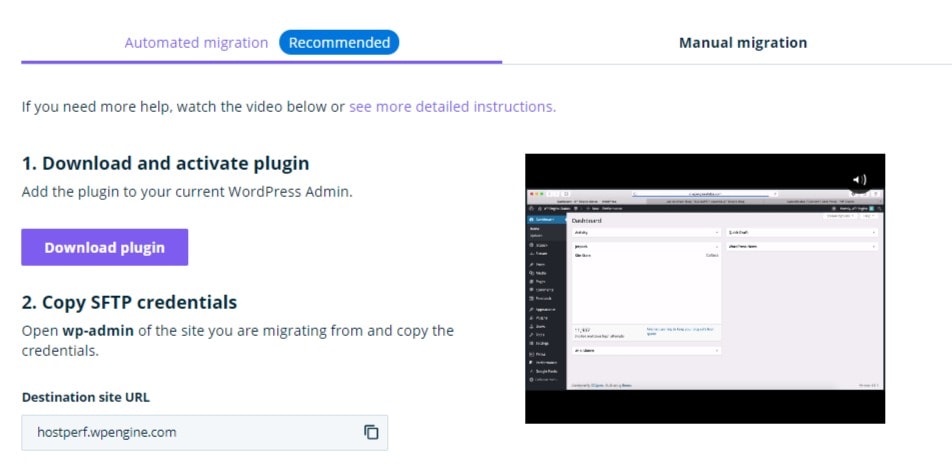 First, you need to download the plugin from the WordPress repository and fill it up with SFTP details. Now the site migration will start, and at the end, point your domain to WP Engine and SSL to go live in minutes.
5. Powerful Tech Stacks
WP Engine partnered with best-in-technology companies like Google Cloud and Amazon Web Services, Cloudflare, New Relic, and Hubspot.
All the site comes with EverCache, the proprietary caching solution from WP Engine. The PHP 7.4, HTTP/2, and SSL are installed by default.
When to choose WP Engine?
WP Engine is the premium yet affordable managed WordPress hosting that comes with introductory discounts. If you are upgrading from a shared host, then WP Engine should be the ultimate choice compared to other hosts in this space.
When not to choose WP Engine?
WP Engine is affordable but still requires at least $25 per month on annual billings. If your budget is not so high, then WP Engine is not for you.
Conclusion
WP Engine prices are not affordable for all websites. However, considering the performance combined with managed WordPress hosting experience, WP Engine offers an excellent monetary value. WP Engine does a complete package in terms of performance, features, and quality support.
Frequently asked Questions
What is WP Engine used for?
WP Engine is a managed WordPress hosting provider headquartered in Austin, Texas. WP Engine calls their product a WordPress digital experience platform. WP Engine is used to host your WordPress sites on top of its architecture powered by Google Cloud.
Is WP Engine Free?
Four Months Free WP Engine Hosting on annual plans.
WP Engine managed WordPress Hosting plan comes with lightning-fast servers, free CDN and backups, and excellent WordPress support. The WP Engine Free is applicable on all their hosting plans.
Is WP Engine good?
WP Engine recorded excellent uptime, fast loading time, and exceptional customer support. WP Engine provides free daily backups, easy auto-scalable, and outstanding security features.
How much does WP Engine Cost?
WP Engine is a managed hosting provider for WordPress sites. Thus, the WP Engine price starts at $30 per month. The WP Engine plan's annual cost starts at $25 per month, calculating four months of free hosting with annual prepay. 
Is WP Engine a server?
As a WordPress hosting platform, WP Engine offers a variety of plans. While their starter plans work on a shared server, WP Engine also has a Dedicated server hosting for WordPress hosting. Thus with WP Engine scaling, your site can be done most efficiently in the most efficient way.
Does WPEngine use cPanel?
WP Engine uses its control panel, and it's not cPanel. The control panel from WP Engine is simple to use with a clean dashboard, which is much better than cPanel or Plesk.
Is WP Engine the same as WordPress?
WP Engine is a managed host to run WordPress sites. WP Engine and WordPress are not the same as WordPress are an open-source CMS, while WP Engine is used to host such WordPress sites.
Is WP Engine shared hosting?
WP Engine uses highly scalable architecture. Since shared hosting is not scalable, WP Engine doesn't fall under shared hosting. WP Engine doesn't come under Shared, VPS, or Dedicated as none of them are scalable when WP Engine does it.