1
A2 Hosting Review – The Fast, Faster & Fastest Hosting?
Hands down,the fastest web hosting on the planet right now! package starts from $3.92/month Claim Now!
In this A2 Hosting review, I did our usual tests to check the performance of A2 Hosting servers, and you are eager to know whether A2 hosting delivered at what they promised, right?
Finding the best hosting service provider can be a headache. All the companies promise you the world. However, you will see in customer reviews that most of them do not deliver on these promises.
I'm euphoric to share you the results of A2 hosting.
FTC Disclamier : We get compensated from the recommended products at no extra for you.
A2 Hosting Review
#1 A2 Hosting History
A2 Hosting company started in 2003. Since then, they set out to be a developer-friendly web hosting company. They are based in Ann Arbor, Michigan, but they have servers all over the world. In fact, they named their company after their town.
In line with their goal of providing developer friendly hosting, they made sure that their servers support the most used programming languages and database management systems. As early as 2005, they were already supporting PHP 5. They started supporting MySQL 5 in 2006.
As early as 2013, the A2 server was already using SSD servers. These SSD servers are part of the reason why they offer some of the fastest hosting services in the market.
In 2014, they optimized all their servers to make them faster when using WordPress, the world's most popular content management system. In 2015, they started hosting from Amsterdam and Singapore data centers for international clients.
Aside from delivering fast and reliable hosting service, the company advocates green energy use. They partnered with environmental companies to make sure that their company practices to minimize their carbon footprint.
By looking at this history, how can I stop writing a2 hosting review for my visitors ?
#2 Demo Site Details
As for my testing process and a2 hosting review, I bought a hosting package and installed a demo site on their servers and started monitoring their services.
Site URL – http://hostingstep-a2.com
A2 indicates A2 Hosting
Domain and Hosting registered on Aug 2016.
Sign up process is simple. There are three screens to get started. A2 Hosting is the only hosting with multiple payment gateways. You can't complain for not having credit card to get hosting, since A2 hosting accepts debit cards, skrill and direct bank transfer as alternate methods for getting an account with them.
#3 A2 Hosting Pricing Plans
Apart from Shared hosting plan, A2 Hosting offer different types of hosting including Cloud VPS, reseller hosting, managed VPS and dedicated hosting for its customer at some seriously stunning pricing (learn more).
​
#4 A2 Hosting Features
General Features
RAID-10 SSD Web Space
1 Click installer
Free website transfer
Full refund within 30 days or pro rated refund after 30 days
24/7/365 Guru crew customer support
A2 Hosting optimized WordPress installation ( reason for fast loading sites )
Technical Features
All files and MySQL files on SSD
Server rewind backups
Proactive security monitoring
Guaranteed RAM And CPU cores
Off site backups
99.9% uptime guarntee
Three layer caching mechanism
HTTP/2 for fast loading sites
ModSecurity for improved malware protection
WordPress Staging
Freebies
#5 Historical Analysis
#1 A2 Hosting Uptime
We keep monitoring demo sites for every 60 seconds to check for downtime. To build more trust to our reviews, you can check historical uptime data for upto two years using this link.
One of the reasons for their surge of popularity is their incredible uptime. You should not believe a company that tells you they can deliver 100% uptime. So I decided to check their uptime and launched a demo site on a2 hosting servers and started our test.
Check A2 Hosting uptime for past 12 months ( Click to expand )
A2 Hosting uptime is great most of the time passing over 100% and some downtime's lasts for less than 30 seconds which happens once a month due to server reboot and maintenance tasks.
#2 A2 Hosting First Time to Byte
Based on our testing methodology, I tested the A2 Hosting demo site on byte check and the time to first byte is 54 ms which is industry's best time.
One should consider that the tests are conducted without any caching plugins (using so will reduce first byte time further)
A2 Hosting offers the fastest WordPress hosting on the planet right at the moment even beating the speed of cloud hosting companies. I'm pretty sure you can enjoy the experience of cloud dedicated hosting at the A2 shared hosting.
#3 Response time
A2 Hosting offers the fastest shared hosting in the market.
Since they limit the number of clients in shared servers, A2 Hosting can deliver on their promise of fast page loading time. Their shared servers can load pages between 199-230 milliseconds. Their average load speed is also one of the best load speeds in the business.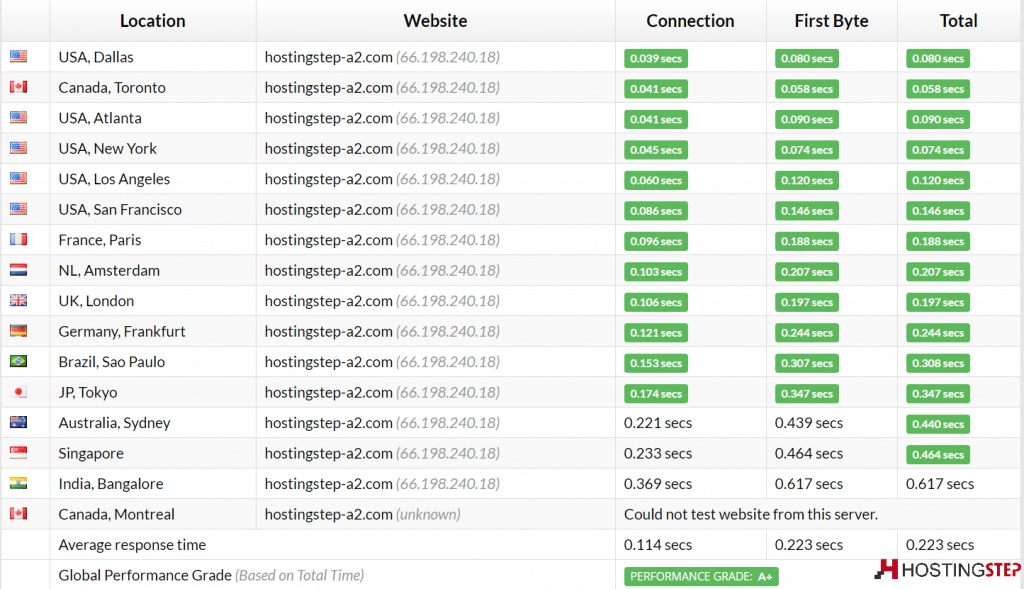 You would think that such performance is only limited to dedicated or VPS hosting. Amazingly, even their low-priced shared hosting packages are just as fast.
Based on our hosting reviews, only few host comes close to that value, and we are proud to say A2 Hosting provides the fast loading WordPress websites.
Do you want to know how the sites load at such a faster speed without any caching plugins? The reason is you will get A2 optimized WordPress installation which in turn improves your site speed.
My demo site is not optimized for Turbo servers (they act 20X faster than normal), I can't imagine the site loading speed at turbo servers. However, I have decided to test A2 Hosting turbo servers in future.
In need to remind you that I bought a hosting package from them, to write this A2 Hosting review and the results are based on the data we obtained from several tools.
Great insights of #A2Hosting with historical uptime, response time and TTFB values.
#6 Customer Support
I never seen A2 hosting customer support executive hurry in closing a ticket either via ticket or chat. They are polite to solve the issue and sometimes if their support queue is full, they inform me like
"I'm currently handling multiple customers via chat. Your patience is much appreciated. Thank you."
I get connected to chat support within 10-15 seconds round the clock. Their support people are the native US based, and A2 hosting is not outsourcing it.
All their support come with 24/7/365 tech support. They can be reached by phone, email, or chat. Their excellent customer support has even earned them an A+ rating with the Better Business Bureau ( Check other awards ).
This A2 Hosting Review appeared on hostingstep.com and content is copyrighted.
#7 Datacenters
A2 Hosting own their private datacenters. They are located in
USA - Michigan
Europe - Amsterdam
Asia - Singapore
Some of the datacenter pics I got from https://a2hosting.com
#9 Discounts
Get 51% OFF on shared hosting plans
Visit a2 hosting through this link https://a2hosting.com to claim your discount
​
#10 Quick Facts
Shared hosting :

Package starts from $3.92/month

Free daily backups :

no extra cost
Free site transfer with no limitations
WordPress and 150 open source installation with absolutely zero cost

Multiple payments mode:

Credit card and PayPal, CCavenue (India) , PayULatam ( Brazil )

Three data center locations :

US, UK and Asia pacific
30 DAYS MONEY BACK GUARANTEE
A2 Hosting offering full refund within 30 days and pro rated refund after 30 days, that mean you paid some amount for yearly package and you're planning to cancel the account on 6th month, still you can get refund and do you think any better way to start your online business ? It's time to make it.
HostingStep Verdict
Overall, A2 Hosting provides a solid hosting service. They are up there with the best when it comes to load speed and storage offers. The hardware that they use is compatible with the needs of modern developers and website owners.
They trust their service so much that they even offer a 30-day money back guarantee for clients who are dissatisfied with their service and I should mention that they set the standards for all hosting companies in the market.
I hope you enjoyed this a2 hosting review from Hostingstep.